During the marvelous run that was the 2017 season for the University of Central Florida, one defensive player (and special teamer) had an extremely productive season. McKenzie Milton, Tre'Quan Smith and the rest of the 'UCFast' offense put up points in bunches and Shaquem Griffin may have stolen the defensive headlines (and rightfully so), but cornerback Mike Hughes dominated receivers on his side of the field.
In doing so, the UNC-transfer and UCF cornerback smashed his ceiling and blasted up draft boards with his career year in coverage and overall grade. Hughes currently sits as our No. 5 cornerback for the 2018 NFL Draft.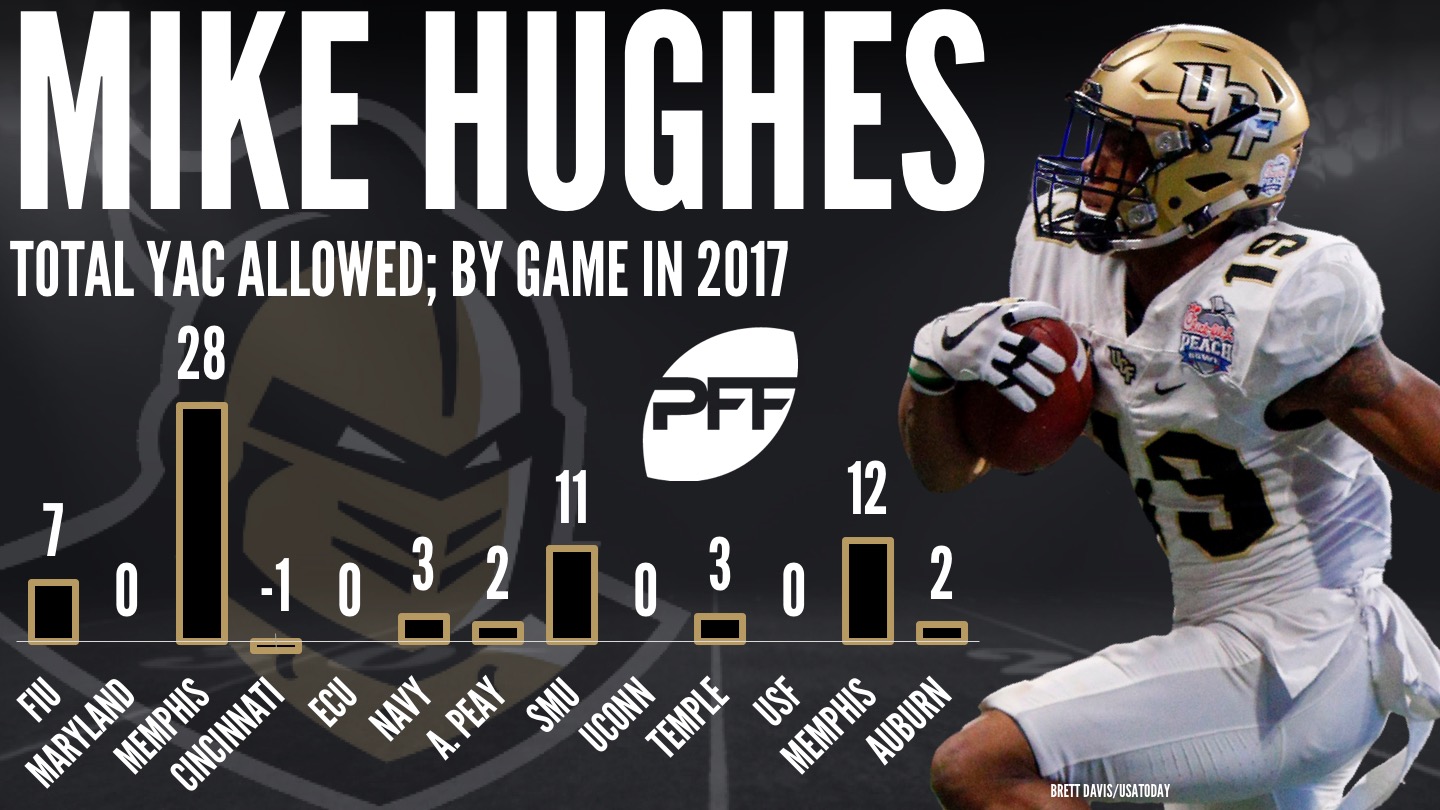 Hughes was targeted 66 times last season, allowed just 34 receptions for 301 yards, just 67 of which came after the catch. He didn't allow a single touchdown in coverage until the AAC Championship game against Memphis, but even in doing so, he sported a 43.8 passer rating when targeted last year, well below the NCAA average for a quarterback. He made a total of 13 plays on the ball in 2017, including four interceptions and nine pass breakups.
Earlier this offseason, we featured where and how our top 10 wide receivers for the 2018 NFL Draft won on their respective route trees. This week, we'll continue doing the same, but for our top cornerbacks in the draft. Covering a bevy of routes will be paramount for utilization across the field at the next level for these prospects and something some of these cornerbacks will be used to.

With that, here is where Mike Hughes won in his primary coverage in 2017:
Breaking it down on a route-by-route basis, for wide receivers we used five targets as a minimum threshold to showcase their passer rating when targeted per route. For defensive backs, they are often less targeted than the top wide receivers, so we lowered our threshold to a three-target minimum per route, which still effectively showcases a player's prowess on any given route with enough of a sample size to avoid one bad play or one good play skewing the numbers too much in one side's favor.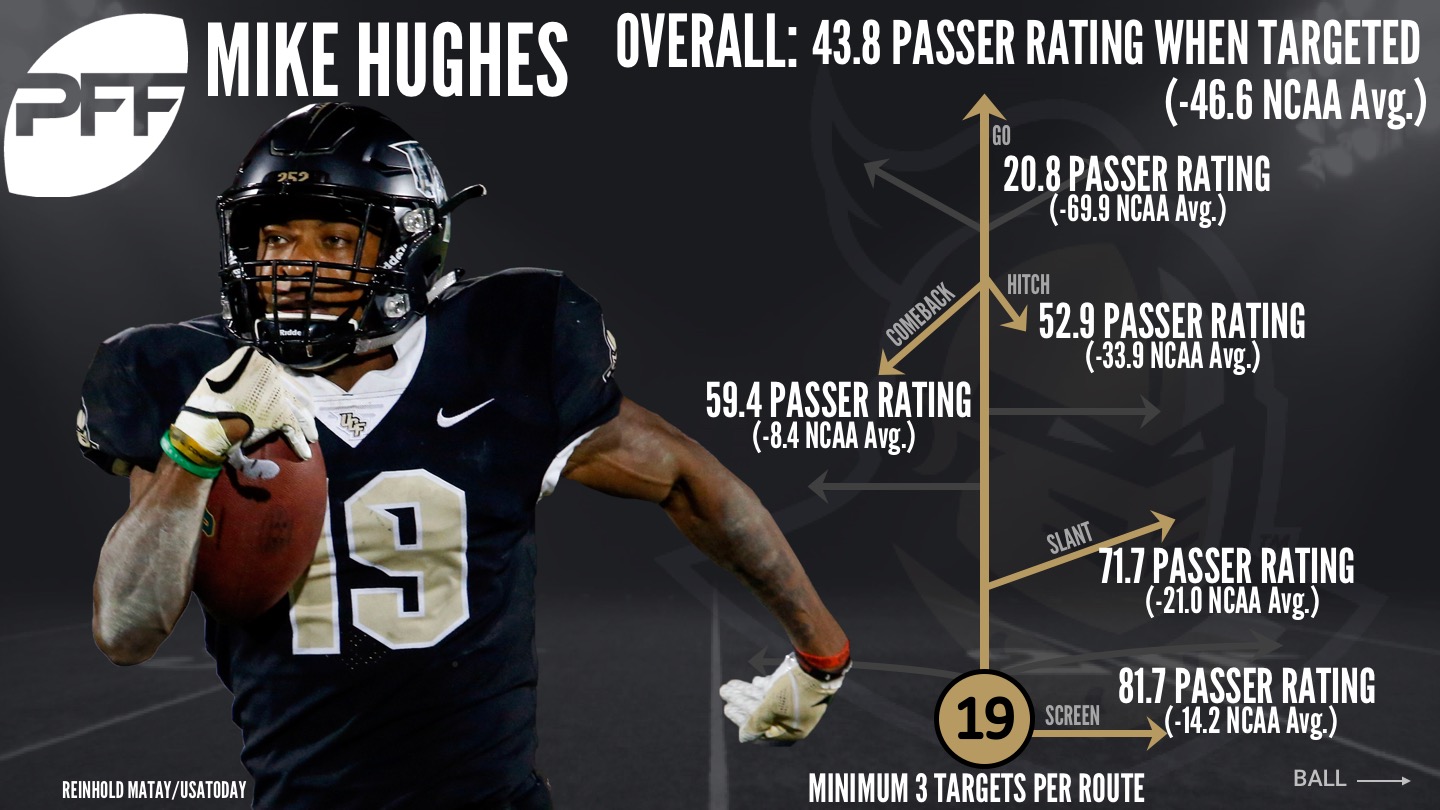 Immediately, Hughes' success on 'go' routes jumps out to any analyst reading over his data from last year. When diving further into his numbers, you notice 'go' routes were his most targeted route in coverage (tied with hitches, but we'll get to those), and he allowed just one reception across 16 targets. Let me do the math for you, that's just a 6.3 completion percentage on his most targeted route. He also brought in three of his season-long four interceptions and quarterbacks targeting him on 'go' routes saw a massive 69.9 dip in passer rating compared to the average. His hitch route success wasn't as drastic, but may have been equally impressive. On 16 targets on a hitch concept (which is specifically designed to get the receiver separation from the defensive back), Hughes allowed 10 receptions but only eight yards after the catch while grabbing his other interception.
He wasn't limited to success on just downfield routes either as he was also able to limit opposing offensive success on other routes designed to get the receivers the ball with space to work with: slants and screens. Hughes was targeted 12 times combined on those two routes and allowed just eight receptions for a total of 55 yards.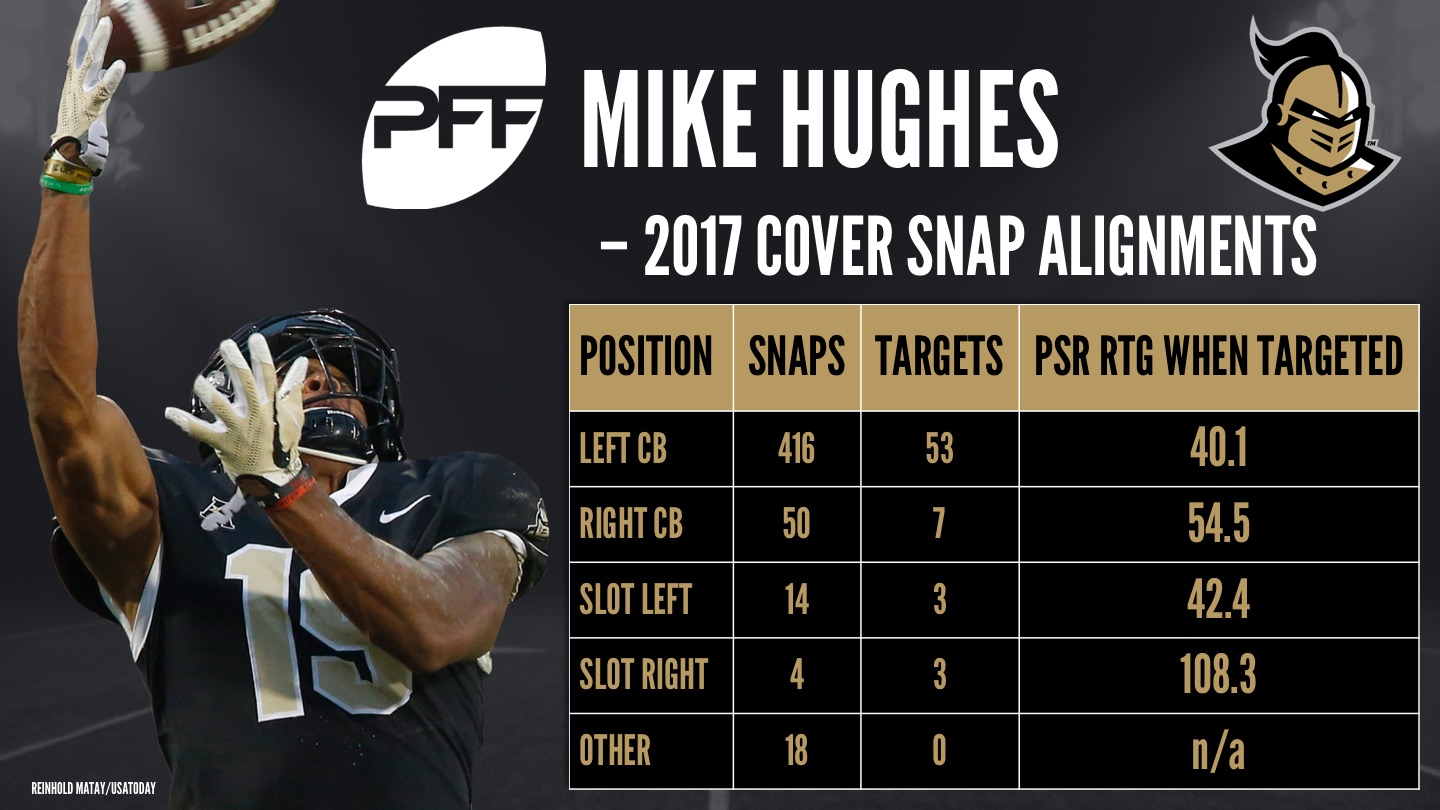 Hughes was impressive in limiting receivers from his left outside cornerback position in 2017, giving up just 27 receptions on 53 targets at LCB. He brought in three of his four picks from the left and allowed just 0.58 yards per snap in coverage on the outside. His numbers in the slot are also impressive, albeit very limited. He logged just 18 snaps from a slot cornerback alignment but was targeted six times and allowed just four receptions, including just four yards after the catch.
Whether his one-year sensation at UCF will be a concern to select him early in the draft or not is on NFL front offices, one thing is for sure, Hughes can play. He even demonstrated those skills at UNC as well, back in 2015 when he was targeted 13 times, allowed two receptions for just 21 yards and a passer rating of just 39.6. His downfield ability on the popular 'go' route, combined with his ability to keep receivers in front of him on hitch routes and shorter-developing routes with his shutdown ability on the outside could make Hughes an instant upgrade to most secondaries in the NFL.
Also, even if this article is just about his prowess in coverage, how could any writeup on Mike Hughes not include his return game skills. Hughes was our second-highest graded return specialist last season (34.8-yard average kick return, 17.8-yard average punt return), proving his value on special teams and with the ball in his hands after an interception as well.
2018 NFL Draft
---
Mock Drafts: 1 (Oct. 31, 2017) | 2 (Jan. 18, 2018) | 3 (March 8, 2018) | 4 (April 3, 2018)
Top 100 Draft Board | Top 10 WRs on the route tree | WR prospect fits | DI prospect fits | Underrated west coast prospects | 5 boom-or-bust prospects
Position ranks: QB | RB | WR | TE | OT | OG/C | EDGE | DI | LB | CB | S
Draft Quarterback Study: Lamar Jackson
Draft Corner Route Trees: Josh Jackson | Minkah Fitzpatrick | Denzel Ward | Donte Jackson | Isaiah Oliver | Carlton Davis 
Predictive Analytics: PFF College grades translation to NFL for pass-rushers | PFF College grades translation to NFL for QBs