Iowa Hawkeye fans were treated to a true breakout season from one of their own in 2017, in the form of cornerback Josh Jackson. Having logged 297 snaps across his first two seasons in Iowa City, Jackson was thrust into the starting lineup in a spot vacated by budding NFL star Desmond King.
All Jackson did in his first season as a starer on the outside for the Hawkeyes was put forth the nation's highest-graded season at cornerback, bring home eight interceptions, 17 pass breakups, and 15 defensive stops, and allow a passer rating of just 31.3 on 89 throws into his primary coverage.
Jackson won all over the field in 2017, and against all types of quarterbacks. Against Wyoming and Josh Allen, he hauled in an interception and a pass breakup and limited receivers to just seven yards after the catch on 10 targets. Against J.T. Barrett and Ohio State, he made not one but two one-handed interceptions in his 3-INT game that stole the nation's spotlight. And against Boston College in the New Era Pinstripe Bowl, he wasn't even targeted, showing what a month of prep will do to an offense: force it to completely look away from the ballhawking corner.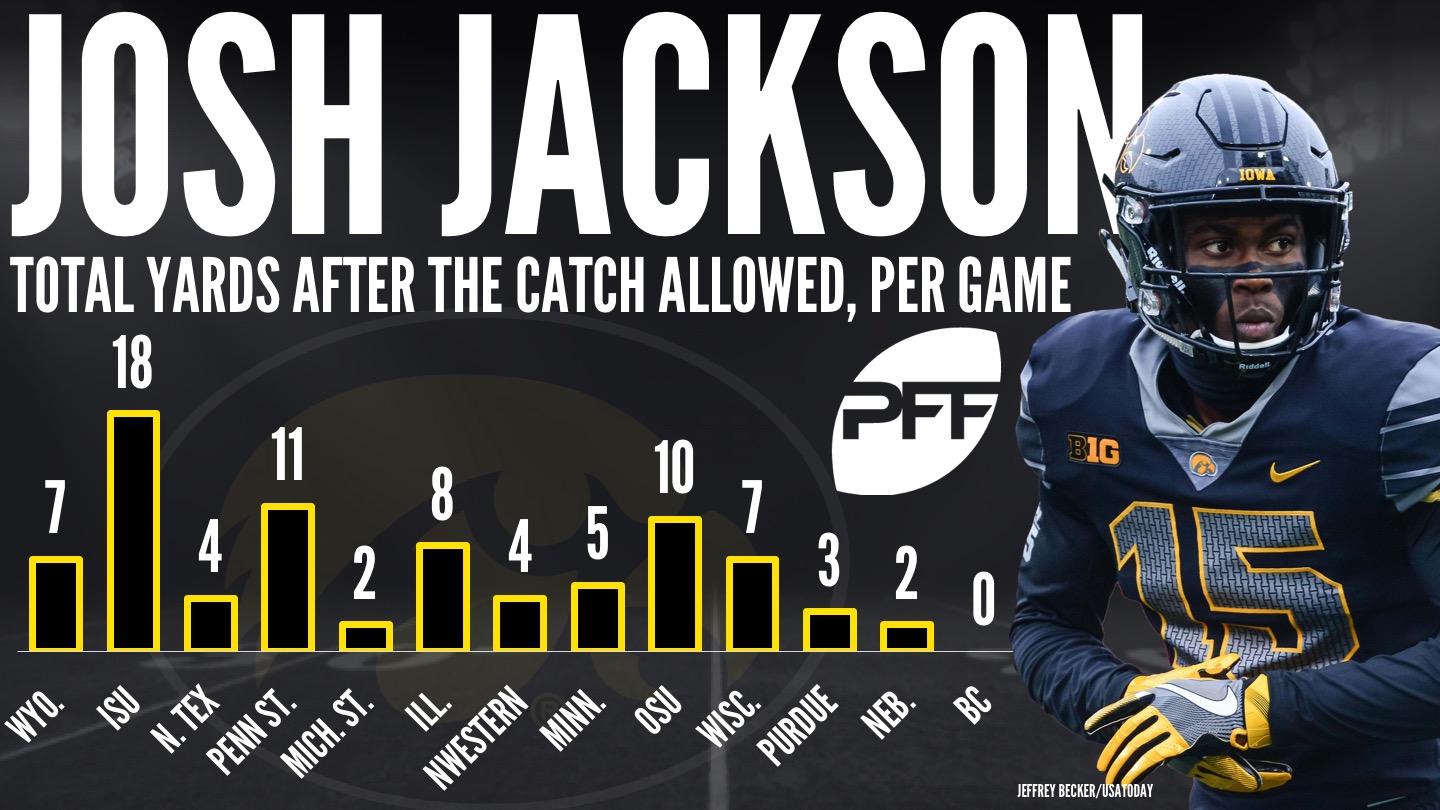 So, in his breakout season, and short of saying "everywhere," where exactly did Jackson win across the route tree? Last week, we featured where and how our top 10 wide receivers for the 2018 NFL Draft won on their respective route trees. This week, we'll be doing the same, but for our top cornerbacks in the draft. Covering a bevy of routes will be paramount for utilization across the field at the next level for these prospects and something some of these cornerbacks will be used to.

With that, here is where Josh Jackson won in his primary coverage in 2017:
Breaking it down on a route-by-route basis, for wide receivers we used five targets as a minimum threshold to showcase their passer rating when targeted per route. For defensive backs, they are often less targeted than the top wide receivers, so we lowered our threshold to a three-target minimum per route, which still effectively showcases a player's prowess on any given route with enough of a sample size to avoid one bad play or one good play skewing the numbers too much in one side's favor.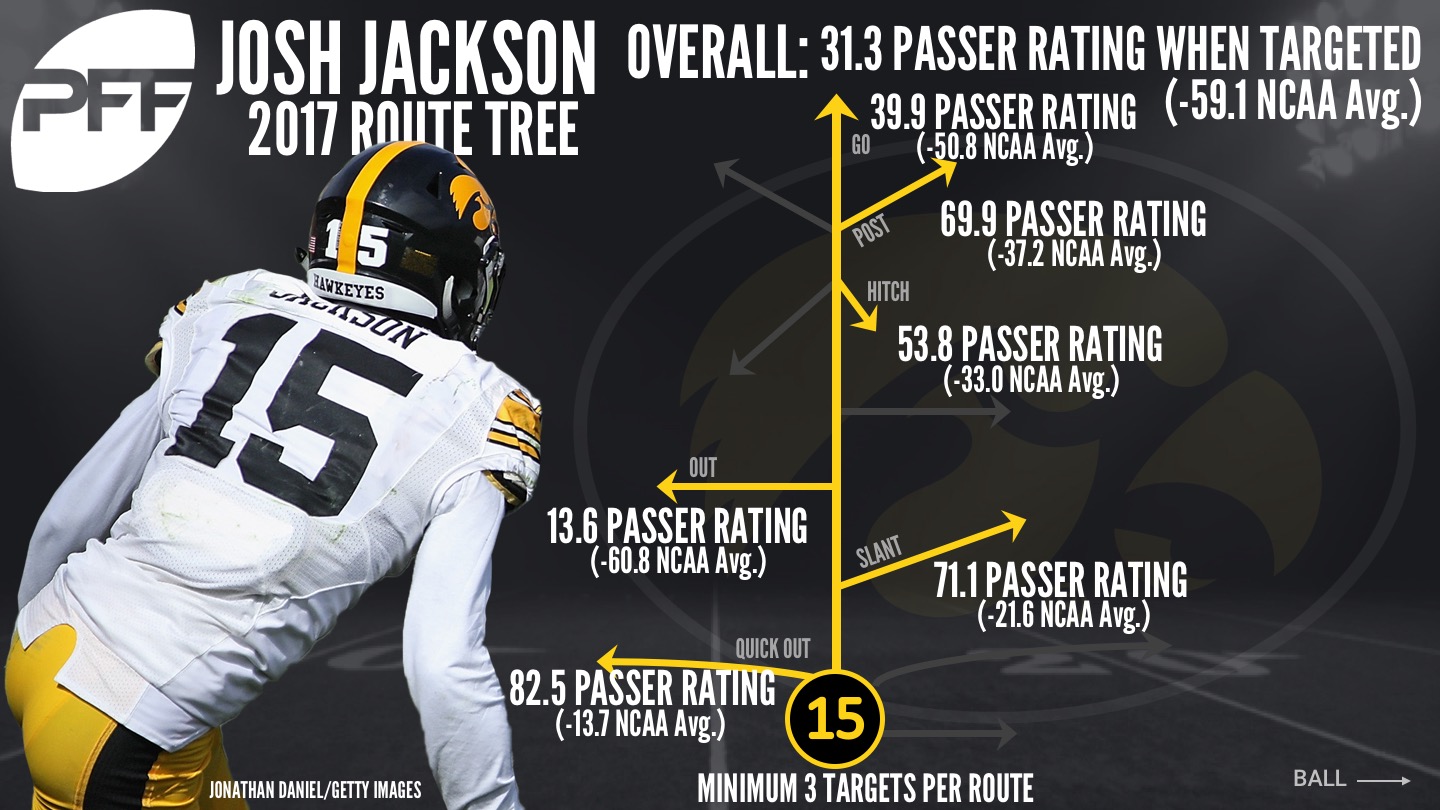 Jackson was heavily targeted on hitch routes, where clearly his close proximity to receivers paid dividends. On 22 hitch route targets, Jackson allowed 13 passes to be caught for 113 yards and no touchdowns while recording an interception and a 53.8 passer rating when targeted, or 33.0 points lower than the NCAA average on hitch concepts.
Perhaps his most impressive feat of the season was his ability to force incompletions on the longer-developing routes: posts and 'go' routes. Combined, he was targeted a whopping 24 times on post and fly routes combined, but allowed only three completions. While two of those went for touchdowns, he saw just one of those dropped by the receivers while adding another interception.
Jackson also dominated out routes in 2017, allowing just six completions on 15 targeted passes and recording five of his eight interceptions. All told, his 13.6 passer rating on out routes was a clear 60.8 points lower than the NCAA average for a quarterback targeting an out route.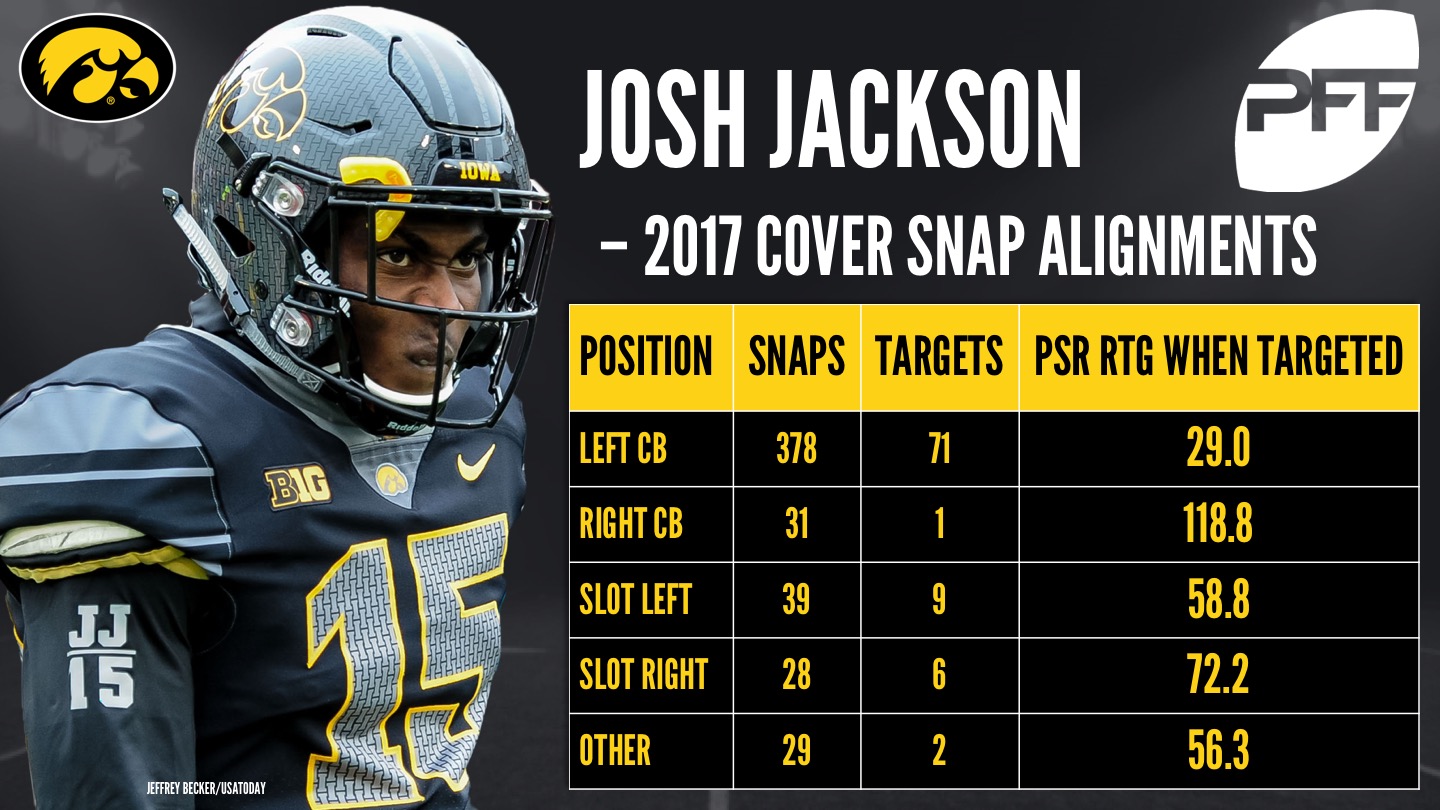 Jackson lined up almost exclusively at left outside corner at Iowa last season, playing a fair amount of press coverage in doing so. His average depth at left corner was just 4.2 yards off the line of scrimmage, compared to his 13.0 yard average depth at right. He pulled down six of his interceptions at LCB while his other two, interestingly enough, came from the left slot, where he only spent 39 snaps.
His dominance on the outside as well as his speed and athleticism have made him a clear favorite atop most draft boards, including PFF's Top CBs, but his dominance on nearly every route truly showcases how special Josh Jackson was in 2017.
2018 NFL Draft
---
Mock Drafts: 1 (Oct. 31, 2017) | 2 (Jan. 18, 2018) | 3 (March 8, 2018) | 4 (April 3, 2018)
Top 100 Draft Board | Top 10 WRs on the route tree | WR prospect fits | DI prospect fits | Underrated west coast prospects | 5 boom-or-bust prospects
Position ranks: QB | RB | WR | TE | OT | OG/C | EDGE | DI | LB | CB | S
Draft Quarterback Study: Lamar Jackson
Draft Corner Route Trees: Josh Jackson | Minkah Fitzpatrick | Denzel Ward | Donte Jackson | Isaiah Oliver | Carlton Davis 
Predictive Analytics: PFF College grades translation to NFL for pass-rushers | PFF College grades translation to NFL for QBs