With Mock Draft 3 upon us, it's time to look at the players who just missed the cut. There are various reasons why players may not make it in the first round, from recent NFL combine performances to team fits late in the round. Here are the top players who just missed the cut in Mock Draft 3.
The 2018 NFL Draft Guide is here! For PFF Edge & Elite subscribers, a comprehensive guide featuring player profiles of signature stats, grades and exclusive PFF content including position by position rankings. Find out more information here and join PFF now!
Nick Chubb, RB, Georgia
Chubb regained his freshman-year form last season with an 87.8 overall grade and an elusive rating of 96.2 that ranked fifth in the class. He has big-play capability, but also does a fine job of taking what is blocked by his offensive line and he could have a very productive career in the proper setting. Chubb is right on the cusp of first-round status, thought positional value of running backs make him a better option in the second.
Arden Key, Edge, LSU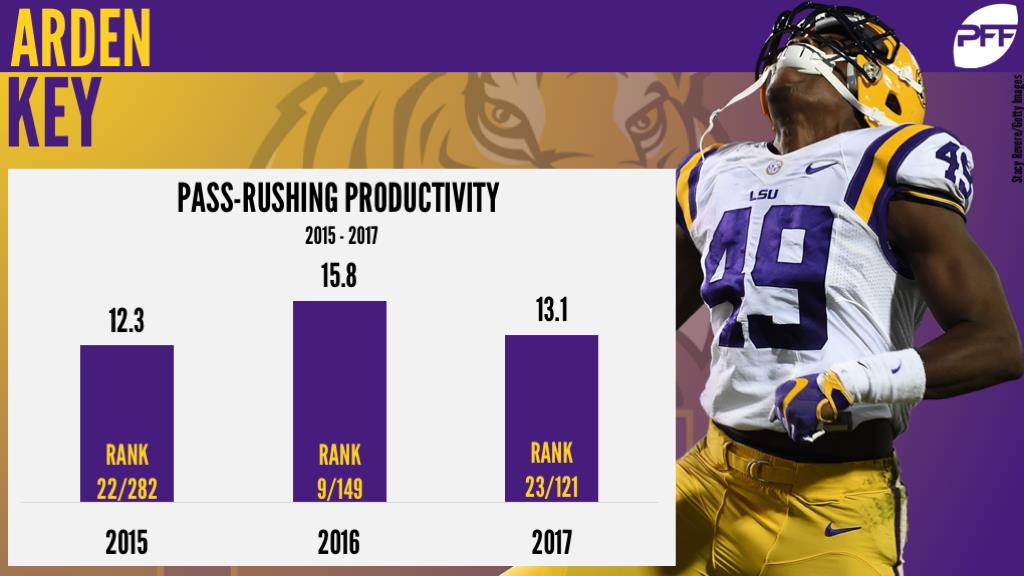 A lack of bulk and general off-field concerns are both red flags for Key, who showed up at the combine at under 240 pounds. At his best, he has the length and bend to disrupt the quarterback off the edge and he looked like a future first-rounder after picking up 110 pressures in his first two seasons at LSUs. However, a lack of development and a subpar 2017 season have raised question marks and his lack of bulk may limit his fit around the league.
Ronald Jones II, RB, USC
One of the better pure runners in the draft, Jones was outstanding in 2017 on his way to the top PFF grade by a running back at 92.4. It's all about pass-game value for Jones, who has yet to show the receiving ability as some of the other top backs in the draft class. It's difficult to slot running backs in the first round as it is, but receiving questions further elevate that difficulty.
Mark Andrews, TE, Oklahoma
Andrews looks nimble on tape despite not showing well in the movement drills at the combine. He was always a fringe first-round prospect on our draft board and the value just didn't match up here in Mock Draft 3. Andrews remains a prospect with mismatch ability at the next level and similar blocking concerns as other tight ends in the class, though a subpar performance at the Combine may knock him down a peg.
D.J. Moore, WR, Maryland
Moore has outstanding quickness and the ability to get up field in a hurry, all leading to an 84.6 overall grade last season. He has one of the best combinations of speed and quickness in the draft to go with the toughness to work the middle of the field. When you add it up, Moore can do damage both outside and in the slot and he provides a shifty threat capable of creating separation or making plays happen after the catch.
Calvin Ridley, WR, Alabama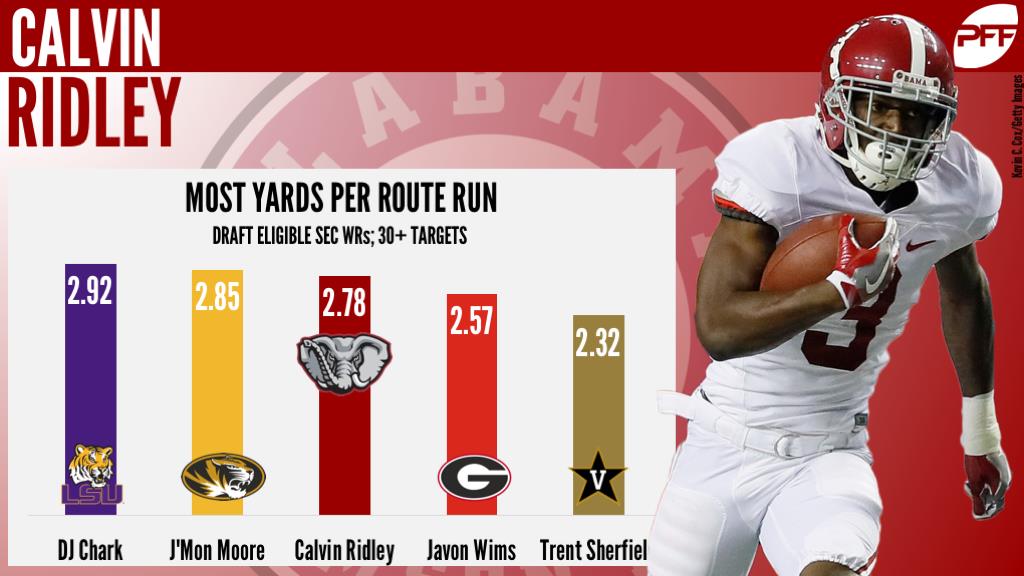 Ridley is still very much in the first-round mix, but his combine performance did raise some concerns as he wasn't great in the change-of-direction drills. It doesn't take away from this speed, which plays well on film and makes him a viable deep threat, but the wide receiver class still has questions at the top as there are no clear-cut No. 1 options.
Donte Jackson, CB, LSU
Jackson ran well in Indianapolis, as expected, and he solidified himself as a second-round prospect on the PFF draft board. A lack of height may limit his work on the outside at the next level, but he moves well and provides one of the better slot options in the draft where he played 270 of his snaps last season on his way to a solid 83.9 overall grade.
Mike Hughes, CB, UCF
While Hughes is a smaller corner by NFL standards, he has the skillset to play on the outside. He allowed a passer rating of only 35.5 into his coverage last season and he has the ability to play press coverage despite lacking desired six-foot-plus height. Hughes finished 2017 with one of the top grades in the nation at 88.8 overall.
James Washington, WR, Oklahoma State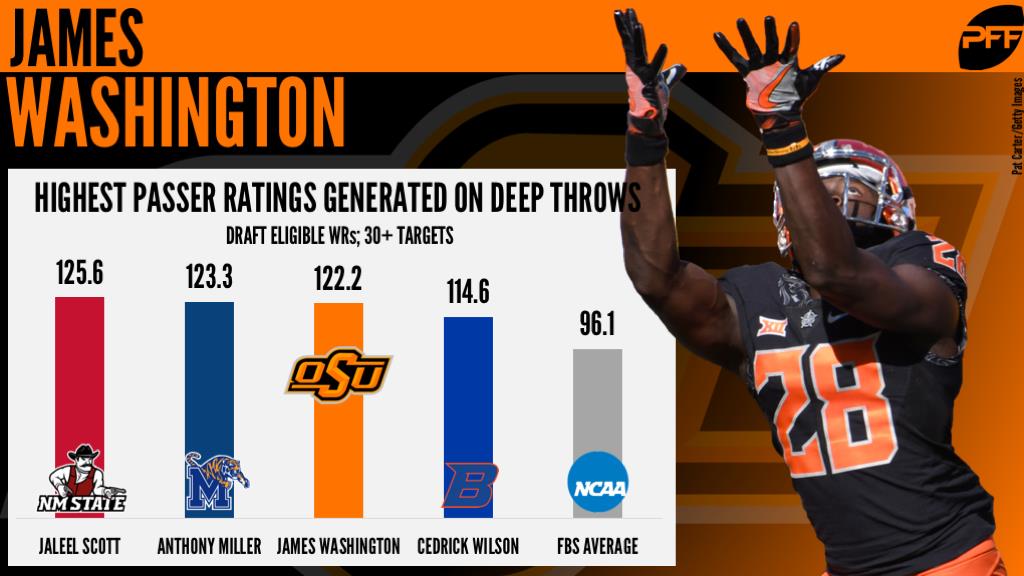 Another wide receiver casualty in the first round, Washington is battling a number of other players to be the top wideout off the board. He runs good routes and ran an expected 40 in the 4.5-range, but questions remain as to whether or not he can be the same deep threat he was at Oklahoma State where he led the nation with 815 yards on deep passes last season.
Cedrick Wilson, WR, Boise State
One of the few receivers capable of winning on the outside or in the slot, Wilson ran in the 4.55-range at the combine, a speed that shows up on film. He's unlikely to become a deep threat at the next level, but he has good quickness that shows up in his route running and after the catch where he forced 22 missed tackles on 140 catches over the last two seasons. Wilson is one of a number of receivers vying for position in the second-round range.
2018 NFL Draft
---
Position ranks: QB | RB | WR | TE | OT | OG/C | EDGE | DI | LB | CB | S