The all-star portion of the draft process is upon us, and the East-West Shrine game has a long tradition of providing one last chance for players to prove themselves before heading to the NFL. As always, one week of practice does not undo thousands of game reps a player has put on film, but it's always good to see prospects in a controlled environment against their peers, and many players can help to answer questions that have come up during the evaluation process thus far.
Here are the top players to watch at the East-West Shrine Game on Jan. 21.
1. Gunner Kiel, QB, Cincinnati
Many of Kiel's off-field questions will not be answered in one week of practice and a few reps in the game, but he can show off his physical ability. In 2015, Kiel had his ups and downs at Cincinnati, but the best of his game was up there with any quarterback in the country. He ranked 21st out of 148 qualifiers in big-time throw percentage, showing the ability to throw accurately down the field. However, Kiel also ranked 54th at avoiding turnover-worthy plays that season, showing that he still has work to do with his decision-making. The 2016 season was a different story, as Kiel failed to win the starting job, didn't see the field for extensive action until Week 8, and then earned a poor 52.0 overall grade. It was a rough finish to a roller-coaster college career path for Kiel.
2. Michael Roberts, TE, Toledo
Even in a deep tight end class, Roberts still has a chance to shine after finishing the 2016 season as the No. 2 tight end in the nation, earning a 85.4 overall grade. He knows how to get open, using his hands to create space at the catch point and shielding defenders with his 6-foot-4, 265-pound frame. Roberts led the nation with 16 touchdowns, and also showed well in the running game, grading at a healthy 72.9. He has a chance to turn heads with an all-around performance that shows his ability to separate as a receiver and contribute in the run game.
3. Austin Carr, WR, Northwestern
The nation's top-graded receiver at 89.4 overall, Carr has a good combination of feel for the passing game and the speed and route-running ability to separate against both man and zone. He arrives at top speed quickly, helping him get on cornerbacks in a hurry and beat defenders to spots when he accelerates through zone coverage. Carr was one of the more sure-handed receivers in the nation, as his drop rate of 4.26 was 10th-best. Carr did nearly all of his work out of the slot at Northwestern, and this is an opportunity to show that he can also win when lined up on the outside.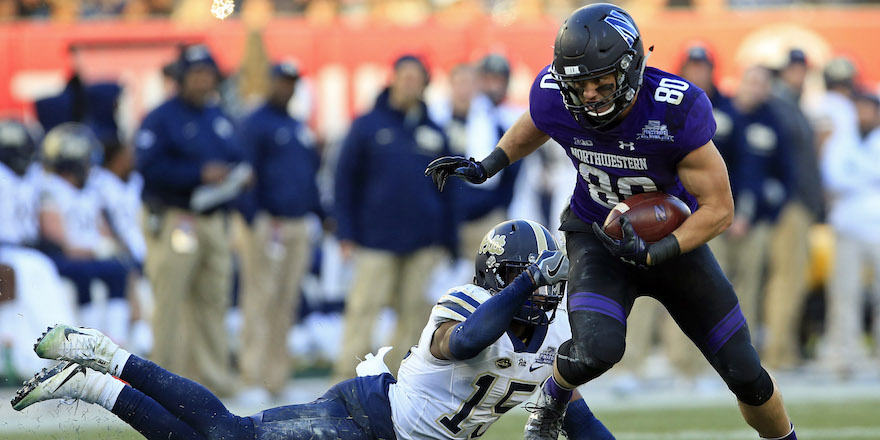 4. Jalen Robinette, WR, Air Force
A prospect that caught our eye early in the 2016 season, Robinette is a rare NFL talent from the Air Force Academy's wide receiving corps. The option-heavy offense does not usually feature receivers with Robinette's 6-foot-3, 220-pound frame and big-play ability, and that's why he was able to stand out as one of the nation's top big-play receivers. Robinette averaged 27.4 yards per reception, while his 5.42 yards per route was more than a yard better than the nation's next-best receiver. Robinette uses his body well on downfield throws, and he has the athleticism to create after the catch. Given Air Force's limited passing attack, it's important to see Robinette in a more advance environment, and he has a chance to turn a lot of heads with a strong performance.
5. Chase Roullier, G/C, Wyoming
A PFF top 101 player coming into the season, Roullier made a smooth transition to center (No. 12 overall grade) after finishing as one of the best run-blocking guards in the nation a year ago. He has the quickness to make the necessary reach blocks in a zone-blocking scheme, and he's proficient at making blocks on the move—something Wyoming took advantage of with him pulling quite a bit from center in their scheme. Zone-blocking teams will likely have interest in Roullier, and this week is a great chance for him to show his versatility after three strong years of grading in the PFF system.
6. Calvin Munson, LB, San Diego State
With three years of outstanding grading in the PFF system, Munson has a chance to showcase his talents as a linebacker, contributing in the run game, as a pass-rusher, and in coverage. His 88.4 overall grade ranked fifth in the nation in 2016, as he notched five sacks, seven hits, and 17 hurries when rushing the passer. A lot of Munson's success stems from San Diego State's scheme that uses a lot of pre-snap movement to free him up to attack offensive linemen, and while he attacks blockers well and can be disruptive at the point of attack, it's important for him to show that he can read and react in more traditional situations.
7. Treston DeCoud, CB, Oregon State
Another prospect we highlighted around midseason, DeCoud is a favorite of Pac-12 analyst Jordan Plocher. He tied for 13th in the nation with nine pass breakups, and his 6-foot-3 frame will grab the attention of the teams looking for long corners. Aside from a few poor games in the middle of the season, DeCoud had a great showing in 2016, including an impressive effort against Cal wide receiver Chad Hansen in their matchup. Like most tall cornerbacks, shiftier route runners can give DeCoud trouble, and that's always going to be the area in which he has to prove himself.
8. Tedric Thompson, S, Colorado
The PFF College Best Coverage Defender for 2016, Thompson made plays at safety and in the slot for Colorado, earning a 92.3 coverage grade that led the nation's safeties. Thompson saw 64 targets on the season, tied for fifth among safeties, allowing only 40.6 percent of his targets to be completed. He recorded seven interceptions to go with seven pass breakups, all adding up to a passer rating of 22.3 when targeted. Thompson can show his versatility if he holds up both in the slot and on the back end at safety, and he is a strong prospect in one of the better safety classes in recent years.
9. Trey Hendrickson, Edge, Florida Atlantic
The practice reports have been raving about Hedrickson's pass-rushing ability, and that's no surprise after he posted the nation's No. 3 pass-rush grade, finishing with nine sacks, 13 hits, and 56 hurries on his 318 rushes. It's a big week for Hendrickson, as he'll always have to answer questions about competition level, playing in Conference USA, but he's had good showings in two games against Miami, as well as a game against Florida, over the last two years (15 pressures in those three games).
10. Channing Stribling, CB, Michigan
It's easy to overlook Stribling on a loaded Michigan defense, but with a 6-foot-2 frame, the NFL is taking notice. He's more than just size, as he had an excellent 2016, finishing with the third-best grade among the nation's cornerbacks, at 87.7. Stribling had a knack for getting his hands on the ball, tying for the sixth-most pass breakups, with sixth, using that long frame to his advantage. In a strong cornerback class, Stribling provides great value in the second tier, and like the other long cornerbacks, he has to prove himself against shiftier route runners.