2015 Heisman finalist quarterback Deshaun Watson carried the Clemson Tigers to within a score of the national championship. Although they fell just short in the big game, they enter 2016 as again one of the top title contenders, and Watson is the biggest reason for that positive outlook.
The Tigers' defense could realistically take a step backward next season, after the graduation of a number of starters. But a more experienced Watson should improve Clemson's scoring unit. His form at the end of 2015 certainly suggests that a Heisman-caliber season is on the horizon.
Let's look at why Watson should have an excellent 2016 campaign:
1. He excels on downfield throws
Watson's late-season exploits included a number of long touchdown throws, with the QB consistently making big plays in the clutch. Overall, Watson was accurate on 47.5 percent of his deep targets, throwing for 1,196 yards and 18 touchdowns on passes of 20-plus yards. Only Bowling Green's Matt Johnson found paydirt on more occasions in 2015. Watson was a little aggressive on occasion, throwing seven picks on deep targets, but he made many more positive plays than mistakes, especially late in the year.
Watson's arm talent is very impressive (more on that below), but he isn't just a fastball thrower, as he shows impressive touch down the field. Clemson's postseason run started in the ACC Championship game, with Watson leading the team over North Carolina in a shootout. The play below illustrates the type of plays he can make down the field. The location on this deep sideline throw is perfect.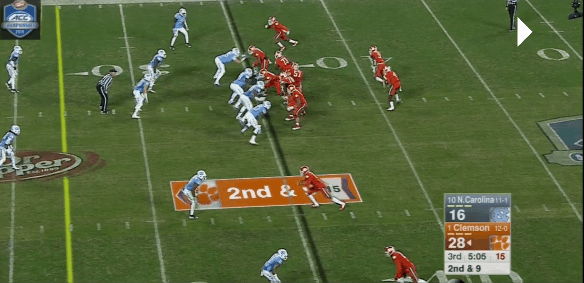 Watson flashed his downfield touch consistently over the final few games. He doesn't try to throw the ball too hard, instead putting enough air under it to allow his receiver to get into position. He can also throw with touch to the intermediate level, particularly in the red zone, and at all levels he shows the ability to take heat off the ball when required.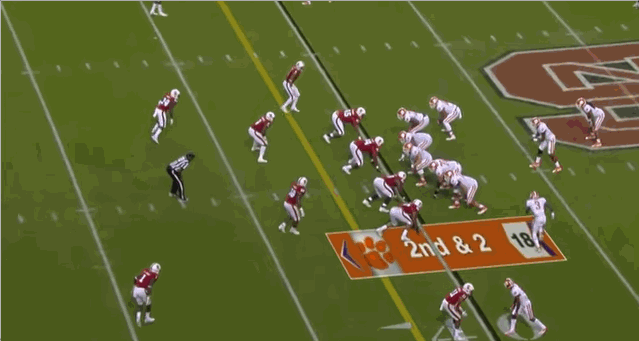 2. He is very effective at throwing on the move
Another of Watson's key traits, highlighted by the above throw against North Carolina, is his ability to throw on the run. He's moving to his strong side (the right) while throwing that touchdown strike, but he also shows the ability to throw with accuracy while moving to his left. Watson's athleticism, and physical capabilities in general, are unmatched among FBS quarterbacks. The threat he poses on the ground, coupled with his accuracy on the move, makes Clemson's quarterback an absolute nightmare to defend.
3. His running ability makes him a genuine dual-threat
Some quarterbacks pose a hindrance with their ability to scramble. Watson's talent in the open field makes him an even more problematic opponent. He can easily break off long runs when his receivers are covered, as well as pose a threat on designed quarterback runs.
Quarterbacks are traditionally at an athletic disadvantage in the open-field, but Watson defies convention. He has the vision, speed and ankle-breaking agility to thrive as a pure runner. Watson's rushing grade ranked fourth in the nation among returning QBs, after he posted over 1,000 yards and 12 touchdowns on the ground in 2016.
4. He has the arm strength to fit throws into tight windows
As much as Watson relies on his ability to put touch on the football, his complete skill set makes him a dominant quarterback. He can avoid the risk involved in tight windows with the kind of heat most quarterbacks are unable to achieve, and it allows him to throw late against zone coverage on occasion.
Most passers would end up with multiple interceptions on those types of high-risk passes, but Watson's physical gifts bail him out regularly. The below example, even though the pass was dropped, makes his prodigious arm talent evident.
5. He has room to get even better
As should be clear by now, Watson has plenty of positive traits. His main negative to this point in his career has been a dramatic drop-off in performance under pressure. He ranked 68th of 70 qualifiers in adjusted completion percentage against the rush, throwing with precision on a lowly 47.6 percent of passes. Watson recorded a relatively disappointing -10.6 grade, and a QB rating of only 68.0. In addition to the six interceptions he threw against pressure, the Clemson standout missed some easy throws when disrupted in the pocket.
If he can improve in that area, Watson will be unstoppable in 2016. He was so far advanced that it's remarkable to imagine him in only his second college season. He may well end up as the first overall pick of the 2017 NFL Draft, especially if he's able to iron out the minor flaws in his game. His physical profile, athletic talent and passing skills make Watson one of college football's best players, and make Clemson a national title contender.