As such with any list, the goal of the PFF College 101 is to identify the best college players from the 2018 season. While it's generally understood that not all positions are created equal at the college level, the list of top 101 players from this past football season is largely backed by our PFF play-by-play grades but with some leeway granted to positional boosts for certain players, workload as a percentage of their respective's teams snaps, level of competition on a game-by-game basis as well as many other factors.
The challenge in adjustment for competition is a tough ask, and as such, some players with higher PFF grades will find themselves lower than other players at their position based on such factors, and vice versa. Players with above-average grades against elite teams will receive a boost while players who put forth elite grades but against below-average teams all have been factored in. For that reason, the representatives from the Group of 5 conferences who made the list did so on the strength of excellent grades that were above and beyond their peers and were done so over the course of multiple games this season.
Keep in mind that this list is all about college football and the past 2018 season. We are not projecting for the NFL or any future drafts.
1. Quinnen Williams, Defensive Interior, Alabama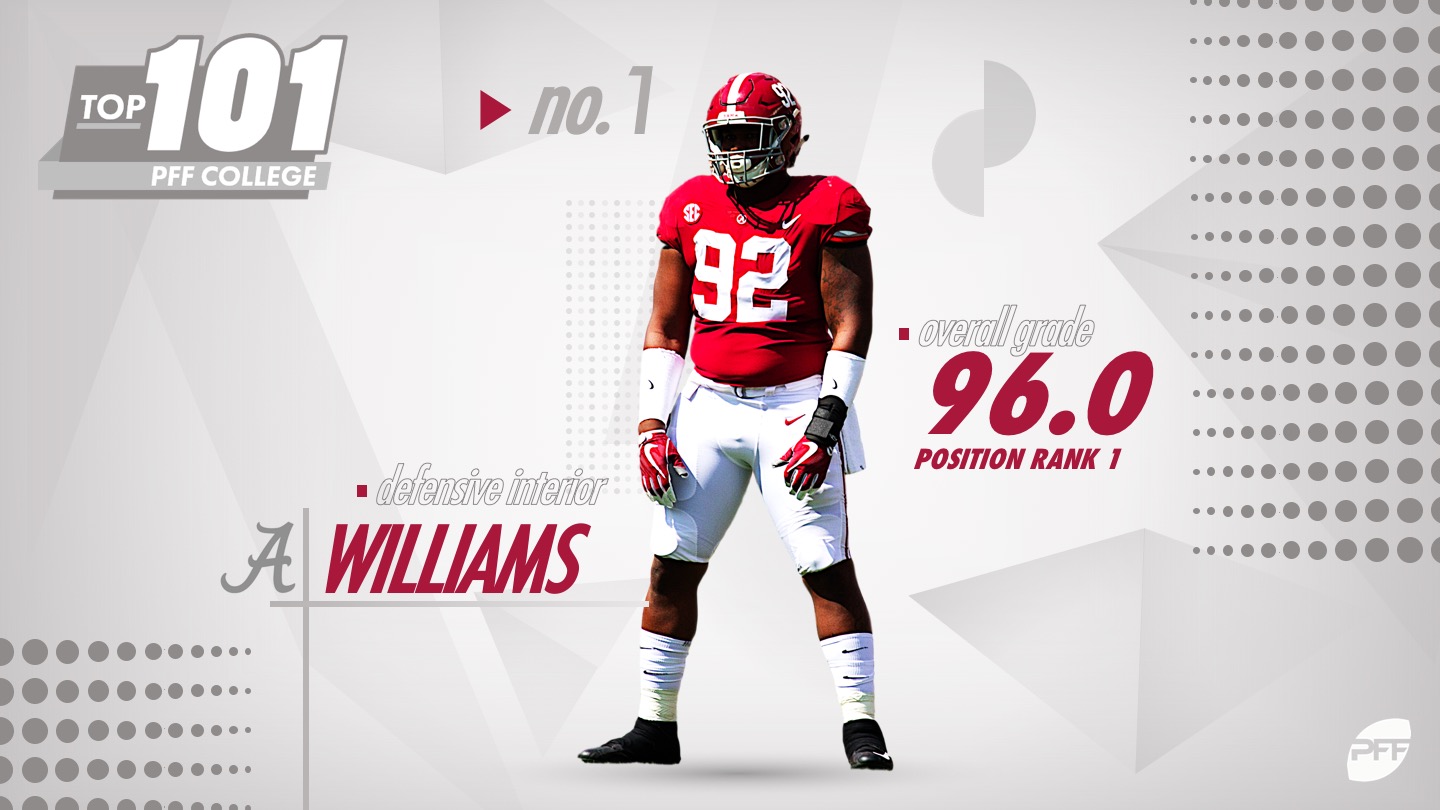 No player was more dominant this season than Williams who led all defensive players, not just interior defensive linemen, in grade as well as topping the position in both defensive stops and QB pressures. He was a one-man wrecking crew and despite the loss to Clemson in the National Championship, Williams still showed his disruptive abilities that saw him combine to secure 26 sacks+hits this year, leading the way in both sacks (10) and hits (16) among interior linemen.
2. Kyler Murray, Quarterback, Oklahoma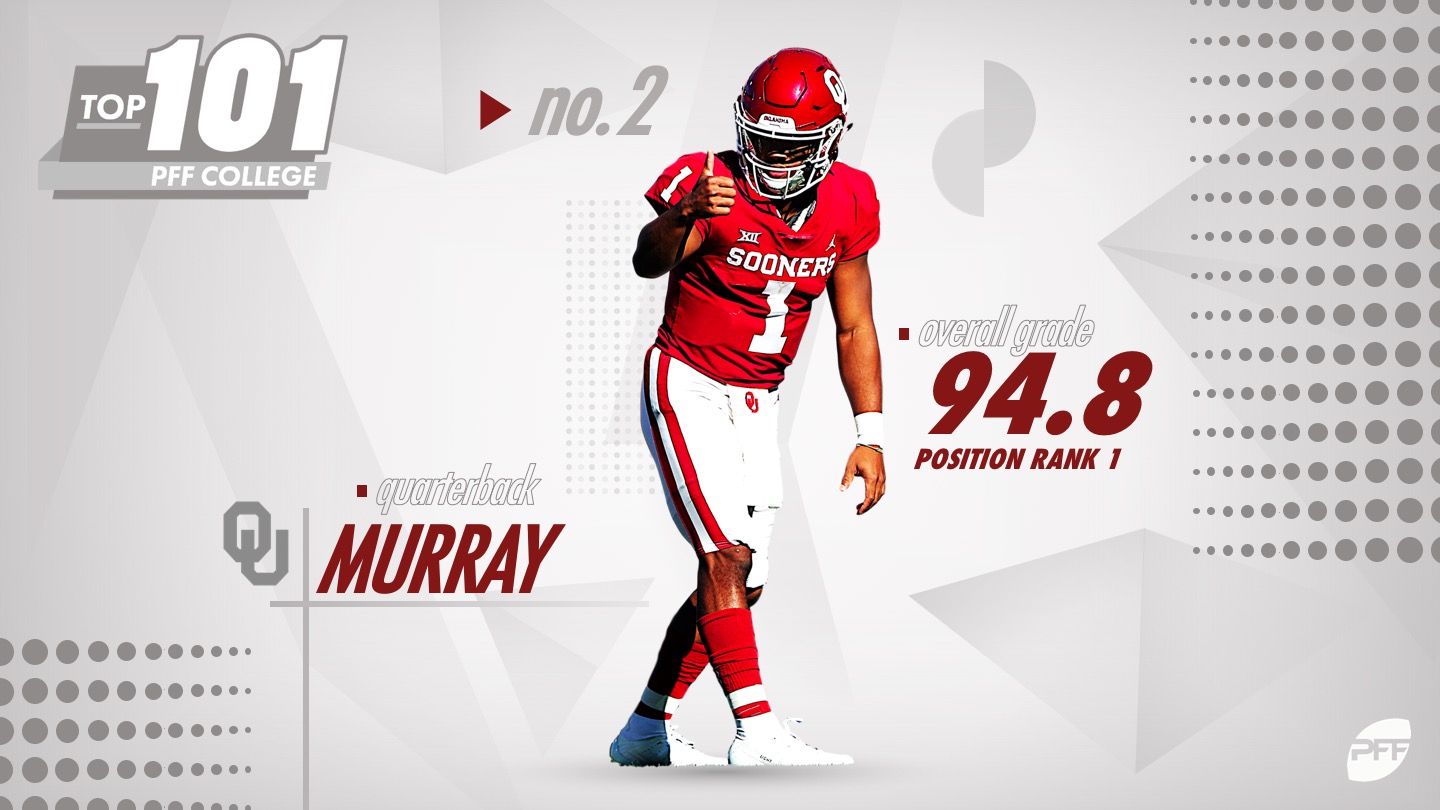 The Heisman Trophy winner dominated game-in and game-out this year en route to the No. 1 overall grade among quarterbacks while unleashing the highest average of yards per attempt at 11.6. With talk of his declaration for the 2019 NFL Draft now heavy on the tongues and keyboards of pundits across the country, Murray's outstanding play should stand for itself as he'll prepare for the draft. His 78.9% adjusted completion ranked fourth at the position despite his ridiculous average of 11.6 yards per attempt (not just completion).
3. Christian Wilkins, Defensive Interior, Clemson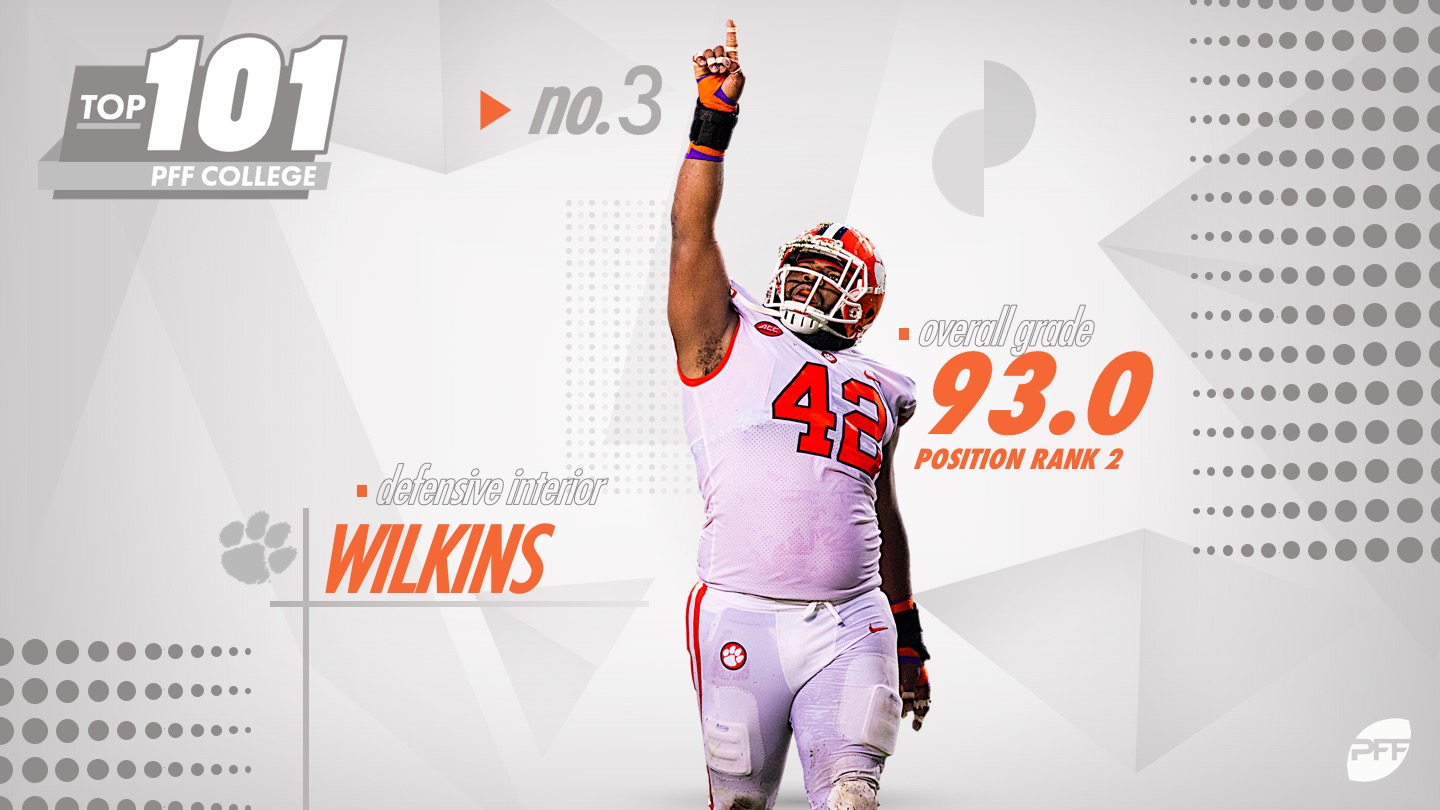 Few were as disruptive as Wilkins in 2018 and perhaps the only man who truly was is just above him on this list. Wilkins finished with the third-highest pass-rush grade and run-defense grade as he was equally impressive in both facets for the Tigers during their 15-0 season. Arguably the most enticing figure for the big man as he prepares for the next step of his football playing career was the fact that he recorded 46 QB pressures, 39 defensive stops, 36 solo tackles and did so with missing just one single tackle attempt this year.
4. Josh Allen, Edge Defender, Kentucky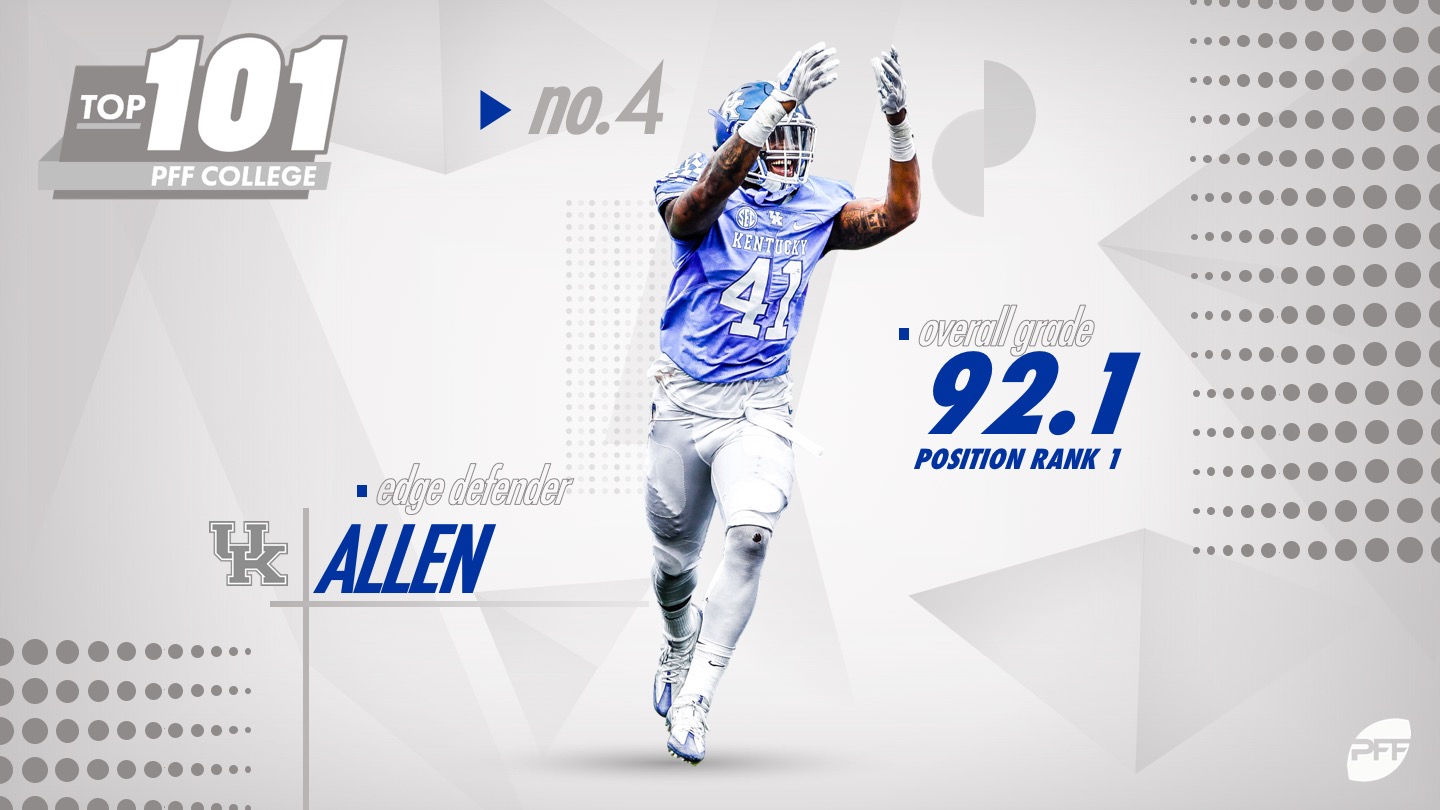 This one is easy: Josh Allen got home with a pressure on 23.4% of his pass-rush snaps this season – the best mark of any defensive player who rushed the passer at least 200 times this year. He tallied 57 pressures on just 244 pass-rushes and his outstanding pass-rush productivity of 30.3 was 3.5 percentage points higher than the next closest player. He was far and away the best pass-rusher this season regardless of position but that's not even the half of what he did well. He dropped back in coverage with great success (81.9 grade) and made 51 total defensive stops and missed just four tackles out of 69 attempts. All in all, Allen's performance not only cemented him as the best edge defender this season, but it also vaulted him up draft boards and should make him more than a recognizable figure come April.
5. Trevor Lawrence, Quarterback, Clemson
The Trevor Lawrence Era has officially begun and it doesn't look like it's going anywhere. Entering the season in a 'quarterback controversy' with Kelly Bryant, Lawrence emerged from highly-touted high school recruit to flat-out phenom in a matter of games. He put it all on display against Alabama with great velocity on his throws and what seems to be a great understanding of the game of football. For the season, Lawrence finished the season on a tear and vaulted into the top 10 in terms of overall grade after the dismantling of Alabama. He put forth game grades over 70.0 in all but four contests and finished the season with above-average grades in his final five outings including two elite games against South Carolina and Notre Dame. If the performance he had against the Crimson Tide is an indicator, be prepared to hear his name a lot more this coming fall, and the next fall, and the next.
6. Andy Isabella, Wide Receiver, UMass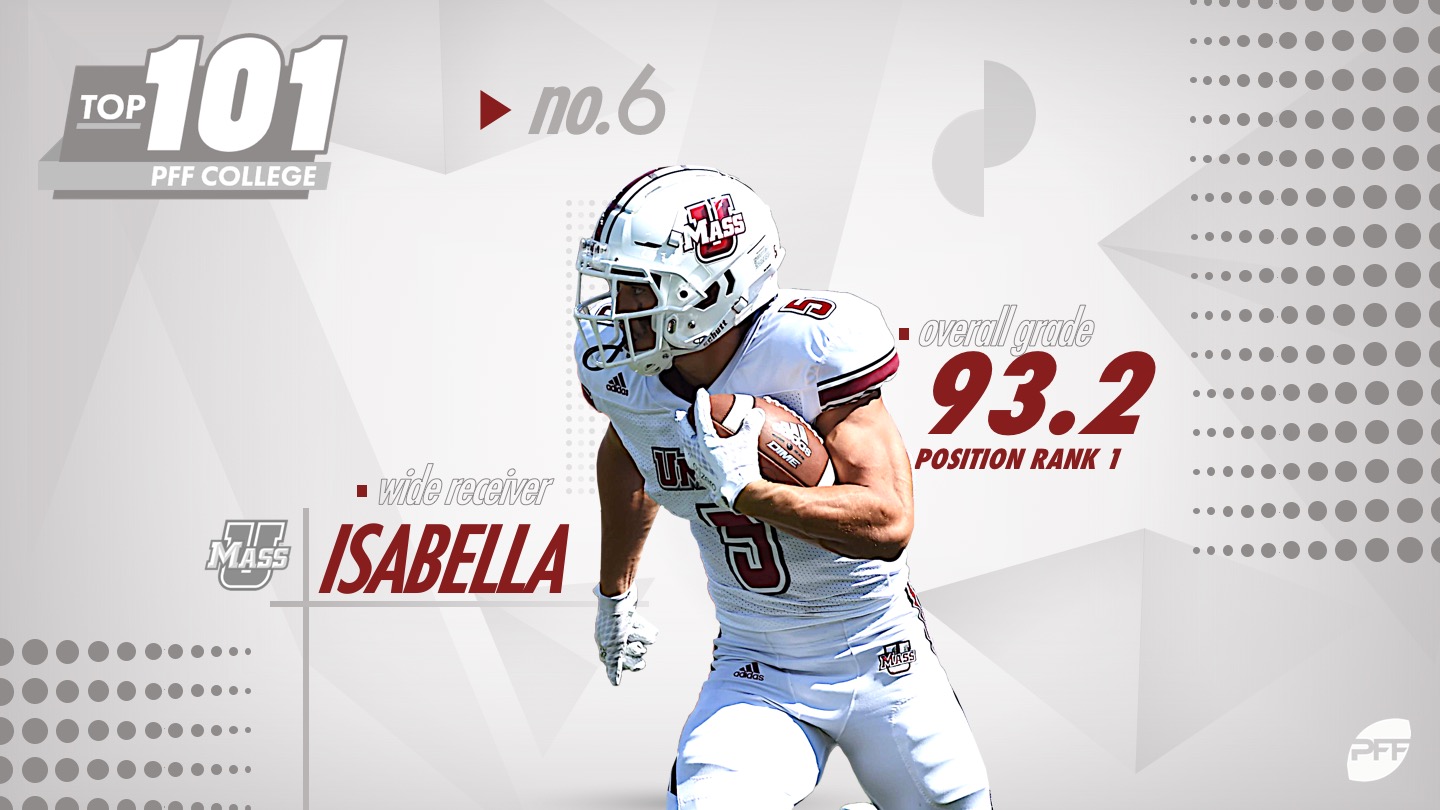 We at Pro Football Focus didn't think there was a better season by a receiver all year long and our vote for the Biletnikoff Award went to Isabella. All he did in 2018 was lead the nation in overall grade (93.2), receiving grade (93.8), yards (1,695) and combined first-down and touchdown receptions (68). He was a threat with the ball in his hands just as much as he was a threat to get open even against the best competition, something he put on display against Georgia in UMass' biggest game of the season. Against the vaunted Bulldogs secondary, Isabella went for 15 receptions, 219 yards, four first downs and two touchdowns. It wasn't just against the second-stringers that Georgia put on the field either, he hauled in both receptions when he went one-on-one against Deandre Baker, all four passes against Richard Lecounte and even bested freshman sensation Tyson Campbell for an 11-yard gain. Isabella deserved the praise of the highest extent and was more than deserving of all his accolades.
7. Byron Murphy, Cornerback, Washington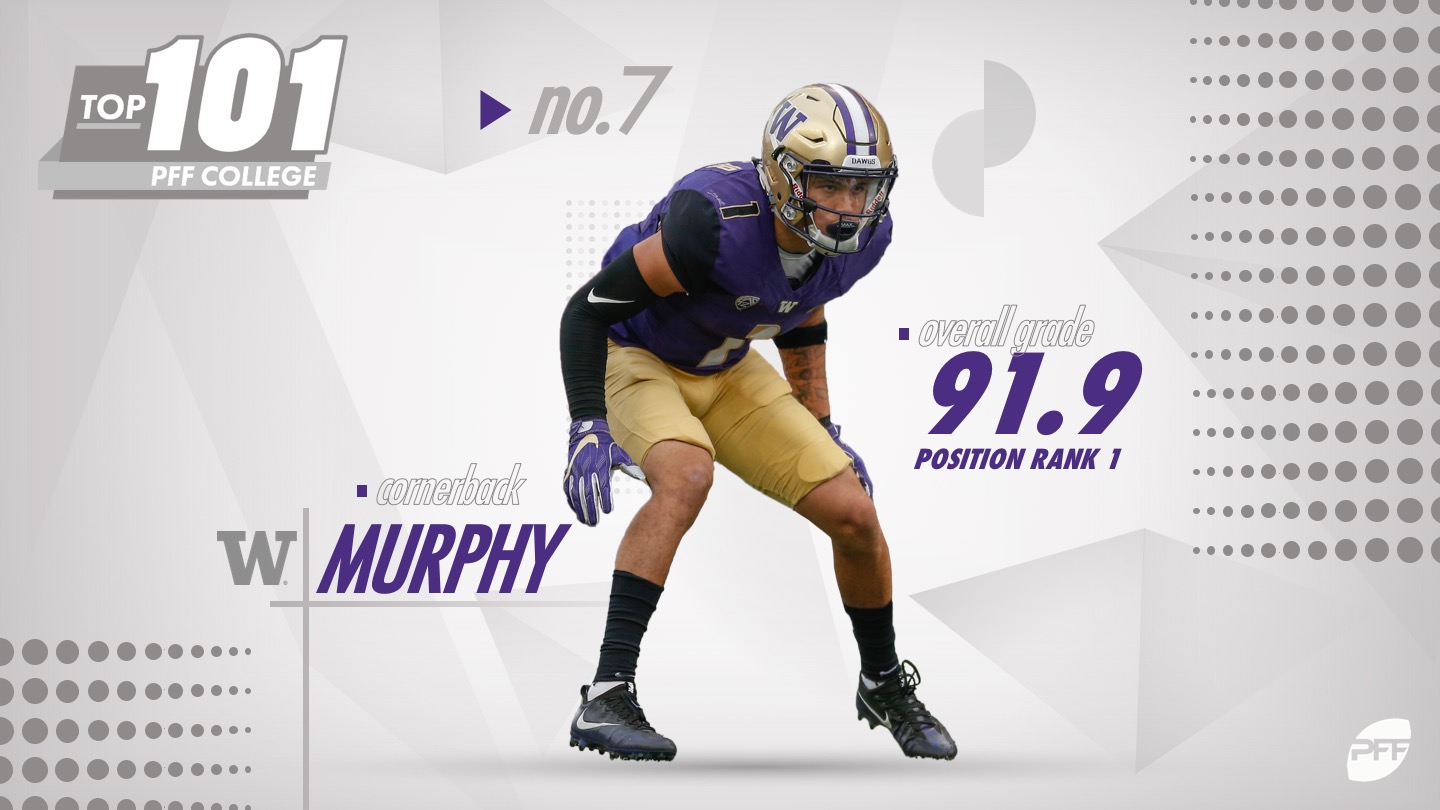 It's been said before but can be said again, Murphy's prowess in coverage can be summed up with one performance this season, and that came against Utah in the Pac-12 Championship. From his cornerback position, Murphy was the only player to see the end zone as he recorded a Pick-6 for the game's only touchdown in the Huskies win over the Utes. With that in mind, Murphy was more than just a one-game sensation as he was targeted 62 times, yet allowed just 78 total yards after the catch in his coverage. He broke up 13 passes to go along with his four interceptions and saw a 54.5 passer rating when targeted.
8. Ed Oliver, Defensive Interior, Houston
Long since the nation's best run stopper along the interior of the defensive line, Oliver added a new wrinkle to his game this year, a career-high pass-rush grade of 88.2 – adding nearly 20.0 grade points to his previous career best that he set during his true freshman season in 2016. Oliver wasn't destined to stay at Houston for long and during his final season for the Cougars, he was as impressive as ever, recording 26 pressures on 270 pass-rush snaps despite being double- and even triple-teamed on nearly every snap. He drastically cut down on the missed tackles as well, missing just one of his 39 attempts this year as well, rounding out what turned out to be a fabulous career in the Lone Star State.
9. Tua Tagovailoa, Quarterback, Alabama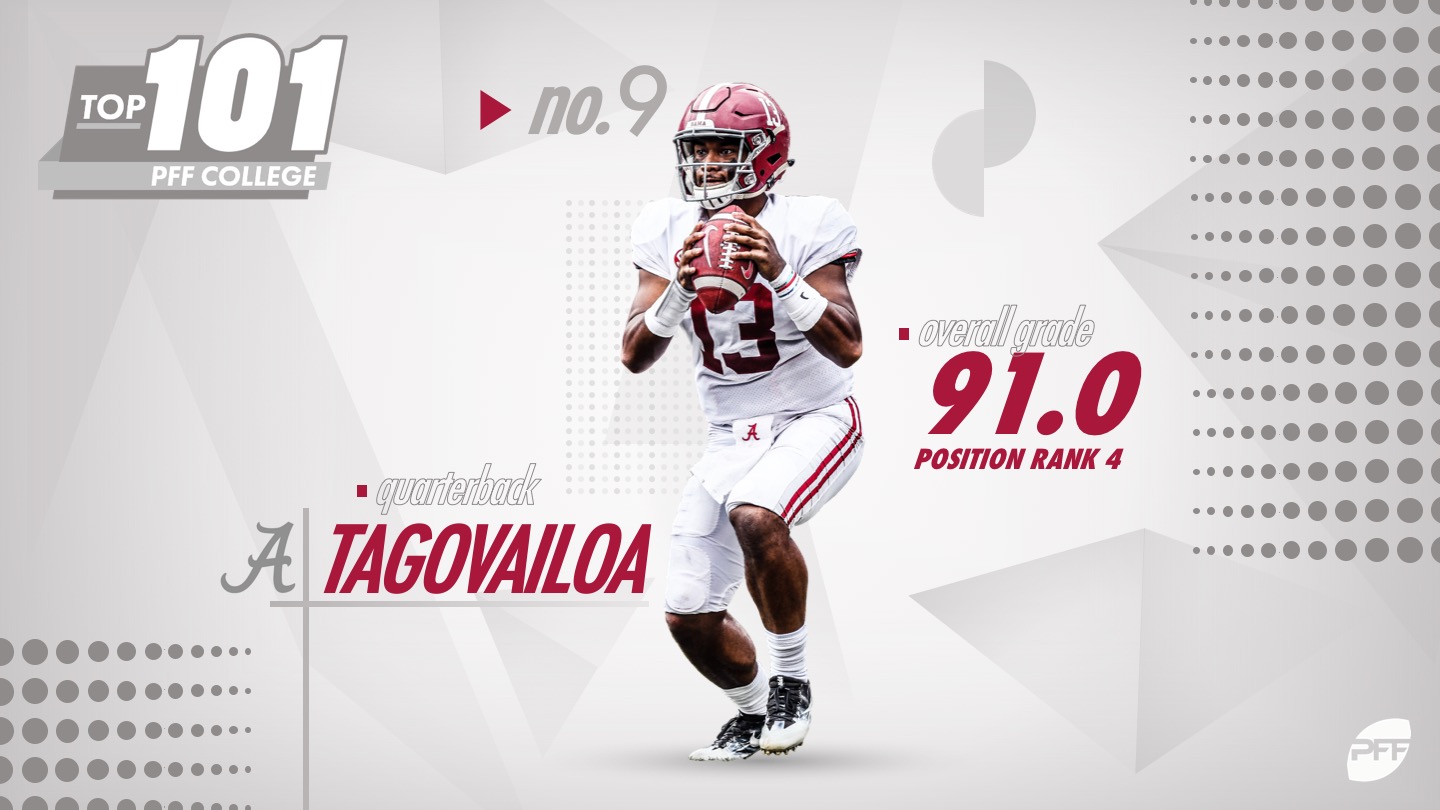 Had this been written up before the National Championship Game, everyone in the country would have agreed with Tagovailoa's spot on the Top 101. After what was nothing short of a disastrous performance from the Crimson Tide's offense (and some shuffling from our original Top 101 rankings), there may be some discussion about whether he deserves a top 10 mark, but let's clarify here: Tagovailoa has more than earned his spot in the top 10 this season despite the season finale stinker. Tagovailoa was one of just three quarterbacks this year to average a yards-per-attempt figure above 10.0 yards (at 11.1) and he did so by still finishing with an adjusted completion percentage of 76.9% that ranked 12th. No matter which way you slice it and if you even add in his final game against Clemson, Tagovailoa finished with a record-breaking performance for the ages this season.
10. Jonah Williams, Offensive Tackle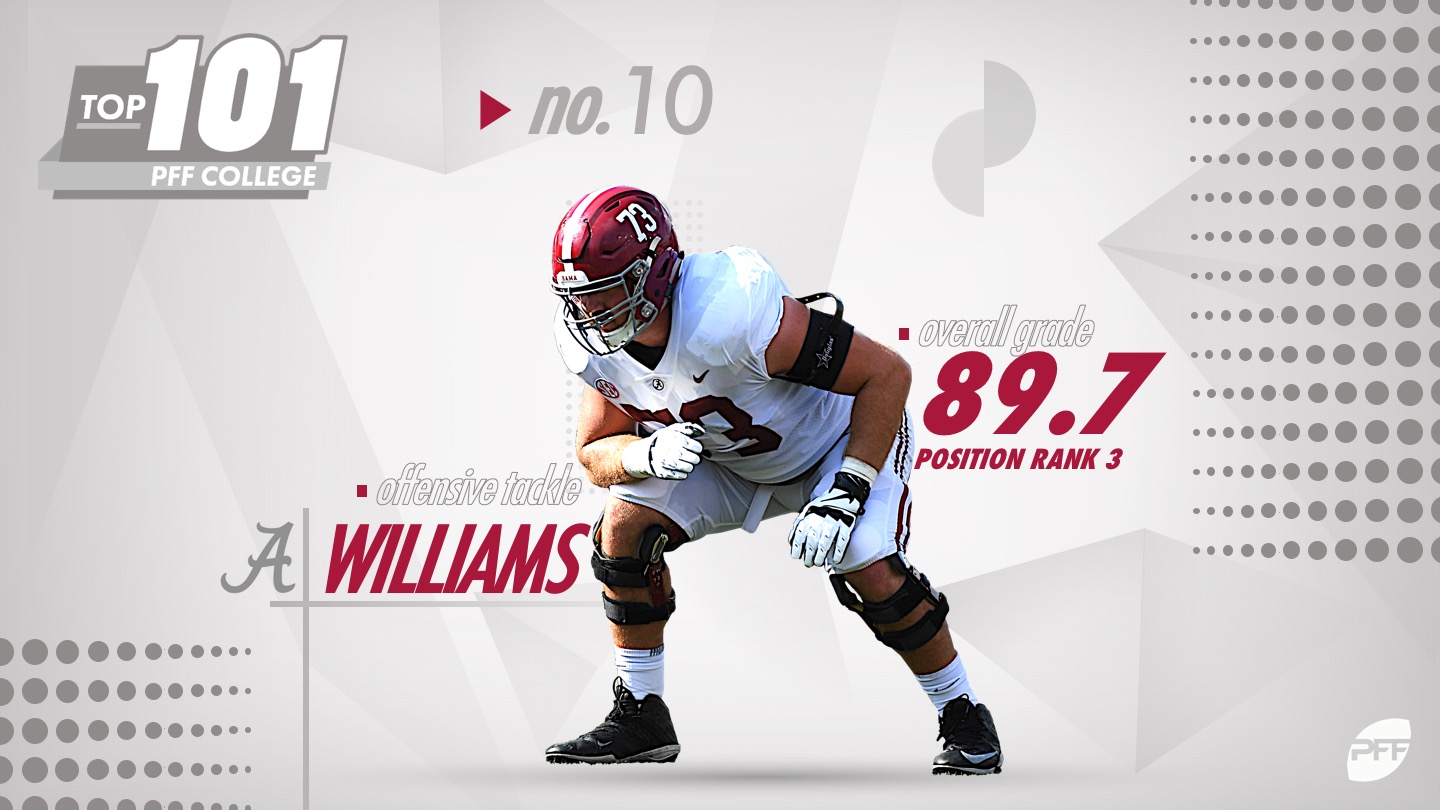 At fault for just 12 QB pressures this season, Williams did not allow a single sack across his 482 snaps in pass protection while he also added more than his fair share of value in the run game. Considering the amount of talent he had to face from SEC edge rushers this season, it puts his performance into that much higher of a tier than his counterparts at tackle, granting him clemency even though not allowing a sack all season long is a feat in it's own regard.
11. Jonathan Taylor, Running Back, Wisconsin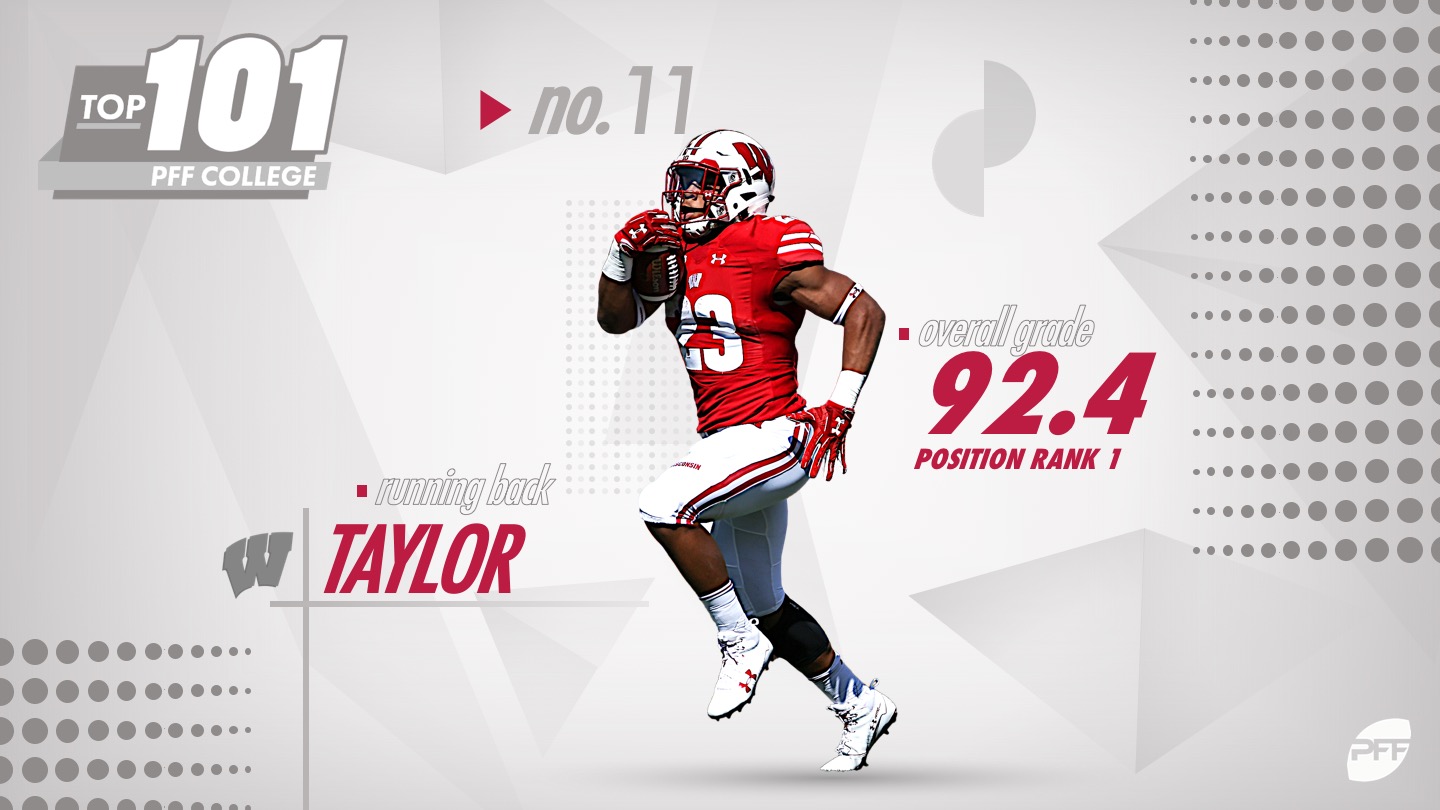 Running behind the three highest-graded offensive linemen in terms of run blocking is one thing but forcing 65 missed tackles and gaining 1,307 yards after contact on your own is a complete other task in and of itself. Taylor did both of those things this season as his three offensive linemen on the list below had the three highest run-blocking grades regardless of offensive line position and he finished second in yards after contact and fourth in missed tackles forced this year. Taylor found space through outrageously large holes at times but was no slouch at making his own gains and recorded a national-best 61 runs of at least 10 yards. He recorded 80 first-down runs in addition to his 16 touchdowns as he was absolutely dominant in running towards the Doak Walker Award.
12. Ben Burr-Kirven, Linebacker, Washington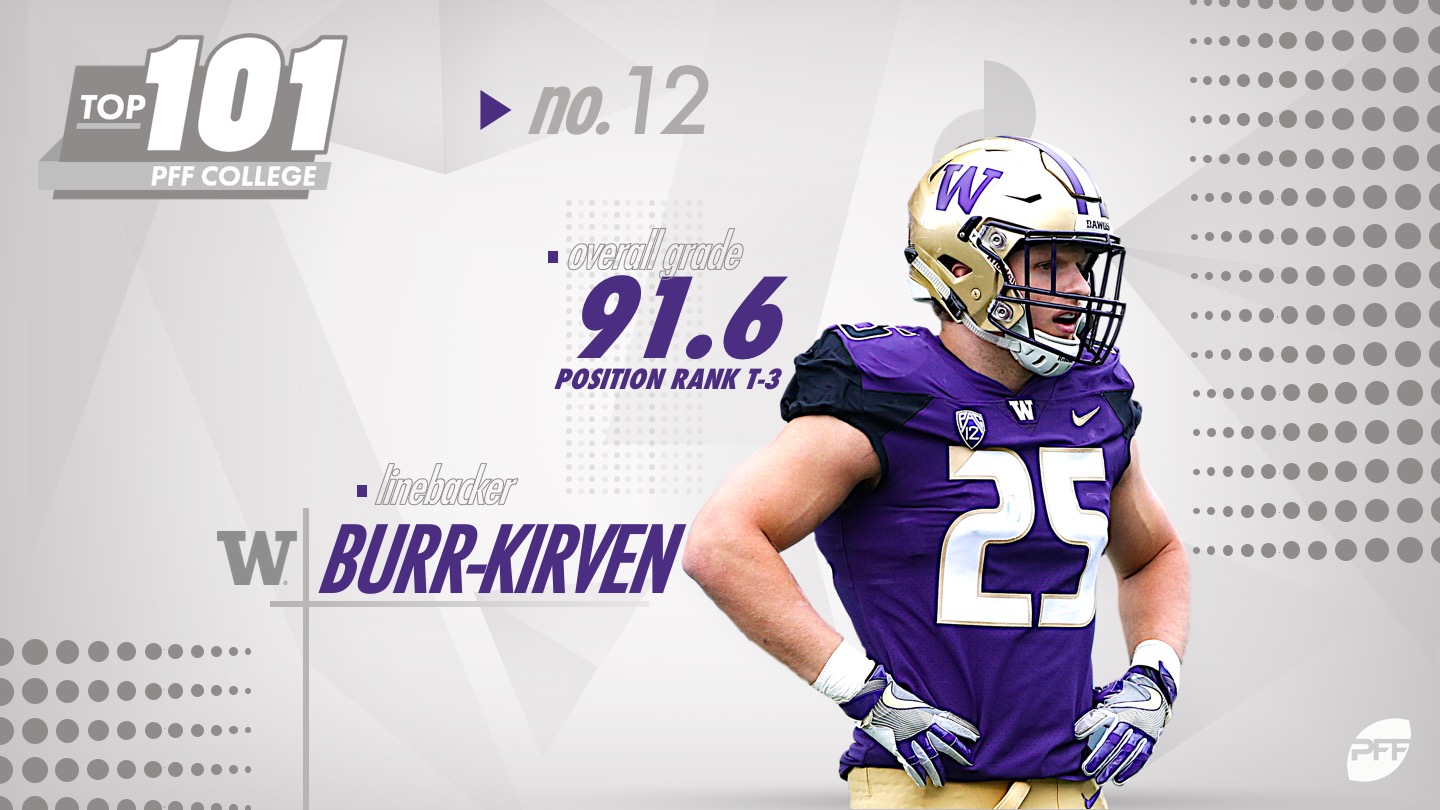 No linebacker made more tackles in PFF's more effective tackle tracking than Burr-Kirven, registering 116 solo tackles and an additional 44 assists. Unsurprisingly, he recorded a massive 60 defensive stops and forced three fumbles, showing off his range across the field for the Huskies in 2018. Tasked with blitzing the passer just 51 times, BBK was also able to bring in a more-than-respectable 19 QB pressures that included three sacks. All told, his 91.6 overall grade was more than warranted by looking just at the box score – but his play on the field and effect he placed on the game was even more apparent this year.
13. Will Grier, Quarterback, West Virginia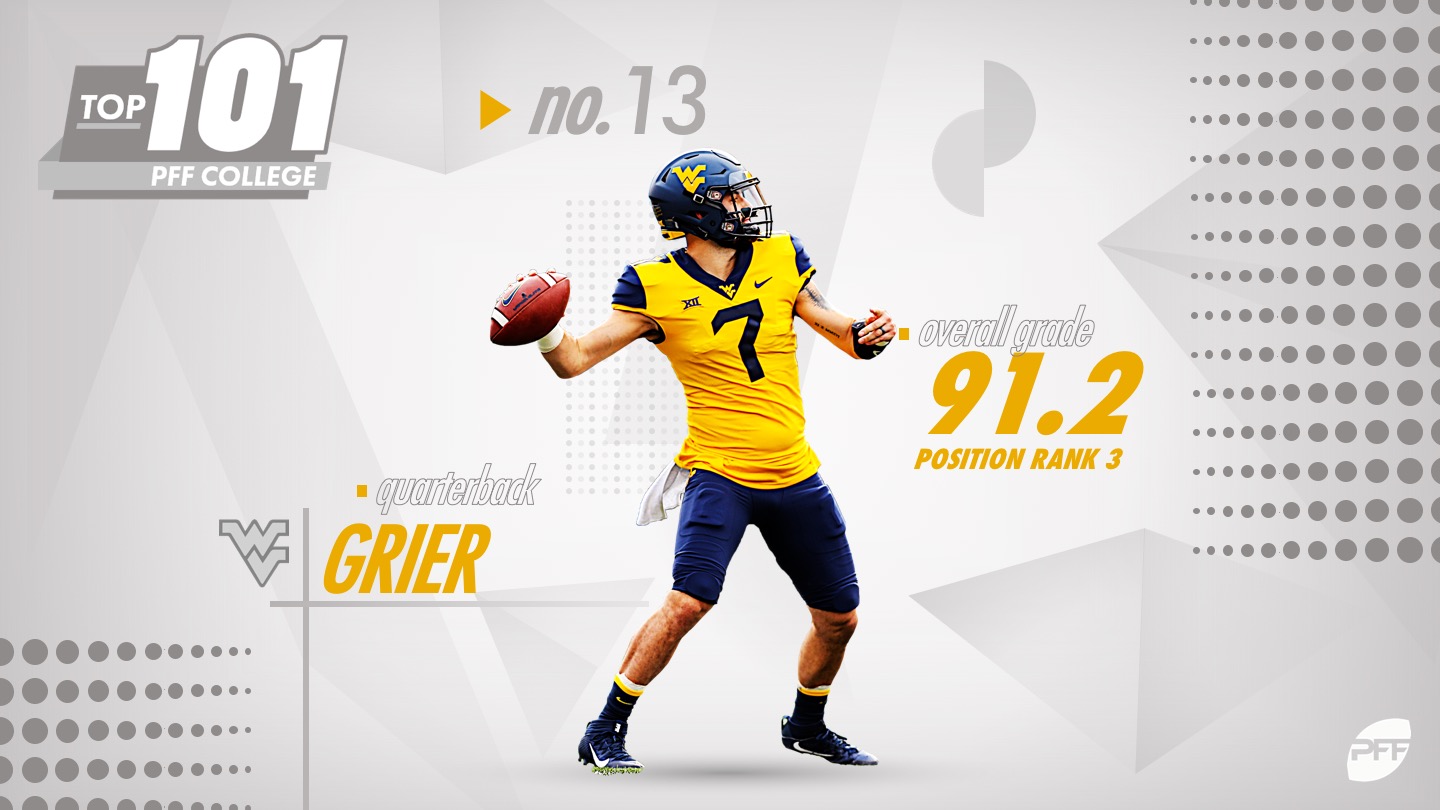 Grier was once again tremendous for the Mountaineers in 2018, finishing the year as the nation's third-highest graded quarterback. He let it rip with the best of them, sprinkling in deep shots with great accuracy just as quick as he'd hit a crosser over the middle or perfectly lead his targets away from coverage with relative ease. In total, he averaged the fourth-highest yards per attempt at 9.7 while throwing more deep pass touchdowns than any other FBS QB with 20. He goes down as arguably the best deep-ball thrower over the past two seasons as he's thrown for more yards (2,850), more touchdowns (36) and more big-time throws (54) on passes targeted at least 20 yards downfield than any other quarterback since 2017.
14. Jeffery Simmons, Defensive Interior, Mississippi State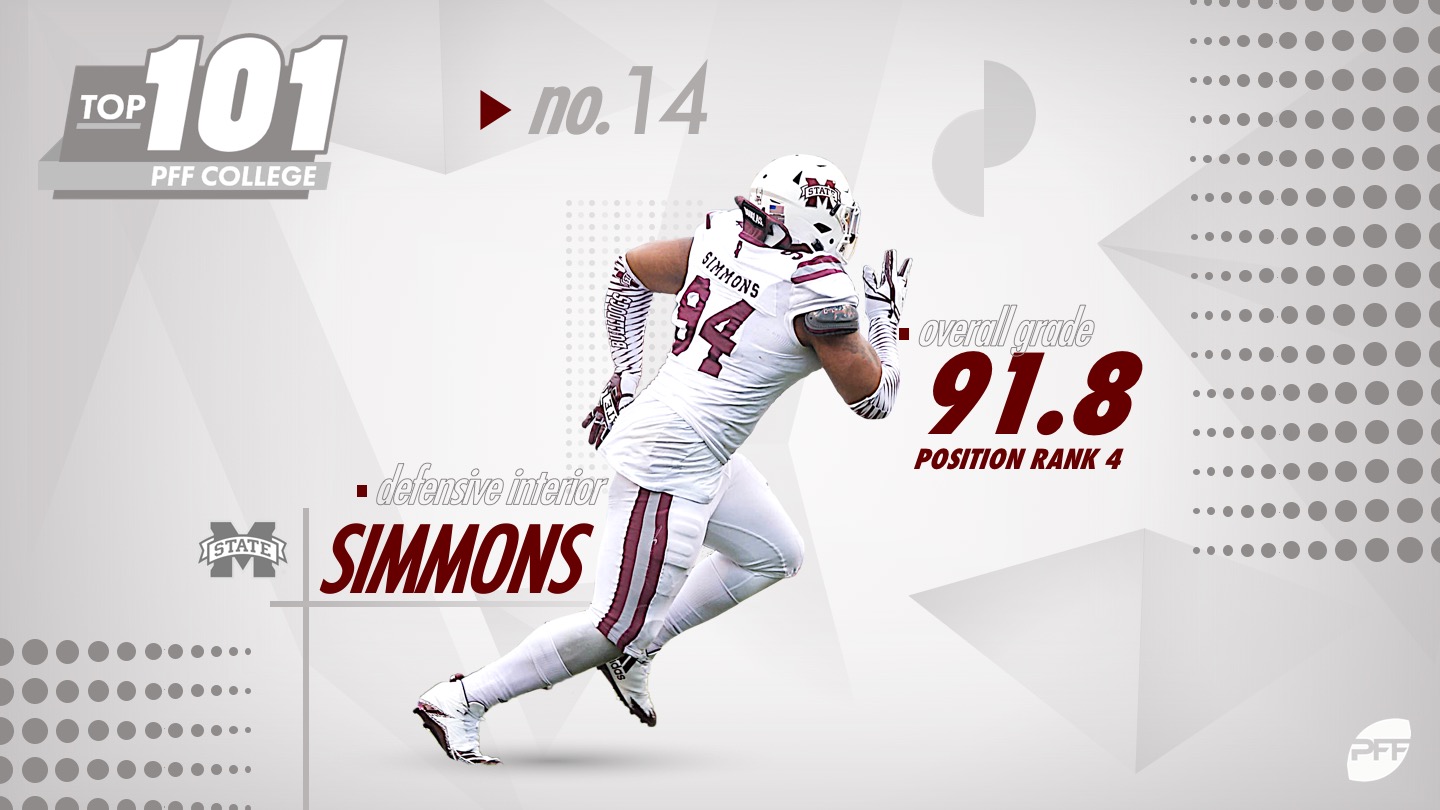 Disruption starts up front and that's just what Simmons did on a regular basis for the Bulldogs this year. He slid off blocks in the run game just as easy as he passed by offensive linemen on the pass-rush – all of which led to the fourth-highest grade from an interior defensive lineman in the country. Mistakes were far and few between from Simmons' game tape as he missed just four of his 52 tackle attempts while 31 of his 35 solo tackles went down as a defensive stop.
15. Jerry Tillery, Defensive Interior, Notre Dame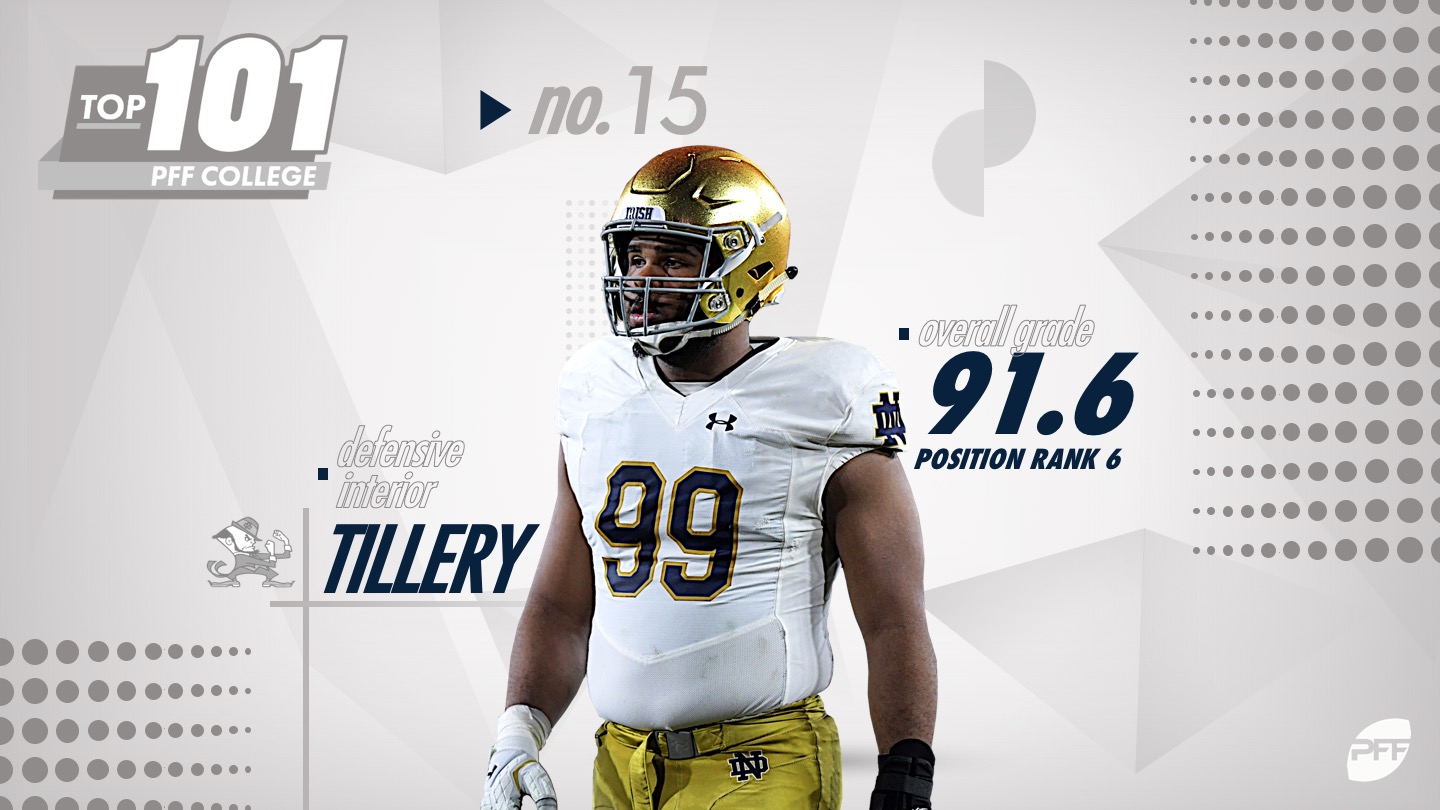 Tillery utilized his hand speed and brute power to disrupt the passing attack of opponents like no other in 2018, leading the nation's interior defensive linemen with his 92.5 pass-rush grade. He brought down 47 QB pressures on his 413 pass-rushes, winning 19.1% of his pass-rush snaps in a figure that is second only to Quinnen Williams. Tillery was his best against the pass but had shining moments against the run as well, proving he wasn't just a one-trick pony in the middle of the Fighting Irish defense.
16. Dalton Risner, Offensive Tackle, Kansas State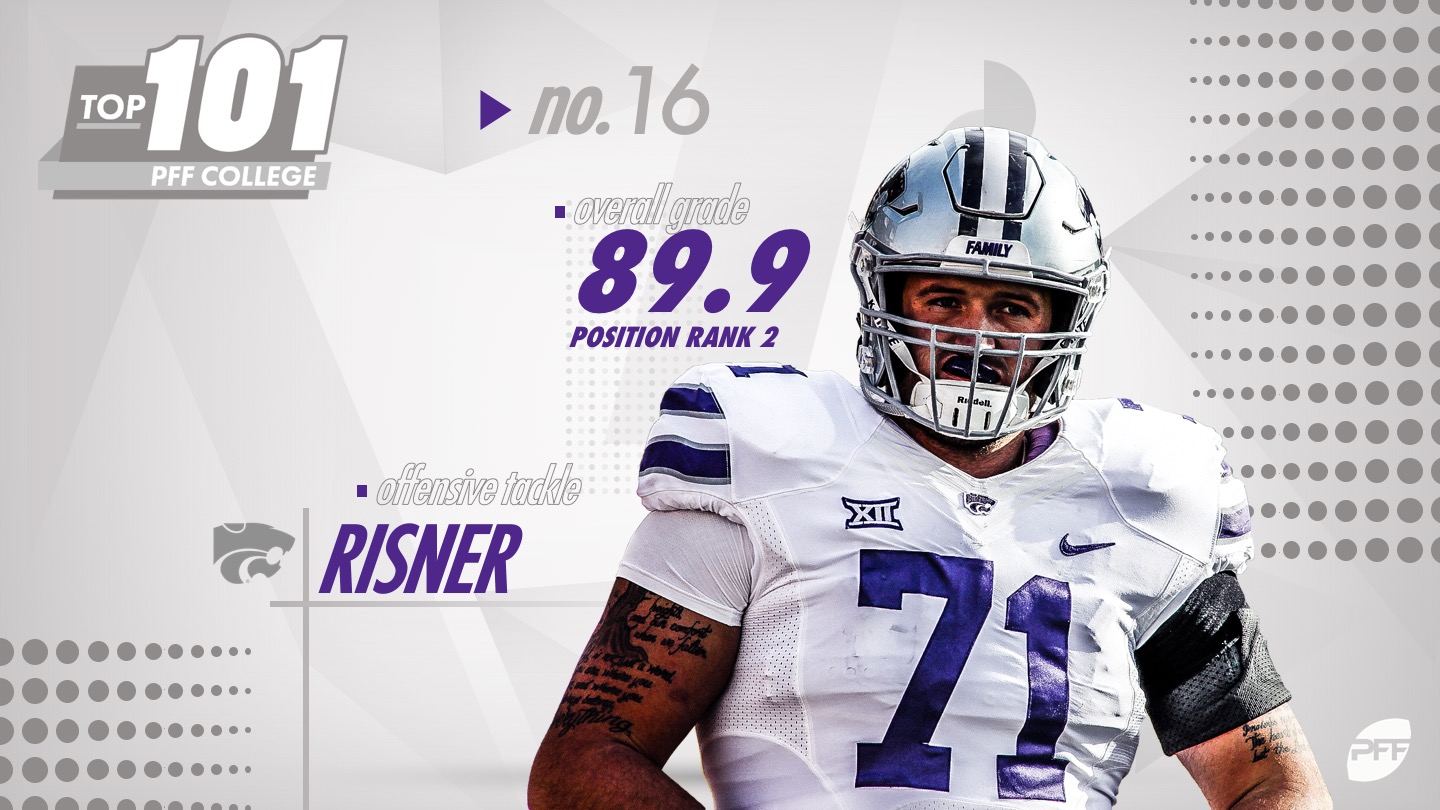 It's official, Dalton Risner may be one of the better pass-blocking linemen in recent memory. In fact, he hasn't allowed a sack on the quarterback since Week 5 of the 2016 season against West Virginia and has only given up that lone sack in his collegiate career. Since that sack allowed (Q3, 2:29 left against WVU in Week 5 of 2016), that's a span of 942 pass-blocking snaps without a sack allowed. It should be no shock that he finished with a 93.2 pass-blocking grade this season but rounded out his game with a 79.2 run-blocking grade that vaulted his overall grade to 89.9 overall and second among tackles.
17. Devin White, Linebacker, LSU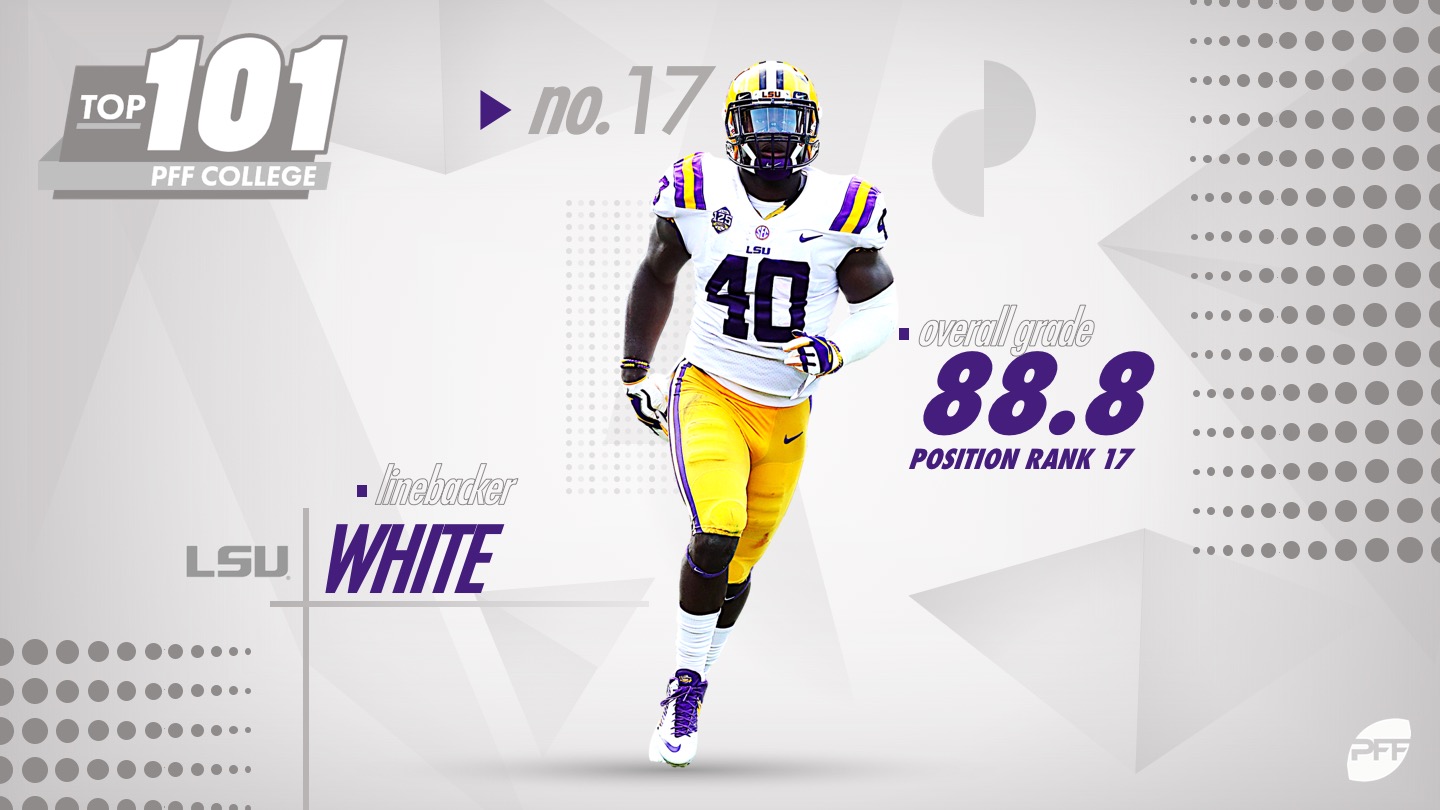 White was a disruptive force for the Tigers in 2018 and despite missing 15 tackle attempts this year, still grabs a spot in the top 20 after coming away with 33 QB pressures. 56 defensive stops and three pass breakups in coverage to select but a few statistics to highlight. White flew across the field for LSU's defense and routinely chased down plays on opposite sides of the field showcasing what could be easily classified as elite speed at the linebacker position.
18. Dre'Mont Jones, Defensive Interior, Ohio State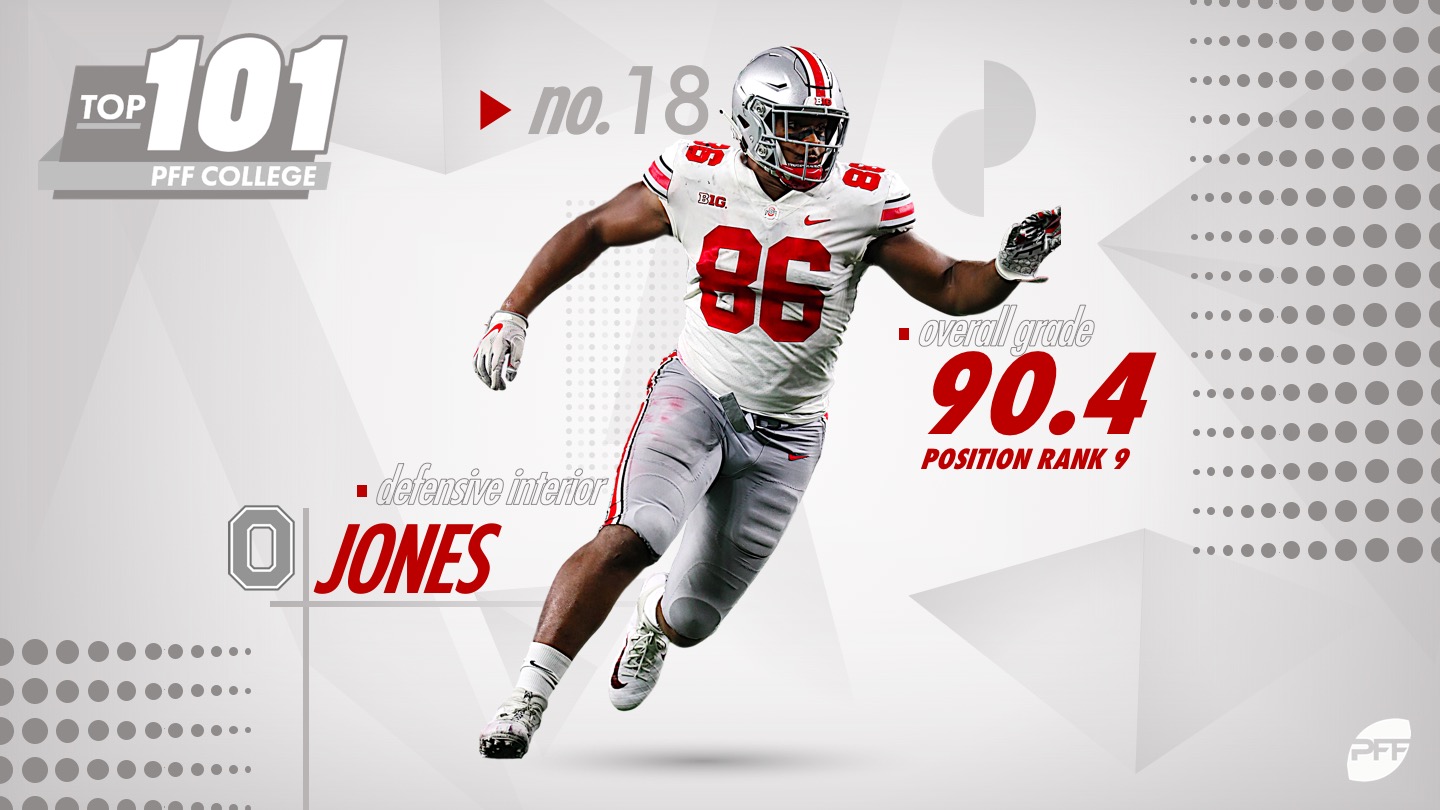 Jones had one of the better pass-rushing seasons from an interior defensive lineman, bringing down 25 combined sacks+hits and recording a pressure on 11.4% of his pass-rushing snaps. He showcased what made him such a highly recruited athlete out of high school when he intercepted a pass against TCU and rumbled down the sidelines for the Pick-6 in one of the earlier season highlight moments.
19. Jachai Polite, Edge Defender, Florida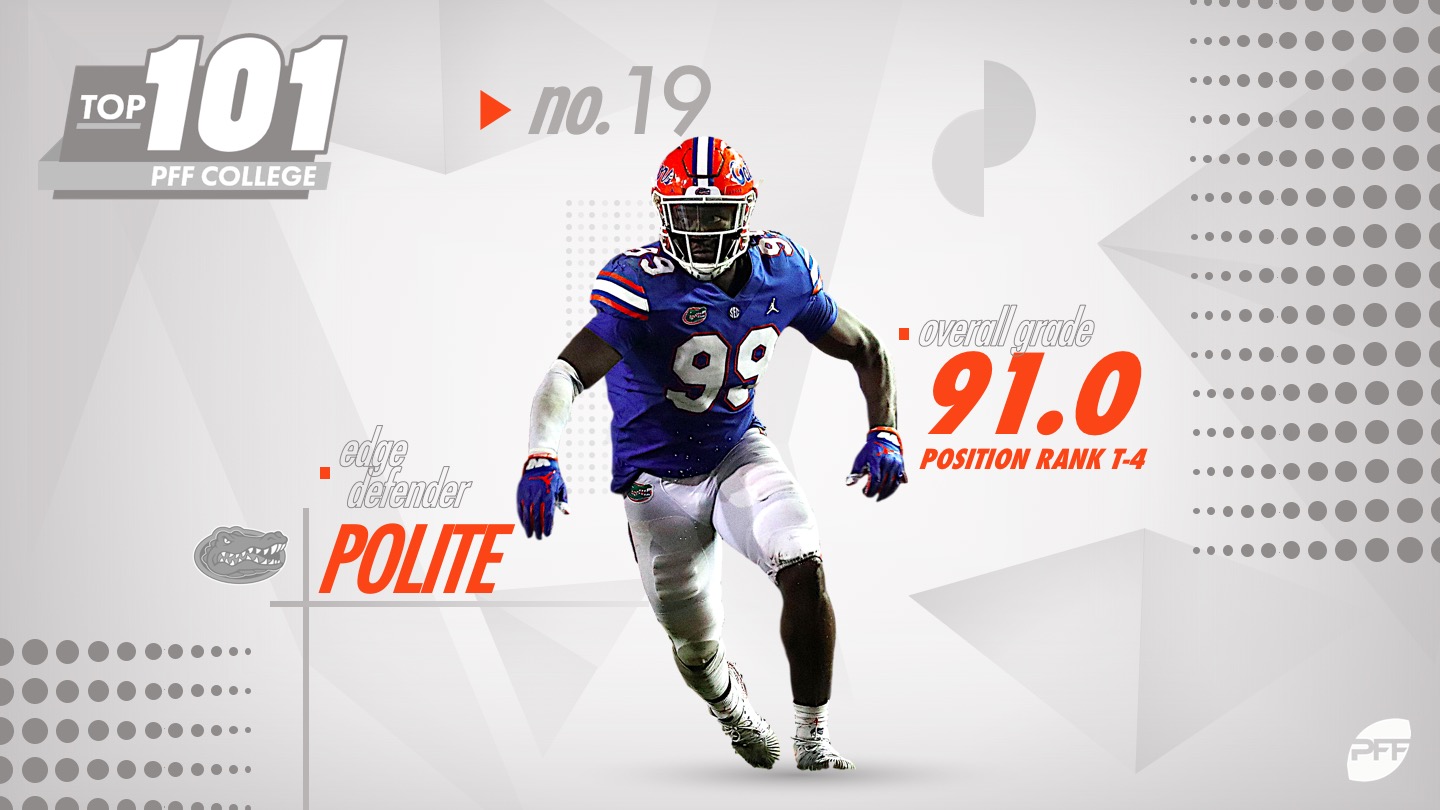 There may not have been a bigger breakout year from an edge rusher this season than Polite's time with the Gators in 2018. He finishes tied with the fourth-highest grade as he recorded 41 pressures on just 272 pass-rushes. He won on 18.0% of his pass-rushes and recorded a pass-rush productivity of 20.4, the latter ranking in the top 15 at the position. Of his 28 solo tackles on the year, a whopping 23 of them went down as a defensive stop showing just how disruptive he was on an every-down basis when he was on the field.
20. David Montgomery, Running Back, Iowa State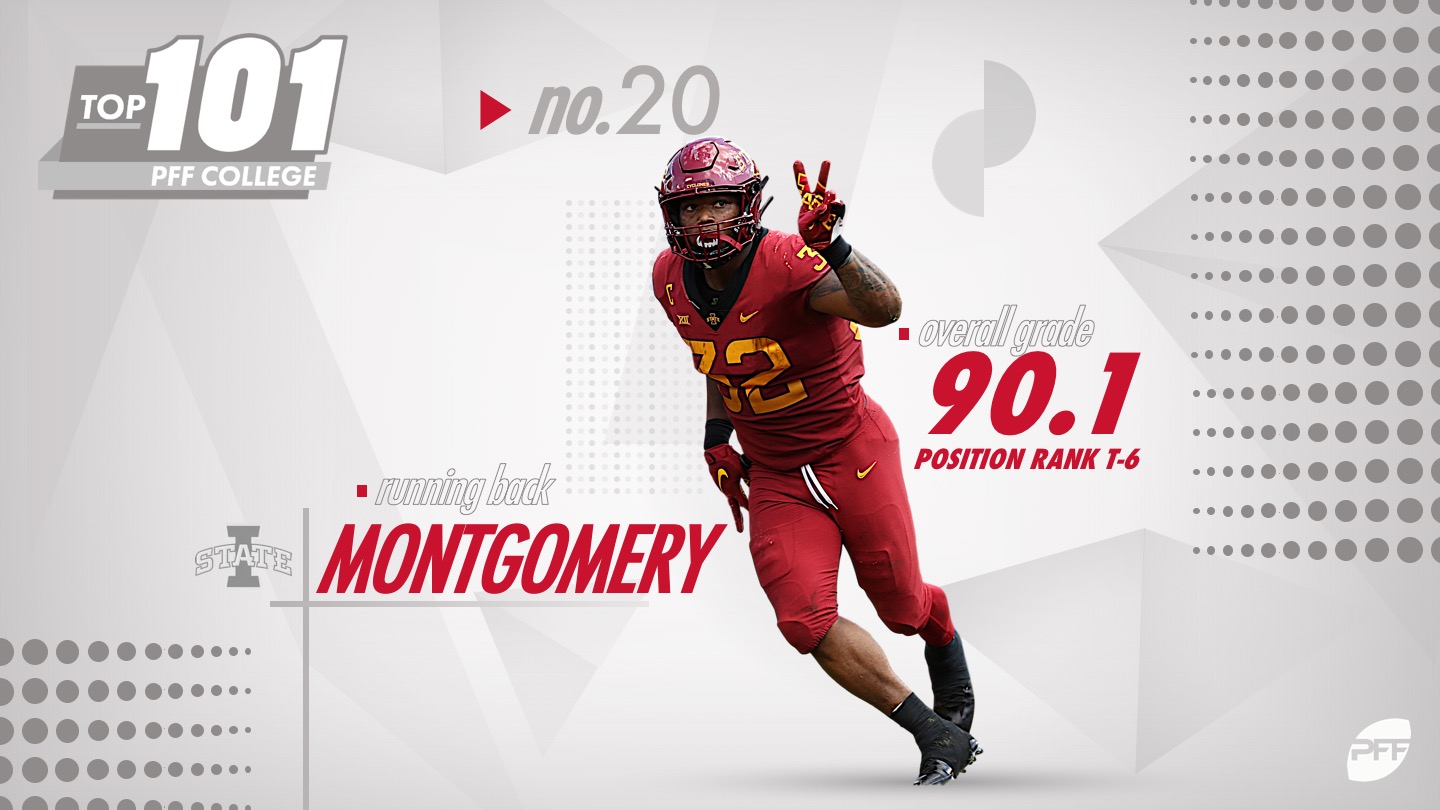 Before the season started, Montgomery was already the hardest running back to tackle in the PFF College era and all he did in 2018 was cement that status. His 99 missed tackles forced on the ground not only ranked first in the country this year but saw him repeat as the nation's leader in such a category. In fact, Montgomery has now topped 100 combined missed tackles forced as a runner and receiver in back-to-back seasons, giving him the only two seasons in which that has been done in the PFF College era.
21. Deionte Thompson, Safety, Alabama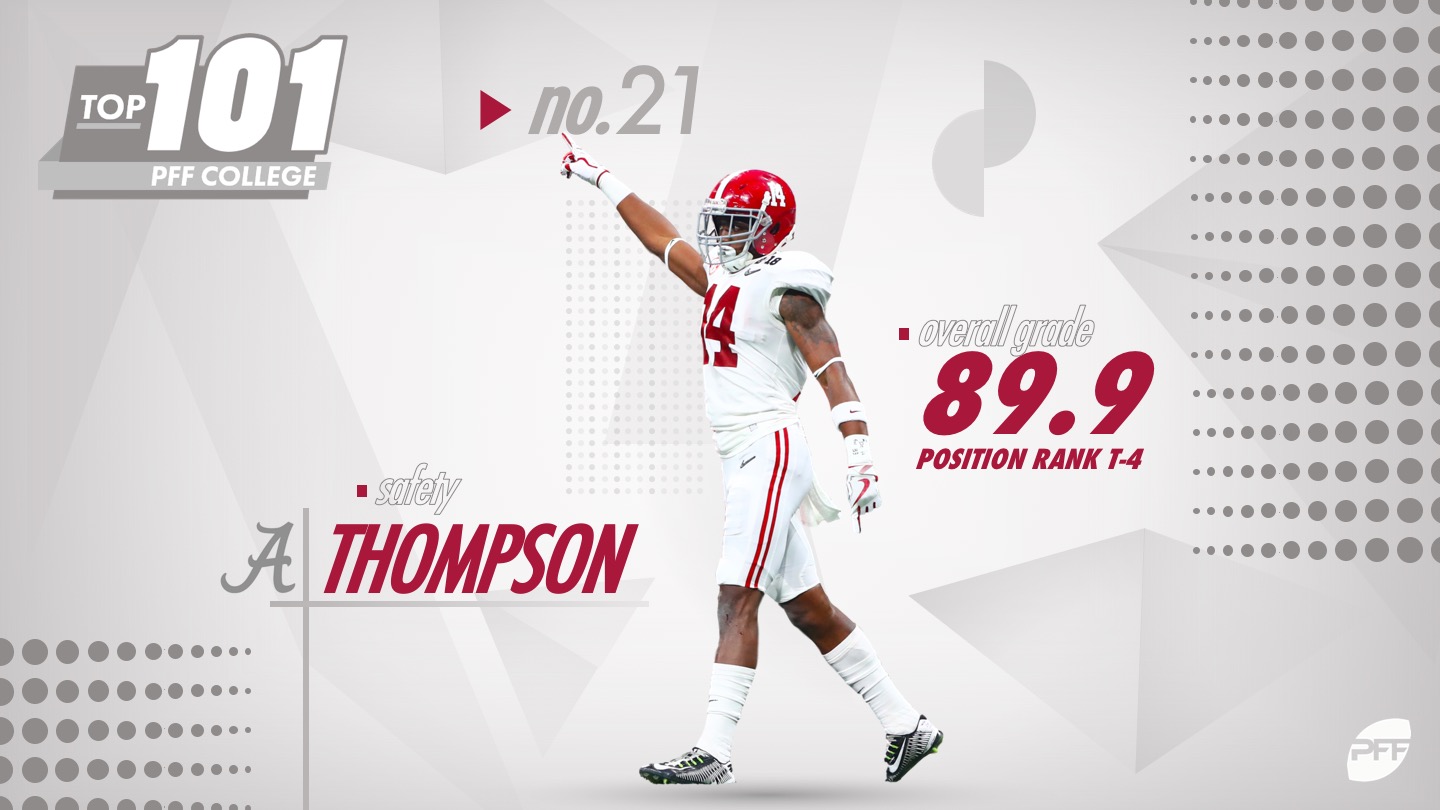 To be considered one of the nation's top players regardless of position, a safety must be capable of making plays outside of the nature of the position. That's just what Thompson did this season, both against the pass and against the run. In coverage alone, he made it extremely difficult to throw on the Alabama defense across the middle (for all but one game this year, sure), forcing incompletions on 22.9% of the targeted passes his way. He came down with two interceptions but it wasn't just his coverage that made him a household name this year. Against the run, he made 12 defensive stops that included four tackles for a loss or no gain while also forcing a fumble. All around safeties are hard to find but Thompson topped the list in 2018 as the nation's best all-around at the position.
22. David Woodward, Linebacker, Utah State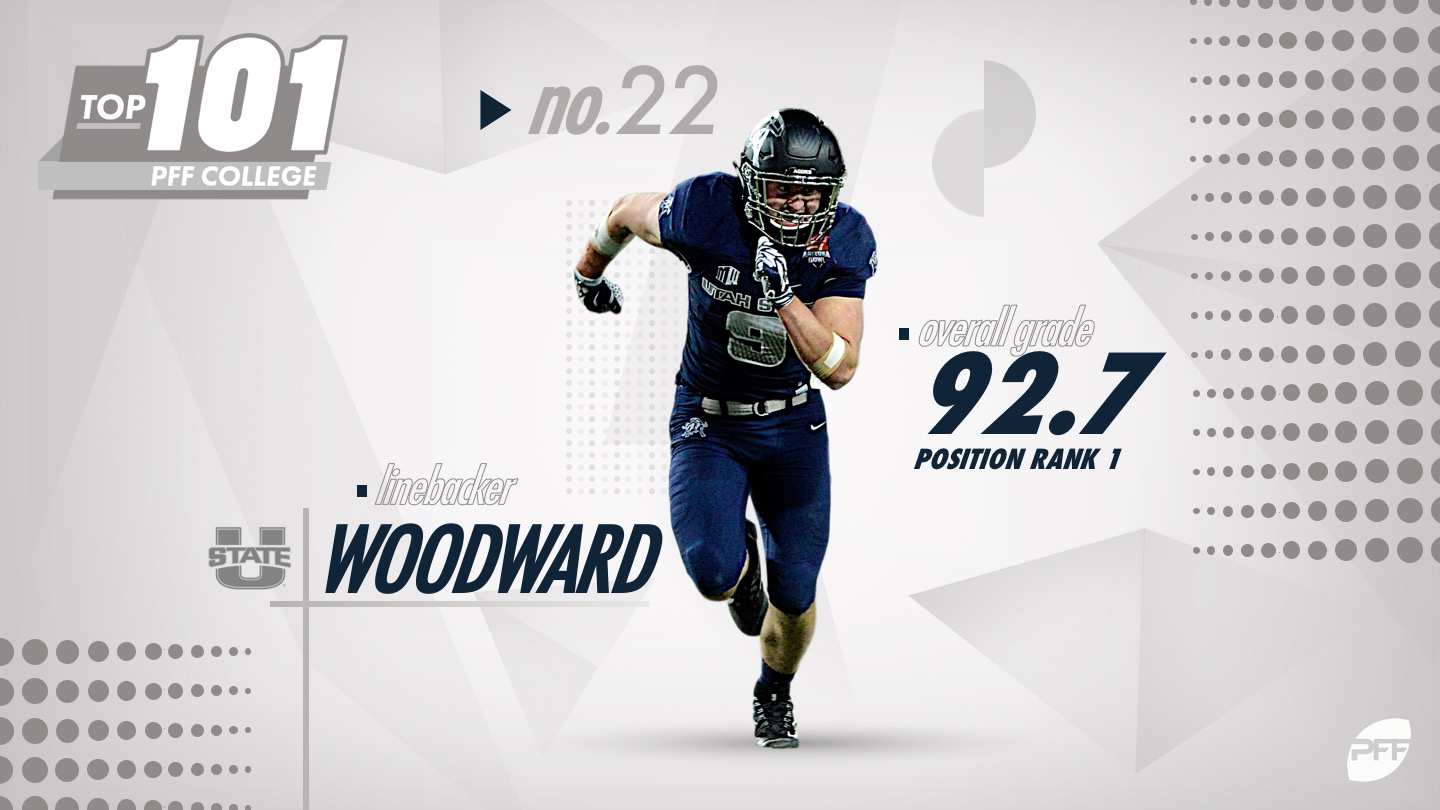 The nation's surest tackler, Woodward's place on the top 101 can be summed up with one sentence: Through the regular season, no linebacker finished with higher tackle attempt ratio to missed tackle figure than Woodward as he rarely missed not only a tackle, but an assignment for the Aggies this year. He finished as the highest-graded linebacker in the country while adding value as a coverage defender (only allowing 4.7 yards per reception) and as a blitzer (20 pressures).
23. Deandre Baker, Cornerback, Georgia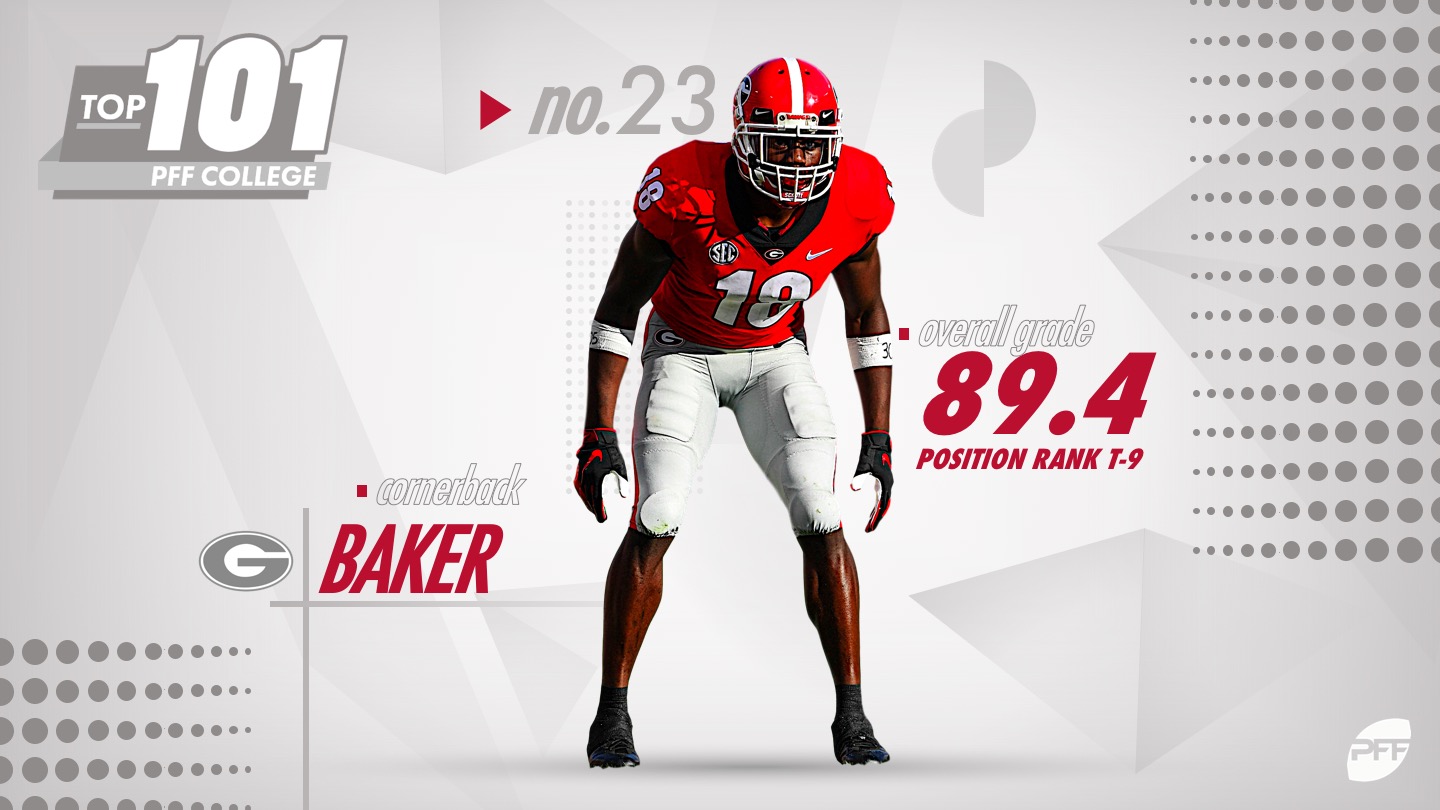 Baker hasn't allowed a touchdown in coverage since Georgia's bowl game against TCU during the 2016 season as this past year was just another year of shutdown football from the Bulldog stalwart. He allowed fewer than 50.0% of passes thrown his way to be caught and was arguably the best at limited receivers after the catch, to the tune of just 31 YAC allowed.
24. Sutton Smith, Edge Defender, Northern Illinois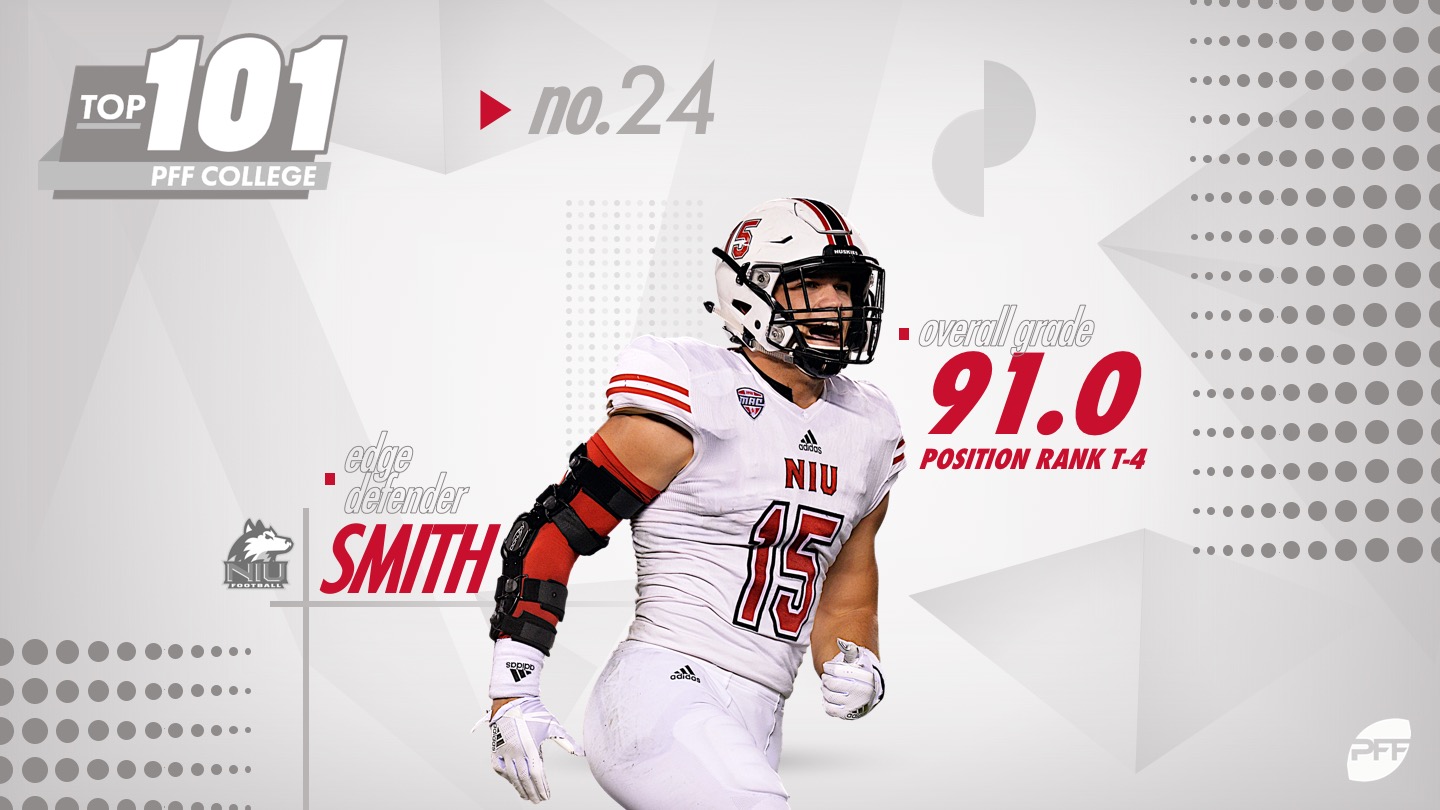 The 2017 season leader in total QB pressures picked up just where he left off in 2018 despite moving around the Huskie defensive front more than he did a season prior. In total, Smith recorded 65 total QB pressures to rank fourth this year, combining to tally 27 sacks+hits. He was a threat to get to the quarterback on every snap and had a knack for making big plays when his team needed him to as he was able to fend off blockers with an array of quick moves and great balance. He pushed the boundaries for an undersized edge rusher in 2017 and proved this past season that he was not a fluke.
25. Brian Burns, Edge Defender, Florida State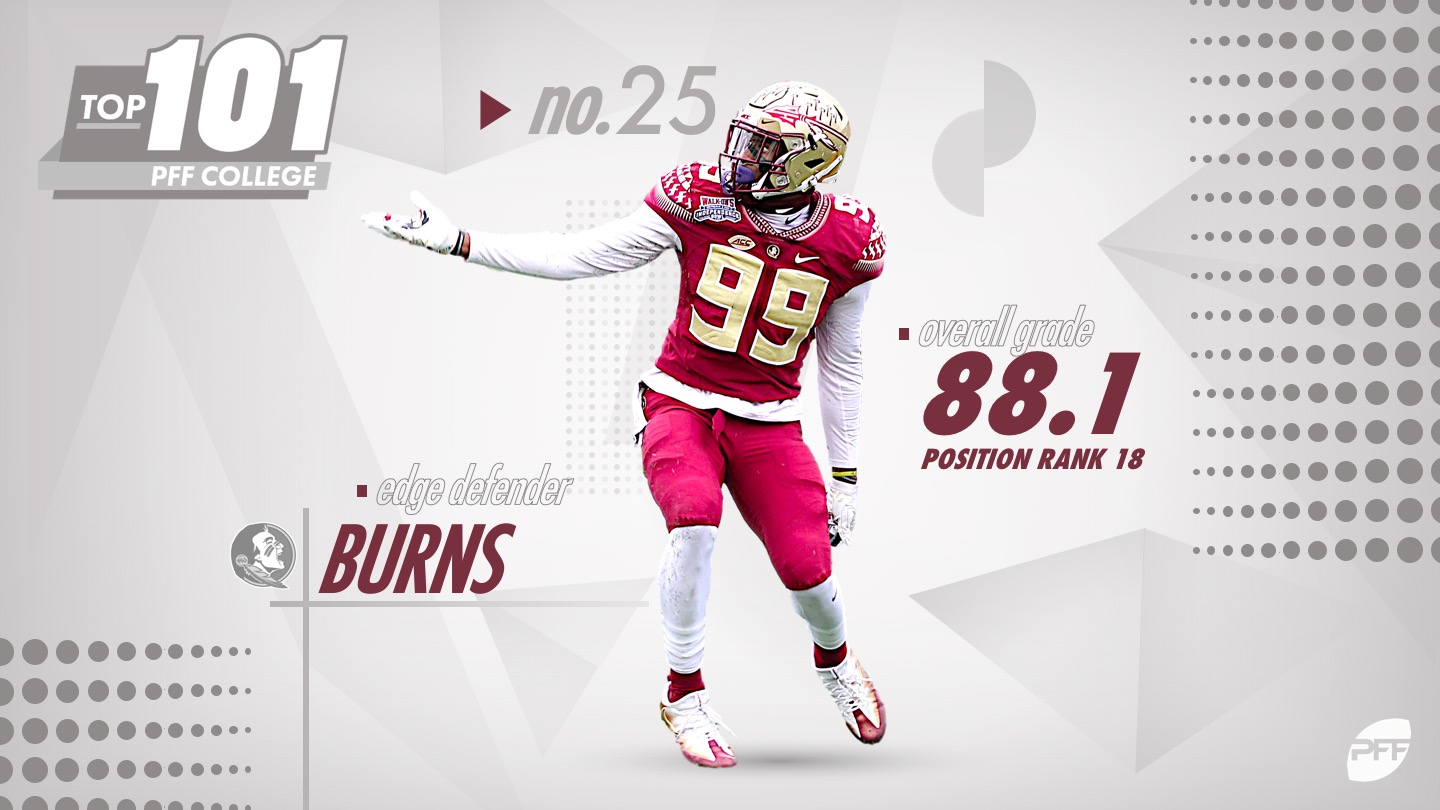 Burns led the nation in pressures through the regular season and while Florida State's consecutive bowl streak ended any chance he had to keep his lead, he still finished with 67 pressures that ranked him third overall. While he got home with just eight sacks and nine QB hits, Burns also recorded 18 other occasions in which he beat his defender quick enough to record a pressure but saw the pass come out before he could do so. Rounding out his strong performance on a lackluster Seminoles defense, he forced three fumbles and missed just four of his 49 tackle attempts on the year.
26. Darrell Henderson, Running Back, Memphis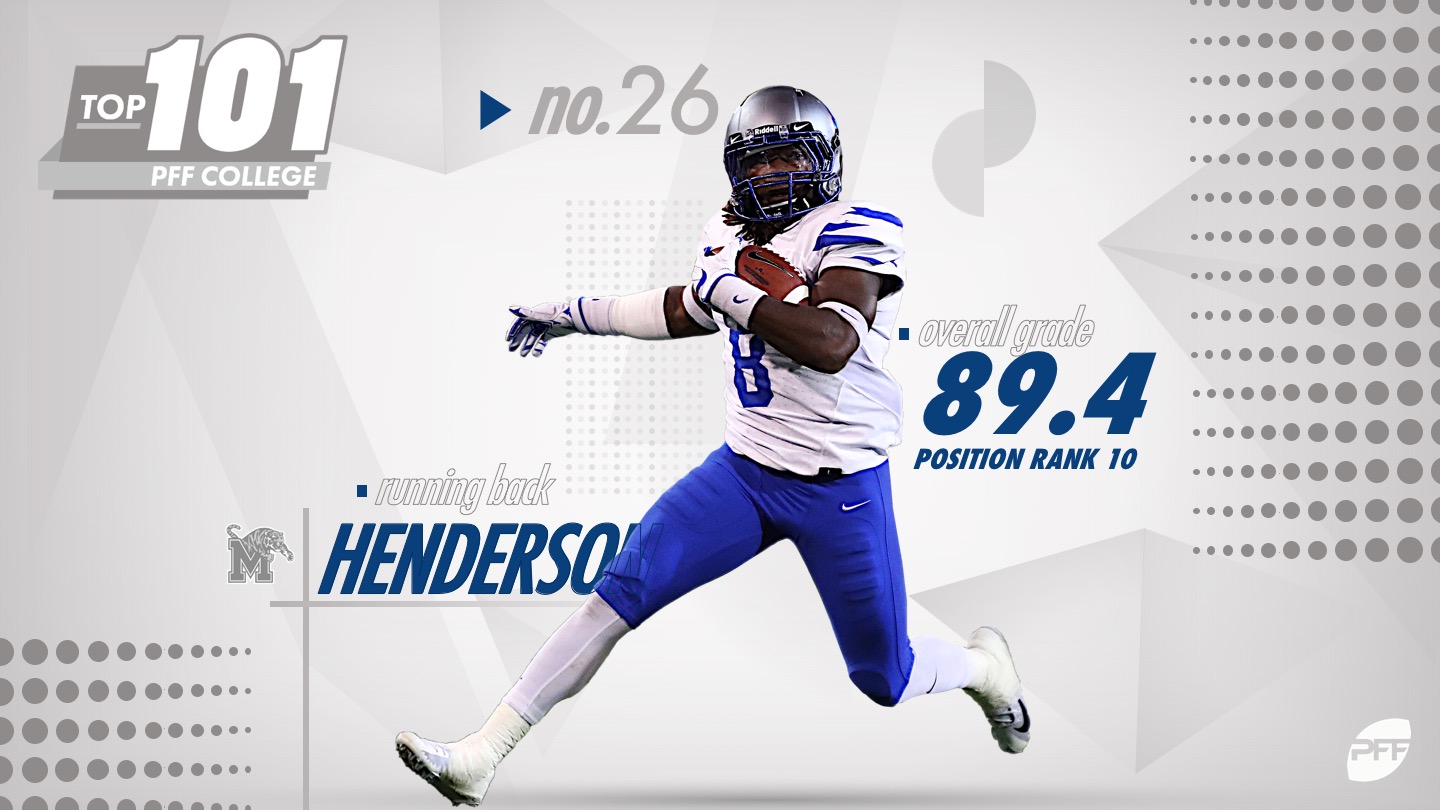 Henderson held on to the crown of most yards after contact this season, gaining a ridiculous 1,321 yards after first contact and averaging 6.17 yards after contact per attempt. No running back who carried the ball at least 61 times had a better average Yco./attempt as Henderson did a near-miraculous job of weaving his way through his impressive run blocking while also finding his own holes and breaking his own tackles in 2018.
27. Brian Peavy, Cornerback, Iowa State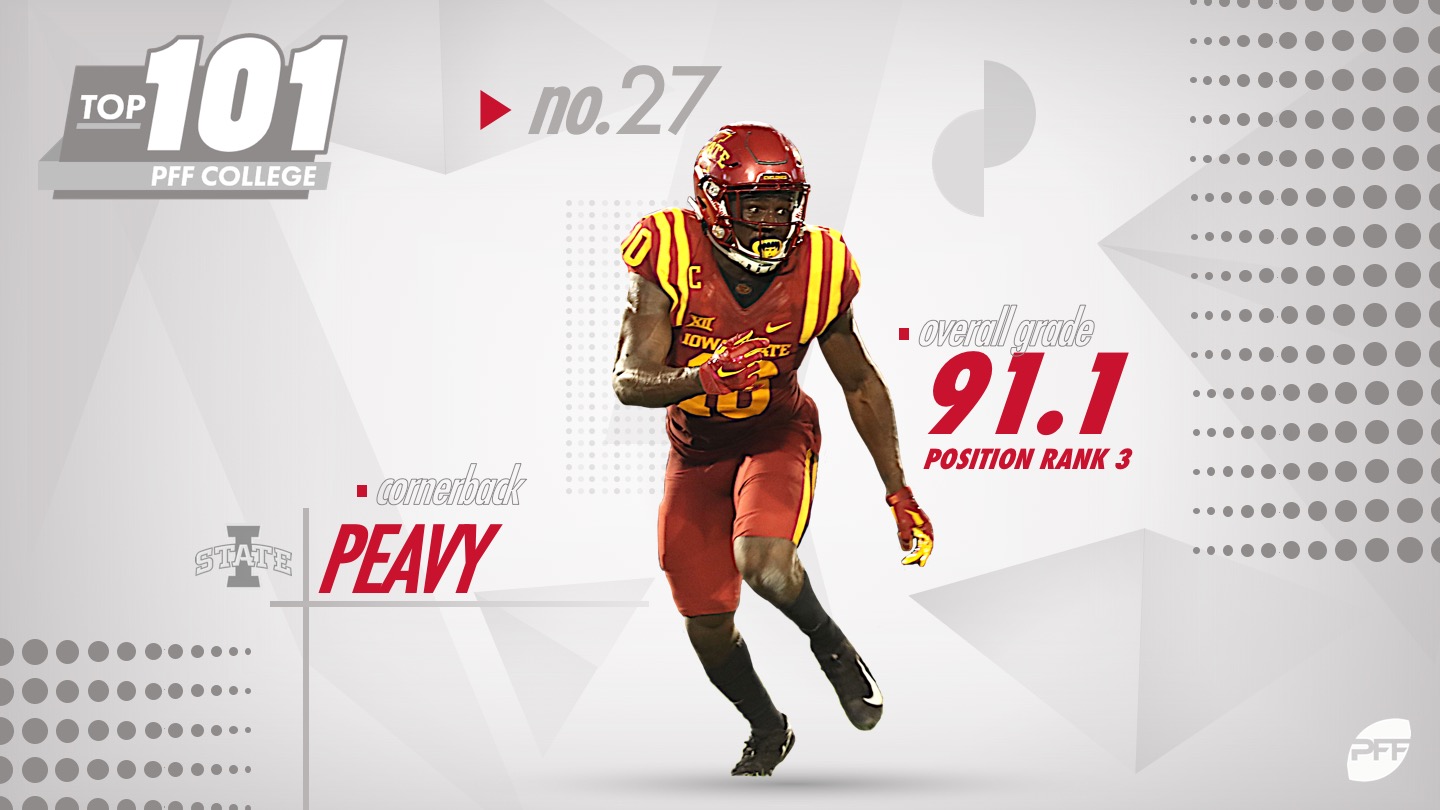 Cyclone fans were treated to one final year of Peavy manning one side of the field after he opted to return for his final season instead of entering last year's draft. For a stretch this season, Peavy was the top-graded cornerback and he still finished tied for third overall at 90.9. He put forth an outrageous effort in coverage this season, seeing 59 targeted passes come his way while allowing just 31 receptions. He grabbed only one interception in the box score but he broke up seven more and allowed a reception over 20 yards just two times this year.
28. Te'von Coney, Linebacker, Notre Dame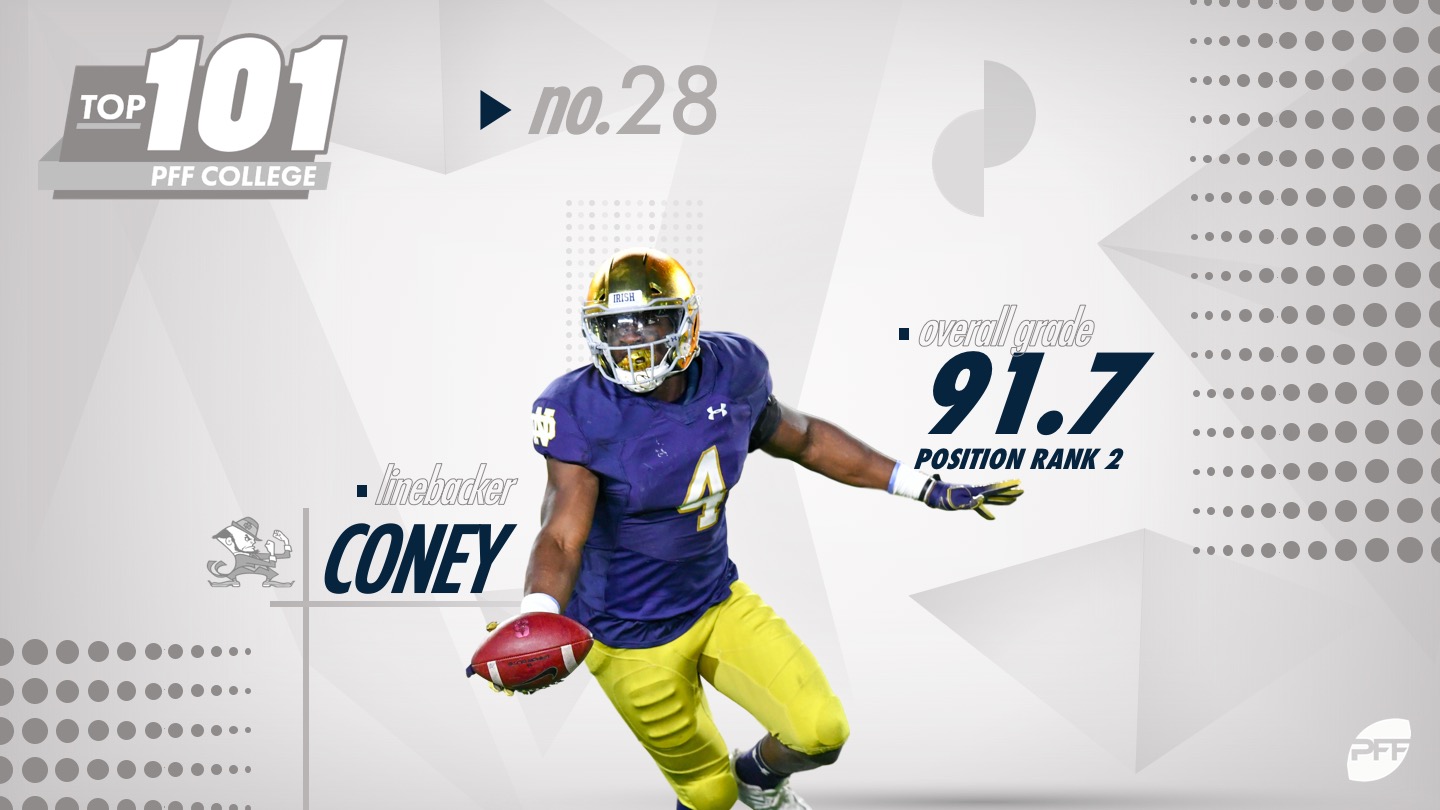 Solid across the board, Coney joins Woodward as the only two linebackers to field 90.0-plus graded in run defense, tackling, coverage and overall grade this season. His identical 91.5 facet grades in run defense and tackling efficiency show how strong he was in stopping the opponent's rushing attack while his 90.5 coverage grade depicts just how well he stymied the opposing passing attack over the middle. He allowed just 51.4% of targets thrown his way to be caught and saw just a 50.7 passer rating on those throws.
29. Chase Winovich, Edge Defender, Michigan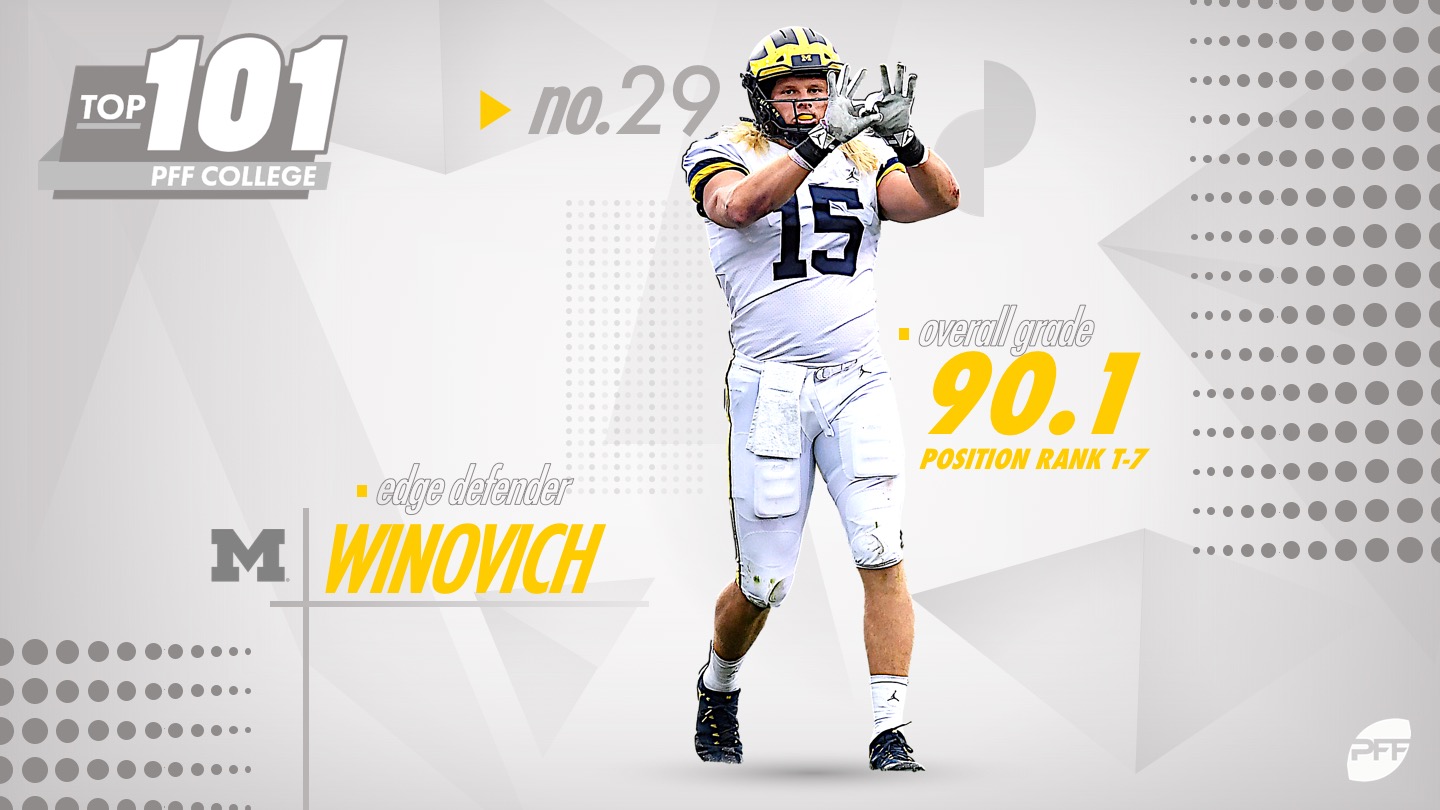 The 'what did he do against Ohio State' conversation dominated talk after Ohio State's victory over Michigan and some comments made from Winovich went viral but that drama aside, Winovich was simply dominant once again for the Wolverines. He won 21.7% of his total pass-rushing snaps this year, finishing second in the Big Ten in the process as he recorded 52 pressures on his 345 pass-rushing snaps. In fact, against Ohio State, he recorded four pressures and brought down two defensive stops without missing a tackle.
30. Julian Love, Cornerback, Notre Dame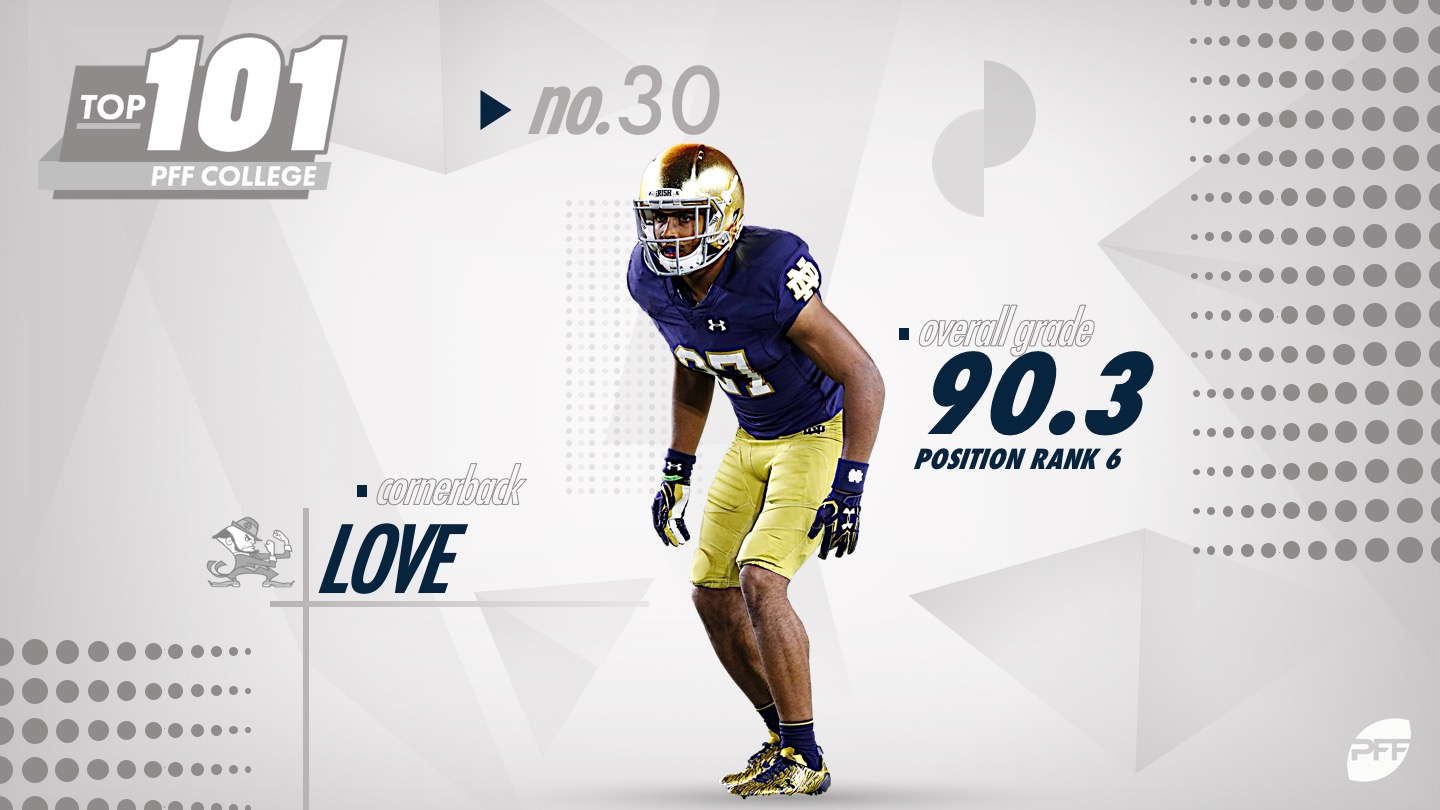 Love's best football was played at his position's highest priority: in coverage. He finished with the fourth-highest coverage grade among cornerbacks and forced an incompletion on 22.8% of his targeted passes. His 14 stops in coverage were good enough for seventh most this year as he had no trouble bringing down ball carriers whether it was a receiver or a running back. In total, he missed just four of his 64 tackle attempts this year.
31. Dexter Lawrence, Defensive Interior, Clemson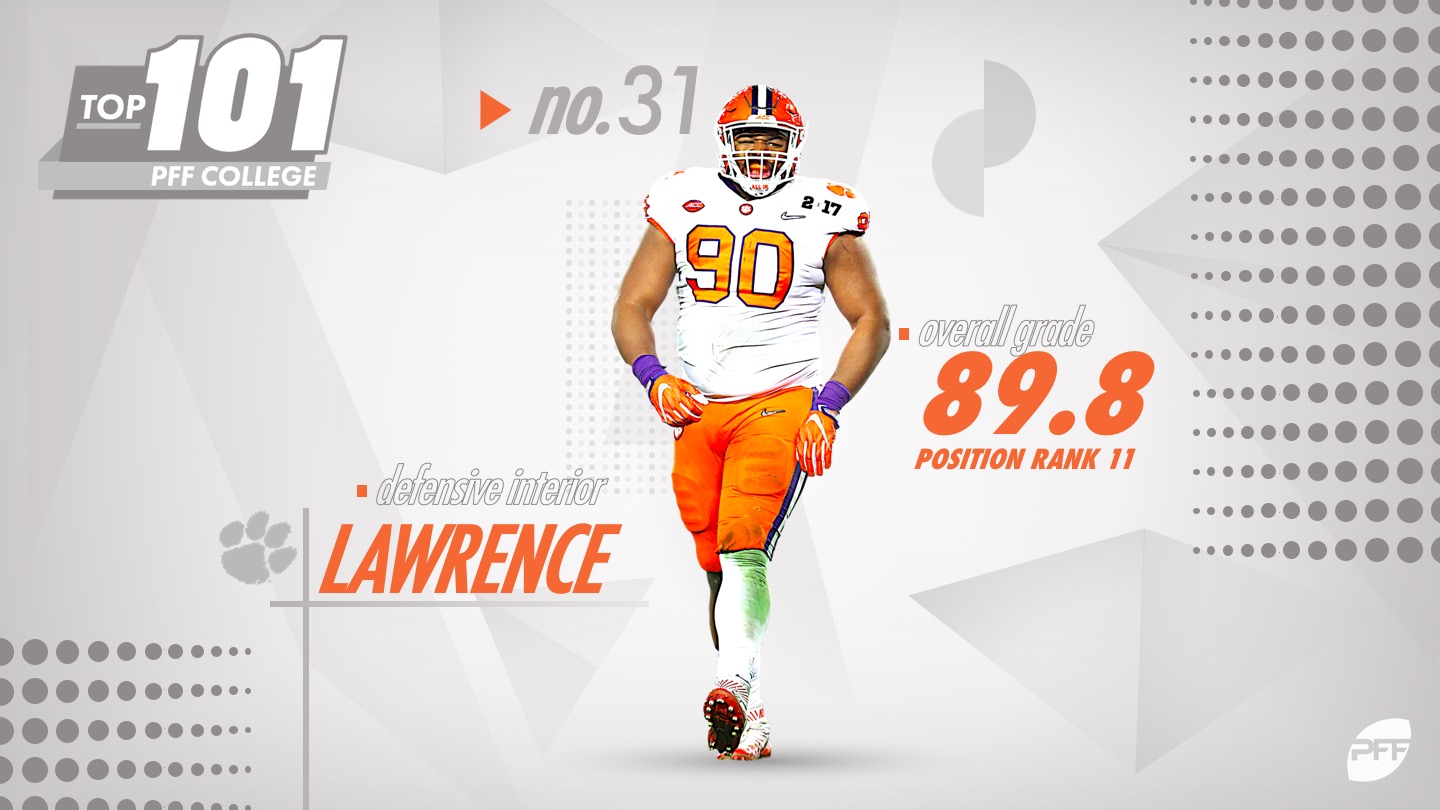 While his season ended in a rather ugly fashion despite being crowned a National Champion, Lawrence displayed the dominance he's made Tiger fans accustomed to seeing since his first game once again in 2018. With his decision now official to forgo his final year at Clemson, Lawrence capped his career 33 QB pressures on just 254 pass-rushes giving him  99 total pressures over his three-year stint. His 89.8 overall grade that he finishes with gives him three years of elite grading at the college level as he also displayed strong tackling efficiency since his freshman year – missing just a single tackle since 2017 over the course of 59 total tackle attempts.
32. Kenny Willekes, Edge Defender, Michigan State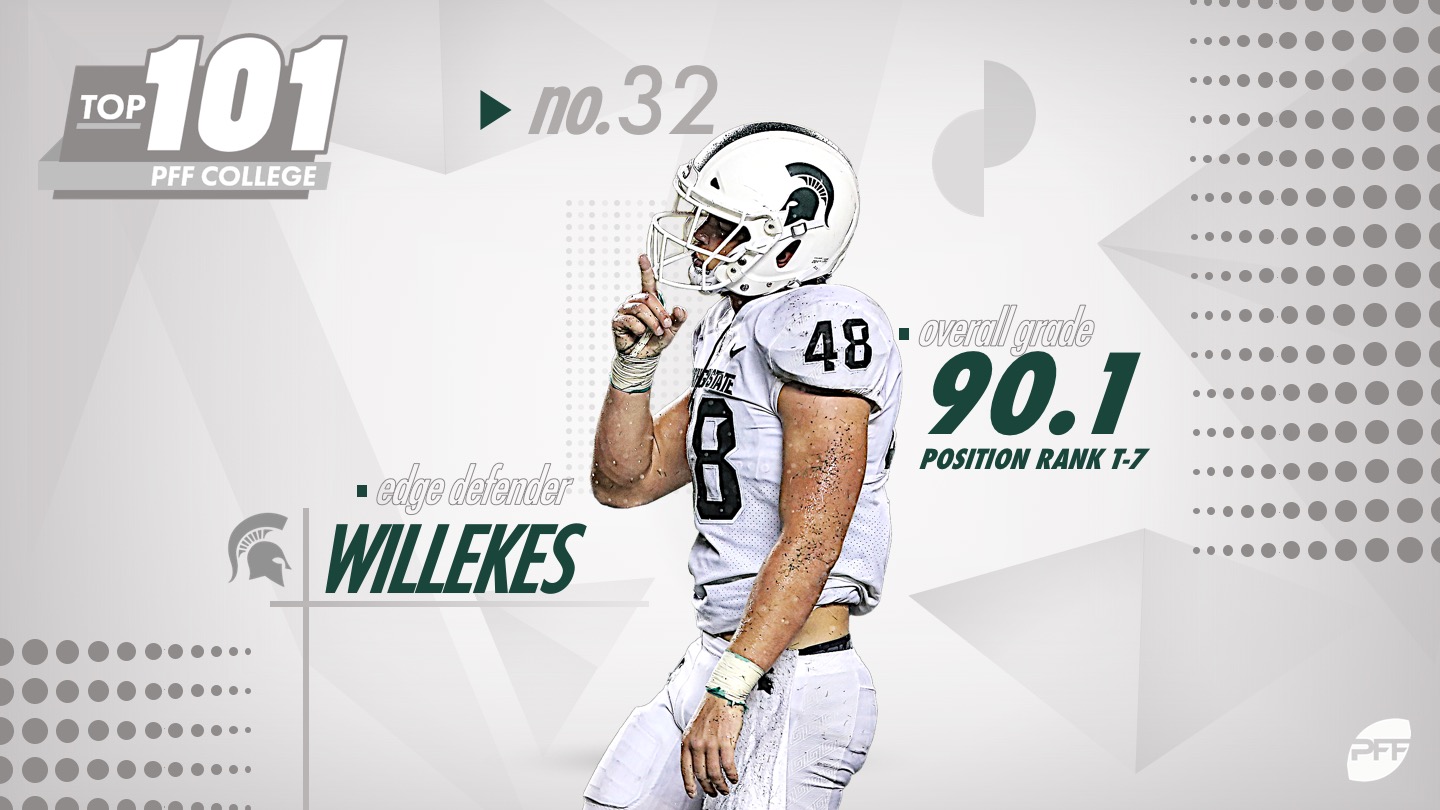 No edge rusher rushed the passer more than Willekes this season – rushing the opposing quarterback on 471 snaps, and he did so on an extremely efficient basis. Despite the high number of pass-rushing snaps, he still managed to win 18.3% of his pass-rushes, a figure that ranks 22nd among the group of FBS edge defenders. He finished second with 71 total pressures, including a national-high 23 QB hits.
33. Rondale Moore, Wide Receiver, Purdue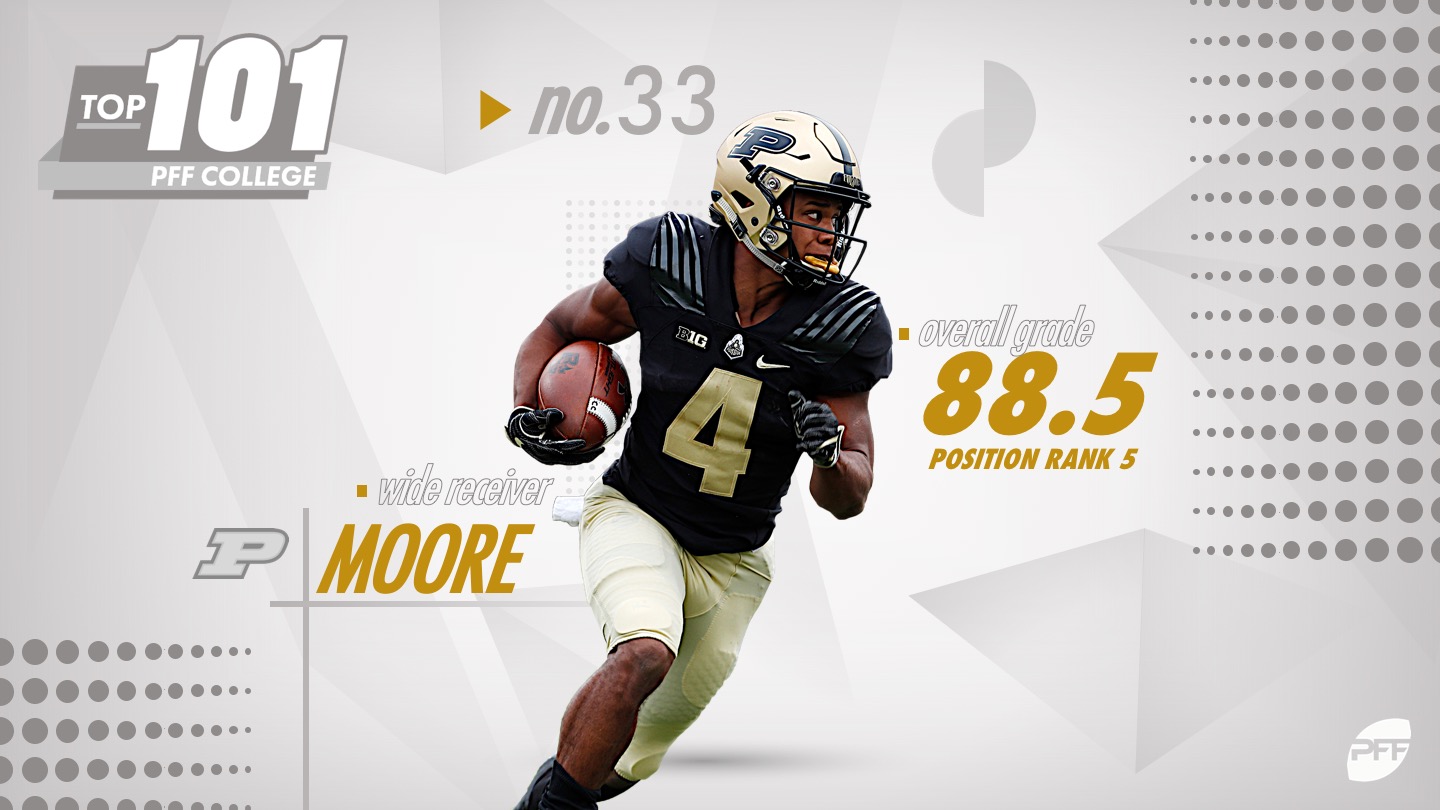 Was there a more impressive display as a dynamic playmaker than Moore's? The answer there is no. Moore paced the Purdue offense to new heights in 2018 and led the nation's receivers with 892 yards after the catch and 36 missed tackles forced after the reception. For context, the next closest receiver in terms of YAC was Ohio State's Parris Campbell at 809 and the next closest receiver in terms of MTs forced was Laviska Shenault at 28.
34. Dwayne Haskins, Quarterback, Ohio State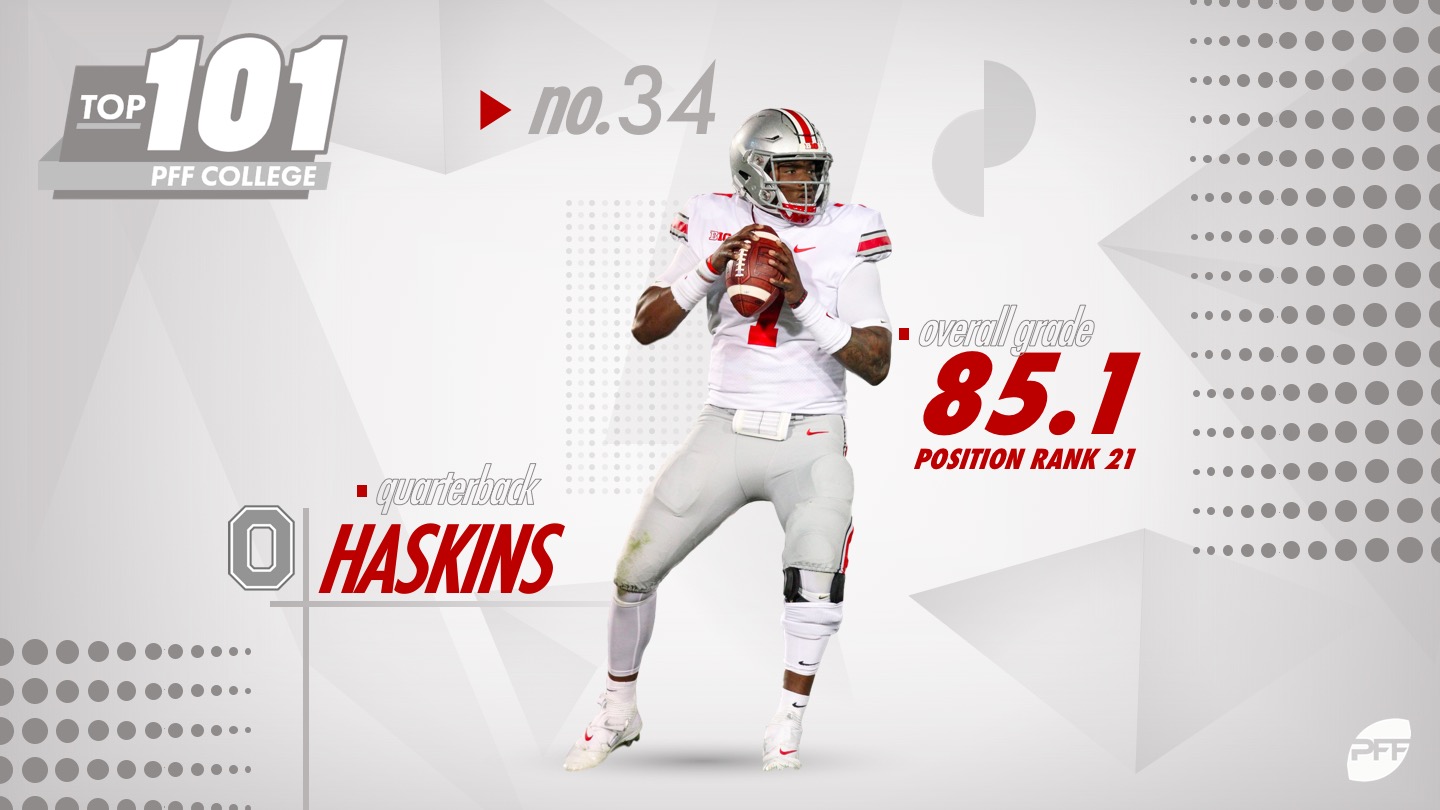 A few road duds along the way pushed Haskins down the list of top players and likely, ultimately out of the College Football Playoff, though, he was more than impressive in his one year as the starter for the Buckeyes. Named as our Big Ten Player of the Year, Haskins finished second in the nation with 240 combined first-down and touchdown passes and managed to average 9.0 yards per attempt and still hold on to a top-10 mark in adjusted completion percentage. Say what you will about the Ohio State's short-area passing attack, Haskins could still deliver passes all over the field and to a wide array of receiving targets in Columbus.
35. Travis Etienne, Running Back, Clemson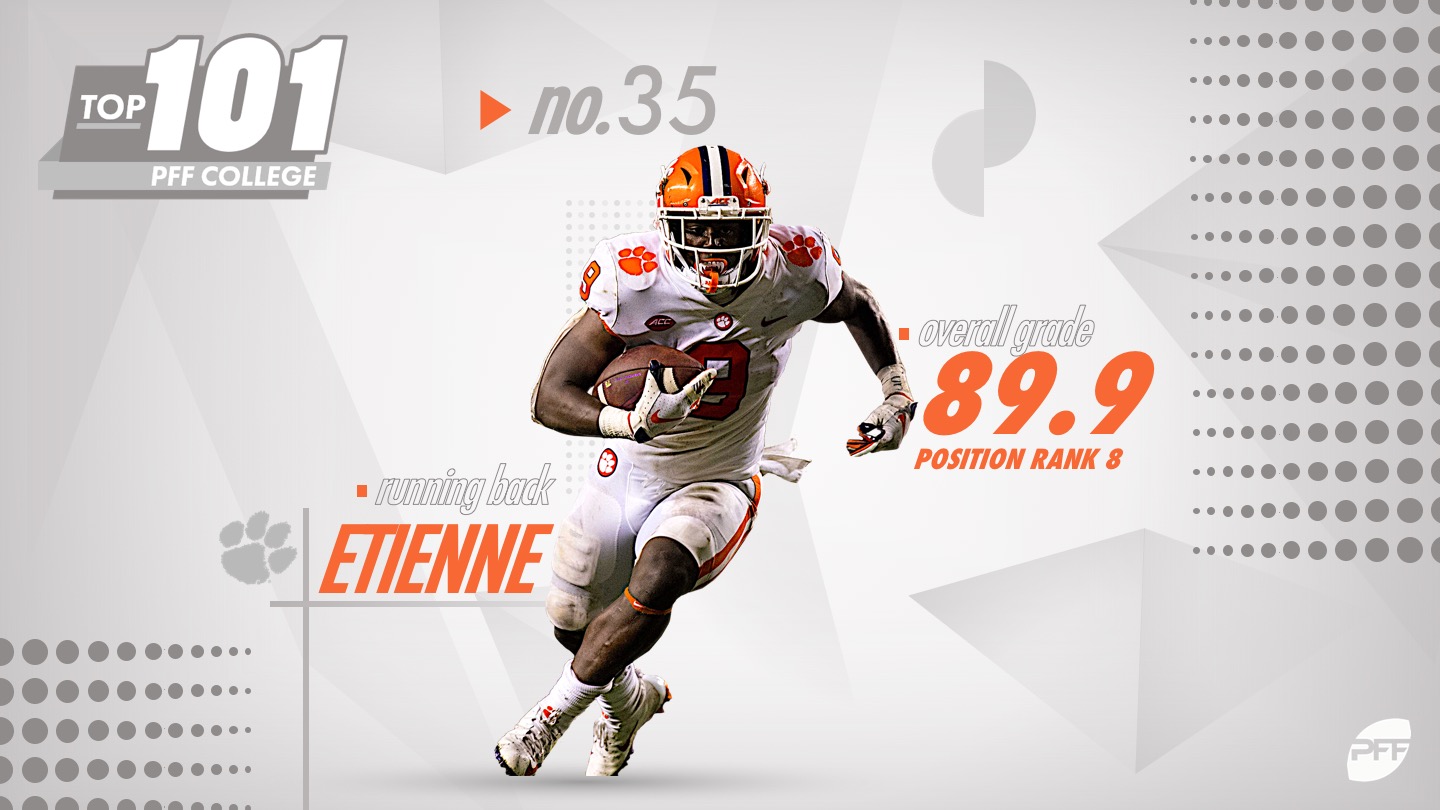 Sure, touchdowns matter, and no running back scored more than Etienne, but every other carry that doesn't end in a score also matters and that's where the PFF grades come into play. Independent of his blockers, Etienne forced 52 missed tackles on his 204 carries, a figure that ranks only 10th in the country while he gained 884 of his yards after contact, another top-10 mark. All told, Etienne finished with the eighth-highest overall grade at the position proving he had success on his own but does share need to share some of his 'touchdown-love' with his offensive linemen and downfield blockers.
36. Beau Benzschawel, Offensive Guard, Wisconsin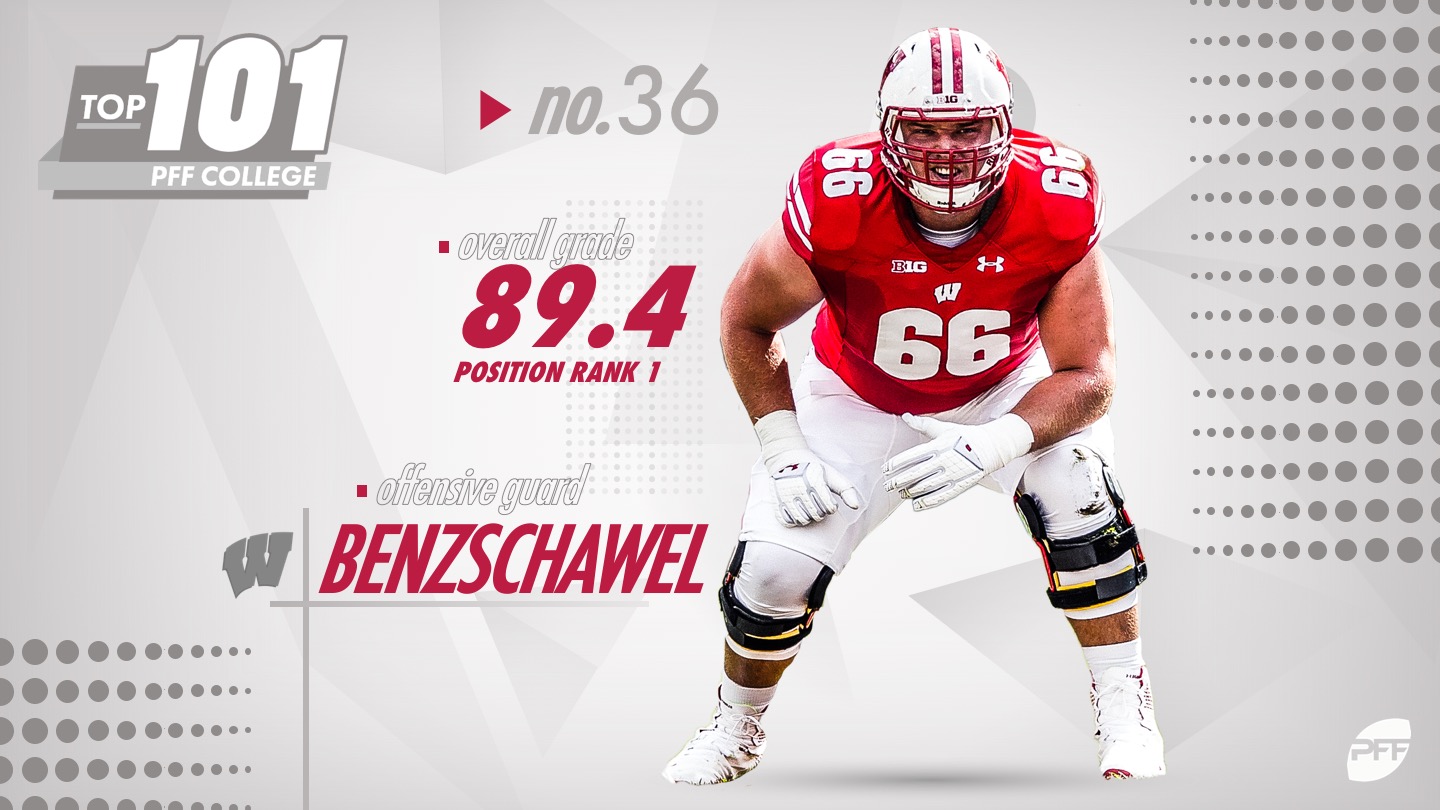 Wisconsin just churns out offensive line talent and Benzschawel is next on that list. He was the highest-graded guard by a long shot as he dominated in both pass protection and blocking for the run. Benzschawel moved defenders off the line of scrimmage easily enough to boast the nation's highest run-blocking grade regardless of position at 89.3, topping the charts ahead of his two teammates who finished second and third (Tyler Biadasz, Cole Van Lanen).
37. Chase Young, Edge Defender, Ohio State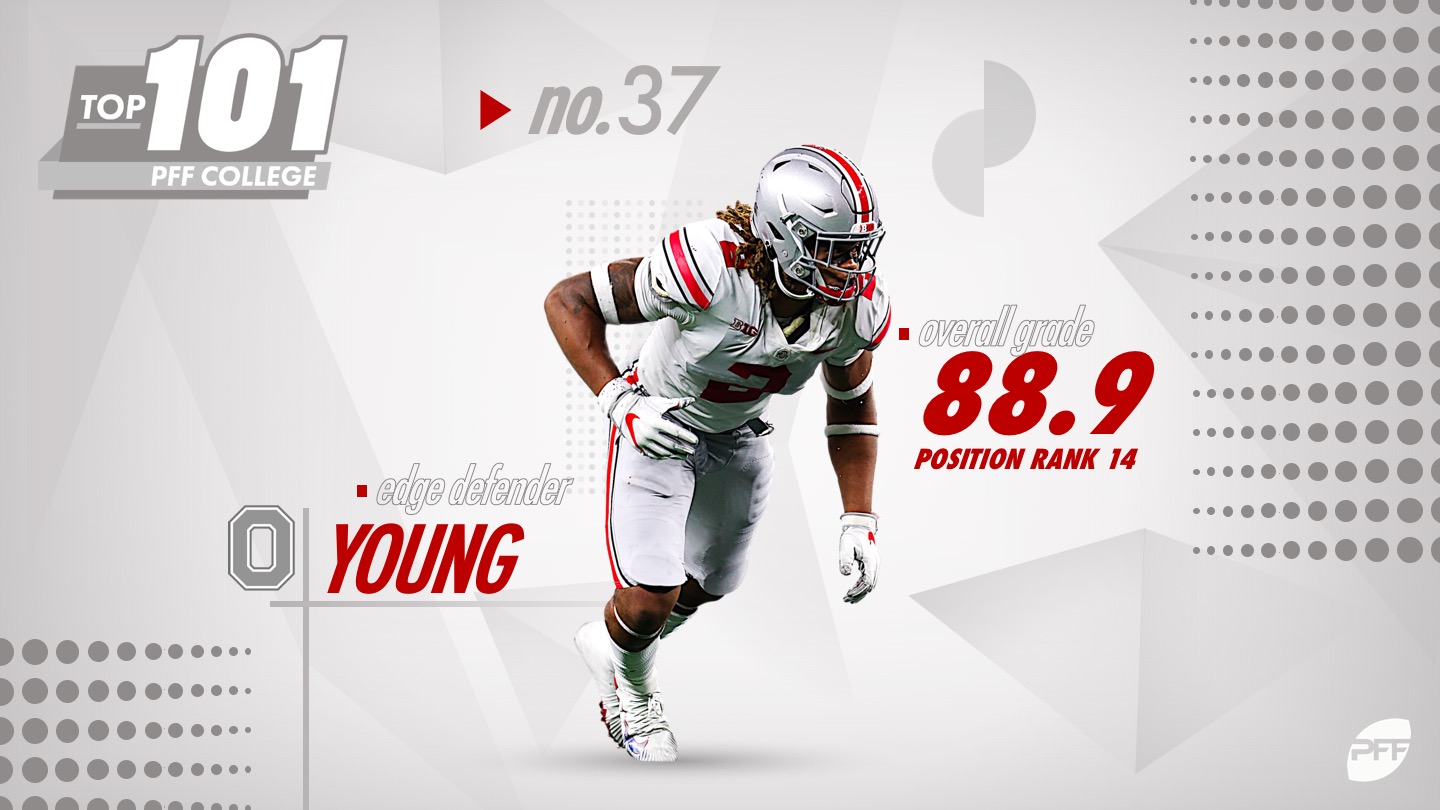 The nation's leader in QB pressures was an afterthought at the beginning of the season and before the injury to Nick Bosa saw Chase Young enter the lineup for good for the Buckeyes. Young managed to bring home 77 QB pressures, win 19.6% of his 438 pass-rushing snaps and register a pressure on 17.6% of the time. Not bad for a guy who was originally playing in the shadow of the great Bosa name.
38. Gardner Minshew II, Quarterback, Washington State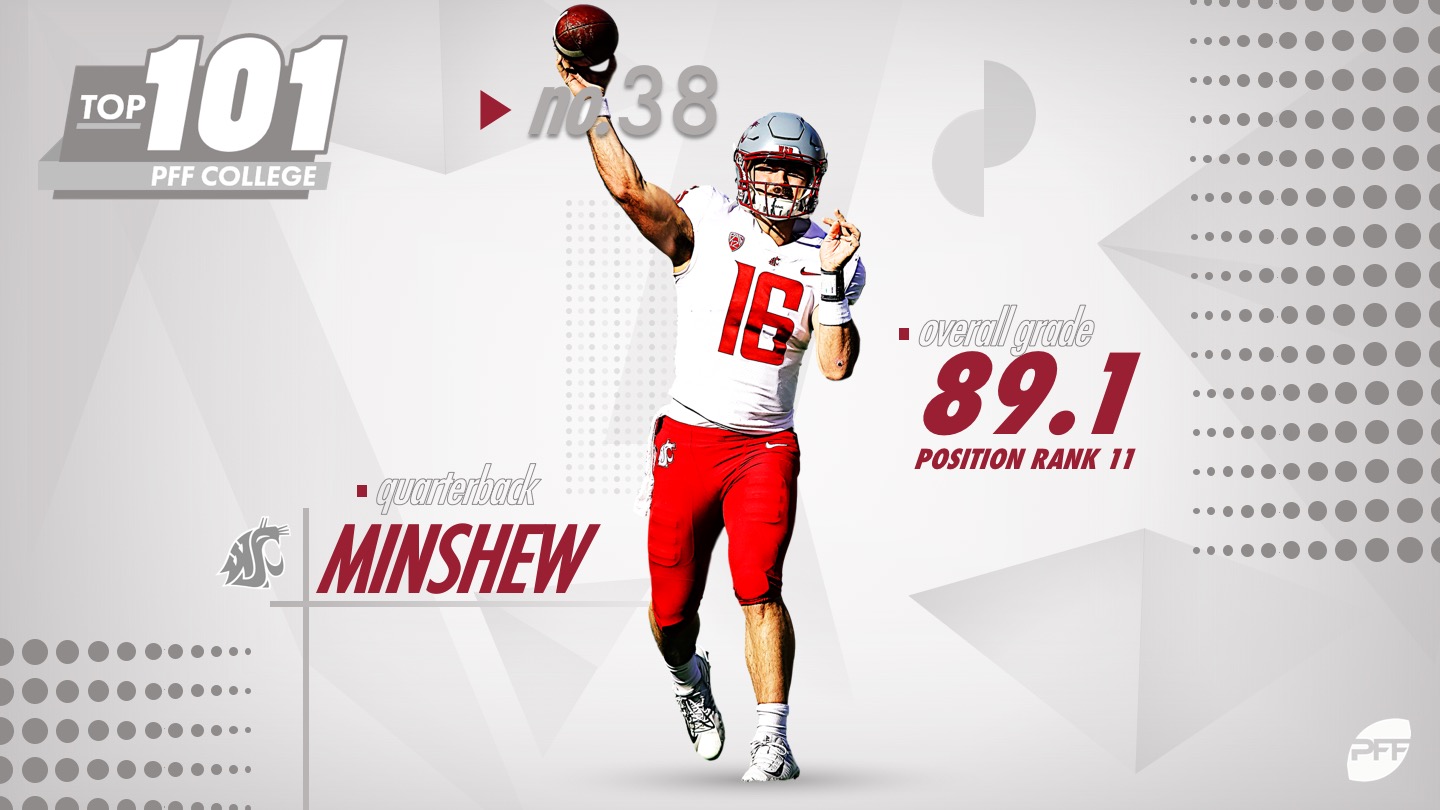 No quarterback combined to throw more touchdown and first-down passes than Minshew as the former ECU quarterback and Washington State transfer came on strong in Mike Leach's passing offense. Despite throwing more passes than any other quarterback in the country, Minshew finished with the highest adjusted completion percentage at 80.4% a testament to his quick reads just as much as it was to his ability to find the open receiver no matter the depth of his target.
39. Justyn Ross, Wide Receiver, Clemson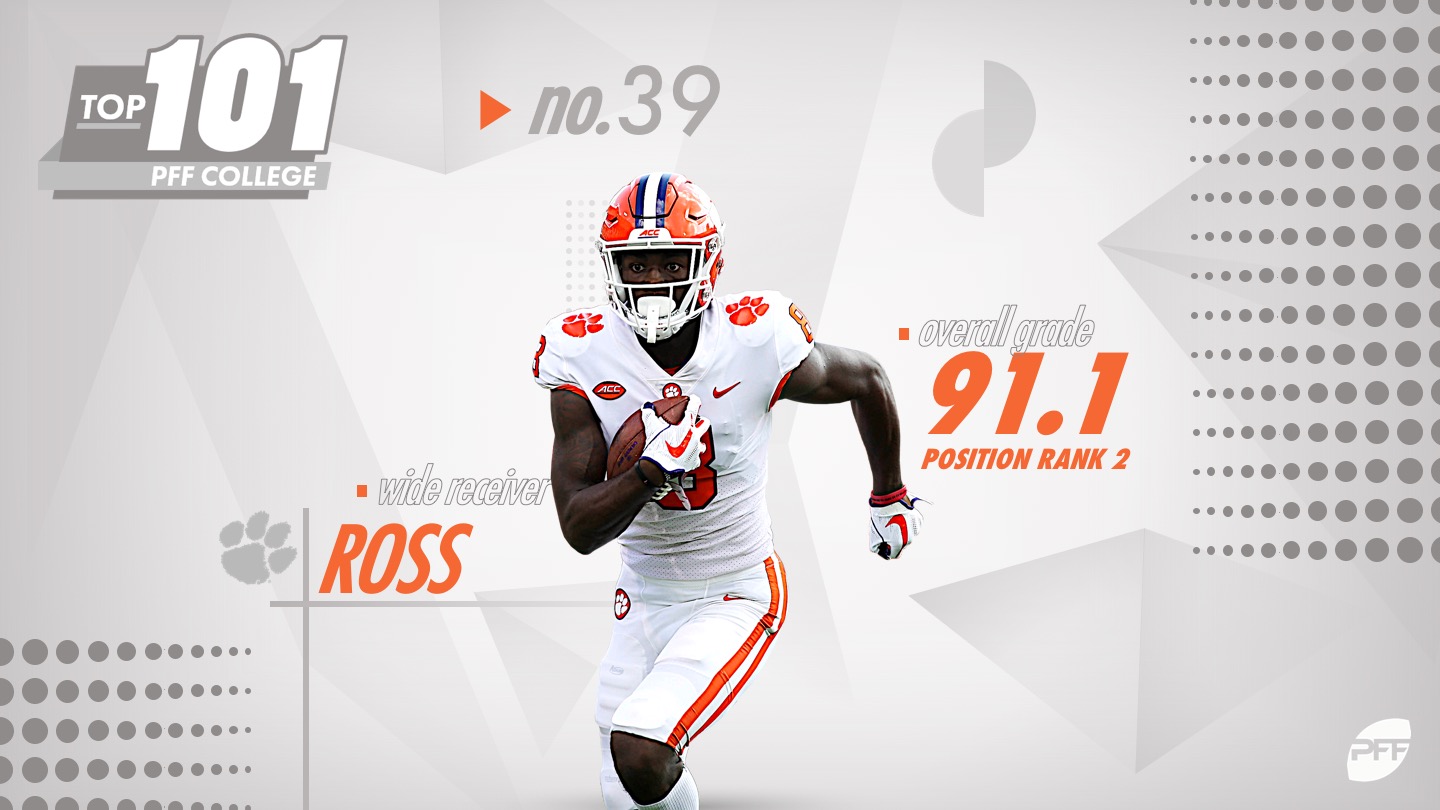 The true freshman sensation had by all accounts one of the more impressive postseasons of any player this year – combining for 371 receiving yards on 14 catches and three touchdowns from the ACC Championship Game and the College Football Playoffs. His final two elite game grades of the season were good enough to push him to the second-highest graded receiver in the country and his ability to high point the football as well as gain yards after the catch should have Clemson fans more than excited to see (at least) two more years of Trevor Lawrence passing to Justyn Ross.
40. JJ Arcega-Whiteside, Wide Receiver, Stanford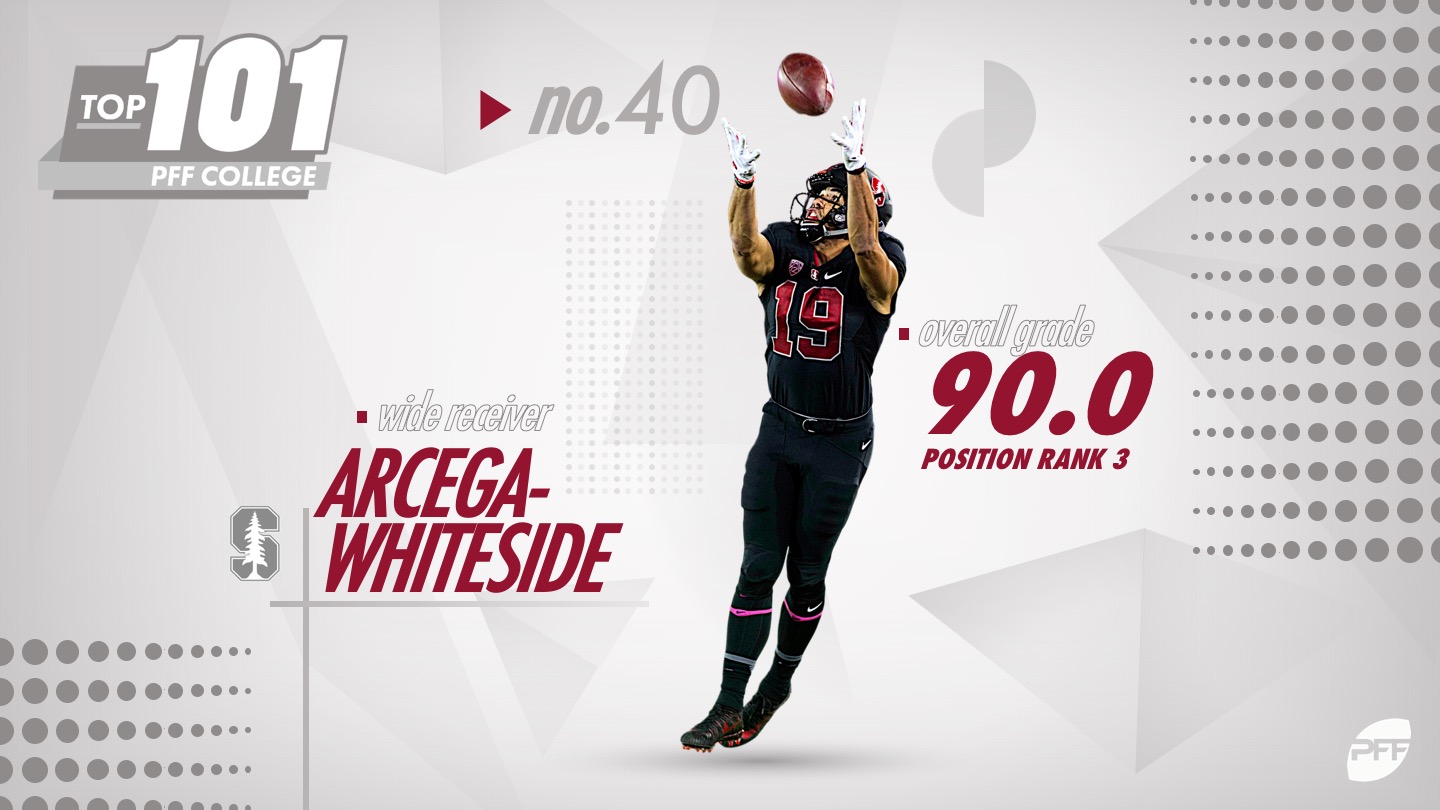 Mr. Contested Catch himself, Arcega-Whiteside was white hot to start the season and while he had a couple of down moments in 2018, this season was full of highs for the big man at Stanford. His 18 contested catches ranked No. 1 in the Pac-12 and fourth in the country, but the three above him saw far more targeted passes. He had no trouble getting open but that seemingly didn't matter as he hauled in well over 50.0% of his contested targets this season.
41. Taylor Rapp, Safety, Washington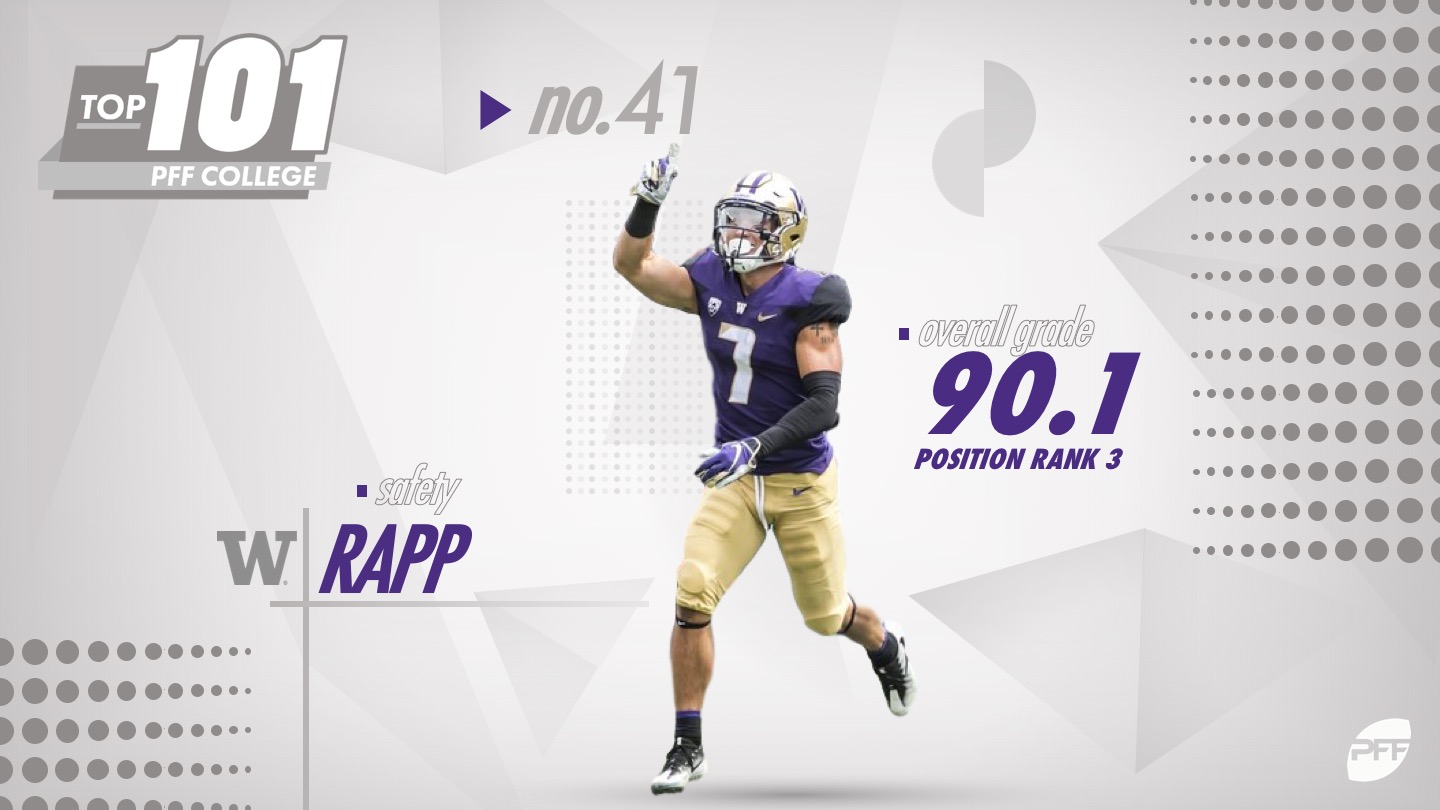 Rapp was a smooth tackler, elite coverage defender and stout run defender this season – all leading to the Power 5 conference's highest grade from a safety. He blitzed on 41 occasions and came away with 11 pressures that included five sacks, just rounding out an all-around dominant year for one of the nation's best defenses.
42. Mason Fine, Quarterback, North Texas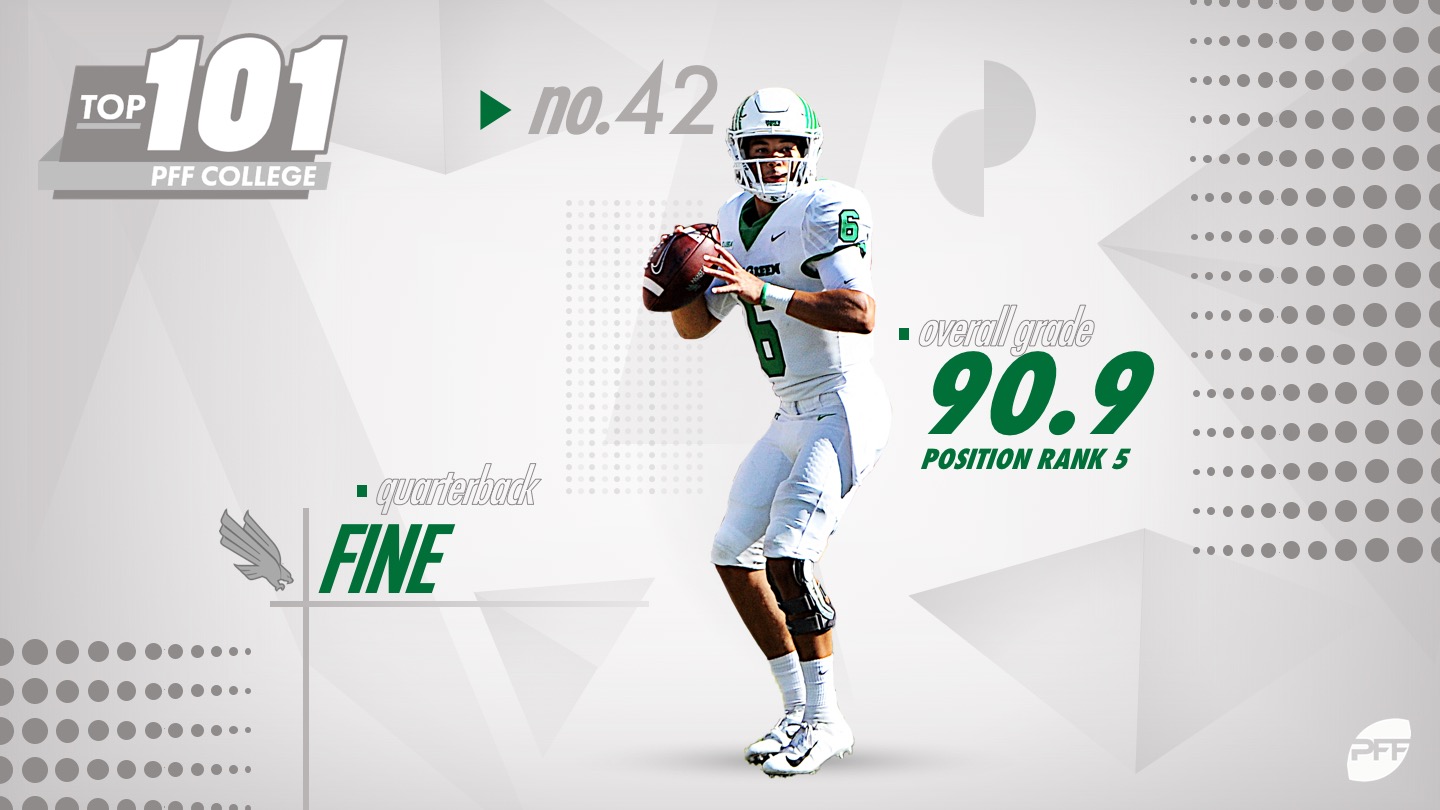 Routinely found on our season superlatives list for his wide array of passes this season, Fine is certainly in the conversation for the Group of 5's best quarterback. Although the season ended rather ugly, Fine should be across a bevy of award watch lists come the open of the 2019 season.
43. Tyler Biadasz, Center, Wisconsin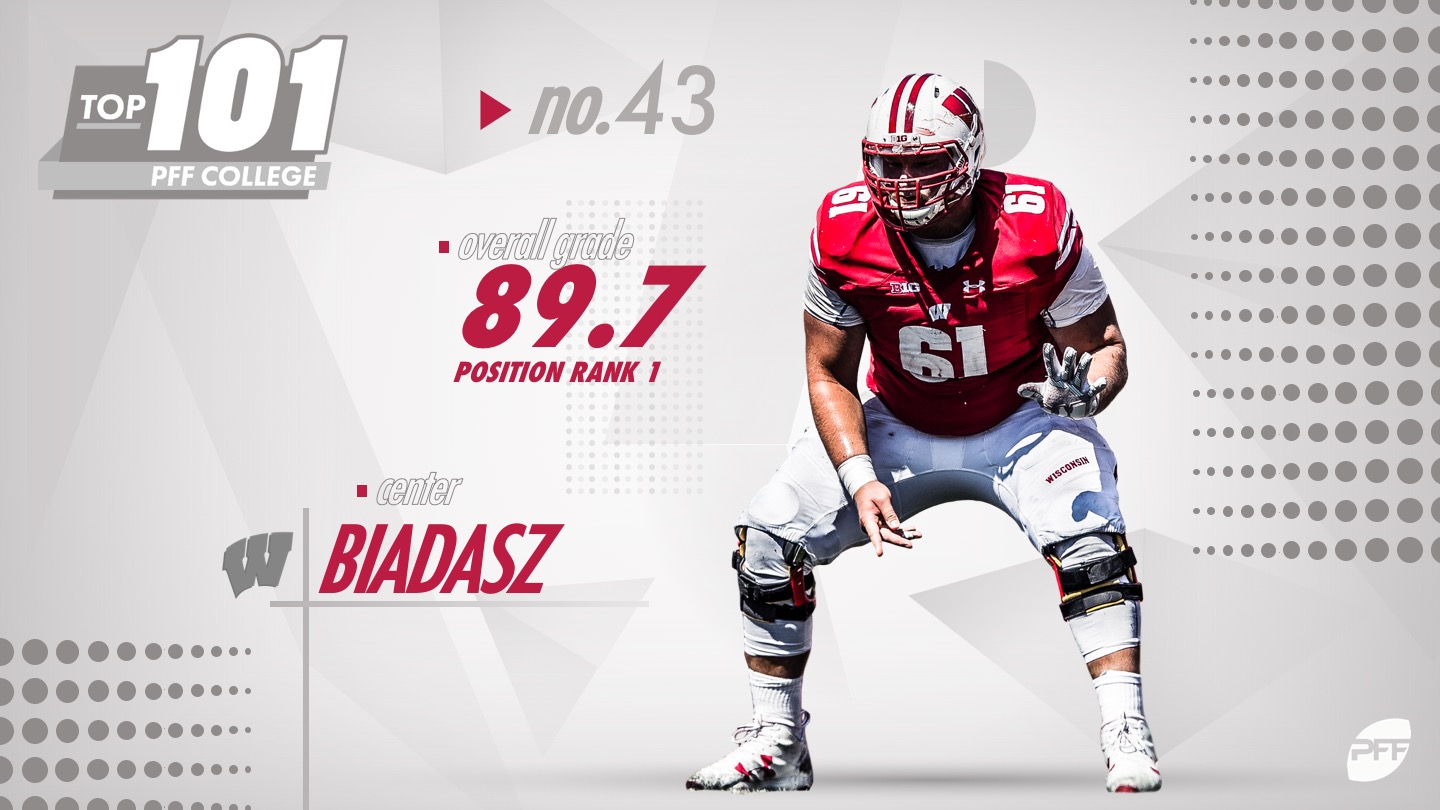 Regularly found moving defenders off their spot in the run game, Biadasz' 88.8 run-block grade was second in the nation at any position (second only to his teammate, Beau Benzschawel). His quicks off the snap were second to none at center and he finished the year by allowing just 11 pressures on his 333 pass-blocking snaps as well.
44. Zach Allen, Edge Defender, Boston College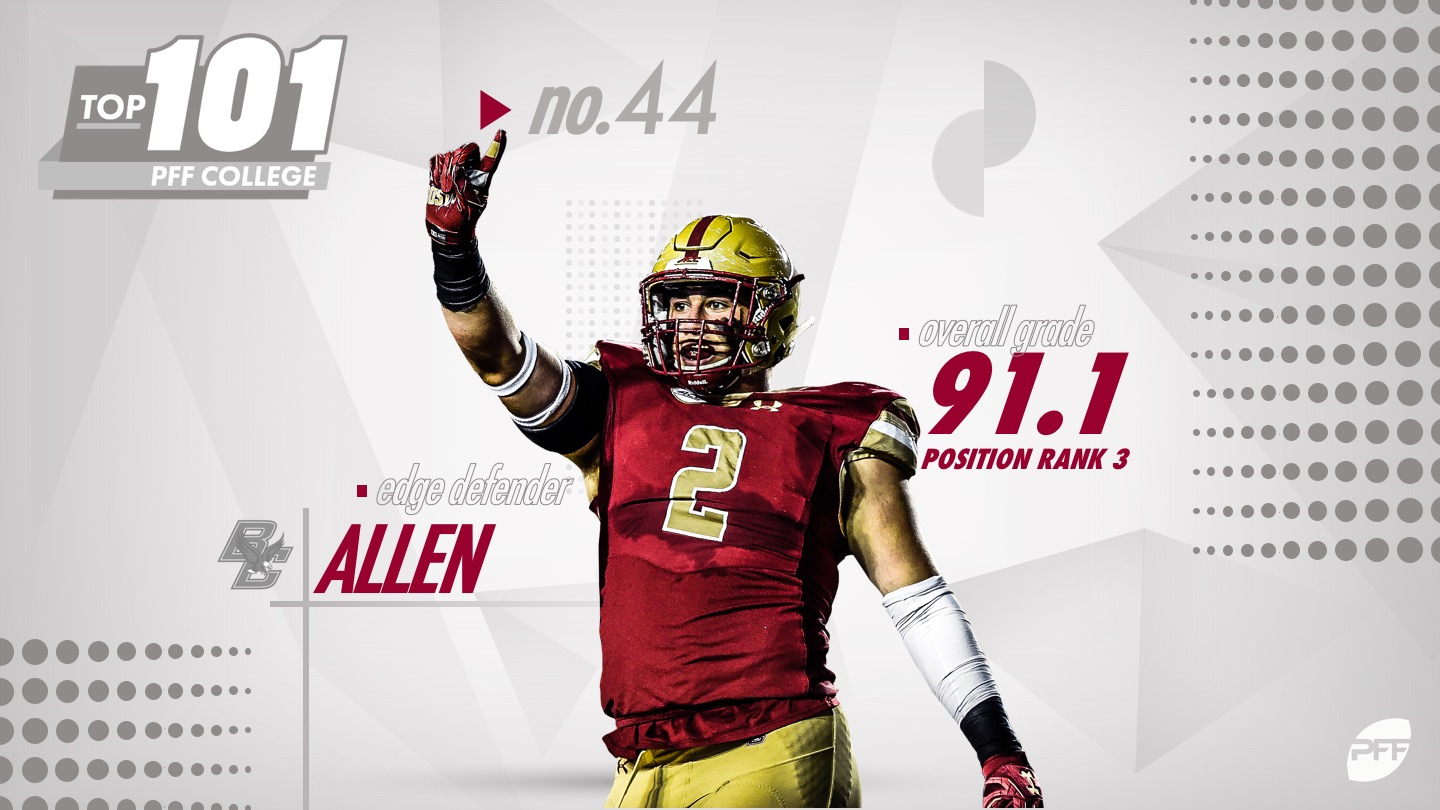 A dominant edge rusher since his days at New Canaan High School, Allen turned it one in his first season without Harold Landry grabbing the spotlight for Boston College. Allen finished as the third-highest graded edge defender while he finished second in the country with 18 QB hits. His 59 total QB pressures were a top-10 mark as he was routinely in the backfield for the Eagles.
45. D'Eriq King, Quarterback, Houston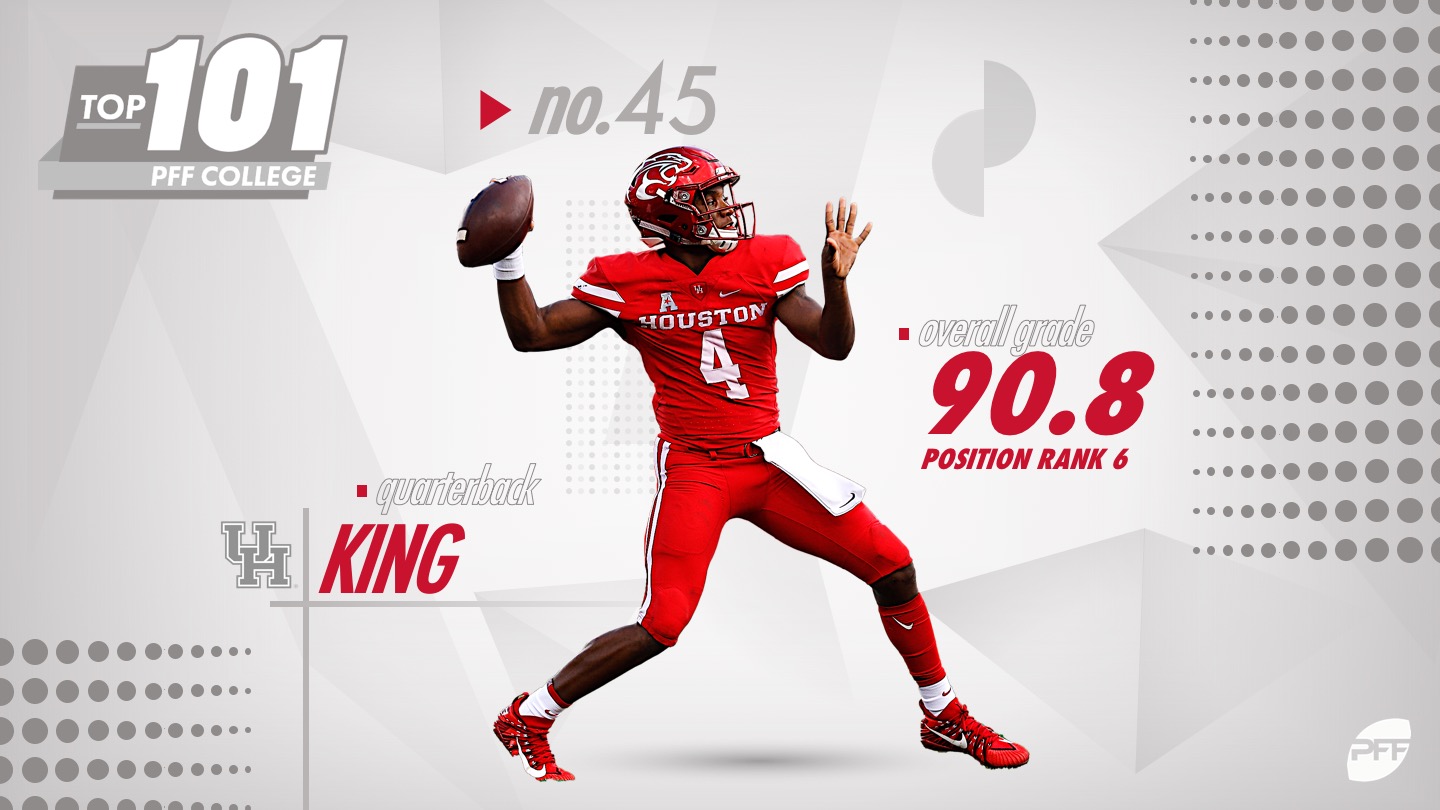 Another season that ended on a sour note, King's injury kept him out of the Houston lineup for the last two games yet he was able to finish the year as a top-10 graded quarterback. He was not afraid to uncork the deep pass as he averaged a yards per attempt figure of over 10.0 in three separate games in 2018.
46. Oshane Ximines, Edge Defender, Old Dominion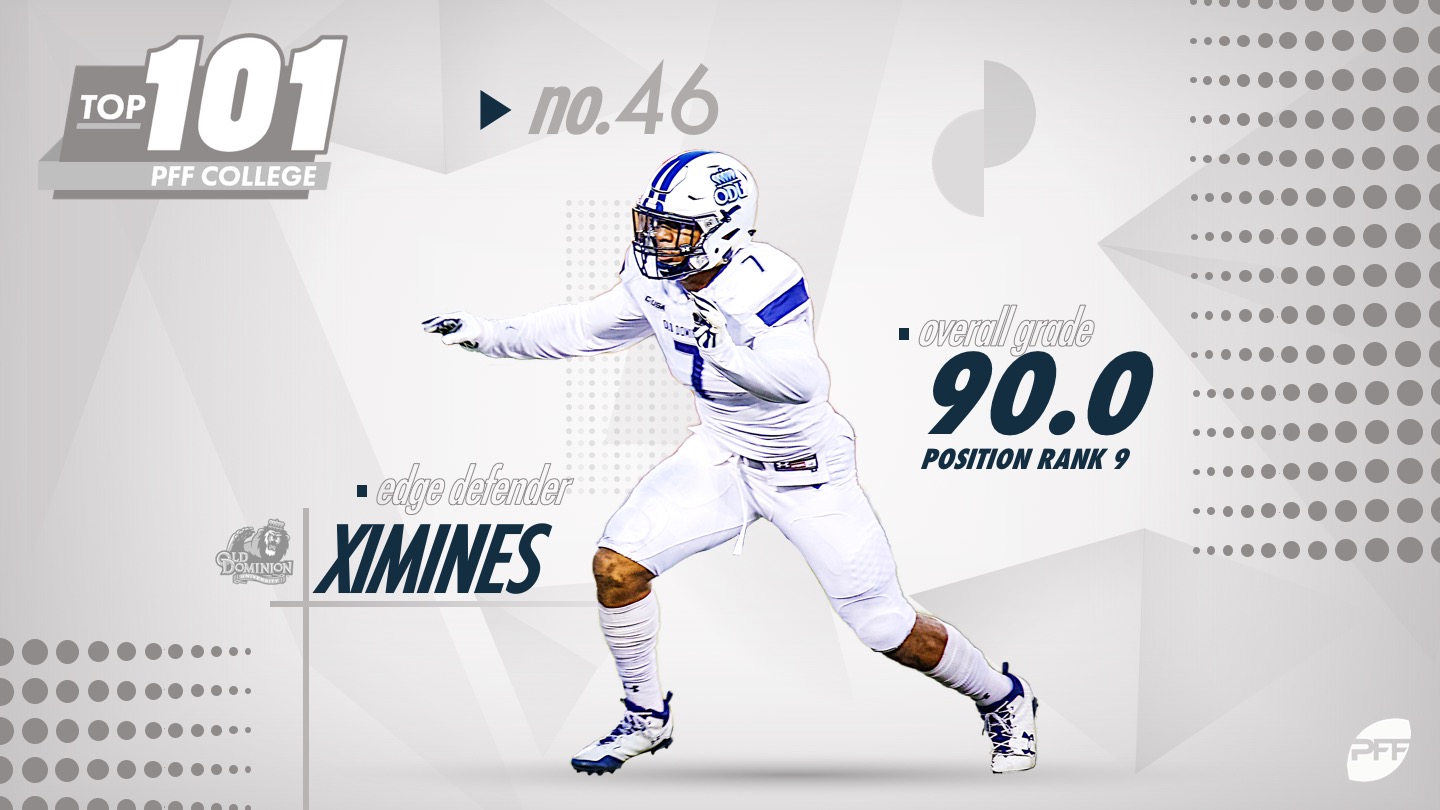 Putting forth one of the nation's highest game grades this year, Ximines 99.9 overall game grade against VMI vaulted him into the national picture. However, by that point, he had already accumulated 47 QB pressures and 37 defensive stops. Ximines has the tools necessary to be a small-school sensation at the NFL level – but for all intents and purposes here – he was the Monarchs most dominant player by far in 2018.
47. Bryce Hall, Cornerback, Virginia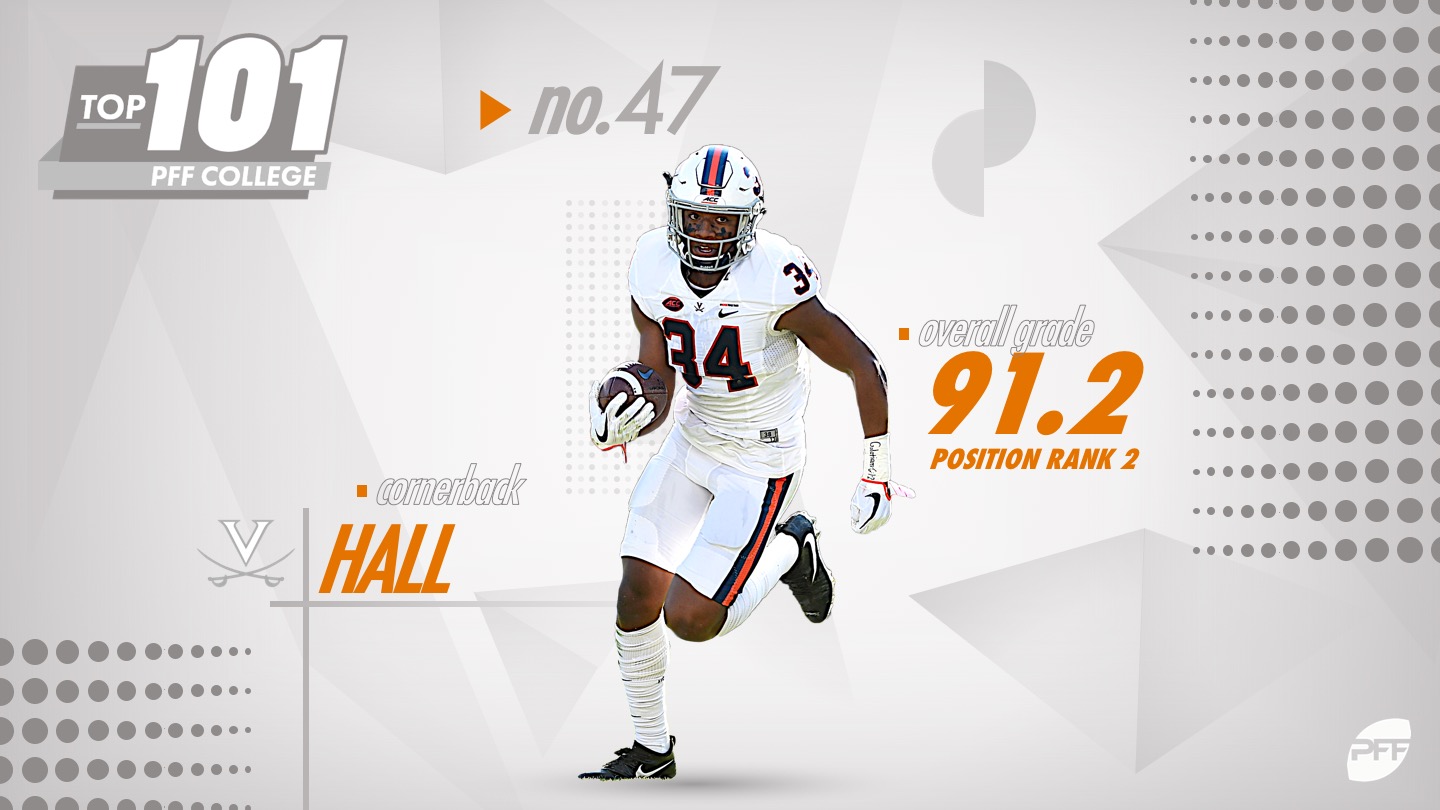 Hall finished second in total pass breakups this year, recording a ridiculous 18 of them. He was heavily targeted, seeing 72 passes come his way yet allowed just 34 completions and a 69.0 passer rating on throws into his coverage. His coverage grade matched his overall grade in terms of finishing in second place only to Byron Murphy.
48. Alohi Gilman, Safety, Notre Dame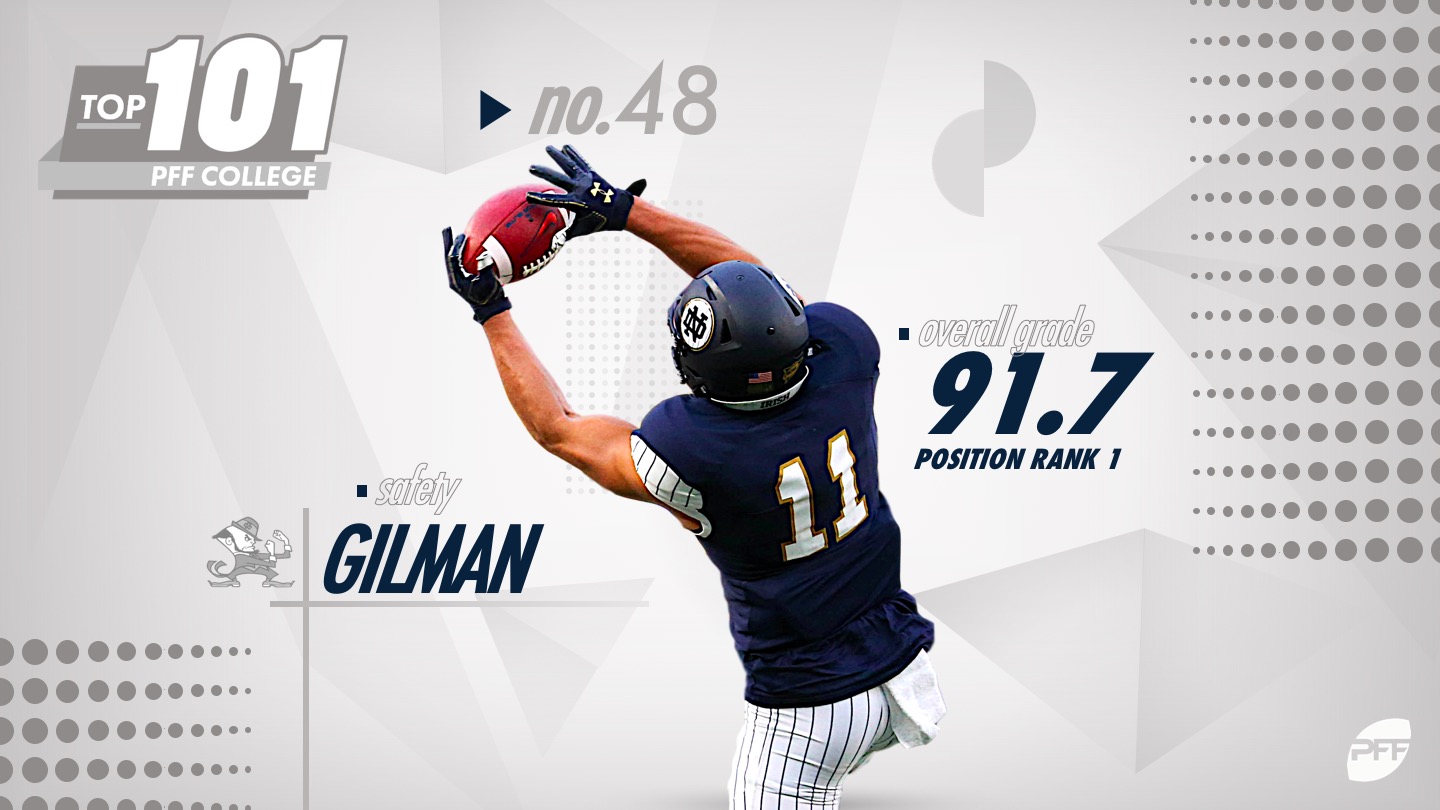 Finishing with the nation's highest grade at safety, Gilman put forth one of the lower-graded outings in the College Football Playoff but that should in no means discredit what he was able to do over the course of the season. Against Syracuse's potent aerial attack, he was targeted three times and came away with two interceptions, showcasing his elite coverage skills for the position.
49. Ronheen Bingham, Edge Defender, Arkansas State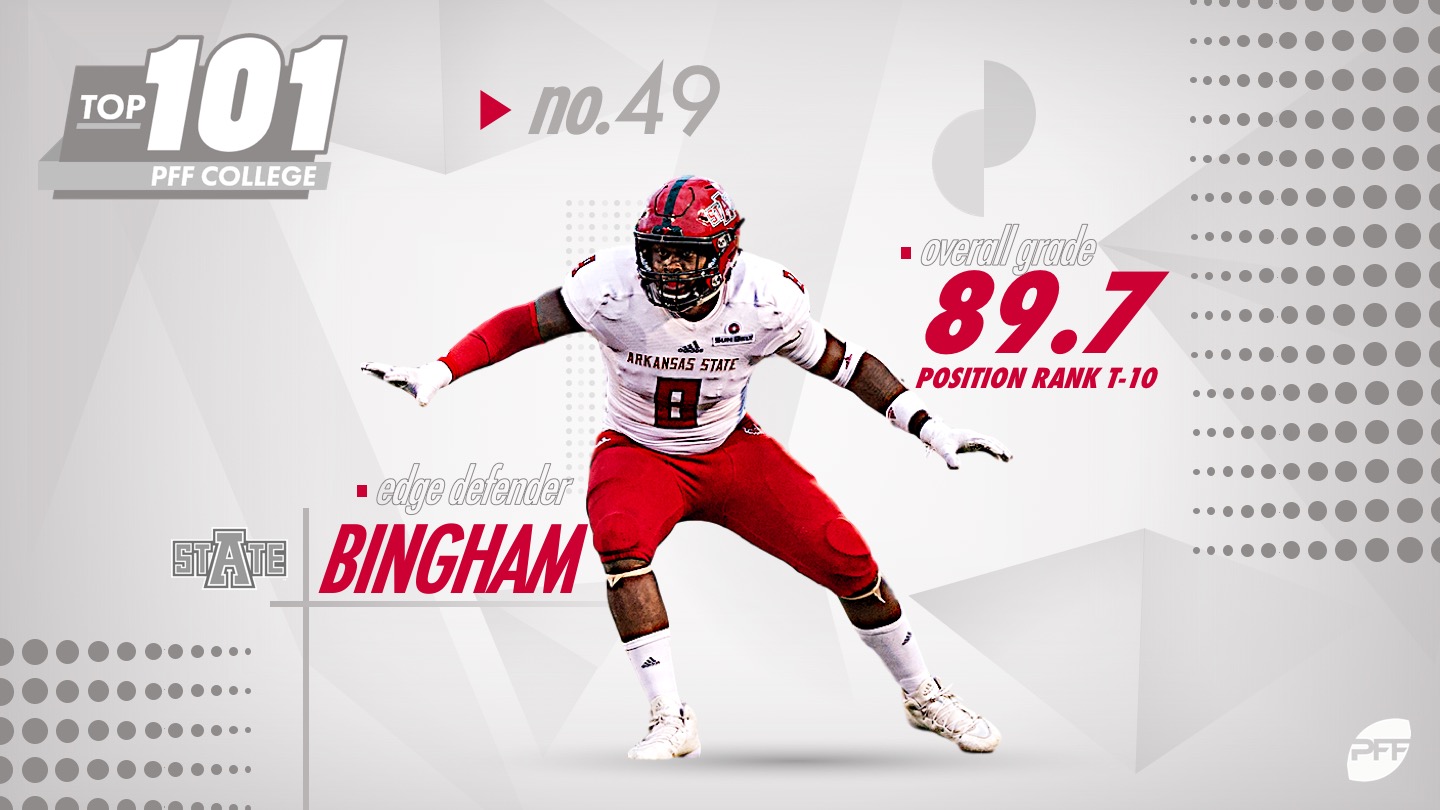 Named as one of our College Football Hidden Stars, Bingham could rush the passer with ease and did so to some ridiculous outings. He hauled in 62 total pressures and 20 combined sacks+hits.
50. Jaquan Johnson, Safety, Miami (Fl.)
Much like the rest of the Miami defense, Johnson had a great start to the season before the year wore on and ultimately fizzled out. Still, Johnson's prowess in coverage is enough to land him the last spot in the top 50 as he spent 275 snaps in coverage and limited receivers to just nine receptions. He recorded a total of 83 tackles despite just four missed attempts this year.
51. Evan Weaver, Linebacker, California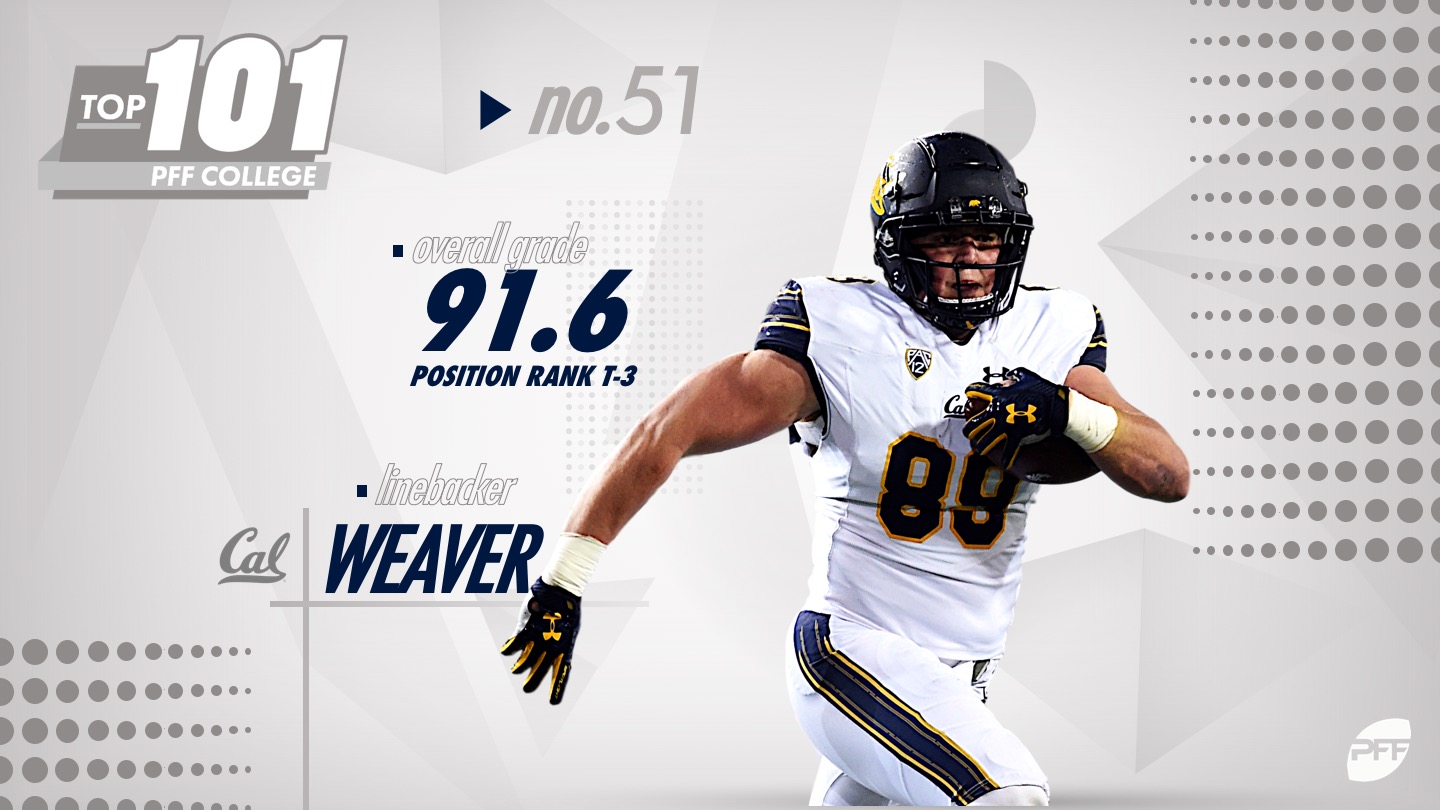 Weaver recorded a ridiculous 152 total tackle attempts this season, flying over the field for Cal. On those tackles, he managed to also bring in 18 QB pressures and recorded 74 defensive stops – good enough for second among the nation's linebackers.
52. Greg Gaines, Defensive Interior, Washington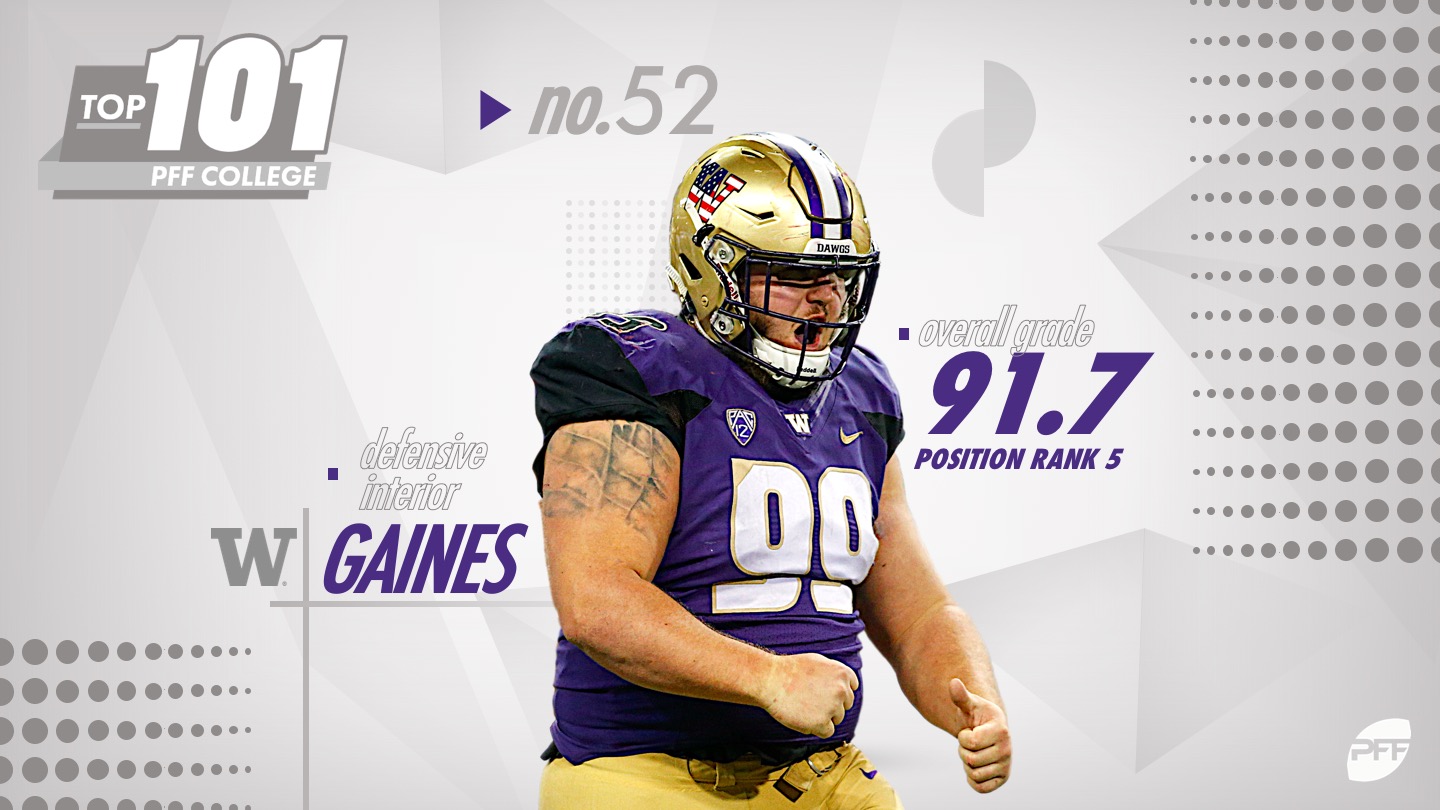 Far more than just a run stopper in 2018, Gaines stepped up his pass-rushing ability to the tune of 45 total QB pressures, bullying his way to a 77.9 pass-rushing grade. This is in no fashion to say he didn't continue his run-stopping prowess as he tallied 36 total defensive stops as he joined just Quinnen Williams and Christian Wilkins in recording at least 40 pressures and at least 35 stops.
53. Terronne Prescod, Offensive Guard, NC State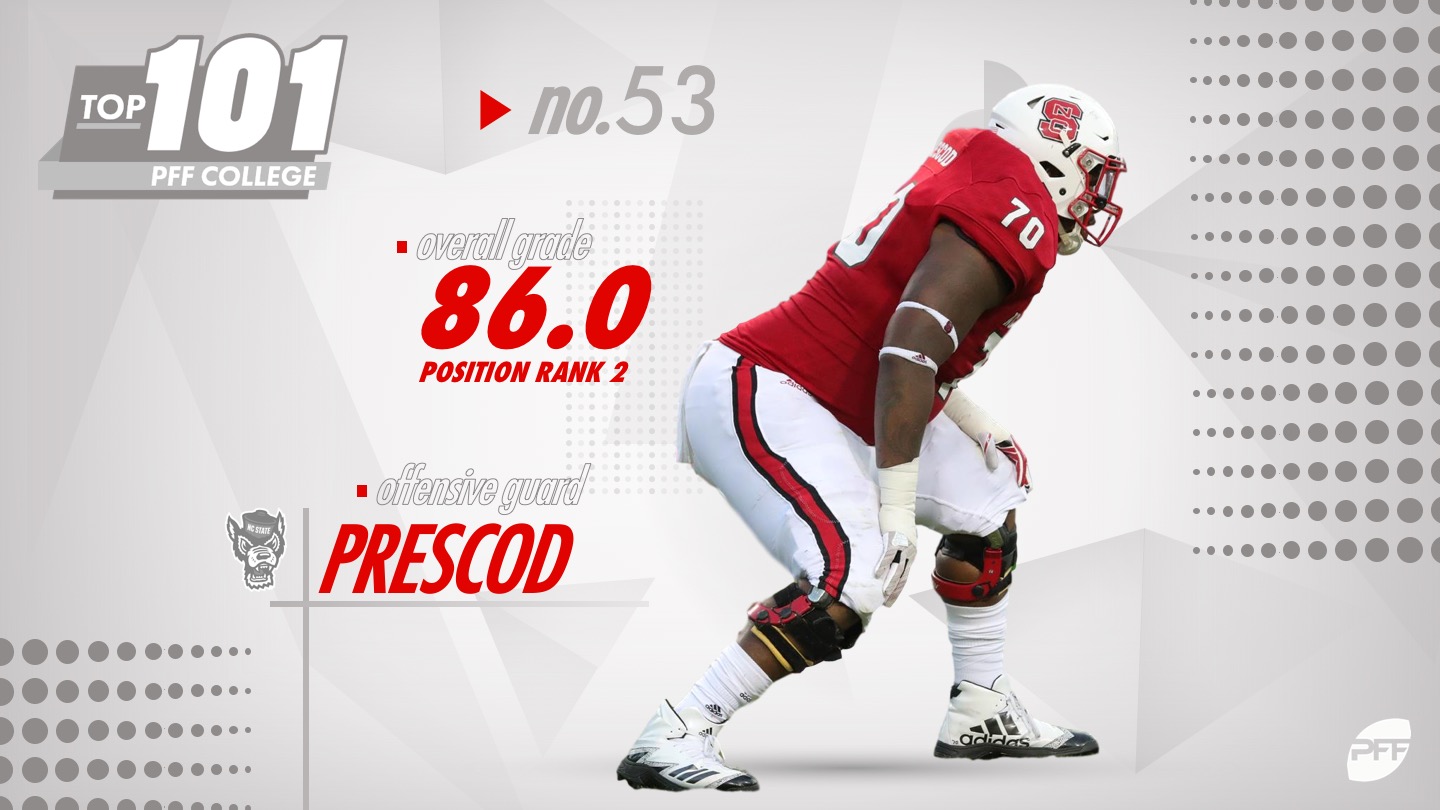 The second-highest graded guard this year, Prescod is just one of two to earn at least 86.0 grades in both pass protection and run-blocking. Impressively enough, he allowed no sacks nor hits on the quarterback across his 364 pass-blocking snaps. That's saying something considering the amount of talent he played against in the ACC along the defensive line.
54. Charlie Brewer, Quarterback, Baylor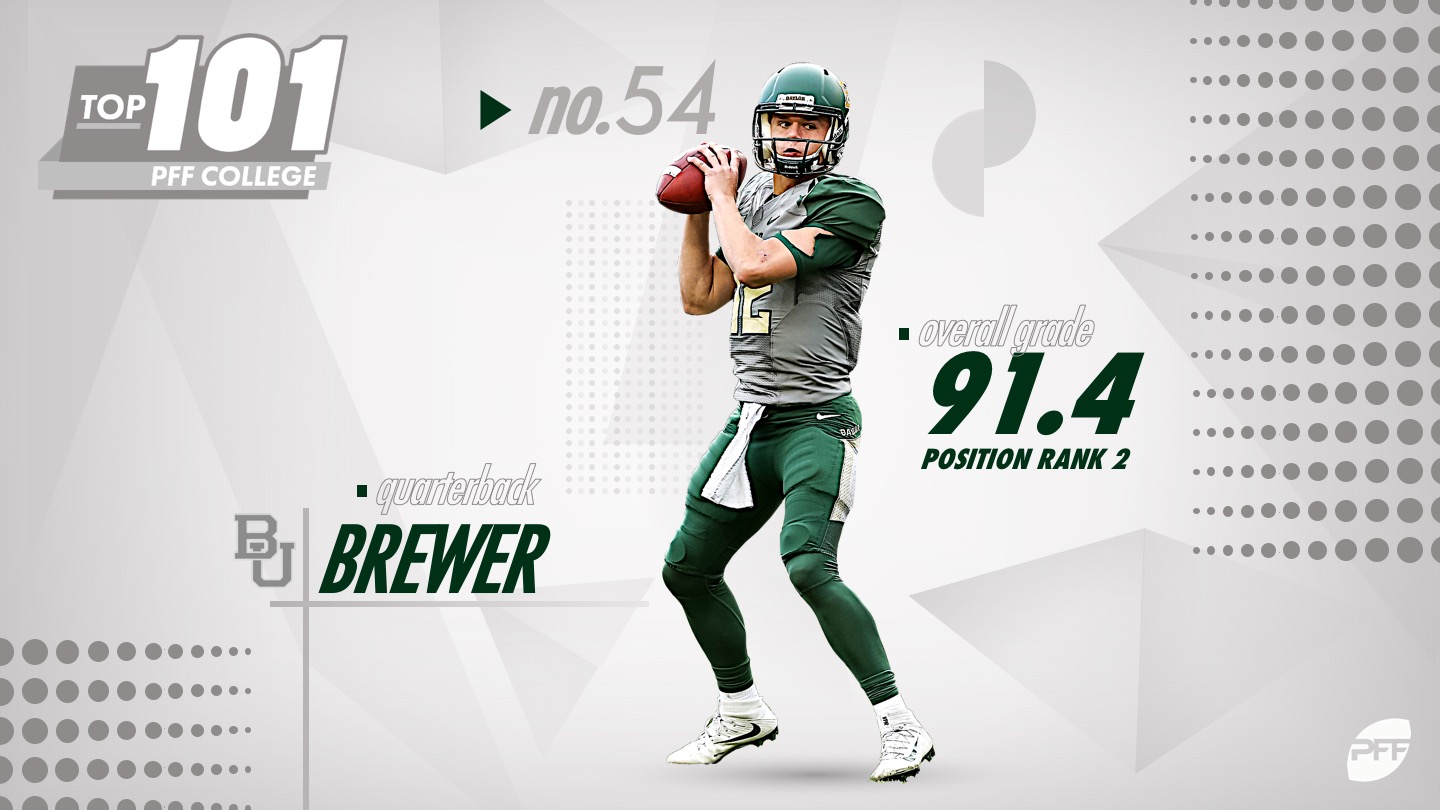 Brewer capped his season with a bang in 2018 – defeating Vanderbilt in the Texas Bowl in one of bowl season's more exciting games. That game was a microcosm for those who haven't witnessed Brewer the past two seasons as he was accurate and sharp on his reads, something Baylor fans have come accustomed to and something that led to the nation's second-highest grade among signal-callers.
55. Kindle Vildor, Cornerback, Georgia Southern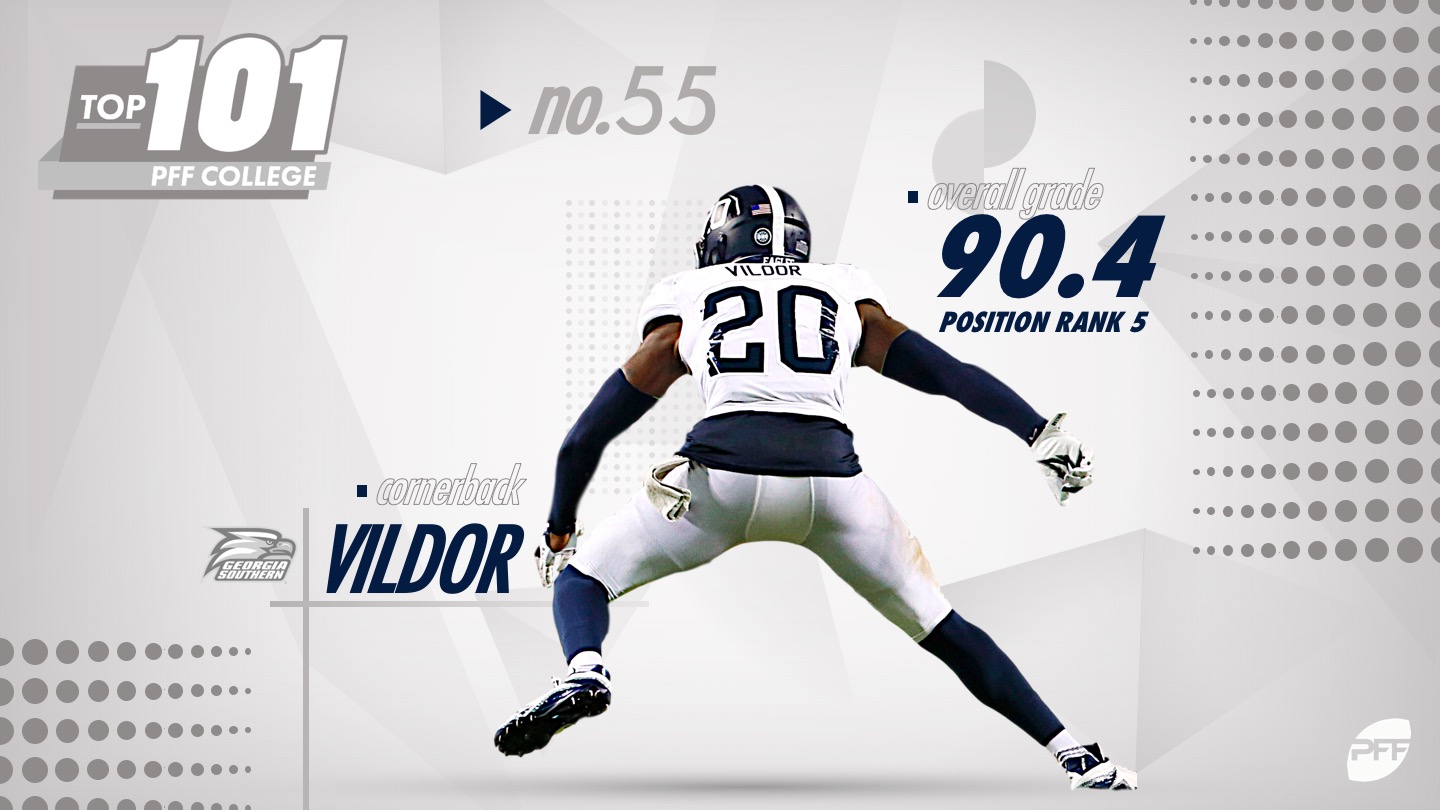 Vildor is the best cornerback you haven't heard about (unless you've tuned into PFF this season). He rarely missed a beat this year and finished with above-average grades in every facet as well as an elite coverage grade and an elite overall grade. He limited quarterbacks to just a 52.5 passer rating on throws into his coverage and made 16 defensive stops this year.
56. Laviska Shenault Jr., Wide Receiver, Colorado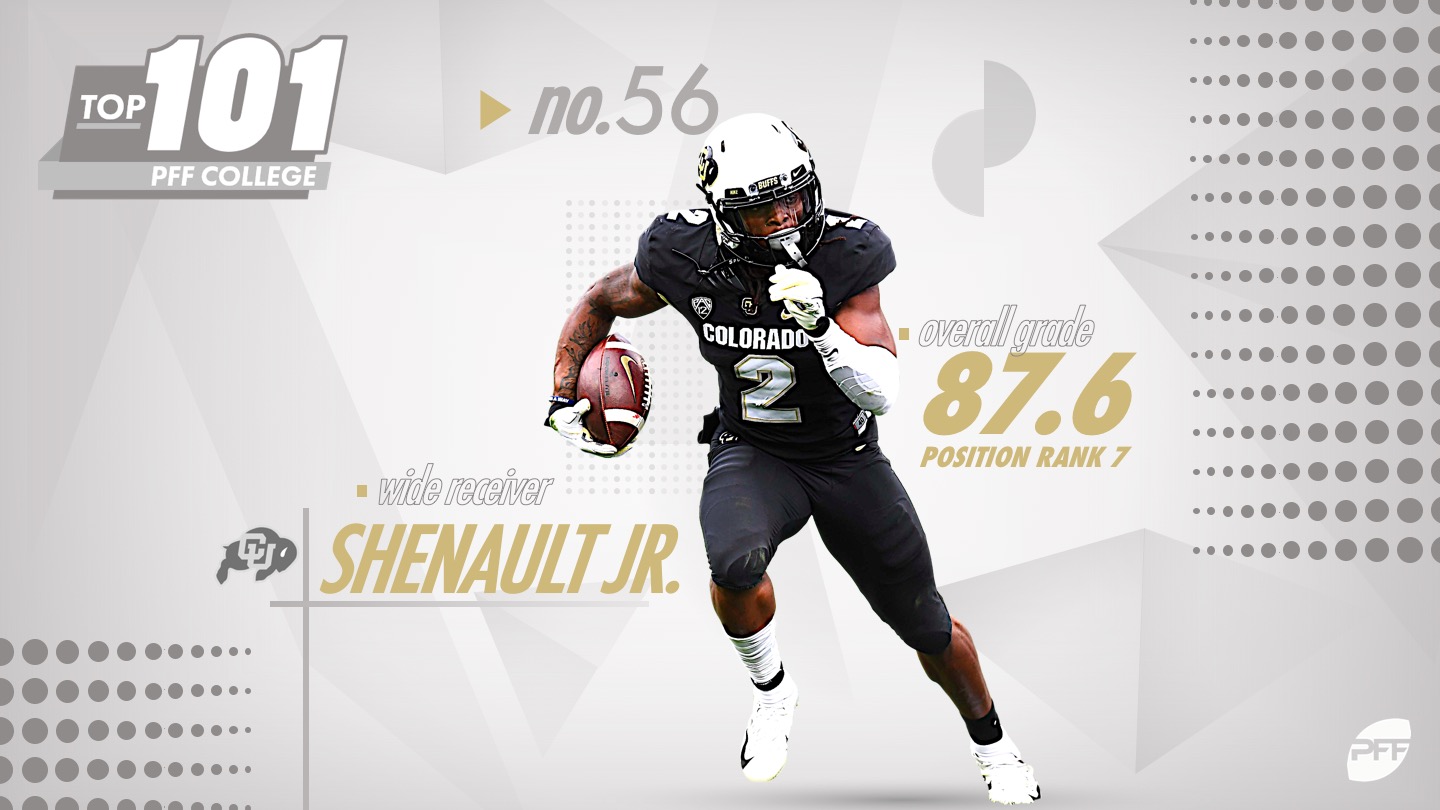 For a while this season, it seemed as if Shenault would run away (literally) with the yards after the catch and missed tackles forced totals among receivers. However, injuries hurt him and those chances, but he still finished second with 28 missed tackles forced and fifth with 639 yards after the catch among FBS receivers.
57. Marquise Brown, Wide Receiver, Oklahoma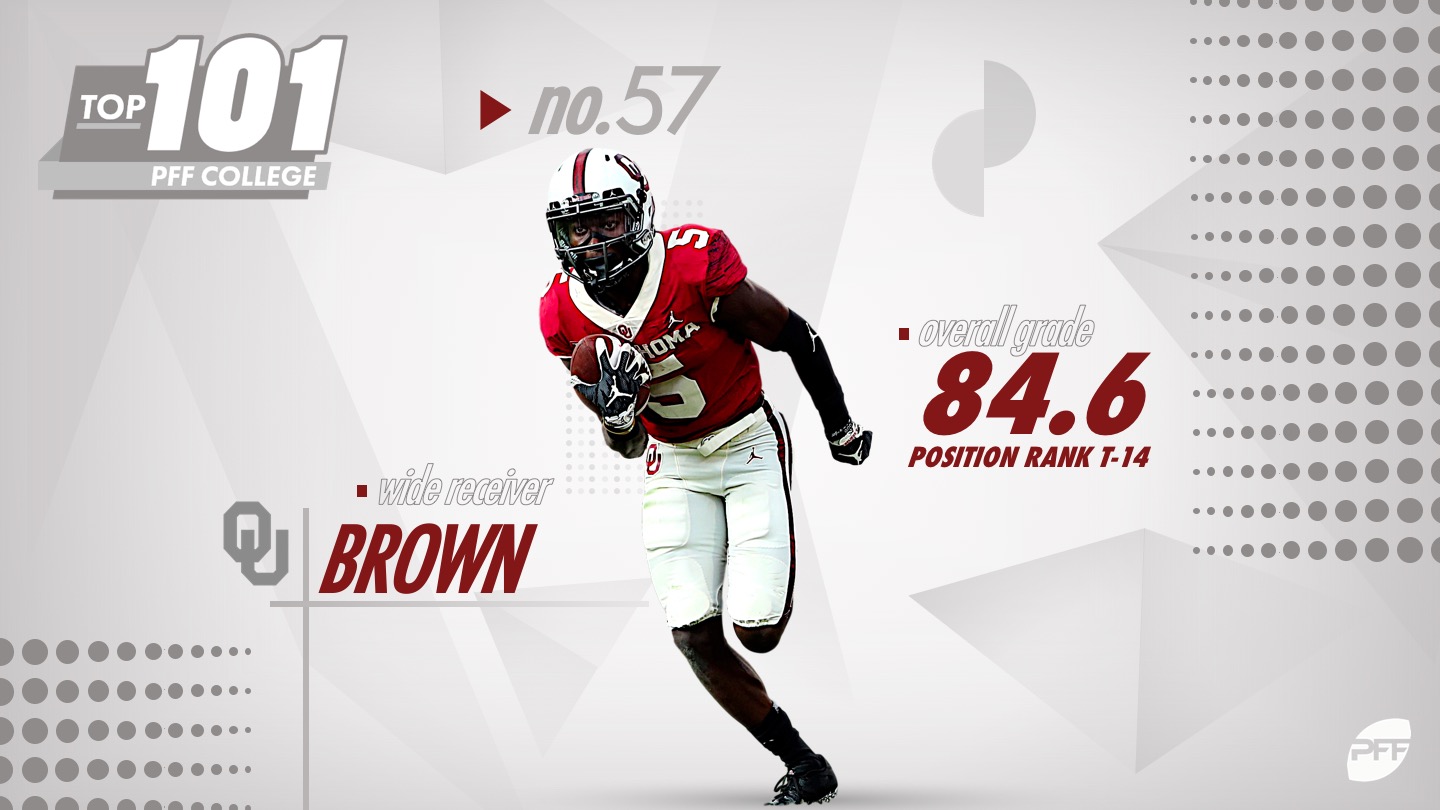 Speaking of ability after the catch, Brown tallied 639 yards after the catch as well this season – leading to a ridiculous 8.5 YAC/reception total. He was no stranger to go the distance or move the chains as he recorded 52 combined first-down and touchdown receptions.
58. Jerry Jeudy, Wide Receiver, Alabama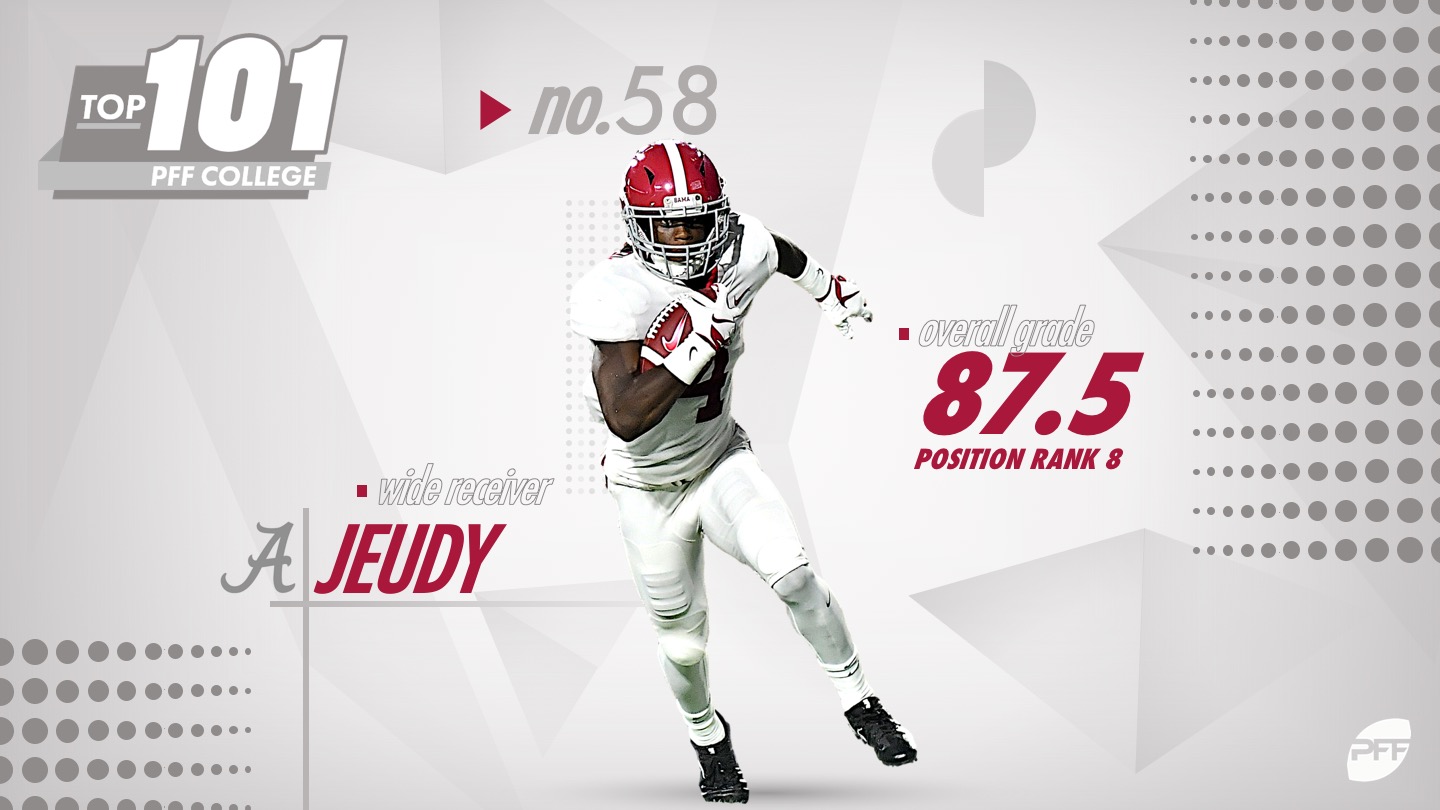 The Biletnikoff Award winner didn't quite have the season that Andy Isabella had at UMass, but Jeudy was dominant in his own regard for the Crimson Tide. He finished with the eighth-highest receiving grade and saw a 125.1 passer rating when targeted from 'Bama QBs.
59. Trey Sermon, Running Back, Oklahoma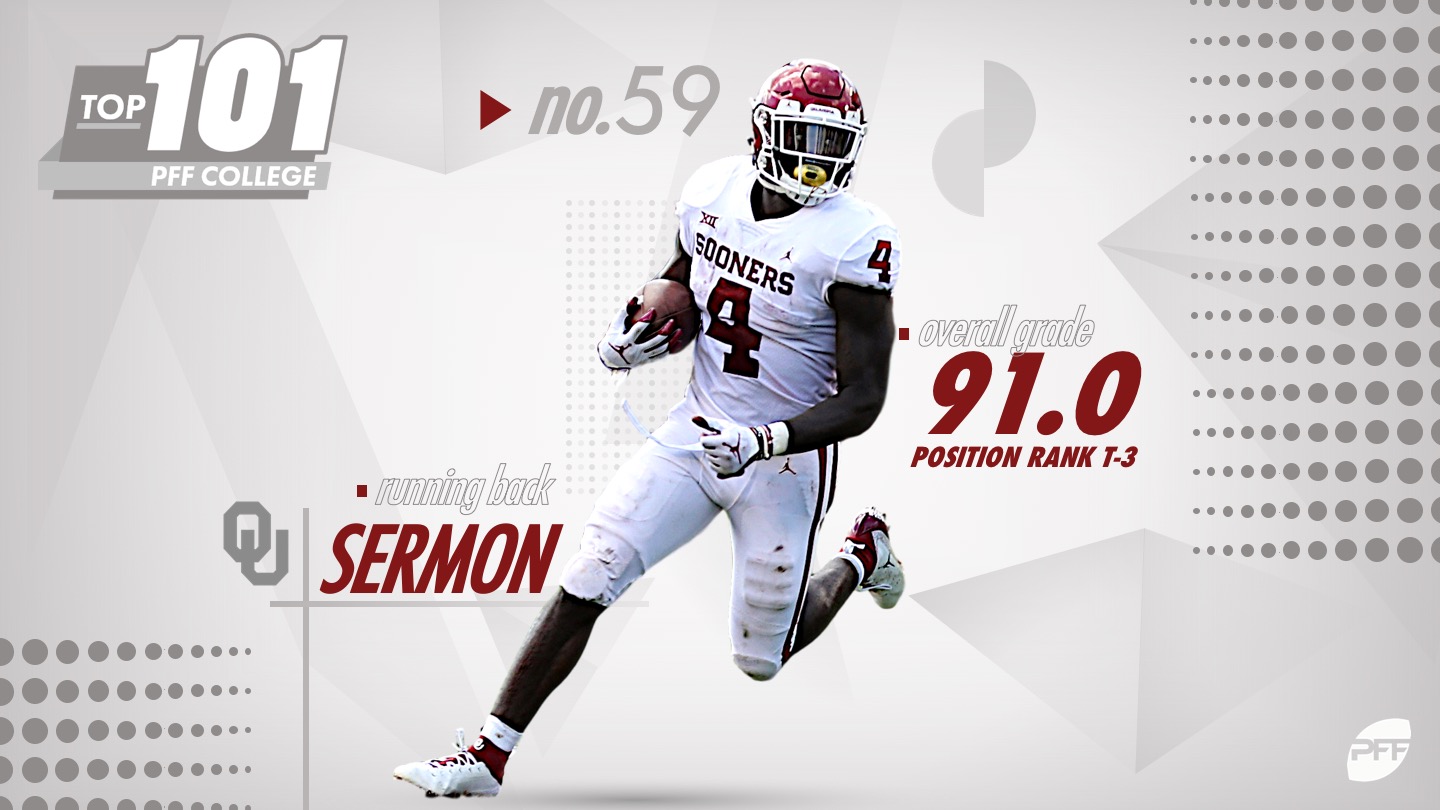 While he may not have even been the best running back on his team by more than a slim margin, Sermon and Kennedy Brooks were a 1-2 punch that could be considered the country's best. Sermon outdid his teammate not in total rushing yards but in grade and held a large margin of victory in total missed tackles forced (56 to 36).
60. Ryan Finley, Quarterback, NC State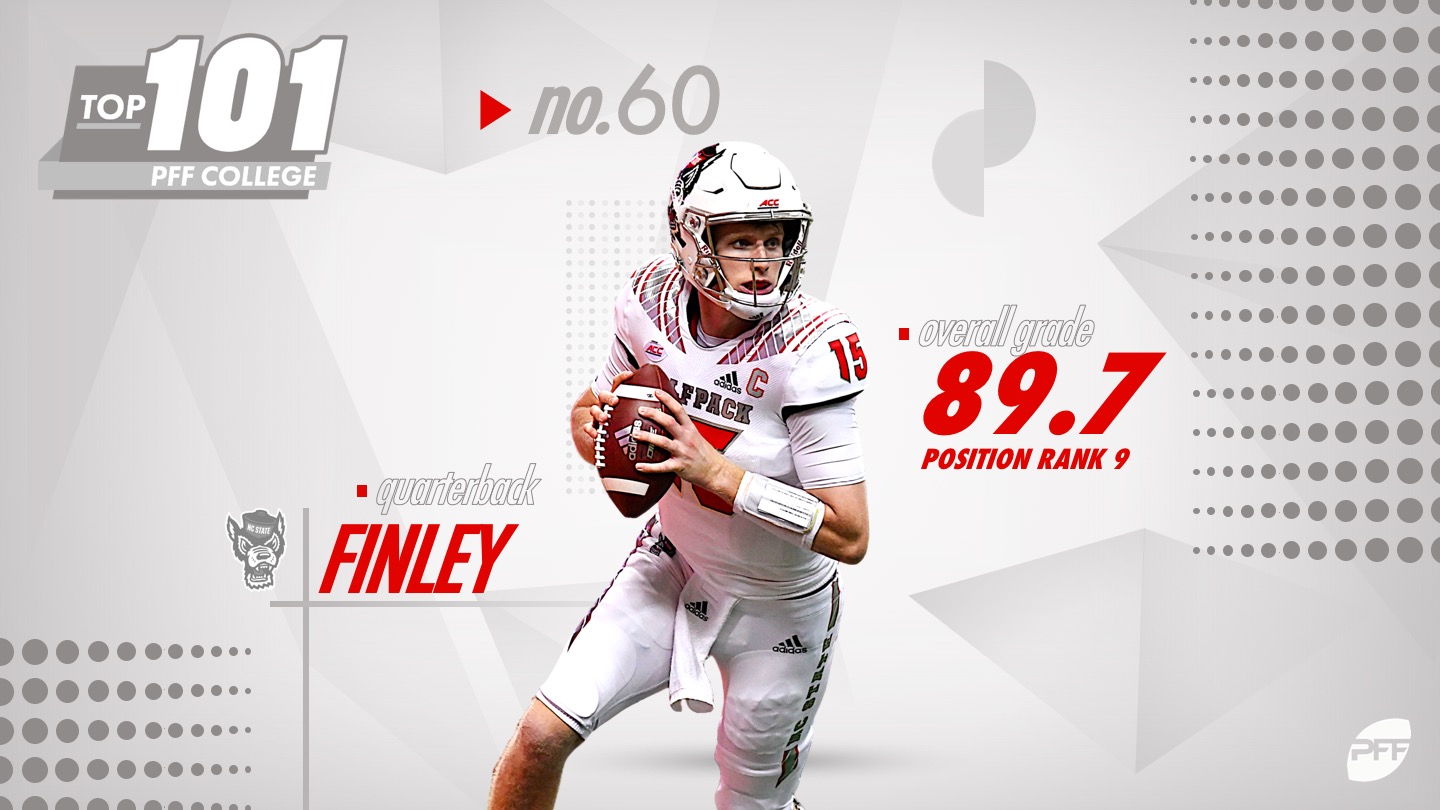 Finley looked the part for the majority of the season and while there was a bad stretch of interception-filled football, still finished with the ninth-highest grade among quarterbacks. His combined 192 first-down and touchdown passes were good enough for fifth this year.
61. T.J. Edwards, Linebacker, Wisconsin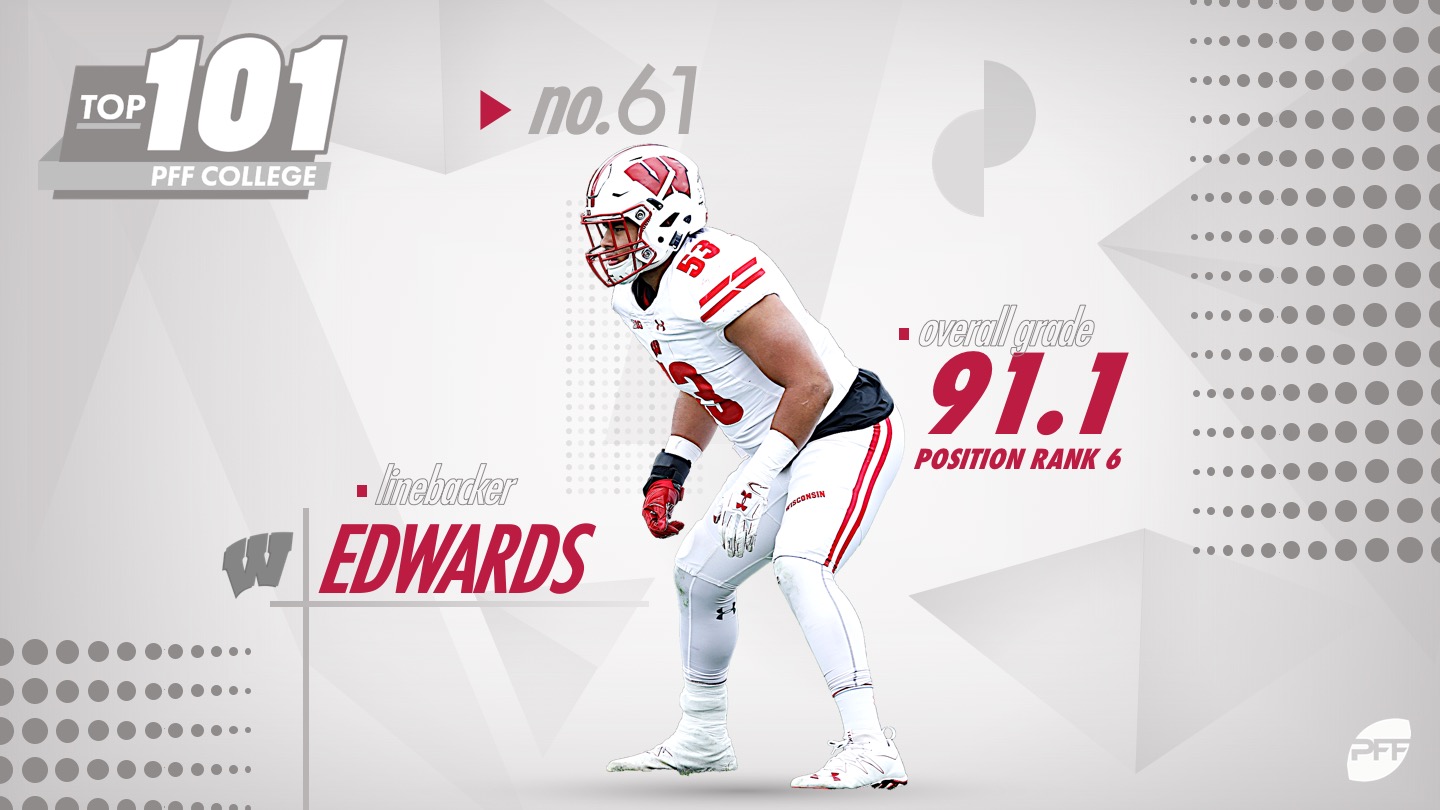 Edwards was tasked with rushing the passer on just 45 snaps, and he was still able to get home with 17 pressures. He made 108 total tackles this year and did all of this with missing all of seven tackle attempts.
62. Malik Gant, Safety, Marshall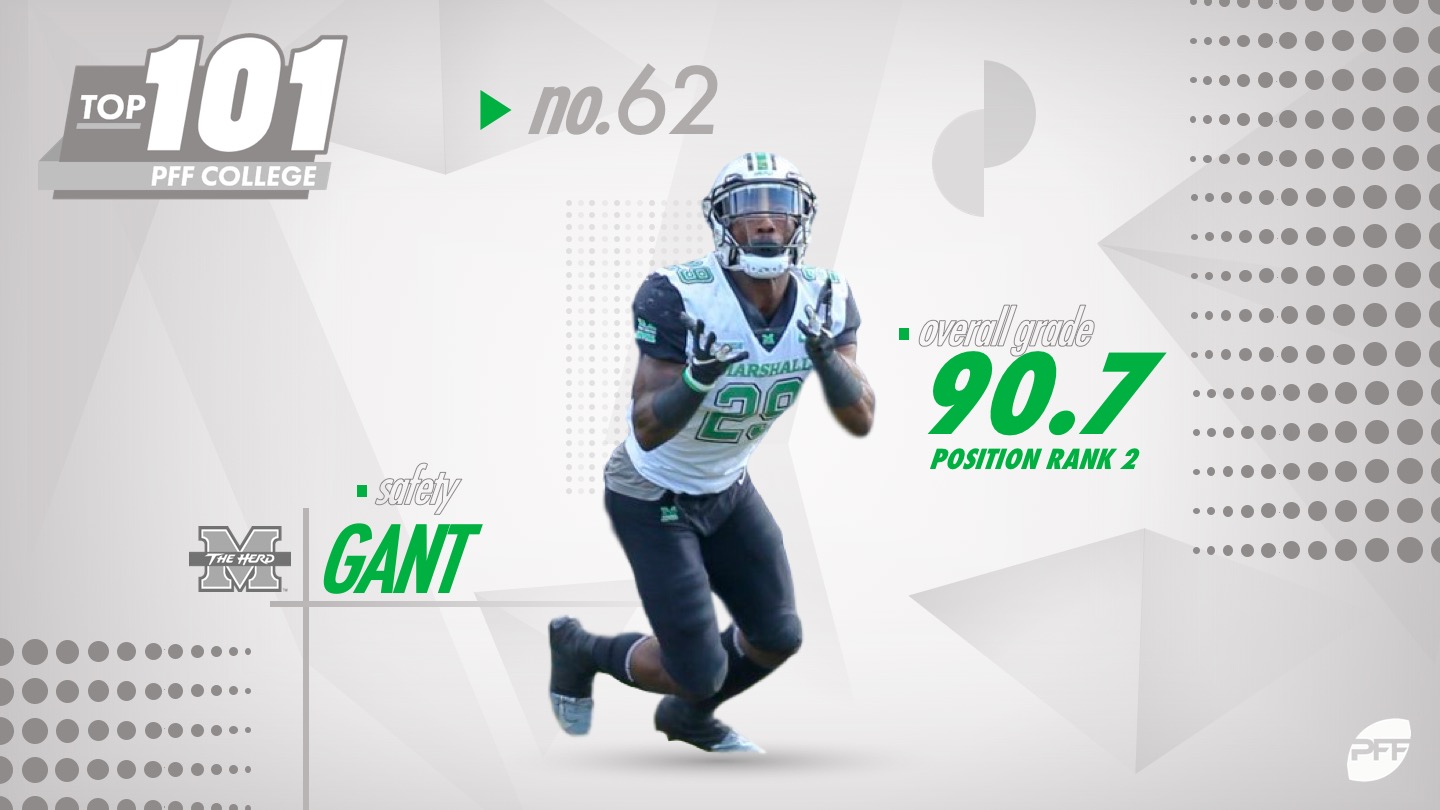 Named as our Best Box Safety, Gant was an absolute force against opposing offenses. He recorded 46 total defensive stops, leading all safeties and was a number good enough that would have ranked in the top half of all FBS linebackers this year.
63. Caleb Wilson, Tight End, UCLA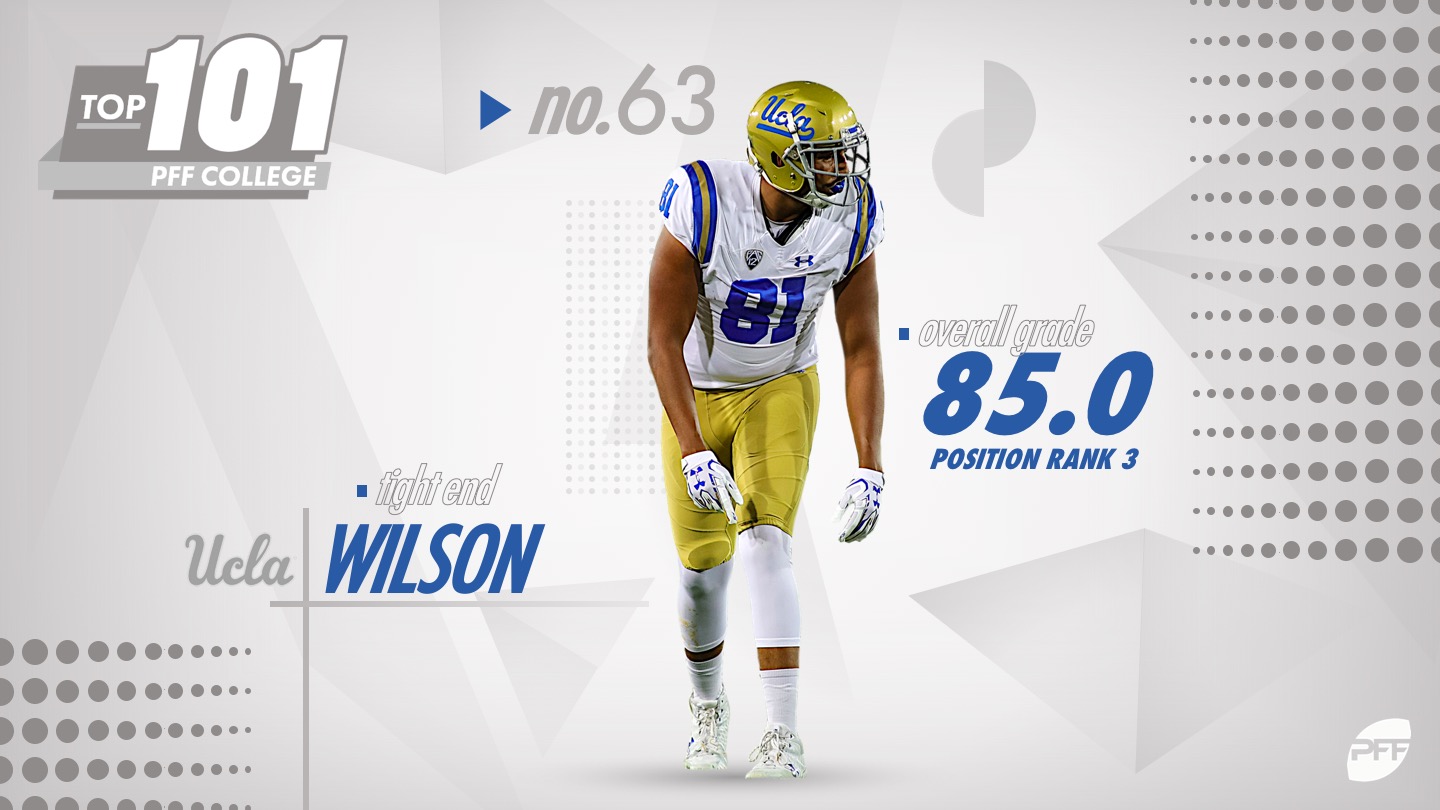 Wilson led the nation with 467 yards after the catch, dominating the league's tight ends with 965 total receiving yards to boot. His 42 combined first-down and touchdown receptions also led the nation, and he rounded out his impressive season with a top-five pass-blocking grade of 78.3.
64. Devin Singletary, Running Back, Florida Atlantic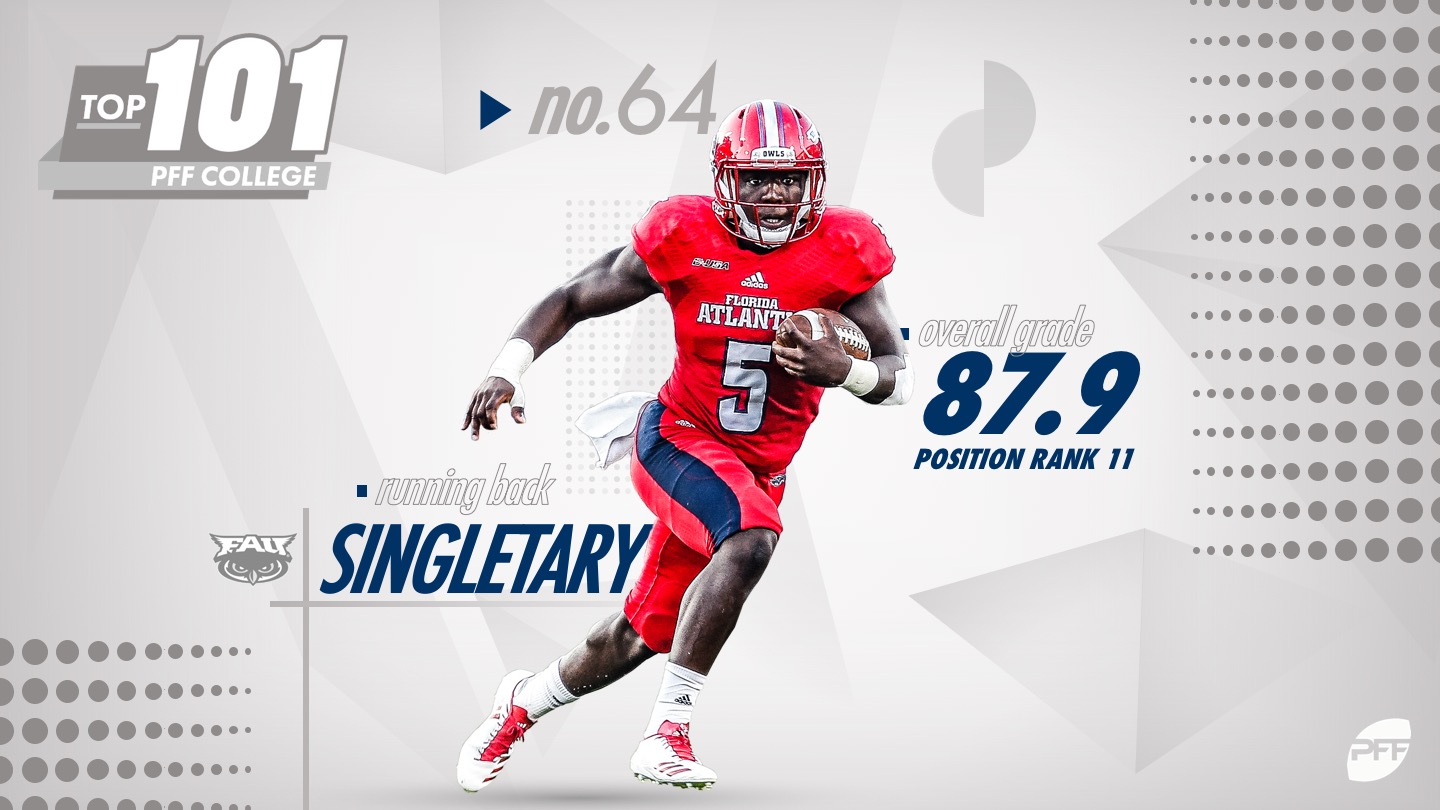 While Montgomery broke through at the end of the season to top him, Singletary held the nation's top mark in terms of most missed tackles forced for 15 weeks this season. Still, he managed to force a ridiculous 96 missed tackles on his 264 carries giving him 201 total missed tackles forced over his three-year career at FAU.
65. Jaylen Waddle, Wide Receiver, Alabama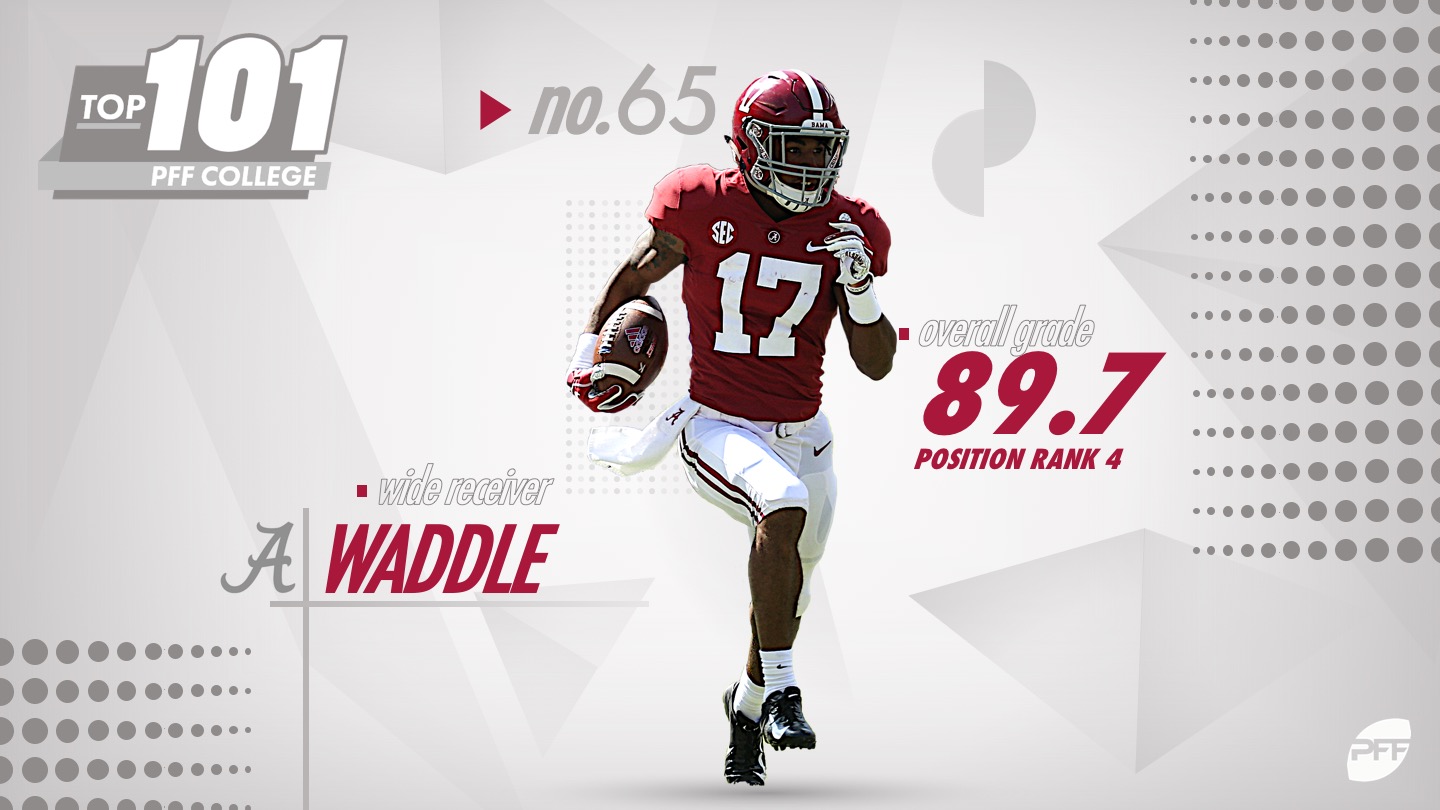 A true freshman sensation, his season ended on a sour note, but Waddle should have Crimson Tide fans more than excited for the future. He finishes with the fourth-highest grade among receivers as he hauled in a ridiculous 75.0% of all passes thrown his way this year while averaging 8.0 yards after the catch per reception.
66. Calvin Throckmorton, Offensive Tackle, Oregon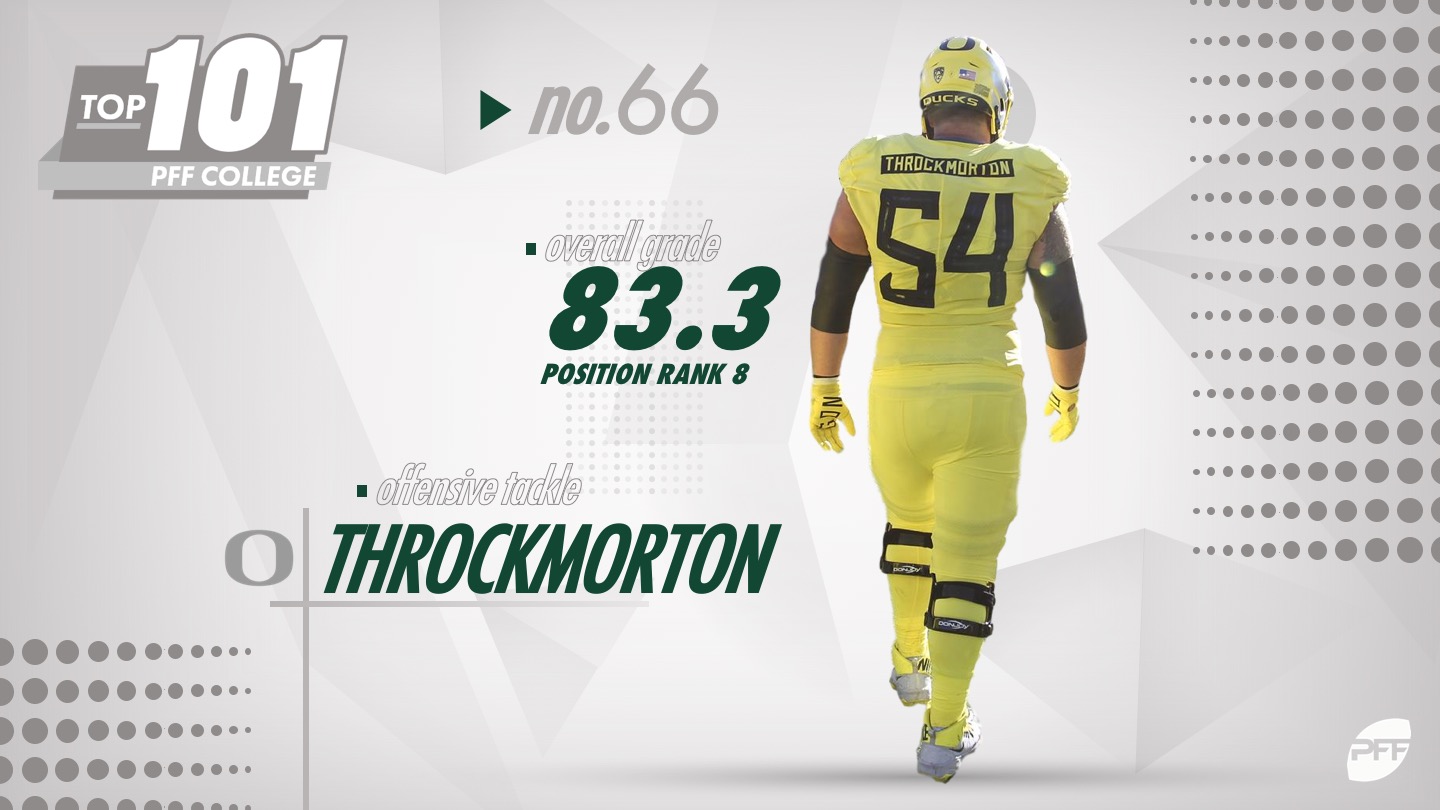 Finishing with the nation's 11th-highest pass-blocking grade and eight-highest overall grade, Throckmorton picked up the slack more than admirably after freshman sensation Penei Sewell went down for the season on the other side of the Ducks offensive line.
67. Amani Hooker, Defensive Back, Iowa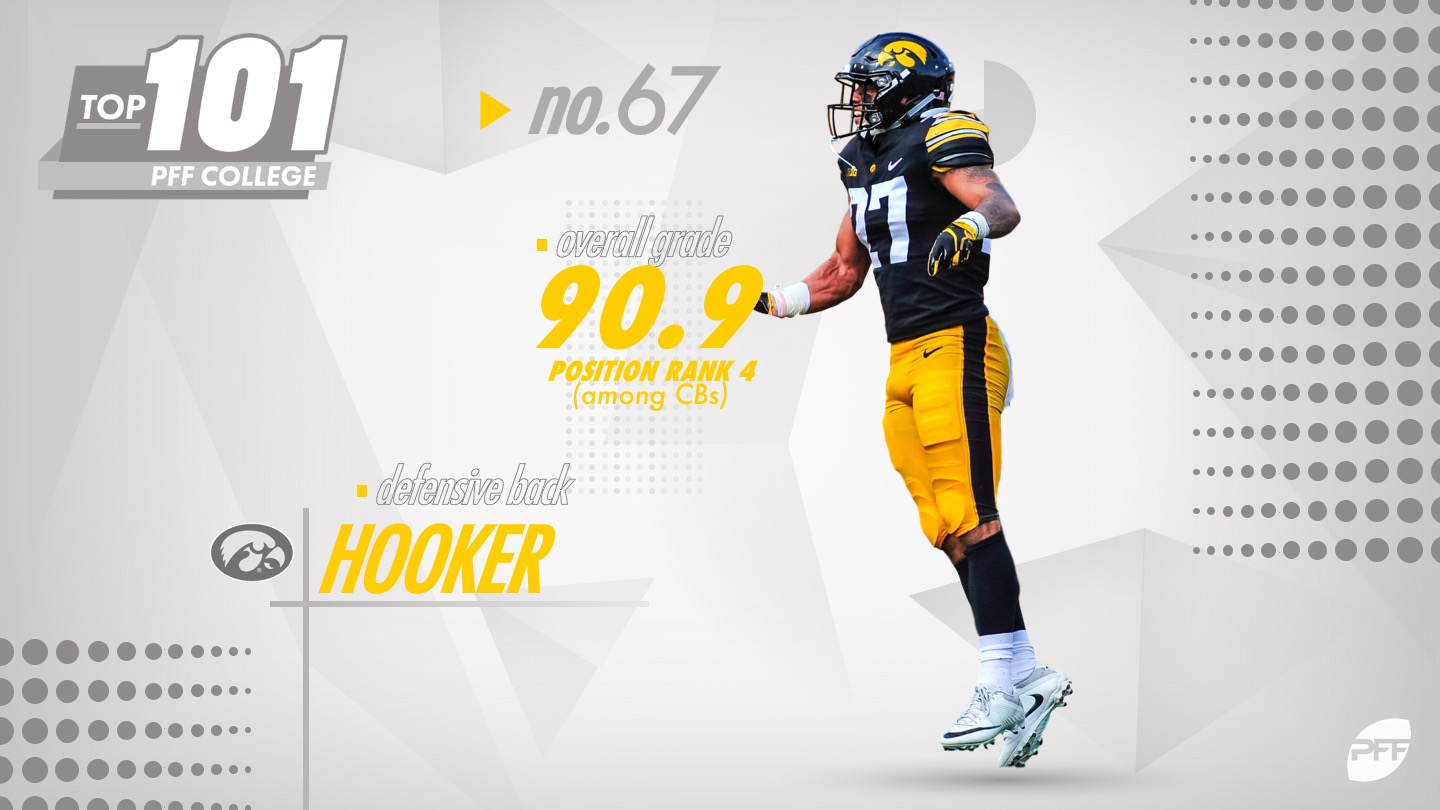 Only 24 cornerbacks spent at least 250 snaps in coverage from the slot this season – and of those 24, Hooker ranked fifth by allowing an average of just 0.98 yards per snap in coverage. He was targeted 55 times as a slot defender and allowed just 10.0 snaps per reception.
68. Chauncey Gardner-Johnson, Cornerback, Florida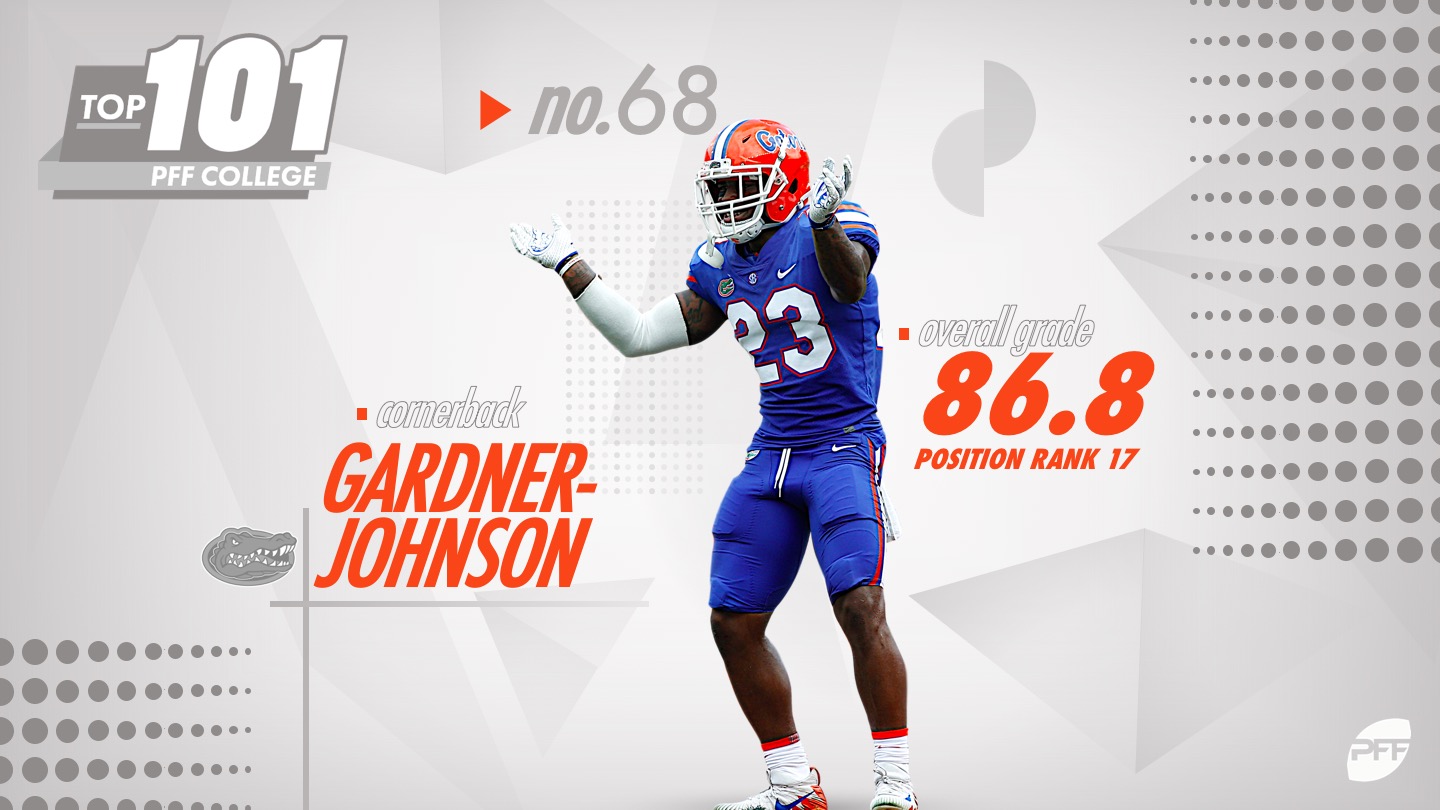 CGJ's 89.9 coverage grade ranked ninth in the country as he limited receivers to just 8.4 yards per reception – a figure that ranks 17th among all cornerbacks who were targeted at least 25 times in 2018. His 45.6 passer rating when targeted from the slot was good enough for sixth-best in the country as well.
69. Mike Danna, Edge Defender, Central Michigan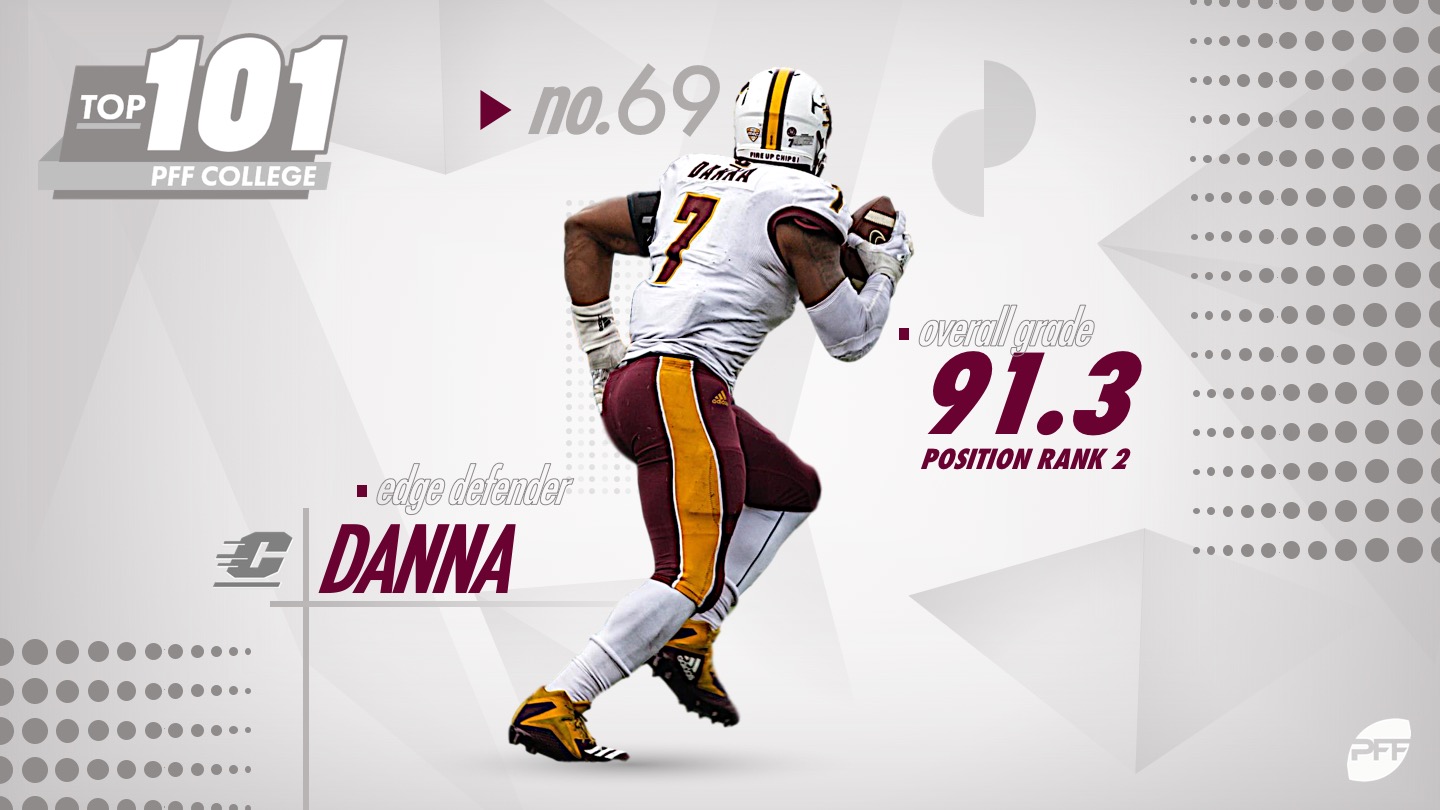 Downright dominant in his 12 games of action this year, Danna recorded 55 total QB pressures and made 42 defensive stops this year, joining forces with just six other edge defenders as the only ones to record at least 55 pressures and at least 40 defensive stops in 2018.
70. Malik Reed, Edge Defender, Nevada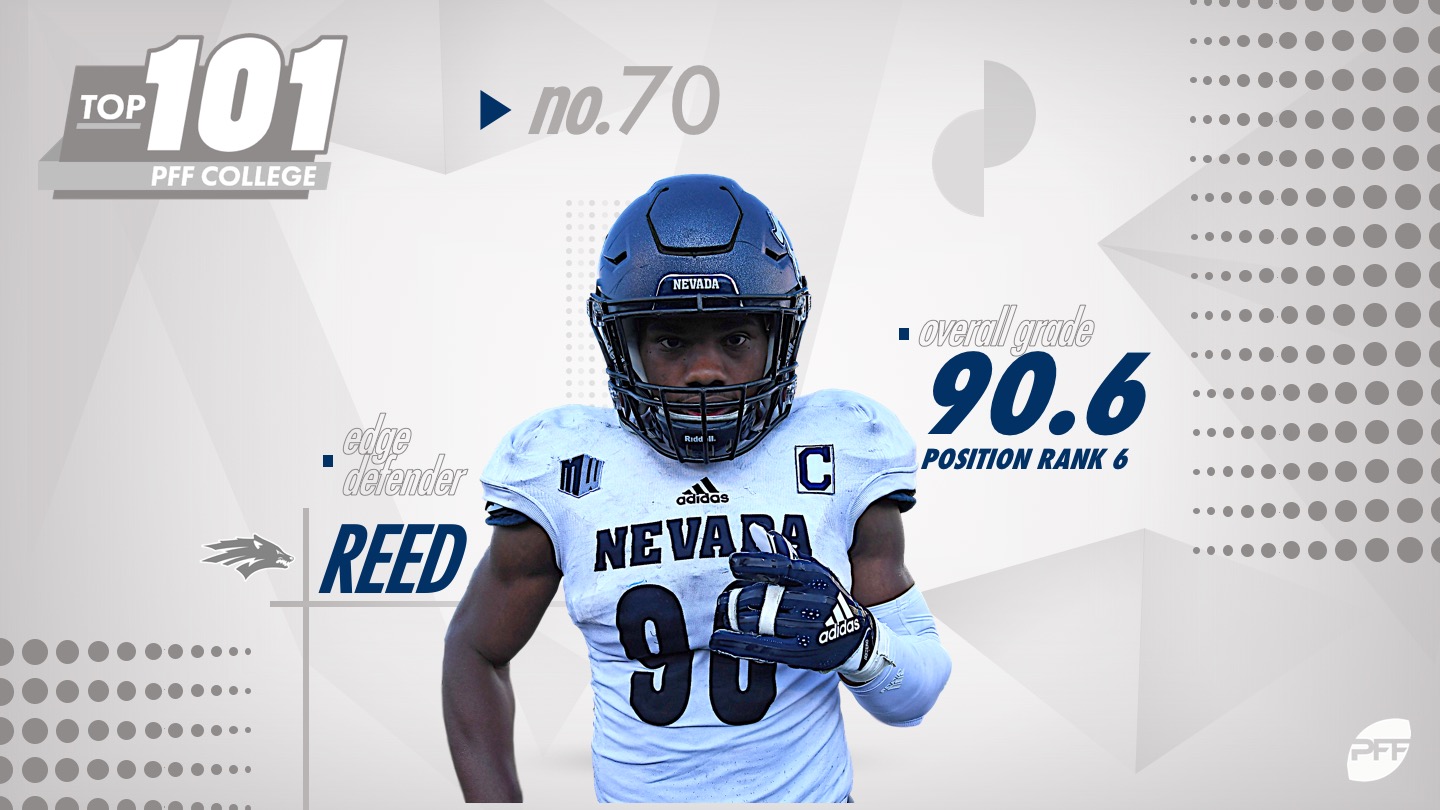 Playing in a new hybrid edge defender/linebacker role for Nevada, Reed was back to his old tricks, recording 56 QB pressures on just 371 pass-rushes. A new wrinkle for him this season, however, was his dropping back in coverage, something he did on 191 occasions in 2018. While he allowed a touchdown, he did a great job of limiting the receivers in front of him and didn't allow a catch longer than 22 yards and finished with a coverage grade of 74.6.
71. Derrick Brown, Defensive Interior, Auburn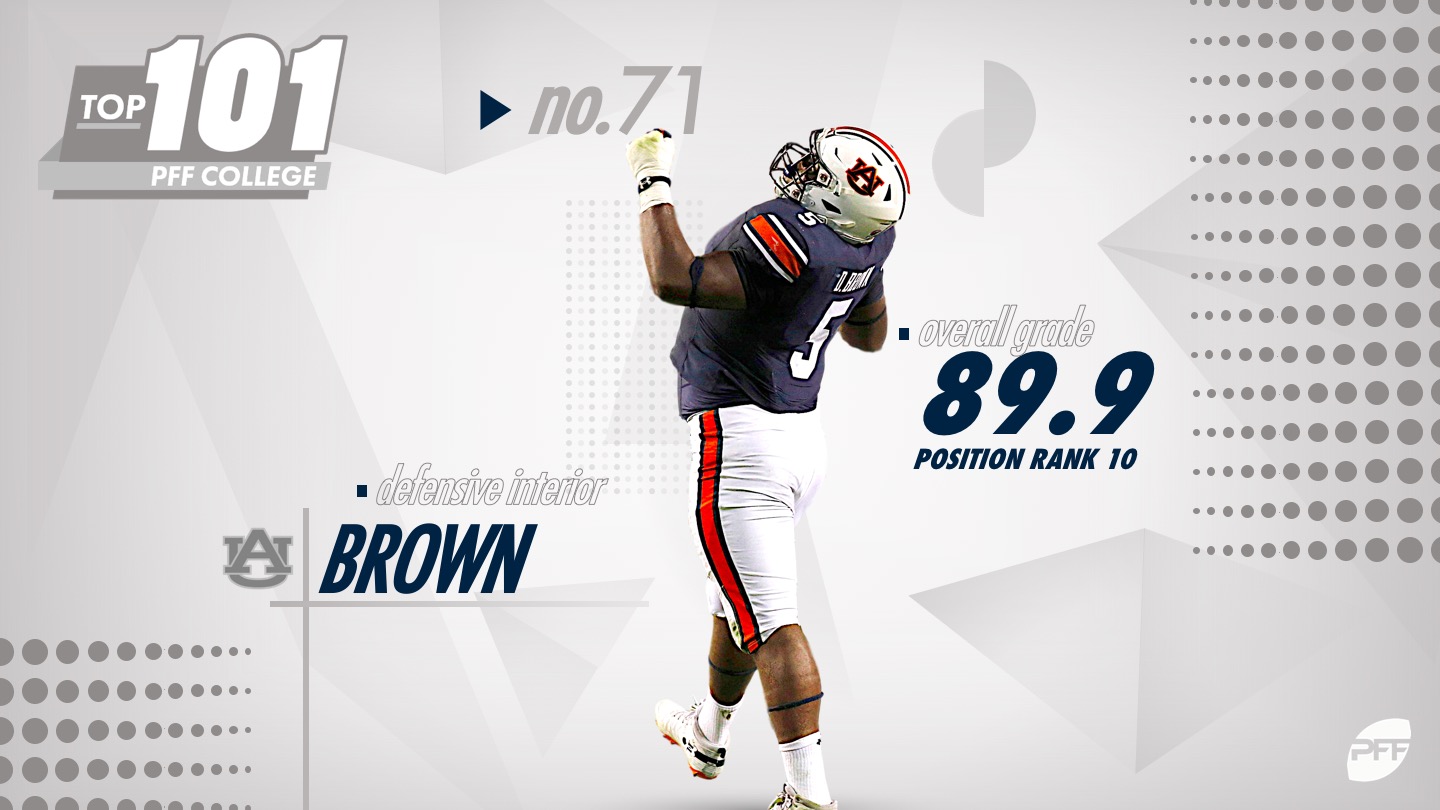 A menace against the run in 2018, Brown ranked 11th in run-stop percentage at 10.7% despite playing the second-most snaps against the run this season (244).
72. Blake Cashman, Linebacker, Minnesota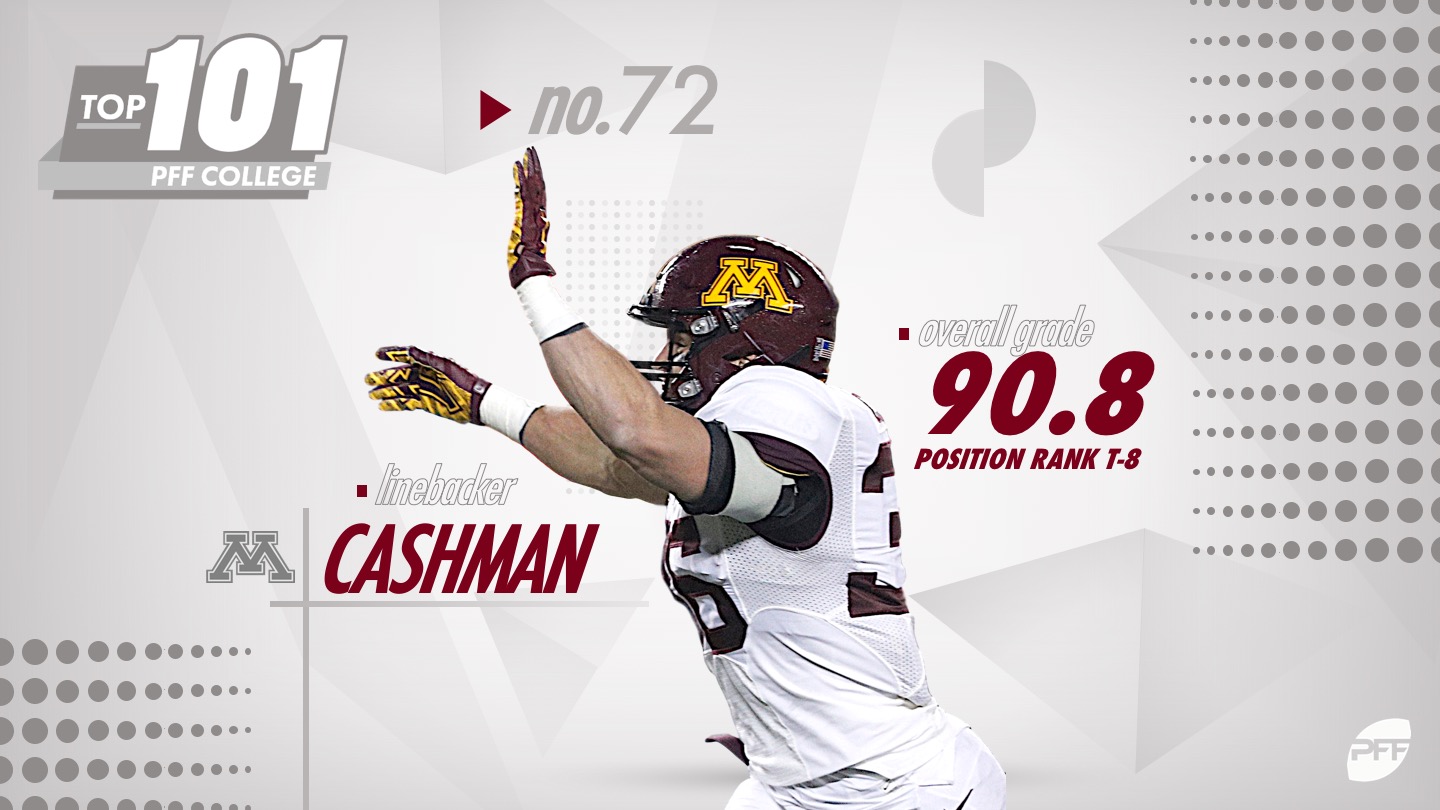 Taking into account all facets of play for a linebacker, Cashman was one of only two linebackers in the country who finished with 80.0-plus grades in run defense, pass-rushing, coverage and tackling this season.
73. Hamp Cheevers, Cornerback, Boston College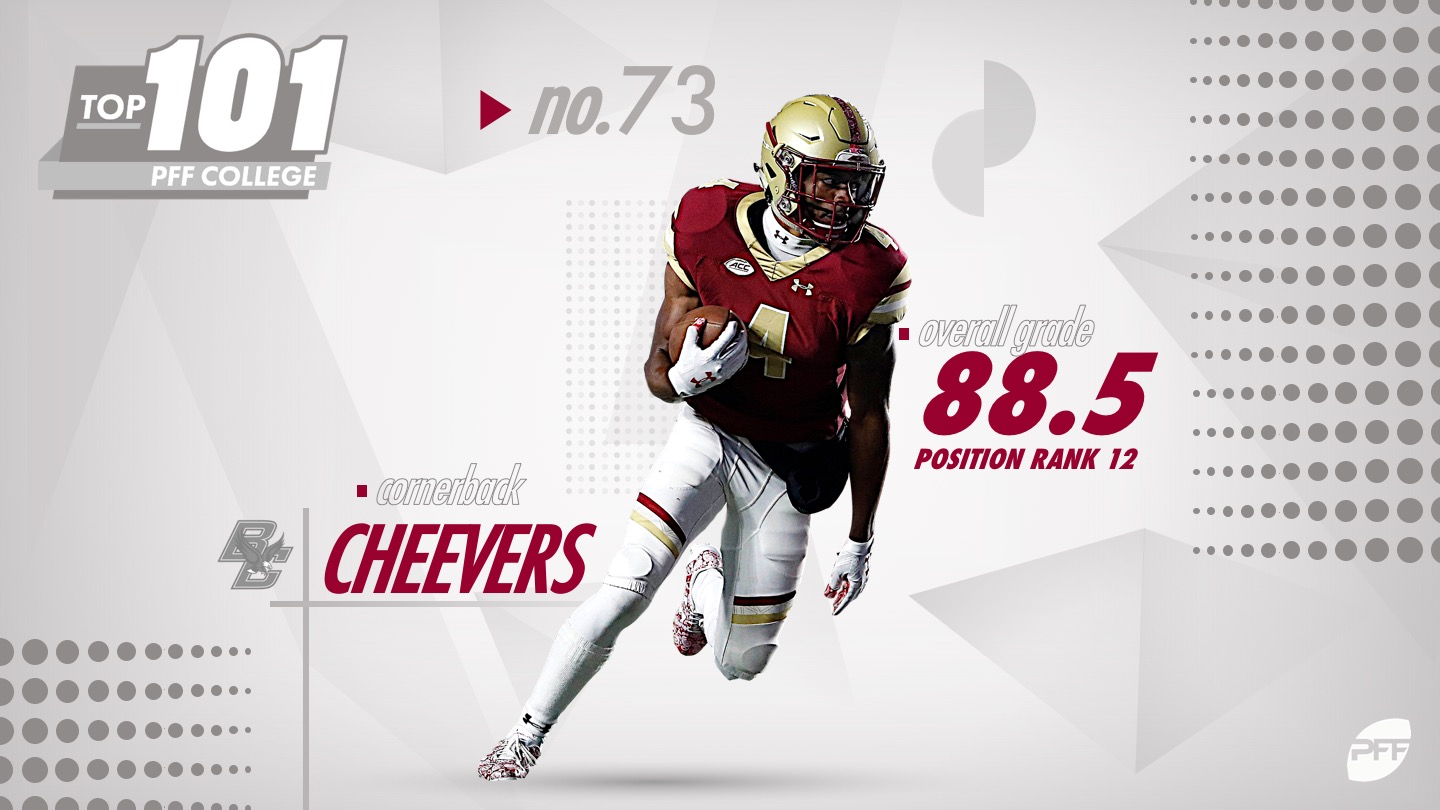 Cheevers had one of the season's biggest breakout years, dominating in coverage for Boston College in 2018. He limited quarterbacks to just a 39.5 passer rating on throws into his coverage while leading the nation's cornerbacks with seven interceptions.
74. Drew Lock, Quarterback, Missouri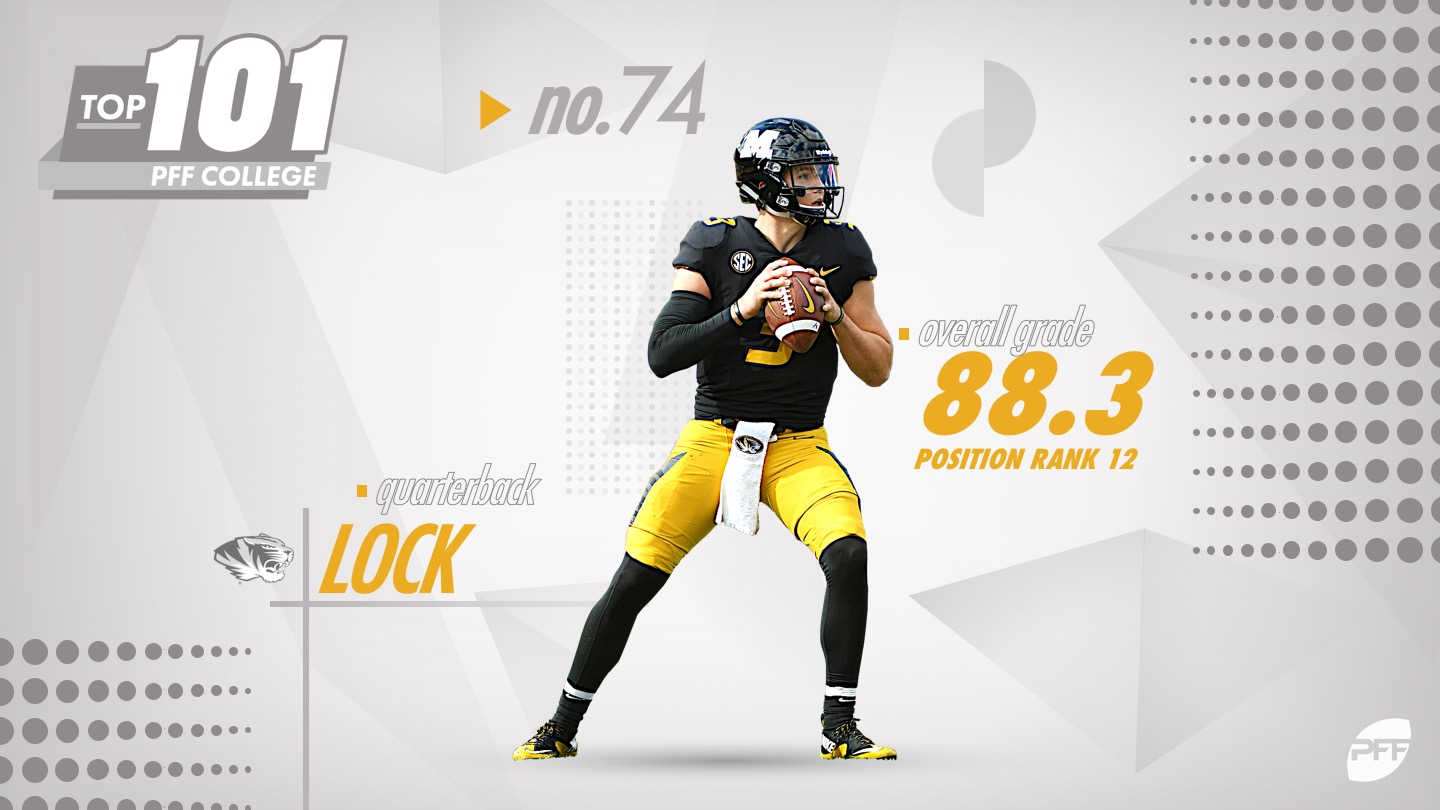 Lock's name is dotted across the top 10 of several PFF advanced statistics including deep-ball adjusted completion percentage (54.7% – 8th), deep-ball passer rating (126.3 – 9th), touchdowns from a clean pocket (27 – 9th) and play-action passing yards (1,402 – 7th).
75. Germaine Pratt, Linebacker, NC State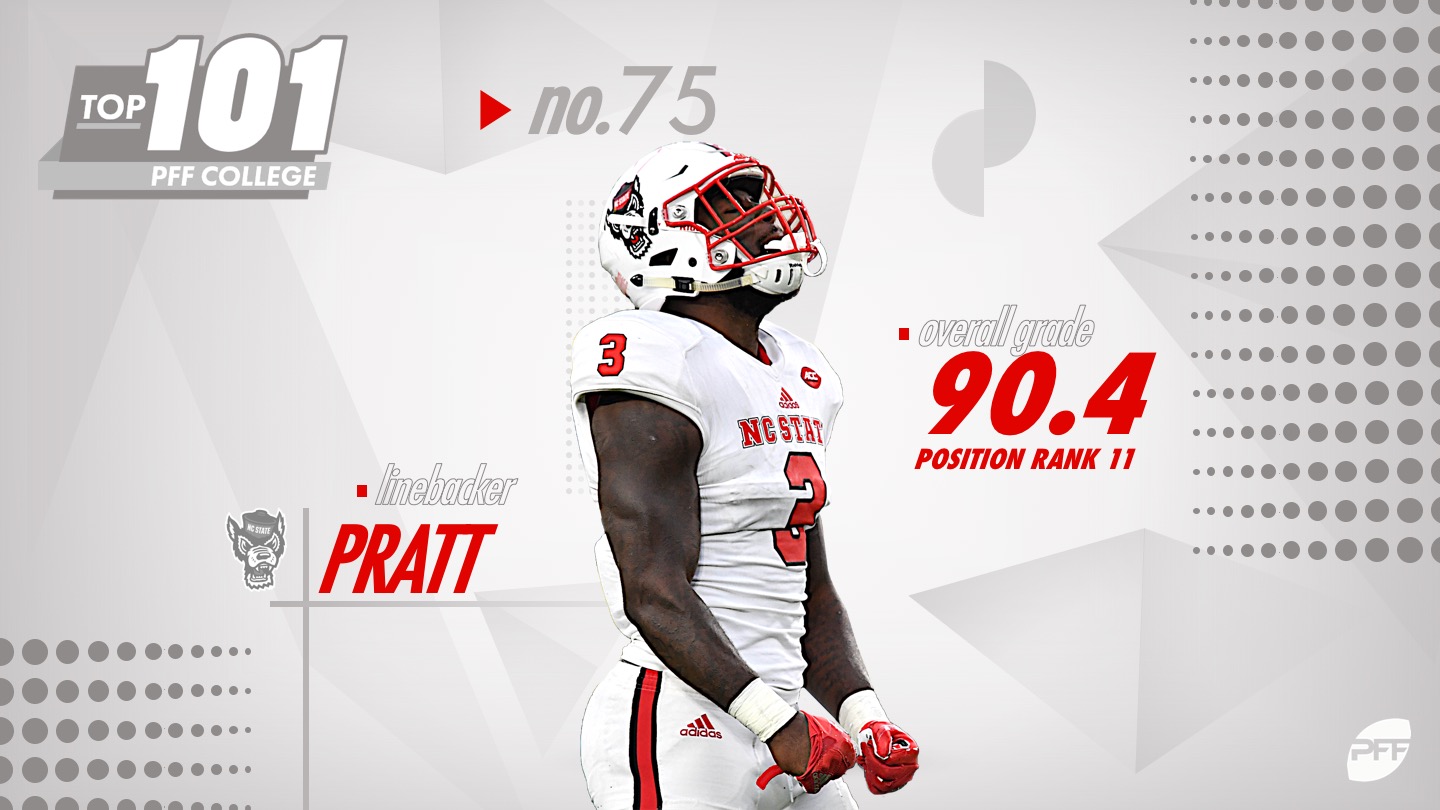 Of all FBS linebackers, Pratt finished with the ninth-best run-stop percentage of 13.4% while missing just four total tackles of his 92 total tackle attempts all season long.
76. Nathan Rourke, Quarterback, Ohio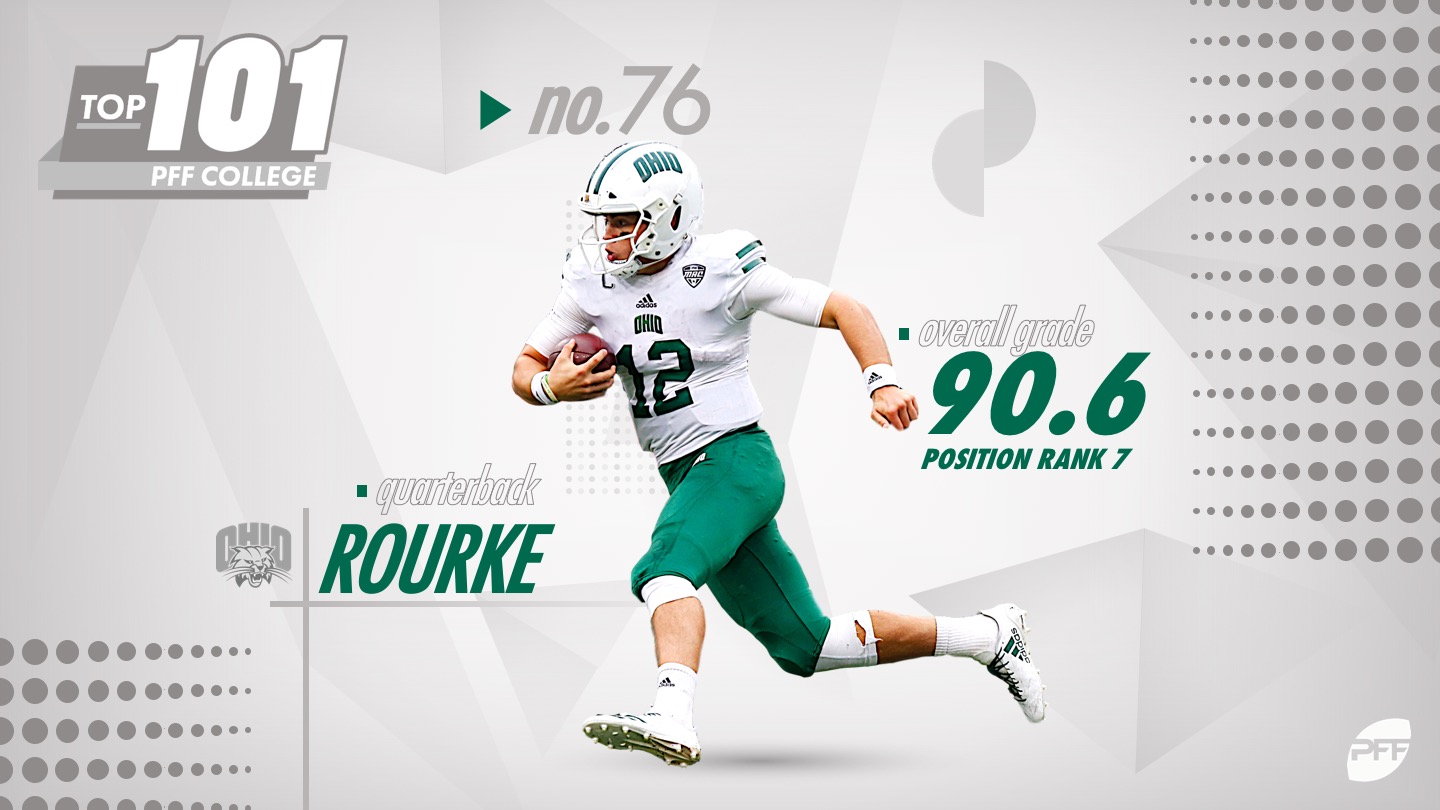 A real threat with his legs, Rourke's 87.0 rushing grade was tops in the country at the position. He was no slouch with his arm either, finishing with the 30th-best passing grade while averaging the 12th-highest yards per attempt this year.
77. Cole Van Lanen, Offensive Tackle, Wisconsin
Coming on strong over the course of the season – Van Lanen finished as the highest-graded offensive tackle, albeit with nearly 300 fewer snaps than the rest of the nation's top at the position. Still, he allowed just five total pressures across his 224 pass-blocking snaps this year, against more than formidable foes in the Big Ten.
78. Juan Thornhill, Safety, Virginia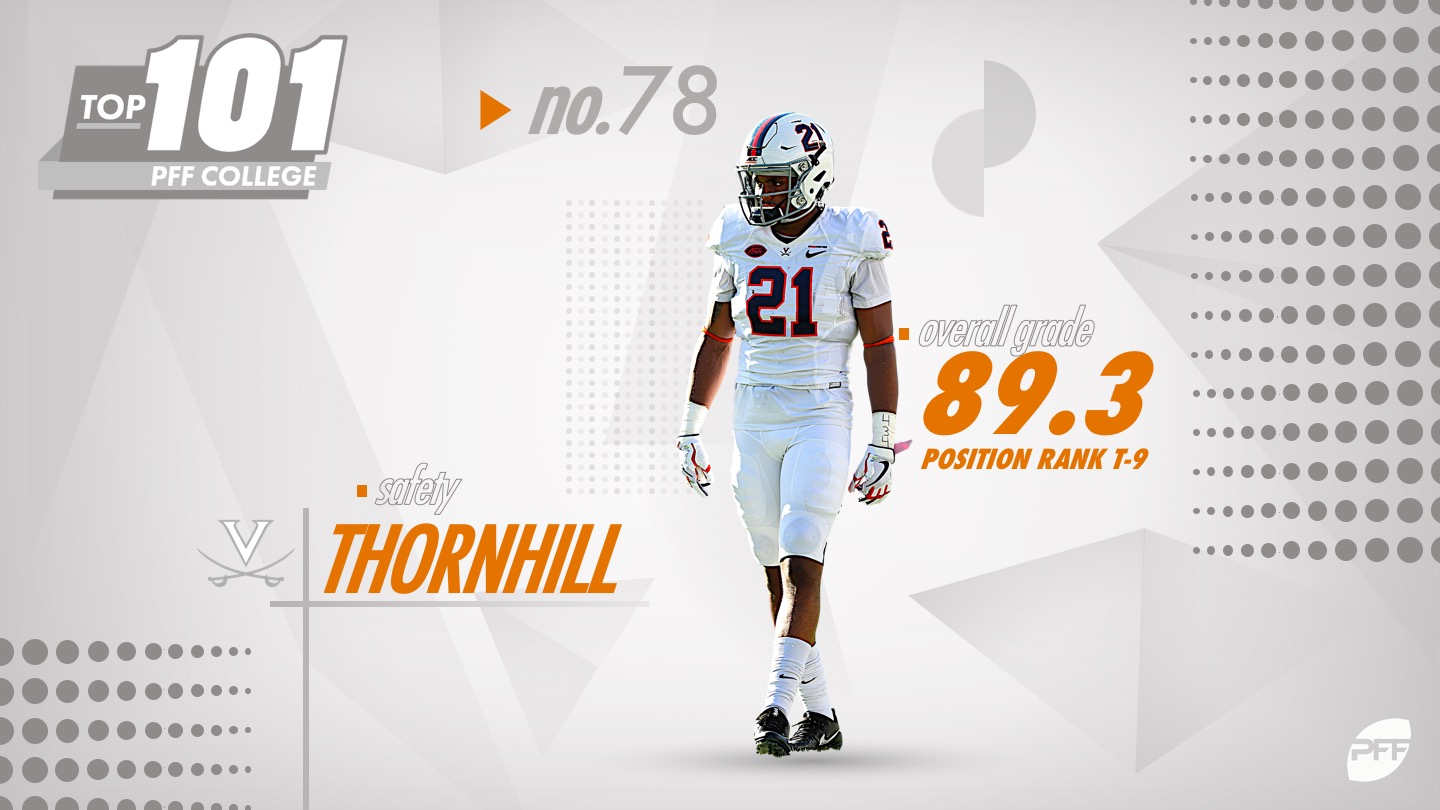 Thornhill's best play of the season came in coverage for the Cavaliers, yet he was the only safety in the country to finish with 80.0-plus overall grades in run defense, tackling, pass-rush and coverage while manning at least 15 snaps as a blitzer, at least 200 in run defense and at least 200 in coverage.
79. Joe Jackson, Edge Defender, Miami (Fl.)
Jackson was dominant from the edge for the Hurricanes defense, bringing down a combined 22 sacks+hits while also securing 24 defensive stops. His pass-rush grade of 87.8 tied with Clelin Ferrell for third in the ACC.
80. Clelin Ferrell, Edge Defender, Clemson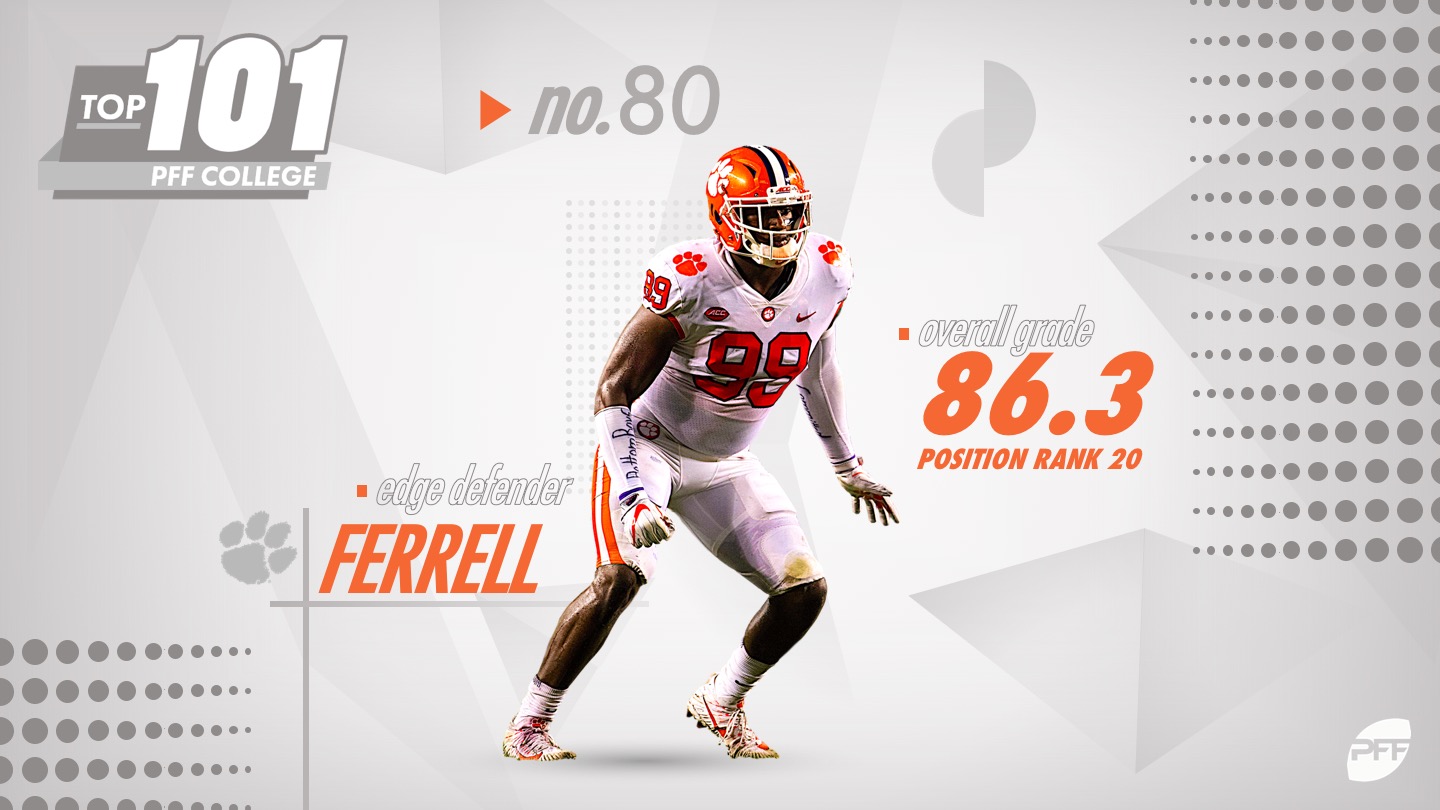 Third in the ACC in total QB pressures, Ferrell tallied an impressive 13 sacks and 11 QB hits this year, routinely getting to the quarterback from that uber-talented Clemson defensive line. Rounding out his impressive season, he missed just four tackles on his 44 attempts.
81. Keenen Brown, Tight End, Texas State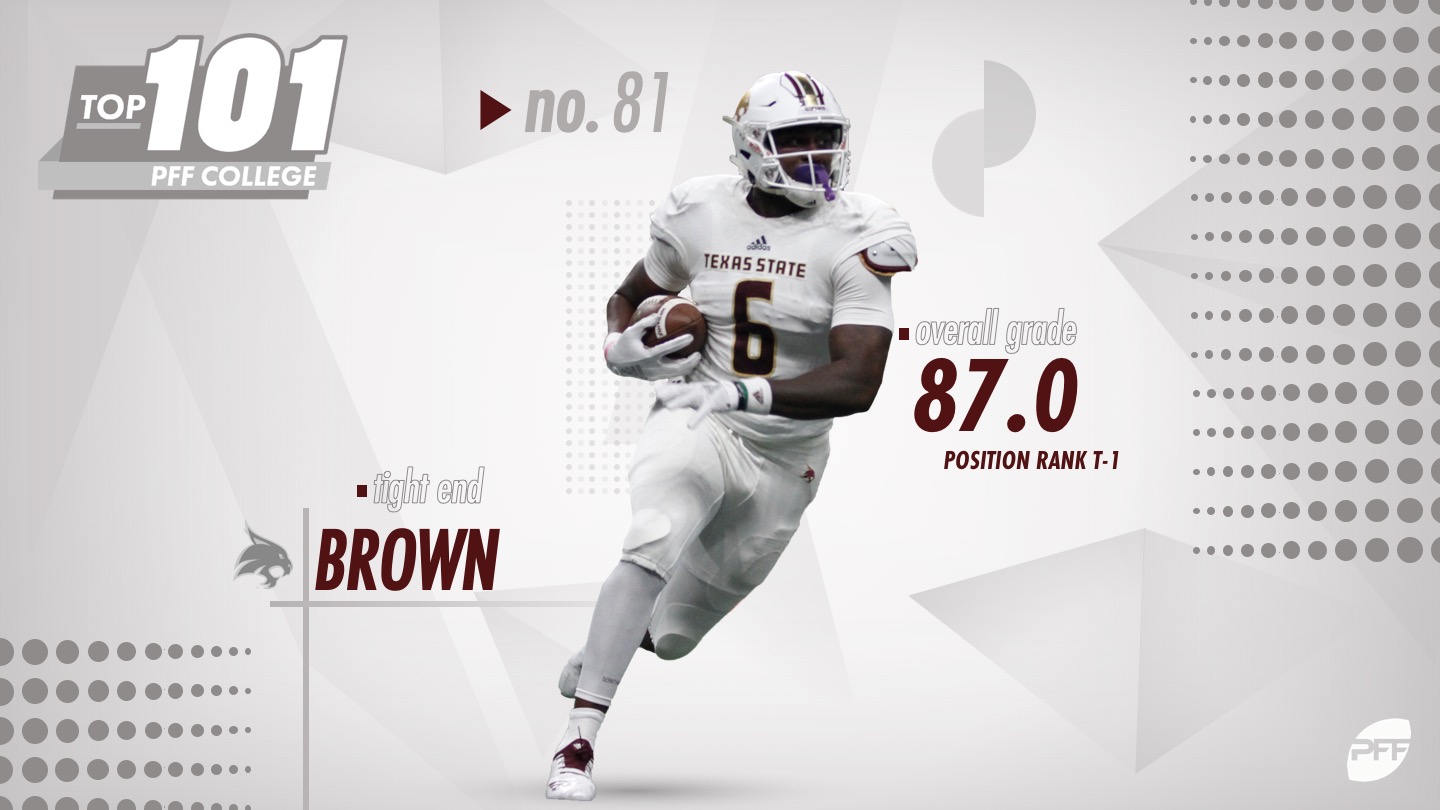 There were few, if any, tight ends that matched Brown's after-the-catch ability this season. In total, he led tight ends in missed tackles forced with 24 and was third in yards after the catch with 427, all leading to the nation's best overall grade at the position.
82. N'Keal Harry, Wide Receiver, Arizona State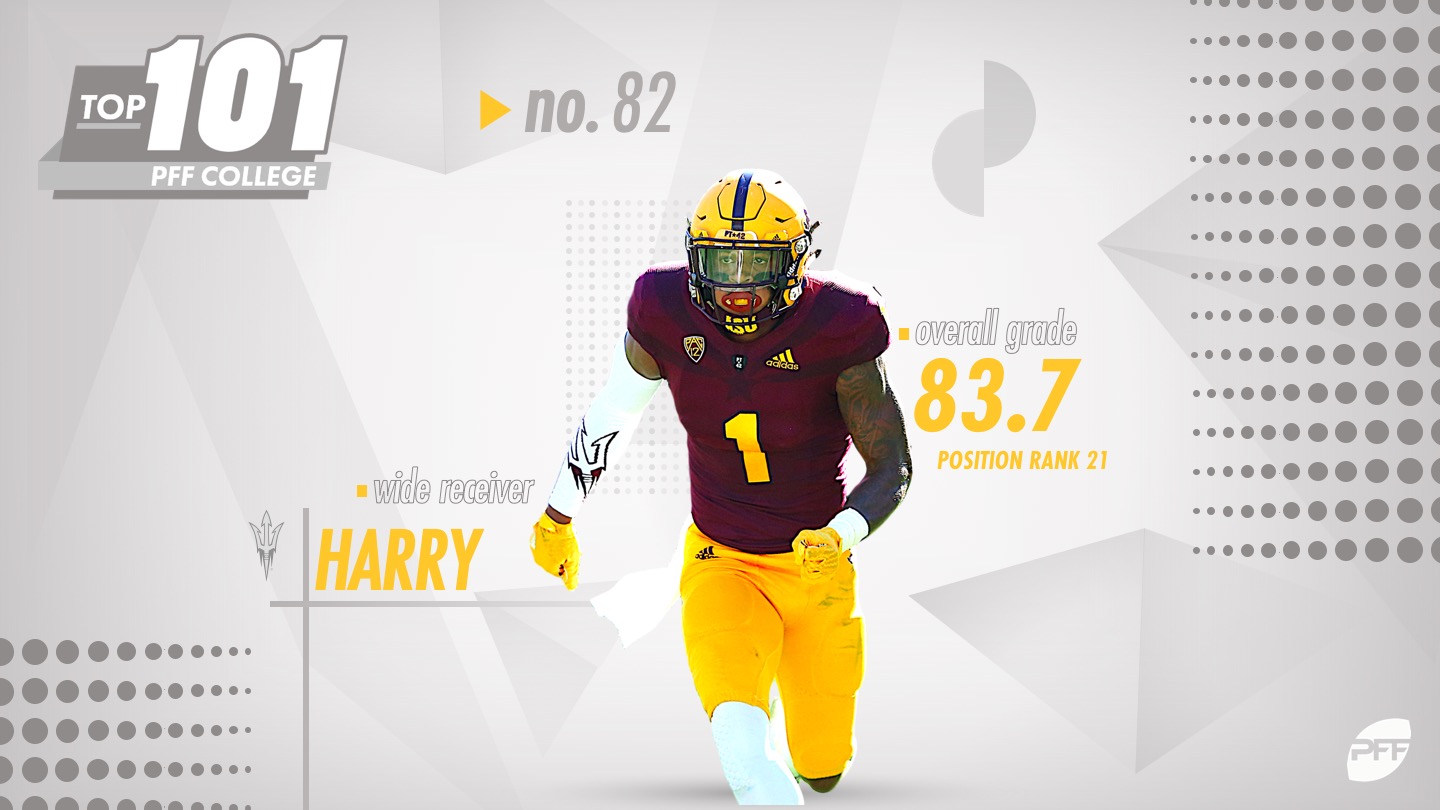 Harry was a big-play threat waiting to happen in the Sun Devils' offense, hauling in a touchdown reception on 22.0% of his deep targets. For the year, he saw 18 targeted passes at least 20 yards downfield and scored four touchdowns.
83. Montez Sweat, Edge Defender, Mississippi State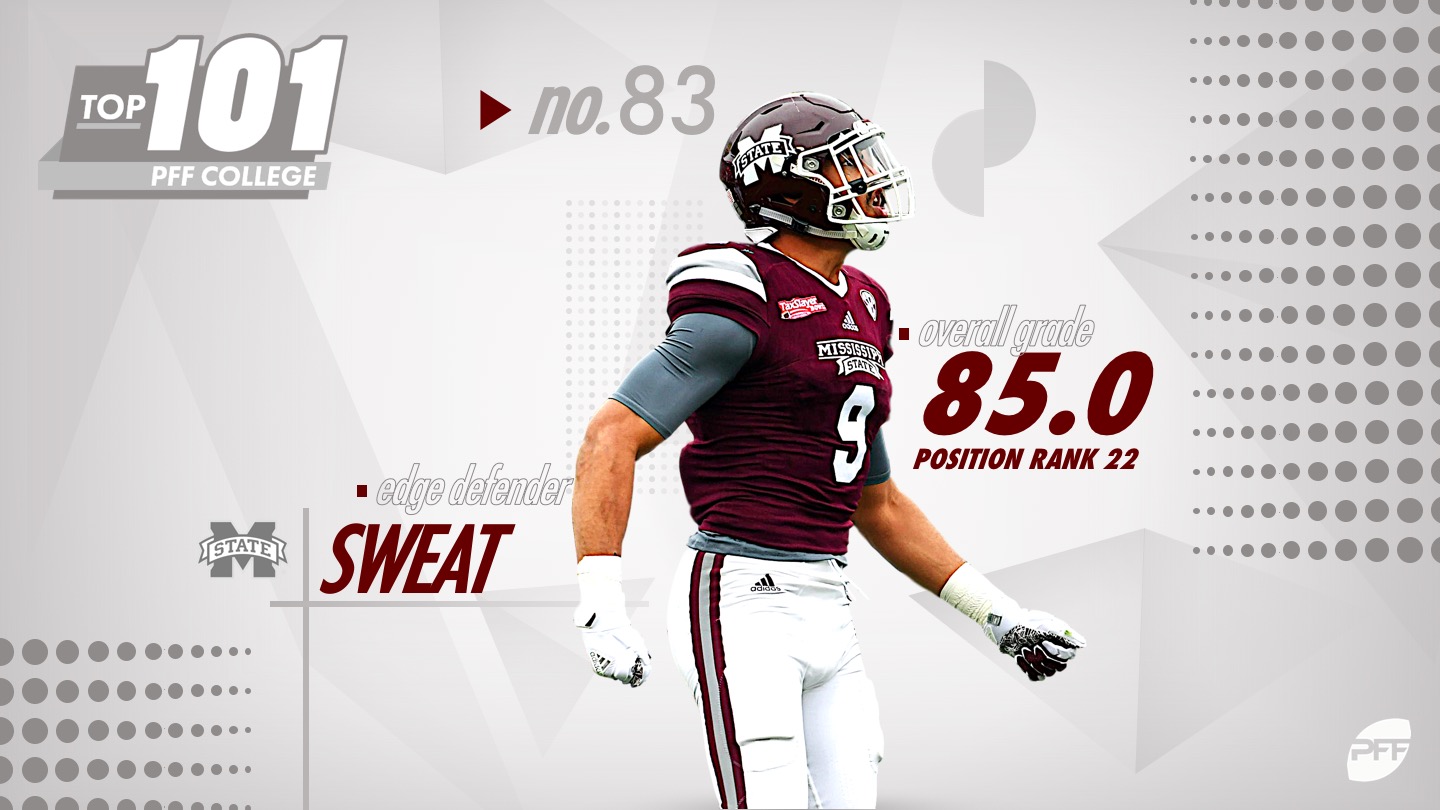 Sweat was a threat to get the quarterback whenever he took the field, meeting the aforementioned Simmons on several occasions in the backfield. Sweat tallied 47 total QB pressures that included a whopping 21 combined sacks and hits.
84. J.R. Reed, Safety, Georgia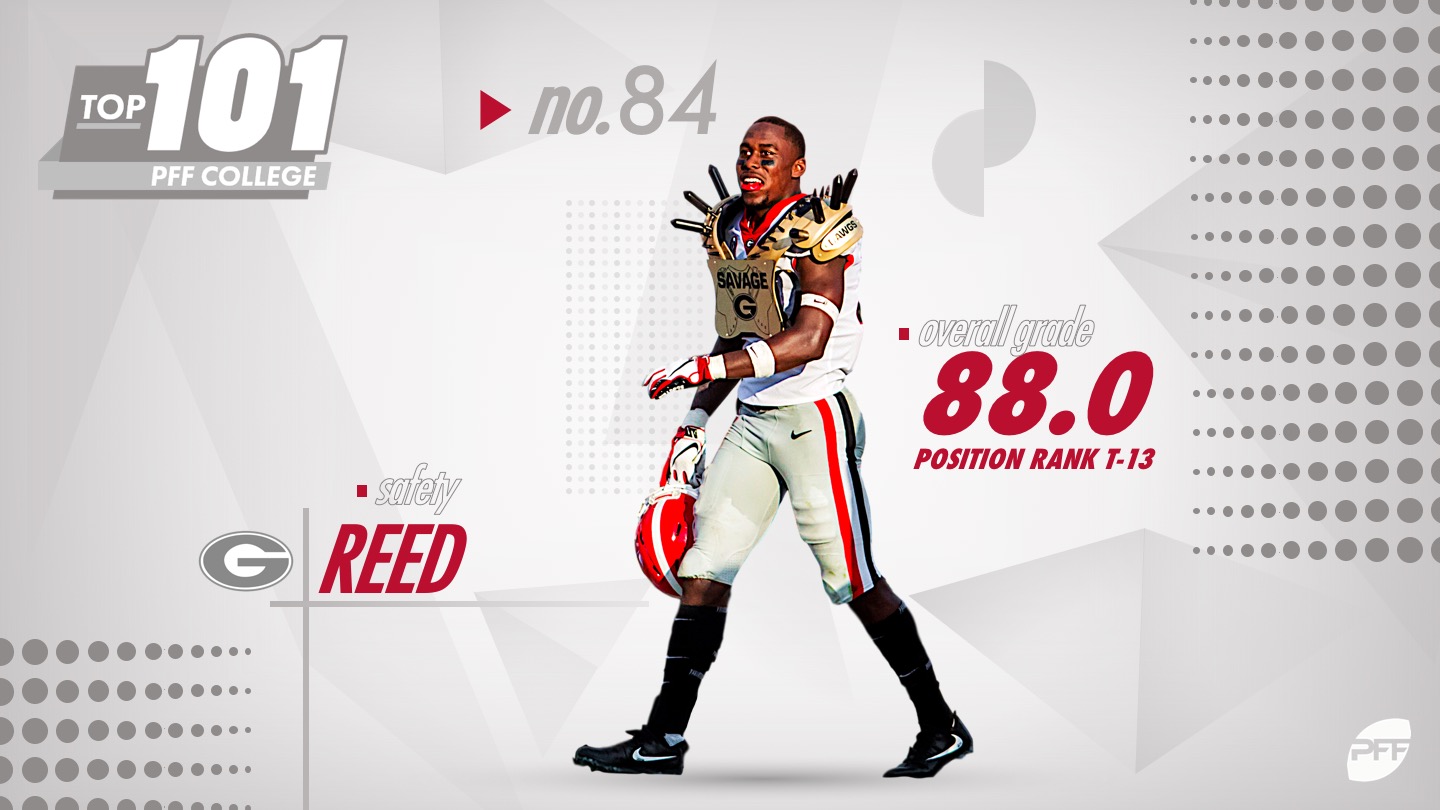 Reed put forth an elite coverage grade in 2018, finishing the year with an 89.5 grade in coverage as he was seemingly in the right position at the right time for the Bulldogs. He chipped in with 12 defensive stops and limited receivers to no receptions longer than 36 yards,
85. Gerald Willis III, Defensive Interior, Miami (Fl.)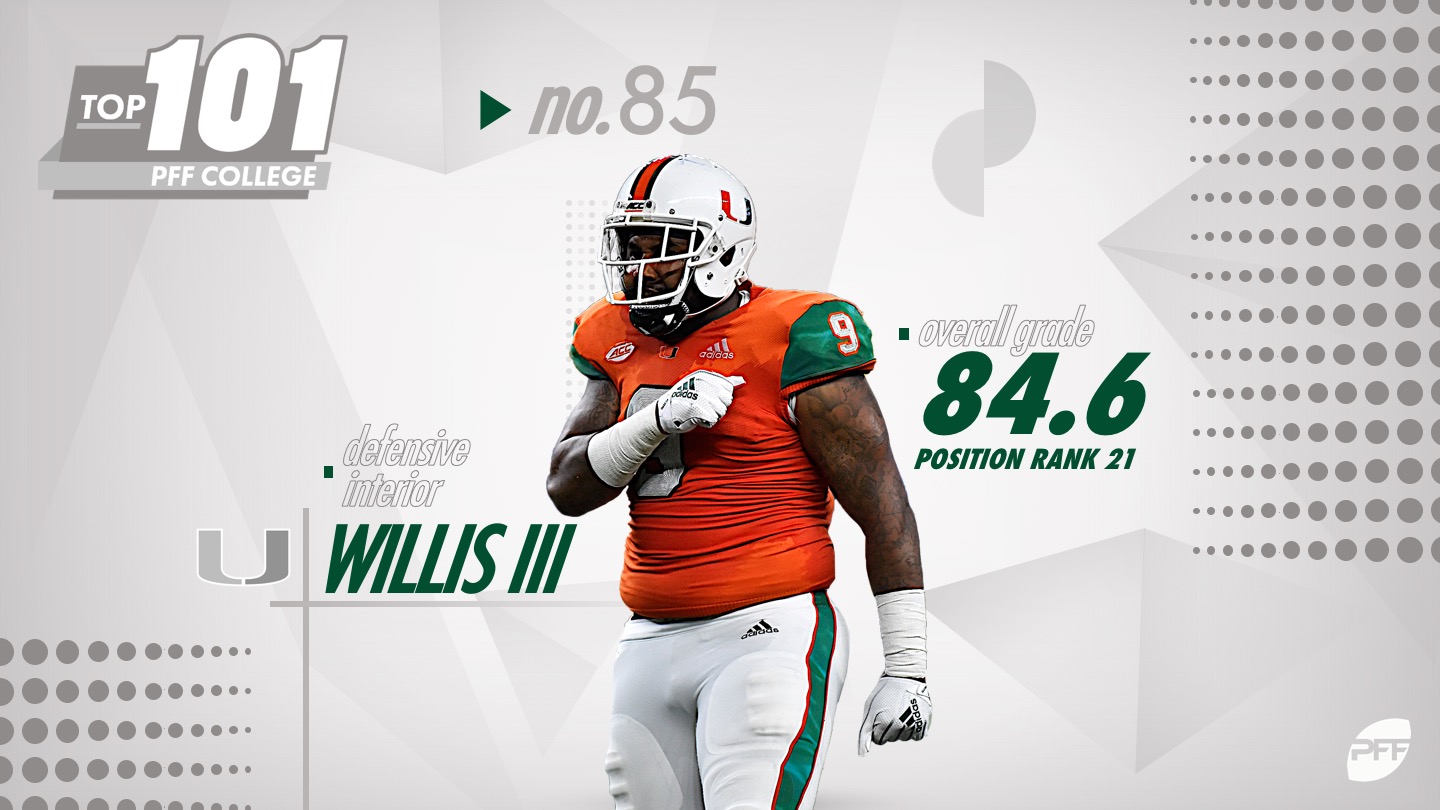 After an incredible start to the year, Willis cooled off down the stretch, but he still managed to finish with an elite run-defense grade and well above-average overall grade. His 40 solo tackles were good enough for fourth most at the position while his 26 pressures finished in the top 40.
86. Juju Hughes, Safety, Fresno State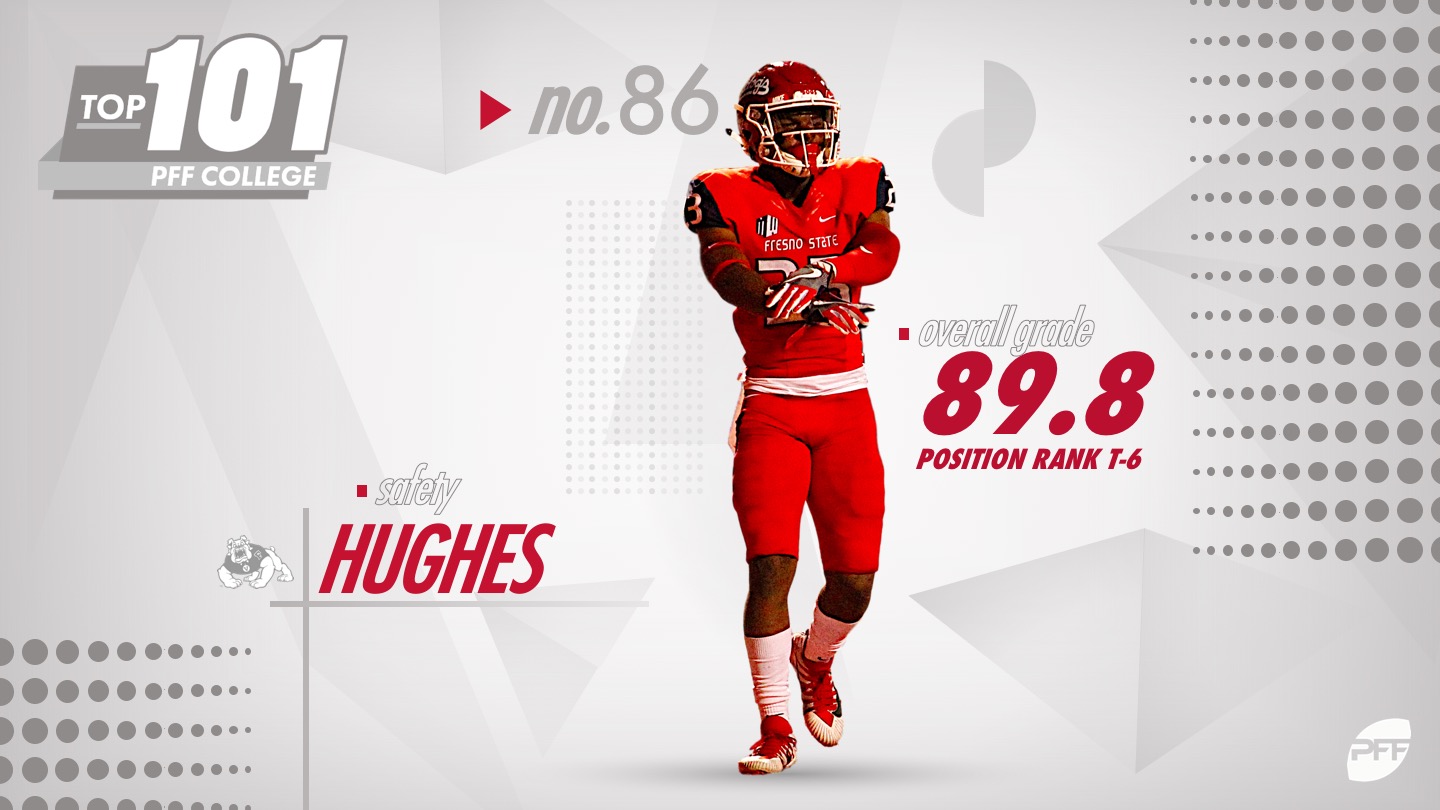 A safety by true nature of the position, Hughes allowed just 50.0% of passes thrown his way to be caught while allowing an average reception of just 9.5 yards. He made four interceptions and seven pass breakups en route to just a 38.9 passer rating when targeted.
87. Maxx Crosby, Edge Defender, Eastern Michigan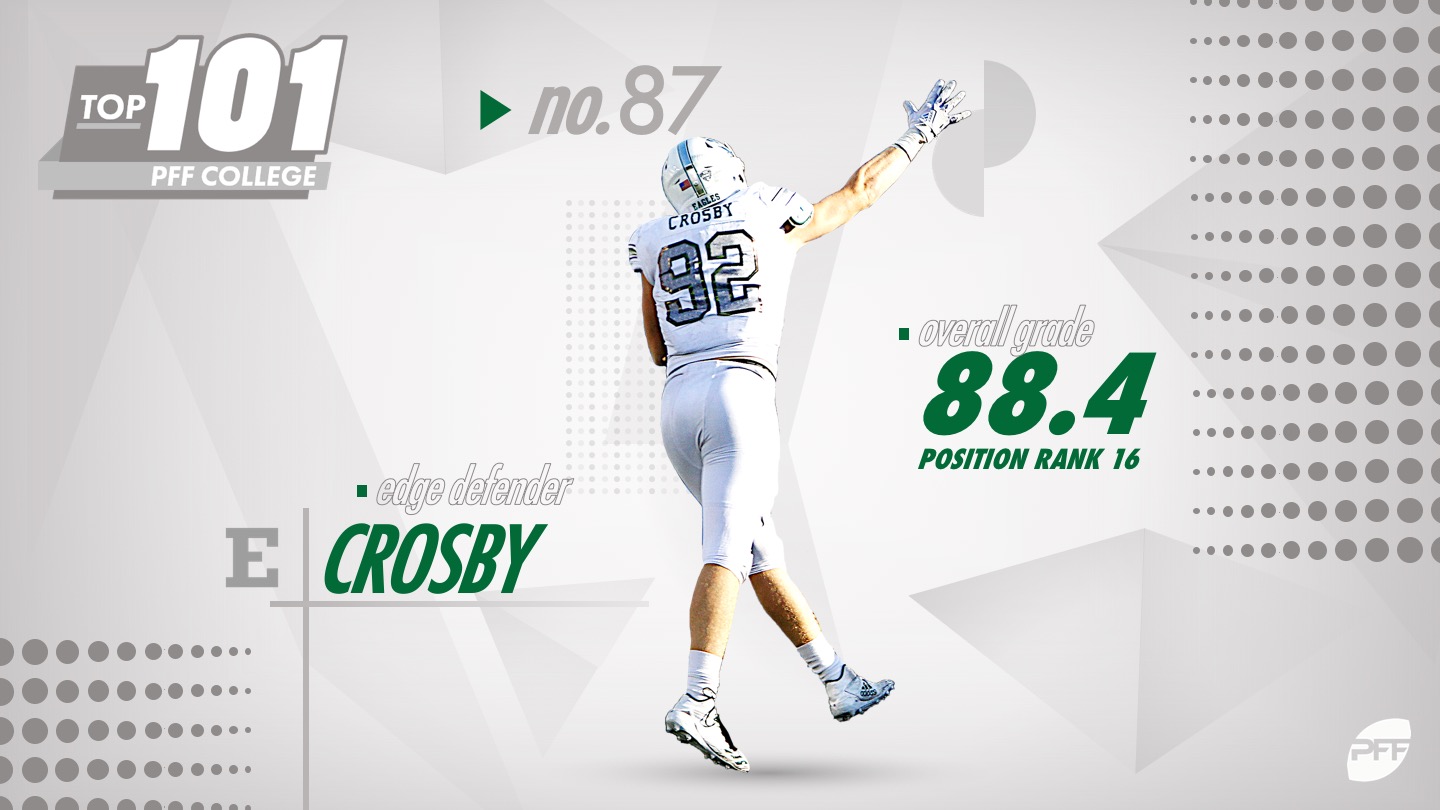 With relative ease, Crosby got after quarterbacks in the MAC to the tune of 55 total pressures. He forced five fumbles and made a ridiculous 46 defensive stops, the latter figure which ranks sixth in the nation.
88. Tylan Wallace, Wide Receiver, Oklahoma State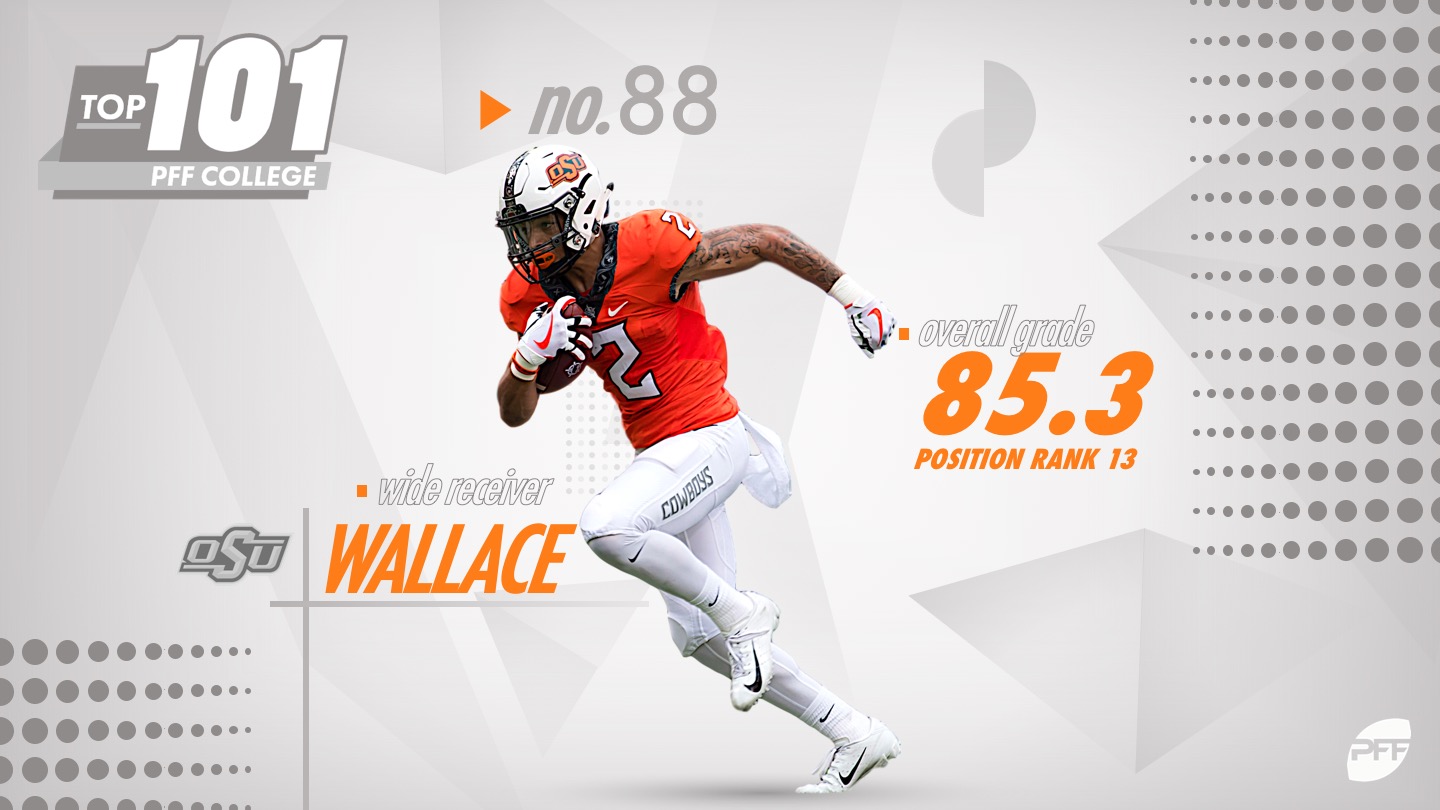 Arguably the nation's top deep-ball receiver in 2018, Wallace led all receivers in yards (708) and receptions (20) on passes thrown at least 20 yards past the line of scrimmage.
89. Richie Grant, Safety, UCF
A stud in coverage, Grant intercepted or broke up almost half as many passes as he did completions, ripping off six interceptions and four pass breakups on 32 targeted passes. He allowed just 21 receptions and not one of them went for longer than 25 yards.
90. Pooka Williams Jr., Running Back, Kansas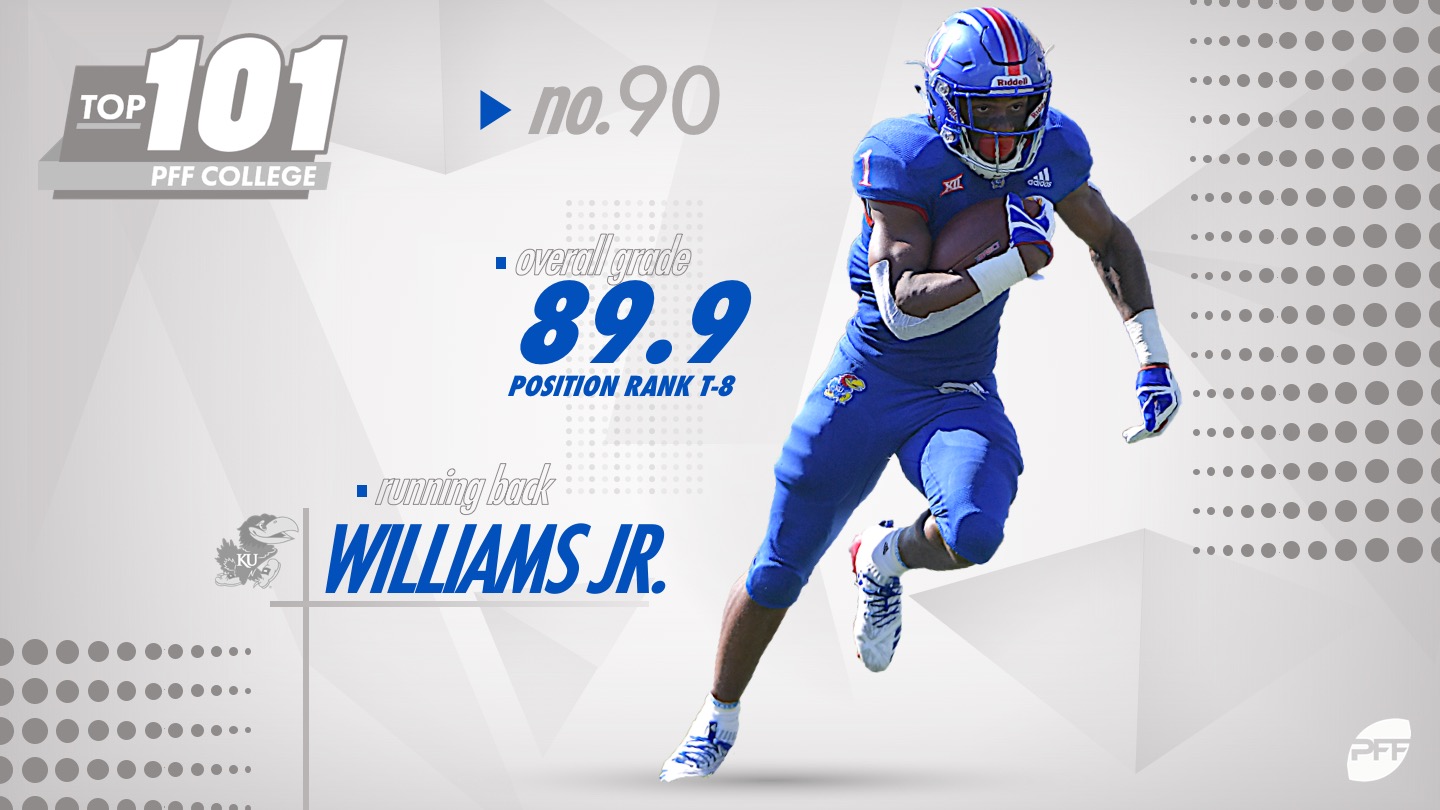 Williams jumped out to an incredible start to his college career, one that saw him finish fifth in rushing grade as well as ninth in receiving grade at the position.
91. Anthony Johnson, Wide Receiver, Buffalo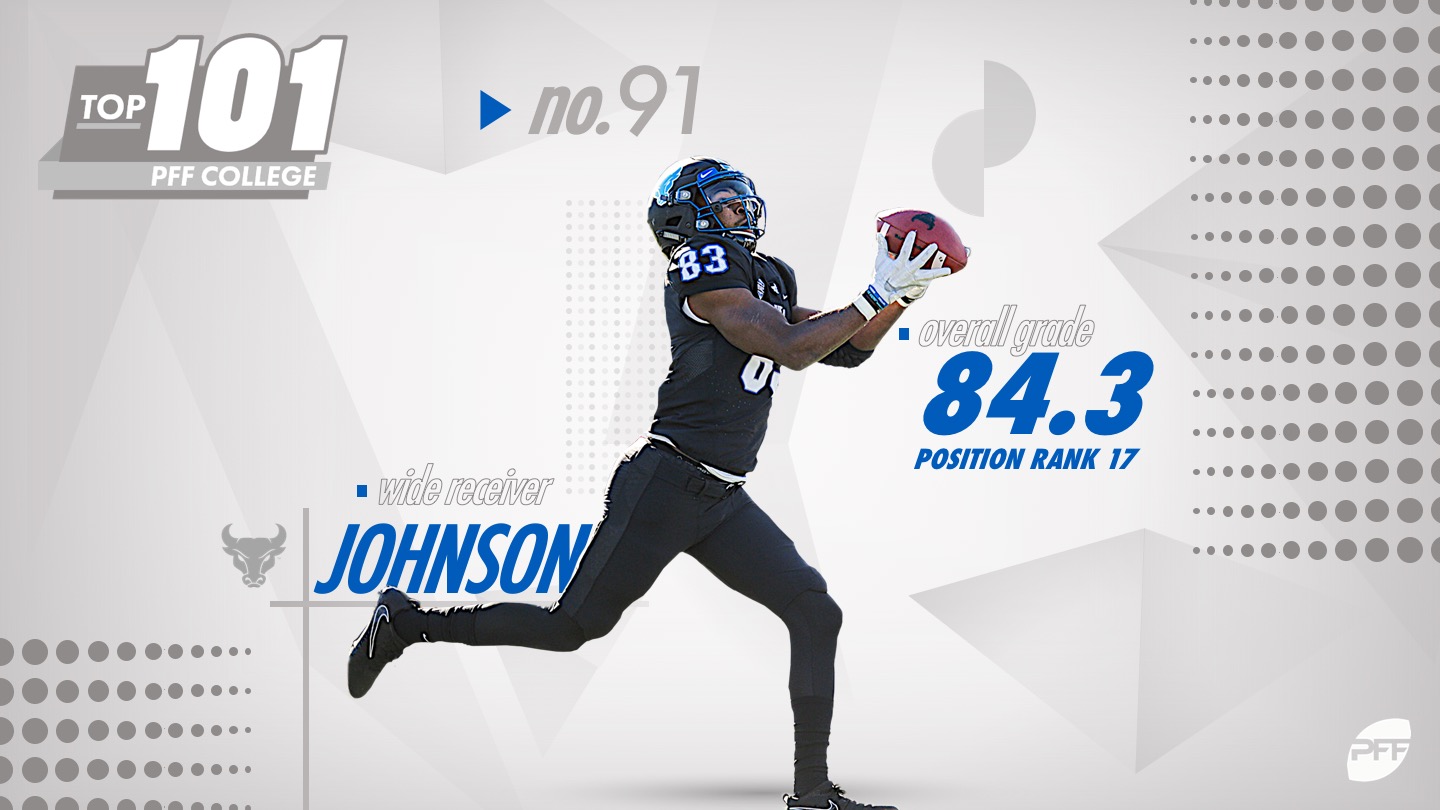 Selected as one of the top playmakers before the season, Johnson had a tumultuous year that included a personal loss off the field as well as an injury on the field. Still, he turned in a 1,000-yard season while still ranking 11th in yards per route run.
92. Kristian Fulton, Cornerback, LSU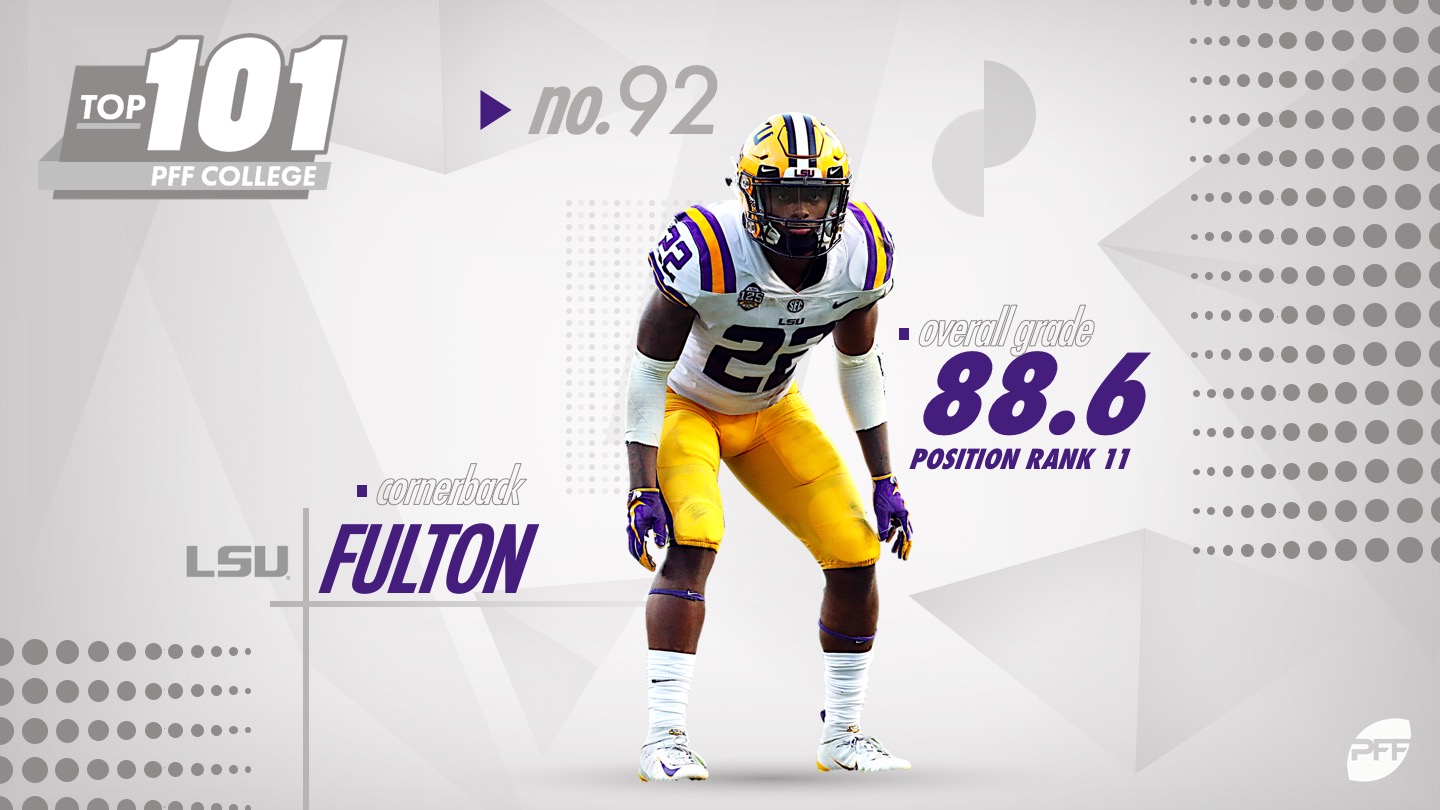 Fulton needed a shortened suspension even to see the field for the full 2018 season, and he dominated in his return. He allowed just 39.5% of the passes thrown his way to be caught – even though most of the time he was the main target – as opposing offenses looked away from Greedy Williams opposite Fulton.
93. Jace Sternberger, Tight End, Texas A&M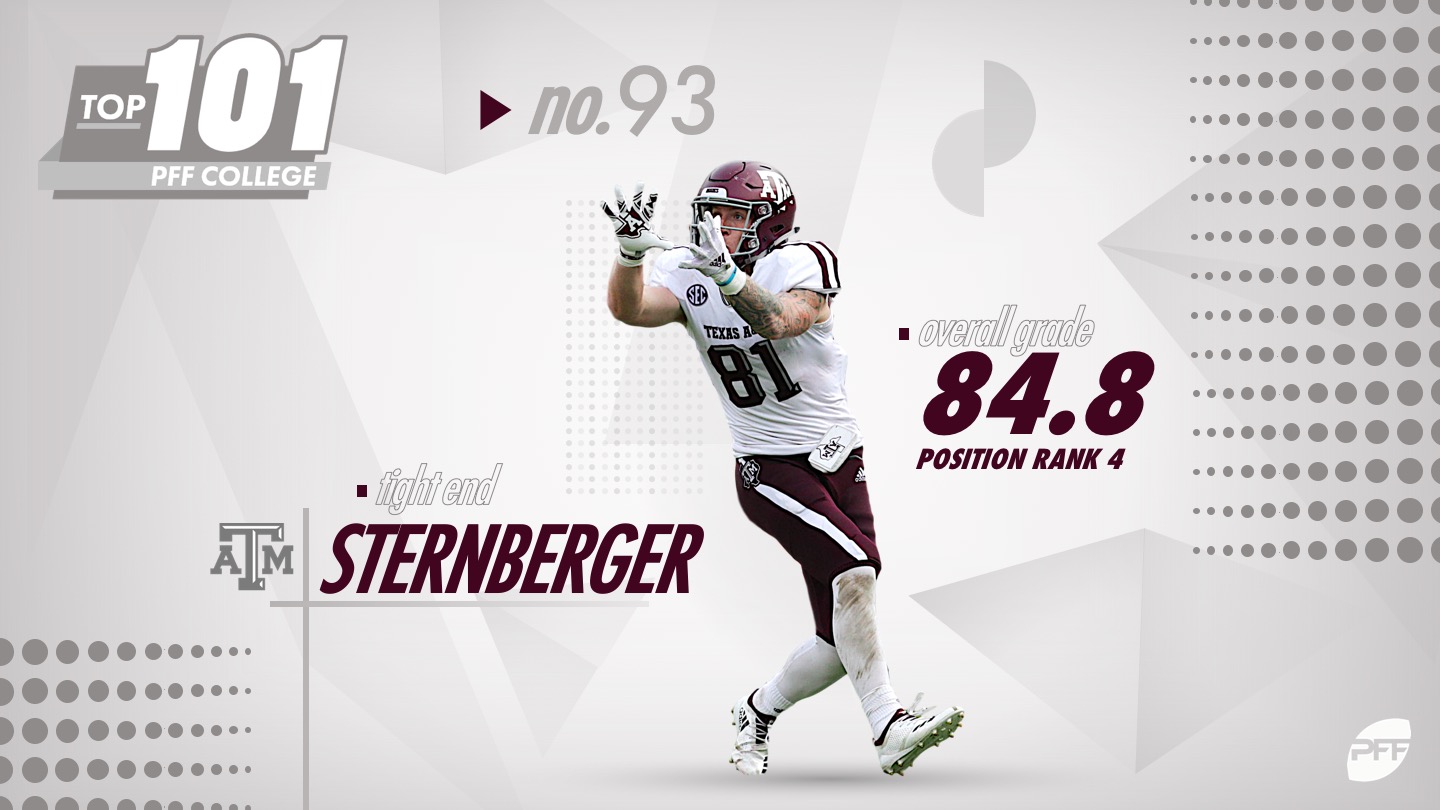 Dominating the box score, Sternberger still tied for first in receiving grade among tight ends as he led the nation in touchdowns and finished second in receiving yards from the position.
94. CJ Henderson, Cornerback, Florida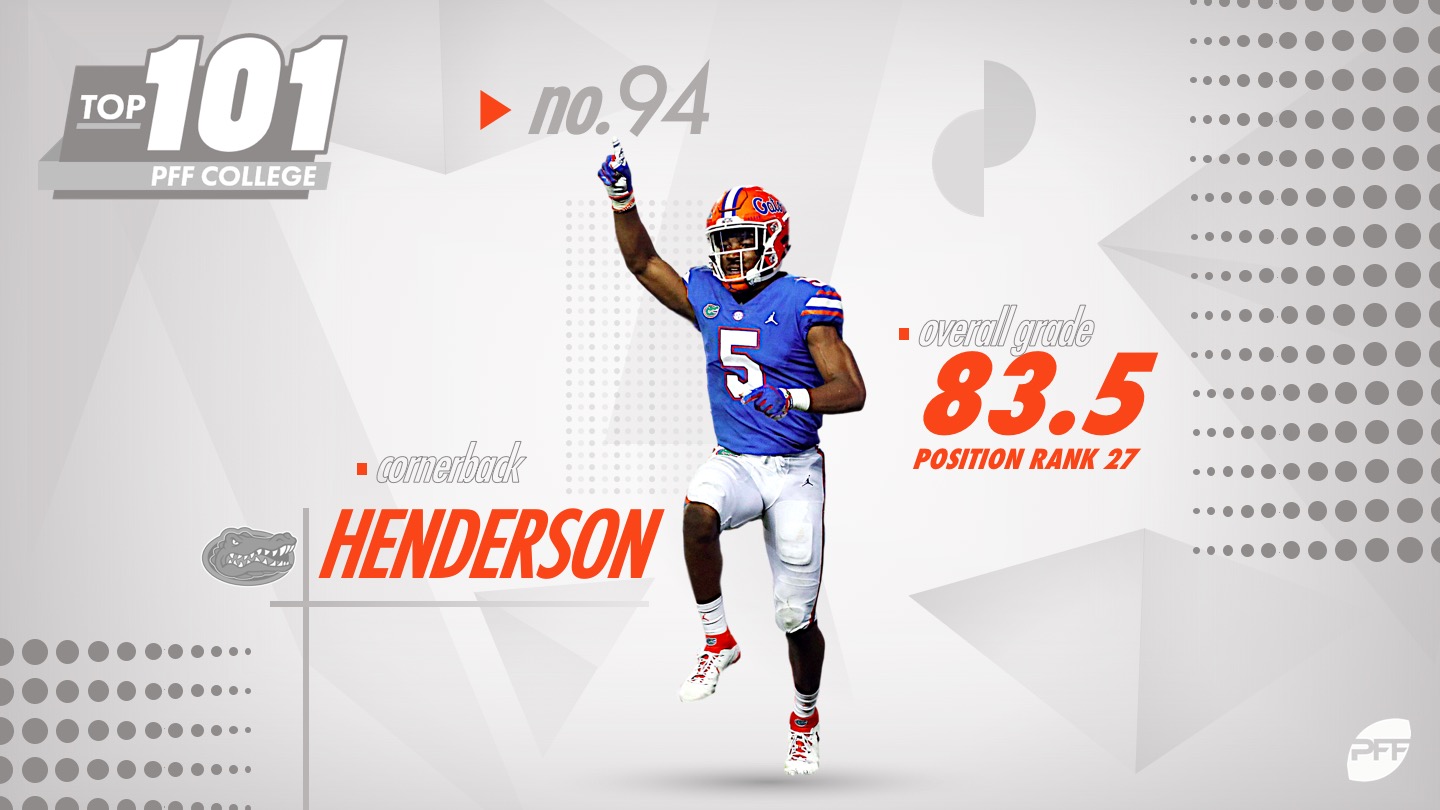 On 36 targeted passes in coverage this year, Henderson did not allow a single touchdown while coming down with two interceptions of his own. When it was all said and done for the 2018 season, Henderson allowed just a 44.0 passer rating on throws into his coverage.
95. Joe Lowery, Offensive Tackle, Ohio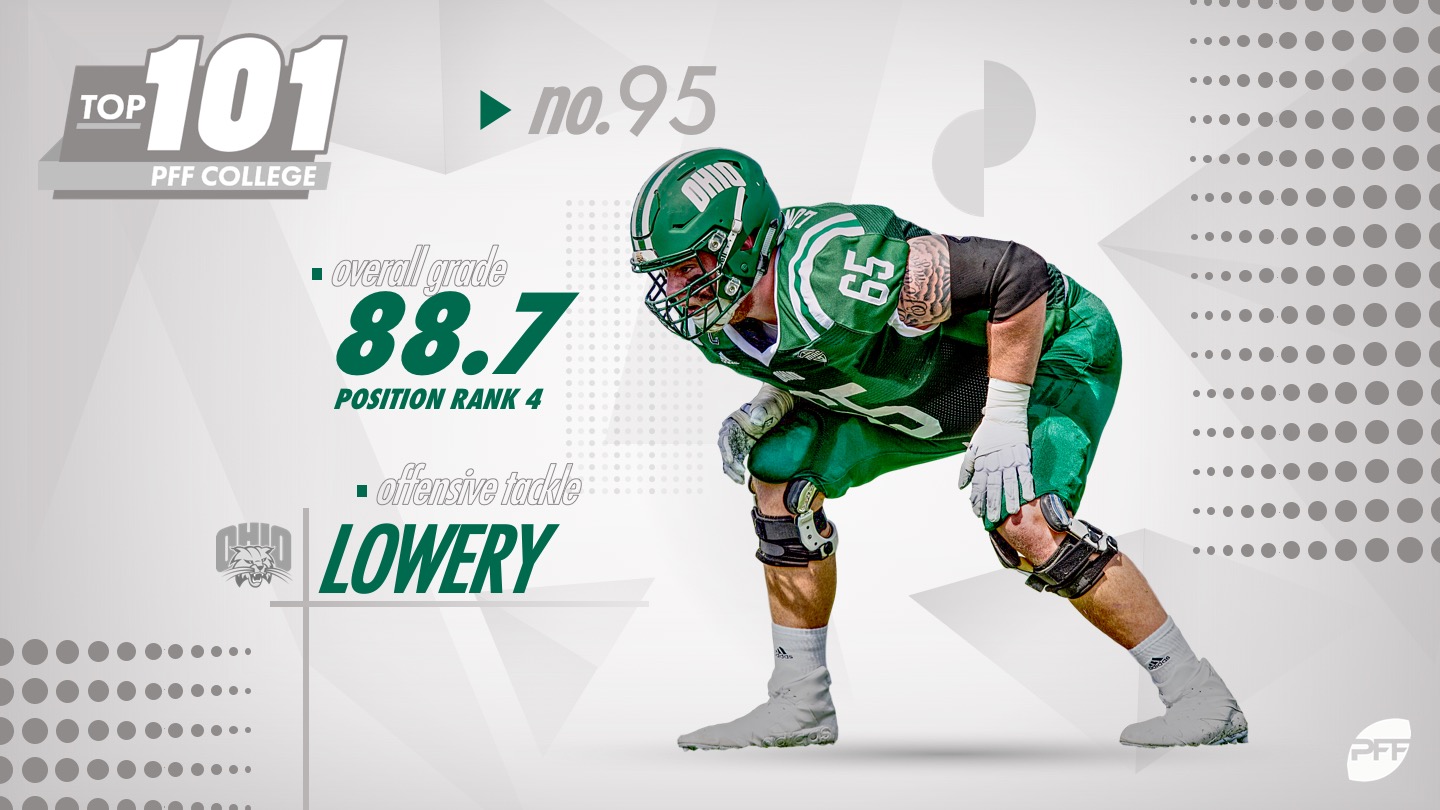 Our MAC Player of the Year, Lowery was dominant along the Bobcats offensive line. He finished with the fourth-highest grade at the position and allowed just nine pressures despite seeing some of the nation's most feared Group of 5 pass-rushers.
96. Jaylon Ferguson, Edge Defender, Louisiana Tech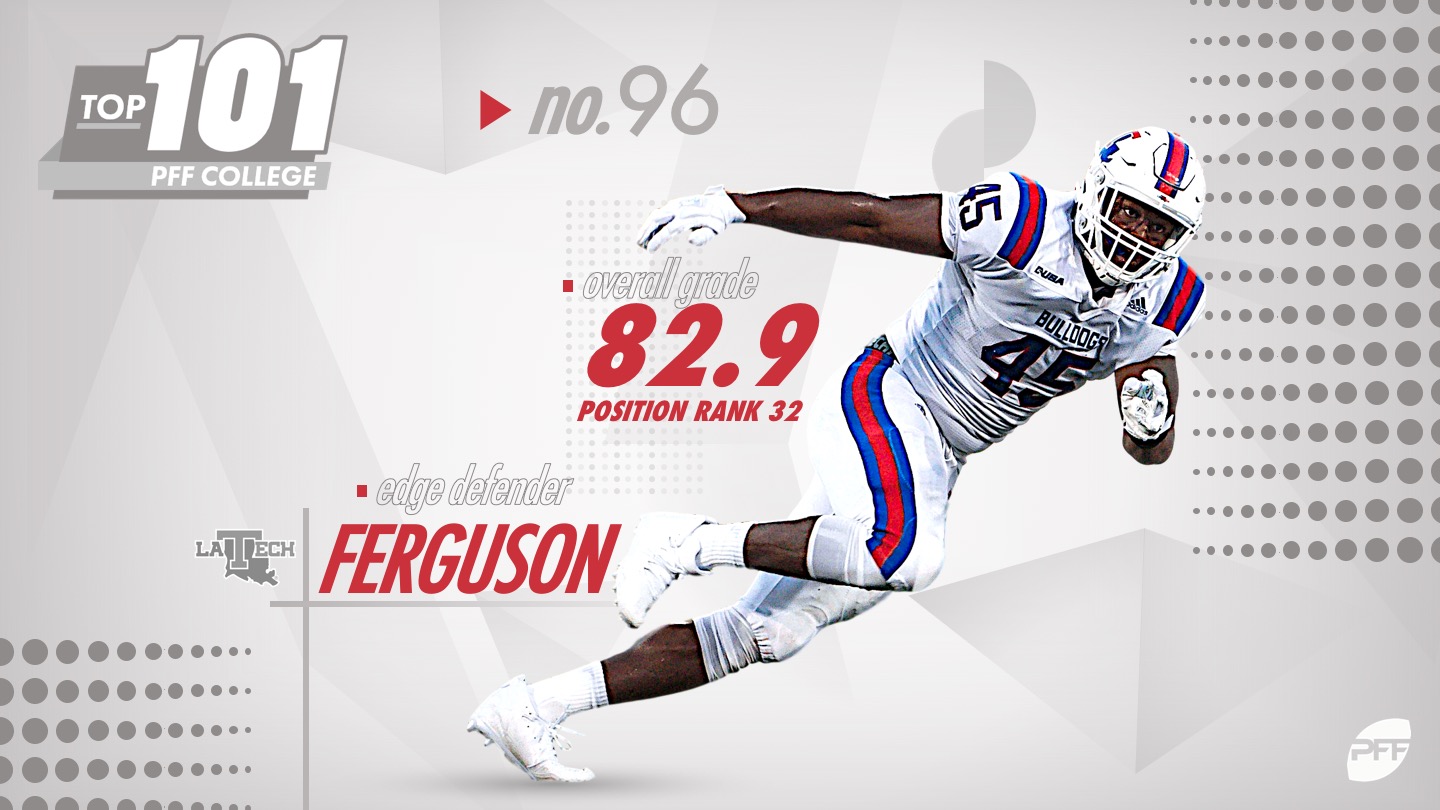 While his sack totals were there, Ferguson still managed to rank fourth in pass-rush productivity this season among all edge defenders. It didn't matter which side of the defensive line he lined up on either as he was equally impressive from the right side on 154 pass-rushing snaps as he was on the left side from 127 pass-rushing snaps.
97. Garrett Bradbury, Center, NC State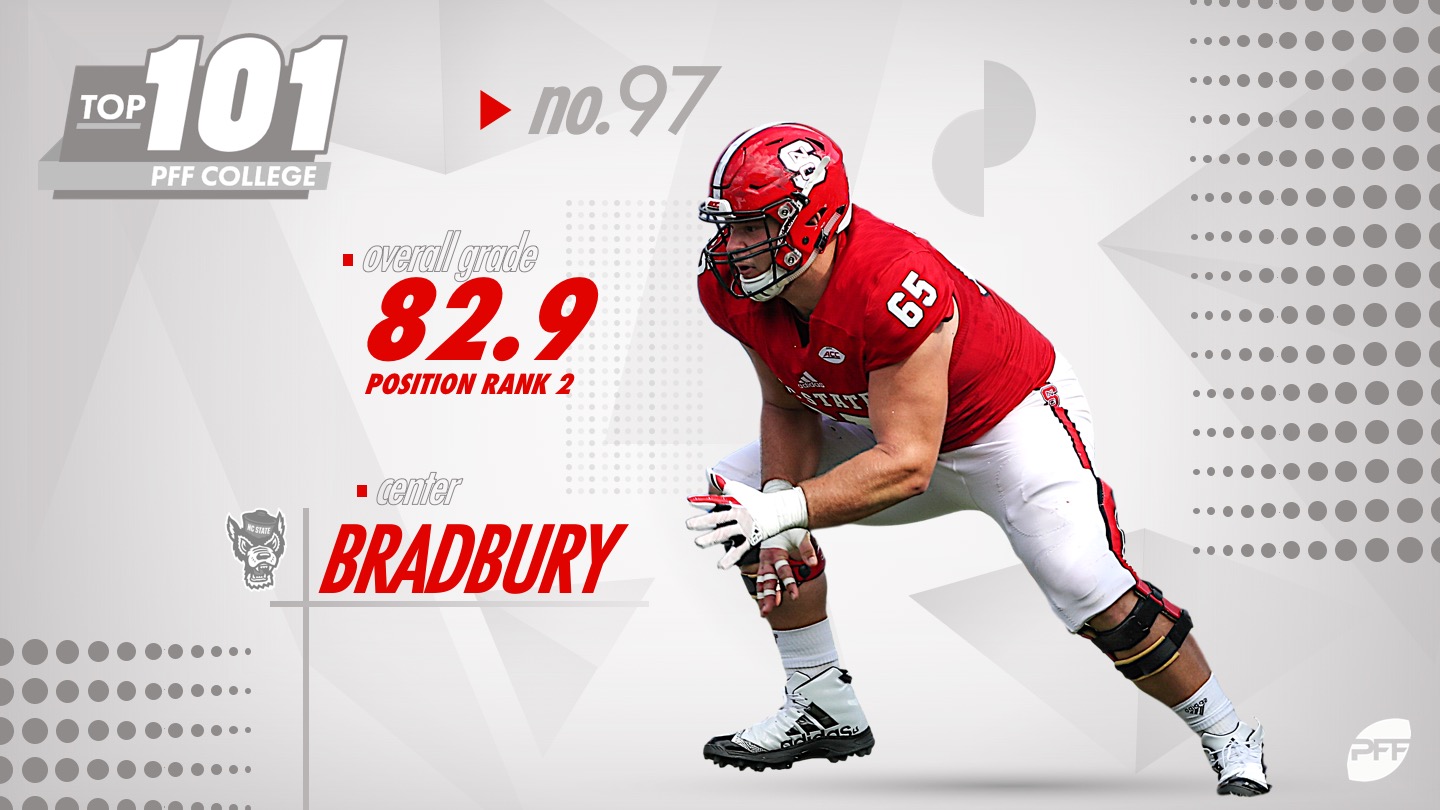 For the third consecutive season, Bradbury allowed just 12 pressures as he finished with the nation's third-highest grade at the position. Over a career of 1,513 pass-blocking snaps, Bradbury has allowed just 36 total pressures.
98. Isaiah Simmons, Safety, Clemson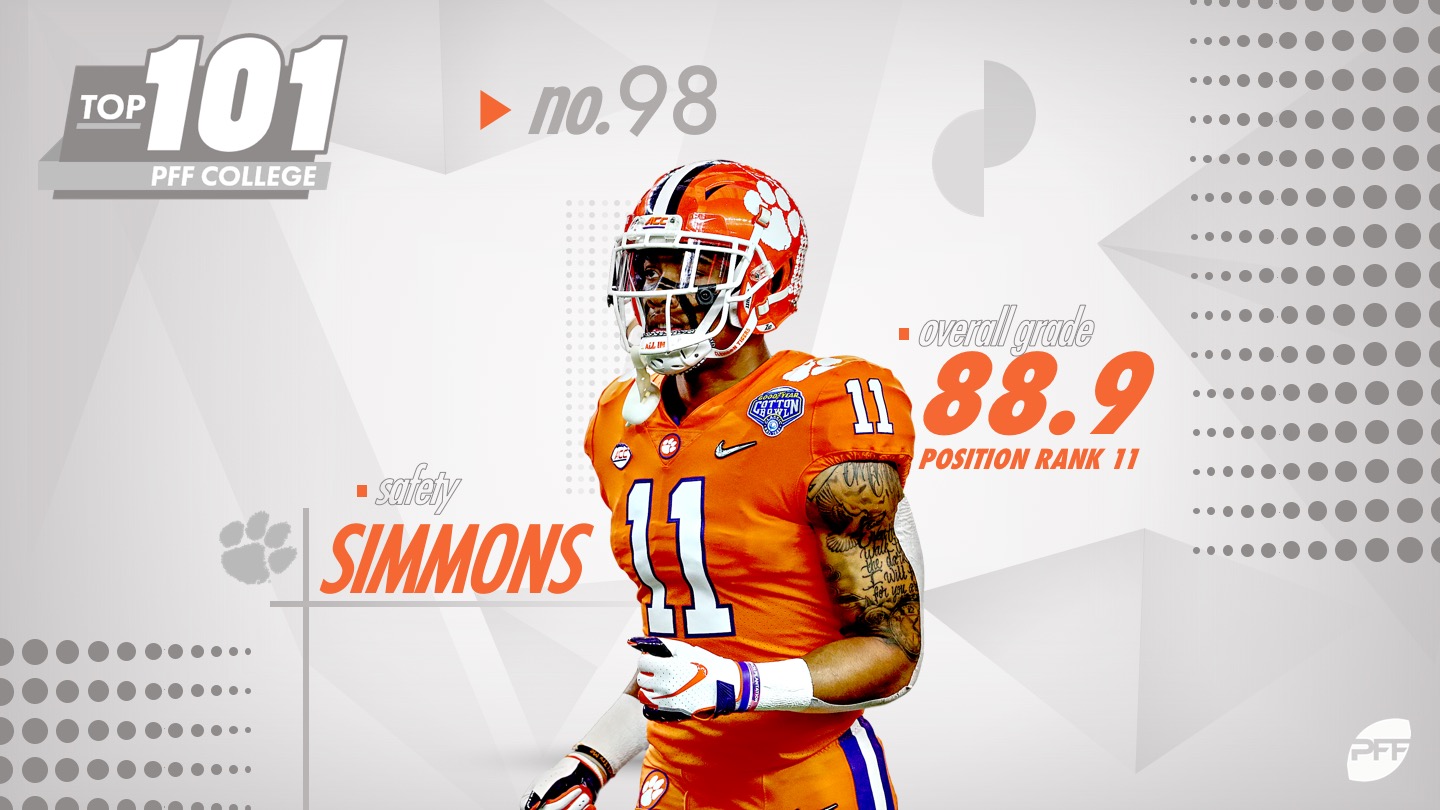 Simmons made his presence known on the national stage during the National Championship, but he was far more than a one-game wonder for the Tigers. Impressing in coverage overall, Simmons was the most targeted safety from the slot this season, seeing 47 targets come his way. He allowed just 30 receptions and limited receivers to just 1.11 yards per every snap he spent in slot coverage.
99. T.J. Hockenson, Tight End, Iowa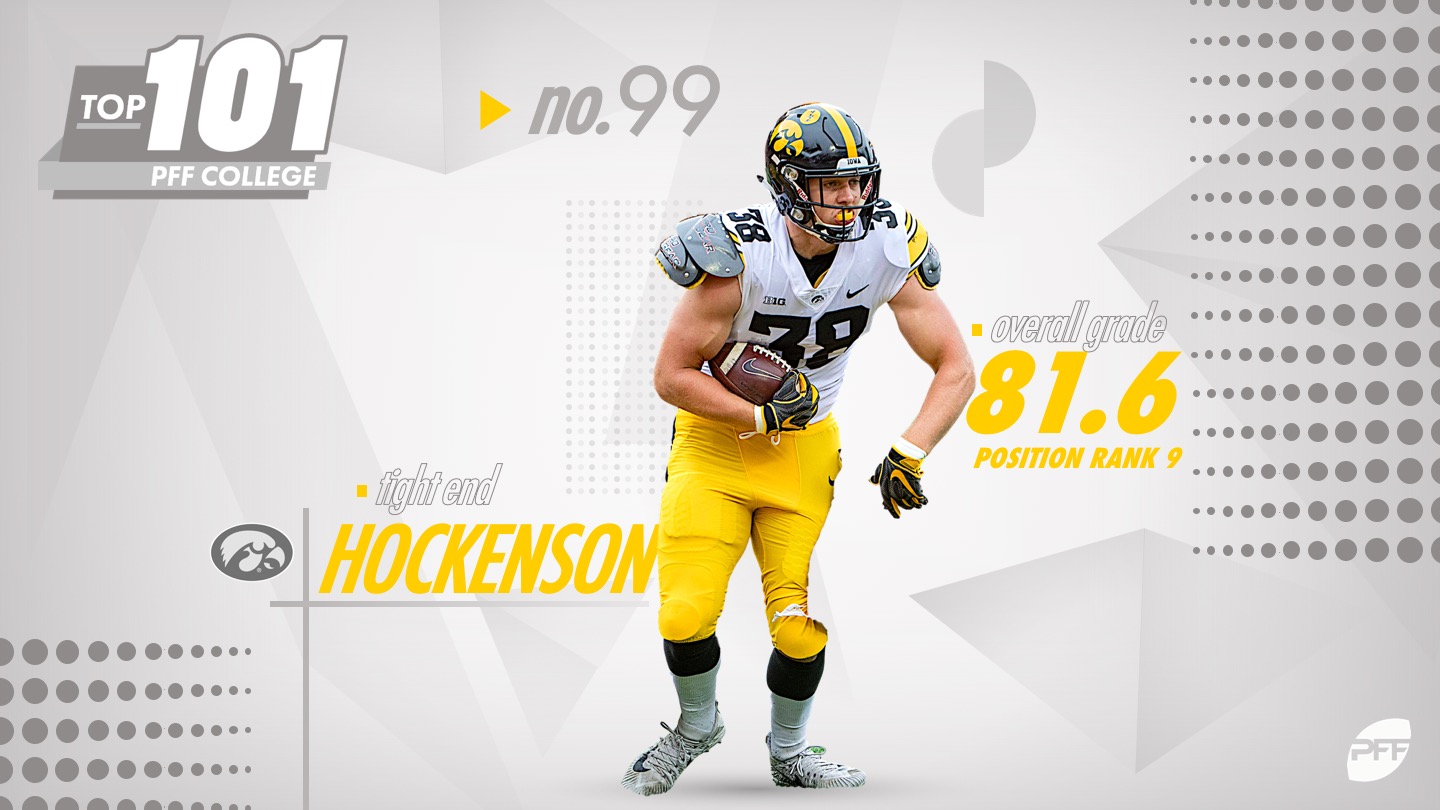 Hockenson received very little of the preseason hype due to his own teammate in Noah Fant. However, Hockenson outdid his comrade in overall grade, receiving grade and run-blocking grade. In total, he finished top 10 at the position in overall grade, receiving grade and yards per route run.
100. Joe Dineen Jr., Linebacker, Kansas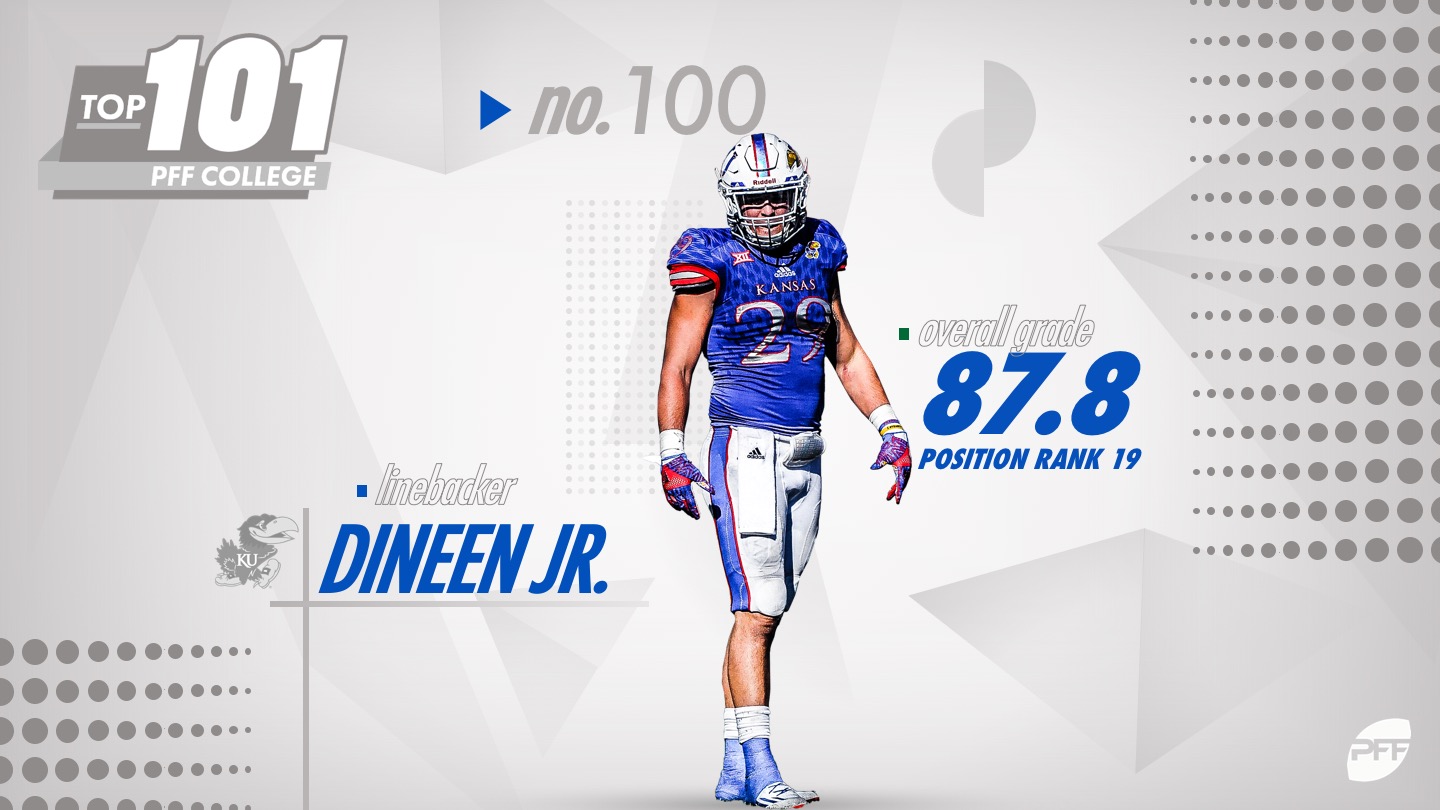 Arguably the nation's best run stopper over the past two years, Dineen once again led the Power-5 linebackers in run stops with 70. In total, he finished third out of all the nation's linebackers with a run-stop percentage of 14.5%.
101. Devin Bush, Linebacker, Michigan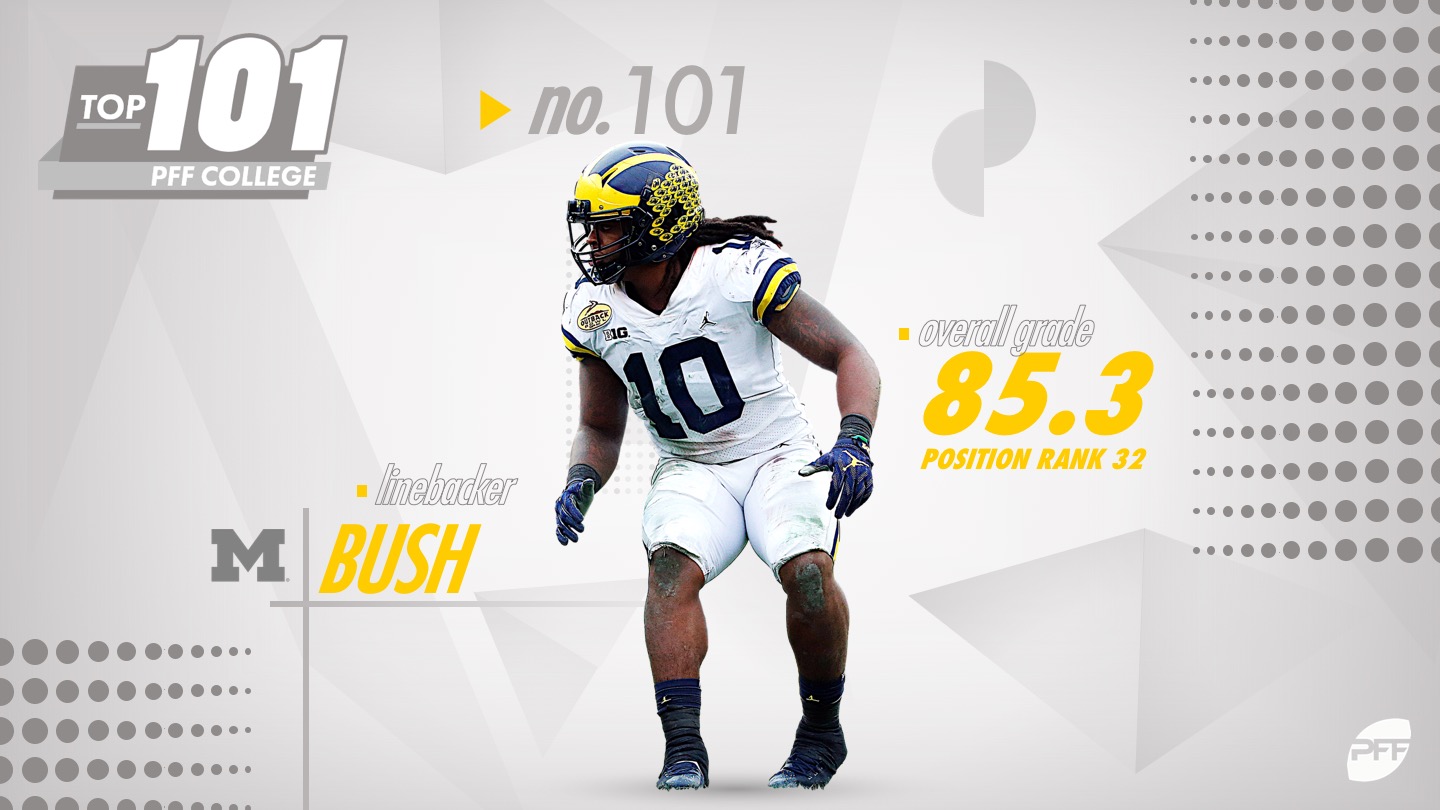 Bush has the sideline-to-sideline ability coveted by any defensive coordinator, but he was arguably his best in 2018 when rushing the passer. On just 71 pass-rushing snaps this year, he tallied 20 QB pressures that included six sacks and five hits on the quarterback.