The Heisman Memorial Trophy is awarded every year to the most outstanding player in college football, and more often than not, is given to the top offensive player across the country. 2018 started with a cast full of characters with Heisman aspirations but for a while now, it's been a two-headed race between two players who didn't even begin the season on the list of Heisman contenders.
One of them wasn't even the starting quarterback on opening day and the nation wasn't even sure if the other was going to suit up in a football uniform this fall, and rather choose a baseball career instead.
13 weeks into the 2018 season and Tua Tagovailoa and Kyler Murray are not only the Heisman frontrunners, but they also have their respective teams in their conference championship and a win away from a berth in the College Football Playoff.
This Heisman Trophy story is brought to you by Eckrich, the Official Smoked Sausage of the College Football Playoff.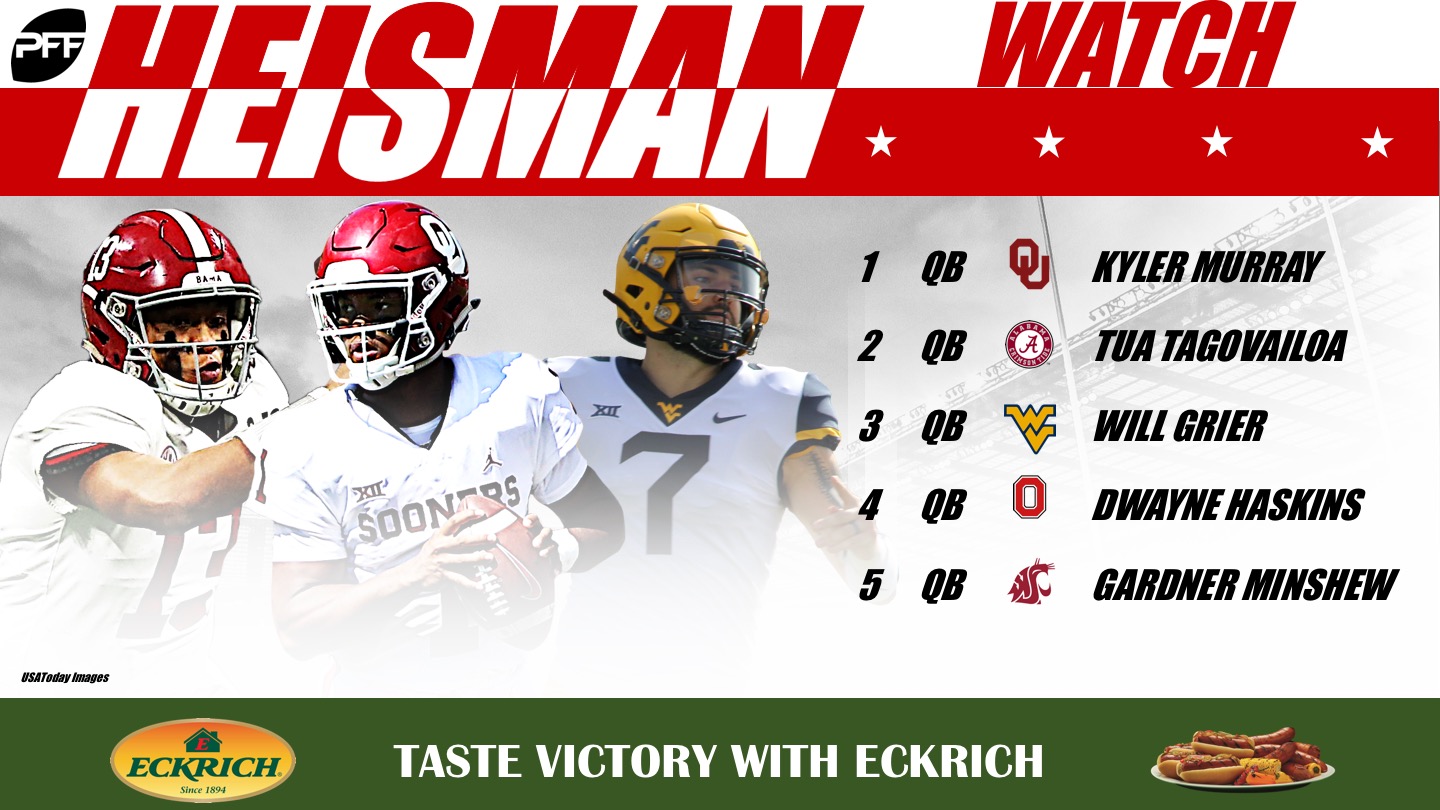 At this time, the race is razor thin but one we'd give to the highest-graded of the duo, and side with Murray. Still, there is another game to play for each of the two and before we get to those games, we outline the case for each Murray and Tagovailoa to win the Heisman this season:
Murray's case for the Heisman
While Tagovailoa has been the favorite for some time among pundits, we here at Pro Football Focus grade every player on every play of every game and have a distinct advantage of one player's impact on a per-play basis for any given game as well as any cumulative season. Since we began grading college football in 2014, no quarterback has sniffed the 96.0 overall grade mark for a single season but Murray sits comfortably as the nation's highest-graded quarterback at 96.3 overall through 12 games.
Previous Heisman Trophy winners have been the highest-graded quarterback in a single season two separate times including Baker Mayfield in 2017 (95.2) and Marcus Mariota in 2014 (93.2) proving our grades to mirror such success. Murray's basic boxscore stat line is ridiculous in its own regard, including second in touchdown passes (37), third in completion percentage (70.6%), seventh in yards (3,679) and second in passer rating (141.1) but it's his advanced PFF metrics that set him apart.
Only three quarterbacks have thrown the ball 105 or more times this year and sport an average yards per attempt of at least 10.0 yards, and that includes both Murray (12.0 – first) and Tagovailoa (11.8 – second).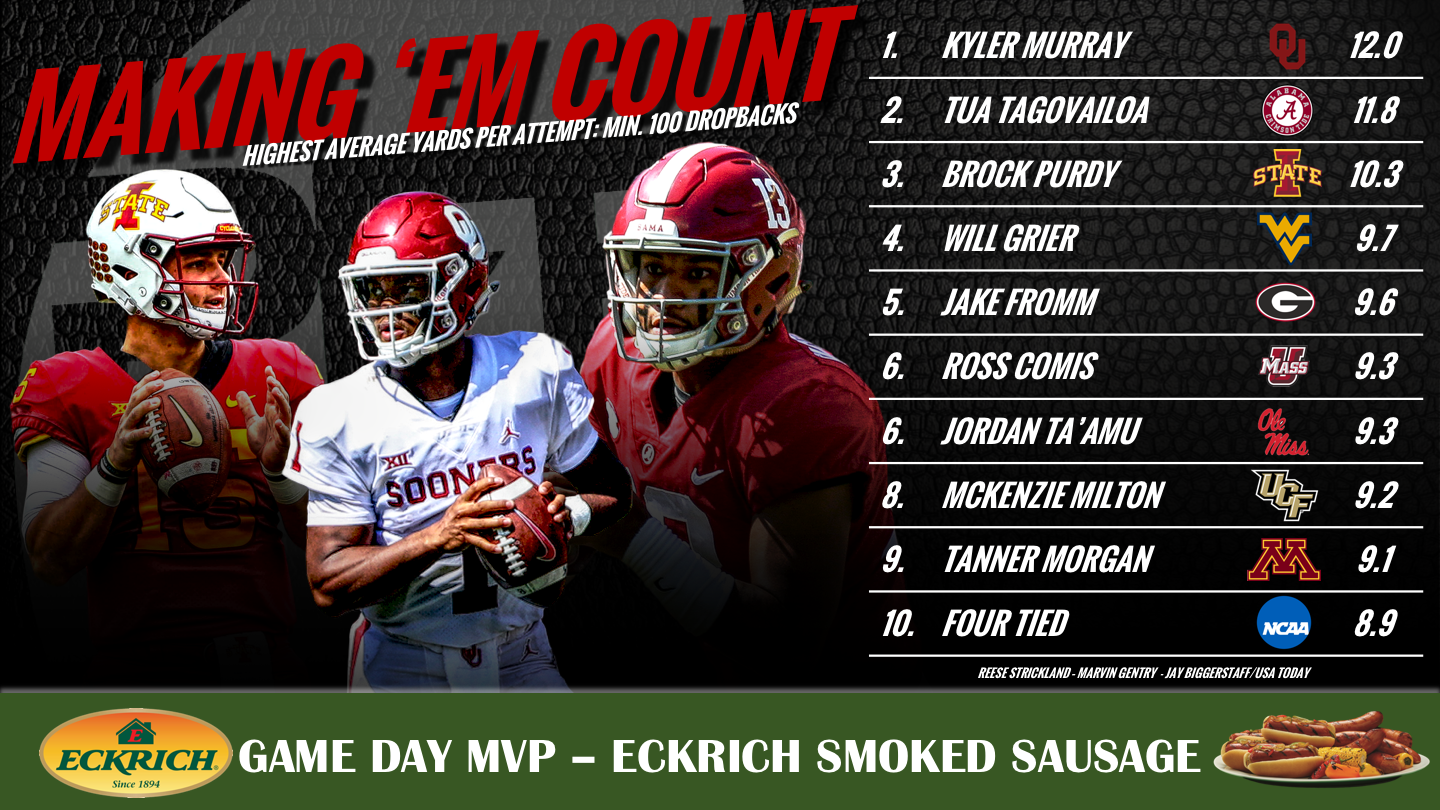 His 95.1 passing grade is a clear 3.2 grade points clear of the second-best quarterback (Tagovailoa) while his rushing grade also tops the nation's quarterbacks at 90.6. He has 173 combined first-downs or touchdown off his dropbacks and it doesn't matter if he's kept clean from pressure or under duress, he has found success.
His 95.4 grade when kept clean leads the nation's quarterbacks as he is 186-of-255 for 3,150 yards and a 33-to-5 touchdown-to-interception ratio. He's uncorked 22 big-time throws from a clean pocket, fourth-most in the FBS and his passer rating on clean dropbacks of 145.8 is second. When he is pressured, although it doesn't happen often, he's completed 32-of-55 attempts for 559 yards and a 4:2 TD:INT ratio while his 74.4% adjusted completion percentage when under pressure is the third-best mark in the nation.
Murray has displayed a wide arsenal of throws both from inside the pocket and from outside the structure. From inside the pocket, Murray has completed 72.5% of his passes, a number that ranks fourth in the country. From outside the pocket, his 62.9% completion percentage is the 11th-highest mark.
It doesn't matter where he throws it from or who he throws it to as seven different receivers have seen at least 10 targeted passes and sport a passer rating when targeted of 118.8 or higher. In fact, Ceedee Lamb and Marquise Brown each rank second and third, respectively, in terms of highest passer rating when targeted among Big 12 receivers this season.
What separates Murray is his rushing ability as 40.0% of his carries to date have gone for either a first down or a touchdown and his 8.3 yards per attempt is the second-highest figure among quarterbacks with at least 25 attempts.
His ability to make people miss both when the pocket collapses and with the ball in his hands has been second to none this year despite the fact that everything he's accomplished in 2018 has come with constant comparison to Baker Mayfield's 2017 season.
Tagovailoa's case for the Heisman
It's not Tagovailoa's fault that he hardly has played in the fourth quarter this season, and no one person should fault him for that, rather they should reward him. Tagovailoa has put Alabama in rarified air, becoming just the second team in college football history to defeat their first 12 opponents in a season by at least 20 points, something that hadn't been done since 1888. Yes, 1888.
Tagovailoa is the second-highest graded quarterback this season at 92.2 overall and his basic boxscore statistics almost mirror that of Murray's. His 36 touchdowns are one behind Murray and fourth in the country while his 146.2 passer rating stands as the best in the nation. He's completed 70.3% of his passes (sixth) for 3,169 yards (15th) and just two interceptions. His two interceptions are the fewest among FBS quarterback with at least 200 dropbacks and his adjusted completion percentage of 76.7% is tied for 15th this season.
While Tagovailoa finds himself just behind Murray in the majority of the aforementioned categories, the advanced metrics show what many fans have seen when watching Crimson Tide games this year, and that's Tagovailoa's dominance.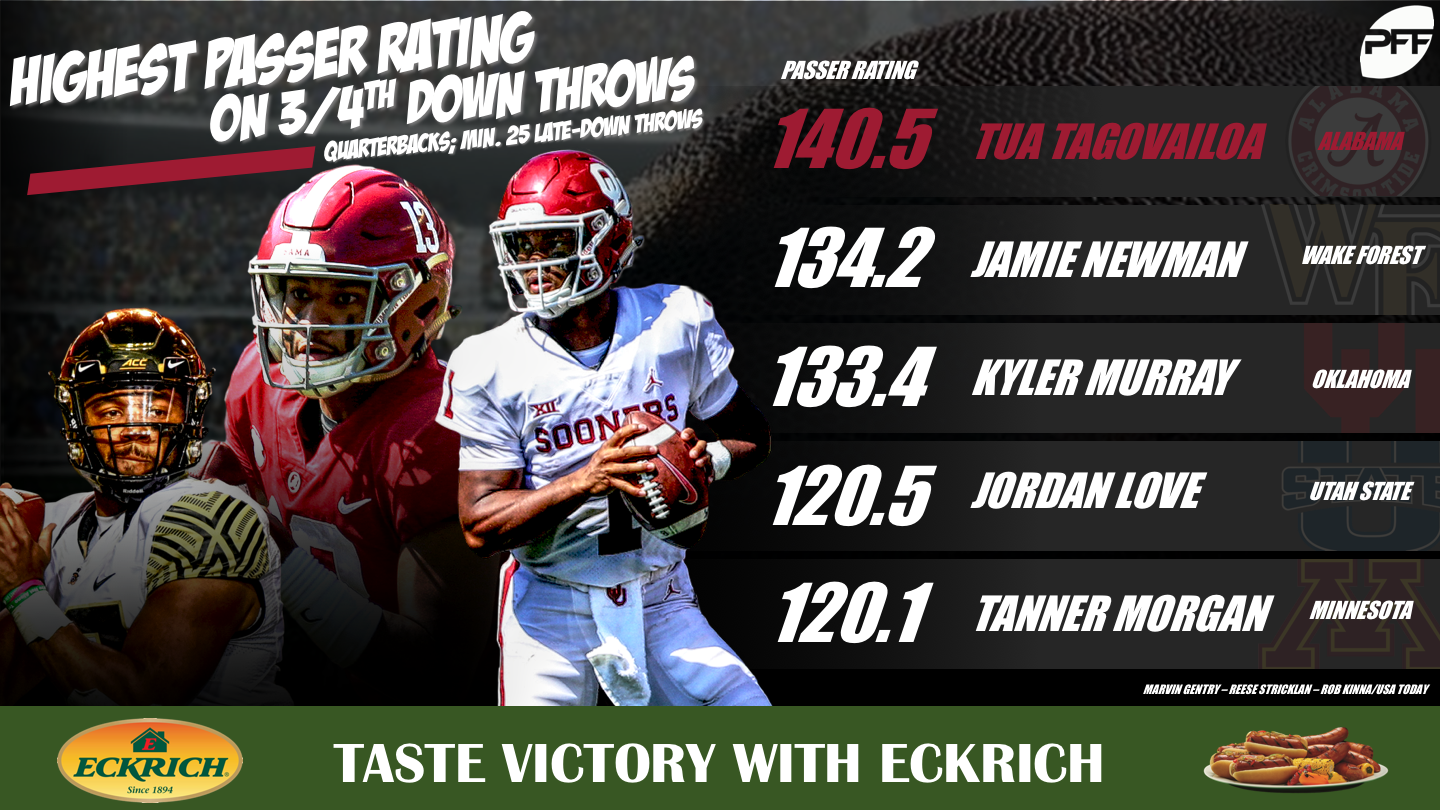 On late downs (third and fourth), Tagovailoa holds the nation's highest passer rating at 140.5 as he's completed 34-of-49 attempts for 582 yards and eight touchdowns. 65.3% of his late-down passes have gone past the sticks and yet he possesses a ridiculous 69.4% completion percentage.
Tagovailoa's deep-ball prowess has been on full display this year as well as he's shown incredible accuracy and touch on passes targeted 20 or more yards downfield. He's completed 59.6% of his deep passes, good enough for first in the nation as he's one of just eight quarterbacks to attempt at least 25 deep passes and complete 50.0% or more of his passes.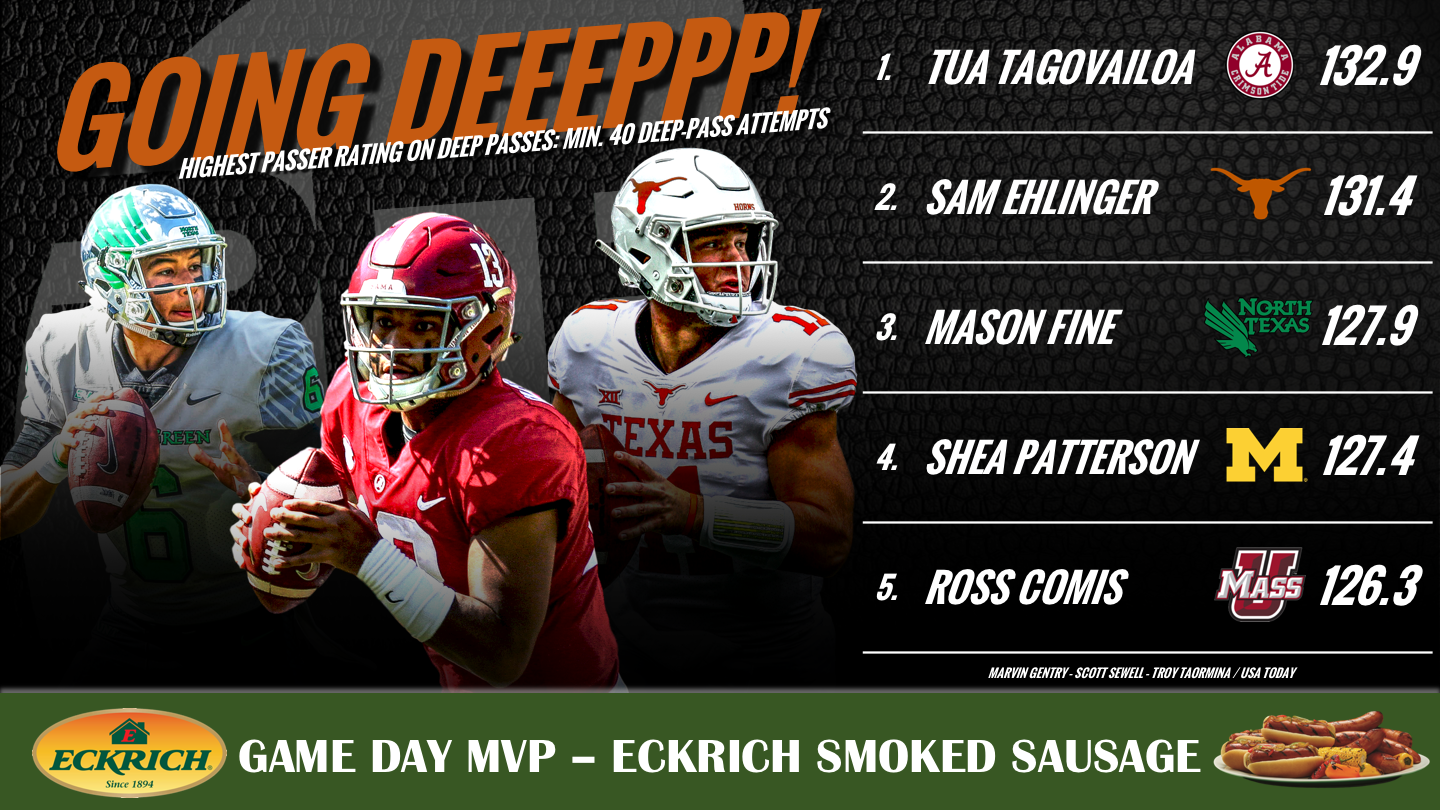 When it'll be decided
Tagovailoa has his team sitting at 12-0 while Murray has his team sitting at 11-1. They're both in their conference championship game on Saturday and they're both eyeing a spot in the College Football Playoff. While Tagovailoa gets the benefit of the doubt with an undefeated team, Murray gets to seek revenge against the Sooners' lone blemish this season.
If Oklahoma can convincingly defeat Texas for the Big 12 Championship, the Heisman is Murray's to lose. If Tagovailoa can have another game like the one he had against Auburn where he combined to score six touchdowns against the Georgia defense in the SEC Championship game to get to 13-0, then it's the Hawaiian's to lose.
If both scenarios happen, then the Heisman race will almost undoubtedly be one of the closest finishes in recent memory, maybe even in history. Either way you look at it, these two quarterbacks are delivering Heisman Trophy-worthy seasons. While only one of them will be awarded the hardware, we the fans have been awarded with their performances all season.
And for that, we thank you Mr. Tagovailoa and Mr. Murray.