If you were able to get Washington State at -1.5 or -2 you at least pushed, but the printed picks last article was 0-2, bringing us to 5-3 on the bowl season so far (we're not going to speak of Notre Dame (+12.5), despite the closing line value it offered). This is our last picks article before the national championship game, and there is some value here to go around.
As we do each week, our pick(s) of the week will get the point/counterpoint analysis, and the rest of our picks printed below. A reminder that you can follow us on twitter at @BrownBenjamin22 and @PFF_Eric and listen to the PFF Forecast with Eric Eager and George Chahrouri here.
Virginia Tech (+6) versus Cincinnati
Pick: Cincinnati 30-26 (VT covers)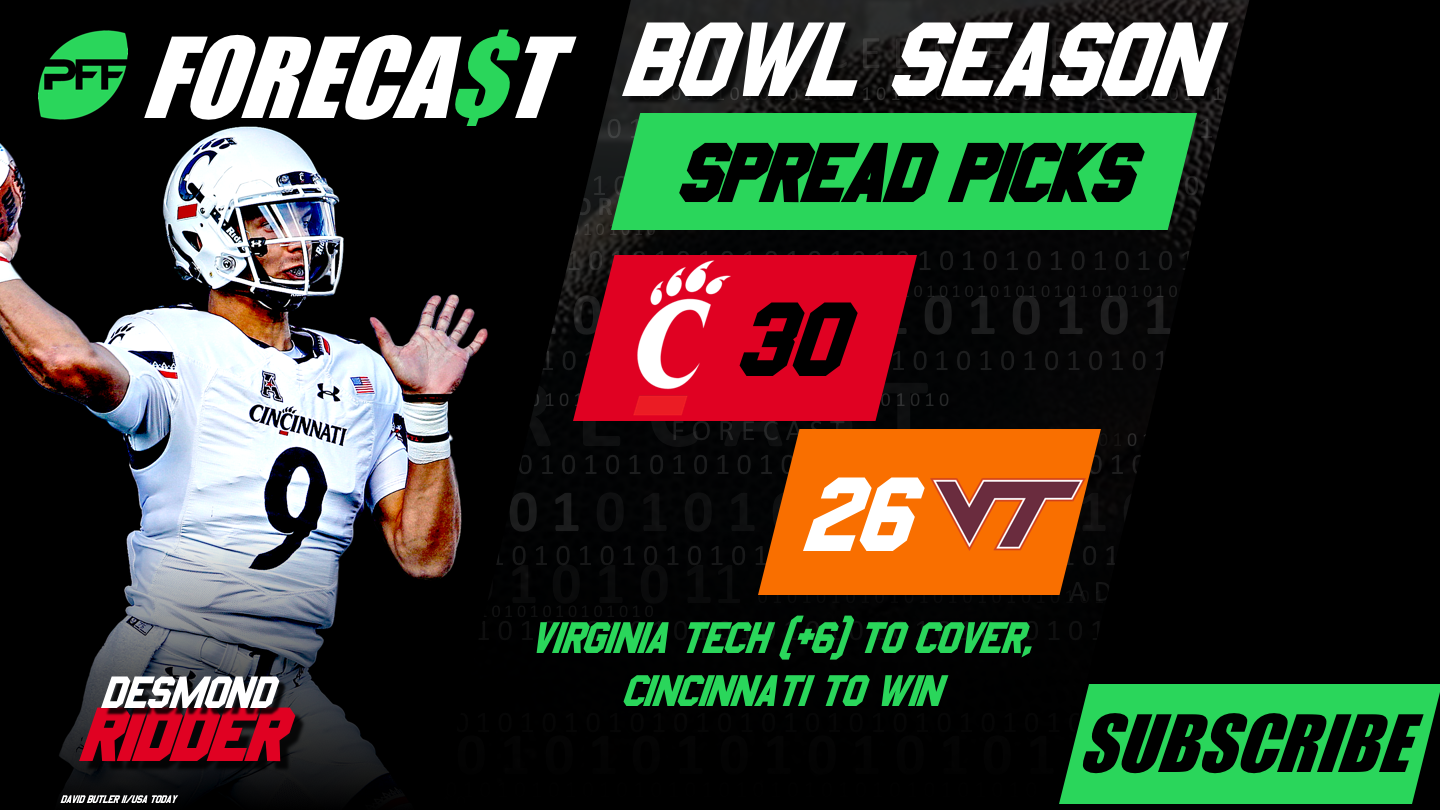 Point (EE): Cincinnati was the subject of an OVER pick we had a few weeks ago against UCF, and much of our reason for fading them as such heavy favorites here has everything to do with that game, where they were unable to do their part against a flawed UCF defense on a Saturday night in Orlando. The Bearcats are in the middle of the pack in the AAC in terms of success rate and expected points added (EPA) on early-down passing plays, with each early-down play putting the ball in the air taking them further away from scoring than originally constituted. Virginia Tech is averaging positive EPA per early-down passing play as contrast and allowing negative EPA on such plays defensively. Ricky Walker's 25 total pressures and 23 stops could cause some problems for Cincinnati, who should not be able to execute an over-one-touchdown win in this spot. 
Counterpoint (BB): With Virginia Tech being higher rated in our PFF ELO model and getting 6 points we are on board with the Hokies. Virginia Tech has been at its best when they have graded as a top pass-blocking unit in the ACC. This relates to Ryan Willis' ability to beat the blitz as evidenced by his 122.3 passer rating. The Bearcats have wreaked havoc on opposing quarterbacks, generating pressure at the 10th-best rate in the country yet they have utilized a blitz on only 25% of dropbacks however but been incredibly efficient generating pressure in this situation. The fact that a quarterback's ability to beat pressure and the blitz is unstable and how infrequently the Bearcats use the blitz gives us pause as this has been Willis' best situation in which to exploit defenses in 2018. If the Hokies O-line can hold up against the Bearcat front four is where this cover is won or unfortunately lost.
Oklahoma State (+9) versus Missouri
Pick: Missouri 38-31 (Oklahoma State covers)
Point (BB): Both Taylor Cornelius and Drew Lock have one final opportunity to showcase their talent on the field before the NFL draft in April. With Lock allegedly competing to be the first quarterback taken, Cornelius is simply hoping to hear his name called at some point. Averaging the third highest average depth of target of any quarterback in the FBS, Cornelius clustered into our risky yet good tier of college quarterbacks who typically have high rates of big-time throws. It is this downfield ability coinciding with one of the better receiving corps in college football that factors into our model projecting a much closer game than a 9-point Vegas spread. PFF simply isn't as high on Lock as other talent evaluators, meaning 9 points feels like too great of a margin to cover in the Liberty Bowl. 
Counterpoint (EE): Lock has been mostly poor all season, generating an 83.9 passer rating when clean. Somehow, he's earned an 84.0 passer rating when pressured, however, which, while pretty unstable, tells you that there are some universes where he can make plays when things break down. Against an Oklahoma State team that is worst in the terrible Big 12 in allowing EPA per early-down passing play (+0.12 per), these randomnesses might show themselves and allow for some plays to be made in a game that will likely try to showcase the NFL traits inherent in a non-NFL-caliber quarterback. I'm with Ben, but buckle up!
NC State (+7) versus Texas A&M
Pick: Texas A&M 30-24 (NC State covers)
Point (EE): Ryan Finley is a Cluster 1 quarterback, and while he's hurt us in the past, this carries some weight against teams that aren't in the College Football Playoff like Clemson in October. Finley has earned a 111.3 passer rating when clean so far this year, generating almost nine yards per pass attempt and a 20/6 touchdown/interception ratio on such throws. Texas A&M quarterback Kellen Mond hasn't been nearly as impressive, completing only 63% of his passes from a clean pocket and earning just a 66.0 passer rating when pressured. We're in a position to take the better quarterback getting points, so let's do it.
Counterpoint (BB): Having played both national title contenders, Texas A&M can safely say they gave both teams close to their most competitive games of the regular season. The Aggies entered bowl season with the worst pass defense in the SEC, allowing an EPA on early-down pass attempts of 0.18, not exactly slowing anyone down defensively. Offensively, although Mond hasn't been extraordinary, A&M still ranks in the top half of the SEC in EPA on early-down pass attempts. Being battle tested counts for something in Vegas but giving a touchdown to what PFF believes is an underrated NC State team is just too much to overcome in this New Year's Eve bowl game.
Penn State (-6.5) versus Kentucky
Pick: Penn State 29 – 20 (Penn State covers)
Point (BB): From strictly an EPA standpoint, Penn State has the superior defense allowing less EPA per attempt on both early-down passes and rushes. The question then becomes what Trace McSorley shows up for this bowl game. If the McSorley that had 27% of his attempts receive a positive grade and split 5.1/1.5% big-time throw to turnover-worthy throw percentage while generating over 0.20 EPA per rush attempt plays as such, then the Nittany Lions should have no issues covering almost a touchdown in points to a middle of the road SEC team. Anything less from McSorley could cause this cover to become hazy.
Counterpoint (EE): McSorley is one of the more inconsistent quarterbacks in the country this season, and if you're going to lay points with him there is going to be significant hesitation. Kentucky's defense has been one of the best in the SEC this season, allowing beneath -0.2 EPA allowed per early-down passing play and below 40% success rate on early-down passing plays. If Miles Sanders (almost 800 yards after contact on the ground this season) can't get going, look for Kentucky to be able to keep this game close enough and cover the number.
UCF (+7.5) versus LSU
Pick: LSU 31-27 (UCF covers)
Point (EE) I'm here for UCF to continue to troll the Power 5 in bowl games. After defeating Auburn last season, they get a vulnerable LSU team this season with a chance to make a case that they were a better team than (at least) Notre Dame to be sacrificed in the first round of the College Football Playoff against Clemson or Alabama. While UCF will be playing with a backup quarterback, the Tigers don't have the most-impressive signal-caller in Joe Burrow, who is completing fewer than 42% of his pressured passes, while averaging 5.0 yards per attempt in such situations. LSU's the better program, but more than a touchdown makes me pause here and take the underdog with more motivation in this spot.
Counterpoint (BB) Simply put it's nearly impossible to know if UCF is the same similar team to how they operated with McKenzie Milton. Yes, Darriel Mack Jr. looked impressive against Memphis in the AAC championship game. The AAC is a different world from the SEC especially on the defensive side of the ball. With LSU ranking better than Georgia and a mere stone's throw from Alabama on EPA allowed on early-down pass success, how well will Mack fare against the best defense he has ever faced. Any slip-up and LSU could run away with the game and the cover quickly.