We continue on with our weekly series looking at the highest-graded seniors, with half returning to the rankings and another five newcomers. 

QB Joe Burrow – LSU – 92.7 grade
The leader in the clubhouse in our Heisman rankings and our second-highest graded quarterback is also the top senior currently. How he and the LSU offense have transformed themselves in the first three weeks has been fun to watch – especially in the downfield element to the passing game.  As our Cam Mellor pointed out earlier this week, Burrow is "the nation's leader in yards, touchdowns and completion percentage on throws targeted at least 10+ yards downfield." 
Edge Alex Highsmith – Charlotte – 92.2 grade
The former walk-on finds himself at the top of many PFF College lists early in 2019, as he is the highest-graded defensive lineman through three weeks and, as our Lead Draft Analyst Mike Renner pointed out, "this weekend's game against Clemson will be huge for his eval." Against Clemson this week, Highsmith gets to face the talented tackle duo of Tremayne Anchrum (83.0 grade) and Jackson Carman (78.9 grade), who've only allowed a combined total of four pressures so far this season.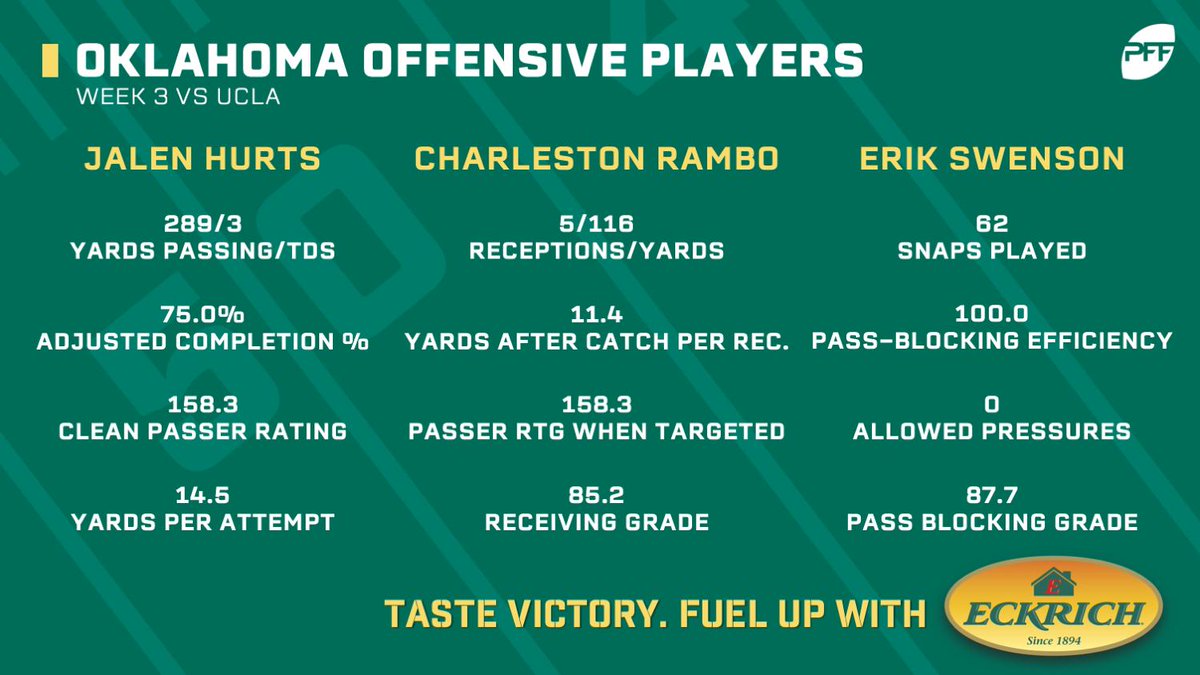 QB Jalen Hurts – Oklahoma – 90.7 grade
Currently our fourth-highest graded quarterback, Hurts is the first of three graduate transfers on our list. Not shockingly, Lincoln Riley has tailored his offense in 2019 to Hurts' skillset, allowing him to flourish in both the passing and running games. Expect more of the same over the next three weeks as the Sooners face Texas Tech (on 9/28) and then Kansas before the Red River Rivalry against Texas on 10/12. Given LSU's early game against Texas, it will be a treat to see how two serious Heisman contenders play against a common high-level opponent.
OT Jared Hilbers – Washington – 90.3 grade
After barely playing in his first two seasons with the Huskies (84 total snaps), Hilbers moved into the starting lineup a season ago and had a solid junior season (73.0 overall grade, 70.3 run block grade and 14 total QB pressures allowed).  He's currently the fourth-highest grade offensive tackle and has yet to give up a pressure on 100 pass block snaps to go along with an 88.3 run-block grade.
S Eric Lee Jr. – Nebraska – 90.1 grade
A repeat player on this list, Lee Jr. still leads all safeties with a 90.5 coverage grade. He's also well on his way to playing more snaps than he did in the previous three seasons combined. Before 2019, Lee Jr. had played a total of 466 snaps and he's already played more than a third of that total this season (157 snaps). The Cornhuskers travel to Illinois this week before Lee Jr. and the rest of the secondary's biggest test, Ohio State, comes to Lincoln next weekend.
LB Jordyn Brooks – Texas Tech – 89.9 grade
Another newcomer to the list is the 6-foot-1, 245-pound Red Raider. Brooks has played a lot of football since stepping foot in Lubbock in 2016 (2,352 snaps in three seasons), but he's currently playing at a higher level than anything previously. His run-defense grade of 93.8 is the best in the nation for all defenders, as he already has 20 stops and has only missed one tackle. In addition, Brooks also has five QB pressures in 24 pass-rush snaps.
G Kevin Dotson – Louisiana Lafayette – 89.7 grade
Just like Jordyn Brooks above him, Dotson has played a ton of football for the Ragin' Cajuns with 2,583 career snaps coming into 2019. Dotson has always graded well in the run game but has taken a leap in 2019 with a current 91.4 run-block grade, which is the fourth-best nationally among all offensive linemen. In addition, Dotson has maintained his strength in the passing game and has yet to allow a QB pressure on 78 pass-block snaps thus far.
LB Rayshad Jackson – UNLV – 89.5 grade
The second graduate transfer on the list, Jackson is making the most of his opportunity to play after only seeing 312 snaps in three seasons at Florida. On the season, he has 20 stops with only a single missed tackle and 10 total QB pressures on just 24 pass-rush snaps. In addition, he has two pass breakups in coverage, and teams have lost eight yards on the two receptions in his coverage.
OT Travis Bruffy – Texas Tech – 88.1 grade
Another standout senior Red Raider, Bruffy appears for the second week in a row. Thus far, he's only allowed three pressures on a third-most in the nation 162 pass-blocking snaps. If Bruffy maintains his current pace, he would destroy his previous career highs in overall, pass and run-block grade.
ED Jonathan Greenard – Florida – 87.9 grade
Another graduate transfer, Greenard has definitely caught the eyes of scouts this year, beginning with his opening night domination of Miami. For the season, he now has 12 total QB pressures, including four sacks and nine stops. He's on pace to almost double his previous career-high in all of our pass-rush metrics.