We're three weeks into what is shaping up to be a fun race to see who will be the highest-graded player at the quarterback position across the nation. With a few new players cracking this list, we look at the highest-graded quarterbacks through three weeks of college football:

1. Skylar Thompson, Kansas State
Thompson has only dropped back to pass 60 times, needing just 36 completions to reach seven big-time throws while limiting himself to just one turnover-worthy pass. He only averaged 9.2 yards per pass but has an elite-level adjusted completion percentage and has added a solid rushing attack when tasked with it. Thompson will have to keep his big-time throws coming at a high rate if he wants to hold off the guys below him who have a ton more attempts than he but as of right now, through three weeks, Thompson is the highest-graded quarterback in the country.
2. Joe Burrow, LSU
Burrow leads our Heisman race for good reason as he's the nation's leader in yards, touchdowns and completion percentage on throws targeted at least 10+ yards downfield. He's uncorked eight big-time throws on the year and has picked apart defenses through three weeks. His Texas performance is still the best performance from a quarterback against a Power-5 team this season, and for that reason, he remains our Heisman favorite and is the second highest-graded quarterback in the country.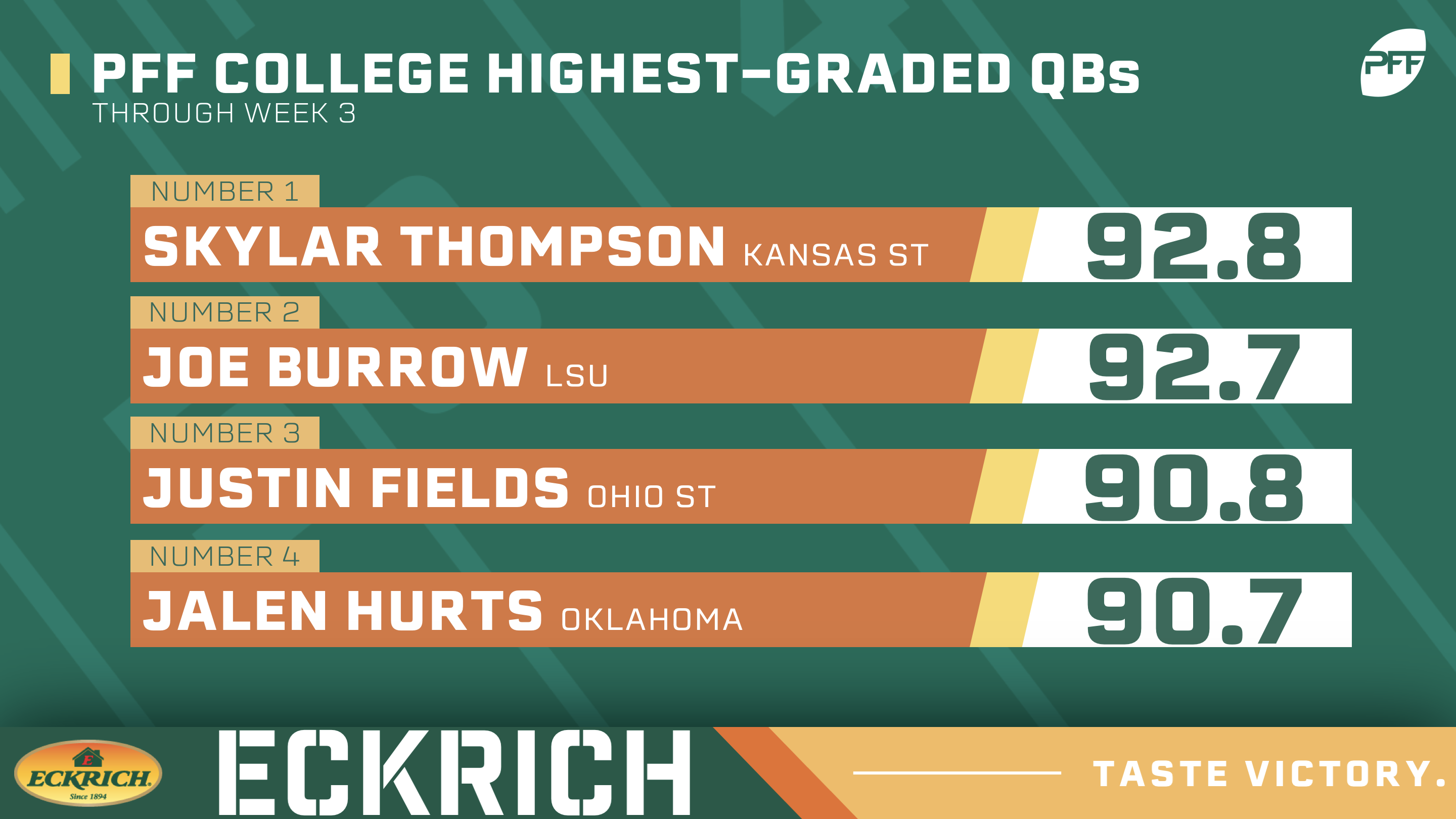 3. Justin Fields, Ohio State
Fields added a dimension to his game that we hadn't previously seen against Indiana. He launched several deep balls and as such, is the nation's highest-graded passer on throws targeted at least 10 yards downfield, supplanting Burrow for the throne after his Indiana performance. He's got six big-time throws to his name and adds a dynamic threat with the ball in his hands on the ground.
4. Jalen Hurts, Oklahoma
Speaking of threats with the ball in his hands on the ground, Hurts not only leads quarterbacks in total rushing yards but he also leads them in designed rushing yards with 257 on 25 carries. Of his 37 carries, 19 of them have converted either a first down or a touchdown and he's completing over 80% of his passes through three games. He's firmly in the discussion as the nation's top dual-threat quarterback as he holds that advantage over Fields so far.
5. Tyler Johnston III, UAB
On just 45 dropbacks this season, Johnston has uncorked eight big-time throws. Extrapolating that out, Johnston would be the nation's leader in that category had he been forced to throw more often through his two games this year. He's a big-time play waiting to happen and he's finding his receivers on these big plays more often than not and his total yardage should certainly be higher as he's had four of his 27 catchable passes he's thrown go down as drops from his receivers.
6. Jake Fromm, Georgia
Not asked to do much so far this season, Fromm has launched just two big-time throws but taken remarkable care of the ball without a turnover-worthy play to his credit through three games. He's running the Georgia offense admirably and with their biggest test to date coming up against Notre Dame, he can look to his solid play of top-20 figures in a bevy of clean-pocket metrics to rely on as he stands behind the nation's second-best offensive line unit.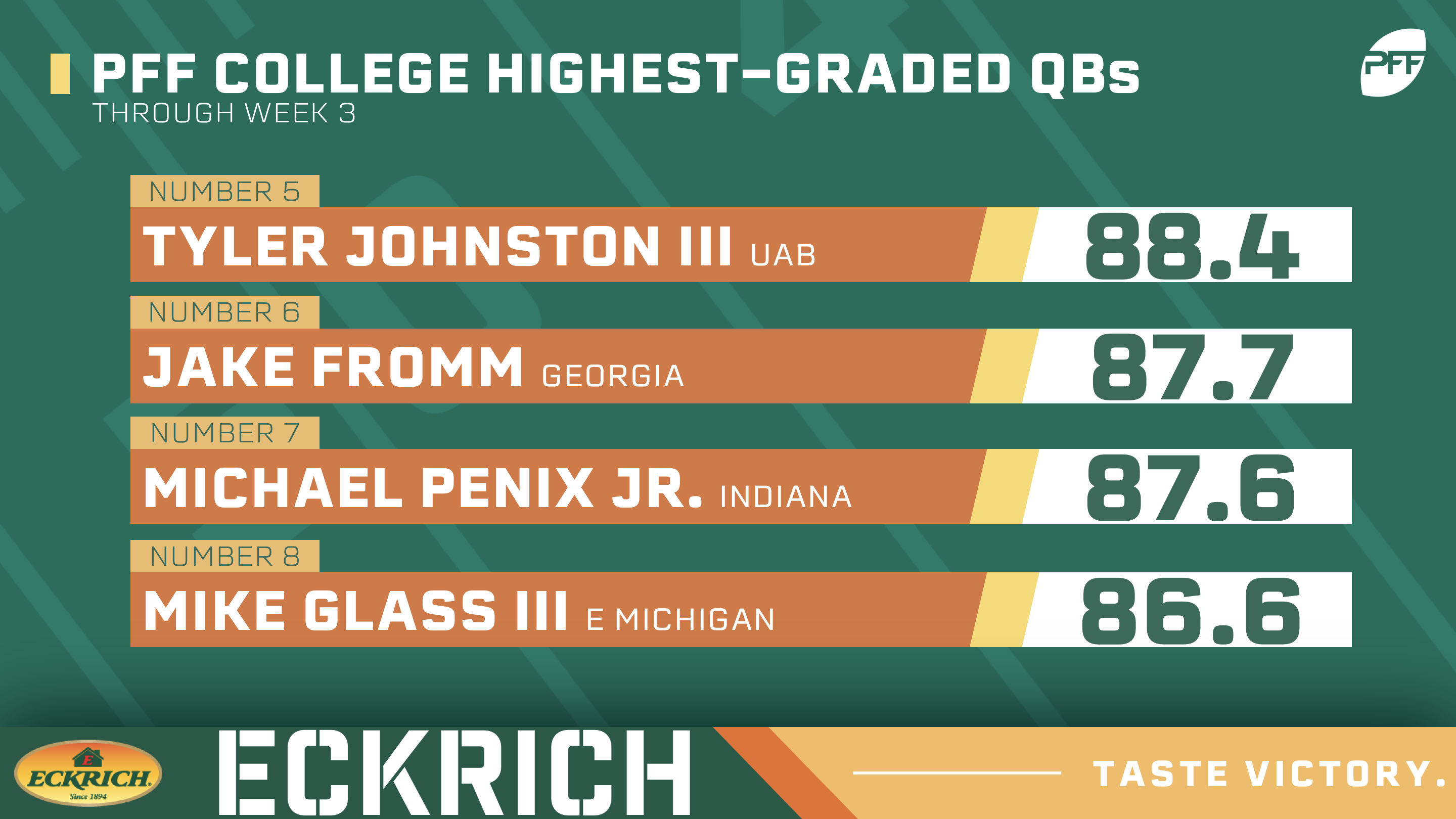 7. Michael Penix Jr., Indiana
The Indiana offense looked dramatically different with Peyton Ramsey at the helm against Ohio State as they certainly missed Penix in that one. In his two games, Penix has thrown for 506 yards and has an 80.7% adjusted completion percentage that ranks near the top among qualified quarterbacks. As it stands now, the Hoosiers will certainly hope he can return healthy as he's clearly been the spark that makes their offense move in 2019.
8. Mike Glass III, Eastern Michigan
Glass has some serious zip on his passes and he's demonstrated that with a national-best 10 big-time throws through the first three weeks of action. He had five of our highest-graded pass attempts against Illinois a week ago showing that he can sling the ball just the same against Power-5 schools and he may be a force to be reckoned with in the MAC this season.
9. Tyler Huntley, Utah
The nation's most accurate quarterback by our adjusted completion percentage standards, Huntley is throwing a catchable pass on 90.0% of his attempts this year. Granted, he's needed fewer attempts than most quarterbacks so far this season but when he has launched a pass, it's been catchable and been on target. He even threw for three deep touchdowns a week ago against Idaho State in a pretty display of passing.
10. Caleb Evans, UL-Monroe
Evans didn't get the victory over FSU in Week 2 thanks to his kicker but he's done more than enough to warrant his top-10 overall grade this year. He'll be put to the test in the Warhawks next outing against Iowa State in what should be the toughest defense he has to face all season long. Still, his performance against Florida State seems like he's ready to go into Ames and put up a fight.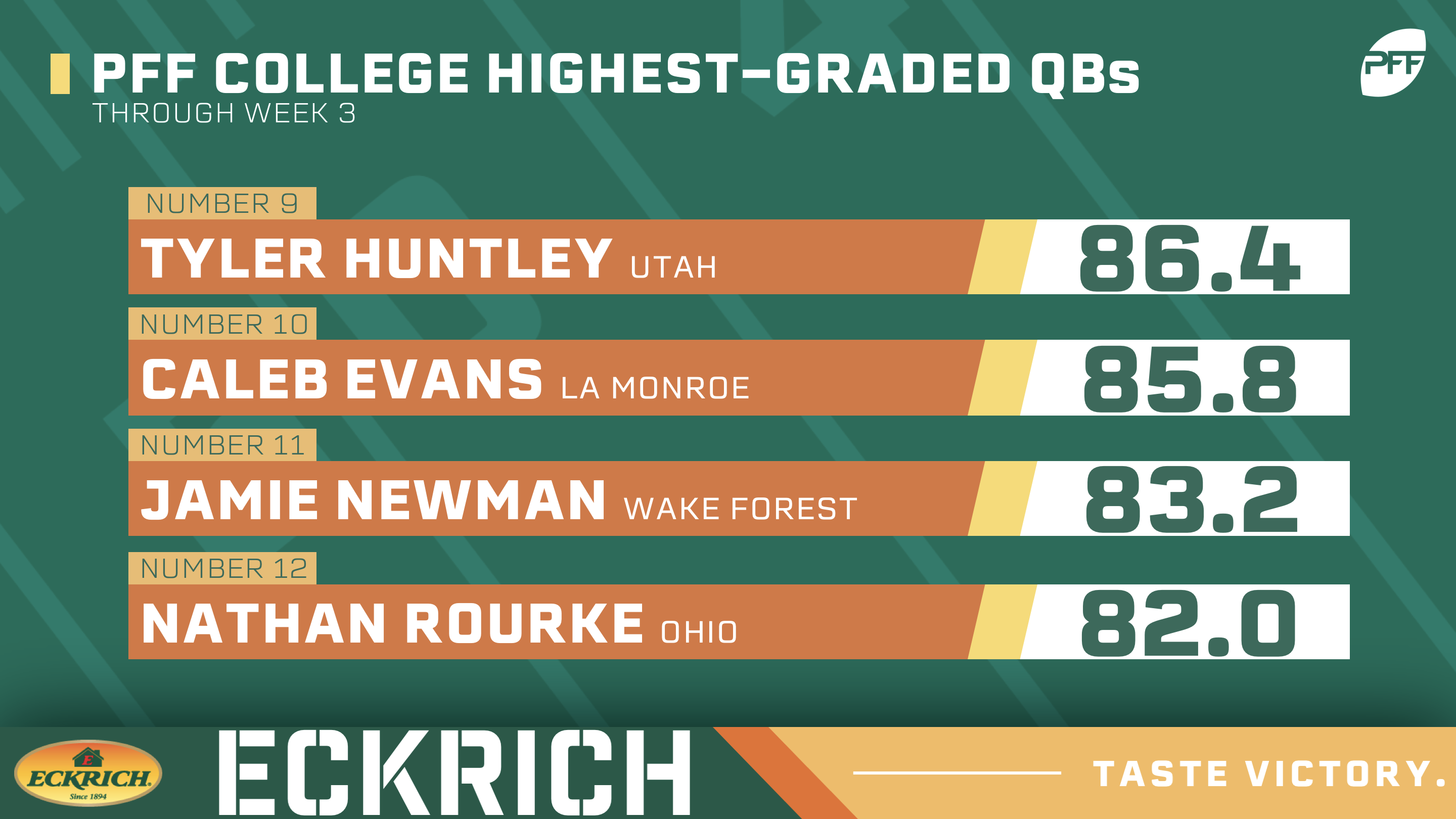 11. Jamie Newman, Wake Forest
Newman has dominated for the Demon Deacons through three games, answering just why he was able to beat out last year's season-opening starter in Jamie Newman for the job. Newman has four big-time throws this year compared to zero turnover-worthy passes and has thrown a catchable pass over 77% of the time. He's a dynamic guy with the ball in his hands and even has 126 yards on designed carries so far this year and forced nine missed tackles on the ground.
12. Nathan Rourke, Ohio
Rourke had his best game to date in the loss to Marshall a week ago, showcasing what makes him perhaps the Group of 5's most special quarterback. The senior leader of the Bobcats carried his team with a total of 118 yards on nine designed carries while he's unleashed four big-time throws through his three games. His rushing ability will go a long way in Ohio's quest for a MAC Championship this season, and there's no reason to think that he can't run (and throw) his way to the title.