The 2019 season begins this weekend and with that, the full set of 2018 data officially becomes history. We look ahead towards the top-graded players returning in each conference, keeping things going with the B1G.

PFF grades every player on every play of every game and has done so since the 2014 season. The play-by-play grading creates a subset of advanced statistics that help depict the college game at a level deeper than ever. The grades below are from 2018 and not a projection towards this coming season.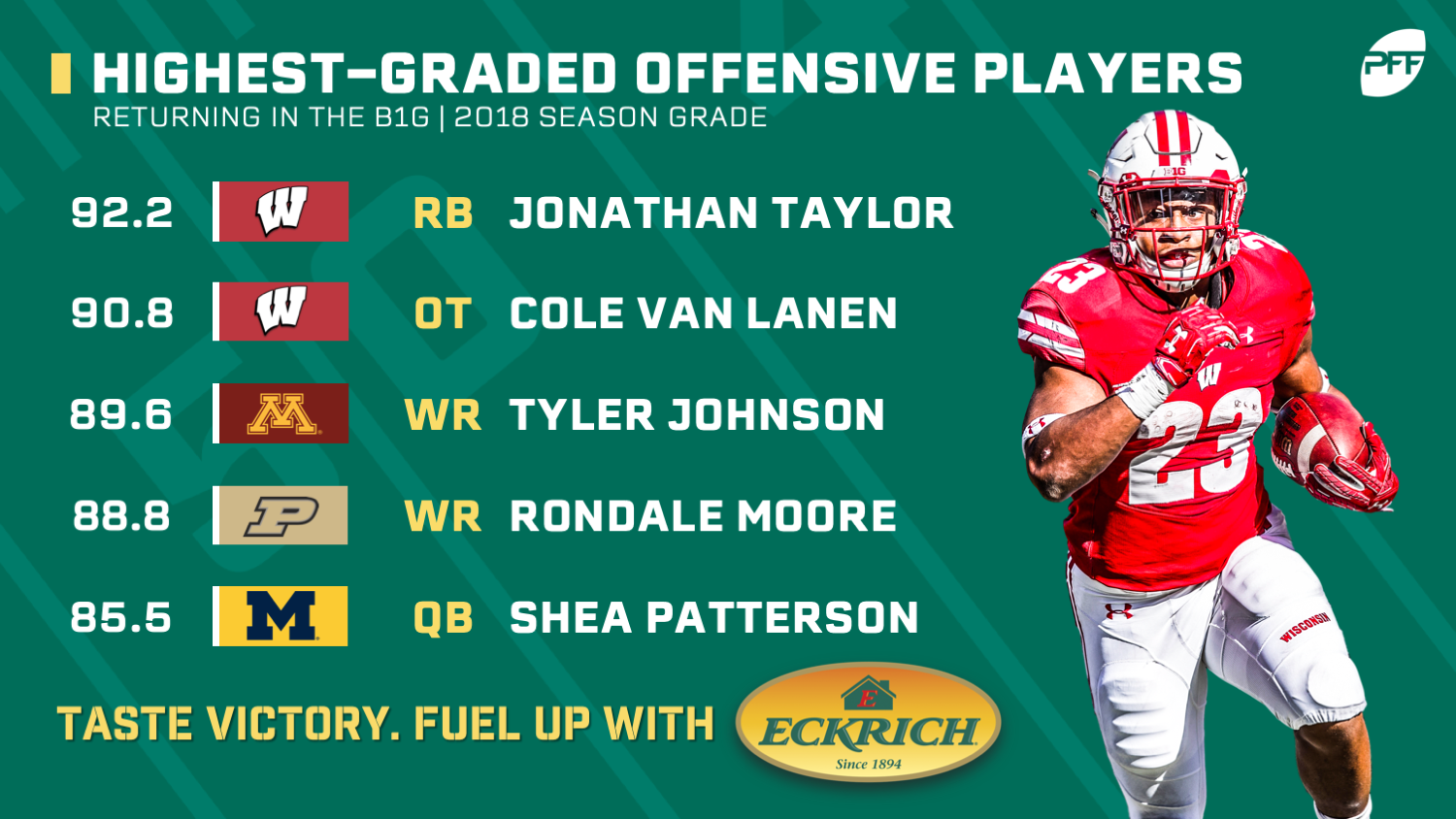 Offense
Quarterback
Justin Fields, Ohio State – 90.1*
Shea Patterson, Michigan – 85.5
Adrian Martinez, Nebraska – 73.8
Fields and Penn State's Sean Clifford are the newbies on the list of top-graded quarterbacks as Fields flashed elite-level talent while at Georgia last year and four of the five completions Clifford threw last year went down as big-time throws. Patterson is the highest-graded full-time starter from a year ago and Martinez really turned it on in Scott Frost's offense down the stretch.
Running Back
Jonathan Taylor, Wisconsin – 92.2
Reggie Corbin, Illinois – 84.6
Mohamed Ibrahim, Minnesota – 81.3
Anthony McFarland Jr., Maryland – 79.2
J.K. Dobbins, Ohio State – 77.4
Taylor has reached levels of elite grades and elite stats in consecutive seasons as he's topped 66 missed tackles and 1,300 yards after contact in 2017 and 2018. He's the class of running backs right now and returns to set the tone for another season in Madison.
Wide Receiver
Tyler Johnson, Minnesota – 89.6
Rondale Moore, Purdue – 88.8
JD Spielman, Nebraska – 84.1
K.J. Hill, Ohio State – 80.5
Donovan Peoples-Jones, Michigan – 78.2
The best group of receivers returns overall to the Big Ten this year as Johnson and Moore have elevated themselves into the national picture for top receiver in the country. Johnson is the highest-graded in the red zone and on money downs while Moore's 37 missed tackles forced after the catch lead the next closest receiver by eight.
Tight End
Jake Ferguson, Wisconsin – 79.4
Pat Freiermuth, Penn State – 68.3
Nick Eubanks, Michigan – 65.5
Brycen Hopkins, Purdue – 64.6
Cameron Glenn, Northwestern – 62.6
Ferguson is the highest-graded among the group, hauling in 36 catches for 27 combined receiving conversions (first downs + touchdowns). Hopkins is the after-the-catch threat of the group, racking up 283 yards after the catch and averaging 17.1 yards per reception.
Offensive Tackle
Cole Van Lanen, Wisconsin – 90.8
Alex Palczewski, Illinois – 80.4
Alaric Jackson, Iowa – 77.6
Rashawn Slater, Northwestern – 76.6
Tristan Wirfs, Iowa – 74.8
Wirfs and Jackson lead the charge in terms of draft projection from the Big Ten this season but Van Lanen was utterly dominant in each facet a year ago. His run-blocking grade is clearly the best in the conference while he allowed just six total pressures on 223 pass-blocking snaps last season.
Offensive Guard
Jonah Jackson, Ohio State – 73.8
Blaise Andries, Minnesota – 69.6
Ben Bredeson, Michigan – 68.5
Mike Miranda, Penn State – 67.2
Conner Olson, Minnesota – 66.7
The highest-graded returning guard by a long shot, Jackson transfers from Rutgers to the Buckeyes and immediately bolsters their offensive line. The duo from Minnesota is largely going underrated while Miranda played just 120 snaps last season but with great success.
Center
Tyler Biadasz, Wisconsin – 86.7
Jason Erdmann, Wisconsin – 74.7*
Michael Menet, Penn State – 73.4
Biadasz is the next in line from the factory of offensive linemen from Wisconsin to the NFL after dominating the competition last year. He leads the returning Big Ten centers by over 10 grade points in run blocking while he allowed 11 combined pressures from 332 reps in pass protection.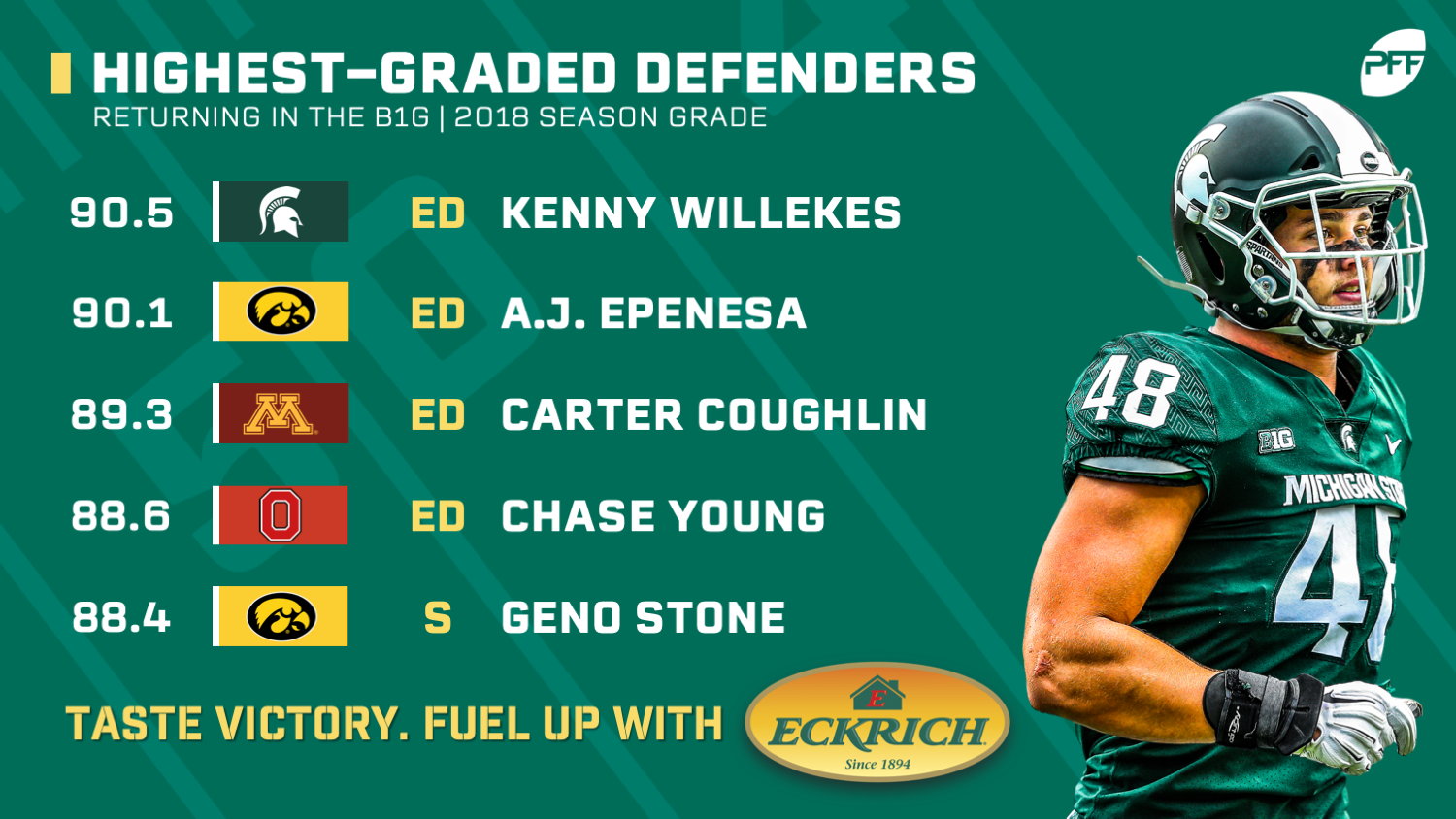 Defense
Edge Defender
Kenny Willekes, Michigan State – 90.5
A.J. Epenesa, Iowa – 90.1
Carter Coughlin, Minnesota – 89.3
Chase Young, Ohio State – 88.6
Joe Gaziano, Northwestern – 83.5
The leader in total QB pressures over the past two years highlights the pass-rushers returning to the Big Ten as they return the nation's best group of rushers. Young led all edge defenders in total pressures last year as he and Willekes will battle for the top spot this season.
Interior Defender
Raequan Williams, Michigan State – 83.6
Davon Hamilton, Ohio State – 83.2
Mike Panasiuk, Michigan State – 83.1
Robert Landers, Ohio State – 81.4
Lorenzo Neal, Purdue – 74.0
Williams and Panasiuk return along the Spartans defensive line with Willekes as they form a formidable front for any Big Ten offense sparring against them. Hamilton was a stout run defender a year ago while Landers complemented him nicely on the pass-rush.
Linebacker
Joe Bachie, Michigan State – 87.1
Paddy Fisher, Northwestern – 84.2
Markus Bailey, Purdue – 83.3
Antoine Brooks Jr., Maryland – 83.0
Josh Ross, Michigan – 78.7
Bachie, Fisher and Bailey each played over 870 snaps a year ago with the latter two topping 1,000 for their respective defenses. Bachie led them all in run-defense grade while Bailey leads the returning linebackers in coverage grade, allowing just 7.8 yards per reception as the primary coverage defender and no touchdowns allowed.
Cornerback
Coney Durr, Minnesota – 79.8
Tariq Castro-Fields, Penn State – 77.2
Marcelino Ball, Indiana – 76.6
Dicaprio Bootle, Nebraska – 76.6
Ambry Thomas, Michigan – 76.2*
Durr returns as the leader in overall grade while Bootle is the conference leader in pass breakups with 15. In fact, those 15 pass breakups lead all-Big Ten cornerbacks in total plays on the ball while Castro-Fields saw the lowest passer rating when targeted among the group at the top. Thomas played just barely 100 snaps but looked sharp in all facets a season ago.
Safety
Deontai Williams, Nebraska – 90.6*
Geno Stone, Iowa – 88.4
Eric Burrell, Wisconsin – 78.2
Travis Whitlock, Northwestern – 76.2
JR Pace, Northwestern – 76.1
Williams logged just 242 snaps including just 154 in coverage but was targeted 12 times on those snaps. He allowed five receptions with two interceptions and two more pass breakups in his limited snaps. The Northwestern duo each was strong in coverage allowing just 39 total receptions on 67 combined targets with four interceptions (all from Pace) and eight more combined pass breakups.