Some Notre Dame football records and stats span more than a century, all the way back to the year 1900. So when a current player has the chance to become the all-time leader in something, it's worth paying attention.
For 2022, that player is defensive end Isaiah Foskey. The now-senior star pass-rusher racked up 11 sacks last season, not just leading the team but also putting himself in the top 10 in the nation. Those 11 sacks also rank No. 3 on the single-season sack list in program history, behind only Stephon Tuitt (12, 2012) and Justin Tuck (13.5, 2003).
After that incredible individual season last year as a draft-eligible junior, why aren't we talking about Foskey as a pro right now?
"The main reason I came back to Notre Dame was to prove to everyone that I'm an all-around defensive end, that I'm not just a third down, get-to-the-quarterback defensive end," Foskey said in an interview with PFF. "The advisory board told me [needing to get better at run defense as an all-around player] are the things that were bringing me to a second-, third-round defensive end, where I was projected at last season. I see myself as a first-round draft pick, and that's what I'm going to be this season."
Heading into the season, PFF's preseason 2023 big board has Foskey as the 27th-ranked player and No. 6 edge rusher in what is shaping up to be a strong class at the position. For as much as Foskey might have already been honing his run-defense skills to up his draft stock, he probably deserves a bit more credit than he's letting on. Foskey's PFF numbers were up across the board last season, including in run defense, where his grade rose 14.5 points from the previous year.
| | | | | |
| --- | --- | --- | --- | --- |
| | OVR GRADE | RUN-DEF GRADE | PASS-RUSH GRADE | COVERAGE GRADE |
| 2020 | 61.0 | 64.1 | 56.1 | 61.2 |
| 2021 | 63.5 | 64.4 | 62.6 | 54.5 |
| 2022 | 80.7 | 78.9 | 77.5 | 63.3 |
Foskey was Notre Dame's highest-graded defensive player in 2021 with an 80.7 season grade. When you combine his 11 sacks last year with the 4.5 he got as a rotation player the previous season, that 15.5 career sack number puts him within striking distance of the Notre Dame all-time record — 24.5, set by Justin Tuck in 2004.
Another double-digit sack season will cement Foskey's name alone atop one of the most prestigious programs in college football history. And to do so, he's getting help from the very man whose record he's trying to break.
"I know Justin Tuck personally," Foskey said. "We've been going back and forth. He's been helping me by showing me some of my film, showing me what I should and shouldn't do. … You really don't hear of people trying to help you break their own record. That's why I feel like it's different with Notre Dame."
This offseason, Foskey has been going through his game with a fine-tooth comb. Now that he's gotten a taste of the production his athletic ability can provide, he's eager to see the result after infusing more discipline in how he deploys that ability.
"I'm looking at the little minor things that I need to better myself of last year," Foskey said. "I really just want to focus on my hands when I'm getting off the ball, my hands in run defense. Eliminating any false steps. We're working on where to place my hands when going inside. Little fine-tuning things that can make myself a better football player."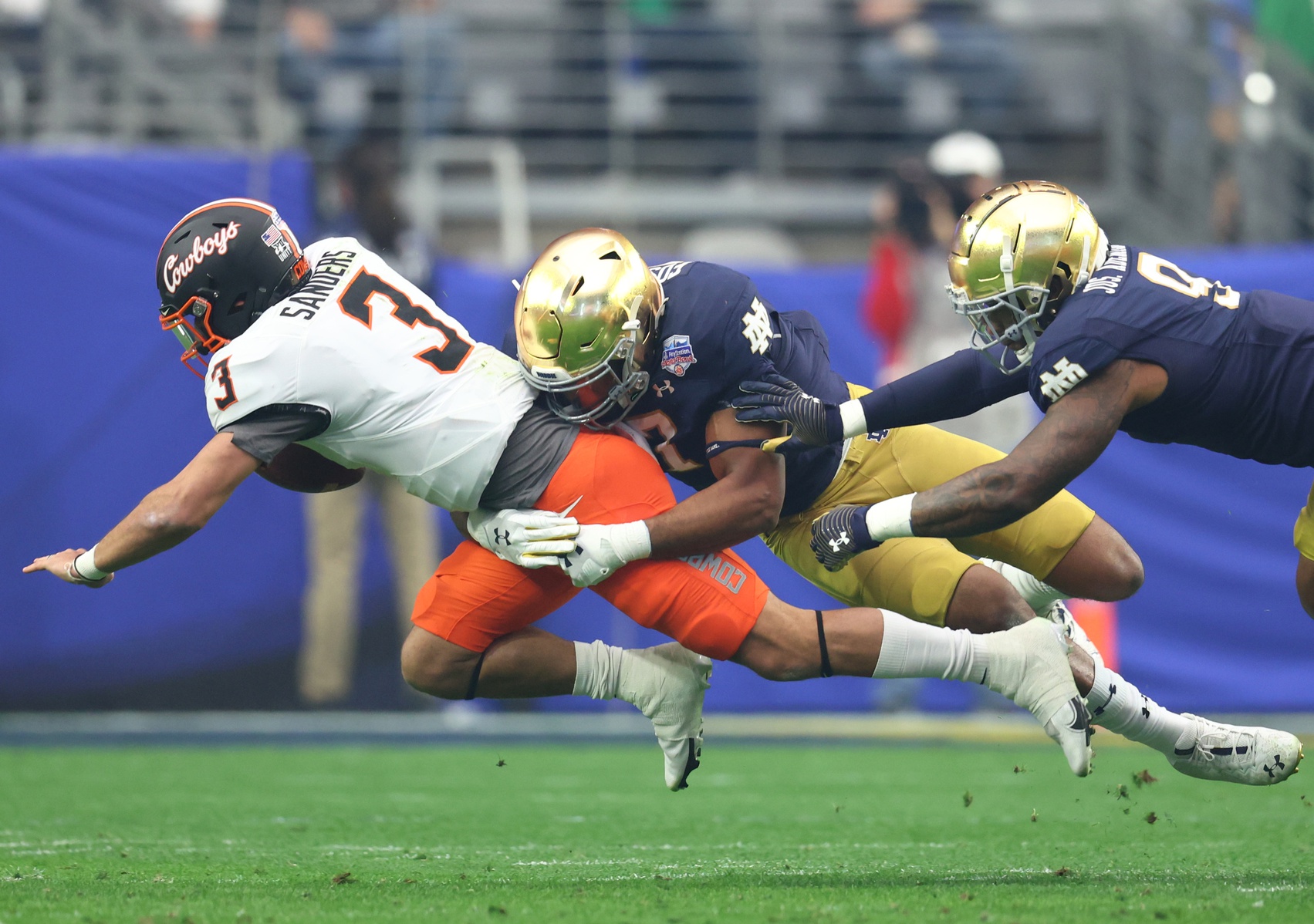 Foskey's backfield production last year was one of the best, but from an efficiency standpoint, he knows he has room to improve. His 32 total pressures, 13.4% pass-rush win rate and 11.2% pressure percentage (advanced stats that measure how effective a rusher is on a snap-by-snap basis) all ranked outside the top 50 among FBS pass-rushers last season. One way we might see those numbers rise is in positional usage.
At 6-foot-5 and 270 pounds, Foskey may be viewed as a true hand-in-the-dirt defensive end. But that's not what the film or the snap counts say. Instead, you'll see Foskey on the line of scrimmage in a two-point stance as an outside linebacker. In fact, over the past three seasons, Foskey has played 750 snaps at either right outside linebacker or left outside linebacker and just 19 total snaps with his hand in the dirt thus far.
But that doesn't mean it's out of the question. Foskey said there's a chance we could see more of him with his hand down this year, even if he's comfortable as a stand-up linebacker.
"I like being up in a two-point stance," Foskey said. "I'm able to see the whole offense. I can see the tendencies, the formations, the tight ends, the running backs, where the quarterback's eyes are. I also feel like running track back in high school has really helped me be explosive out of a two-point stance. I actually think I'm a little bit more explosive out of a three-point stance, but I like being able to see everything."
Notre Dame opens up the college football season at Ohio State this year. That means Foskey will get to go up against another player who could be a first-round pick: Buckeyes offensive tackle Paris Johnson Jr. If Foskey can find more backfield success against Johnson to start the season, that Notre Dame legacy and first-round goal he's shooting for will both be within reach.