The Oklahoma Sooners scored 28 points for the 31st consecutive game, extending their own record and defeating the TCU Horned Frogs on Saturday, 52-27. Oklahoma was paced by their quarterback and Heisman Trophy candidate Kyler Murray as the Sooners rebounded from the loss to Texas just two weeks ago.
This recap is brought to you by Eckrich, the Official Smoked Sausage of the College Football Playoff.
Murray was lights out from a clean pocket but also had his moments when dealing with pressure in his face. On eight pressured dropbacks, Murray finished 4-of-5 for 80 yards and two touchdowns as his only incompletion came as he was hit while throwing. On the day, he finished 19-of-24 for 213 yards and four touchdowns and a game-high 90.8 overall grade.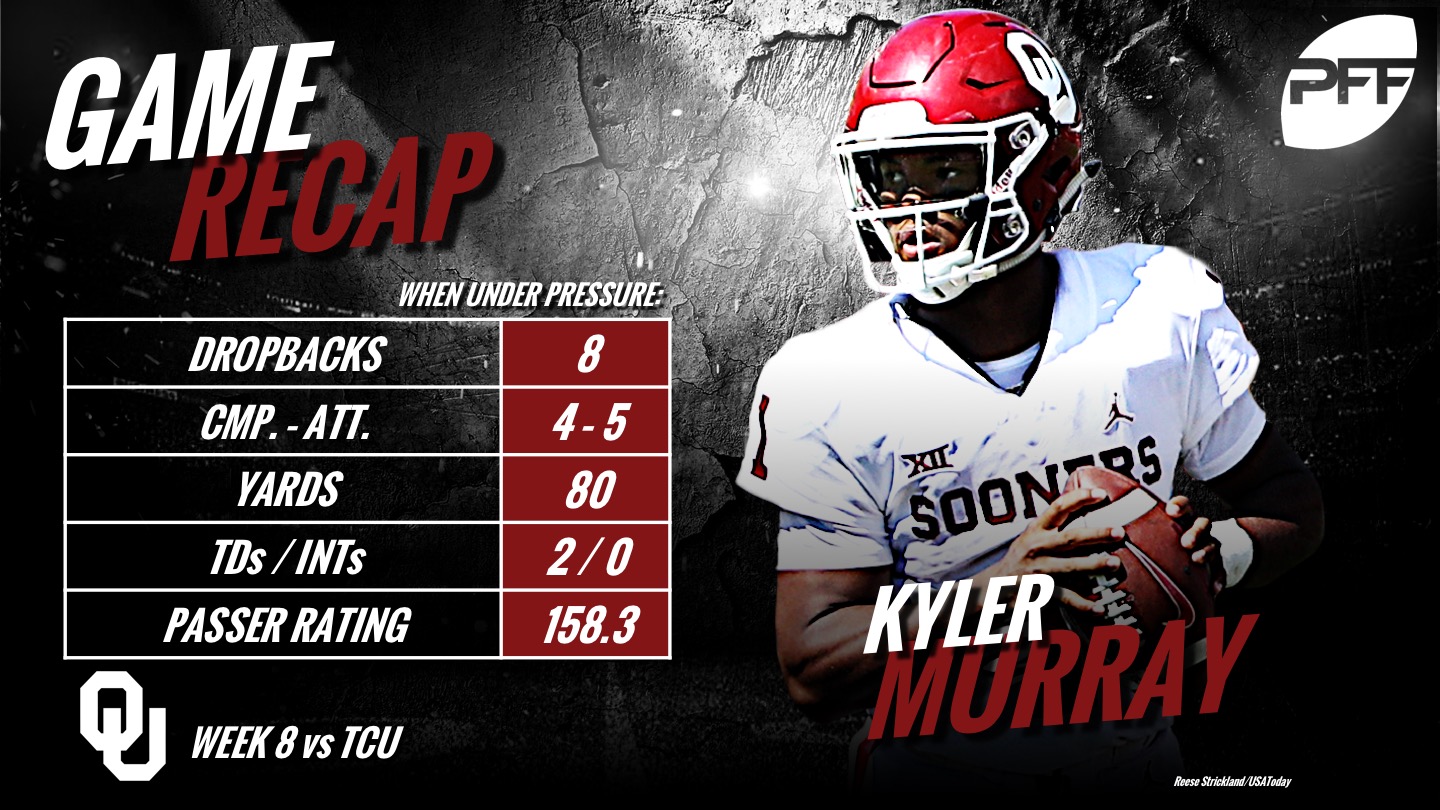 Murray particularly lit up the middle of the field as well, completing 15-of-17 passes for 145 yards and two of his touchdowns, all leading to a 141.4 passer rating on passes targeted between the numbers. On the season, Murray has now thrown for 25 touchdowns compared to just three interceptions as he's thrown for at least three touchdowns in six games and at least four touchdowns in his past three.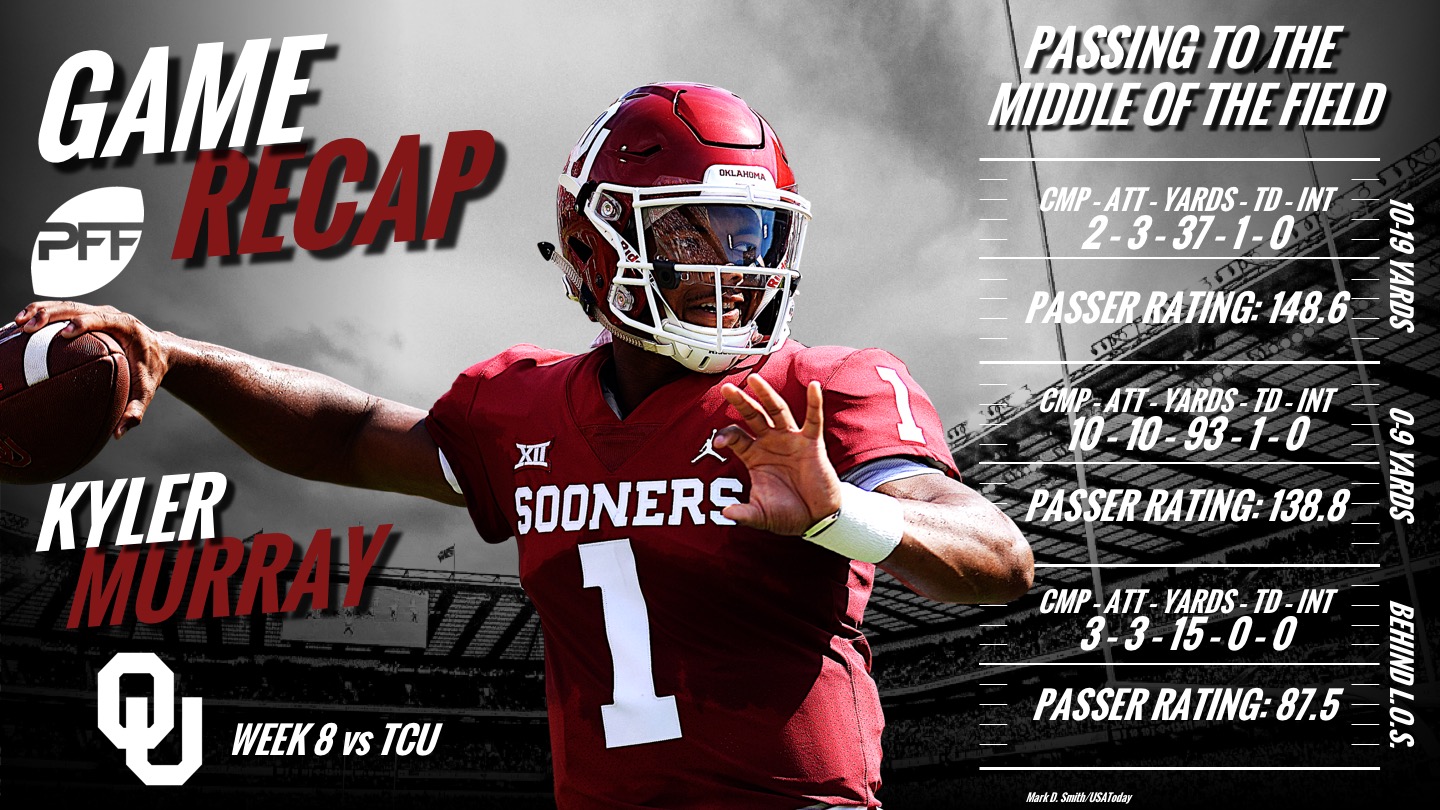 Despite injuries to Rodney Anderson at the running back position, Oklahoma has not missed much in that regard as Trey Sermon has stepped up. However, Saturday saw potentially what could be with the Oklahoma 1-2 punch of Sermon and Kennedy Brooks. Together, the two combined for 35 carries, 278 yards including 144 after contact and 13 missed tackles forced on their combined carries.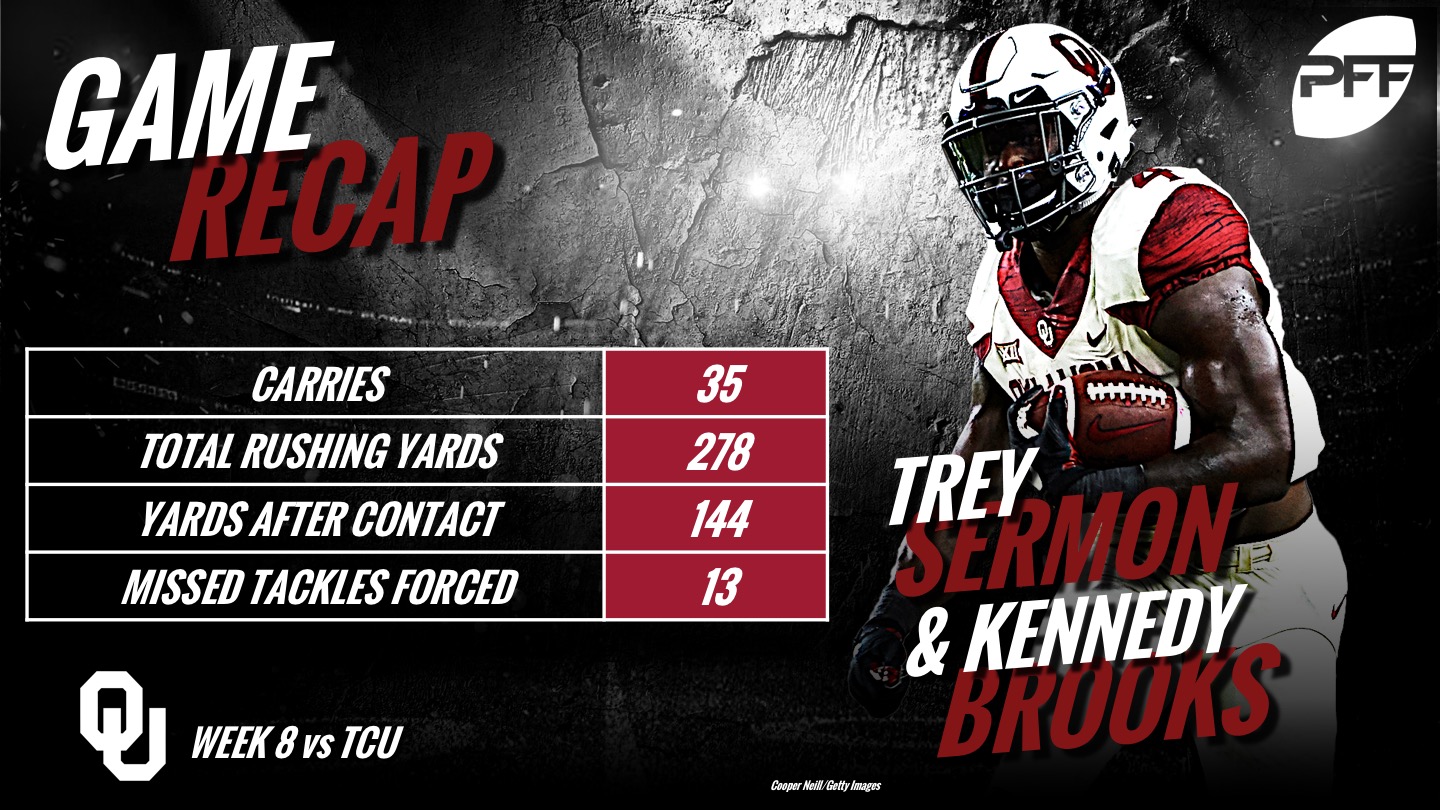 On defense for Oklahoma, they were led by LB Kenneth Murray who made eight solo tackles including four defensive stops while he was also solid in coverage. On 28 snaps in which he dropped back, Murray was targeted three times and allowed two receptions, yet actually kept Horned Frogs receivers to negative yardage on his targets.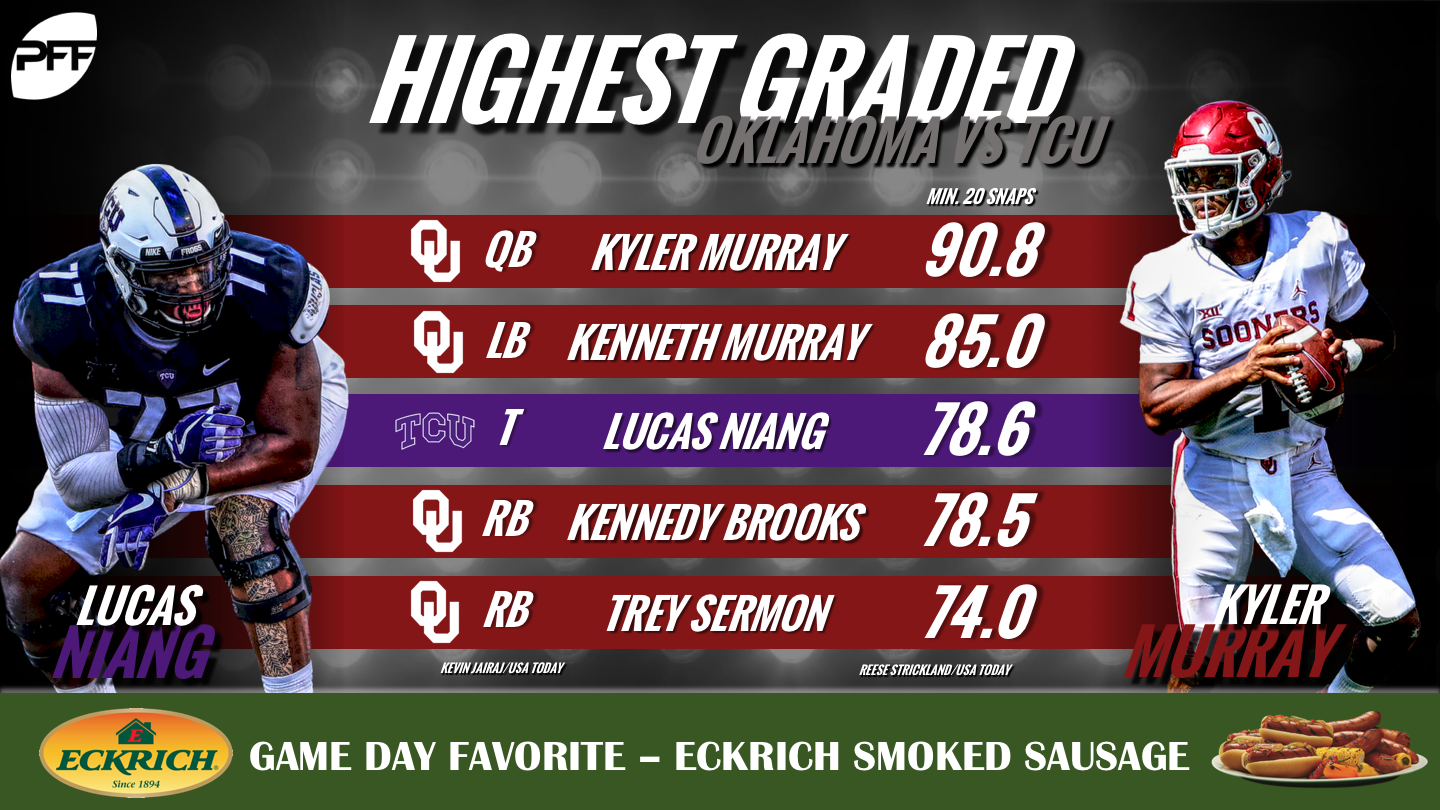 For TCU, they were led by offensive tackle Lucas Niang and his team-high 78.6 overall grade. Shawn Robinson had arguably his roughest outing yet as a member of the Horned Frogs, finishing with a 29.3 overall grade on 14 snaps before being replaced by Michael Collins. While Collins had his moments in replacement, it was much of the same with him at the helm as he finished with just a 34.3 overall grade, completing just 7-of-18 passes for 142 yards and an 85.9 passer rating on his throws.
As a team, TCU generated just eight pressures against Oklahoma, however, outside of edge defender Ben Banogu, they were relatively unsuccessful with their pass-rush. Banogu recorded five of the eight total pressures for TCU on Saturday.
Oklahoma's chances at the College Football Playoff remain intact and if they get another performance like this one from their signal-caller, all signs point to their regular season finale against West Virginia carrying a lot of weight at their postseason chances.