A collective exhale was sent through Memorial Coliseum late on Friday night as Jay Tufele blocked the game-tying field goal attempt to seal a thrilling victory over Washington State. Already with one conference loss, the Trojans can ill-afford another slip up if they hope to preserve any semblance of their waning Pac-12 Championship hopes. As far-fetched as a conference championship may have seemed after Texas ran them out of the building, is there a path to the Trojans emerging as Pac-12 champions?
Let's examine a hypothetical roadmap:
This feature on USC is brought to you by Eckrich, the Official Smoked Sausage and Deli Meat of the USC Trojans.
Keep JT Daniels clean and on schedule
Given the circumstances, true freshman quarterback JT Daniels has performed admirably through his first four collegiate games. Though he is currently PFF's lowest-graded quarterback in the Pac 12 (49.8 overall grade), Daniels has shown glimpses of the five-star talent that landed him the starting quarterback position in August.
Predictably, Daniels looks like a bona fide Pac-12 quarterback when operating from a clean pocket, while turning into a completely different player when under pressure. Many young quarterbacks suffer this dichotomy.
When given a clean pocket, Daniels has a respectable 93.8 passer rating (11th). However, his passer rating freefalls to a paltry 26.9 (12th) when under pressure, a near 67-point decrease that ranks as the fourth-largest clean/pressure difference in the Pac-12.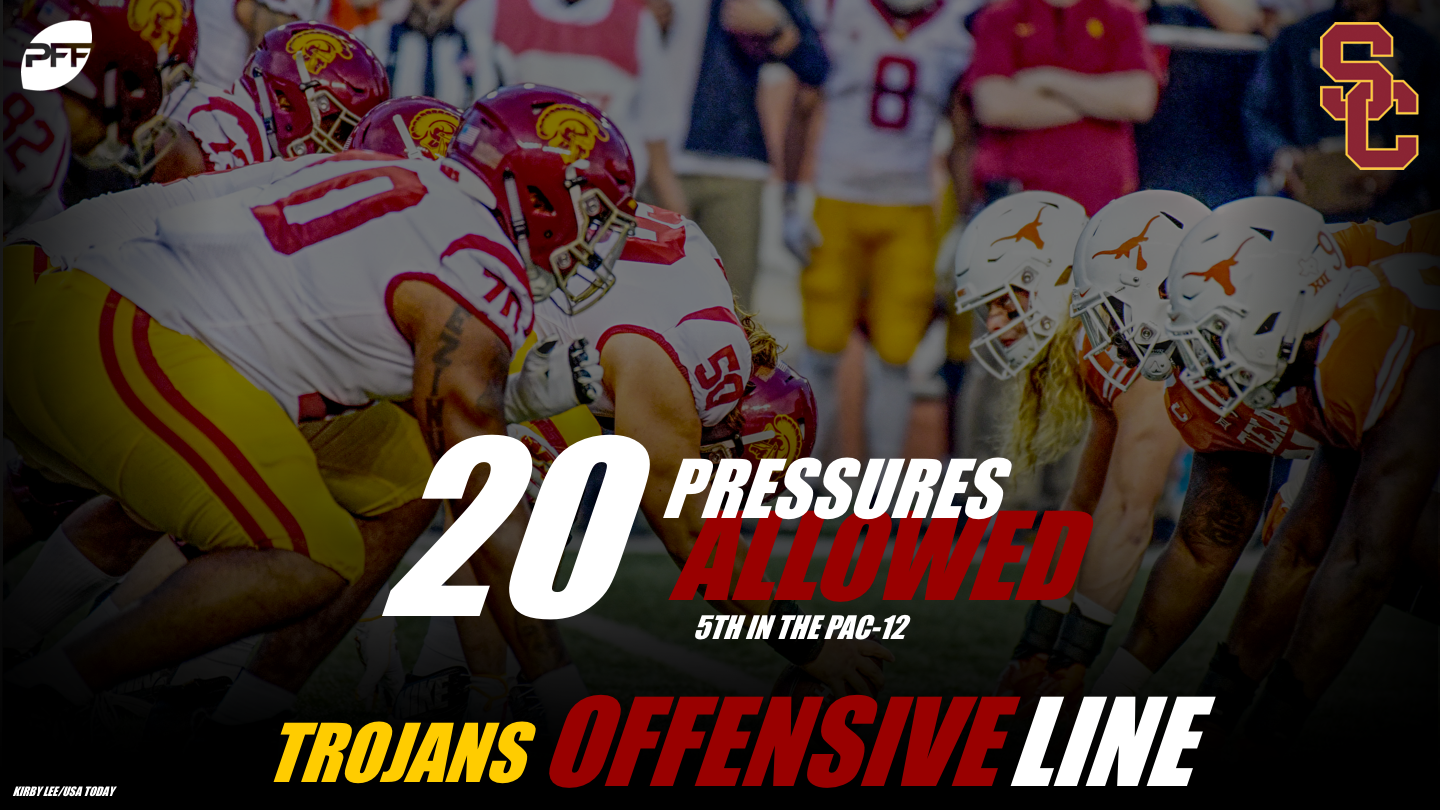 In USC's two victories, Daniels was pressured on just 16.2% of his dropbacks, a number that would rank as the lowest in the Pac 12 for the season. In USC's two losses, Daniels' pressure rate spikes to 26.7% (seventh). Coincidence?
The quick-passing game can be a valuable resource to protect quarterbacks from pressure problems. In plays with a snap to attempt of less than two seconds, Daniels has thrown for two touchdowns and a 71.7% completion percentage with a 99.0 passer rating and zero interceptions. Contrast this with his performance on plays with a snap to attempt greater than two seconds, where Daniels passer rating and completion percentage plummet to 73.7 (11th) and 51.1%, respectively.
USC schedule lacking formidable pass-rushes
Conveniently, USC does not have any of the NCAA's premier pass-rushes remaining on their conference schedule. Among the 130 FBS teams, USC's opponents have PFF pass-rush ranks of @ Arizona (119th), vs. Colorado (41st), @ Utah (22nd), vs. Arizona State (97th), @ Oregon State (130th), vs. California (69th), and @ UCLA (100th).
Circle the Colorado and Utah games on your calendars as these matchups will likely determine the winner of the Pac-12 South. While the Colorado matchup will take place in the friendly confines of Memorial Coliseum, USC will have to travel to Utah where Chase Hansen (73.3 pass-rush grade, third among Pac-12 LBs) awaits in what could amount to a de-facto elimination game. Clearly, the position switch from safety to linebacker has worked out for Utah's Hansen.
Each of the last two seasons, the winner of the Pac-12 South has finished with no more than one conference loss. USC still controls their own destiny and will need to win the remainder of their conference games to feel confident about a potential Pac-12 Championship berth.
One more slip-up and their season could be left to the cruel fate of a tiebreaker.
Final word 
The roadmap to USC winning the Pac 12 starts and ends with protecting their young quarterback. When USC keeps the heat off Daniels, they have demonstrated the ability to go toe-to-toe with anyone in the Pac-12.
Despite the tumultuous start, all of USC's preseason goals remain intact. Can they keep the momentum going on Saturday against the Arizona Wildcats in Tuscon?