For the third-straight week, our College Pick of the Week (NC State (+17.5) versus Clemson) fell flat, leaving us at 3-5 (37.5%) on said picks through the season's first eight weeks. Alas, we're back to it, going to one of the service academies with our pick this week.
The line (Army (+2)) has moved since we recorded the video yesterday to +1, showing that, like roughly 65% of our picks this year, we are getting closing line value on our picks. Even then, we still think the wrong team is favored, as our number is more like Army (-2.5). As we do each week, our pick of the week will get the point/counterpoint analysis, and the rest of our picks printed below.
Army (+2) at Eastern Michigan
Prediction: Army 30-27 (Army wins and covers)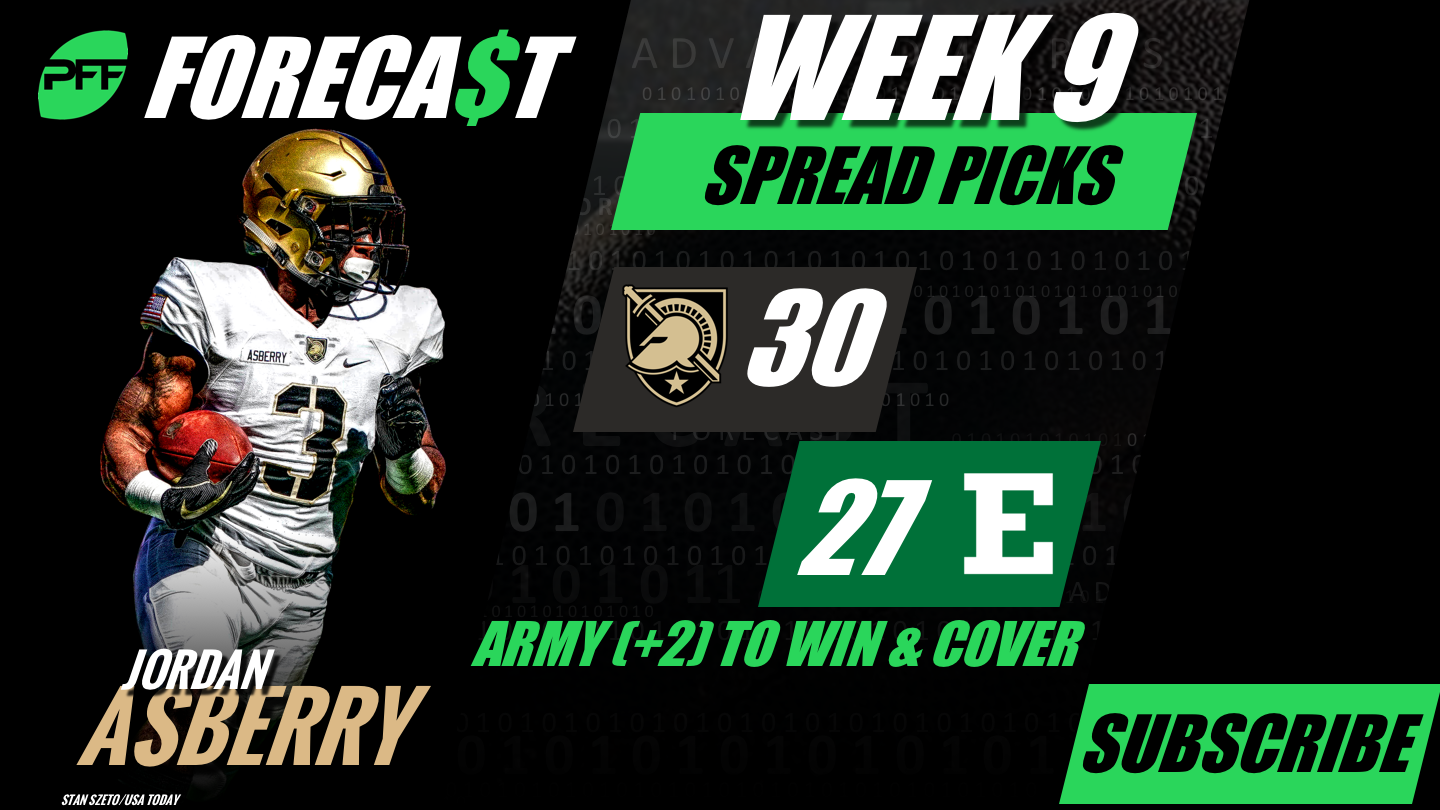 Point (Eric Eager): There's no bigger proponent of the running game than me literally anyone else in the world than me. However, almost 45% of early-down runs against Eastern Michigan have been successful so far this year, meaning that their biggest weakness plays into Army's strength, being the fourth-highest-graded run-blocking team in the league (all other run-related palpitations are to be sent to @PFF_George). On the other side of the ball, Army is able to compete with anyone due to a solid defensive unit, which missed just three tackles against 27 total stops against Miami (OH) in an overtime win a week ago. Elijah Riley has been a complete player in the backfield, with multiple pressures, pass breakups and plus coverage the last few weeks.
Counterpoint (Ben Brown): Eastern Michigan is coming off a quality win against Ball State where they completely dominated all facets of the game. Tyler Wiegers had one of his highest-graded passing games of 2018. Backup quarterback Mike Glass III also offers more upside than Wiegers and should see a healthy dose of reps if he is available coming back from injury. Combined in 2018, they have an EPA generated per early-down pass attempt of 0.11 with 47% of their attempts being successful from an EPA standpoint. Passing is always supreme, at home with the better passing game, the Eagles could easily snatch a victory away from Army. Completely random and unpredictable but the Eagles have also been fortunate to force 10 fumbles in the running game. If they get a lucky bounce on Saturday, it could turn into a long game of catch up for Army.
Spreads:
SMU (+10) versus Cincinnati
Georgia State (+3.5) versus Coastal Carolina
UCLA (+10) versus Utah
USC (-6.5) versus Arizona State
Penn State (-6.5) versus Iowa
Kansas (+14) versus TCU
Georgia Southern (+10.5) versus Appalachian State
Georgia (-6.5) versus Florida
Connecticut (+4.5) versus Massachusetts
Ohio (-10.5) versus Ball State
Virginia Tech (-3) versus Georgia Tech
Akron (-4.5) versus Central Michigan
Florida State (+16.5) versus Clemson
Army (+2) @ Eastern Michigan
Tulane (+2.5) @ Tulsa
San Diego State (-2.5) @ Nevada
Northern Illinois (+7) @ BYU
Florida International (-3.5) @ Western Kentucky
UNLV (+2.5) @ San Jose State
UAB (-16) @ UTEP
Boise State (-9) @ Air Force
Illinois (+18) @ Maryland
USF (+7) @ Houston
Over / Under:
Washington @ California (Over 45)
Wyoming @ Colorado State (Over 46)
Army @ Eastern Michigan (Over 48)
Tulane @ Tulsa (Over 50.5)
Cincinnati @ SMU (Over 53)
San Diego State @ Nevada (Over 47.5)
Vanderbilt @ Arkansas (Over 52.5)
Kentucky @ Missouri (Over 54.5)
Rice @ North Texas (Over 55)
Northern Illinois @ BYU (Over 43.5)
Oregon State @ Colorado (Over 63.5)
Utah @ UCLA (Over 54.5)
Toledo @ Western Michigan (Under 68)
Georgia Tech @ Virginia Tech (Under 58.5)
Middle Tennessee @ Old Dominion (Under 60)
New Mexico State @ Texas State (Under 56.5)
USF @ Houston (Under 74)
Clemson @ Florida State (Under 51)
New Mexico @ Utah State (Under 63.5)