One of the premier games of the Week 7 college football slate — LSU vs. Florida — may have been postponed due to a COVID-19 outbreak, but we still get to watch a scintillating matchup between the third-ranked Georgia Bulldogs and the second-ranked Alabama Crimson Tide in a clash that has both SEC and College Football Playoff implications.
With the help of PFF grades and advanced statistics — which are now available to PFF's CFB Premium Stats+ Subscribers — we will give you everything you need to know ahead of this week's top college football matchups. Please note that any picks and predictions made here are not reflective of PFF Greenline or our expert betting analysts. For this week's college football betting advice, click here!
Friday, Oct. 16 — 6:00 p.m. ET, ESPN
The duo of Shane Buechele and Reggie Roberson Jr. was once one of the top quarterback-to-receiver connections in the Group of Five, but now the wide receiver is out for the season after suffering a knee injury in Week 5 — a game that saw the deep threat record 243 yards and two touchdowns on five catches en route to an 89.1 PFF grade and PFF Team of the Week honors.
It's a massive loss for SMU. The team will need Rashee Rice to step up in his absence, but he needs to cut down on the mistakes he has made so far. Rice is a weapon after the catch — he has broken six tackles on 16 catches while averaging 8.4 yards after the catch per reception — but he has also dropped 20% of his catchable targets and coughed up the ball on a fumble.
SMU can still lean on running back Ulysses Bentley IV, a big-play threat who has produced a 10-plus-yard gain on 28.6% of carries, third in the FBS. However, it won't be easy for him to sustain that against the Green Wave, as they rank seventh in the FBS in explosive run (10-plus-yard carries) rate allowed, at 8.7%.
While Tulane's run defense isn't something to be worried about, their coverage unit certainly is, especially after the Week 6 collapse against Houston. Tulane allowed 0.42 expected points added (EPA) per pass play to Houston after the first quarter and gave up an explosive pass play of 15 or more yards on a third of their plays in the final three quarters, the second-worst of the 58 teams in Week 6. After six weeks, Tulane ranks 69th of 76 FBS schools in explosive play rate allowed.
Treash's prediction: SMU, but my expectations for the rest of the Mustangs' season are significantly lower without Roberson.
Seth's prediction: SMU. I like a lot of what Tulane does, but SMU is just too good this year.
For our PFF Greenline game preview that includes win and cover probability, click here.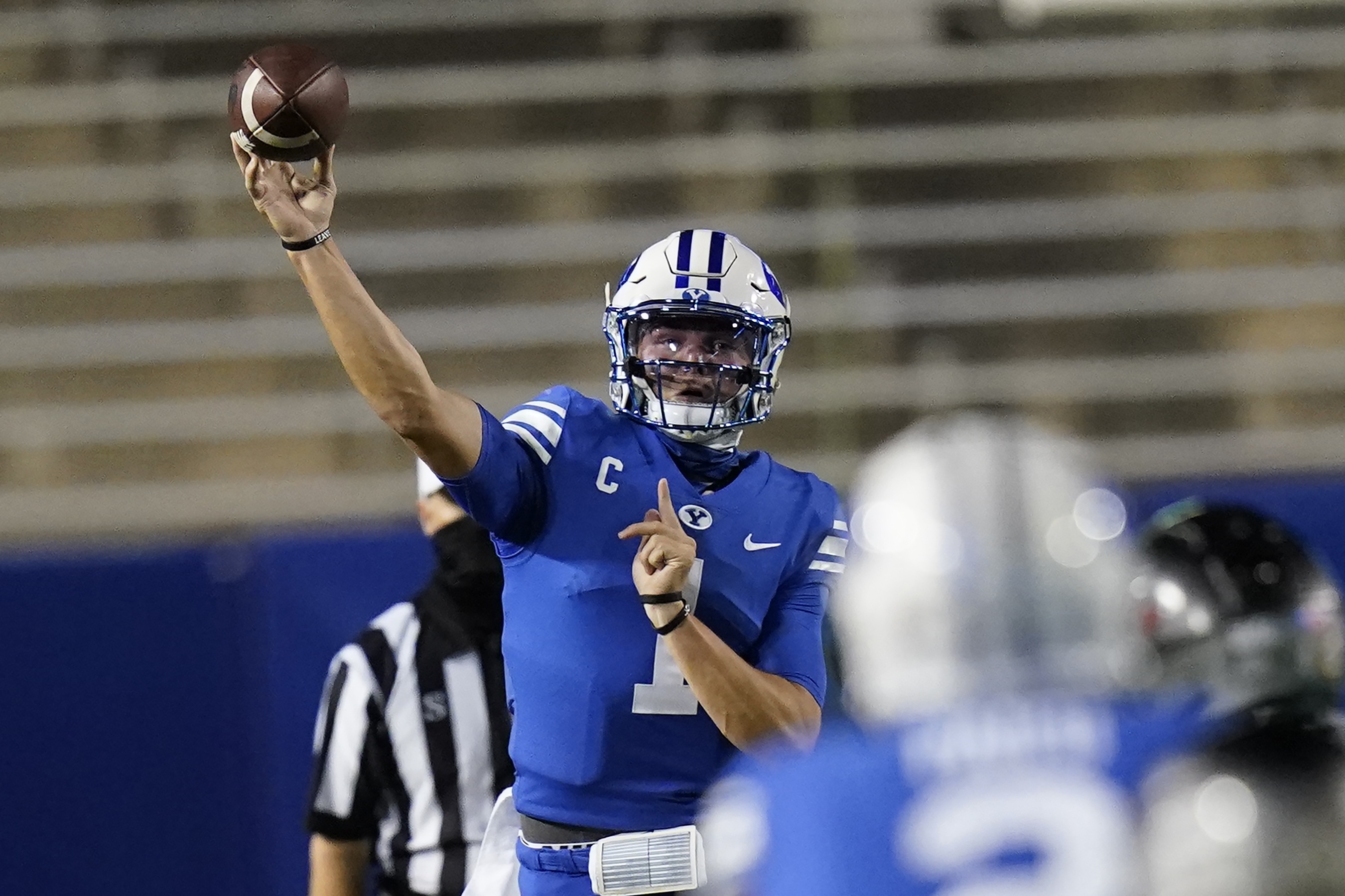 Friday, Oct. 16 — 9:30 p.m. ET, ESPN
Last week was another Heisman-level performance for BYU quarterback Zach Wilson, his fourth straight game that earned a passing grade above 85.0. Wilson's season-long passing grade now sits at 93.9, the best in college football.
It hasn't come against the most impressive set of defenses — Navy, Troy, LA Tech and UTSA — and he has seen a high rate of clean pockets, but the way Wilson is playing is incredibly impressive, no matter the competition level. Just 7% of his total pass attempts have been charted as uncatchable, per PFF's ball location data, the second-lowest rate in the country and over three times lower than the college football average.
We don't know too much about this Houston team, as they've played just one game so far this season after weeks of delayed openers due to COVID-19, but they showed off a menacing pass-rush unit in that Week 6 game. Edge defenders Derek Parish, Payton Turner and D'Anthony Jones all earned pass-rush grades above 86.0 and combined for 18 total pressures on the day. Those three teamed with David Anenih, who led the team in pass-rush grade (80.8) and pressures generated (37) in 2019, will undoubtedly pose a problem for a stout BYU offensive line that hasn't allowed a sack over the last four games.
Treash's prediction: BYU, though I do think it'll be a close one.
Seth's prediction: BYU. We don't know much about Houston, and we know that BYU is a death machine this year.
For our PFF Greenline game preview that includes win and cover probability, click here.
---
Saturday, Oct. 17 — 12:00 p.m. ET, ABC
This matchup pits the ACC's highest-graded passer (Trevor Lawrence, 91.5) against the ACC's lowest-graded passer (Jeff Sims, 44.0) and the conference's highest-graded coverage unit (Clemson, 89.6) against the conference's 11th-ranked coverage unit (Georgia Tech, 61.9). Things might get ugly.
Lawrence is coming off an up-and-down game against the Hurricanes. He uncorked a couple of big-time throws (one of which was dropped) and recorded his first turnover-worthy plays of the year, with three. He left the game having earned a PFF grade of only 63.0, his lowest of the season to date. Nevertheless, the Clemson passer still ranks in the top three among college quarterbacks in passing grade thanks to his hot start to the year.
On the defensive side of the ball, Derion Kendrick and Andrew Booth Jr. are looking a lot like a top-five cornerback duo; the two cornerbacks respectively rank first and third in the ACC in coverage grade when lined up outside, and they have combined to allow just four catches on 20 targets with two interceptions and nine forced incompletions.
The best thing about this Georgia Tech team has been the run game, which has generated 27 explosive runs of 10 or more yards, tied for the third-most in the ACC. They have been far more efficient running the ball than passing it, and that's not good, especially when they only rank eighth in the ACC in run-play efficiency, even with their impressive number of explosive runs.
Treash's prediction: Clemson by a million. A bold prediction, since this pick was boring: Clemson intercepts four passes, and Derion Kendrick has two of them.
Seth's prediction: Clemson. Ok, next.
For our PFF Greenline game preview that includes win and cover probability, click here.
---
Saturday, Oct. 17 — 12:00 p.m. ET, ACCN
Clemson put the clamps on quarterback D'Eriq King through the air last week — the Miami quarterback finished the game at a passing grade of 64.6, and the Hurricanes' passing offense was the least efficient of the week.
The mobile King did his usual damage on the ground, with four runs of 10 or more yards and seven broken tackles on 11 carries. Despite the underwhelming passing performance against Clemson, King still has an 84.7 passing grade for the season and is the only quarterback with a grade above 80.0 as both a passer and runner. His PFF overall grade of 90.4 is the fourth-best in the country.
King will once again have his hands full this week, as this Pitt defense is the fourth-highest-graded unit in the country, mostly due to the formidable defensive front. Pitt is the only FBS team to rank in the top three in both defensive line run-defense and pass-rush grade this season. The Panthers have pressured the opposing quarterback on 47% of plays, the highest in the conference by nine percentage points, so it's no wonder why the team has allowed the second-best EPA per pass play in the ACC.
Treash's prediction: D'Eriq King couldn't care less about Pitt's pass-rush — he's going to make plays regardless. Miami.
Seth's prediction: Pitt. This is the Kenny Pickett coming out party.
For our PFF Greenline game preview that includes win and cover probability, click here.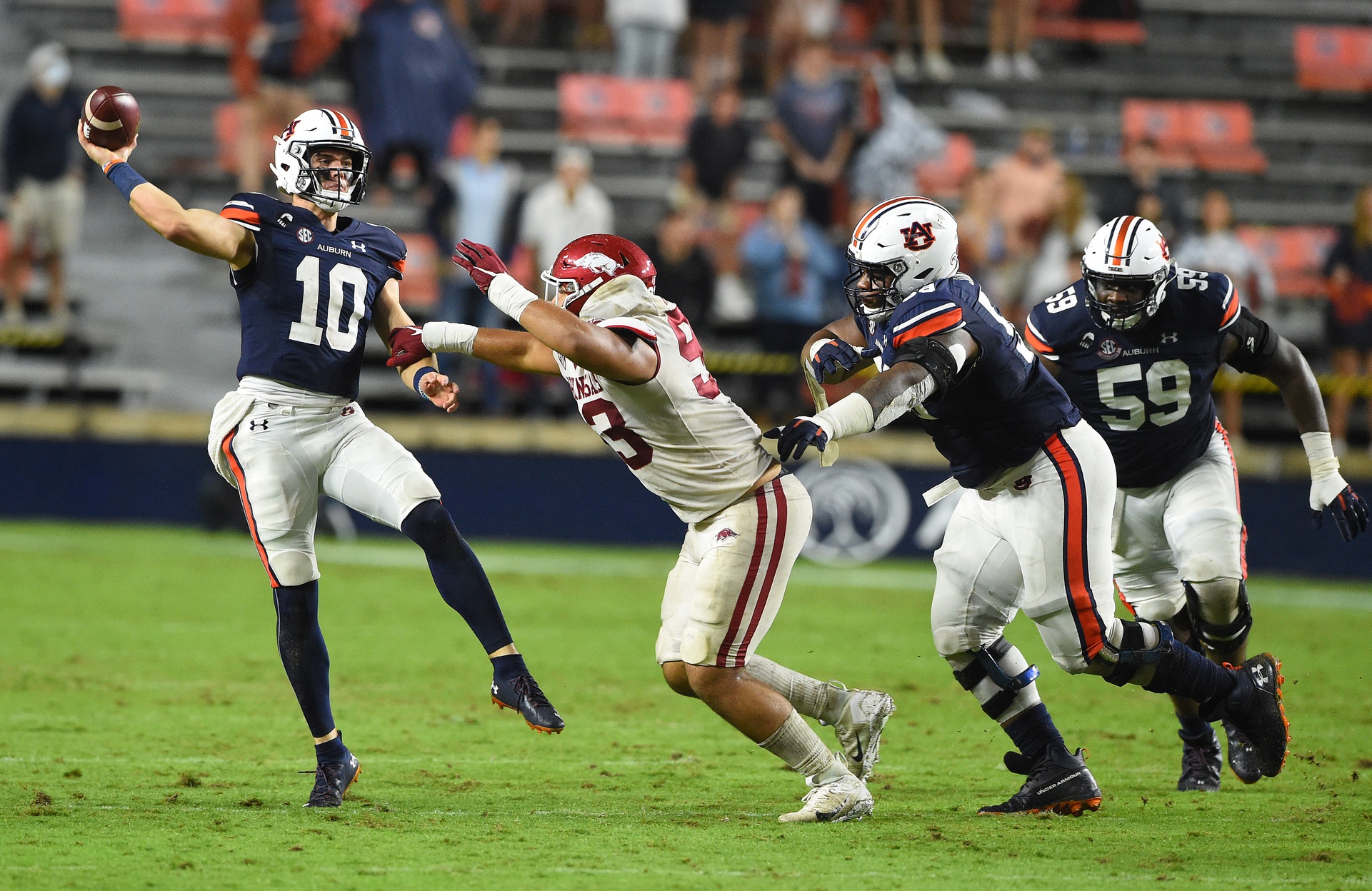 Saturday, Oct. 17 — 12:00 p.m. ET, ESPN
This Auburn Tigers team should be 1-2, considering the blown call at the end of the Arkansas game when quarterback Bo Nix, who was looking to spike the ball to set up a game-winning field goal, fumbled the snap then spiked the ball behind him. The referees called it an incomplete pass — not a fumble, as it should have been. Alas, the Tigers are 2-1 and ranked 15th in the country.
Nix hasn't been much better than he was as a true freshman. He's making errant throws and bad decisions, and he's generally been inaccurate on a throw-for-throw basis. He's recorded the second-worst negatively graded throw rate in the SEC and has led Auburn to the fourth-worst passing offense in the SEC in EPA per pass play. The fact he has bailed on the pocket nearly a quarter of the time doesn't help matters, either.
Auburn's defense has also been underwhelming in 2020. The Tigers had the third-highest-graded defense in the SEC last year but have dipped to 11th through six weeks of the 2020 campaign.
Cornerback Roger McCreary has been the Tigers' saving grace. He's the fourth-highest-graded corner in the conference and made one of the most impactful plays of the season in the opener against Kentucky when he picked off Terry Wilson in the end zone to close out the first half. Had the Wildcats scored, Auburn would've been down a touchdown entering the half.
Treash's prediction: While I agree with Seth that South Carolina isn't very good, I don't think Auburn is very good, either. South Carolina.
Seth's prediction: Auburn. I don't think South Carolina is very good.
For our PFF Greenline game preview that includes win and cover probability, click here.
---
Saturday, Oct. 17 — 12:00 p.m. ET, SECN
Volunteers quarterback Jarrett Guarantano has been one of the most inaccurate quarterbacks in the country. He has thrown an uncatchable ball on 36% of his throws beyond the line of scrimmage, the worst in the SEC, and that's a major reason why he's earned the second-worst passing grade in the conference, at 57.8. Guarantano and the Tennessee offense could just not get much cooking against Georgia in Week 6, as they produced positive EPA on only 30% of their plays — the lowest mark in the conference in Week 6.
Kentucky has handled the run with ease in 2020 and enters Week 7 with the second-best team run-defense grade in the conference. Their pass coverage has been inconsistent, however. Their secondary ranked 16th in our preseason rankings, but they have only looked like that when they played Mississippi State's Air Raid last week. In the two games prior, the Wildcats ranked dead last in the SEC in EPA per pass allowed and gave up an SEC-high 150.1 passer rating. They returned all their critical cogs in the secondary from last year's unit that produced the fourth-best coverage grade in the conference, but they have not been able to replicate that success so far.
Treash's prediction: Kentucky.
Seth's prediction: Kentucky. I'm off the Tennessee bandwagon, but I hope they prove me wrong.
For our PFF Greenline game preview that includes win and cover probability, click here.
---
Saturday, Oct. 17 — 2:30 p.m. ET, NBC
Notre Dame has a stellar defense and offensive line, but things haven't been great at the most important position on the field. Quarterback Ian Book has failed to take advantage of the offensive line he has in front of him, as he has recorded a 66.5 passing grade from a clean pocket, the third-worst in the ACC. He has struggled to get anything going downfield, as well, and has just one big-time throw on the year — every other ACC offense has at least four.
The Irish rushing attack has generated more 10-plus-yard gains than the Book-led passing offense (27 vs. 22). They've been more than twice as efficient in the running game than in the passing game, and that isn't going to get your team very far against top-tier competition.
Book and the Irish passing attack will get to face a Louisville coverage unit that has been by far the worst in the ACC, though. The Cardinals have earned a 41.4 coverage grade in 2020, over 13 grading points lower than any other ACC team. They have also allowed a 120.1 passer rating on passes thrown 10 or more yards downfield, the worst mark in the conference. If Book can pick apart this defense, I'd be pressing the panic button.
Treash's prediction: Notre Dame will win by a lot, but I need to see Ian Book at least prove he can play at an elite level.
Seth's prediction: Notre Dame. Notre Dame has a better roster top to bottom.
For our PFF Greenline game preview that includes win and cover probability, click here.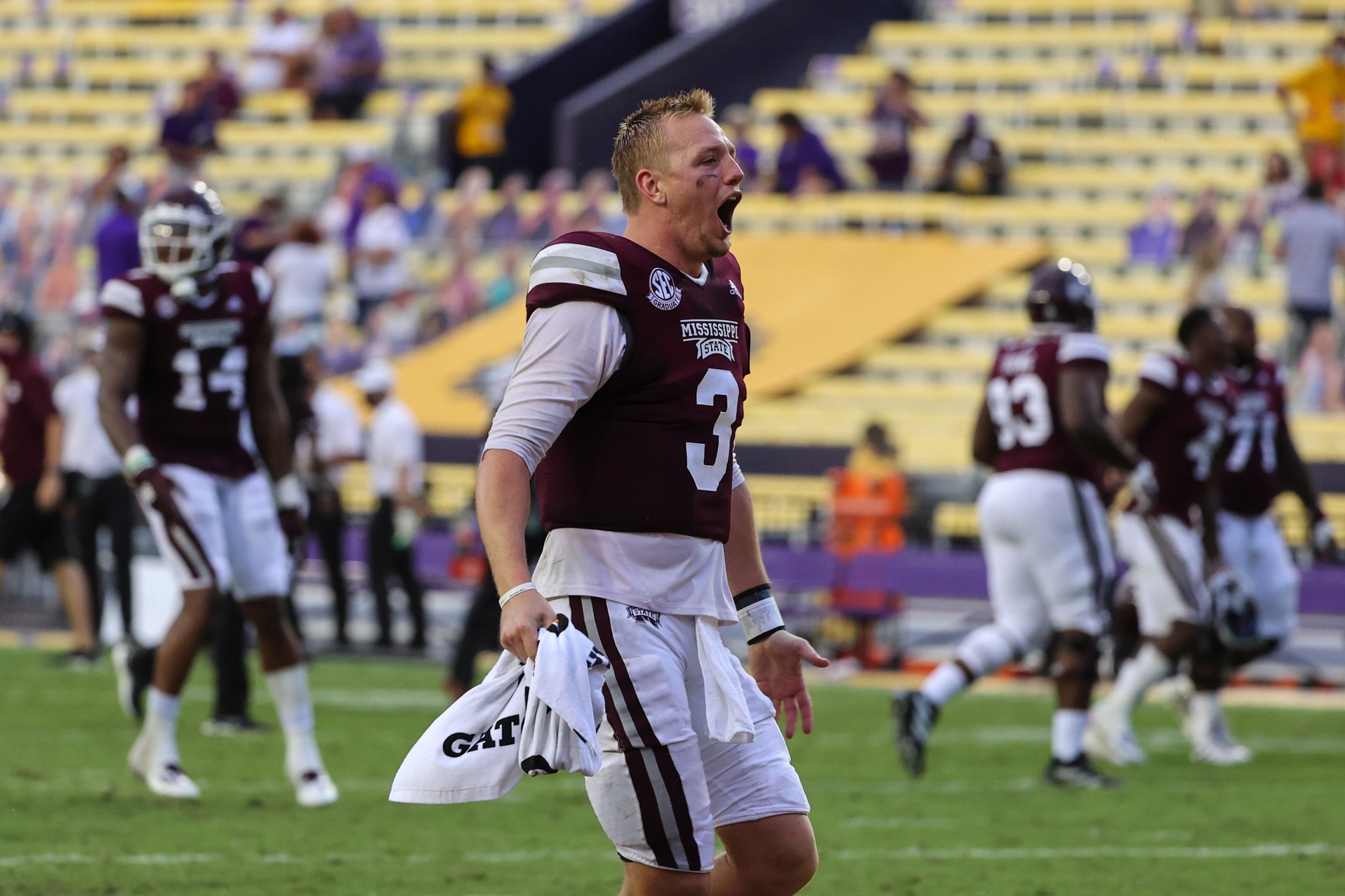 Saturday, Oct. 17 — 4:00 p.m. ET, ESPN
After upsetting LSU in their season opener, K.J. Costello, Mike Leach and Mississippi State were flying high — they cracked the AP Top 25, and Costello was the subject of some early Heisman chatter.
Then they got exposed by Arkansas in Week 5. Then they got exposed again by Kentucky in Week 6. Why is that? Well, those two schools properly defended the Air Raid. It's more nuanced than this, but in short, they dropped eight into coverage and played a lot more zone coverage than LSU did in Week 4. The Tigers played zone on 24% of their snaps against Mississipi State, and Costello left the game with a 75.7 passing grade. Arkansas and Kentucky played zone on 77% and 90% of their snaps, respectively, and Costello limped to passing grades of 51.3 and 52.3.
The good news for Costello and the Bulldogs is that unlike Arkansas and Kentucky, Texas A&M's coverage unit is pretty bad. The Aggies rank 71st among 76 FBS programs this year in coverage grade and EPA allowed per pass, and their 139.6 passer rating allowed is actually the worst.
Texas A&M may have upset Florida last week, but their defense had very little to do with it. It was the Aggies' offense that took advantage of a struggling Gators defense and nearly went perfect on third and fourth down, converting on 13 of 16 plays. Quarterback Kellen Mond was solid if unspectacular, earning a 70.8 PFF grade and leading the fourth-most-efficient SEC offense of the week.
Treash's prediction: Mississippi State. I have no faith in the Aggies' coverage unit.
Seth's prediction: TAMU. The most exciting thing to watch here is if Leach adapts and tries something new.
For our PFF Greenline game preview that includes win and cover probability, click here.
---
Saturday, Oct. 17 — 7:30 p.m. ET, ABC
The 1-2 punch of Michael Carter and Javonte Williams is among the best in college football, and they lead a backfield that has broken off an explosive play of 10 or more yards on 27.5% of run plays — the highest rate in college football by 2.5 percentage points. This week, the pair will face off against a Florida State defense that has underwhelmed up front and allowed the second-most EPA per rush play in the ACC.
All eyes will be on NC quarterback Sam Howell and whether he can get back to last year's aggressive playstyle. A season ago, he posted the third-highest average depth of target in the ACC at 11.6, but that mark has dropped to 7.7 this year — the lowest in the ACC. Howell also led the conference with 38 deep-ball completions in 2019 but has completed just two in three games in 2020, both were last week.
If North Carolina is to have any hope of upsetting Notre Dame — or possibly even Clemson — in the 2020 ACC Championship Game, they have to take shots down the field. Florida State cornerback Asante Samuel Jr., the ACC's fourth-highest-graded cornerback, isn't going to make that easy for him this week, however.
Treash's prediction: North Carolina.
Seth's prediction: UNC. Let's start playing like the Tar Heels that played Clemson tight last season.
For our PFF Greenline game preview that includes win and cover probability, click here.
---
Saturday, Oct. 17 — 8:00 p.m. ET, ACCN
Led by running back Khalil Herbert, Virginia Tech's ground game has been among the most explosive in college football this year. The Hokies as a whole have ground out 0.35 EPA per run play, the top mark in the Power Five — and that's more efficient than every single ACC team has been passing the ball.
This Week 7 game will see the Hokies face a Boston College defense that has defended the run reasonably well, as they rank 12th in the FBS in run-defense grade so far. However, the Eagles' greatest strength isn't their run defense; it's their secondary. The team possesses the second-highest-graded outside cornerback unit in the ACC behind only Clemson, and cornerbacks Josh DeBerry and Brandon Sebastian respectively rank second and 10th in the ACC in PFF grade. Safety Mike Palmer has been even more impressive, producing the best PFF grade in the conference among players at his position.
Those three won't make it easy on Virginia Tech quarterback Hendon Hooker as he makes his first start since last season. Hooker missed the first two games of the year due to COVID-19 protocol and came off the bench to throw 13 passes against North Carolina last week. He only managed a 54.1 passing grade — and he added a turnover-worthy play — on that limited sample, but Hooker was the sixth-highest-graded quarterback in the ACC in 2019 after he became the starter in Week 6.
Treash's prediction: VA Tech by a hair.
Seth's prediction: VT, but I don't know why. I still don't know what Hokie team will show up. We haven't seen them at full strength yet, but I think they're a good team.
For our PFF Greenline game preview that includes win and cover probability, click here.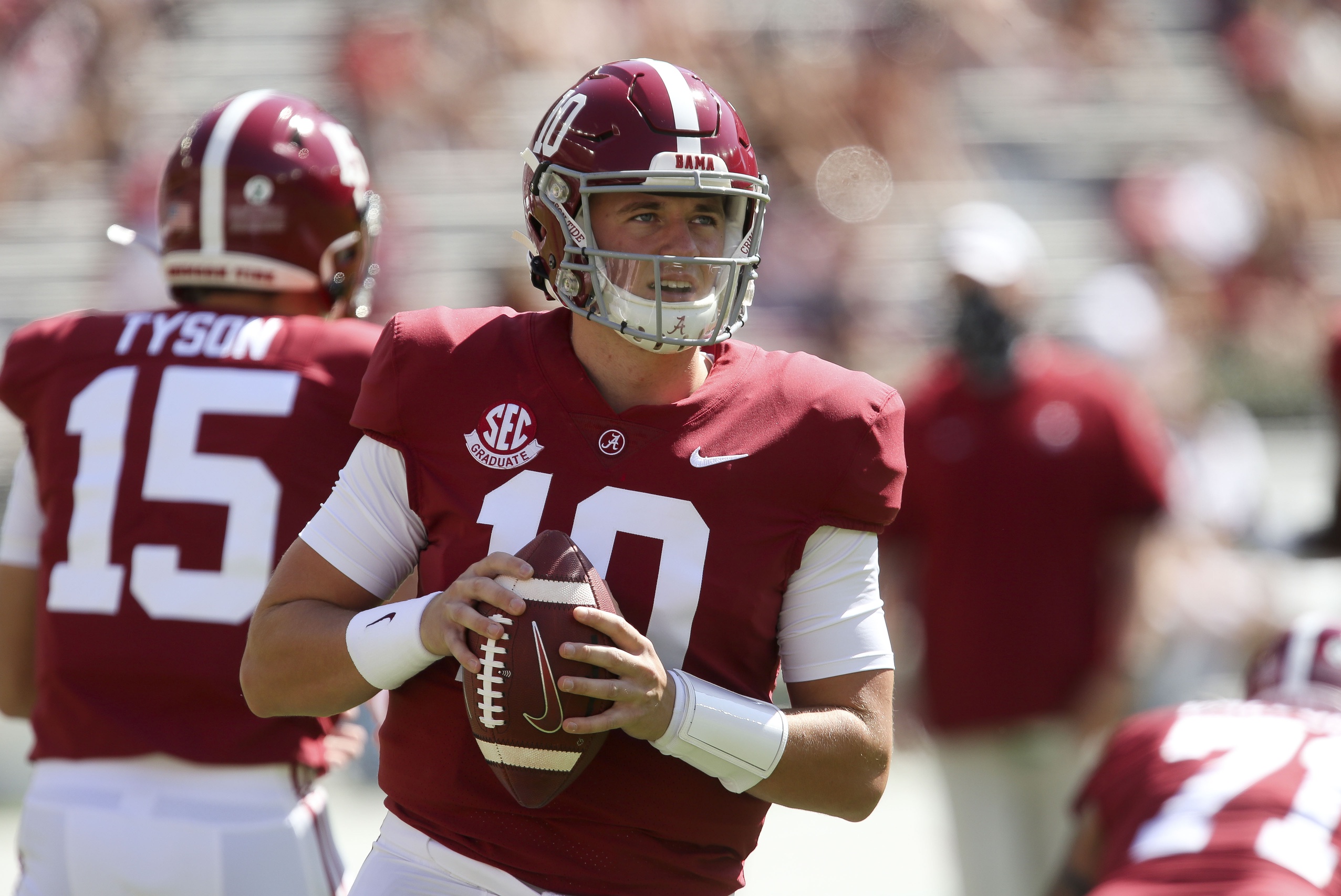 Saturday, Oct. 17 — 8:00 p.m. ET, CBS
This might just be the most exciting and impactful regular-season clash of the 2020 college football season. If Georgia wants to secure a spot in the College Football Playoff, they will have to beat Alabama this weekend or win out and beat them in the 2020 SEC Championship Game (assuming the Crimson Tide makes it that far).
Despite losing Tua Tagovailoa, Jerry Jeudy and Henry Ruggs III, this Alabama offense hasn't skipped a beat in 2020. They have generated 0.49 EPA per play this season, the best in college football by a substantial margin (second is at 0.37).
And while quarterback Mac Jones was good after taking over for the injured Tua for the last few games of 2019, he has looked far better this season. He's actually the highest-graded quarterback in college football, at 94.3. The supporting cast and system are favorable and as good as any in the country, but very rarely has he let go of a bad throw. Jones has had just four uncatchable passes in 2020; his uncatchable-pass rate of 5.4% is the best in the country and over four times lower than the FBS average. Jones also has DeVonta Smith, Jaylen Waddle and John Metchie III to throw to — three wide receivers who rank in the top eight in the conference in PFF grade.
While Alabama's defense allowed 48 points to Ole Miss last week, that had more to do with the high-flying Rebels offense than poor defensive play. Lane Kiffin attacked the middle of the field with their slot weapons and altogether avoided his outside receivers, who found themselves in the near-lockdown coverage of Josh Jobe and Patrick Surtain II, who both rank in the top five in PFF grade among SEC cornerbacks and have yet to allow an explosive play.
It'll be vital for Georgia quarterback Stetson Bennett to get off to a hot start, which he hasn't done this year. His passing grade in the first two quarters of play ranks dead last in the SEC. But in the second half, Bennett has racked up the best passing grade in the SEC. The Bulldogs defense will be the most formidable opponent the Crimson Tide faces all year long. Their pass coverage has been stellar so far, as they have allowed the lowest rate of positive EPA per pass play in the FBS, at 31%.
Treash's prediction: I think Alabama is going to rout Georgia. Stetson Bennett isn't bad, but I don't think he can hang with Alabama.
Seth's prediction: Bama — they're just going to score too many points.
For our PFF Greenline game preview that includes win and cover probability, click here.