College football is hitting the peak of its regular-season schedule. Fifteen of the top-25 teams in our Elo rankings will be in action on Saturday; we have two matchups between top-10 teams, along with one matchup — which has SEC and national title implications — between two teams in our top five.
First, let's understand the slate-level uncertainty by utilizing a measure called Shannon Entropy (information theory). This theory quantifies information occurring in an event and a variable — entropy — calculated using probability. By taking this approach, we can quantify how predictable a certain game or slate of games is by taking the probability assigned by the betting markets through moneyline probabilities.
Editor's note: PFF's NFL & NCAA Betting Dashboards (PFF Greenline) offer PFF-exclusive insight on moneyline, against the spread and over/under picks for every NFL and FBS game in 2020. Subscribe to PFF ELITE to get access.
Week 7 continues to move us toward higher uncertainty. This means we have tons of quality matchups based on moneyline-win probabilities. It sits above the third quartile — and ninth all-time — in entropy among all college football slates that have involved at least eight games over the past six seasons. Historically, Week 7 has had slightly lower levels than previous weeks, as things become clearer as we move toward the conference championships.
Our initial lines picked up some closing line value as we moved to a 2-1 winning week. Derivative bets stayed hot, as well, going a perfect 4-0 to move to 7-1 on the season. These plays are discussed heavily on the Saturday morning edition of the PFF Daily Betting Podcast.
We now sit at 52-52-1 on written plays over the past two college football seasons. NCAA Greenline (PFF's predictive model) had another positive week, and it continues to identify significant value for each college football slate. Let's take a close look at some more of my favorite bets to make from a Greenline perspective for this Week 7 slate of games.
The undercard to SEC main event has our 10th-ranked Auburn Tigers traveling to the 48th-ranked South Carolina Gamecocks. This spread is at risk of adding the hook to its +3 opening, with juice heavily shaded depending on the available number.
Collin Hill has quarterbacked the more efficient offense, with the Gamecocks ranking eighth in the SEC in expected points added (EPA) per pass attempt, while the Tigers rank 11th.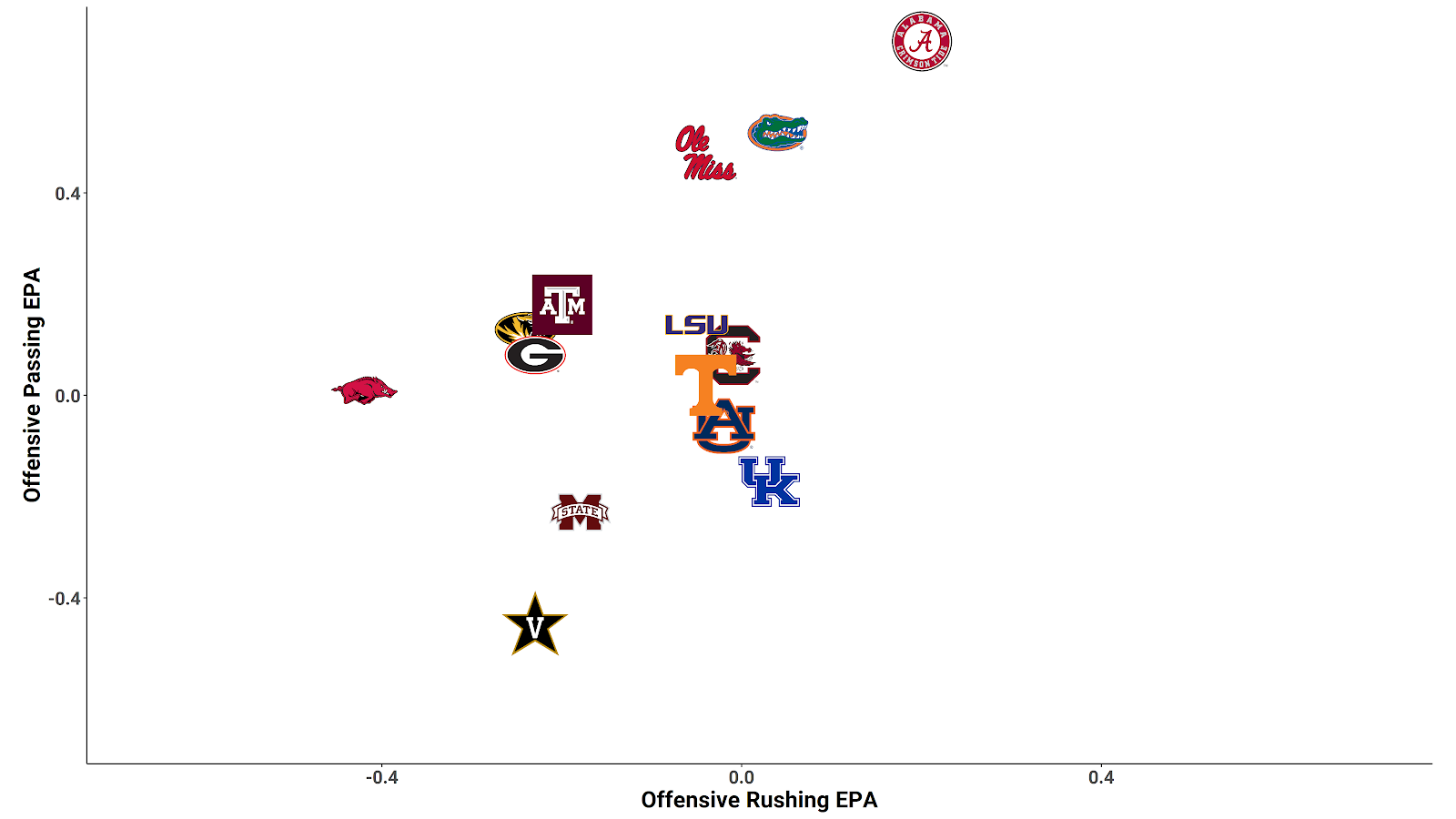 Hill is simply not forcing the ball downfield, as his average depth of target (aDot) is the third-lowest among SEC quarterbacks. This, of course, is one of the main reasons why he's in the basement of the conference in both positively and negatively graded throw rate.
Meanwhile, Auburn's Bo Nix has improved his PFF passing grade by five points since 2019. This doesn't seem like a lot, but he has faced two of the SEC's top five defensive units, according to our opponent-adjusted grades.
Hill is the more conservative quarterback but has also graded better than Nix to start the season. The key to this matchup will be the play of South Carolina wide receiver Shi Smith, who has been a target monster through the first three weeks. The Gamecocks didn't need to feature him in their win over Vanderbilt, but his yards-after-catch ability will be key as the team sets its sights on this upset.
The Auburn defense ranks fourth in our opponent-adjusted defensive rankings, but coverage has been a struggle. The Tigers rank sixth in the SEC, according to our team coverage grades, and they have allowed the seventh-most EPA per pass attempt, which brings their ability into question in 2020.
The craziness of college football this year has been highlighted by numerous upsets on the moneyline. Our predictive models find value at the current price, with the spread unplayable unless it is at 3.5. South Carolina is undervalued in this matchup, making their current moneyline odds an enticing, plus-money bet.
Pick: South Carolina Moneyline +145
History is being made with this writeup, as it's the first written play where PFF Greenline has not had a clear value on the bet. The opening 3.5-point print was quickly bet down to a field-goal spread, though this is counter to our cash and ticket percentages, which both lean heavily toward the Bearcats.
The -3 has some added juice in certain spots, making me believe we get back to the opening price before kickoff. This is a play based on the expected line movement, but Cincinnati looks like the far superior team in this matchup.
Cincinnati's Desmond Ridder has a lower PFF grade than Tulsa's Zach Smith to start the season, but the Bearcats have done better in EPA per pass attempt. Both quarterbacks sit near the top of the AAC in negatively graded throw percentage, however, with Smith at No. 2 and Ridder at No. 3.
Ridder's top-end play has been missing so far, as his negatively and positively graded play rate sit neck and neck through six weeks. This hasn't always been the case for the Bearcats quarterback, but he is still lumbering through his worst-graded season since becoming the full-time starter for Cincinnati.
There could be some early-season noise associated with Ridder's struggles, as the Bearcats have yet to experience a challenging game in 2020. As 3-point road favorites, the expectation is that the Bearcats know they have to play at the top end of their range in order to be successful. They are five places better than Tulsa in our AAC Elo rankings but could easily be the conference's top team. This spread doesn't reflect how good they are or the lack of advantages Tulsa will have as a home dog.
Pick: Cincinnati -3
Just the 41 places separate these two teams in our Elo rankings. The Roadrunners have been a team that our predictive models have liked throughout the start of the season, but the betting market isn't buying into them covering for the second straight week, as we have added the hook to an opening touchdown spread.
With less than two days to go before kickoff, 78% of the cash and 61% of the tickets have backed Army, which has opened up UTSA as a counter to the market movement.
Rarely do we evaluate rush defense in our betting preview, but Army creates a unique situation, given their offensive identity. UTSA has graded quite well in run defense, with the 18th-best unit grade in the FBS, and they sit 40th in EPA allowed on rush attempts. This matchup sets up well for their defensive strengths, so the question is now centered around whether their offense can do enough to cover the over-a-touchdown spread.
UTSA uses a split-quarterback approach, but Lowell Narcisse has started to see more passing-game opportunities. He made the most of his chances last week, though, posting a 92.0 PFF passing grade for his efforts. This should allow him to receive even more work in Week 7, which will boost this passing offense above their current expectation. The market hasn't fully priced in this situation, with one more week of quality quarterback play most likely leading to an adjustment for UTSA in the betting market. My money's on this occurring this week.
A greater-than-touchdown spread for a team that runs 81% of offensive plays is a difficult number to overcome. UTSA simply has too many things working in its favor, making it one of the best value bets on the board.
Pick: UTSA +7.5