Now that the first run of our analysis is finalized and available in PFF's CFB Premium Stats+, we get to fill you in on everything you might have missed while providing further analysis on yesterday's games. Here we present to you the PFF Team of the Week, eight big takeaways and player awards from Week 5 of the 2020 college football season.
PFF TEAM OF THE WEEK
Offense
QB: Zach Wilson, BYU
RB: Chris Rodriguez Jr., Kentucky
RB: Travis Etienne, Clemson
WR: John Metchie III, Alabama
WR: Kearis Jackson, Georgia
WR: Reggie Roberson Jr., SMU
TE: Kyle Pitts, Florida
LT: Christian Darrisaw, VA Tech
LG: Nolan Laufenberg, Air Force
C: Nicholas Noyen, Air Force
RG: Peter Nestrowitz, Navy
RT: Dylan Parham, Memphis
Defense
DI: Curtis Brooks, Cincinnati
DI: Dontae Wilson, Georgia State
EDGE: Brenton Cox Jr., Florida
EDGE: Kivon Bennett, Tennessee
LB: Anthony Butler, Liberty
LB: Amen Ogbongbemiga, Oklahoma State
CB: Eli Ricks, LSU
CB: Andrew Booth Jr., Clemson
S: Antavious Lane, Georgia State
S: Warren Saba, East Carolina
FLEX D: Arquon Bush, Cincinnati
10 BIG TAKEAWAYS
1. The Big 12's CFP hopes are pretty much dead
The Big 12 has always been the outcast of the Power Five conferences due to its non-competitive nature and Oklahoma's four years of one-and-done appearances in the CFP. There were hopes of that changing in 2020 with Oklahoma, Texas and even Iowa State looking tough on paper, but things are looking bleak now that all three teams have an L on their record. Now, it's looking likely we don't even see Big 12 representation in the 2020 College Football Playoff.
The Sooners got upset for the second straight week, this time to the Cyclones. It was another volatile performance from the coverage unit, as the team combined for six forced incompletions (two of which were dropped interceptions) but also gave up six 20-plus-yard gains in coverage, with each of those plays ending in points (two field goals, two touchdowns).
Quarterback Spencer Rattler was having a nice day through the air, notching an 88.9 passing grade up until his team's final drive. Unfortunately, he ended the game with a costly interception on first-and-10 in Iowa State's territory with a minute remaining. Déjà vu.
Texas was handed its first loss of the 2020 season against TCU, and while the defense deserves some of the blame, so does quarterback Sam Ehlinger. After struggling to take advantage of a really bad Texas Tech team in the first three quarters of Week 4, Ehlinger failed to bounce back against the Horned Frogs. He wasn't that accurate downfield to start, with nearly 43% of his throws through the first three quarters being charted as completely uncatchable. Ehlinger did have a big-time throw that ultimately fell incomplete, but it wasn't enough to make up for his poor play early on.
It's beginning to look like the Big 12's hopes of a CFP run in 2020 are all but finished.
2. Kyle Pitts is on the path to shattering PFF College tight end records
Pitts quickly established himself as the top tight end in college football with his debut performance last week. And he verified that again in Week 5 against South Carolina.
Pitts did drop a pass, but he did catch his lone contested target and busted off another three explosive plays of 15-plus receiving yards. That brings his season total of explosive plays to nine, which is two more by any tight end in a team's first two games of play in the PFF College era. His 4.38 yards per route run is also the best to start to a season by an FBS tight end by over half a yard.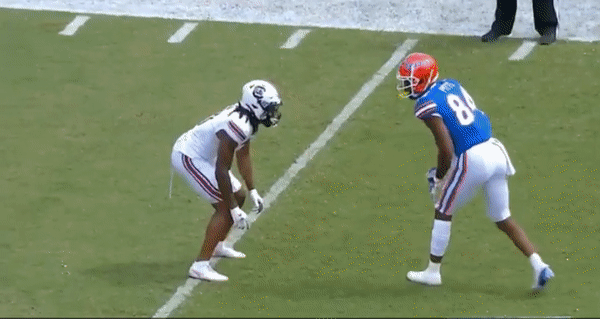 There aren't very many tight ends in college football who can win lined up at outside receiver like Pitts can. He's run 10 routes on the outside and caught 4-of-5 targets for 61 yards. Two of those four catches resulted in a touchdown, while the other two resulted in a first down. Pitts is looking like he may etch his name in the PFF College record book at this rate.
3. BYU's schedule is a cupcake, but it's going to be hard to deny Zach Wilson as a Heisman candidate
BYU had to scramble to piece together its schedule for 2020, and that gave them a relatively easy slate of games — they've faced Navy, Troy and a depleted Louisiana Tech team, teams they all routed.
This might be easy competition, but Cougars' quarterback Zach Wilson has performed at a level that is just too good to ignore. Wilson put up passing grades of 90.2 and 87.7 in BYU's first two matchups, and he managed to top that in Week 5 against Louisiana Tech by producing the highest passing grade of any quarterback by quite a bit.
Wilson tossed three big-time throws against the Bulldogs in Week 5; he didn't let go of a single turnover-worthy play and threw just one uncatchable ball.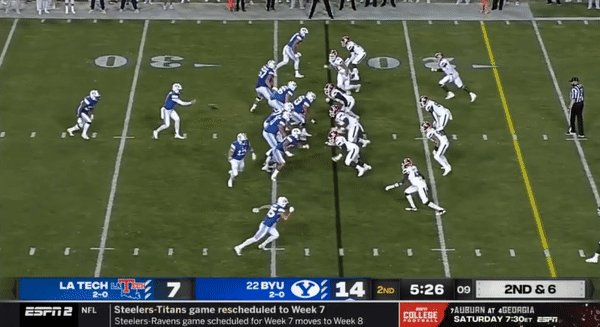 These three games to start his 2020 campaign are actually three of his four best games of his entire BYU career from a grading standpoint. Wilson is currently the second-highest-graded passer in college football behind only Trevor Lawrence, and he has a firm lead over third. Considering he and BYU won't face a somewhat decent defense for another five weeks, I wouldn't be surprised to see him maintain this elite level play and establish himself as a Heisman candidate.
4. Trey Lance maybe should have sat this one out
Trey Lance and North Dakota State had their one-game showcase against Central Arkansas on Saturday. This was the chance for Lance, a highly touted quarterback prospect in the 2021 class and our current QB3, to prove his worth behind Trevor Lawrence and Justin Fields atop the QB class. But while he showed off his athleticism on designed carries, as he picked up six gains of 10-plus yards on 15 attempts with nine broken tackles, things weren't so hot as a passer.
Lance struggled to his fourth-worst single-game passing grade since 2019, and it was just the second game of his career with multiple turnover-worthy plays. All told, just over half of his 23 passes in the first three quarters were even catchable.
No one really knew who would start at quarterback for the Bulldogs ahead of the Week 5 clash; it was even looking like we would at least see three quarterbacks get meaningful reps for Georgia. That did not occur.
Instead of giving the start to J.T. Daniels or D'Wan Mathis, Georgia went with Stetson Bennett, fresh off his game-saving heroics against Arkansas in Week 4. He continued his reliable stretch of play into Week 5, leaving Daniels and Mathis on the outside looking in.
Now, Bennett isn't in the conversation of being one of the best quarterbacks in the conference, and he did miss a few throws early on, but he gave Georgia stability at the position and led an efficient offense. After posting a 50.5 passing grade in the first quarter of action, Bennett was sharp in the final three and improved his grade to 85.0. He had just one quarterback-fault incompletion on 15 throws and picked up an explosive play of 15 or more yards on six of those passes.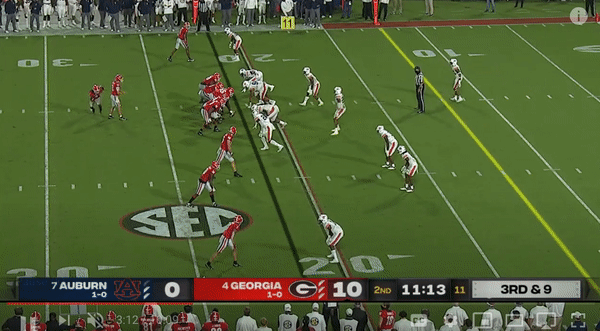 He's not going to be one of college football's elite quarterbacks, but he's going to do just enough to take advantage of this loaded roster and give the Bulldogs a shot at dethroning Alabama for the SEC title.
6. We got our answer on whether Bo Nix is for real in 2020
Nix opened up the 2020 season with a decent performance against Kentucky. He put up a 79.0 passing grade while tossing four big-time throws and recording just one turnover-worthy play.
The biggest issue with Nix last year was consistency. One game he'd play as he did against Kentucky in Week 4, but then he wouldn't be able to sustain that and would struggle to sub-60.0 games in response.
That's what made this game a must-watch; it was a chance to see whether Nix has developed past the same inconsistency that saw him rank 105th among 130 FBS quarterbacks in PFF grade. And unfortunately, Nix looked no different from his 2019 self.
Nix responded with a sub-60.0 graded game as a passer and had spray-and-pray accuracy throughout. On throws of 10 or more yards, Nix completed 3-of-18 passes, with one interception, en route to a 16.9 passer rating. Among all SEC quarterbacks to attempt 15 such passes in a single game since 2014, Nix's Week 5 completion percentage of 16.7% tied for the fourth-worst. The week before this, Nix was the second-highest-graded passer on throws of 10 or more yards downfield.
7. Mac Jones is playing at a top-five level
Alabama quarterback Mac Jones earned PFF Team of the Week honors for his opening-game performance against Missouri. He followed that up with another great performance against Texas A&M this week.
Jones posted four big-time throws and not a single turnover-worthy play, bringing his season ratio to 6-0, which trails only Trevor Lawrence for best in the country.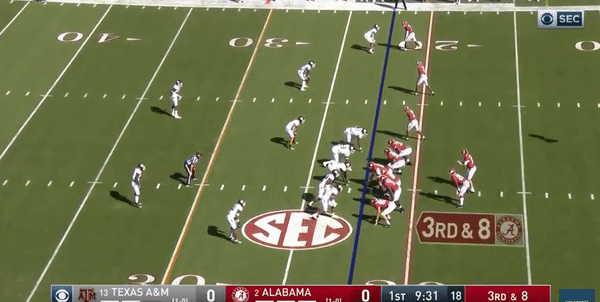 After this game, Jones has firmly established himself as the third-highest-graded passer in college football. He did have a couple of missed throws under pressure, but he had this offense cooking from a clean pocket by averaging 16.9 yards per attempt and throwing up an 85% adjusted completion percentage on such dropbacks.
8. Trevor Lawrence gave us the weekly reminder that he is one of the best college quarterbacks in history
It wouldn't be a normal week if we didn't talk about Trevor Lawrence lighting up whatever team he was playing for the week. So, to no surprise, Lawrence produced four big-time throws against Virginia Tech, all while keeping his turnover-worthy play column at zero for the year.
Lawrence had the fifth-lowest rate of negatively graded throws among Power Five quarterbacks this week, which helps him maintain his status as one of three quarterbacks to produce top 10 marks in both negatively and positively graded throw rate (Wilson and Rattler are the other two). We also finally got to see him do some damage with his legs with three read-option plays, two of which ended up in a gain of 10-plus yards.
Pending review, Lawrence now has a 94.7 PFF grade through his first three games of action. Burrow had a 93.0 mark through his first three games in his record-setting 2019 season. It's early, but Lawrence might just break that record we thought was nearly unbeatable.
OFFENSIVE PLAYER OF THE WEEK
As of now, Wilson's Week 5 showing against Louisiana Tech is the highest-graded performance by a QB against an FBS defense so far this year. While Louisiana Tech's defense has been by no means great, it's still an incredibly impressive feat on Wilson's part.
DEFENSIVE PLAYER OF THE WEEK
The quality of opponent was clearly low, but it's hard to deny Liberty off-ball linebacker Anthony Butler the PFF Defensive Player of the Week award for the plays he made in coverage against North Alabama. After forcing an incompletion on second-and-goal up just 7 on the Lions in the second quarter, Butler came back the next play and made this one-handed interception that helped the Flames keep the lead entering the half:
That was actually one of two interceptions Butler had for the game. In all, he didn't allow a single first down in coverage while recording three total plays on the ball.
TRUE FRESHMAN OF THE WEEK
Ricks was one of the few positives in LSU's 2020 season-opening loss to Mississippi State in Week 4. The five-star freshman gave up a couple of explosive plays but picked off a pass and broke up another en route to a 75.9 coverage grade. This week, he managed to top that.
Ricks played 25 coverage snaps on the outside, and he allowed just one catch for 4 yards while intercepting one and forcing an incompletion.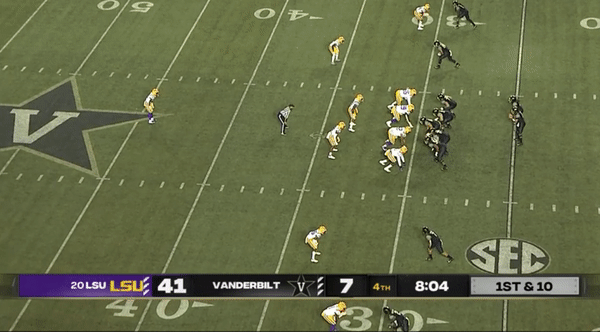 Those two impressive performances have made him the third-highest-graded outside cornerback in the FBS behind Shemar Jean-Charles of App State and Rodarius Williams of Oklahoma State.
The 6-foot-2, 196-pound true freshman has excelled in press coverage with his length and strength, which is rare to see from a first-year player right out the gate. With Ricks and Derek Stingley Jr. (who didn't allow a single yard in coverage in Week 5) manning the outside while Cordale Flott takes over the slot, it's hard to argue against LSU — A.K.A. DBU — having the best secondary in college football.
OFFENSIVE LINE OF THE WEEK
The Falcons' rushing attack averaged 3.6 yards before contact yesterday, helping the team produce 15 explosive runs of 10 or more yards (two more than any other team of Week 5). Center Nicholas Noyen led the way for the rushing attack, producing the highest run-block grade of any offensive linemen in Week 5.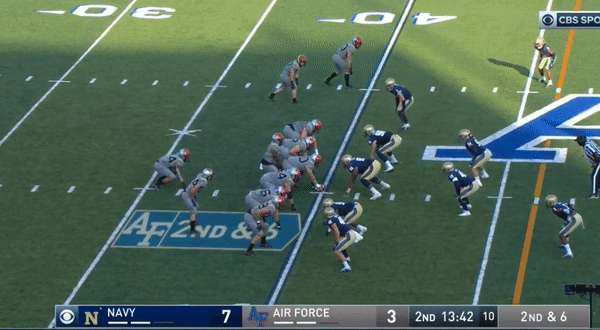 PFF Preseason All-American guard Nolan Laufenberg made just as much of an impact as Noyen as he was the guy behind him in second for most positively graded run blocks. He did this on the regular in 2019 and is continuing that into 2020.
SECRET SUPERSTAR OF THE WEEK
Whiteside played over 80% of his snaps against Tennessee at 0/1-technique and was regularly threatening to get after Volunteers quarterback Jarrett Guarantano. When at the alignment, Whiteside won on 28.6% of his pass-rush reps, the highest of anyone in Week 5 by over 10 percentage points.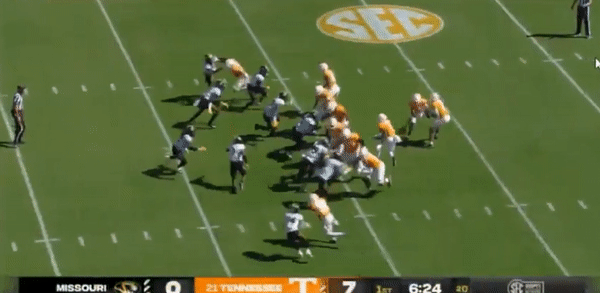 This was the third-highest win rate and fifth-highest pass-rush grade we have ever seen in a single game by an SEC nose tackle against an SEC offensive line. After this performance, Whiteside now owns the highest pass-rush win rate when lined up at nose in the PFF College era (15.3%).
PLAY OF THE WEEK
Clemson's Andrew Booth Jr. already had the interception of the year, and we aren't even at the halfway point
Andrew Booth just had the interception of the year????

— PFF College (@PFF_College) October 4, 2020
Booth was already having himself a day, then he went out there and did this early in the second half to prevent Virginia, making this a one-score game. This ridiculous play against the 6-foot-7 Lavel Davis Jr. was one of many Booth made to land him on the PFF Team of the Week for Week 5. He saw five targets on the day and allowed just one to be caught for 27 yards with another two incompletions on top of that pick. As he proved against Virginia, he's not an easy man to go against one-on-one.
AN EARLY LOOK AHEAD TO WEEK 6…
We get perhaps the best regular-season quarterback matchup of the year next week: D'Eriq King versus Trevor Lawrence.
King leads the undefeated Hurricanes as one of the five highest-graded quarterbacks in college football and will look to give the Tigers a run for their money. It'll obviously be no easy feat, considering Lawrence is playing at a level that is on pace to shatter PFF College records set by Joe Burrow in 2019.