"There is one major takeaway after seeing every team play a few games: The playing field is as equal as it has ever been in college football. That idea alludes to unexpected chaos, which we have already witnessed and will continue to see."
That was from last week's introduction to my weekly top 25 rankings. And just a few days later, chaos proceeded to ensue. Two top-10 teams — Texas A&M and Clemson — lost as double-digit favorites, and there were a few other surprise losses, including North Carolina, who suffered a 23-point loss to Georgia Tech.
---
Click here for more PFF tools:
Rankings & Projections | WR/CB Matchup Chart | NFL & NCAA Betting Dashboards | NFL Player Props tool | NFL & NCAA Power Rankings
---
Here is how I'd order the top-25 teams after the Week 4 mayhem. Please note that this top 25 is not the same as PFF's Power Rankings.
Alabama played as expected and controlled its outing against Southern Miss from start to finish. While it was a subpar opponent, quarterback Bryce Young did show encouraging signs of growth. Unlike his first three games, Young played within the structure of the offense to near perfection. Young averaged 14.4 yards per attempt from a clean pocket, earned a 94.2 PFF grade overall and won PFF Offensive Player of the Week honors.
Georgia's Week 4 showdown with Vandy got out of hand quickly, as the Bulldogs put together a 45-point lead within the first 20 minutes of the game. Georgia's defense was dominant, as usual, and further widened its first-place cushion among the 130 FBS schools in team-defense grade and EPA per play allowed.
This is a bit more controversial but remember: At this point in the rankings, every team has shown a notable flaw and been in a closer than expected battle. The Sooners have a ceiling that would place them among the likes of Alabama and Georgia, but they are clearly a tier below right now. The biggest reason why is quarterback Spencer Rattler not being able to hit his deep ball.
Spencer Rattler by depth of target in 2021
| | | |
| --- | --- | --- |
| Less than 19 yards | | More than 20 yards |
| 91.8 (T-1st) | Passing Grade | 38.5 (119th) |
| 97/121 | Comp/Att | 3/10 |
| 915 | Yards | 102 |
| 8:2 | TD:INT | 0:1 |
Last year, Rattler's deep ball was his greatest strength. He actually ranked behind only Zach Wilson and Mac Jones for the highest deep passing grade in college football in 2020. If he can get back into his groove, this Oklahoma team is going to take off.
Oregon pulled away from Arizona late in the game, scoring 17 unanswered because the Ducks' defense took advantage of the opposing quarterback's mistakes with five total interceptions. However, Oregon's defense hasn't been perfect this year, as it has still surrendered 25 explosive pass plays this year, tying for the seventh-most in the Power Five. The other concern is the offense's ability to consistently create explosive pass plays, as quarterback Anthony Brown has only four deep completions in four games. Oregon has a top-10 ground game and has been successful with its short passing attack; however, being able to consistently hit downfield shots will put the Ducks in position to earn a College Football Playoff (CFP) spot.
Week 4 Result: Bye
Cincinnati is fresh off a bye-week break and is now set to travel to South Bend for one of the biggest games in program history. The Bearcats' defensive unit is one of the best in college football and won't make it easy for the Fighting Irish to move the ball. Cincy ranks top five in team-defense grade and success rate allowed among the 130 FBS programs.
Only Georgia ranks higher than Iowa among all Power-Five programs when it comes to team-defense grade, EPA per play allowed and success rate allowed. The defense was responsible for Iowa's first three wins, but against Colorado State, the offense finally carried its weight. Quarterback Spencer Petras had a career day that featured four deep completions for 153 yards and two scores. For perspective, this was just the second game of his career with multiple deep passing completions. That trend must continue in the coming weeks in order for the Hawkeyes to keep that perfect record.
Week 4 Result: Bye
Ole Miss has, arguably, the program's biggest game in half a decade this Saturday, as it takes on the Alabama Crimson Tide. Quarterback Matt Corral has executed Lane Kiffin's offense to near perfection in Ole Miss' three outings. He has earned an 89.6 PFF grade while leading Ole Miss to the second-most efficient offense in the Power Five. The Rebels have the horses to keep up with the Crimson Tide, but it won't be easy.
The 3-2-6 system is a staple of Arkansas defensive coordinator Barry Odom's defense. He likes to run with three-high safeties and a three-man front, dropping eight into zone coverage to minimize passing lanes. It is the perfect scheme for Arkansas' instinctive and experienced defensive players, who can force college passers into bad decisions. That's what happened when Texas' Hudson Card took on the Razorbacks' defense in Week 2 — he struggled to find an open receiver all game, which made him hold onto the ball and invite pressure. This week against Texas A&M was no different, as Aggies quarterback Zach Calzada struggled to find his rhythm all game long.
This pass defense is going to be a headache for most quarterbacks in college football, and these next couple of weeks will tell us a lot about this Arkansas team, as it is set to take on Georgia and Ole Miss.
quarterback Emory Jones put up the type of performance that Florida desperately needed to see. Jones was much more accurate and composed as a passer, and he made plenty of plays on the ground whether it be designed or a scramble. Jones ranks inside the top five among Power-Five quarterbacks in rushing grade (79.6), broken tackles (19) and 10-plus yard runs (13) entering Week 5.
Notre Dame's big win over Wisconsin was anything but a blowout through the first three quarters of play. In fact, the Badgers were in control until a Chris Tyree kick-return touchdown to start the fourth quarter changed the game. The Irish's defensive concerns that were thereafter the first couple of games have come to rest. Notre Dame's defense is now the 17th-highest graded in the FBS. The offense, however, is a different story. Notre Dame quarterback Jack Coan played poorly against Wisconsin before exiting the game with an injury midway through the third quarter. The downfield passing was once again inconsistent, and he couldn't escape the Wisconsin pass rush. He posted a 48.9 PFF passing grade on passes thrown 10 or more yards downfield and didn't complete a single pass across his 11 pressured dropbacks.
Coan's poor pocket presence coupled with an underperforming Notre Dame offensive line is a cause for concern, especially ahead of the Fighting Irish's Week 5 outing against a Cincinnati team that entered Week 4 tied for the best team pass-rush grade in the country.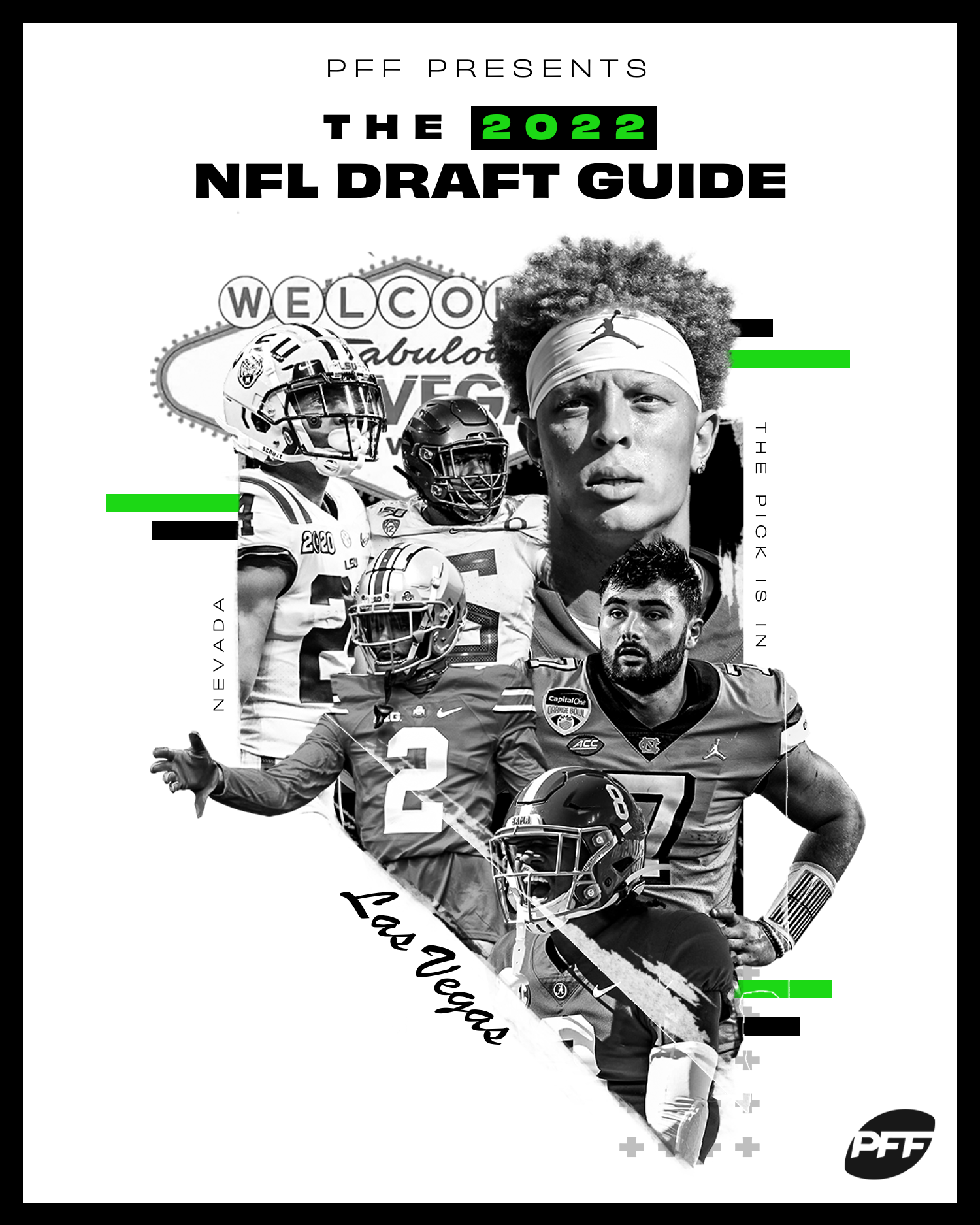 Kyle McCord stepped in at quarterback because CJ Stroud was resting a minor injury, and he put together a standard monstrous Ohio State box score. Unfortunately, the PFF grading didn't match the box score, as he recorded a 62.1 passing grade, one turnover-worthy play and zero big-time throws in addition to being shaky in the pocket. Along with that, he only had to throw into a tight or closing window one time. It was the kind of performance that shouldn't place him above Stroud on the depth chart, making the position the area that could prevent Ohio State from claiming the Big Ten title.
There's little to take away from Penn State's big win over an FCS program — the starters looked dominant as they should have. The story remains the same for the Nittany Lions after they face a tough Big Ten slate over the next couple of months: They will go as far as quarterback Sean Clifford takes them. Recognizing his inability to consistently hit downfield throws is step one in getting the most out of the position — it's what carried them over Auburn in Week 3. Clifford went 27-of-29 on throws of 19 yards or less downfield, one of which was a drop. That's his ceiling as a passer, but given the rest of the talent Penn State has on the roster, the Nittany Lions can still be successful if Clifford consistently plays at that level.
Coastal Carolina once again dominated a suboptimal opponent. The Chanticleers have football's most efficient offense by a considerable margin. 
The Wolverines have a top-10 defense and rushing offense in college football, as they are one of the 10 highest-graded FBS programs rushing and defensively heading into Week 5. The passing offense is where the big question mark lies. Quarterback Cade McNamara has yet to even complete 10 passes in any of his four starts due to Michigan running the ball 73% of the time (the highest rate in the Power Five by over nine percentage points).
Michigan State has been a surprise team this season primarily because of the offense's performance despite some standout performers on defense, such as edge defender Jacub Panasiuk, who won PFF Defensive Player of the Week in Week 4.
Jacub Panasiuk DOMINATED vs Nebraska in Week 4
◾️ 94.1 pass-rush grade (1st)
◾️ 14 QB pressures (1st)
◾️ 3 sacks (t-1st) pic.twitter.com/E7opaLdCzr

— PFF College (@PFF_College) September 27, 2021
The running back room ranks eighth among Power-Five offenses in per-play rush efficiency, and the passing offense has been successful on play-action dropbacks. Michigan State is second in EPA per play-action pass among Power-Five teams.
Many wrote the Longhorns off after their big loss to Arkansas a couple of weeks ago. However, that reaction might have been premature, as Texas handled in-state rival Texas Tech with ease in Week 4, winning 70-35 while putting up ultra-efficient numbers on offense for the third time this season.
Most efficient Texas passing offense in a single game during the PFF College era
| | |
| --- | --- |
| Game | EPA Per Pass Play |
| 1. 2021 W4 vs. Texas Tech | 0.91 |
| 2. 2021 W1 vs. Louisiana | 0.66 |
| 10. 2021 W3 vs. Rice | 0.43 |
This speaks volumes about not just the talent that is there on the Texas offense but also head coach Steve Sarkisian's impact. According to PFF's first review of the game film, quarterback Casey Thompson earned a 92.5 PFF grade in Week 4. Yes, he made one bad decision on a long-developing play that ended up being picked off, but outside of that, he performed exceptionally well as a passer, completing 16-of-17 passes thrown less than 19 yards downfield for 255 yards and four scores. His one incompletion was a drop.
No one is playing better in college football right now than Maryland quarterback Taulia Tagovailoa. He has earned a 93.0 PFF grade through four weeks of play, and each single-game mark eclipsed 86.0. Tagovailoa's decision-making and composure have been sharp this year. In 2020, he had nine turnover-worthy plays across 148 dropbacks but has zero thus far this year. Because of Tagovailoa, Maryland ranks inside the top 10 among all FBS programs in successful pass play rate.
This week will be the biggest test to date, as Tagovailoa and Co. take on Phil Parker's vaunted zone defense that has been a turnover machine.
Wake Forest is right there with Maryland as college football's most underappreciated team. Quarterback Sam Hartman has done his part by leading Wake to the second-highest successful pass play rate in the Power Five when on the field. The defense has also far surpassed expectations, as the Demon Deacons boast one of the top 15 highest-graded defenses in the FBS.
The biggest problem with the Aggies' entering the season was the quarterback position, and it showed up in their upset loss to the Razorbacks. Zach Calzada held onto the ball (3.56-second average time to throw), failed to find windows downfield against the drop eight zone coverage (5.8 aDOT) and crumbled once the three-man rush got home (2.4 yards per attempt under pressure). The defense is still one of the best in the country, but as long as this quarterback situation remains the same, the Aggies will have issues again when they face Alabama and Ole Miss.
BYU's win over USF looked a lot closer than it actually was. The Cougars held a two-score lead from six minutes into the game until six minutes left in the game. Their starting quarterback — Jaren Hall — was held out with an injury, but Baylor Romney stepped up and performed at a high level. He tossed four big-time throws en route to an 85.6 passing grade. Hall's status for this weekend's trip to Utah State is unknown, but either way, BYU should be just fine.
That was so damn beautiful!

Baylor Romney to Gunner Romney on the deep post for a TD! pic.twitter.com/5rB1Jn47lv

— Benjamin Criddle (@CriddleBenjamin) September 26, 2021
NC State pulled off a major upset over the Clemson Tigers, ending the team's hopes of a CFP berth. An interesting fact about its big win is that the offense got the job done despite being rather inefficient. The Wolfpack generated negative EPAA per play, and quarterback Devin Leary posted his lowest-graded start since 2020 despite coming in clutch with what would end up as the go-ahead touchdown. NC State's offense is only scratching the surface.
Fresno State pulled off a big upset against UCLA in Week 3 but was almost on the other end of that experience against UNLV in Week 4. The Bulldogs, who were 30-point favorites, found themselves down 21-9 not too long into the third quarter. But Fresno State quarterback Jake Haener, who led his team to that win over the Bruins the week prior, wouldn't let that last. He proceeded to toss six big-time throws en route to a 96.0 passing grade in the second half, leading Fresno State to an eight-point victory. Now, Haener is one of the five highest-graded quarterbacks in college football.
The Will Levis breakout has been derailed the last couple of weeks, as he went from a 90.8 passing grade in his first two games to a 53.0 mark in his last two against Chattanooga and South Carolina. What was different about Kentucky's thin win over the Gamecocks was Levis' average depth of target (3.4 yards). The Wildcats' coverage unit has been great on a weekly basis this season, but if it is going to knock off Florida this weekend, Levis will need to perform similarly to how he began the year.
Quarterback Tanner Mordecai — who transferred in from Oklahoma — and running back Ulysses Bentley IV have had this SMU offense rolling through its first four games, as the Mustangs rank 16th in per-play efficiency among the 130 FBS programs. Mordecai has tossed 14 touchdowns on throws of 10-plus yards, tying for the most in college football. Bentley, meanwhile, is the highest-graded ball-carrier in the country.
Oklahoma State hops into the top 25 for the first time this season after its win over Kansas State. There is plenty to like about this team defensively. Last week, the coverage unit made as many plays on the ball as first downs allowed in coverage (seven). Overall, on the year, Oklahoma State has allowed the 11th-lowest catch rate on throws of 10-plus yards among Power-Five programs. It is also sixth in explosive run rate against.