We are officially a month into the 2021 college football season, and there is one major takeaway after seeing every team play a few games: The playing field is as equal as it has ever been in college football. That idea alludes to unexpected chaos, which we have already witnessed and will continue to see. It also means the value of being ranked a top-10 team is less than in other years.
---
Click here for more PFF tools:
Rankings & Projections | WR/CB Matchup Chart | NFL & NCAA Betting Dashboards | NFL Player Props tool | NFL & NCAA Power Rankings
---
Below is how I'd order the top 25 teams after Week 3. Please note that this top 25 is not the same as PFF's Power Rankings.
Related: Highest-graded players at every position through Week 3 of the 2021 college football season via Seth Galina
Alabama's Week 3 showdown at Florida seemed to have all the makings of a classic blowout, as the Crimson Tide built a 21-3 lead in the first quarter. But Florida was never going to go down without a fight. The Gators went from generating -0.18 expected points added (EPA) per play in the first quarter to +0.22 over the last three quarters of action. Meanwhile, the Crimson Tide went from generating +0.83 EPA per play in the first quarter to +0.1 in the last three. The passing offense, led by quarterback Bryce Young, continued to be reliant on the success of plays under pressure and third downs, neither of which is stable moving forward.
The two-point win against Florida showed that the consistency from years past is no longer there, so they are susceptible to volatility with their reliance on unstable areas. Alabama is still the best team in college football, but remember, they aren't perfect. 
South Carolina head coach Shane Beamer went on a rant in his postgame press conference about how physically gifted Georgia's defense is. This is understandable because the Dawgs' defense earned an 87.8 PFF grade for the game and held the Gamecocks to a 25.8% success rate on offense, ranking first and second respectively among teams to face a Power-Five offense in Week 3.
Undisciplined play continued to be a major issue for Sooners quarterback Spencer Rattler against Nebraska, who couldn't take advantage of multiple turnover-worthy plays in the first quarter. Overall, Rattler led the Sooners to only +0.03 EPA per pass while the coverage unit gave up far too many big plays when the pass-rush was unable to get home on Adrian Martinez. Oklahoma gave up +1.3 EPA per pass when Martinez had a clean pocket — their second-worst single-game mark of the PFF College era. Those two problems led to this close victory.
Rattler has done a good job of hitting throws at the short and intermediate levels of the field this year, but his downfield decision-making has been poor, and he hasn't made the special throws that can offset those mistakes. Rattler needs to clean this issue up soon in order for the Sooners to remain in the Tier 1 conversation with Alabama and Georgia.
The Ducks did exactly what they should have against their FCS opponent in Week 3. Now, they turn their attention to their Week 4 opponent Arizona, who is 0-3 this year and has the lowest-graded offense and defense in the Pac-12 entering Week 4.
The Hoosiers found themselves up by one point at the start of the fourth quarter, but they somehow let the Bearcats claw their way to a 14-point victory. 
Cincinnati quarterback Desmond Ridder left a lot to be desired after showing signs of growth earlier this season. Indiana generated pressure with creepers and five-man rushes, which rattled Ridder early on. He missed several throws and didn't get much help from his receiving unit, as they dropped some passes. All of this led UC to an inefficient offense that produced -0.32 EPA per pass play in the first three quarters.
Given the current chaotic state of college football, the Bearcats have a small chance of obtaining a spot in the four-team playoff. They'll need some help, but, more importantly, they need to take care of business in South Bend against Notre Dame in two weeks. And to do that, this offense can't have another slow start.
Iowa's win against Kent State is largely thanks to their defensive unit. The Hawkeyes shut down the Golden Flashes' rushing attack, limiting them to only 82 yards on 41 attempts en route to a 90.1 run-defense grade as a team. The other side of the ball still failed to create a significant rate of explosive pass plays against a lackluster coverage unit, which has been a constant concern. They picked up a 15-plus yard gain on just 8.1% of their passes — the seventh-lowest rate in the Power Five.
Ole Miss continued on its offensive warpath after a long rain delay against Tulane Saturday night. In the end, they hung 61-points on the Green Wave, and seven of those touchdowns go next to Matt Corral's name in the stat sheet (three passing, four rushing). 
Corral's 86.3 PFF grade for the game matched that eye-popping production. Three of his four rushing touchdowns were an explosive run of 10-plus yards while two of those three passing scores were deep passes. Corral is now one of three Power-Five quarterbacks with a 90.0-plus PFF grade through Week 3.
Texas A&M needed to see quality play from quarterback Zach Calzada against a lackluster New Mexico defense, and the sophomore came through when free of pressure. From a clean pocket, Calzada earned a 90.1 passing grade, completing 13 of his 19 for 199 yards and two scores while three of those six incompletions were drops. Under pressure, Calzada was the same poor performer though. He completed only six passes on 17 dropbacks under pressure while eating three sacks and throwing a pick. Their Week 4 opponent, Arkansas, doesn't win with pressure, but that doesn't mean he'll be able to replicate that clean pocket success against their tough drop-eight zone defense.
Notre Dame's defense rose to the occasion, limiting Purdue to -0.16 EPA per play and only four explosive pass plays on 61 dropbacks. The Irish passing offense couldn't get anything rolling, though. Quarterback Jack Coan struggled to deliver accurate passes and when he did, the receiving unit didn't do its part. Five of Coan's 15 passes over 10 yards downfield were deemed a quarterback-fault incompletion (completed only four such throws on the day), and the receiving room dropped six overall. The offensive line giving up a 39% pressure rate didn't help matters, either.
North Carolina continued to look like the team everyone was expecting right from the get-go in Saturday's high-scoring win over Virginia. What was most encouraging though was the fact quarterback Sam Howell actually got some help. Wide receiver Josh Downs emerged with one of the best games of the season last week, earning PFF Offensive Player of the Week honors. North Carolina has the second-most efficient offense in college football over the last two weeks and is now putting Clemson's spot as the ACC's top team into question.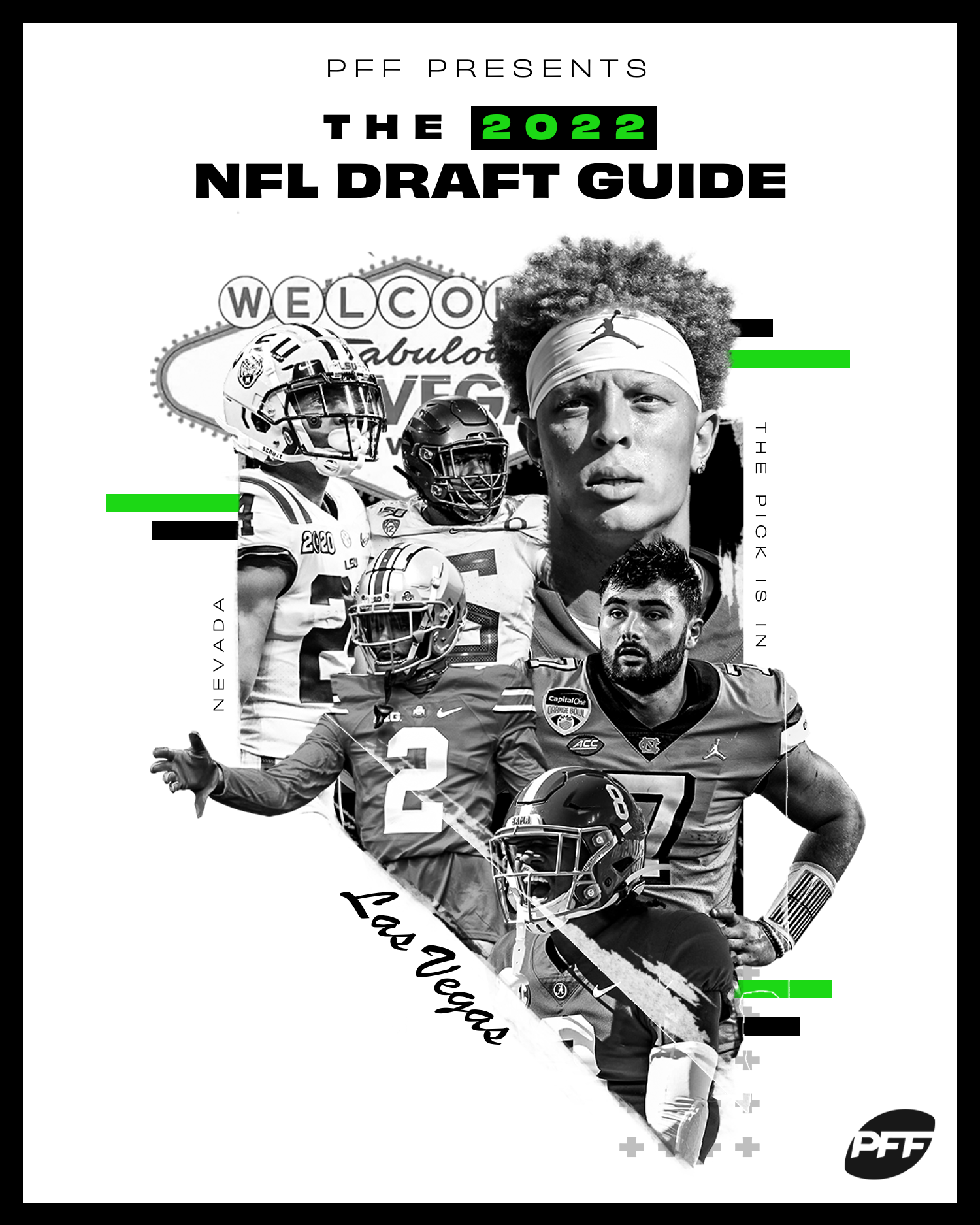 Florida's defense turned things around after a bad first quarter, and Dan Mullen's offense did what very few teams have been able to when facing Alabama: be efficient. Only six offenses have generated +0.1 EPA against a Bama defense in a single game over the last five years, and Florida was one on Saturday. Quarterback Emory Jones missed some throws and still needs to quit locking in on his receiver for a long period of time before firing, but he at least avoided turnover-worthy plays. Florida may have lost, but they proved capable of hanging with the big dogs.
Ohio State stayed dangerously close against Tulsa for a large portion of the game but was able to pull away for a 21-point victory in the end. Buckeyes starting quarterback C.J. Stroud once again had accuracy issues and led the team to their third-least efficient passing offense in a game since 2018. The Ohio State backfield took care of business though, averaging 8.6 yards per carry while generating +0.29 EPA per rush.
A tip of the cap is in order for Penn State quarterback Sean Clifford for his performance against Auburn, as he overcame his limitations and executed the offense about as well as he could have. Clifford completed 26 of his 28 passes thrown less than 19 yards downfield for 222 yards and two scores, earning one of the highest PFF grades of his career in the process. The deep ball is still an issue, but it didn't matter in their big win over the Tigers.
It was a sluggish day for Clemson that ended in a six-point win over a Georgia Tech team that entered the game 81st in the FBS in PFF's Power Rankings. Quarterback D.J. Uiagalelei's struggles continued, as he failed to deliver a big-time throw while completing just three passes over 10 yards downfield. Uiagalelei has led Clemson to negative EPA per pass and an explosive pass play rate of just 8% in all three of his performances this year. The latter is nearly 12 percentage points lower than their mark last year. The biggest issue for Uiagalelei has been a concerning lack of accuracy. He currently has 11 quarterback-fault incompletions on throws 10-plus yards downfield and only 10 completions on such passes. Trevor Lawrence wasn't the most accurate passer, but it was nowhere near this level. He only threw 19 quarterback-fault incompletions on 10-plus yard throws in 2020 while completing 65 in total.
Coastal Carolina had a tough time stopping Buffalo's run game, surrendering 0.34 EPA per rush on the day. For reference, that's the worst they've allowed in a single game since 2020. Still, the Chanticleers offense created enough explosive plays to get the job done. This was Coastal Carolina's third-most efficient single-game offense since 2020. They now turn the page to focus on UMass before getting into the most "difficult" part of their schedule, which features a three-game swing against Louisiana, Arkansas State and Appalachian State.
Michigan won comfortably for the third straight week, and their rushing attack once again stole the show. The Wolverines produced 11 runs of 10-plus yards on 49 carries en route to 0.41 EPA per rush. The program now has over 1,000 rushing yards and 15 rushing touchdowns as a group through three games. Quarterback Cade McNamara remains an unknown, as he attempted just nine passes in the 53-point victory. He will be the ultimate deciding factor in Michigan's fate this year, but it's clear their run game and defense are right where they need to be.
BYU beat Arizona State by 10 points despite being home dogs. Quarterback Jaren Hall continued to make plays as a runner and now has 10 runs of 10-plus yards on 21 attempts this season. He also delivered two big-time throws on deep passes. Nonetheless, the hero of the game was running back Tyler Allgeier. Hall threw an interception that was headed for six points the other way, which would have given Arizona State the lead heading into the fourth quarter; however, Allgeier chased it down and forced a fumble that Hall recovered to save a score.
Running backs matter in college football, and Sparty has one of the best ball carriers in college football in Kenneth Walker III, who has generated +0.54 EPA per rush. He has an elite rushing grade through three weeks along with 14 runs of 10-plus yards, 35 broken tackles and 6.5 yards after contact per attempt on 57 carries.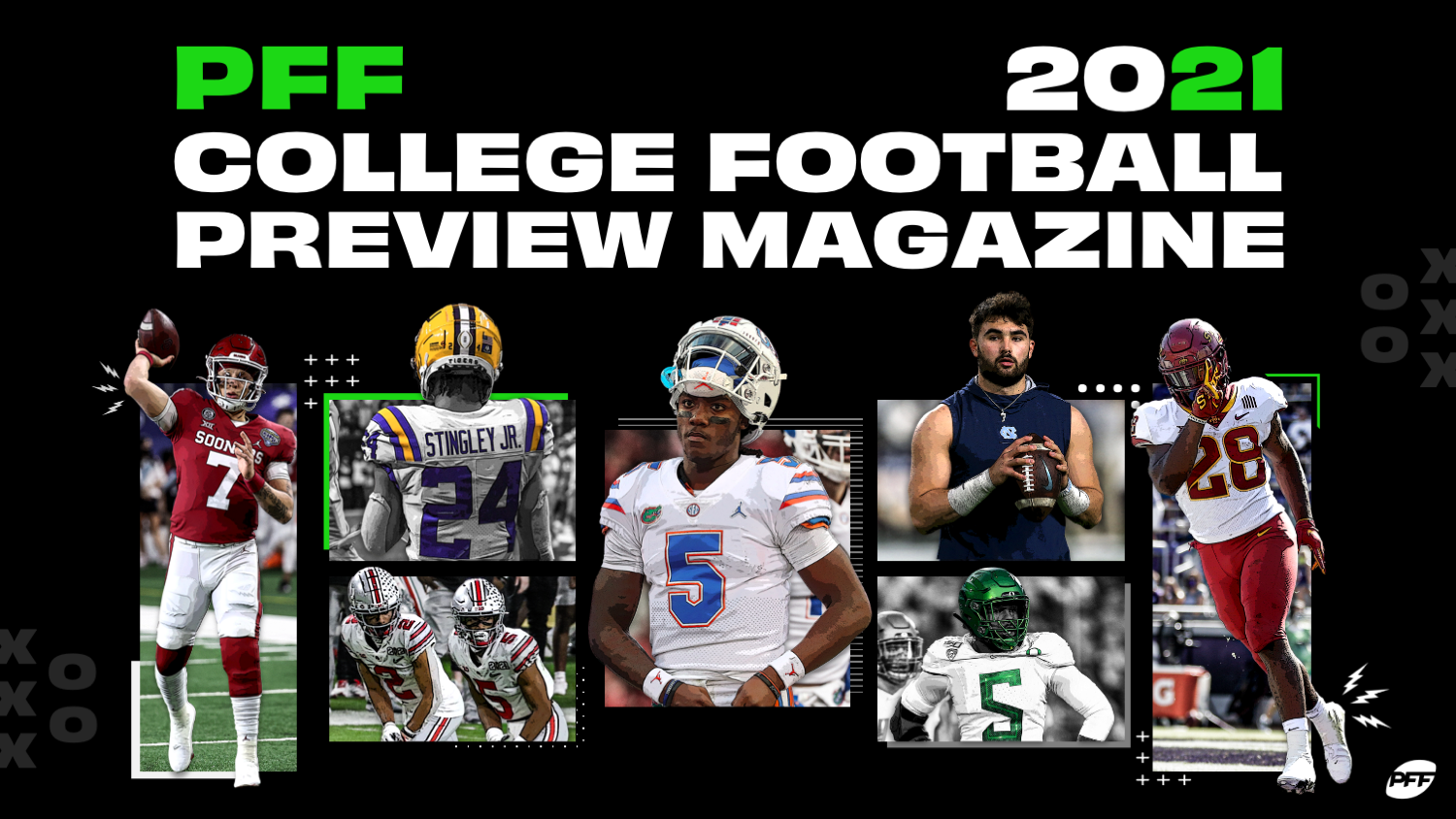 Maryland has a passing offense, led by Taulia Tagovailoa, that makes them a sneaky team in the Big Ten. Tagovailoa showed many high-end flashes in the four games we saw of him in 2020, but the small sample was also plagued by poor decision-making. This year, however, Tagovailoa has seemingly fixed that issue. Maryland's 2021 offense is calling more screens and scheming throws to make life a lot easier on the quarterback, but Tagovailoa has still delivered plenty of well-thrown downfield shots. Tagovailoa has an elite 92.5 PFF grade with seven big-time throws and zero turnover-worthy plays through three games.
Kentucky had an unexpected scare this past week against Chattanooga. The run game was shut down almost entirely, the receiving room dropped a couple of passes on third down and quarterback Will Levis made some costly mistakes. Levis had a few different turnover-worthy plays, two of which ended up being intercepted. They still hold onto their top-25 ranking here and in the PFF Power Rankings, but they are skating on thin ice.
Week 3 Result:
Bye
Wisconsin jumped from just outside the top 25 last week to No. 21 this week despite being on a bye due to other teams slipping up. This week will be another big test, as they take on Notre Dame. Quarterback Graham Mertz can't afford to play like he did in Week 1 against Penn State — he earned a 44.9 passing grade and tossed four turnover-worthy throws.
Arkansas finally showed some life in the passing game. After generating -0.2 EPA per pass the first two weeks, quarterback KJ Jefferson led the Razorbacks to +0.52 EPA per pass in Week 3. It came against Georgia Southern so take that with a grain of salt, but it is progress! Arkansas' success on the ground continued, so they now rank fifth in the Power Five in explosive runs (27). This week won't be easy to replicate that offensive success, as they face off against one of the top defenses in the country, Texas A&M.
Texas bounced back on offense against Rice last weekend. They finished as the most efficient offense in the FBS last week thanks to their entire backfield and quarterback Casey Thompson. Now, they'll be trying to prevent the volatile swings they have experienced over the last few weeks when they face Texas Tech this week.
Fresno State features one of the most potent downfield passing offenses in the country with quarterback Jake Haener leading the way in 2021. Haener ranks third among FBS quarterbacks in total big-time throws and is sixth among the group in passing grade on throws 10-plus yards downfield. Last year's Bulldogs offense was the most efficient one in the Mountain West's shortened season, and they are proving that wasn't a fluke in 2021.
Wake Forest was a sleeper team entering the 2021 season, and they are looking the part so far in 2021. When quarterback Sam Hartman has been on the field, Wake Forest has produced a 56.2% successful pass rate that would rank top five in the FBS. He has earned an 84.5 PFF grade in his three games, as he's made the right decisions while taking great care of the ball and producing multiple big-time throws in each start. Their defense is also flying under the radar, ranking top 10 in unit PFF grade entering Week 4. That side of the ball will get tested on Friday night against a big-play Virginia offense that is led by PFF's highest-graded quarterback, Brennan Armstrong.