Week 4 was one to remember — there were a couple of big upsets while several other top-10 teams survived only by the skin of their teeth. We couldn't have asked for a much better first week of SEC action and interconference play in the Big 12. And now that the first run of our analysis is finalized and available in PFF's CFB Premium Stats+, we get to fill you in on everything you might have missed while providing further analysis on yesterday's games.
Here we present to you the PFF Team of the Week, 10 big takeaways and player awards from Week 4 of the 2020 college football season.
Editor's note: Die-hard college football fans, NFL draft enthusiasts and avid college football bettors can now subscribe today to CFB Grades+ or CFB Premium Stats+ to get access to PFF's player grades, advanced stats and NCAA betting dashboard.
PFF TEAM OF THE WEEK
Offense
QB: Mac Jones, Alabama
RB: Deuce Vaughn, Kansas State
RB: Cameron Carroll, Tulane
WR: Austin Watkins, UAB
WR: Elijah Moore, Ole Miss
WR: Lavel Davis Jr., Virginia
TE: Kyle Pitts, Florida
LT: Brady Christensen, BYU
LG: Ryan Neuzil, App State
C: Grant Gibson, NC State
RG: Baer Hunter, App State
RT: Luke Tenuta, VA Tech
Defense
DI: Ali Gaye, LSU
DI: Rick D'Abreu, East Carolina
EDGE: Andre Mintze, Vanderbilt
EDGE: Calvin Bundage, Oklahoma State
LB: Gavin Potter, Kansas
LB: Nakobe Dean, Georgia
CB: Rodarius Williams, Oklahoma State
CB: Roger McCreary, Auburn
S: Tre Sterling, Oklahoma State
S: Bee Jay Williamson, LA Tech
FLEX: Josh Jobe, Alabama
10 BIG TAKEAWAYS
1. We've never seen Kyle Trask come close to producing at the level he did in Oxford on Saturday
As many Florida fans know, we at PFF felt Trask's 2019 season was made out to be better than it actually was. Sure, it definitely could have been worse, considering it was his first time starting a game since his early years of high school, but there were many issues with his decision-making, poise under duress and conservative nature. But yesterday against Ole Miss, Trask looked like the top-tier quarterback Florida fans have been propping him up to be.
Trask had never come close to producing at the level he did in his 2020 debut. In his 10 starts last year, just once did he earn a single-game passing grade of 71.0 or higher. Against Ole Miss, Trask produced a career-high passing grade that was just shy of an elite 90.0.
There were a couple of plays where he looked like the 2019 Trask, such as this one where he blatantly ignored the strong safety and probably should have been picked off…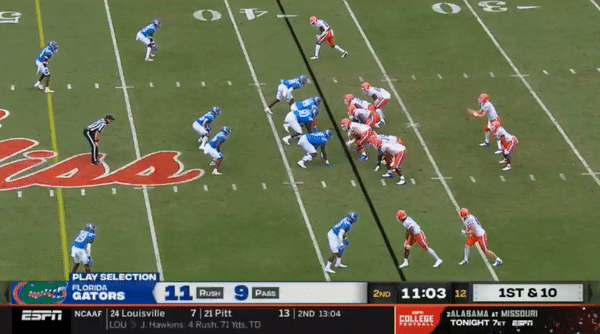 …but his decision-making wasn't at that 2019 level throughout the whole game.
The defining aspect of Trask's great day was that he finally put his arm talent on display and made several special throws downfield. He had the most big-time throws he's had in a single game in his career, and it was just the third time he had more than one. He also had four touchdowns on throws of 20-plus yards. For perspective, he had just seven in all of 2019.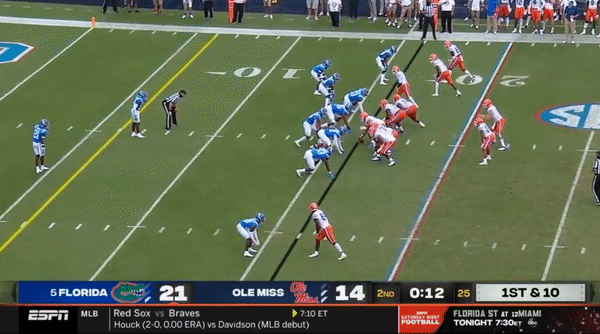 Not only was this the most efficient passing attack Florida has had in a single game with Trask under center (in terms of EPA per pass play), but it was actually the most efficient they have fielded in the PFF College era.
Trask still didn't look completely comfortable under duress, and he did make a few bad decisions, so I need to see him produce at a level similar to this again before I drink the same Kool-Aid Florida fans are drinking.
2. Oklahoma's loss blew the College Football Playoff race wide open
Last week, I wrote an article outlining the teams whose CFP hopes got hurt by the Big Ten returning to play. This was written under the assumption that three of the CFP spots were all but locked in with Oklahoma in the Big 12, Clemson in the ACC, Alabama in the SEC and Ohio State taking the Big Ten. But that was quickly made moot when the Sooners got upset for the second straight year against Kansas State.
Now the door is open for a non-conference champion from the Power Five (or a Group of Five team that I will break down later) to claim that final spot.
Some might say this is an overreaction and that Oklahoma still has a chance at claiming a CFP spot if they win out, but I'm not so sure that's the case. Let's take Notre Dame, for example. If they beat Clemson in regular-season play but lose to them in the ACC championship, I think it's fair to assume the committee will value that Notre Dame team more than Oklahoma. And the same can be said for a few teams in the SEC like the Florida Gators and Georgia Bulldogs. Not to mention, I'm not so sure this Sooners team has any better chance to win out than any of the teams I mentioned above.
While Spencer Rattler made a few costly mistakes, he still isn't the cause for concern — the defense is. The team's pass coverage did a somewhat decent job on paper, allowing just six first downs in total to the Wildcats. The only issue was that four of those six first downs were extremely big plays — they allowed four plays in coverage that resulted in again of 35 or more yards (tied for the most of the week), and all four set up a touchdown drive for the Wildcats.
Whether it be against Texas in a few weeks or another Big 12 team like West Virginia, I wouldn't be surprised to see the Sooners get taken down again.
3. I wouldn't be quick to write off Spencer Rattler
After picking apart Missouri State in his first career start, Rattler got a taste of what it's like against an actual defense this week. We still saw the same real-deal arm talent, but we also saw some bad decisions sprinkled in there. Rattler recorded four turnover-worthy plays for the game, which is the most an Oklahoma quarterback has ever had in a game since Lincoln Riley arrived in Norman. One of which was this game-sealing interception: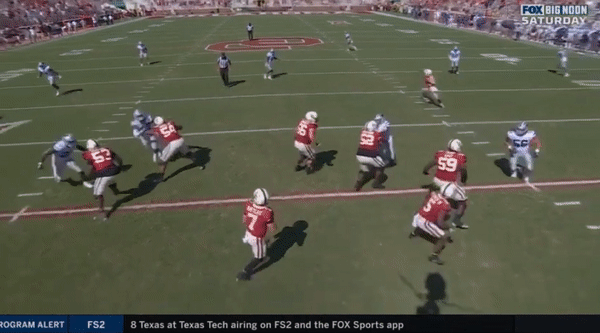 Rattler still had the second-highest rate of positively graded throws among Power Five quarterbacks and led the fourth-most efficient Power Five offense. And while those two metrics are heavily influenced by playcalling and supporting cast, Rattler held up his side of the deal with top-drawer accuracy (minus that ugly interception above).
I wouldn't be too quick to write Rattler off. The arm talent is there, and I think everyone will be in agreement that he's a college football star by season's end.
4. Bo Nix playing as well as he did is a promising sign, but we need to see him do it consistently
Nix was one of the more up-and-down quarterbacks of 2019 as a true freshman. He produced a solid passing grade above 70.0 in six of his 13 games played but recorded sub-60.0 passing grades — with three not even cracking 50.0 — in the remaining seven.
He needed to find some consistency in 2020, and the sophomore got off to a decent start on Saturday. The Auburn signal-caller produced a 77.0 passing grade for the game and came up huge in the second half, with three big-time throws.
And he did this against a pretty good Kentucky defense. This is a promising start for Nix's second year under center for Auburn, but we will find out if this is a new Nix or the same one we saw last year come next Saturday when they travel to Athens to take on Georgia.
5. Stetson Bennett might just be the quarterback Georgia needs
With J.T. Daniels not yet medically cleared, D'Wan Mathis got the start and put on the most wildly volatile performance I have ever seen for a quarterback making his college debut. Mathis had three really ugly turnover-worthy plays but also three big-time throws. Take these two plays, for example. He had one of the worst throws of the day here and gifted one the interception to Arkansas…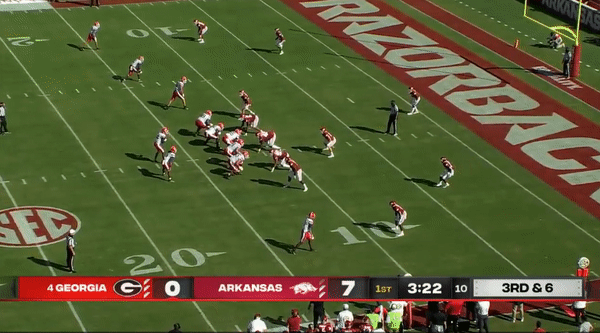 …but then drops an absolute seed here over 40 yards downfield a few minutes later. George Pickens didn't haul it in for a catch, but the throw couldn't have been placed in a much better position.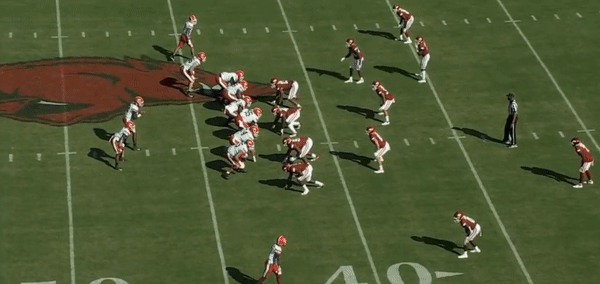 Mathis looks far from ready to be taking the field and leading Georgia's offense. In the first quarter of play, Mathis led the Bulldogs to -0.7 EPA per pass play — and this came against perhaps the worst team in the SEC.
Stetson Bennett, a former JUCO product who had 61 career dropbacks with Georgia prior to Saturday, replaced Mathis in the second quarter, and the offense looked remarkably better. Bennett was a bit of a mixed bag himself when throwing downfield, but he did far more good than bad and hit his open receivers on a consistent basis. Bennett had the best positively graded throw rate of the week among Power Five quarterbacks — by quite a bit. He provided stability, and that's all Georgia needs at the position to make a run this year.
6. Some people are going a little too far with the K.J. Costello hype, but the Air Raid is looking like it'll cause the SEC some issues
K.J. Costello looked solid in his debut with Mississippi State, but let's pump the brakes on calling him one of the best quarterbacks in college football.
He did have several great throws on go balls down the sideline and led Week 4 quarterbacks in big-time throws, but he also had three bad turnover-worthy plays — one of which was the pick-six early on — as well as a bevy of uncatchable throws downfield.
People are making too much of his 623-yard and five-score performance. That's Mike Leach's offense — we saw it with Gardner Minshew and Anthony Gordon at Washington State. Costello is and will be a top-20 quarterback for Mississippi State, but let's not get carried away and start throwing him in the top-five conversation.
This Air Raid offense was cooking on Saturday and will look to cause chaos for the SEC. Mississippi State's passing attack had their sixth-best game from an EPA per pass standpoint since 2016 and had 15 plays on which they gained over 20 yards (three more than any of their other games in the PFF College era). LSU simply had no answer.
7. This is going to be a tough year for LSU
The biggest wild card entering this season was none other than the reigning national champion LSU Tigers. That historic roster was gutted, with most of their key cogs departing for the NFL and leaving just about every starting position with a new occupier.
LSU was supposed to return the best wide receiver in college football in Ja'Marr Chase, but he opted-out of the season and declared for the 2021 NFL Draft. However, they still had the best cornerback in college football in Derek Stingley Jr., but Friday he was hospitalized with a non-COVID illness and missed the team's first game.
With the inexperience LSU was trotting out, I wasn't going to be surprised by the outcome of this one, whether it be LSU winning handily or Mississippi State pulling off the upset. It was, of course, the latter, as LSU struggled on both sides of the ball.
There were some bright spots on defense for the Tigers, such as JUCO transfer Ali Gaye, who notched a 30% pass-rush win rate, and five-star true freshman Eli Ricks, who made a couple of nice plays on the ball and surrendered only two catches on 65 coverage snaps. Overall, though, the coverage unit looked brutal. LSU allowed 0.32 EPA per pass play, their fourth-worst single-game mark since 2015. Bringing back Derek Stingley will certainly help, but the unit looks like it will struggle against some of the better offenses in the SEC.
On offense, LSU had their worst passing showing from an EPA per play standpoint since the middle of the 2018 season. Quarterback Myles Brennan struggled in his first career start, taking way too many sacks and uncorking far too many uncatchable throws. We obviously need to see a lot more of Brennan before we jump to any negative conclusions, but his starting debut wasn't a great one.
8. I'm starting to become suspicious of this Texas team
Texas Tech barely got by against the FCS's Houston Baptist a couple of weeks ago, winning 35-33. Their defense looked like one of the worst in college football that day, surrendering 0.58 EPA per pass, which was by far the worst of the week.
I was expecting Sam Ehlinger to go out there and have a field day. While the offense did put up points, this was far from a stellar outing from Ehlinger, as he didn't really show up until late in the game. Through the first three quarters of action, Ehlinger had a lowly 62.9 passing grade with two turnover-worthy plays and not a single big-time throw. Overall, he had four turnover-worthy plays, which tied for the most in a single game of his career and was just the second time he had more than two.
The defense looked even worse, especially in the second half, when they gave up 0.13 EPA per play. The Longhorns defense benefitted from some really bad throws from Texas Tech quarterback Alan Bowman but still managed to let them back into the game thanks to a load of missed tackles and poor coverage underneath. Texas' coverage unit as a whole produced a coverage grade that ranked just 41st among teams to play in Week 4.
The struggle was real for Texas on both sides of the ball. If Texas is struggling to close out a Texas Tech team that is near the bottom of the Power Five, I'm not so sure they get through a whole season without a loss. This game did verify one thing, though: Texas isn't back to that elite level quite yet.
9. I'm not sure UCF is going to lose a game this year, which is going to once again spark the four-team CFP debate
As I said earlier about Oklahoma's loss opening up the door for runner-up Power Five teams to claim that fourth and final spot in the playoff, it also opens up the door for an undefeated Group of Five champion. So far, there's only one team I am confident in when it comes to winning out: The UCF Knights.
After a stellar start to his sophomore campaign against Georgia Tech in Week 3, quarterback Dillon Gabriel followed it up with one even better. Gabriel posted the second-best passing grade of his career against East Carolina, at a mark above an elite 90.0. He was supremely accurate on shallow throws, which helped him earn a 90.8 passing grade on throws that were less than 9 yards downfield. Overall in the game, Gabriel had very few bad throws and had the lowest negatively graded throw rate of the entire week.
UCF still has to face Memphis and Cincinnati, but I really don't think either of them can stop this potent offense. If UCF does end up going undefeated, we will once again have ourselves an intriguing debate come Playoff time. Let's say this does happen, and the situation with Notre Dame I described earlier does too. Does the committee put in a Group of Five team for the first time, or does it go with one of the biggest fanbases in college football that would bring in far more eyeballs? That right there sounds like their worst nightmare. If UCF does finish the year unbeaten, I wouldn't be surprised if this is the first domino to fall in extending the CFP.
10. TCU's Max Duggan low-key had one of the best performances of the week
There was once a time when it seemed highly unlikely that we would see TCU quarterback Max Duggan take the field in 2020 — the program discovered he had a heart condition during COVID-19 screening, which prompted a surgery to help the matter. Then, within the last couple of weeks, it was revealed that Dugan was back and practicing.
The Horned Frogs went with Matthew Downing as the starter, but after he led TCU to an inefficient start (-0.2 EPA per pass play in the first half), Duggan was put in for the second half and looked much better than he did in 2019.
TCU generated 0.48 EPA per pass in the second half, and Duggan was supremely accurate — which come as somewhat of a shock. Duggan was one of the most inaccurate quarterbacks in college football as a freshman last year; in fact, he ranked 126th of 130 FBS quarterbacks in the percentage of accurate passes thrown beyond the line of scrimmage. His highest passing grade of 2019 was just 74.1, and after that, it was 68.3. In his 2020 debut, though, that all changed. As of now, Duggan's passing grade is north of an elite 90.0, and his accuracy is a big reason why. On throws of 10 or more yards, Duggan went a perfect 6-of-6 for 172 yards and three touchdowns. Overall on the day, Duggan had just one uncatchable pass. Last year, he never had fewer than three in a game.
TCU may have fallen short against Iowa State, but the only reason they were in the game is because of Duggan. Had he played the entire game like that, we would likely be talking about a different outcome. It was one of the biggest surprise performances of the week, given how his 2019 went and the unbelievable comeback from his heart condition.
OFFENSIVE PLAYER OF THE WEEK
Shocking, I know.
There was a pretty tight race entering the season as to who the best tight end in college football really was, but I think it's safe to say Pitts is pulling ahead after his 2020 debut. Pitts had six explosive plays of 15 or more yards against Ole Miss, the most in a single game by an SEC tight end in the PFF College era. As PFF's Mike Renner said in the 2021 Preseason NFL Draft Guide, Pitts looks more like a wide receiver at times after the catch, and he showed it this past week. Pitts had the best offensive performance of the week, and it wasn't all that close.
DEFENSIVE PLAYER OF THE WEEK
After a strong start to the 2020 season against Tulsa in Week 3, when he didn't allow a single yard in coverage, Rodairus Williams managed to top that performance in Week 4 against West Virginia. Williams, the younger brother of Cleveland Browns cornerback Greedy Williams, saw four targets on the night and forced an incompletion on all four.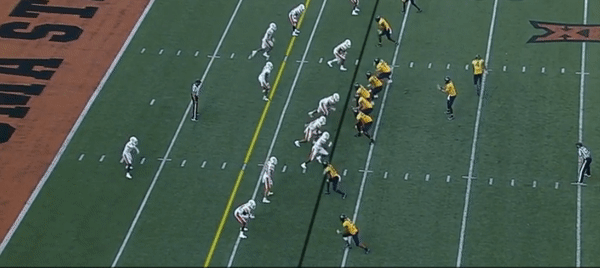 That helped him earn the highest coverage grade of any cornerback in Week 4. The Cowboys outside cornerback is the only player at the position so far in 2020 to play at least 50 coverage snaps and not allow a single yard in coverage. He's been dependable for Oklahoma State in his three years of starting prior to 2020, but he's looking significantly better thus far and might just be taking his play to that next level.
TRUE FRESHMAN OF THE WEEK
Davis wasn't a highly-ranked recruit in the 2020 class, but with the way he played in his collegiate debut on Saturday, it looks like he should have been. The 6-foot-7 receiver hauled in four of eight targets for 101 yards and a couple of scores en route to an 88.3 receiving grade against the Duke Blue Devils. That mark was the third-best of the week.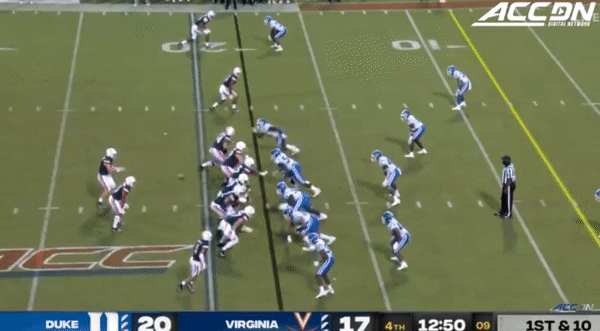 The true freshman was out here making catches very few can make thanks to his height and physicality. Duke tried to contain the man in press coverage (20 of 25 routes ran were against press), but clearly, that did not work. He also broke four tackles on the night, tying for the most of the week. After watching him do this against a decent Duke secondary in his first game at the collegiate level, I cannot wait to watch Davis in the weeks and years to come at Virginia.
OFFENSIVE LINE OF THE WEEK
App State was named the Offensive Line of the Week in Week 3, and they will repeat that for Week 4 after their dominant outing against Campbell. Whether it was a pass or run, the Fighting Camels' defensive front had no shot against the unit App State has up front.
The offensive line as a whole was responsible for just one pressure all night long and made multiple big-time blocks for the run game. While they were all instrumental in the team's success, it was left guard Ryan Neuzil who had himself the best day of the App State line. He was the one responsible for the one pressure, but his performance in the run game was too good to ignore. Neuzil's run-blocking grade is north of 90.0 and nearly 10 grading points higher than any other offensive lineman of Week 4.
SECRET SUPERSTAR OF THE WEEK
With Jordan Mason unable to go due to an injury, the Yellow Jackets had to lean on true freshman back Jahmyr Gibbs in his absence, and he looked just like Mason with the way he shed tackles. Gibbs broke 10 tackles on 19 carries, most of which came behind the line of scrimmage. Of his 105 rushing yards, 98 of them came after contact. Just three of those 19 carries resulted in a 10-plus-yard gain, but Gibbs putting up the numbers he did behind that line is quite impressive for a true freshman.
PLAY OF THE WEEK
Roger McCreary with a game-changing INT ahead of halftime
Down 1 point with around a minute left in the first half, Kentucky found themselves inside the Auburn 5-yard line with a chance to go into halftime with the lead on the Tigers. There was a suspect call on a Christopher Rodriguez run in which he looked like he had made it in the end zone, but was called down just inches away from the score. Terry Wilson got stuffed on a sneak shortly after; then on third and goal, the worst possible thing occurred: The Wildcats opted to pass and cornerback Roger McCreary had no issue with jumping Wilson's throw for an interception.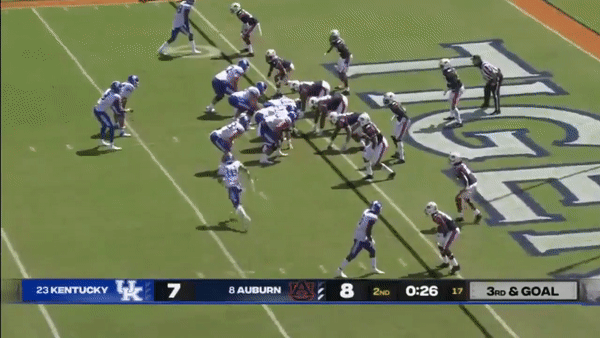 McCreary would go on to return that for six but was called back due to a targeting penalty on the Tigers. While he didn't get the score, it was still clearly a game-changing play. Had Kentucky scored there, they would have put themselves up a score entering halftime and would be getting the ball back to start the second half. Auburn secured the 29-13 victory at the end of the day, but without that interception, we could be talking about a vastly different outcome.
AN EARLY LOOK AHEAD TO WEEK 5…
Two top-10 matchups? Sign me up!
Texas A&M barely survived against Vanderbilt in Week 4, and now they have the great fortune of taking on the Alabama Crimson Tide. The Aggies came into the game favored over the Commodores, who were last in our SEC Elo ranking, by a whopping 31 points. That blowout win, however, did not occur. Texas A&M won by just five points (17-12) and gave Vandy multiple opportunities to go out ahead of them in the fourth quarter, with two drives ending in a fumble. And I would be on the side of this game saying more about Texas A&M maybe not being as good as many had thought as opposed to Vandy sneakily having a good squad. Quarterback Kellen Mond will look to have a bounce-back game after he had a couple of fumbles himself and struggled to move the ball downfield. He went 3-for-11 on throws of 10 or more yards, recording a turnover-worthy play and zero big-time throws.
As for Alabama, they had no issue handling Missouri as heavy favorites. Through the first three quarters of action, before we started to see starters getting pulled, Alabama's passing attack produced an incredible 0.74 EPA per pass play. This offense is as good as advertised — it's one of the best in the country.
Auburn and Georgia are the second of the two top-10 showdowns, and the state of each team's quarterback situation makes this one even more intriguing. As broken down above, Bo Nix looked sharp on Saturday, but can he maintain that play on a week-to-week basis?
For the Bulldogs, we might get to see the highly-anticipated debut of USC transfer J.T. Daniels at quarterback. Daniels was a big-time five-star recruit back in 2018, but he didn't play like it as a true freshman. He ranked 118th of 136 qualifying FBS quarterbacks in PFF grade and struggled at practically every aspect of the position. Daniels then tore his ACL in Week 1 of last season, which caused him to lose his job and subsequently transfer to Georgia. It's fair to assume that he'll improve with another year of starting experience under his belt, but to what degree? I guess we will get a hint next Saturday, and I cannot wait.