Week 3 of the 2020 college football season is in the books, and what a start to the day for the underdogs! We had multiple upsets in the 12 p.m. slate, with every single underdog in an FBS matchup covering the spread.
It only got better from there, as we went into the nightcap and feasted on an electric matchup between the Miami Hurricanes and Louisville Cardinals. And now that the first run of our analysis is finalized and available in PFF's CFB Premium Stats+, we get to fill you in on everything you might have missed while providing further analysis on yesterday's games. 
Here we present to you the PFF Team of the Week, 10 big takeaways and player awards from Week 3 of the 2020 college football season.
Editor's note: Die-hard college football fans, NFL draft enthusiasts and avid college football bettors can now subscribe today to CFB Grades+ or CFB Premium Stats+ to get access to PFF's player grades, advanced stats and NCAA betting dashboard. Use Code BIG10 here to get 20% off your subscription
PFF TEAM OF THE WEEK
Offense
QB: Trevor Lawrence, Clemson
RB: Tyjae Spears, Tulane
RB: Ulysses Bentley IV, SMU
WR: Tim Jones, Southern Miss
WR: Marlon Williams, UCF
WR: Frank Ladson Jr., Clemson
TE: Hunter Long, Boston College
LT: Jaylon Thomas, SMU
LG: Hayden Howerton, SMU
C: Noah Hannon, App State
RG: Peter Nestrowitz, Navy
RT: Teven Jenkins, Oklahoma State
Defense
DI: Bryan Bresee, Clemson
DI: Alim McNeil, NC State
EDGE: Brandon Matterson, UTSA
EDGE: Myjai Sanders, Cincinnati
LB: Zaven Collins, Tulsa
LB: Santrell Latham, Southern Miss
CB: Tariq Woolen, UTSA
CB: Rodarius Williams, Oklahoma State
S: Craig Slocum, Troy
S: Josh DeBerry, Boston College
FLEX: Dionté Ruffin, Western Kentucky
10 BIG TAKEAWAYS
1. D'Eriq King and Rhett Lashlee are cooking up a historically great Miami offense
The U had a lot of hype entering this game with the electric D'Eriq King leading the offense, and they were just as good as advertised.
Miami's offense took down Louisville with relative ease, as they hung 47 on the Cardinals and notched their best passing performance they have had in years. King and offensive coordinator Rhett Lashlee helped the passing attack produce 0.76 EPA per pass play, which is the highest mark the program has ever had in a single game in the PFF College era (since 2014, second-best came in 2016 Week 5, at 0.68). And the scary part is that King didn't have to make any of these big plays off-structure or with his legs like he did quite a bit at Houston and in Week 2 against UAB.
Just about a third of King's pass attempts last night had some type of RPO or play-action concept attached. Miami produced 1.0 EPA per pass on such plays as King averaged 9.6 yards per attempt while generating a 143.5 passer rating. Even without these plays, Miami still had the most efficient passing attack from an EPA per play standpoint among those in Week 3 to play an FBS defense.
King earned an 84.7 passing grade on the night, keeping his turnover-worthy play count to zero while producing a couple of big-time throws. He will likely also finish the week with the lowest negatively graded throw rate of any quarterback who attempted at least 15 passes in Week 3.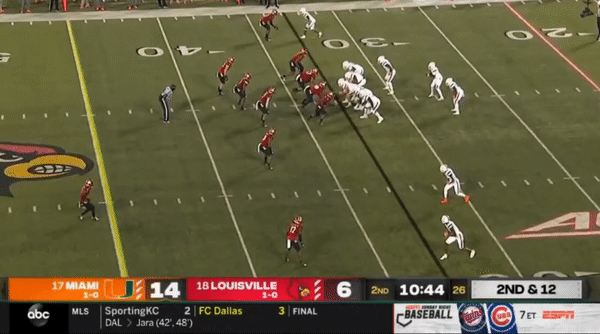 Miami hasn't produced positive EPA per pass play over the course of a single season since 2016. And even then, this offense with King and Lashlee looks like it'll blow that one out of the water. If I recall correctly, ESPN's Kirk Herbstreit said in the broadcast that this might be the best offense Miami has had since the days of Ken Dorsey in the early part of the century — I 100% agree with that sentiment.
2. Dillon Gabriel looks like an easy top-10 quarterback in all of college football
UCF quarterback Dillon Gabriel was one of the many standout true freshmen at the position last year, as he produced an 81.4 PFF grade that ranked 28th in the entire FBS. That helped him earn a spot in the top 15 in our preseason FBS quarterback rankings, but Gabriel's performance yesterday against Georgia Tech made a case for him being even better than that. As a matter of fact, I think he's in contention for being the best quarterback in the Group of 5 and one of the 10 best in college football.
Gabriel was one of three quarterbacks of Week 3 to produce a passing grade above 90.0. He did have quite a bit of quarterback-fault incompletions to his name (seven to be exact, tied for fifth-most of the week), but none of those were deemed turnover-worthy and no other quarterback had more big-time throws. The true sophomore finished the game with an unreal seven big-time throws, which were three more than any other quarterback.
3. Again, I truly do not understand how an NFL franchise can watch Trevor Lawrence and not want to endure an 0-16 year just to get him in 2021
I explained just how much Trevor Lawrence is worth tanking for in last week's recap. The Clemson quarterback then proved it again in Week 3.
I know Clemson had one of the easiest opponents a team could have had, but the man-made NFL-level throws in his small sample of action against The Citadel would make me easily accept a year of losing to ensure he's my franchise quarterback. Lawrence attempted eight passes for the game and delivered a catchable ball on every single one. Three of those were deemed big-time throws, including this perfectly-placed laser to Frank Ladson.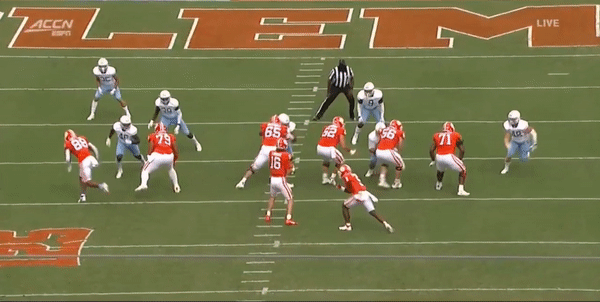 It'd be different if we hadn't seen this from him before, but it's become a normality.
One of the most intriguing storylines of the day had to do with the Boston College Eagles, something I'm sure hasn't been said in many, many years.
Notre Dame transfer Phil Jurkovec, a former four-star recruit, made his debut for Boston College, with many hoping that he would revive an offense that had been lethargic in recent years. Based on his performance yesterday, it looks like he will.
Boston College's passing attack produced 0.32 EPA per play, which made it just the seventh time in the PFF College era (since 2014) that the program eclipsed 0.3 in a single game against a Power 5 defense. And of the other schools they did that against, this defense might actually be the best.
Jurkovec got a bit off to a slow start, as he had multiple bad decisions and took a few bad sacks in the first half of action. In Quarters 1 and 2, Jurkovec had three turnover-worthy plays, paving the way to a passing grade of 30.0. Then, in the second half, he looked far more comfortable out there. Jurkovec earned a passing grade of 92.9 in the second half of play, throwing nearly every ball accurately, evading sacks on multiple occasions and delivering multiple big-time throws when under pressure.
It's only one game, but Jurkovec showed that he might break BC's streak of never having a starting quarterback eclipse a single-season passing grade of 70.0 (it has yet to happen in the PFF College era).
5. The best cornerback duo might not belong to a Power 5 school — it might belong to the App State Mountaineers
If you had asked me before the season who the best outside cornerback duo in the Group of 5 was, I would have said App State's Shaun Jolly and Shemar Jean-Charles. Jolly was coming off a year in 2019 in which he tied for first in PFF grade among FBS cornerbacks, while Jean-Charles had a strong year by producing a 79.0 coverage grade and routinely showing precise timing at the catch point. After the Mountaineers' first two games of play in 2020, I would say those two might now comprise the best cornerback duo in the entire FBS.
Jolly pretty much locked down his side of the field against Charlotte in Week 2 while Jean-Charles went above and beyond that and won our Defensive MVP of the Week. Jean-Charles also locked down his side of the field too, and he made several plays on the ball (four pass breakups, to be exact).
Yesterday's matchup against Marshall was not much different, as the Thundering Herd's outside receivers could not get anything cooking against them — of Grant Wells' 25 pass attempts on the day, 12 went to the outside, and the duo of Jolly and Jean-Charles allowed only four to be caught with just two of those resulting in a first down. On top of that, they combined for three forced incompletions and allowed a passer rating of just 46.2.
This is something that I would like to revisit midseason once we see the Big Ten and, likely, the Pac-12 take the field. But as of now, App State just might have the best outside corner duo in college football.
6. Grant Wells' lack of experience showed up against an actual defense
As you might have read in the Week 3 preview, I was — and still am — a huge believer in Marshall quarterback Grant Wells. After all, he lit up Eastern Kentucky in his first career start, producing a 95.2 passing grade for the game. The redshirt freshman displayed legit arm talent in his debut and looked like he might be the next rising star in the Group of 5.
This week's matchup against App State was going to be a huge test for Wells and a great opportunity to show that he is the real deal, as the Mountaineers entered the game the fifth-best defense in the FBS according to our defensive Massey ranking.
The defense got the best of him to start the game. Wells made multiple bad decisions in the first quarter of action; he had two turnover-worthy throws on six attempts, and they were the kind of decisions that are typical from an inexperienced quarterback.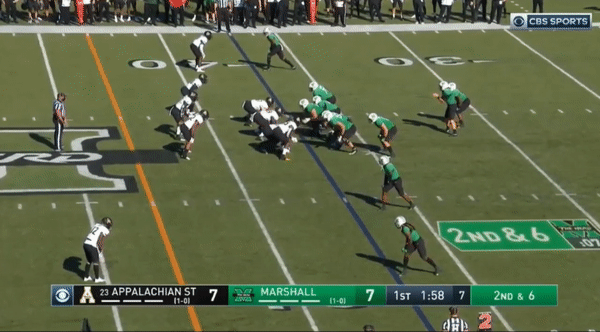 Luckily for Marshall, that one (above) didn't end up in a turnover. Wells still displayed the genuine arm talent that we saw against Eastern Kentucky — he did have four big-time throws for the game, leading to a passing grade above 60.0. The more reps Wells gets, the more he will learn not to throw those balls like the one above. I'm still standing by Wells becoming a great quarterback for Marshall, but patience is key.
7. After tearing his ACL in of 2019, Tylan Wallace is back to top-10 form
Oklahoma State wide receiver Tylan Wallace became one of the premier players coming from the Big-12 conference after his 2018 season. That year, Wallace was a big-time vertical threat for the Cowboys and finished the season at an 86.3 receiving grade. In 2019, Wallace's usage was a little bit different, as he was pumped more screens, but he became a monster after the catch by averaging nearly 10 yards after the catch and breaking 13 tackles on 53 catches. Unfortunately, his season came to a halt after a torn ACL, but he came back for 2020 and looked right back in his top-10 form in Week 3.
Wallace produced a 78.5 receiving grade for the game, catching all four of his catchable targets and making multiple highlight-reel contested grabs on go balls.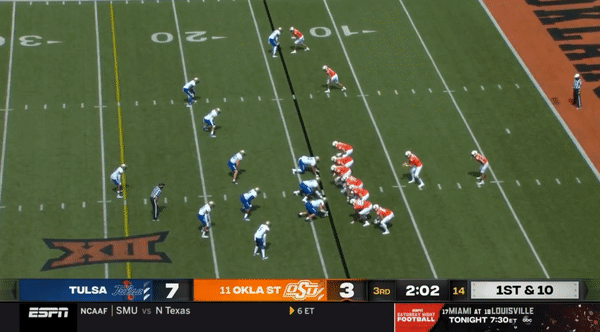 Wallace has shown that he can create after the catch on screens, blow by defensive backs for an open target on vertical routes, adjust to off-target throws and win in contested situations downfield. With a clean bill of health, this guy is a top-10 — or even top-five — receiver in the entire FBS.
8. Clemson wide receiver Frank Ladson Jr. showed signs of what he can be
With the departure of Tee Higgins and the season-ending injury to Justyn Ross, Clemson really needed some of their young receivers to step up in 2020. One of these young receivers was Frank Ladson Jr., a top-40 recruit in the 2018 class.
He saw very little action as a true freshman last year but caught a handful of nice jump balls with the help of his 6-foot-3 frame. Ladson still had quite a bit to prove, though, and his Week 1 was well short of expectations, as he dropped one of three targets.
He rebounded in a big way yesterday and showed exactly the type of weapon he can be for Lawrence once they face good ACC teams. Ladson caught three catches for 87 yards and two scores — one touchdown was the contested grab shown above in Lawrence's section, and the other was this nice sluggo-route that resulted in multiple steps of separation:
It's bad competition, sure, but it was a promising performance from a youngster who needed a game like this one.
9. This was a difficult week to pick a No. 1 TE for Team of the Week
Boston College's Hunter Long took home the honor of being on the PFF Week 3 Team of the Week, but there were several who gave him a run for his money. 
Long came away with a 91.7 receiving grade for the game, as he went a perfect 5-for-5 on contested opportunities against Duke. That was more than he had in all of 2019. The 6-foot-6, 255-pound tight end has always been a bully along the route but did his best work after the catch. After yesterday's stellar outing, Long is inching toward elite status at the position.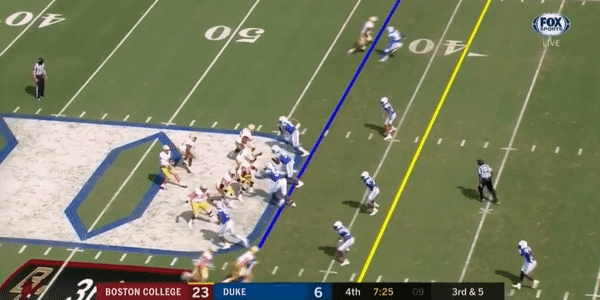 Coastal Carolina's Isaiah Likely was the runner-up to Long, joining him in producing an elite 90.0-plus receiving grade for his game. He was actually more productive than Long, too, as he picked up a stunning 8.73 yards per route run. Likely may not have won this one, but the best tight end in the Group of 5 is bound to eventually.
Tommy Tremble of Notre Dame was also very much in the conversation for the work he did as both a receiver and a run-blocker. We saw him shine as a run-blocker in Week 2 against Duke, and it showed up again in Week 3. Keep an eye on where the ROLB ends up on this play: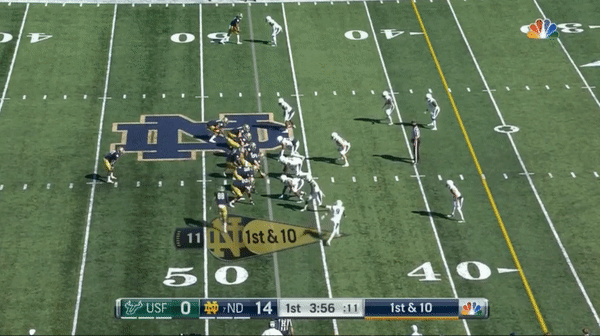 Tremble opened up holes in the run game as much as any tight end of Week 3, leading him to the highest run-block grade of the week. NBC's Jac Collinsworth mentioned in the broadcast how much Tremble enjoys run-blocking, and when I watch him, I understand why — the man is constantly overpowering his defender and trying to put them in the dirt. He also added value as a receiver in Week 3, with a contested catch, a forced missed tackle and two explosive plays of 15-plus yards on three targets.
10. A hat tip to Coastal Carolina quarterback Grayson McCall for his performance against Campbell
If Trevor Lawrence hadn't played as he did, Coastal Carolina's Grayson McCall would have been the quarterback in our Team of the Week. The redshirt freshman recorded a 94.0 passing grade against Campbell on Friday and uncorked a big-time throw on a quarter of his pass attempts.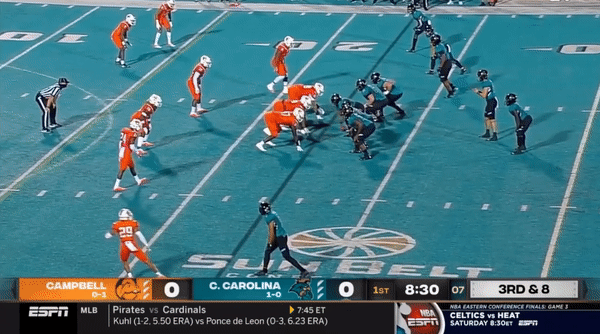 This was a vast improvement over his performance in the week prior against Kansas, as he didn't really have any throws on tape to really get excited about. He also recorded two turnover-worthy plays. It is worth mentioning that that game was the first start of his career. Campbell is obviously no great team, but credit is due here for McCall, who played nearly perfect as a passer.
OFFENSIVE MVP OF THE WEEK
Producing three big-time throws on eight passes is ludicrous. I don't care who Clemson played — Lawrence made special throws on low volume that very few in college football could make. And for that, he wins our Offensive MVP of the Week for the second straight week.
DEFENSIVE MVP OF THE WEEK
Woolen played a near-flawless game for UTSA as they went up against Stephen F. Austin. He did give up a 40-yard completion late in the third quarter but was a playmaker for the Roadrunners throughout the game. Woolen logged 35 coverage snaps and saw targets on eight of those — on those eight, he allowed just two to be caught (one was the 40-yard play; the other was just a 2-yard gain) and forced five incompletions.
TRUE FRESHMAN OF THE WEEK
Bresee was the PFF True Freshman of the Week in Week 2, and he claims it here again in Week 3. I have a feeling that this isn't the last time we will see Bresee claim this award in 2020.
He logged 21 snaps for the game in Clemson's blowout win over The Citadel and made numerous big plays that led him to a PFF grade above 90.0. Only five of those were pass rushes, yet he still came away with three pressures while also tacking on a couple of run stops. Bresee logged a snap at nearly every alignment on the line, from heads-up nose to 6/7-technique, and he ate up the Bulldogs offensive line. He's going to be a special player for Clemson.
OFFENSIVE LINE OF THE WEEK
This one is no surprise. App State ranked eighth in our preseason offensive line rankings in the PFF College Magazine and placed three linemen on the PFF Preseason All-Sun Belt first-team. Against Marshall yesterday, App State gave quarterback Zac Thomas clean pocket after clean pocket as they allowed just six pressures all game long and didn't lose a single rep outside of those. And for what it's worth, one of those six pressures allowed was by a backup tackle who played four snaps.
SECRET SUPERSTAR OF THE WEEK
During pregame for USF versus Notre Dame, it was made known that the Irish would be without eight players for the game for undisclosed reasons (i.e., either injury or COVID-19). Two of whom were Shayne Simon and Marist Liufau, who were the first- and second-string players at Buck linebacker. This forced Notre Dame to thrust Jack Kiser, a redshirt freshman and 2018 Indiana Mr. Football, into starting action last minute, and the results were a lot better than expected. Kiser made four big defensive stops within his first 11 plays (one in coverage and three against the run), which led him to produce a 90.0 PFF grade in the first two quarters of action against the Bulls. That right there is the pure definition of a secret superstar.
PLAY OF THE WEEK
A game-saving Peanut Punch
Marshall came into this game underdogs and had App State on the ropes early in the fourth quarter. They led them 17-7 at the time and had just forced a fourth-and-inches in the Thundering Herd's territory. App State lined up in 13 personnel and made it seem a dive was certainly coming. Then this happened: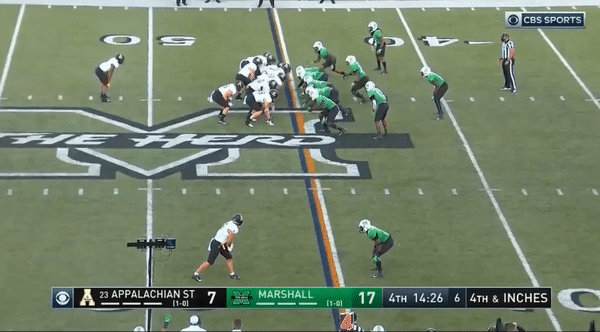 For a few seconds, Marshall's chances at an upset looked like they were crumbling away. But safety Brandon Drayton came to the rescue by giving tight end Mike Evans a peanut punch, which saved the game. Drayton, a fifth-year senior, had played over 1,500 snaps for Marshall in his career prior to this, but this is the play of his career. 
AN EARLY LOOK AHEAD TO WEEK 4…
The SEC is BACK.
While the conference's two best teams, Alabama and Georgia, have walks in the park (Missouri and Arkansas), there are some great matchups in Week 4. 
The most intriguing will be Mike Leach's Mississippi State debut against the reigning national champions, LSU. Leach's infamous Air Raid attack had his Washington State Cougars passing on 83% of their plays in 2019, over 15 percentage points higher than any other Power 5 school. Meanwhile, Mississippi State sat at 48%, 95th in the FBS. This ought to be a fun change to watch.
LSU, on the other hand, lost nearly every key piece from its historic 2019 squad. They do return the most valuable non-quarterback of the 2019 season in cornerback Derek Stingley Jr., though.
We also get the game of the week coming from the SEC, as the Kentucky Wildcats take on the Auburn Tigers. True sophomore Bo Nix looks to make a Year 2 jump after struggling in 2019. And while he may have won SEC Freshman of the Year, he didn't play like it. Nix can do some damage on designed runs, but his passing ability is relatively nonexistent. He ranked 105th among 130 FBS quarterbacks in 2019 and wasn't great on schemed plays like RPOs and play action. And it's not going to be very easy for him out of the gate, as he faces a Kentucky defense that came in at ninth in the FBS in our preseason rankings.