Once the Big Ten and Pac-12 opted to postpone their 2020 fall football seasons due to COVID-19 concerns, a spot opened up in the College Football Playoff. Three of the four spots seemed nearly set in stone to go to the winners of the SEC, ACC and Big 12. And while that's not a sure thing, the heavy favorites are Alabama, Clemson and Oklahoma. With Ohio State out of the picture, the final spot would have most likely gone to the runner-up from one of those three Power Five conferences or even to a dark horse team from the Group of Five.
That has all changed now with the Big Ten's decision to reverse course and play this fall, giving the conference's champion (likely Ohio State) their spot in the CFP back. And these four teams, in particular, are the ones that saw their CFP dreams dwindle to glimmers of hope.
Editor's note: Die-hard college football fans, NFL draft enthusiasts and avid college football bettors can now subscribe today to CFB Grades+ or CFB Premium Stats+ to get access to PFF's player grades, advanced stats and NCAA betting dashboard.
If Notre Dame were to sneak into the playoff this season, they would have had to have played Clemson twice (once in the regular season and once in the ACC Championship) and win one of those while not losing any other game. There was a chance for this to happen, slotting both the Irish and Tigers into the CFP, but Notre Dame will now have to win the conference outright. Sorry Irish fans, but I'm taking Clemson every time.
The story of Notre Dame's 2020 season thus far has gone exactly as expected: The defense is playing like one of the best in college football, while the offense is lagging. Notre Dame has allowed positive expected points added on just 32.6% of its opponents' offensive plays, ranking sixth among FBS teams to play another FBS team this season.
Safety Kyle Hamilton looked like a star in the making after his Week 2 performance against Duke (88.5 coverage grade), and cornerback TaRiq Bracy looks like he is taking that next step forward after his Week 2  effort (two pass breakups, no catches allowed). Neither of the two played in Week 3 against USF, but the unit shut out the Bulls without them.
While Duke's offense is far from potent, the Blue Devils do have a fairly good defense — one that Ian Book and company struggled to get anything cooking against in Week 2. The Irish finished that week ranked 16th  of 28 FBS teams in expected points added per pass play (-0.13), and Book produced a 50.1 passing grade with no big-time throws and two turnover-worthy plays. Even against USF, Notre Dame's passing attack barely generated positive expected points added on a per play basis.
As good as Notre Dame's defense is, Trevor Lawrence and Clemson will have no issue with handling the unit — and the Irish don't have the firepower to match on offense.
If you're reading this, you probably already know our feelings about Georgia and how they would have been 2020 National Championship contenders with Jamie Newman under center. He opted out of the season to start training for the 2021 NFL Draft, though. Assuming the Big Ten hadn't played, there would have been a small chance for Georgia to sneak into the playoff alongside Alabama. The quarterback situation isn't great, but the talent everywhere else on both sides of the ball makes this a good team. But now, only one is likely to come out of the SEC, and Alabama is undoubtedly the favorite.
With Newman, the presumed starter, no longer in the picture, Georgia will either be starting USC transfer JT Daniels or 2019 four-star D'Wan Mathis. It's unknown who Kirby Smart will start as I write this, but either way, it's a pretty considerable dropoff from what could have been. Before tearing his ACL in 2019, Daniels started for the Trojans as a five-star true freshman in 2018 and had minimal success.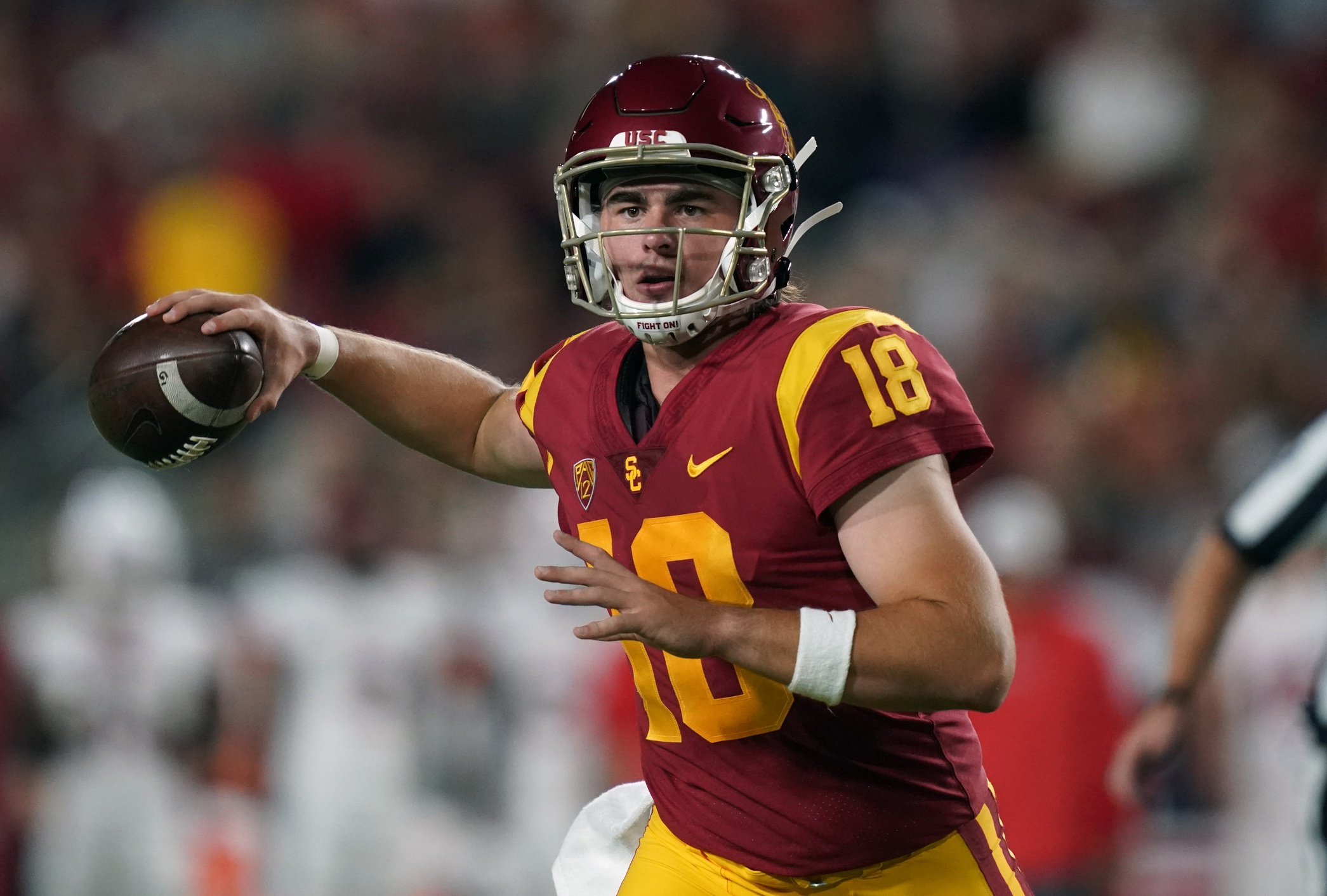 Of 130 FBS quarterbacks that year, he ranked 118th in PFF grade, 127th in turnover-worthy play rate, 129th in wins above average and 116th in percentage of accurate passes thrown beyond the line of scrimmage. Daniels is bound to improve some in his second year as a starter, but I wouldn't expect anything drastically different. As for Mathis, he has yet to log a snap for Georgia.
Despite the quarterback situation, this team is still good enough to go toe to toe with the non-Alabama teams on their schedule — such as Florida and Auburn. Their defense came in at No. 1 in our preseason rankings in the PFF College Magazine, and the offense still has one of the best wide receivers in college football in George Pickens, who ranked first receiving grade last year among Power Five true freshman. Had the Bulldogs won every game other than their matchup with Alabama, there would be a compelling argument to still include them in the CFP — but not anymore.
The top of the AAC was a tight race between UCF, Cincinnati and Memphis prior to the 2020 season, but with the way the Knights played against Georgia Tech in Week 3, they look like the frontrunner.
Quarterback Dillon Gabriel helped UCF produce 0.39 expected points added per pass in that matchup, the third-best mark of Week 3. Gabriel had one of the best true freshman seasons we have seen in the PFF College era in 2019. He produced an 81.4 PFF grade while displaying a great deep ball and advanced decision-making for someone of his age.
In that UCF win to kick off his sophomore campaign, Gabriel looked better across the board. He finished the day with a 90.3 PFF grade, seven big-time throws and zero turnover-worthy plays. To no one's surprise, he was the highest-graded quarterback on throws of 20-plus yards and had two more such completions (6) than any other quarterback in Week 3. Gabriel can hit his receivers Marlon Williams and Tre Nixon on a go ball like it's a walk in the park.
Despite missing Tay Gowan, who opted out of the 2020 season, UCF's outside coverage shined and could not have been much better. The group allowed just two of five targets to be caught for 23 yards with a forced incompletion. The real reason why UCF looks like the frontrunners for the AAC title is because of Gabriel's play.
With that formidable offense, the Knights could very well go undefeated. Had there been no Big Ten this season, that would be enough to secure that final College Football Playoff spot, but now they'll likely need a major choke from either Ohio State, Clemson, Alabama or Oklahoma for that to be enough.
Florida being in the running for a spot in the CFP completely hinges on quarterback Kyle Trask's development. After an injury to Feleipe Franks early in 2019, Trask — a redshirt junior at the time — was thrust into the starting job, which was something he hadn't done since his freshman year of high school.
Trask shined in his first start against Tennessee but would go on to be a consistently subpar quarterback the rest of the season. He earned a 66.4 passing grade for the year, which is something most fans don't agree with because of his box score stats. PFF dives as deep as possible to dissect player performance, and Trask was one who we disagree on with the public.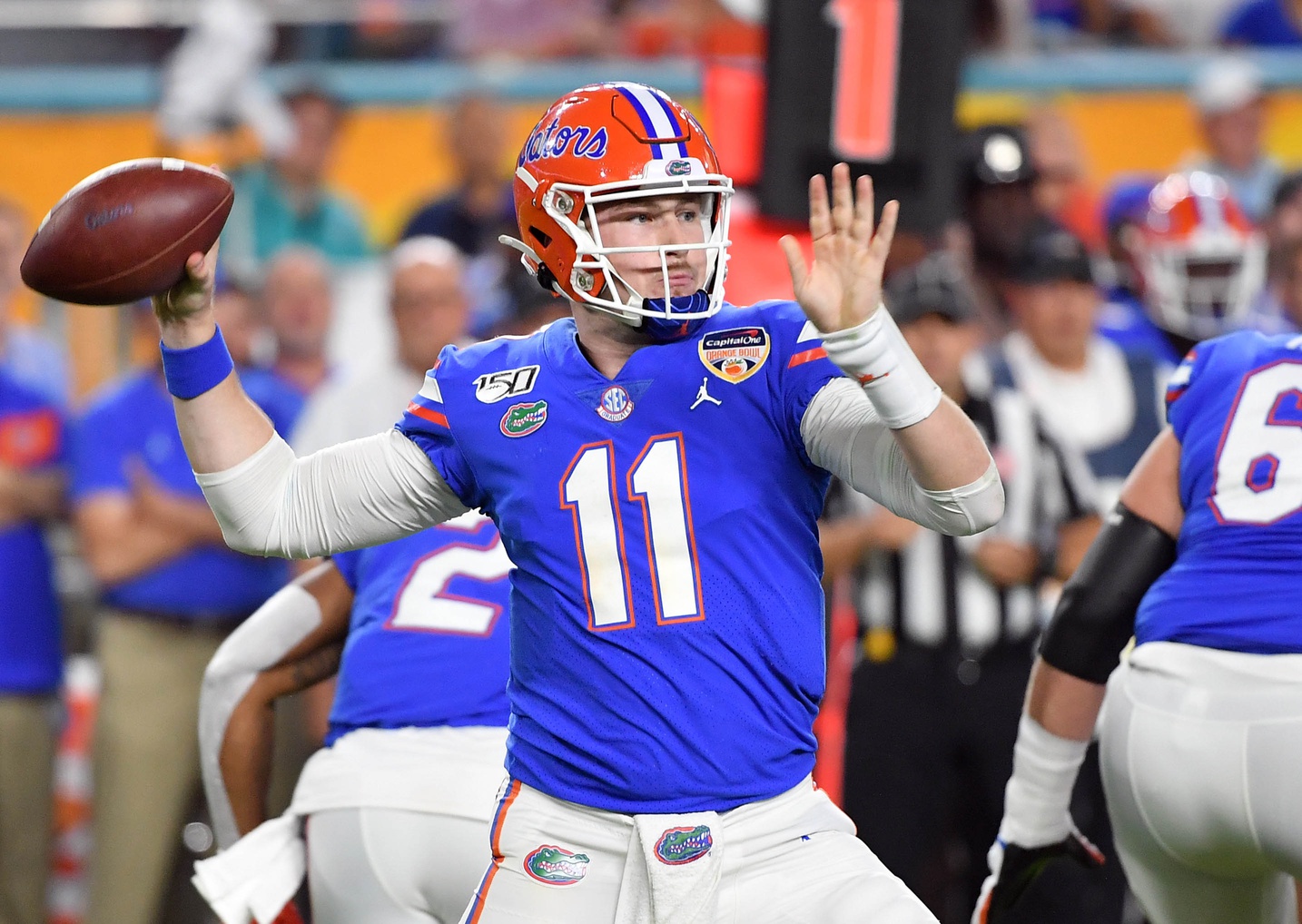 He tied for the fourth-worst big-time throw to turnover-worthy play differential among FBS quarterbacks last year (-13) and failed to make big plays with his arm despite having the talent to do so. He was also concerningly poor when he had to create off structure or when the pass rush was about to get to him (115th in pressured passing grade). Considering this was his first time starting since his early years of high school, it certainly could have been a lot worse.
Trask has a big arm and needs to put it to use by uncorking some shots downfield. Improvement is likely, especially with the impressive receiving unit at his disposal, but I wouldn't expect elite level play.
The Florida defense is, without question, the team's strong suit. The Gators have a stacked secondary with two of the five best safeties in the SEC — Donovan Stiner and Shawn Davis — as well as a rising star in cornerback Kaiir Elam. The big question is whether Marco Wilson can get back to his 2017 form. Wilson earned a 78.3 coverage grade at outside corner that year, tore his ACL in 2018 and then produced just a 61.0 coverage grade when playing on the outside in 2019.
Florida is in a similar boat as Georgia — it has the potential to go toe to toe with anyone on its schedule, until the SEC Championship. Had the Gators swept regular-season play and lost in the conference title game to the Crimson Tide, they would have been among those in the running for the fourth and final spot. Now, they'll have to win just about every game on their schedule, including an upset over Alabama in the SEC Championship, to achieve that.