After a horrendous first pass of the game that resulted in an interception and turnover-worthy play, Iowa State quarterback Brock Purdy lit up the Louisiana-Monroe defense for a 92.1 passing grade. While it was no 'Bama or even Power 5 competition, the show Purdy put on was a record-breaking one and earned the Cyclones a 72-20 victory and himself the Week 4 Eckrich GameDay MVP honors.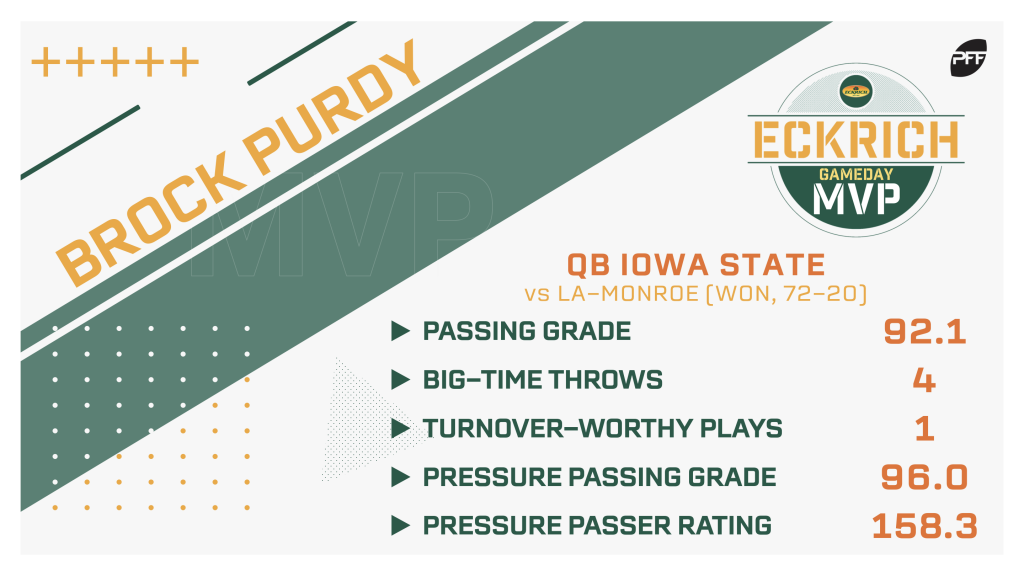 Furthermore, Purdy put up four big-time throws and zero turnover-worthy plays after that opening drive. The most impressive part of Purdy's performance was how he handled the Warhawks' pass-rush when they got pressure on him. In those instances, Purdy recorded the highest passing grade in a single game we have ever seen in the PFF College era (since 2014) with a 96.0 grade (also owns the second highest-graded pressure performance from his 2018 Week 6 matchup against Oklahoma State). Along with that elite grade, Purdy put up a perfect passer rating of 158.3, an 84.6% adjusted completion percentage and an insane 18.4 yards per attempt when under pressure.
Some of Purdy's best throws on the day came when he was outside of the pocket. When he opted to bail on the pocket and create some magic, Purdy had an impressive 92.7 passing grade and perfect adjusted completion percentage, along with a couple of big-time throws.
Exhibit A: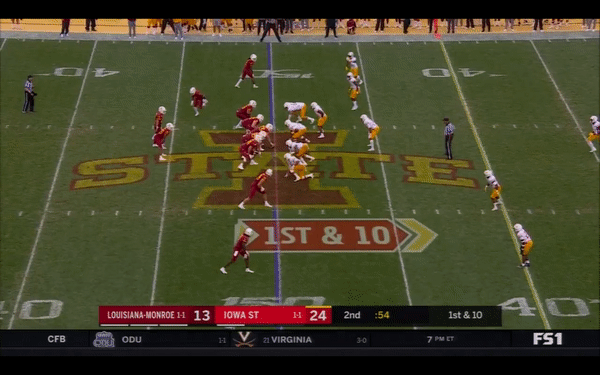 Based off his passing play under pressure and outside the pocket, it's clear that Purdy's ability to create outside of the structure was put on display and we can see that by breaking down his passing by time-to-throw. On throws that eclipsed 3.1 seconds, Purdy had an unreal 94.6 passing grade and perfect adjusted completion percentage. Moreover, Purdy had an average depth of target on those plays of 14.4 yards which assisted in an incredible 16.9 yards per attempt. A prime example that if you have an accurate quarterback like Purdy, don't establish the run. Air it out. Which leads us to Purdy's precise deep ball from yesterday. Purdy attempted six passes of 20-plus yards yesterday and completed five of them for 142 yards and a 97.7 passing grade.
Purdy was absolutely elite when Iowa State stuck to their 11 personnel offense. In those personnel packages, Purdy had a 94.9 passing grade, 150.5 passer rating, 89.5% adjusted completion percentage and averaged 18.2 yards per attempt. When they decided to go out of their offense in other packages, Purdy had a 52.1 passing grade, 80.7 passer rating, 57.1% adjusted completion percentage and averaged 7.4 yards per attempt. Good thing they operated out of 11 personnel on 77.1% of their pass plays.