No year in college football will be more memorable than the one we are experiencing now, as the impact of COVID-19 has forced most colleges to cancel the 2020 fall football season with the hope of trying to play in the spring.
We aren't here to give you our opinion on whether they should or should not have played in the fall, nor are we going to do that with their attempt to play in the spring. Instead, we want to shine a light on the players who deserve credit for the performances they have put forth over their college careers.
Without further ado, we present to you what would have been the 2020 PFF College Preseason All-Sun Belt Team.
QUARTERBACK
It's mind-boggling that some are calling for Logan Bonner to reclaim the starting spot after what Hatcher did in Bonner's stead last year. Hatcher finished the season with a 90.0 passing grade and the sixth-best big-time throw rate in the FBS. He also led the Red Wolves to their most efficient passing attack in the PFF College era in terms of EPA per pass play. Not only is he the best quarterback on the roster, but the best quarterback in the Sun Belt.
RUNNING BACK
The Ragin' Cajuns had the most efficient RB-rushing attack in the FBS in 2019, and they'll be in contention to repeat that in 2020 with Mitchell — he earned an 87.7 rushing grade in 2019, first in the Sun Belt and 11th in the FBS.
RUNNING BACK
Johnson is the only other running back who has a chance of catching Elijah Mitchell here. Johnson is a breakaway threat any time he touches the ball — he had 12 runs of 20-plus yards (tied first in Sun Belt) and also broke 0.3 tackles per attempt in 2019 (17th in the FBS).
WIDE RECEIVER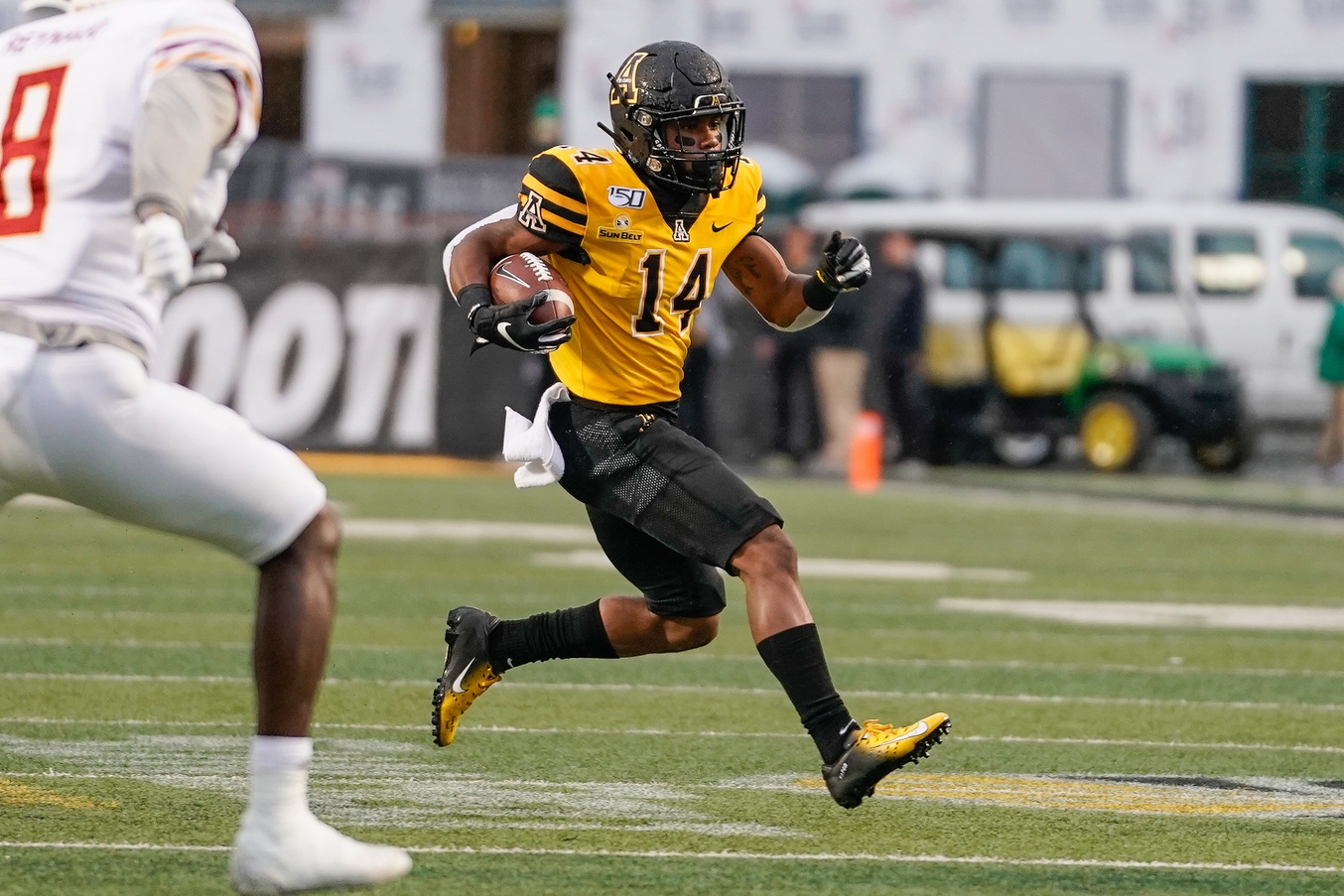 Williams is fresh off a season in which he produced a 77.2 receiving grade, which trails only Jamal Bell of Louisiana (who is out for the year due to injury) for the best in the Sun Belt among those set to return. He is at his best running horizontal routes, as his grade jumped to 85.7 on those targets, 23rd in the FBS.
WIDE RECEIVER
Geiger has some of the surest hands in the country. He currently owns the longest active streak of most catchable targets without a drop among FBS receivers (66 since Week 4 of 2019).
WIDE RECEIVER
Hennigan's ball-tracking ability and physicality make him an outstanding contested-catch receiver. He hauled in 13 contested catches in 2019, more than any other current Sun Belt receiver.
TIGHT END
Likely is one of the top receiving tight ends in the Group of 5. He attacked the ball well at the catch point and caught eight of 14 contested opportunities in 2019, producing an 88.0 receiving grade on those targets that ranked top-five in the FBS.
OFFENSIVE TACKLE
Mitchell logged a considerable number snaps at both left and right tackle and even saw some time at left guard in 2019. He proved that he's a top-tier lineman no matter where he is on the line. Of all the offensive linemen in the Sun Belt set to return this year, no one earned a higher PFF grade than Mitchell's 81.8 last year.
OFFENSIVE GUARD
Neuzil was a solid all-around lineman for the Mountaineers in 2017 and 2018 but really took his play to new heights in 2019. He produced grades above 78.0 as both a pass-blocker and run-blocker in 2019, paving the way to a 78.6 PFF overall grade that tied for 10th among FBS guards.
CENTER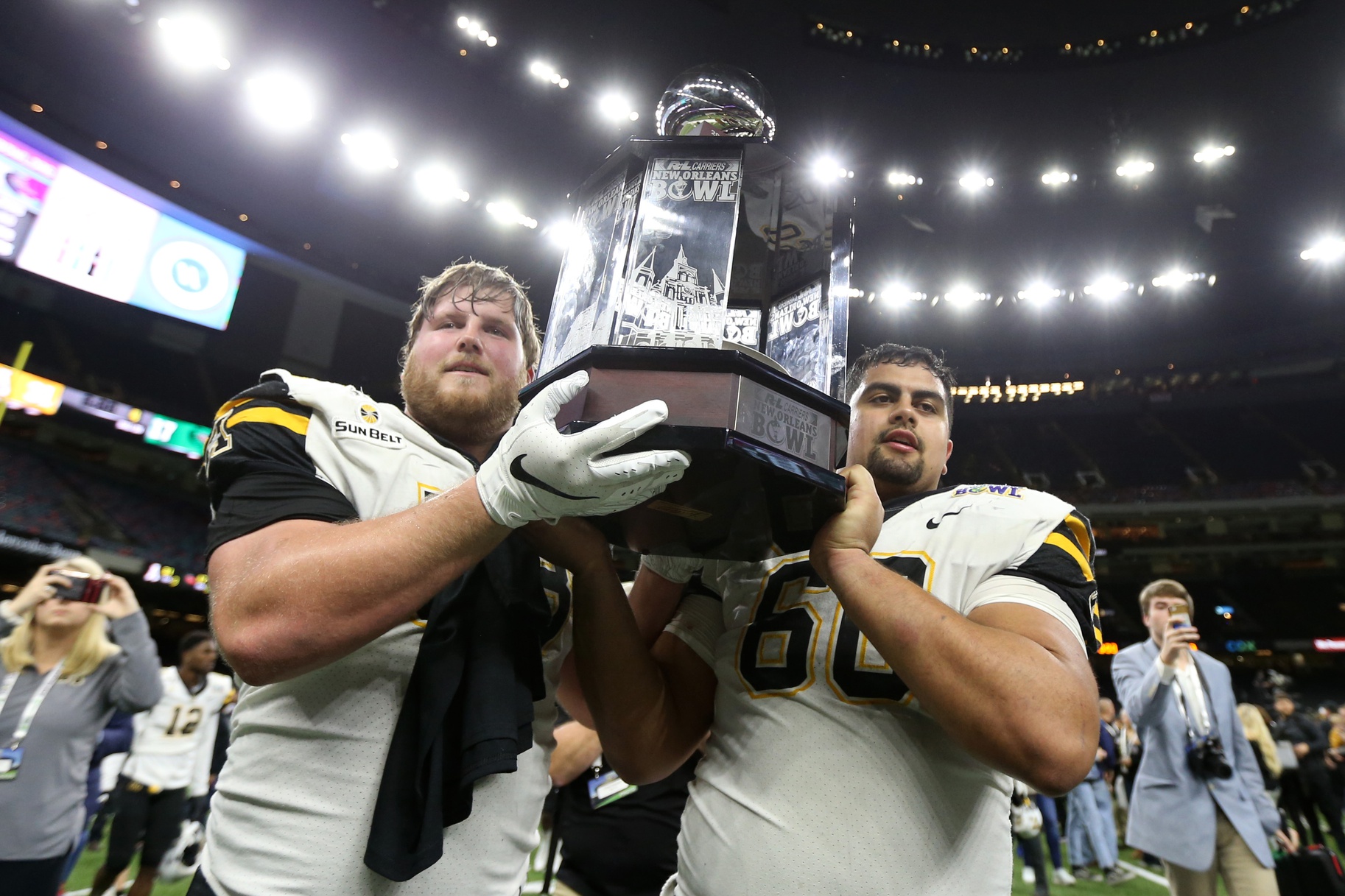 Hannon has solidified himself as one of college football's best centers. He has earned the 11th-best pass-blocking grade in the FBS over the last three seasons, and he has also really developed his run blocking of late. He has been the third most valuable center since 2018, according to PFF WAA.
OFFENSIVE GUARD
I don't care if we're talking about the SEC or the Sun Belt, it's rare to see a true freshman offensive lineman play as well as Torrence did in pass protection last year. He allowed zero pressures in eight of his 14 games and didn't allow a single sack or hit on any of his 419 pass-blocking snaps.
OFFENSIVE TACKLE
Hodges is the third member of the App State offensive line to make it on the All-Sun Belt first team — the Mountaineers' unit is just that good. Hodges routinely made holes for the ground game in his first full year starting, and he ended the year with an 82.1 run-blocking grade that ranked 19th among FBS tackles.
---
[Editors Note: PFF's customizable NFL Mock Draft Simulator gives you the opportunity to be the GM of any team and is now updated with a select group of 2021 prospects]
---
INTERIOR DEFENDER
Wilson's production is off the charts for a nose tackle. He played the fourth-most snaps at heads-up nose in 2019 (516) and logged grades above 77.0 both against the run and as a pass-rusher, a feat only four other FBS players managed to achieve last year.
INTERIOR DEFENDER
You won't see Wright make too many plays as a pass-rusher, but you will see the nose tackle routinely stuff the run. He played almost exclusively heads-up nose and produced a 90.7 run-defense grade at that alignment in 2019.
EDGE DEFENDER
Johnson has continuously developed as a pass-rusher over the past two years and is now in the running for best edge defender in the Sun Belt in 2020. He improved his pass-rush grade from 76.7 to 86.8 this past year and earned an 89.9 mark from Week 8 on, eighth in the FBS over that span.
EDGE DEFENDER
Jackson has terrorized low-level, Group of 5 tackles for the past two years and will continue to do so as long as he is taking the field as a Chanticleer. He's proved that he can win inside them, outside them or just through them. This past year, in particular, he ranked 10th in the FBS in pass-rush grade (90.7).
LINEBACKER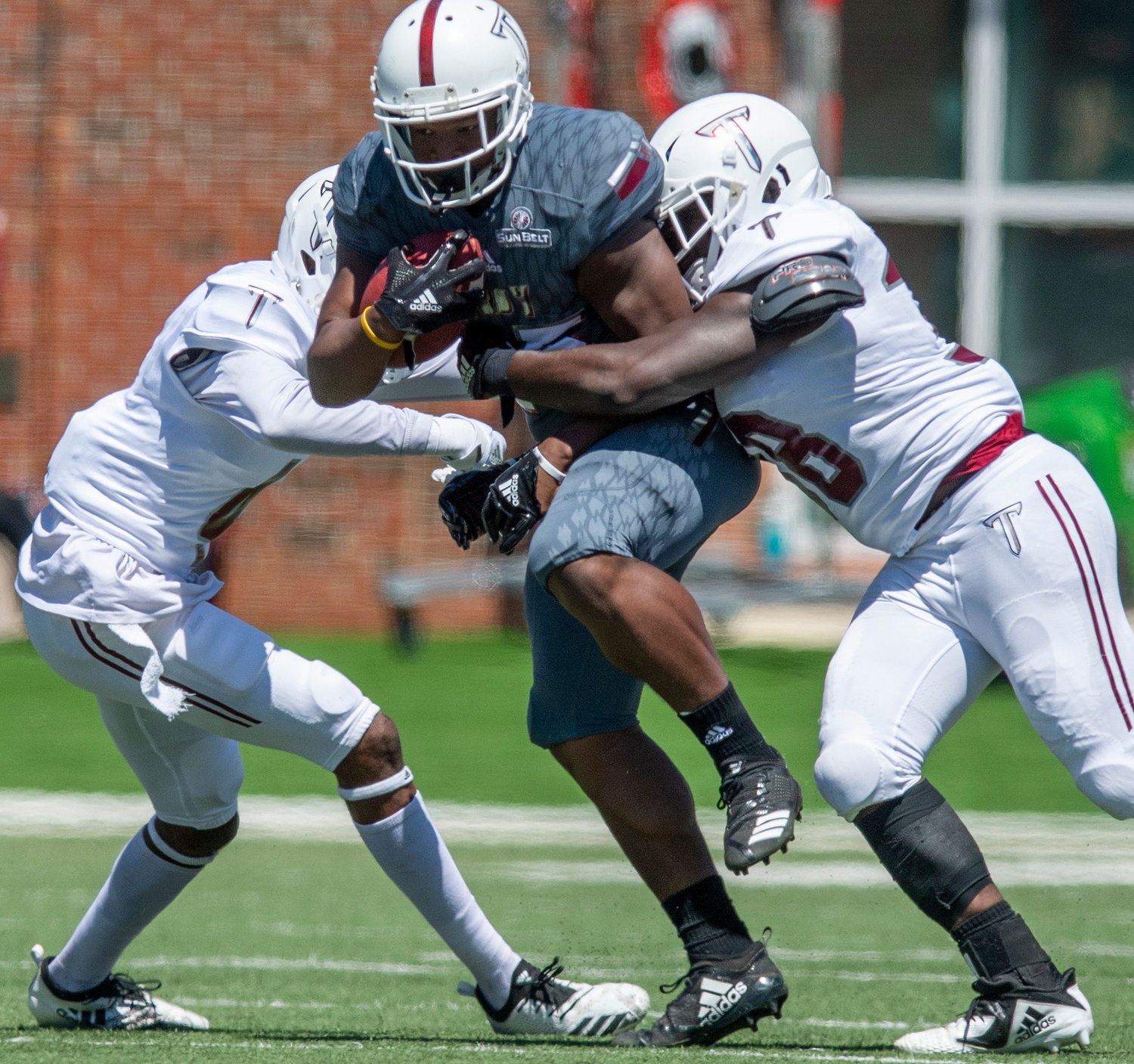 Martial is very much in the running for the Butkus Award in 2020. He's produced 90.0-plus PFF grades in each of his two career seasons at Troy, and he also vastly improved his coverage play in Year 2, intercepting three passes and forcing three incompletions.
LINEBACKER
Deshazor isn't a playmaker who will rack up the interceptions and pass breakups in coverage, but he won't allow any big plays as a rover. He allowed 0.36 yards per cover snap when covering the slot in 2019 (179 cover snaps), which ranked first in the conference.
CORNERBACK
Things really couldn't have gone better for Jolly in his first year starting in 2019. He earned a 91.7 PFF grade on the season, tying with Derek Stingley Jr. for the best by an FBS cornerback. Jolly had one of the hottest stretches we saw last year from Weeks 7-12 — in that six-game span, he played 189 coverage snaps and allowed only four catches on 16 targets for 37 yards while combining for eight pass breakups plus interceptions. The 5-foot-9, 170-pound corner is a playmaker tried-and-true.
CORNERBACK
Straughter is coming off one of the biggest lockdown years we have ever seen. He allowed just a 27.9% catch rate (12/43) and under 25 yards in all but two games. In addition, he combined for 11 pass breakups and interceptions — nearly the same amount of catches he allowed.
SAFETY
Pedescleaux was a pleasant surprise in 2019 and is poised for a big 2020. He has excellent man-coverage skills when coming down in the slot, as he made five plays on the ball in single coverage in the slot while allowing only four catches on 14 targets.
SAFETY
There isn't a better Sun Belt defensive back against the run. Butler's 89.4 run-defense grade in 2019 was first among that group by a significant margin; he also forced a couple of fumbles in the process. Butler hardly made a mistake in coverage, too, which helped him earn a respectable 76.0 coverage grade last year.
FLEX DEFENSE
He may not be in that same elite tier as Jolly, but Jean-Charles joins him as one of the three best corners in the Sun Belt. His timing at the catch point is superb; it led to nine pass breakups in 2019, tied for the second-most in the Sun Belt.
KICKER
PUNTER
KICK RETURNER
PUNT RETURNER