As is also the case for the NFL, the quarterback is far and away the most important player on the field in college football. If a team lacks a viable signal-caller, a spot in the College Football Playoff or a shot at a conference championship is out of the question. And a team certainly needs a top-tier passer to take home the ultimate honor of being named national champions.
This, of course, begs the question: Which programs are in the best and worst shape at the quarterback position as we look forward to the 2021 college football season?
With the help of PFF College's advanced database, we can proceed to answer that question. Taking into account each projected starter's play-by-play grading profile and several other data points, in addition to film and scheme review, here are PFF's annual college quarterback rankings for all 130 FBS programs. And along with ranking each situation from one to 130, the quarterbacks are grouped into tiers to provide further context on where each school stands entering the fall.
Note that not every team has a starter named at this point in time. For those programs, the situation as a whole was taken into account. These rankings do not account for NFL potential.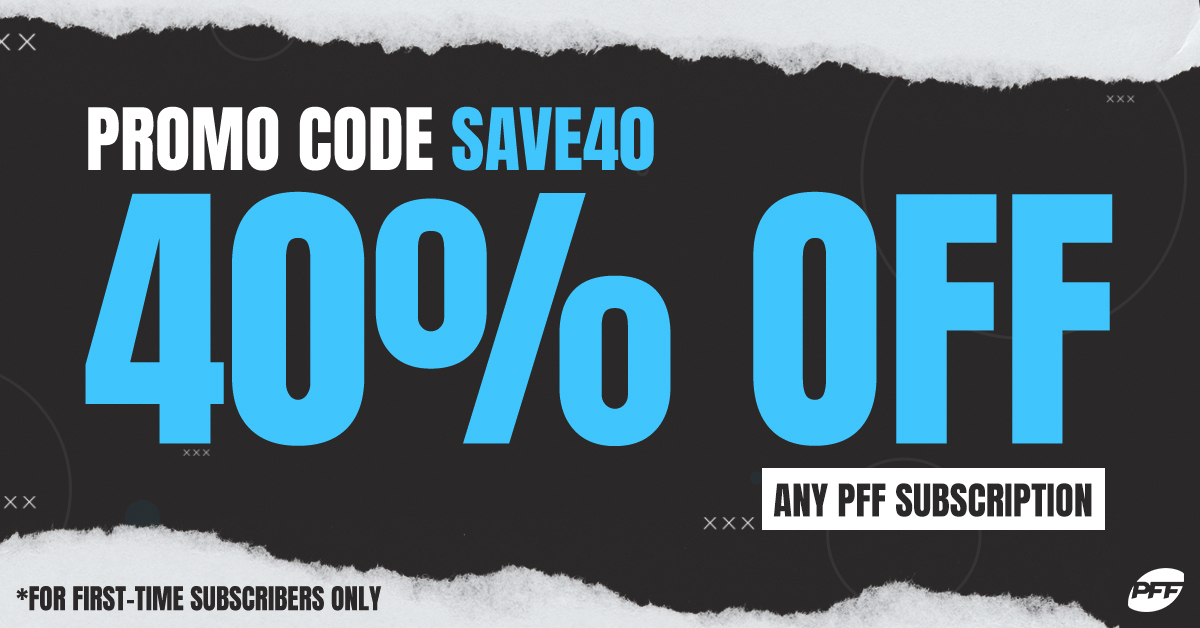 TIER 1: THE ELITE
These quarterbacks don't come around often. They are the blue-chip passers of college football. The Heisman front-runners. The kind of players who make your eyes widen multiple times a game. Past college quarterbacks in this tier included Baker Mayfield, Kyler Murray, Joe Burrow, Trevor Lawrence and Justin Fields. To earn a spot in this tier, there has to be a convincing argument that the quarterback is among the best of the PFF College era. And this year, there's only one name in that conversation…
Rattler took over the Oklahoma starting job as a redshirt freshman last season, hoping to continue the Sooners' run of dominance at the quarterback position under head coach Lincoln Riley. The 6-foot-1, 205-pound signal-caller lived up to expectations, earning a 92.5 passing grade that ranked sixth among Power Five quarterbacks in the PFF College era. And it's worth noting that the five quarterbacks ahead of him were all upperclassmen, whereas Rattler was a redshirt freshman.
Rattler has a little bit of Texas Tech Patrick Mahomes in him, both stylistically and situationally. He has an ultra-quick, effortless release to pair with jaw-dropping arm talent and elite playmaking ability outside of structure. The Oklahoma quarterback produced a 91.3 passing grade and a 69.7% accurate-pass rate when creating off structure in 2020, both of which led all FBS passers. That passing grade beat out Joe Burrow for the best grade ever earned by a Power Five quarterback.
Rattler is the best player returning to college football and should be the favorite to win the Heisman Trophy when the 2021 college football season kicks off on Aug. 28.
TIER 2: HIGH-CEILING QUARTERBACKS
Quarterbacks in this tier come in all shapes and sizes. Some have either one or multiple seasons of high-level play for their respective schools, while others have either only flashed the ability or are inexperienced with the tools and ecosystem to get there. In addition, only a select few of these passers have the ability to push for a spot in the first tier of elite college quarterbacks.
North Carolina's offense cooks when Howell is given the green light to launch passes because he arguably throws the best deep ball in college football. Over the past two seasons, Howell ranks first in the Power Five in 20-plus-yard completions (66), passing yards (2,654), touchdowns (32) and big-time throws (59 — 15 more than the next QB).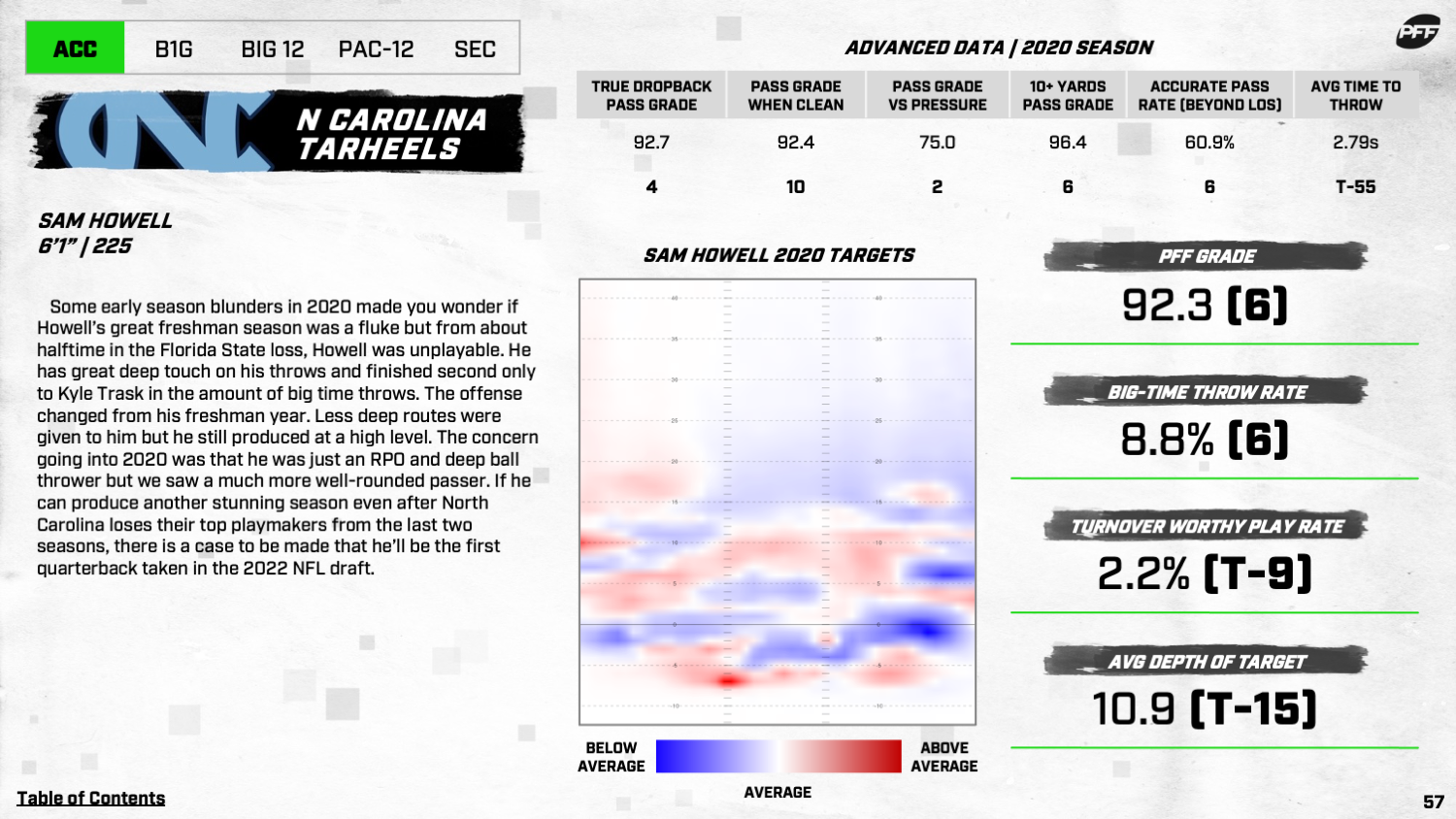 Pressure was Howell's Achilles' heel as a true freshman in 2019, as he recorded a 38.2 passing grade when the opposing pass rush got home. In 2020, he improved that mark to 74.7 while maintaining a top-10 clean-pocket passing grade. He finished the 2020 season as the sixth-highest-graded quarterback (92.3).
How he fares without the slew of weapons he had at his disposal as an underclassman is something to keep an eye on this fall. If Howell can show further growth without wide receivers Dyami Brown and Dazz Newsome and running backs Javonte Williams and Michael Carter, he will join Rattler in Tier 1.
The U was hoping for an elite dual-threat quarterback in 2020 — and, boy, did King deliver. He made tons of plays both through the air and on the ground in his first season with the Hurricanes, resulting in a 90.6 PFF grade for the season that ranked 10th in the FBS. And now they get him for another year.
On 111 runs — 85 designed and 26 scrambles — King totaled 26 rushes of 10 or more yards. He produced more than 10 yards after contact on 13 of those attempts, the most at the position. The 5-foot-11, 202-pound quarterback also rarely put the ball in harm's way, ranking No. 3 in the FBS in turnover-worthy play rate (1.7%).
The backbone of Gabriel's success in the college has been his downfield touch in a UCF offense chock-full of go balls. He ranked second in the FBS in deep passing yards this past year (1,338). Gabriel ranked fourth in the metric the previous year with 1,316 as a true freshman. He took care of the ball and rarely made a bad decision in 2019 and lived up to that standard again in 2020, finishing at No. 9 in the FBS in turnover-worthy play rate. He took a big step forward in Year 2, raising his PFF grade from 81.4 to 90.9.
It will be interesting to see how he fares after Josh Heupel's departure, as the former UCF head coach's offense was full of simplistic reads, giving Gabriel a hefty dose of one-on-one vertical shots down the sideline, screens, RPOs and play action.
Despite playing behind one of the worst offensive lines in college football in 2020, Penix managed an 82.9 PFF grade in six starts before tearing his ACL in Week 13. Only four other FBS quarterbacks spent a higher rate of their dropbacks under pressure than Penix (41%), yet the Hoosier overcame that to put together quality play. He remained calm in collapsing pockets, converting pressure to sacks at an astronomically low rate of 7.4%, the best mark in the FBS.
None of this is surprising after what we saw from Penix back in 2019 when he posted an 84.0 PFF grade across six starts. And while his accuracy wasn't quite as consistent as it was in 2019, he still produced plus results in that area in 2020, ranking 19th in the FBS in the percentage of accurate passes thrown 10-plus yards downfield.
Penix ended up leading all Power Five quarterbacks in big-time throw rate this past season and established himself as one of the top passers in the country before the injury. As long as he can stay healthy, the Hoosiers can be a top-10 team again in 2021.
Corral gets to command a favorable offense in 2021 with Lane Kiffin leading the charge. Corral's Week 7 performance last season against Arkansas was his only blip of the campaign, as he racked up six interceptions and earned a 30.8 passing grade in a nightmare start. Despite that, he still earned a 90.5 PFF grade for the season. He was that good the rest of the year.
Corral piled up the fifth-most deep passing yards (1,265) in 2020. On throws of 10-plus yards downfield, the Ole Miss quarterback ranked fifth in percentage of accurate passes thrown. Even with that six-interception performance, he still managed to rank in the top 20 among FBS quarterbacks in negatively graded throw rate. He paired that with the 11th-best positively graded throw rate, making him one of six Power Five quarterbacks to rank in the top 20 in both categories. There were also several instances of him getting creative and manipulating defenders with his eyes and shoulders.
Coastal Carolina was college football's Cinderella story in 2020, and McCall was the key reason why. He certainly did damage on the ground, but unlike most triple-option quarterbacks, he also showed an ability to carve up defenses through the air with pinpoint accuracy.
McCall finished the season with the seventh-best big-time throw rate and the fifth-lowest uncatchable-pass rate on throws beyond the line of scrimmage. That led to a 92.5 passing grade on the year, trailing only now-New York Jet Zach Wilson for the best mark by a non-Power Five quarterback in the PFF College era.
Coastal Carolina's deadly option attack isn't going away in 2021 with McCall at the helm.
Uiagalelei was one of head coach Dabo Swinney's prized recruits of the 2020 class — a five-star prospect who ranked 10th nationally, according to 247Sports. When Trevor Lawrence was out with COVID-19, Uiagalelei impressed in spot starts as a true freshman. He earned an 83.6 passing grade with five big-time throws and zero turnover-worthy plays against Boston College and Notre Dame. And Uiagalelei also showed that he possesses a rocket launcher for an arm.
We saw a few inaccurate throws that stemmed from mechanical issues, but that is nothing major to worry about. Uiagalelei displayed all the requisite tools to jump into that elite tier of college quarterbacks and wasn't protected by easy throws.
Brennan far exceeded expectations in three starts before going down with a season-ending injury last year. He took a combined 145 dropbacks against Mississippi State, Vanderbilt and Missouri and came away with an 88.3 passing grade, 10 big-time throws and just one turnover-worthy play. While there were some missed opportunities, Brennan's downfield passing in those three games was nothing short of exceptional. He trailed only now-New England Patriot Mac Jones for the highest passing grade in the SEC on 10-plus-yard throws over that span and ranked first on deep passes alone.
The LSU quarterback didn't give defenses an opportunity to make a play on the ball, displayed a quality arm and showed a lot of growth with the way he handled pressure. He was fearless in collapsing pockets in his last game against Missouri, going 11-of-16 for 248 yards and a couple of scores on such plays. With Brennan back and healthy, LSU ought to rebound after a disappointing 2020.
Slovis is skating on thin ice here but just holds on to the No. 10 spot. He shattered expectations as a true freshman in 2019, earning an 80.8 passing grade and displaying precise accuracy. Still, Slovis often looked like a first-year player and made one or two head-scratching forced throws per game. He also struggled to hold onto the ball in collapsing pockets.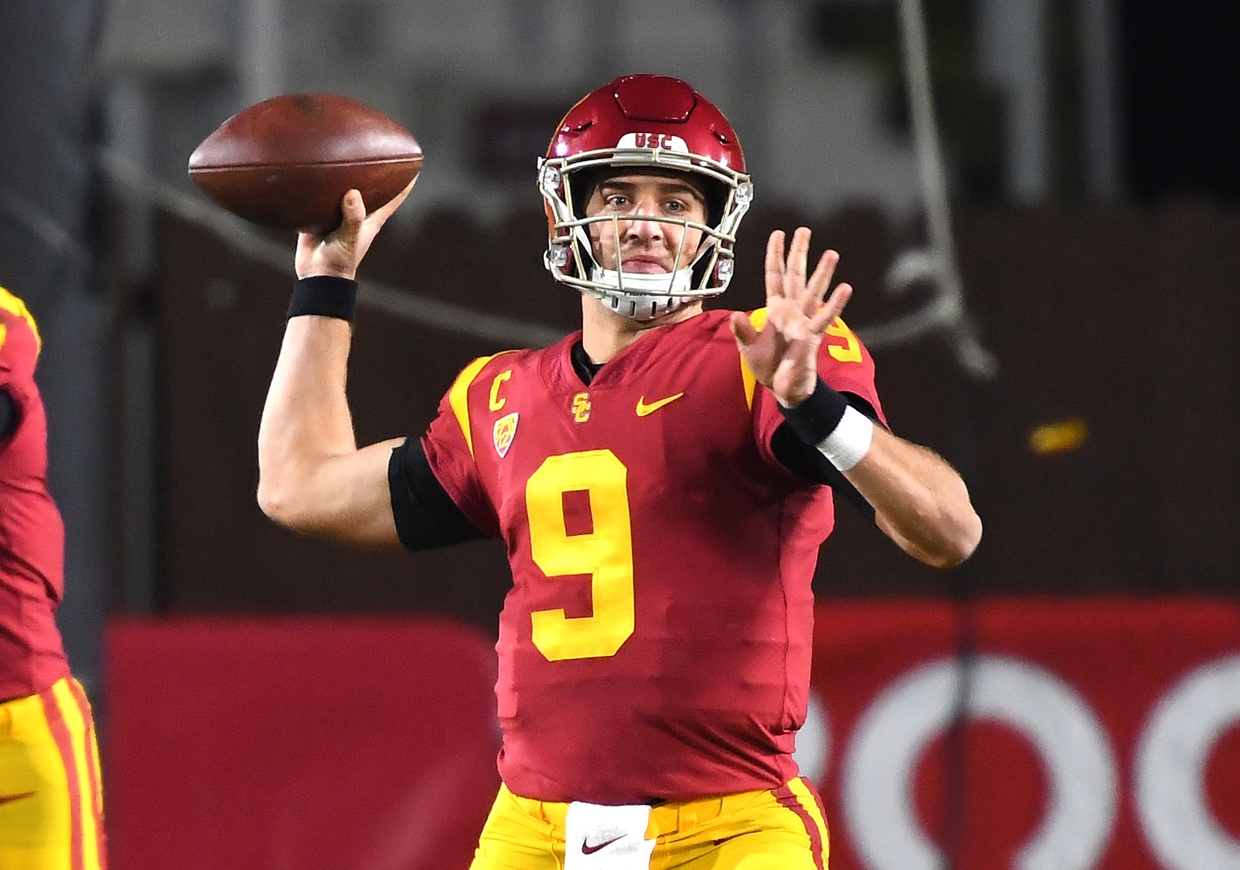 Instead of taking that next step forward, he was the same player in 2020. He earned an 80.1 passing grade across six starts, which featured 13 turnover-worthy plays but top-notch accuracy underneath.
Slovis isn't in the elite tier yet, but he has the skill set to make the jump in 2021.
Strong enters 2021 with a spotlight on him after breaking out in 2020 and becoming known as one of the big-armed quarterbacks in the country. He earned an 85.8 passing grade last season that featured the fifth-best turnover-worthy play rate in the FBS (1.7%). Strong threw four touchdowns that traveled 50-plus yards through the air. That's the most in a single season in the PFF College era — no other quarterback in the FBS in 2020 had more than one.
Crum ranks alongside Grayson McCall and Carson Strong for the best non-Power Five quarterback heading into the fall. The dual-threat signal-caller has earned PFF grades of 91.7 and 85.1 in the past two seasons. The ball jumps out of his hand as a passer. He has connected on six touchdown passes that traveled over 40 yards in the air since 2019, which trails only Sam Howell, Justin Fields and Carson Strong for most in the FBS. And he did that despite playing in only four games in 2020.
Hatcher is the third-highest-graded Group of Five passer over the past two years after transferring from Alabama, where he walked on. He has also ranked in the top 10 in both big-time throw and turnover-worthy play rate. He's been uber-aggressive downfield, producing a 13.2-yard average depth of target since 2019 — the highest in the Group of Five in that same span. He's delivered on those deep balls by posting top-10 marks in the FBS in passing grade, big-time throw rate and perfectly placed pass rate on throws of 10-plus yards.
Arkansas State employed a maddening two-quarterback system in 2020 that started Logan Bonner but swapped in Hatcher at times. The decision came as a surprise, to say the least, since Hatcher posted an elite 90.0 passing grade while filling in for the injured Bonner in 2019. Almost predictably, Hatcher ended up producing the better passing grade in 2020 (82.6 versus 71.1) and executed the more efficient passing offense (0.24 EPA per pass versus 0.12). Arkansas State fans should be happy that he'll be taking the reins for 2021.
Jones has yet to start a game in his three years at Florida, but he has still flashed impressive traits.
An elite athlete for a quarterback, Jones boasts real-deal arm talent, producing an 80.6 passing grade across 87 career attempts. He dealt with fumbling issues as a runner in his first season in 2018 but cleaned it up and has since posted an 81.7 rushing grade on 76 carries over the past two years. For perspective, former Ohio State quarterback Justin Fields was the only FBS signal-caller who posted a rushing grade north of 80.0 in 2020.
Jones may have a more notable recruiting profile and background, but it wouldn't be surprising to see him become the Joe Burrow or Zach Wilson of the 2021 college football season. What's most alluring about his situation is that he is partnering with one of the top offensive minds in the country in Dan Mullen, who will have his first dual-threat quarterback as Florida's head coach.
A lot of SEC programs are dealing with some quarterback uncertainty entering the 2021 season, but not the Missouri Tigers. Bazelak took over the starting job by the third game of the 2020 season and proceeded to earn a 77.4 passing grade that ranks ninth among returning Power Five quarterbacks.
He performed admirably from a clean pocket — the most stable aspect of quarterback play — and also was a quality downfield passer. When kept clean and throwing 10-plus yards downfield, Bazelak's grade ranked 20th in the FBS and 12th among returners from that group. Missouri's offense giving him more opportunities to throw downfield and him playing more in control in troubling situations are things to watch this fall. 
Milton is tough to rank due to his brutal injury history. He last played in Week 13 of the 2018 season before suffering a gruesome leg injury that required reconstructive surgery and almost resulted in amputation. If he returns as the same player of 2017 and 2018, then he will easily be in the conversation as a top-15 FBS quarterback.
Milton's 90.1 passing grade over his past two seasons on the field ranks as the third-best mark in the country. He was one of the best downfield passers in college football, posting the fifth-best big-time throw rate over those two campaigns. He was also among the best when it came to pocket presence and creating something out of nothing under duress. Milton converted pressure to sacks at an FBS-low rate of 8.1% (the average is more than double that), ranked first in passing touchdowns when under pressure (16) and averaged seven yards per scramble.
Purdy's grading profile is truly unique. He looked like the next up-and-coming star quarterback as a true freshman in 2018 when he finished with an 88.0 passing grade but proceeded to take steps back in the next few seasons. His passing grade fell to 82.2 in 2019 and then to 74.2 in 2020.
His strengths and weaknesses in each of those three seasons remained the same, though: He played well when in rhythm but too often tried to force things when under pressure. Despite that good, not great, passing grade last season, Purdy ranked fourth in the FBS in negatively graded throw rate when in rhythm — behind Zach Wilson, Mac Jones and Justin Fields. At the same time, though, he ranked eighth-to-last in turnover-worthy play rate when under pressure. Having a gamer mentality is a plus, but Purdy has to know his limits in 2021. 
Armstrong isn't the prettiest quarterback from a mechanics standpoint and doesn't possess high-level accuracy, but he made it work through the air while doing plenty of damage with his legs in 2020. He notched an 85.2 passing grade and a 78.8 rushing grade en route to a 90.3 overall mark on the year, which was his first year as a starter.
He also delivered several impressive throws under pressure. Armstrong ranked behind only Oklahoma's Spencer Rattler for the highest big-time throw rate when under duress in the country last season.
Willis has sky-high expectations for being a non-Power Five quarterback after what he showed in Year 1 with Liberty in 2020. He is electric on the ground and pairs that with a cannon of an arm. Fumbles were an issue, but he did pick up 10 or more yards on 32.8% of his runs and broke 0.34 tackles per attempt, which ranks second and fifth, respectively, among all FBS quarterbacks in a single season in the PFF College era.
As a passer, he notched a 7.1% big-time throw rate that tied for 16th in the FBS. The tools are there for him to be significantly higher on this list. He just needs to show week-to-week consistency as a passer and ultimately raise the 75.5 passing grade he put forth in 2020.
Stroud has a broad range of outcomes, considering he has yet to take a dropback at the college level. Yet, he will be going to a good situation and looks to have the traits to enjoy immense success as the Buckeyes' starting quarterback.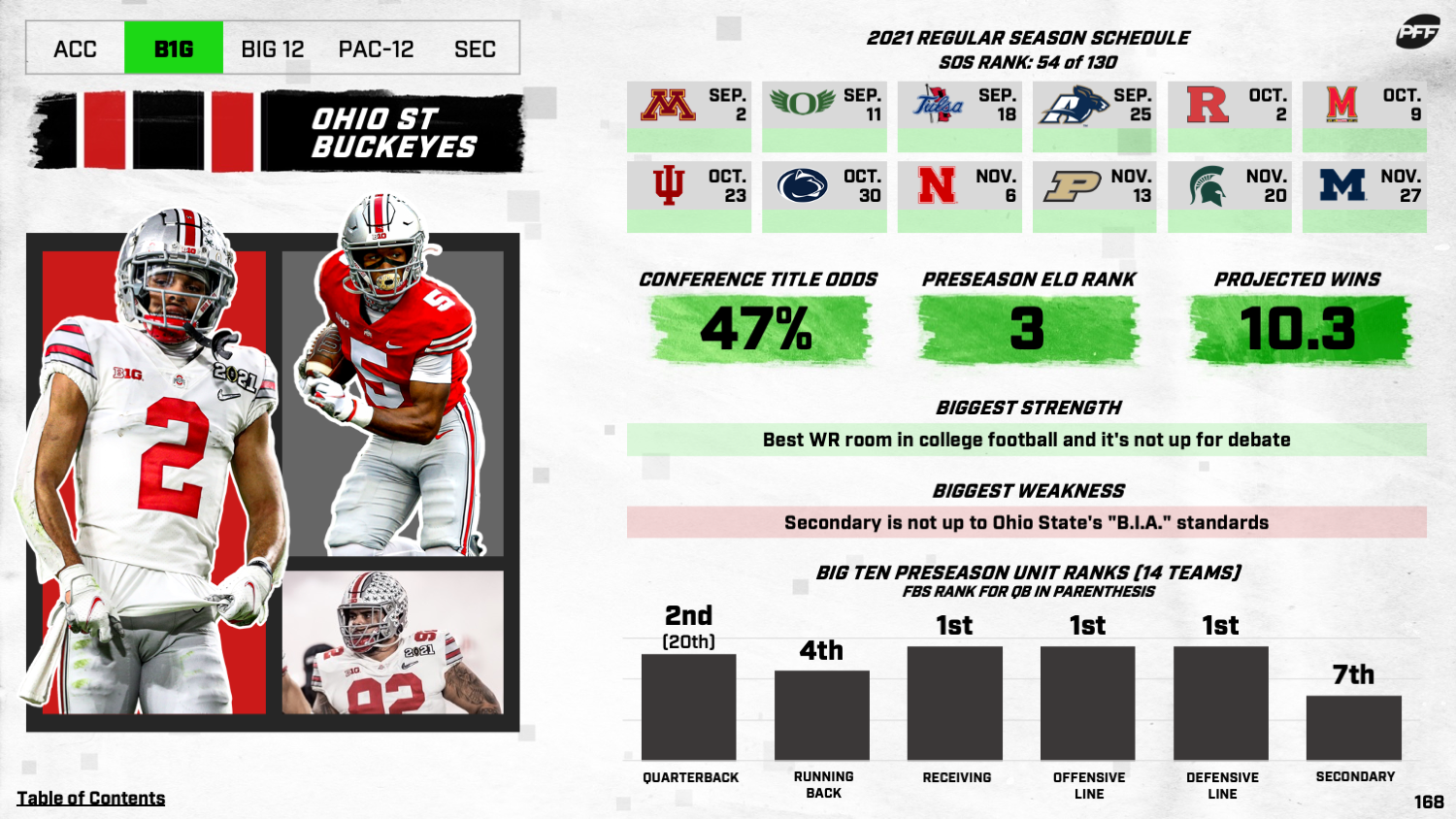 The 2020 top-50 recruit and No. 2-ranked pro-style quarterback in the class, according to 247Sports, will follow in the footsteps of Justin Fields, who was college football's most valuable player in the 2019 and 2020 seasons. It's a tall task, but again, the tools are there. He has proven to have a big arm and can be a threat on the ground, as he showed on his lone carry in 2020 that resulted in a 48-yard touchdown.
Hartman took back the starting job in 2020 after an injury derailed his 2019 campaign, and he started the season on an absolute tear. Through his first seven games, Hartman produced an 87.4 passing grade. His play dipped in the Demon Deacons' final two games after a month away from the field, but he still proved what kind of passer he can be.
Hartman delivered the 14th-best big-time throw rate in college football and performed well in a clean pocket, recording a 90.9 grade on such dropbacks. Cleaning up his decision-making under pressure and being less panicky on those plays are areas where he can improve this fall.
It'd be an anomaly of a situation if Alabama's offensive output didn't regress in 2021. The only question is: to what extent? Bryce Young — the No. 2 ranked overall recruit in the 2020 class, according to 247Sports — will be stepping in to replace Mac Jones, who earned the highest single-season grade of the PFF College era in 2020 and led Alabama to the highest successful pass play rate of any team over the past seven years.
Young saw the field in mop-up duty as a true freshman, and the results were a mixed bag. He took seven sacks and made three turnover-worthy plays on 31 dropbacks. His decision-making was shaky at times, but don't look into that small sample too much. After all, that's expected from a true freshman. He got through his progressions and flashed a good arm while also showing an impressive ability to extend plays and make throws when knocked off rhythm.
The JT Daniels Heisman hype may need to be tempered just a bit. Yes, he is a former five-star recruit and put together one of the best performances of the 2020 season in his debut as a Georgia Bulldog, but his outputs in the other three outings in addition to his past play are cause for concern.
As a true freshman at USC in 2018, Daniels ranked 118th at the position in PFF grade, 127th in turnover-worthy play rate and 129th in PFF Wins Above Average generated. He looked like the same player in the 2019 opener before tearing his ACL. Daniels then transferred to Georgia and didn't see the field until Week 12 of 2020 due to both the rehab process and other players ahead of him on the depth chart, but he looked remarkably better.
Against Mississippi State that night, he earned a 95.0 PFF grade and made six big-time throws. Yet, Daniels earned just a 68.5 passing grade in his other three outings, including four turnover-worthy plays against Cincinnati in the Peach Bowl.
Daniels did look like a more polished quarterback in 2020 compared to his USC days, but any Heisman or top-five quarterback talk is still premature. While he appeared more comfortable, his pocket presence was still less than ideal, he put the ball in harm's way and his accuracy waned despite a high completion percentage.
Until Daniels shows he can come close to replicating his outing against Mississippi State, he's not in the top-tier quarterback conversation.
TIER 3: THE GOOD, NOT GREAT
The passers in Tier 3 come in various forms and have a wide range of ceilings. Some are more inexperienced but have the potential to jump to Tier 2, while others are more scheme-dependent or limited in some fashion but have executed their respective offenses at a quality level.
Eleby went from struggling as a true freshman in 2018 with a 59.9 passing grade in five appearances to not playing a down in 2019. He then put up an elite 91.5 passing grade in six starts last year. In the coronavirus-shortened season, he led Western Michigan to 0.48 expected points added per pass. That gave the team the third-most efficient passing offense in the country.
While it was just half a normal regular season's worth of games, Eleby posted a 70.0-plus single-game PFF grade in each contest. That's a promising sign as he tries to sustain that success over the course of a full year in 2021. He looks like he could be the next Group of Five breakout quarterback this fall after flashing his arm talent and decision-making last year.
Tune has an opportunity to finish as one of the five best passers in the Group of Five this fall. He's coming off a year in which he cracked the top 20 among FBS quarterbacks in clean-pocket passing grade. Overall, he posted an 84.7 PFF grade and led the AAC in big-time throw rate (6%). Most importantly, he was consistent. Only one of his eight starts fell short of a 70.0 single-game passing grade.
If anyone is moving up a tier from this group, it's probably Graham Mertz. At the same time, though, he has every bit of a chance to slide some. Mertz joined Wisconsin in 2019 as the 65th-ranked recruit in the 2019 class, according to 247Sports, and had one of the best starting debuts of the PFF College era. Against Illinois last year, he didn't throw a single uncatchable ball and tossed three big-time throws en route to a 93.9 passing grade.
Mertz reportedly suffered a shoulder injury in Wisconsin's next game against Michigan but played through it. That partly explains why he earned a poor 53.4 passing grade over his last five games, far from the passer we saw to open the year. Only time will tell how much that injury affected him, but he has shown he possesses as high of a ceiling as anyone outside of the top two tiers.
Doege has made the most of a shaky supporting cast at West Virginia, recording a 78.9 passing grade since his arrival in 2019. He ranks second to now-Chicago Bear Justin Fields in EPA generated over expectation since 2014, a team- and opponent-adjusted metric.
But that's not to say he doesn't come with some faults. While Doege is a high-quality passer to the short and intermediate levels of the field, his deep ball accuracy pales in comparison. Still, his performance in rhythm helps balance that out. His passing grade on such plays is one of the five highest marks among returning Power Five quarterbacks.
Morris is a pretty limited passer and won't provide much in the deep passing game, but he takes exceptional care of the ball elsewhere and doesn't make many mistakes.
In four starts in 2020, he earned an 81.9 passing grade, posted a minimal 1.6% turnover-worthy play rate and led the Huskies to the fourth-most efficient passing offense in the Pac-12. He was automatic from a clean pocket and when not trying to do anything special downfield. Most teams would love to have such a safe passer.
Tennessee's roster was gutted via the transfer portal but has some potential with the combination of new head coach Josh Heupel and Virginia Tech transfer Hendon Hooker. The dual-threat quarterback enjoyed plenty of success with the Hokies, aided by play-action passes and his impact in the rushing game.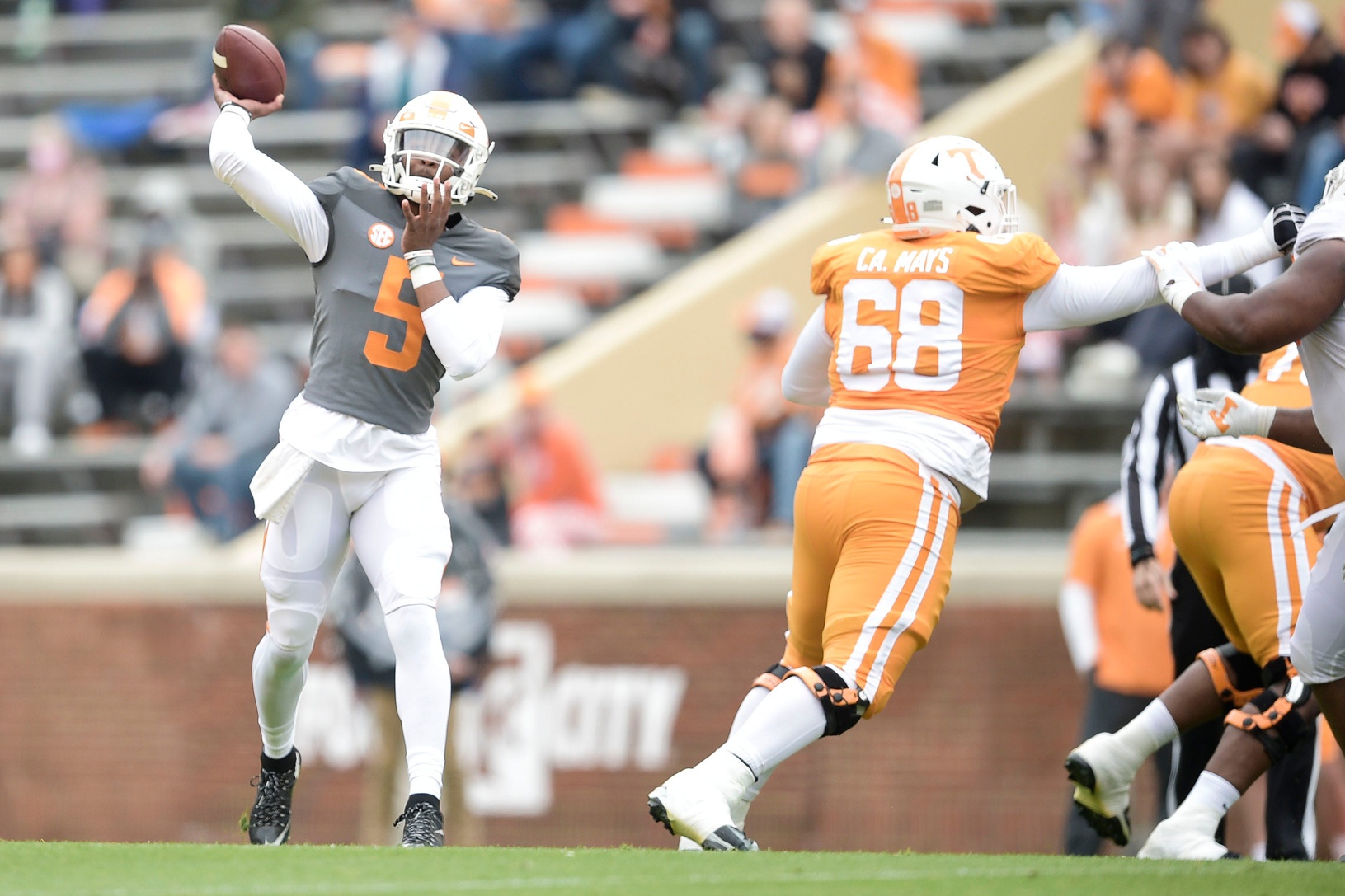 Hooker's passing grade on play-action dropbacks was nearly 30 grading points higher than it was on straight dropbacks (85.9 versus 57.0) in 2020, and his completion rate differential led all FBS quarterbacks (+13.5%). Heupel led a UCF offense that dialed up play action at a top-10 rate in 2020 (45%), with many of the resulting passes targeting go-routes down the sideline. Hooker won't consistently hit those nine routes as often as Heupel's last quarterback, Dillon Gabriel, but that doesn't mean he can't still be a good quarterback for the Volunteers.
Jurkovec was one of the more exciting Power Five quarterbacks in 2020 thanks to his playmaking ability under pressure. His 13 big-time throws under pressure were the third-most in the FBS. Along with that, the 6-foot-5, 226-pound mobile passer produced a 77.0 passing grade when creating out of structure, a top-five mark in the FBS.
But Jurkovec struggled in structure, as his passing grade on those dropbacks was nearly 15 points lower. He also had the ninth-worst negatively graded throw rate in the FBS when playing in rhythm. Jurkovec has the tools, but he's too nonchalant, which is getting in the way of him reaching his ceiling.
Jayden de Laura may not even end up the starter for the Cougars, but he's undoubtedly the best passer on the roster despite playing in only four games during his coronavirus-shortened freshman season last year. He produced a 78.4 passing grade and was sharp when letting the ball go in a timely fashion. On passes thrown 2.5 seconds or less from the snap, de Laura ranked fourth in the FBS in passing grade (91.0). His performance dipped when he held onto the ball inside the pocket, so that's something to monitor moving forward. Still, de Laura is a promising quarterback talent.
Coan will take over as the Fighting Irish's starting quarterback after serving as Wisconsin's starter when last healthy in 2019. That year, Coan earned a decent 77.0 passing grade but made more turnover-worthy plays than big-time throws. That perfectly encapsulates the kind of passer he is: He can play in structure and is accurate underneath but won't lead an exciting, explosive passing offense. Coan's big-time throw rate in 2019 tied for 89th in the FBS, and he produced a turnover-worthy throw rate on 20-plus yard throws that ranked second-to-last. 
A good chunk of Aune's dropbacks last season came via play-action concepts, and most of those ended in downfield shots. He recorded the third-highest play-action pass rate in the FBS (58.8%), and his average depth of target on such throws was 16.0 yards downfield. He executed the offense at a high level, finishing sixth in the FBS in passing grade (92.2) and second in big-time throw rate (14.9%) on play-action passes. That's precisely North Texas' path to success in 2021.
Cunningham is one of the most dangerous rushing threats at the quarterback position. He picked up a gain of 10 or more yards on 38.1% of his attempts in 2020, whether it be designed runs or scrambles. Not only did that lead all FBS quarterbacks, but it topped the list by over five percentage points.
Cunningham still has room to grow as a passer. He needs to take much better care of the ball in 2021 than he did last season after making multiple turnover-worthy plays in seven of his 11 starts. In all, he earned just a 69.0 passing grade for the season.
Thompson is aided quite a bit by the Kansas State scheme and — as noted in the 2021 PFF College Preview Magazine — isn't required to do a lot of the heavy lifting. He does exactly what the offense needs him to and can hit play-action shots downfield at a high level. Approximately 35% of Thompson's dropbacks since 2019 have been a play-action concept, and a good chunk of them were vertical throws. He generated a 91.5 passing grade while leading the Wildcats to 0.26 EPA per pass on play-action passes over that span. But on non-play action concepts, those two marks dropped to 72.2 and 0.11.
Morgan is bound to bounce back in 2021 after producing a middling 69.2 passing grade in 2020. Last season proved that his 2019 campaign, in which he was one of the 10 highest-graded passers in the country (89.1), was more about Minnesota's RPO-heavy system and the instability of performance under pressure.
Morgan may not be a quarterback who can carry a team on his back, but he has the accuracy and can make the anticipatory throws needed to succeed at the position. He still needs to limit how often he gives the defense opportunities to make a play on the ball.
The best way to describe Tagovailoa's four games for the Terps in 2020 after his transfer from Alabama is optimistically inconsistent.
He produced PFF grades of 40.8, 90.2, 74.3 and 41.1 in those outings. Tagovailoa was an accurate passer in rhythm, extended some plays with his athleticism and did a good job of leading receivers across the field on horizontal concepts, earning a 78.3 passing grade on such plays. At the same time, though, his decision-making was far from where it needs to be — as his 5.9% turnover-worthy play rate can attest. Putting the ball in harm's way like that is usual for a first-time starter, but displaying such a high ceiling is uncommon. Expect a breakout year from the 2019 four-star recruit.
Lance Leipold, one of the top 10 head coaches in college football, guided Vantrease last year, but he departed for Kansas. A few mainstays along the stout Buffalo offensive line also departed, and the team's receiving unit is notably weaker. While Vantrease was in a favorable system that rarely asked him to win games with his arm and frequently created clean pockets over the past two years, he showed he is a quick and smart decision-maker who can make throws on obvious passing downs.
Over the past two years, his average time to throw on passes that weren't RPOs, screens or quick-game dropbacks is the lowest in the country. In that same span, he sports the 11th-best two-year passing grade in the FBS.
The 2020 version of Gunnell was wildly different from the 2019 iteration. He took 185 dropbacks across eight games for Arizona in 2019 and displayed pinpoint accuracy en route to an 85.4 passing grade. But Gunnell attempted only 93 passes across four games in 2020 due to an injury in his third game of the season and racked up seven turnover-worthy plays. He subsequently transferred to Memphis following the 2020 campaign. He specifically joined the Tigers to push the ball downfield, as that's not something he was given the green light to do at Arizona.
Gunnell's career average depth of target is among the lowest in college football, at just 6.1 yards. Yet, he excels on such throws, generating a 65.5% accurate pass rate on 10-plus-yard attempts and earning a 93.2 passing grade. While he didn't have enough snaps to qualify, that accurate pass rate was on pace to be the best in the country. He is a prime candidate to move up this list. 
This ranking may come to a surprise to some, but Ridder just hasn't shown enough as a passer. He can make plenty of plays with his legs, as evidenced by his 61 runs of 10-plus yards over the past two seasons — second-most among FBS quarterbacks.
Ridder sports a mere 67.7 passing grade since 2019, and he has notoriously struggled to hit downfield shots. His 33.3% adjusted completion rate on 20-plus-yard throws in 2020 tied for 11th-worst in the FBS. He connected on only 14 deep passes for the year, and Cincinnati ranked sixth in the AAC and 60th in the FBS in 15-plus-yard pass play rate (14.9%).
He is a toolsy but unproven passer. If Cincinnati is going to run the table and steal a couple of road wins early on against tough Notre Dame and Indiana teams, that'll have to change.
Haener, formerly with Washington, made his up-and-down Fresno State debut in the 2020s. He earned three single-game PFF grades north of 80.0, but his other three outings didn't crack 60.0. At the end of the day, he showed a high ceiling for a Group of Five quarterback, as evidenced by his 8.3% big-time throw rate that ranked eighth in the FBS. There's certainly reason to be bullish on him heading into the fall.
A new era of Texas football will kick off this fall as the team welcomes in former Alabama offensive coordinator Steve Sarkisian as its head coach and Casey Thompson as the likely starting quarterback job. Thompson has taken only 34 dropbacks in his Texas career but has shown promising signs.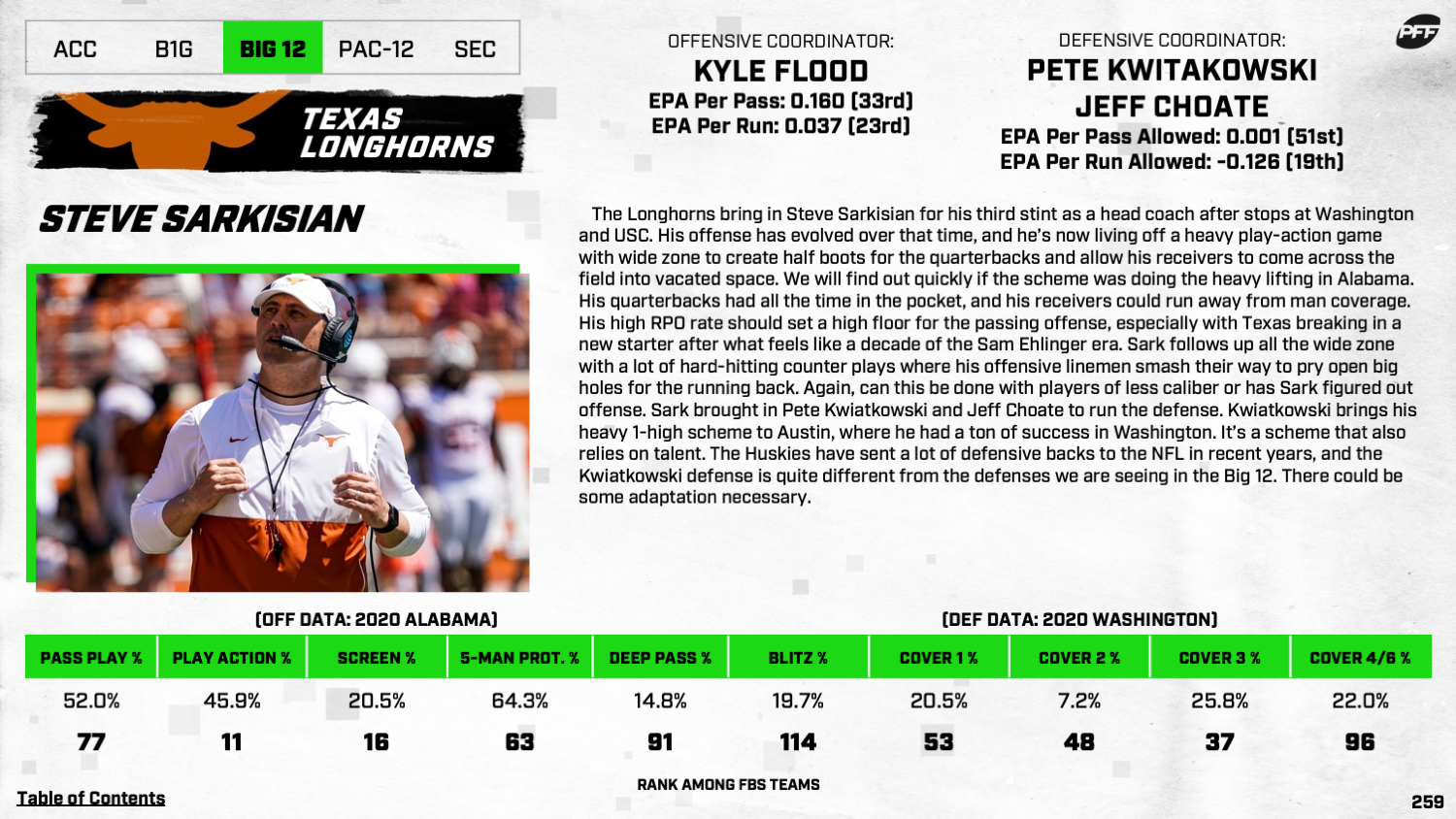 He attempted 17 passes in 2020 and earned a 90.0 passing grade, anchored by three big-time throws. Thompson showed fantastic ball placement and timing while also staying calm and delivering a couple of big-time throws under pressure. He's a breakout candidate in 2021.
Playing for his third program in three years, Starkel had the best season of his career with the Spartans. Whether he was running San Jose State's quick-game offense or operating the true dropback passing game, Starkel finished with the ninth-best passing grade among non-Power Five quarterbacks (78.7) while leading the Spartans to the 16th-best successful pass play rate in the FBS.
Leary looked like a new passer before getting hurt in 2020. In four games, he earned a 79.2 passing grade, which was 22 points better than his 2019 mark. He notched at least four big-time throws in each of his three starts. Leary also made some nice throws down the sideline and produced a deep passing grade that was on pace to be a top-10 mark in college football.
The only question is: Can he throw over the middle of the field at the intermediate level? He made a couple of nice throws to lead his receivers across the field in that range, but he'll need to sustain that success over the course of a full year in 2021.
Many college football programs would love to have Boise State's quarterback situation. The Broncos' roster features two quality quarterbacks in Hank Bachmeier and Jack Sears, both of whom saw game action in 2020 due to injuries.
Bachmeier earned a 76.3 PFF grade in five starts, posting the second-lowest turnover-worthy play rate in the country (1.1%). Sears, a four-star recruit who came over from USC in 2020, earned a 93.3 PFF grade across 33 dropbacks in three games and showed off a pretty deep ball with four big-time throws. He performed similarly at USC in one start, earning an 88.2 passing grade.
The Sears-led offense generated 0.78 EPA per pass, while Bachmeier generated 0.13. Take that with a grain of salt, as Sears had far fewer reps, but it's another example of his possible upside. While he lacks experience, he made some massive throws downfield and led an explosive offense. Bachmeier, on the other hand, has simply been consistently solid.
Regardless of who wins the starting job, Boise State's offense will be in great shape.
SMU will be an interesting team to monitor this fall as it welcomes in Oklahoma transfer Tanner Mordecai. The 2018 four-star recruit attempted 70 passes in three years at Oklahoma and came away with a 79.0 passing grade. He was accurate and showed he doesn't need his feet set to deliver an accurate ball. Mordecai certainly flashed the traits to be successful in this SMU offense.
Lewis may be small, but he can still get the job done through the air and on the ground. He earned a 79.0 PFF grade in 2020, ranking 26th of 92 qualifying FBS quarterbacks. He sometimes holds onto the ball too long, but he is exceptional at avoiding sacks. Lewis ranked fifth in the FBS in the percentage of pressured dropbacks converted to sacks in 2020 (10%). He has led the Ragin' Cajuns to the 22nd-most efficient passing attack over the past two seasons and, along with their elite defense and running back Chris Smith, will play a key part in this team contending for the Sun Belt crown alongside Coastal Carolina.
The Hilltoppers landed a major transfer addition in Zappe, who joins the team from Houston Baptist. While his Husky squad went 1-3 in their four outings last fall, Zappe performed admirably, earning an 86.1 passing grade and leading the team to 0.38 EPA per pass play.
Zappe earned an elite 91.2 passing grade and generated a minimal 1.7% turnover-worthy play rate against FBS competition while at Houston Baptist. He should provide a spark to a Hilltopper passing offense that ranked second-to-last in the C-USA in passing grade and third-to-last in passing efficiency.
Hall is set to take on the impossible task of replacing BYU legend Zach Wilson, who in 2020 earned the highest single-season PFF grade ever given to a non-Power Five quarterback.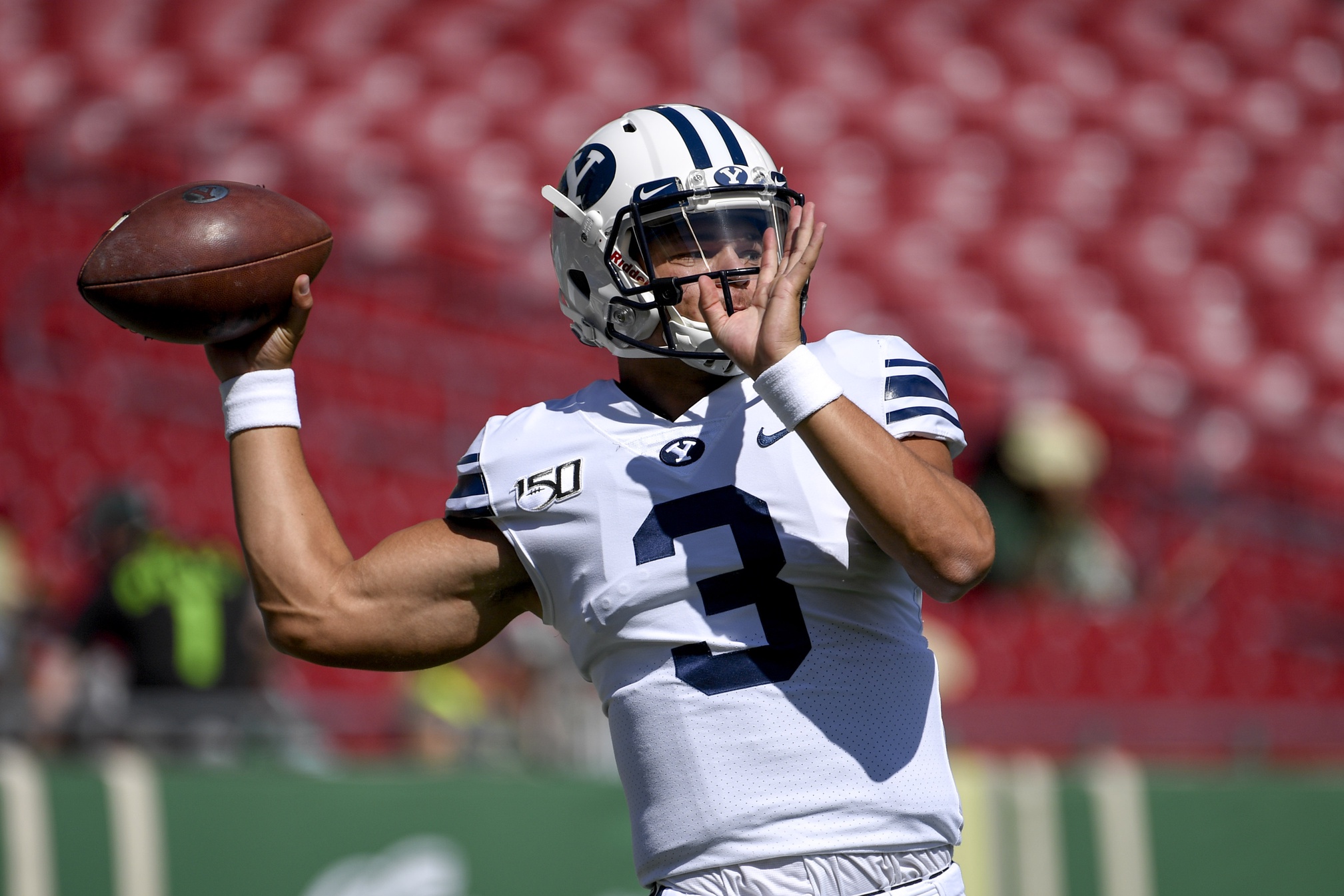 Hall last saw game action in 2019. He showcased toughness, athleticism, arm strength and an ability to play on the move, ultimately earning a 77.3 PFF grade across 55 dropbacks.
While Hall is unlikely to replicate Wilson's level of production, he certainly has the talent to rank among the nation's top non-Power Five quarterbacks and hold off the kind of debilitating regression that will threaten this BYU program. His biggest obstacle will be staying healthy, something he has struggled with in the past.
Hutchinson shined on a small sample in 2019 and did the same as a full-time starter in 2020. He finished the year with an 81.8 PFF grade that ranked 20th in the FBS and led Eastern Michigan to its most successful passing offense of the PFF College era. His eight big-time throws on targets of 10-19 yards tied for third-most in the FBS last season. The Eagles could surprise some teams in the MAC if Hutchinson shows further growth in 2021.
Wells endured an up-and-down debut season as the Thundering Herd's starting quarterback in 2020. Through his first seven outings, he earned an 87.2 passing grade. But he posted a 42.8 mark in his final three contests. Decision-making and consistency, which are common issues for a young passer like Wells, are two areas where Marshall needs to see growth in 2021.
Still, Wells was one of the 10 highest-graded passers in the country last year on true dropbacks with no play action. He is a prime candidate to skyrocket up this list in 2021.
TIER 4: THE AVERAGE
These college quarterbacks rank right in the middle of their peers. Some of them have hardly shown an ability to produce at a quality level and are consistently average. And then there are others who have flashed stellar play but then negated it with poor performances. The signal-callers in this tier need elite supporting casts on both sides of the ball if their teams are to have big years.
52. PITTSBURGH: KENNY PICKETT
53. TULANE: MICHAEL PRATT
54. UAB: TYLER JOHNSTON III
55. TCU: MAX DUGGAN
56. MIAMI (OH): BRETT GABBERT
57. MIDDLE TENNESSEE: BAILEY HOCKMAN
58. TOLEDO: CARTER BRADLEY
59. CAL: CHASE GARBERS
60. PURDUE: JACK PLUMMER/AIDAN O'CONNELL
61. VIRGINIA TECH: BRAXTON BURMEISTER
62. MICHIGAN STATE: PAYTON THORNE/ANTHONY RUSSO
63. CHARLOTTE: CHRIS REYNOLDS
64. UTAH STATE: LOGAN BONNER
65. OKLAHOMA STATE: SPENCER SANDERS
66. ECU: HOLTON AHLERS
67. AUBURN: BO NIX
68. OHIO: KURTIS ROURKE
69. TEXAS TECH: TYLER SHOUGH
70. MICHIGAN: CADE MCNAMARA/ALAN BOWMAN
71. UTAH: CHARLIE BREWER
72. ARIZONA STATE: JAYDEN DANIELS
73. UNLV: JUSTIN ROGERS
74. OREGON STATE: TRISTAN GEBBIA/SAM NOYER
75. NEBRASKA: ADRIAN MARTINEZ
76. GEORGIA STATE: CORNELIOUS BROWN IV
77. BALL STATE: DREW PLITT
78. UTSA: FRANK HARRIS
TIER 5: NEEDS TO IMPROVE/MORE REPS
The quarterbacks in this group likely aren't leading explosive offenses in 2021. There is some long-term hope for teams with fresh new starters — such as Arkansas, Texas A&M, Stanford and maybe Oregon — but short-term confidence remains low for these quarterback situations. Similar to the tier above, they aren't going to be responsible for their teams having immense success without help from elite supporting casts on both sides of the ball.
79. OREGON: ANTHONY BROWN/TY THOMPSON
80. TULSA: DAVIS BRIN
81. FAU: NICK TRONTI
82. NEW MEXICO: TEVAKA TUIOTI/TERRY WILSON
83. MISSISSIPPI STATE: WILL ROGERS/JACK ABRAHAM
84. UTEP: GAVIN HARDISON
85. RICE: JOVONI JOHNSON/LUKE MCCAFFREY
86. ARKANSAS: KJ JEFFERSON
87. UCLA: DORIAN THOMPSON-ROBINSON
88. PENN STATE: SEAN CLIFFORD
89. TROY: GUNNAR WATSON/TAYLOR POWELL
90. COLORADO: BRENDON LEWIS/JT SHROUT
91. NEW MEXICO STATE: WESTON EGET/JONAH JOHNSON
92. WYOMING: SEAN CHAMBERS
93. HAWAII: CHEVAN CORDEIRO
94. RUTGERS: NOAH VEDRAL
95. SYRACUSE: TOMMY DEVITO
96. ILLINOIS: BRANDON PETERS
97. KENTUCKY: WILL LEVIS
98. TEXAS A&M: ZACH CALZADA/HAYNES KING
99. STANFORD: TANNER MCKEE/JACK WEST
100. GEORGIA TECH: JEFF SIMS
101. NORTHERN ILLINOIS: DUSTIN FLETCHER/ROCKY LOMBARDI
102. VANDERBILT: KEN SEALS
TIER 6: NEEDS SIGNIFICANT IMPROVEMENT
These quarterback situations are marred by past poor play or unpromising candidates to lead the offense in 2021.
103. CMU: DANIEL RICHARDSON
104. SOUTHERN MISS: TREY LOWE III
105. LOUISIANA TECH: AARON ALLEN/LUKE ANTHONY
106. BAYLOR: JACOB ZENO/GERRY BOHANON
107. SOUTH ALABAMA: JAKE BENTLEY
108. KANSAS: JASON BEAN/JALON DANIELS/MILES KENDRICK
109. AIR FORCE: HAAZIQ DANIELS
110. COLORADO STATE: TODD CENTEIO
111. ARIZONA: JORDAN MCCLOUD/GUNNER CRUZ/WILL PLUMMER
112. IOWA: SPENCER PETRAS
113. APP STATE: CHASE BRICE
114. GEORGIA SOUTHERN: JUSTIN TOMLIN
115. ARMY: CHRISTIAN ANDERSON/TYHIER TYLER
116. NORTHWESTERN: RYAN HILINSKI
117. TEXAS STATE: BRADY MCBRIDE/TYLER VITT
118. SAN DIEGO STATE: JORDON BROOKSHIRE/LUCAS JOHNSON/JALEN MAYDEN
119. UL-MONROE: JEREMY HUNT/RHETT RODRIGUEZ
120. TEMPLE: D'WAN MATHIS
121. BOWLING GREEN: MATT MCDONALD
122. AKRON: ZACH GIBSON/KATO NELSON
123. USF: CADE FORTIN/KATRAVIS MARSH/JARREN WILLIAMS
124. DUKE: GUNNAR HOLMBERG
125. SOUTH CAROLINA: LUKE DOTY
126. NAVY: XAVIER ARLINE
127. OLD DOMINION: HAYDEN WOLFF
128. FIU: MAX BORTENSCHLAGER
129. CONNECTICUT: JACK ZERGIOTIS
130. UMASS: GARRETT DZURO/ZAMAR WISE/TYLER LYTLE