With the sheer amount of talent lost to the 2021 NFL Draft and a number of the nation's top programs welcoming new starting quarterbacks, few knew what to expect ahead of the 2021 college football season. But now the first full week of the new campaign is (almost) in the books, we finally have an idea of how the year will start to shake out.
From Alabama being as dominant as ever to Georgia's freakish defense to Steve Sarkisian's debut at Texas, let's sift through some of the biggest storylines from Week 1 of the 2021 college football season. 

---
Click here for more PFF tools:
Fantasy Draft Kit | PFF Betting Dashboard | PFF Fantasy Rankings
PFF Fantasy Projections | NFL Premium Stats | Win Totals Tracker
---
Alabama is still Alabama
The Crimson Tide entered the 2021 campaign as a prime regression candidate, but signs of that anticipated step back were entirely absent during Alabama's 44-13 win against the Miami Hurricanes.
The Tide ranked seventh in the Power Five in expected points added (EPA) per pass play generated at 0.44, and the defense finished as one of the Power Five's three highest-graded units of the week.
Bryce Young's first start was historic, even if some of his stats were inflated. He finished with a sub-70.0 passing grade, a couple of turnover-worthy plays to just one big-time throw, tying for 34th of 50 qualifying Power Five quarterbacks in negatively graded throw rate.
He could have been better, but he also could have been far worse. He showcased the tools that made him such a highly regarded recruit and gave us a glimpse of his ceiling as a passer.
---
Texas is back?!
Sarkisian's debut as the head coach of the Longhorns could not have gone better — Horns were being thrown up all over Austin as Texas cruised to a 38-18 win over top-25 ranked Louisiana.
The new Longhorns coach played a huge part in his team hanging 0.66 EPA per pass play on the Ragin' Cajuns, who fielded one of the nation's best coverage units a season ago. 
Most EPA generated per pass among Power Five offenses in Week 1
| | |
| --- | --- |
| Team | EPA per pass |
| 1. Texas (vs. Louisiana) | 0.66 |
| 2. Boston College (vs. Colgate) | 0.64 |
| 2. TCU (vs. Duquesne) | 0.64 |
| 4. Michigan (vs. Western Michigan) | 0.61 |
| 5. Auburn (vs. Akron) | 0.59 |
First-time starting quarterback Hudson Card looked the part, notching a 79.7 passing grade in this contest. He didn't record a big-time throw, but he also left the field without a turnover-worthy play next to his name.
Running back Bijan Robinson and wide receiver Jordan Whittington also finished as one of the three highest-graded players at their respective positions in Week 1.
---
Georgia's defensive guru showed every bit of his class in his team's 10-3 victory over Clemson this weekend, dialing up lethal stunts and blitzes that rattled the Clemson offensive line and quarterback D.J. Uiagalelei all night long.
Seven different Georgia defenders produced multiple quarterback pressures. The Bulldogs were led by off-ball linebacker Nakobe Dean, who gathered four pressures on 10 rushes. Pair that with standout coverage on the back end, and the opposition is destined for failure.
Georgia led all teams that played against a Power Five program this week in PFF team coverage grade. They finished second in EPA allowed per play, behind only East Tennessee State.
Clemson's offensive line is a problem
 The Uiagalelei Era of Clemson Tigers football got off to a brutal start, and the offensive line did very little to help matters. The sophomore was sacked seven times against the Georgia Bulldogs — the most a Clemson quarterback has had to endure in a single game in the PFF College era (removing sacks that were the quarterback's fault).
Will Putnam and Walter Parks were the biggest culprits. The right tackle and right guard accounted for 18 of the team's 28 pass-block losses. 
Uiagalelei vs. blitzes against Georgia
| | |
| --- | --- |
| Dropbacks | 14 |
| Attempts | 10 |
| Completions | 4 |
| Yards | 15 |
| TD:INT | 0:1 |
| Passer rating | 8.3 |
| Passing grade | 44.7 |
Clemson generated -0.89 EPA per pass on Uiagalelei's pressured dropbacks. And he didn't fare all that much better when he was able to drop back into a clean pocket, recording a 61.0 passing grade and multiple turnover-worthy plays when the pass rush was kept at bay.
Clemson's schedule is relatively straightforward for the rest of the regular season, but the program can kiss the CFP title goodbye if the offensive line doesn't improve in a big way.
---
Sam Howell struggled without his playmakers
Howell was gifted with an array of elite weapons as an underclassman, but this year will be decidedly different — his top two wide receivers and the best running back duo of the PFF College era have taken their talents to the NFL.
Along with that, Howell's top pass-catcher, Beau Corrales, is out to start the season, and No. 2 option Khafre Brown wasn't 100%.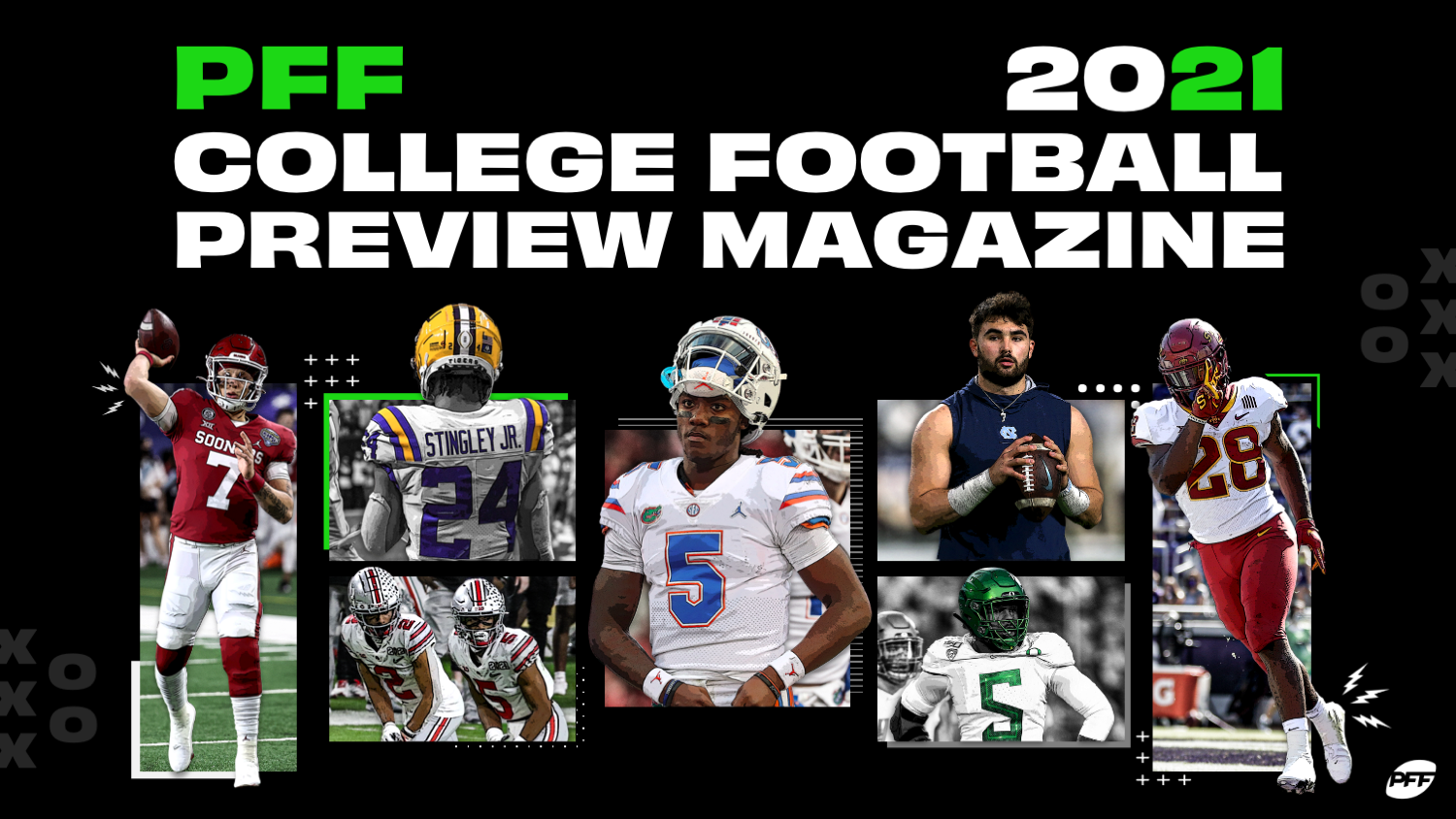 Howell needed to prop up the players around him against Virginia Tech on Friday night. Instead, they all fell flat.
His arsenal of weapons was less than inspiring, and Howell crumbled under duress. He let three turnover-worthy plays slip under pressure, resulting in the second-worst grade on pressured dropbacks in Week 1. Howell produced a career-low passing grade and led the Tar Heels to -0.28 EPA per pass, by far the worst mark of his tenure in Chapel Hill. 
---
Cincinnati is a playoff team if this is the new passing offense
Take this with a grain of salt — Cincy faced Miami of Ohio, after all — but the offense looks as if it has taken that well-needed leap.
The Bearcats no longer relied on Desmond Ridder's scrambling ability to move the ball and instead orchestrated an efficient passing attack. Over 64% of their pass plays generated positive expected points, a rate that bests every game from their 2020 season.
There were more short, quick pass concepts incorporated than before, and Ridder executed the plan. Sixteen of his 25 pass attempts were within two seconds of the snap, and he completed 15 for 133 yards and two scores.
He attempted only one pass between 10 and 19 yards downfield but posted a couple of big-time throws on passes thrown 20 yards or further.
DESMOND RIDDER ROCKET ????@GoBearcatsFB

— PFF College (@PFF_College) September 4, 2021
Again, it's the Miami RedHawks, but this was an encouraging day for a passing offense that entered the year with some question marks.
---
Emory Jones got the job done on the ground, but not through the air
Dan Mullen finally got his wish: a dual-threat quarterback to lead this Florida team. And Jones lived up to the hype on the ground, tallying four 10-plus-yard gains on 10 rush attempts. Unfortunately, he was all over the map as a passer,  finishing with three turnover-worthy plays from a clean pocket, paving the way for one of the worst single-game passing grades among Power Five signal-callers. 
---
Spencer Rattler is still playing undisciplined football, and Oklahoma's defense isn't at the level it needs to be
It quickly became evident that the Oklahoma quarterback will continue to bring both the highs and lows. He opened up the game with a dangerous heave into double coverage that was picked off and ended up with two turnover-worthy plays for the game.
Typically, the high volume of low-graded plays results in a poor single-game PFF grade, but Rattler was exceptional outside those bad moments, finishing with an 80.0 passing grade on the day thanks in large part to his continued dynamism outside the pocket.
Oklahoma was expected to trounce Tulane. Instead, they barely scraped a five-point victory.
Rattler's few poor throws played a role in the closer-than-expected finish, but so did a Sooners defensive unit that allowed positive EPA per play and produced the eighth-worst unit grade among all Power Five programs in Week 1.
---
Indiana looked broken, while Iowa's coverage unit is poised to take them a long way
 The Hoosier football hype dissipated just a few minutes into their Top 25 showdown against Iowa.
Hawkeyes back Tyler Goodson rattled off a 56-yard rushing touchdown four plays into the game, and cornerback Riley Moss took a pass to the end zone for a score shortly after. The Hoosiers found themselves down two touchdowns within a couple of minutes, and they failed to climb back.
Every piece of the Indiana offense was out of sync. The offensive line surrendered one of the five highest pressure rates in the Power Five, the receivers couldn't haul in Michael Penix Jr.'s best throws and the quarterback was inaccurate and indecisive. Penix finished with four turnover-worthy plays and a sub-40.0 passing grade. He has a rocket for an arm but couldn't put any touch on the ball. It was just a nightmare day for the Hoosier state.
---
We got our answer on Graham Mertz, and it isn't what Badger fans wanted to see
Mertz kicked off last year with an elite-graded performance but produced at a poor level throughout the rest of the year. He told reporters that he suffered a shoulder injury in the second game of the season and struggled to play through it, which begged the question: How much did that impact his on-field performance?
Now fully healthy, we got an answer to that question against Penn State, and it's not the conclusion Wisconsin wanted to reach.
Mertz was one of the five lowest-graded Power Five quarterbacks of Week 1 and tied for the most turnover-worthy plays among that group, with four. He led the Badgers to -0.32 EPA per pass play in a slugfest loss to the Nittany Lions, the fifth-worst mark in the Power Five. 
The hope that was there with Mertz is virtually gone. At this point, the Big Ten West looks like it's Iowa's to lose.