The 2019 college football season kicked off with a bang this weekend with many highlight-worthy plays through the air and on the ground. Below are some dominant performances in the running game to start the season.

Jonathan Taylor, Wisconsin
If you're thinking Taylor is simply a product of the Wisconsin line and system, think again. He's as special a running talent as Melvin Gordon was coming out of Wisconsin. Taylor stepped onto the field as a true freshman and racked up 1,367 yards after contact. Last season, Taylor generated a remarkable 92.2 overall grade and 1,309 yards after contact. Over the last two seasons combined, he's forced a remarkable 133 missed tackles on the ground.
Taylor put on a show in Wisconsin's dominating 49-0 win against South Florida in their first game of the 2019 season. He generated four runs of 10 or more yards and six first downs on his 16 rushing attempts. In total, Taylor also produced a 4.50 yards after contact average and forced four missed tackles on the ground.
Much to the delight of us at PFF, Taylor also got involved in the passing game. Coming into this season, the Wisconsin back has been on the field for all of 159 pass plays in his entire college career (compared to 680 run plays). Against South Florida on Friday night, Taylor registered 13 snaps on passing plays and was dynamic with both of his receptions going for touchdowns.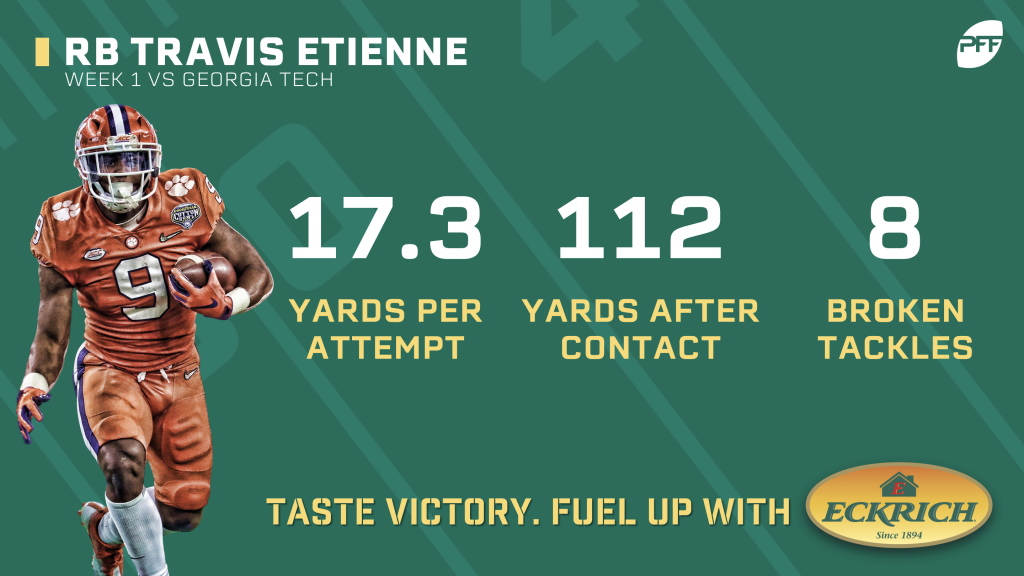 Travis Etienne, Clemson
From PFF's 2020 Preseason NFL Draft Guide, summarizing the Clemson back's skillset with such a simplistic label is quite frankly an insult. Etienne is an uber-athlete who can be any type of back you want him to be. We've seen him barrel over linebackers, run through arm tackles from defensive linemen and shake safeties in space on his way to 7.8 yards per carry for his career with 82 broken tackles coming on 311 college carries coming into the 2019 season.
Etienne only needed 13 total touches in Clemson's 52-14 route of Georgia Tech on Thursday night to showcase why he's one of the top backs in the nation. He forced eight missed tackles on the ground and generated 9.00 yards after contact on average. The high-level running back also displayed his dynamic big-play ability, totaling five runs of 10-plus yards with 154 of his 207 total rushing yards coming on big plays (15-plus yards).
Chuba Hubbard, Oklahoma State
Hubbard is ready to take the reigns of the Oklahoma State backfield and run with it (literally) in 2019. He came into this season following a dynamic 2018, generating an 84.1 overall grade, 31 runs of 10 or more yards, 45 forced missed tackles and 468 yards after contact.
Hubbard had a workman's day to begin the year in Oklahoma State's 52-36 victory over Oregon State. The talented runner produced the most rushing yards of the weekend at 221 with a 4.58 yards after contact average and five forced missed tackles on his 26 rushing attempts. It total, Hubbard flashed by generating seven runs of 10-plus yards with 112 yards coming on big plays.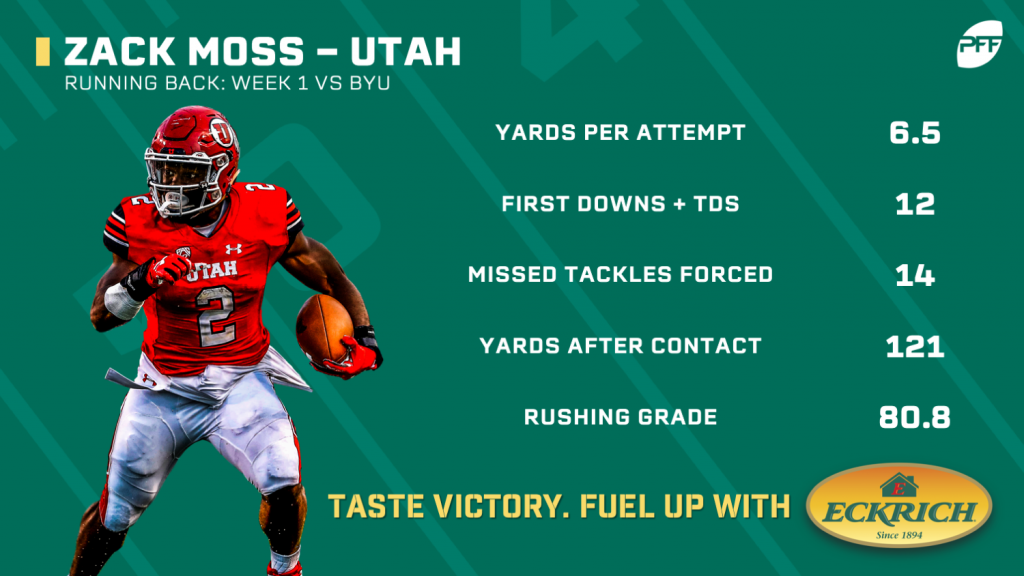 Zack Moss, Utah
Moss was a surprise to return to Utah this past season after back-to-back productive years as the starter. He's been incredibly consistent over those two years from an advanced statistical standpoint. In both 2017 and 2018, he averaged 0.30 forced missed tackles per attempt – which ranked second among starting running backs in 2017 and sixth last season. He's also averaged 3.54 yards after contact per attempt both seasons, as well.
The Utah running back logged 31 touches in Utah's 30-12 win to begin the season against BYU, forcing a weekend high 16 total missed tackles. Moss was a workhorse averaging 4.17 yards after contact on average on the ground with eight runs of 10-plus yards to begin his 2019 season.