If you don't love the midweek MACtion we get during football season, then you're not a true football fan. The MAC has actually produced some of the NFL's most impressive talents, such as Khalil Mack, Julian Edelman, Eric Fisher, Brandon Brooks, Antonio Brown. Most of the MAC flies under the radar, and some great talent slips through the crack, but the data won't let them slip through at PFF. Using PFF's advanced database that is used by all 32 NFL teams and 72 FBS programs (that you too can get partial access to), these are the top 10 players returning to MACtion this fall:
1. QB Dustin Crum, Kent State
Kent State told Dustin Crum right before the Week 2 kickoff that he'd be the new starting quarterback for the Golden Flashes. Based on his entire 2019 season, Crum for sure seized the opportunity. He finished the year as the third highest-graded passer in the FBS and the third most valuable player regardless of position behind Joe Burrow and Justin Fields. Crum's decision-making was pristine, as he had the lowest turnover-worthy play rate in the country by a significant margin. Burrow was the most accurate quarterback by a significant margin, but Crum was in the tier right behind him in that category, ranking second in percentage of accurate passes thrown when targeting at or beyond the first down marker. Not to mention, he has shown to be a solid ball carrier, whether it be a designed attempt or scramble, by breaking 32 tackles and recording 32 explosive runs on his 134 total carries.
2. RB Jaret Patterson, Buffalo
Clemson's Travis Etienne and Alabama's Najee Harris are the two most valuable running backs returning in 2019, but the third best is Buffalo's Jaret Patterson. In the run game, Patterson routinely generated positive plays for the Bulls, as 34% of his total carries resulted in a first down or touchdown, which ranked 11th in college football. Patterson could bust through the middle as good as any running back, recording the third-highest rushing grade when rushing between the A-gaps, as well as the fourth most explosive rushes (18). We'd like to see him bring more value in the receiving game, but Patterson as a rusher is one of the best in the country.
3. LB Troy Brown, Central Michigan
Central Michigan has one of the top five returning off-ball linebackers on the roster in Troy Brown, who recorded the seventh most WAA and sixth-best coverage grade among all at his position in 2019. In only two of his 14 games this past year did Brown allow more than 40 yards in coverage, and he never allowed more than 60 in one game. He missed a load of tackles against the run, but in coverage, Brown missed only four of his 39 attempts and recorded the third-most defensive stops at his position. He showed great awareness in coverage, recording three impact interceptions when the quarterback was under pressure and tried to create a play. Considering Brown converted from defensive back to off-ball linebacker in 2019, it isn't a surprise to see that when grinding the tape.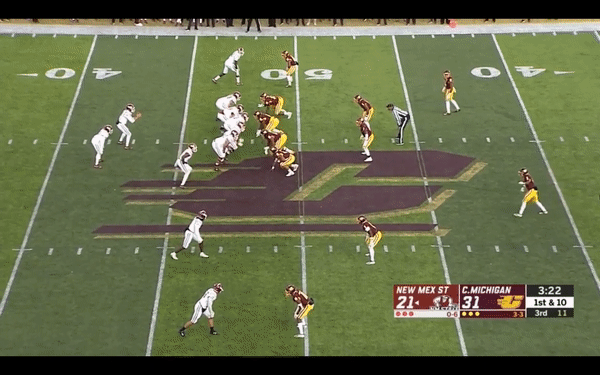 4. S Sterling Weatherford, Miami (OH)
Miami safety Sterling Weatherford played a limited role in 2018 but impressed in coverage with just two catches allowed and two combined interceptions and pass breakups on his 140 coverage snaps. His success in coverage continued into 2019 when he was given a starting role, recording an 85.2 coverage grade and forcing more incompletions than first downs allowed. Weatherford played all over the field, and wherever he lined up, he thrived in coverage — he allowed under 0.40 yards per coverage snap in the box, in the slot and at free safety.
5. WR Quian Williams, Eastern Michigan
This was Quian Williams' first collegiate season with significant reps, and while he got only one start, he was clearly the best receiver on the roster and best returning wideout in the MAC. Among returning wide receivers, Williams ranks in the top 25 in WAA from 2019. Half of Williams' targets this past year came on short, quick hitches and outs and screens — and he was incredibly reliable on those. When targeted nine yards or less downfield, Williams caught all of his 36 targets. He isn't necessarily the best on vertical routes, but he has the hands to get chunk play after chunk play and isn't fazed by any tight coverage.
6. EDGE Taylor Riggins, Buffalo
After redshirting with UMass in 2016 and sitting out 2017 due to transferring, Riggins finally was able to take the field in a collegiate game in 2018 and has since been one of the country's top pass-rushers. Among qualifying edge defenders, Riggins has produced a two-year pass-rush grade and pass-rush win rate that is among the 10 best in all of college football. Even with playing on 898 snaps the past two years, Riggins has produced a two-year WAA total that is the second most among returning edge defenders.
7. EDGE Malcolm Koonce, Buffalo
Yes, that's right — the Buffalo Bulls that bred Khalil Mack have the two best edge defenders in the MAC and two of the 10 best returning edge defenders in the country. Malcolm Koonce became a starter after two seasons as a role player and broke out as starter in 2019. Koonce finished 16th in pass-rush grade while winning on 24% of his reps, which was the third highest rate in college football and the highest rate among returning edge defenders. With Riggins on the other side, the two form one of the best, if not the best, edge duos in the country.
8. WR Skyy Moore, Western Michigan
The 5-foot-9 Skyy Moore was one of the five highest-graded true freshman receivers of 2019. He wasn't going to impress you on go routes, but he would on just about everything else. His specialty was sticks routes (hitches, comebacks), where he saw over 40% of his targets and was one of the 10 best receivers in PFF grade on them. On horizontal lead passes (slants, crossers, etc.), Moore was an explosive play waiting to happen as half of his such targets resulted in a gain of 15 or more yards and led the FBS in yards after catch per reception at 13.2.
9. EDGE Ali Fayad, Western Michigan
Whether it was a run play or pass play, Ali Fayad has been an above-average edge defender the past couple of seasons, producing a PFF run-defense and pass-rush grade above 84.0 and ranking among the 30 best edge defenders in both facets of play. He's had a knack for the ball over the past couple of years, too, with seven forced fumbles. The biggest reason why he isn't the number one returning edge defender in the MAC is his below-average pressure rate. That being said, he, Koonce and Riggins are still among the 15 best returning edge defenders in the country. Fayad still won his reps at an above average rate of 16.5%, largely because of his polished spin move: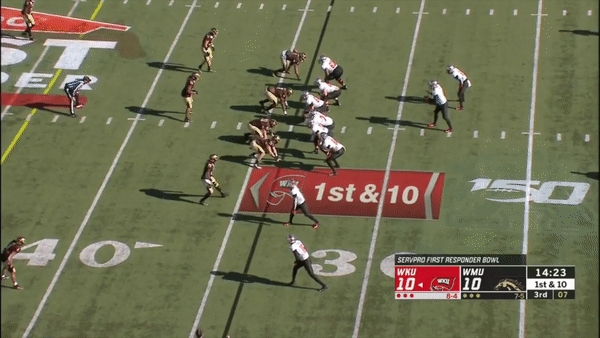 10. WR Antonio Nunn, Buffalo
Antonio Nunn was average at best in his redshirt freshman and sophomore seasons, but he stepped up in his increased role in 2019 by producing an 82.9 receiving grade that trailed only Quian Williams in the MAC. Nunn was among the top receivers in the country when in single coverage, recording the 17th-best receiving grade on such plays. And when filtering to how he fares in single coverage on contested situations, he jumps to seventh in grade. He's always had a bad drop issue and doesn't separate at a high level, but Nunn has proven he can go toe-to-toe with any defensive back in the MAC and win in jump-ball situations deep downfield.