The SEC has long been regarded as one of, if not the, most talented conferences in all of college football. This year you could easily make the case that the top three prospects in the draft come from the SEC in Jonathan Allen, Myles Garrett and Reuben Foster. With such great talent leaving for the NFL though, does that mean we'll see a weaker SEC in 2017? Based on the talent left, that seems unlikely, and with that in mind, here are the top 10 returning players in the SEC.
1. LSU ED Arden Key
Not just one of the top returning players in the SEC, LSU's Arden Key returns as one of the most devastating pass-rushers in the country in 2017. While he hasn't been much more than solid against the run over the past two seasons, his work as a pass-rusher puts him among the elite players in the country. In 2016 he averaged a sack, hit or hurry once every 5.4 pass-rushing attempts, and he has the speed to give opposing offensive tackles nightmares off the edge. With Myles Garrett, Derek Barnett and Jonathan Allen, among others, headed to the NFL, Key is in prime position to take over as the best defender in the SEC in 2017.
2. LSU HB Derrius Guice
Losing Leonard Fournette to the NFL might seem like a big deal, but the play of Derrius Guice down the stretch should give LSU fans faith that their running game won't miss a beat in 2017. Guice was truly dominant over the final four games of the year, averaging a missed tackle forced once every 3.4 carries. That included an incredible performance against Texas A&M late in the year, where he forced 16 missed tackles on 37 carries. Consistent in his ability to make people miss, Guice forced at least six missed tackles in five of the eight games where he saw at least 16 carries.
3. Alabama CB/S Minkah Fitzpatrick
If there's one player who can challenge Arden Key for the title of best SEC defender this coming year, it's Alabama's star defensive back Minkah Fitzpatrick. With plenty of turnover on the defensive side of the ball for the defending SEC champions, having a player with the experience and skill set of Fitzpatrick is huge. He spent time both at cornerback and safety in 2016, so where he will line up next year is a mystery right now, but when lined up in the slot he allowed an NFL passer rating of just 43.9 on throws into his coverage.
4. Arkansas C Frank Ragnow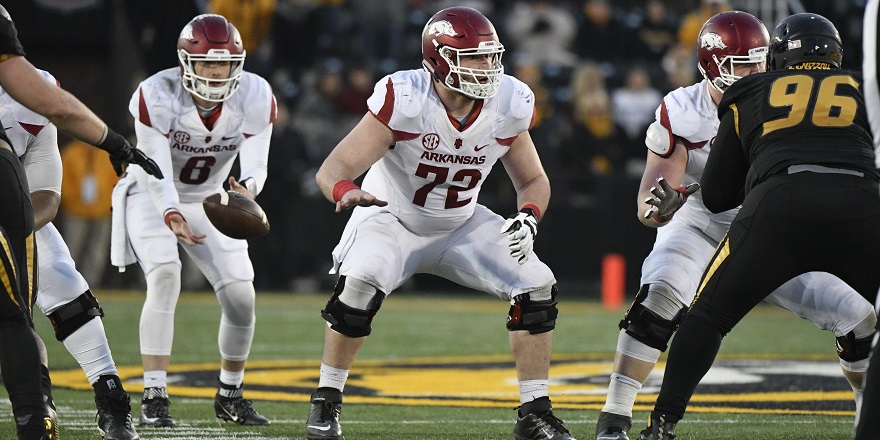 He might not play the most exciting position on the football field, but it's time for people to take notice of Arkansas center Frank Ragnow. The best player at his position last year, and arguably the top offensive lineman in the nation, Ragnow is a force both at the line of scrimmage, and at the second level. Just how big an impact did he have in 2016? Arkansas averaged 6.5 yards per carry on 58 runs between center and left guard last year, while he didn't allow a sack all year, and allowed just 12 total pressures in pass protection.
5. Georgia HB Nick Chubb
There's somewhat of a leap to be made with Chubb, in that 2016 wasn't his most impressive season, but he was coming off a serious knee injury. Despite that, the way he ended the season gives a realistic expectation that he can be back to his best in 2017, with 20 of his 39 missed tackles forced coming in the final five games of the year. Over the past three seasons, Chubb has averaged a forced missed tackle once every 4.3 carries, and has averaged 3.7 yards per carry after contact. With fellow running back Sony Michel returning too, the Bulldogs will be hoping that their running game can power them toward the SEC Championship Game in 2017.
6. Alabama LB Shaun Dion Hamilton
The loss of Reuben Foster for Alabama is a huge one, but the play of Shaun Dion Hamilton in 2016 will give the team hope that while there will be some dropoff, it won't be enough to cause a serious issue for them defensively. Hamilton played 524 snaps for Alabama in 2016, before going out injured in the SEC Championship game against Florida, but over the course of the year he stood out in coverage, against the run and as a blitzer, racking up two sacks, three hits and three hurries, to go along with 31 tackles resulting in a defensive stop.
7. Auburn G Braden Smith
Auburn's star right guard Braden Smith could have followed right tackle Robert Leff and made the jump to the NFL this spring, but he opted to return to school, giving the Auburn running game a huge boost. He impressed as a pass protector in 2016, giving up just two sacks and three hurries all year, but it was as a run-blocker where he really stood out. On runs between Smith and Leff to the right, Auburn averaged 6.2 yards per carry, with 2.7 of those yards coming before contact. With Smith staying in school, Auburn will be confident of more success on runs to the right in 2017.
8. Arkansas QB Austin Allen
The only quarterback on this list, Allen surprised a lot of people by stepping in and taking over as the team's starting quarterback with ease last year. He stood out in particular throwing the ball downfield, throwing eight touchdowns to one interception on throws travelling at least 20 yards downfield. One key thing he'll have to work on in 2017 is improving under pressure. In 2016, his completion percentage dropped from 72.8 percent when kept clean, to 44.1 percent when pressure got to him.

9. Kentucky HB Benjamin Snell Jr.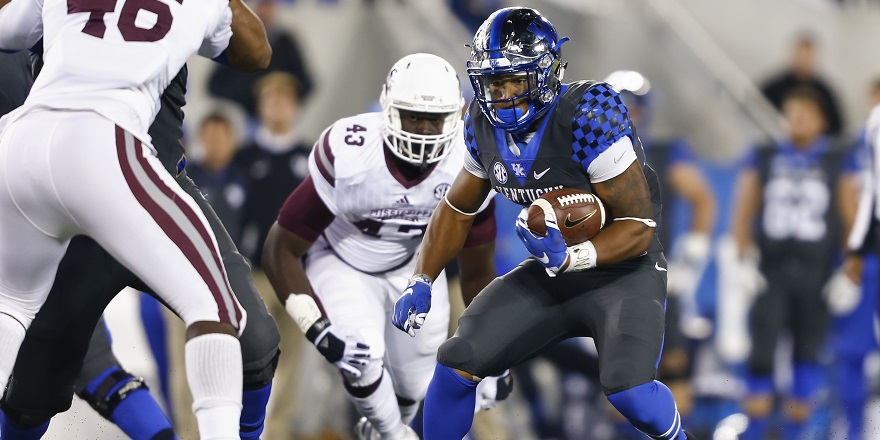 The Kentucky Wildcats were the surprise package in the SEC this past season, and their offense was powered by a strong running game. Stanley Williams is off to the NFL, but Benjamin Snell Jr. is still there, and coming off a huge season himself. On 185 carries in 2016, Snell forced 44 missed tackles, and averaged 4.1 yards after contact per carry. After splitting time with Williams last year, Snell should see the bulk of carries in 2017, and is a sneaky candidate to push the 2,000-yard mark if that holds true and he can perform at the level he did in 2016.
10. Georgia DT Trenton Thompson
Of all the defensive linemen in the SEC, the one who flies under the radar the most is Georgia's run-stuffing star Trenton Thompson, but it's about time he got the credit he deserves. For a run-stuffer, he actually did a decent job chipping in as a pass-rusher, with four sacks, one hit and 16 hurries last year, but naturally it is against the run where he really stands out. On 219 snaps against the run last year, Thompson made 27 tackles resulting him in a defensive stop, giving him a run-stop percentage of 12.3 that ranked sixth-best among all defensive tackles in college football in 2016.