Quarterback, wide receiver and cornerback are the three most important positions in football — whether it be NFL or college.
PFF recently released preseason rankings for all 130 FBS quarterbacks and the top college wide receiver tandems, so now it's time to complete the trifecta. Here are the strongest duos at outside cornerback ahead of the 2021 college football season.
The list will change as the season progresses and breakout players emerge, but this is where things stand right now.
Subscribe to
This ranking is indisputable. The LSU tandem of Derek Stingley Jr. and Eli Ricks isn't just the best returning outside corner duo in college football this year, but it's arguably the best PFF College has ever seen. In 2019, Stingley posted the best single-season coverage grade by a true freshman cornerback in the PFF College era. In 2020, Ricks posted the fourth-best single-season coverage grade among that same group. And each did that while playing ample press-man coverage.
With Stingley and Ricks at the forefront of LSU's defense, don't sleep on this team in 2021.
TCU is set to field another strong secondary in 2021, returning Tre'Vius Hodges-Tomlinson, college football's highest-graded corner in 2020, and Noah Daniels, who suffered a season-ending injury in the midst of a breakout season last year.
Hodges-Tomlinson struggled to a 45.4 coverage grade in TCU's 2020 opener. But after shaking off the rust, he went on to post an FBS-high 90.6 coverage grade while allowing just 12 catches on 45 targets. He also came away with 14 pass breakups. Armed with a mirror ability that is as good as it gets at the position, the TCU cornerback played the ball incredibly well at the catch point. He forced tight coverage on over 57% of his targets in 2020, the highest rate among Power Five cornerbacks.
Daniels suffered a season-ending injury in his fourth game of the year but was locking up receivers beforehand. He allowed only six catches on 18 targets while forcing seven incompletions before getting hurt. He has legitimate track speed and is bound to continue that breakout this fall.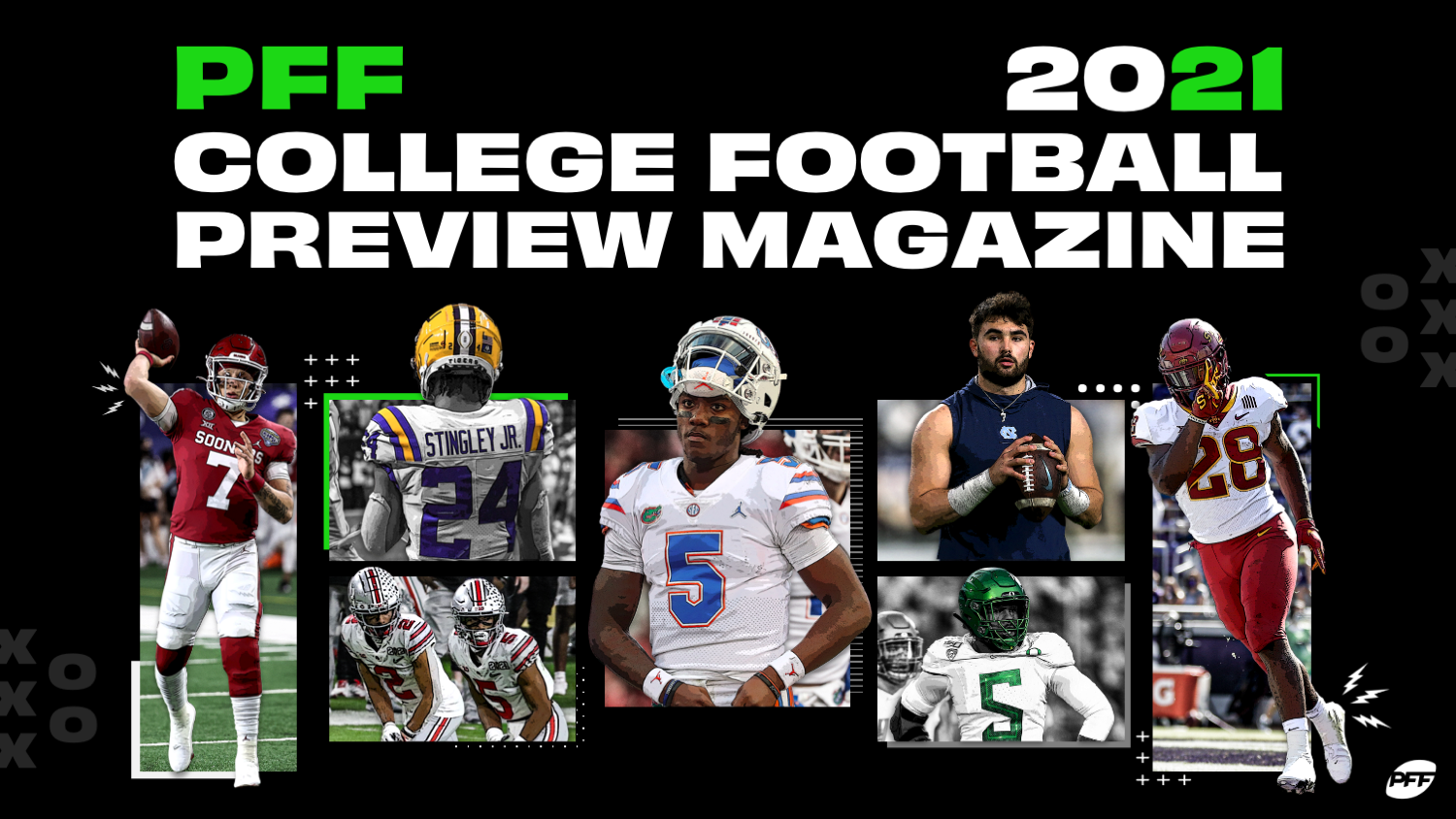 Pair either Nehemiah Pritchett or Dreshun Miller with Roger McCreary as the two starting outside corners, and it's still a top-three duo in college football. Pritchett might end up manning the slot to get all three of these players on the field at the same time, but him sticking on the outside to share time with Miller isn't out of the question.
Pritchett put together one of the more underrated seasons in the SEC last year. He entered the year with only 68 career snaps and ended it ranked sixth among SEC outside corners in coverage grade. He allowed one or no catches in eight of his 11 games, a 36.8% catch rate and 0.5 yards per coverage snap overall while recording one interception and seven pass breakups.
Miller comes to Auburn as a transfer from West Virginia. He began his college career at LSU before landing in JUCO, working his way up to become a highly coveted recruit at that level in 2018. Last year was his first time starting at the Power Five level, and he excelled in the Mountaineers' zone-heavy defense. He finished with a 77.6 coverage grade and the fifth-best forced incompletion rate (24.4%) in the Power Five.
Gardner arrived in the Queen City as a three-star recruit in 2019 and earned a 90.2 PFF coverage grade as a true freshman, defying the dreaded learning curve at almost every turn. He was seemingly always at the catch point and hardly ever lost.
And nothing changed in Year 2.
Gardner has developed into one of the best press-man coverage corners in college football over the past few years. The 6-foot-2, 188-pounder has seen 84 targets in press coverage since landing in Cincinnati, and he has allowed just 16 first downs while making a whopping 22 plays on the ball, the most in the FBS over that time. He has yet to allow a touchdown in his college career, with opposing quarterbacks netting a 35.3 passer rating on throws into his primary coverage.
Bryant has been a bit of a roller coaster in his three years starting for the Bearcats, but the same playmaking ability is certainly there. Since 2018, he has notched 33 combined pass breakups and interceptions, with two of the three seasons ending in a 77.0-plus coverage grade.
These two have yet to start a game together, but it's quite clear they are primed to be a special tandem this fall. Storm Duck became a starter back in Week 5 of 2019 as a three-star true freshman, finishing with an 81.3 coverage grade — a top-20 mark in the Power Five and one of the 15 best grades produced by a true freshman in PFF's seven years of grading college football. He played in just two games last season because of injury, though. He was targeted 13 times over those outings, and he allowed just four catches for 31 yards while forcing five incompletions.
Tony Grimes was one of the biggest recruiting wins of the first couple of years of Mack Brown's return to North Carolina. The former five-star recruit allowed eight catches on 20 targets for 89 yards across 189 coverage snaps in 2020, and only one of those receptions resulted in a gain of 15-plus yards. He played the most over the final five games of the season, making as many plays on the ball as catches allowed (three) in that stretch. Not to mention, he accomplished that in a year in which he was supposed to be a senior in high school. He reclassified and graduated a season early, and North Carolina reaped the rewards.
All three of these corners saw valuable time on the outside for the Hoosiers in 2021 and helped the team to a top-10 outside coverage grade in the Power Five. Mullen flashed inside-outside versatility, as he also spent some time covering the slot, but he remained the same top-tier coverage defender wherever he was on the field. He ranks top five in both forced incompletion rate and yards allowed per coverage snap from the outside among returning Power Five corners since 2019.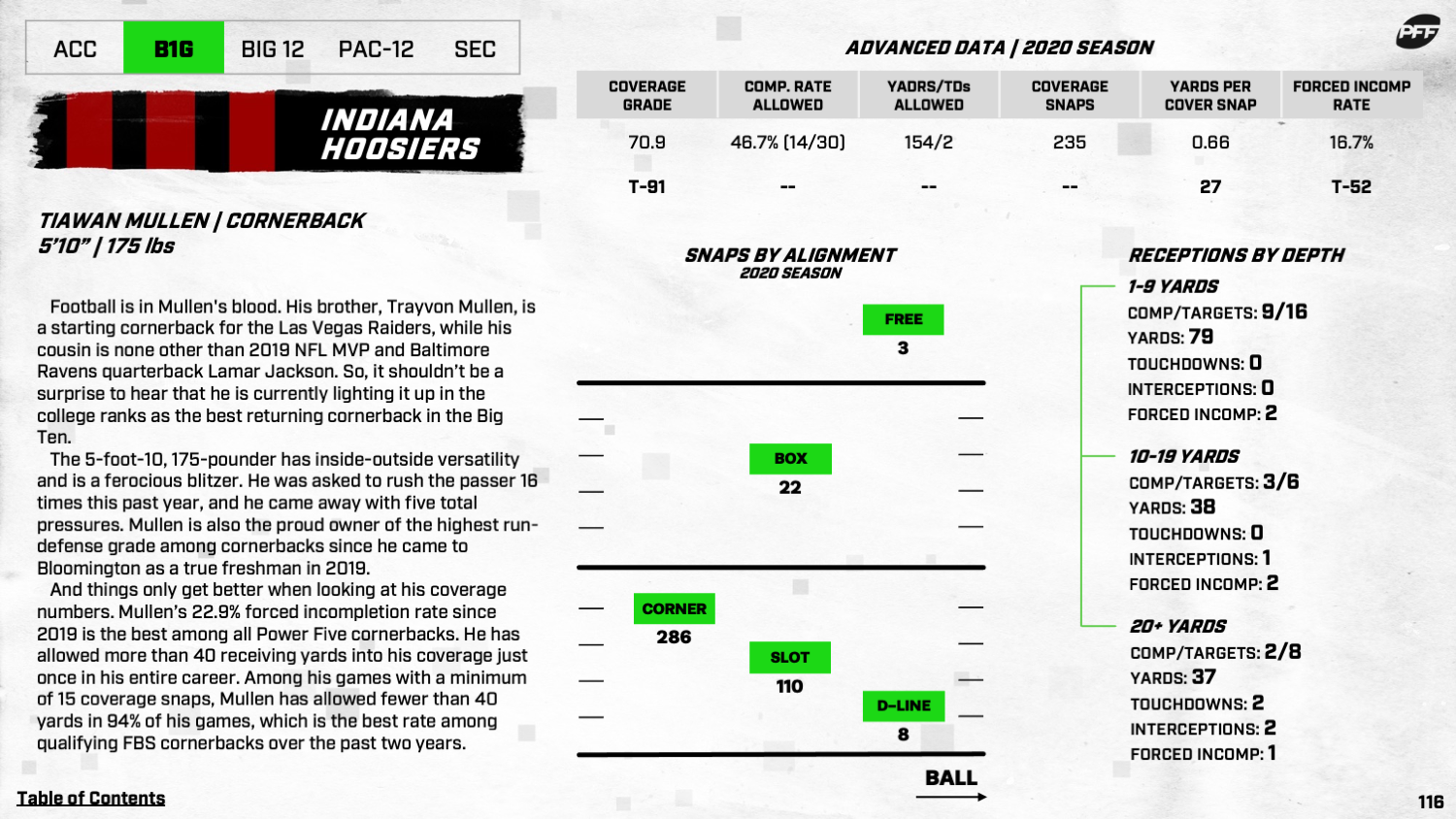 Regardless if it's Taylor or Williams opposite Mullen, Indiana is in good hands. Both operate well in zone coverage. Taylor ranks 11th among Power Five outside corners in zone coverage grade since 2019, while Williams is coming off a season in which he led that group in passing stops (10) and interceptions (three) on such coverage snaps.
Trent McDuffie played in just four games in a coronavirus-shortened 2020 season, but he still looked like the same player who lit the college world ablaze as a true freshman back in 2019. The 5-foot-11, 195-pound cornerback boasts an impressive 88.3 coverage grade in his college career. He is one of just three outside corners in the Power Five who have generated a coverage grade above 75.0 in both man and zone coverage since 2019.
And that's not all, as McDuffie might also be the best tackling cornerback in college football. He has missed just two of his 64 career tackle attempts and earned a run-defense grade that ranks second among Power Five corners over the past two years.
Opposite McDuffie is Kyler Gordon, an unproven but high-ceiling player who possesses plenty of athleticism. He landed on Bruce Feldman's Freaks List last offseason thanks to an absurd 42.5-inch vertical, a 6.52-second three-cone and a 3.87-second short shuttle. He just hasn't quite maximized his full potential or seen consistent playing time. Gordon has started only a handful of games on the outside for Washington, seeing 368 coverage snaps while owning a 72.2 career coverage grade at outside corner. He is a safe breakout candidate for this fall.
Williams and Mathis were perfect fits in Pat Narduzzi's aggressive press quarters defense last season. Williams is firmly in undersized territory at 5-foot-8 and 175 pounds, but that didn't get in the way of high-level production in his first year as a starter. He allowed 35 yards or less in all but one game, racking up eight passing stops and producing the fourth-best forced incompletion rate among Power Five cornerbacks (24.2%).
Mathis, on the other hand, missed all of 2020 due to injury, but emerged back in 2019. That year, he allowed the third-lowest catch rate (36.8%) among Power Five corners while racking up 10 combined pass breakups and interceptions. He did tend to get too aggressive, though, and was tagged for eight penalties on the year.
Derion Kendrick may now be a Georgia Bulldog, but the Clemson Tigers are still well equipped at cornerback. The group is led by 2019 five-star recruit Andrew Booth Jr., who made some highlight-reel plays on the ball in 2020. After a so-so debut in which he gave up two catches for 67 yards, Booth was lights out the rest of the way, allowing just 93 yards on 174 coverage snaps in his last 10 games. He could challenge North Carolina's Storm Duck for the title of top cornerback in the ACC in 2021.
The spot opposite Booth is set to be occupied by both Sheridan Jones and Mario Goodrich, and each has plenty of high and low moments on their PFF grading profiles. Jones took on a starting job in 2020 and locked up opposing wideouts to start the year. He recorded a 75.8 coverage grade through Week 9, allowing a minimal 31% catch rate and just five receptions for 51 yards overall across 133 coverage snaps. But he was beat up on against Notre Dame, allowing four catches for 96 yards, and hardly saw the field the rest of the year.
Goodrich was a small sample darling in 2019, posting a 76.5 coverage grade across 108 such snaps, but tailed off in 2020. His coverage grade fell nearly 20 points, and he allowed 219 yards on 128 coverage snaps. At least one of the two will have to emerge in 2021, and each has shown capable of seizing the opportunity.
Northwestern lands a top-10 outside corner duo spot despite losing its CB1 from 2020 — Greg Newsome II — to the first round of the 2021 NFL Draft. Still, the Wildcats barely secured this spot due to having a smaller sample of standout play.
A.J. Hampton looked like a rising star in the 2020 regular season, but he fell apart in his two biggest games against Ohio State and Auburn. In the regular season, he put up an 86.7 coverage grade and allowed just seven catches on 18 targets for 40 yards. In those final two games, his coverage grade fell to 54.8, and he allowed 10 catches on 19 targets for 173 yards.
Cameron Mitchell's success came in the two games Hampton slipped up in. Once Newsome went down with an injury in the Big Ten title game, Mitchell came in and impressed. He did the same in the Wildcats' bowl game versus Auburn. In those two outings, he posted a 79.2 PFF grade with only five catches allowed for 46 yards on 14 targets. He also intercepted a pass and broke up three others.
This duo can certainly sustain the Wildcats' successful pass defense from 2020 with Newsome, but they do have a lower floor than the rest of the top 10.
OTHERS TO WATCH
ALABAMA: JOSH JOBE + JALYN ARMOUR-DAVIS
ARIZONA STATE: JACK JONES + CHASE LUCAS
GEORGIA: DERION KENDRICK + KELEE RINGO
IOWA: RILEY MOSS + MATT HANKINS
MISSISSIPPI STATE: MARTIN EMERSON + EMMANUEL FORBES
VIRGINIA TECH: JERMAINE WALLER + DORIAN STRONG
---
Dive into PFF's guides to get the most out of the 2021 season, from the 2022 NFL Draft to college football to fantasy football!