A strong wide receiver duo alongside a quality arm separates the contenders from the pretenders in football. Just look at the teams that have won the College Football Playoff.
So, let's rank the top 10 wide receiver tandems in college football heading into the 2021 season to get a better idea of which offenses are set to thrive.
The list will change as the season progresses and breakout players emerge, but this is where things stand right now.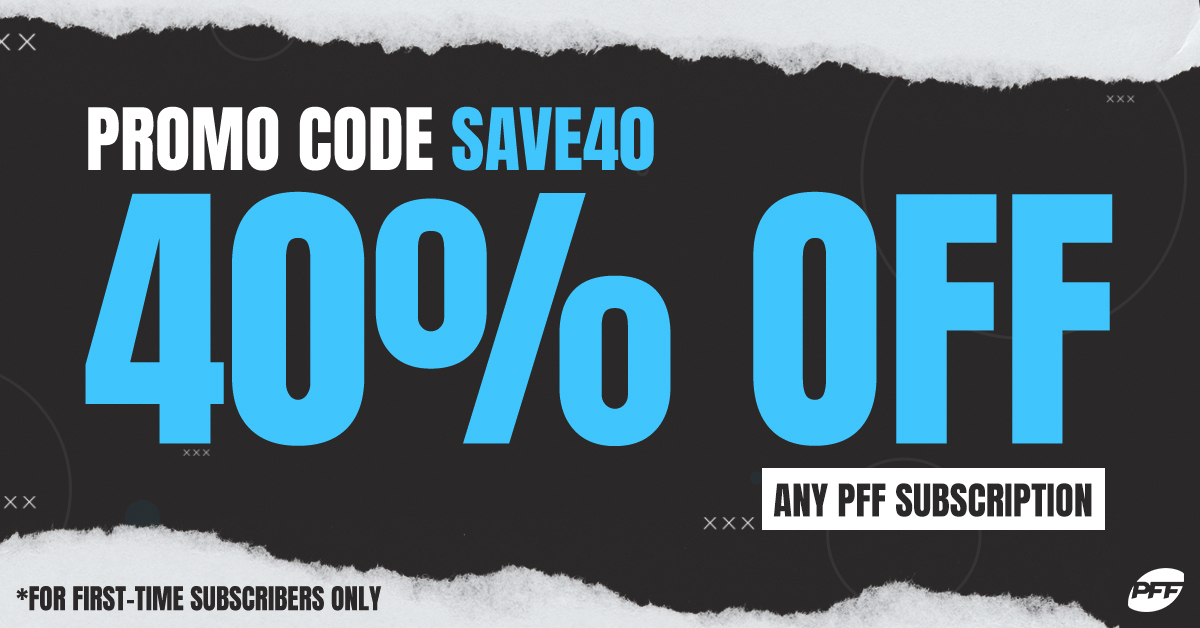 Ohio State wide receivers coach Brian Hartline has established himself as one of the best assistants in all of college football over the past few years. He is repeatedly hitting home runs on the recruiting front and is breeding high-upside players into elite-level route-runners. Just look at his top two wide receivers heading into the 2021 season.
Chris Olave and Garrett Wilson both ranked inside the top 10 in receiving grade last season among all Power Five wide receivers. And both generated over three yards per route run in 2020, making them one of five Power Five wide receiver tandems to do so in a single season over the past five years. Let's also not forget that the Buckeyes' receiving room features one of the biggest breakout candidates in college football in 2020 five-star Jaxon Smith-Njigba.
Ohio State's wide receivers in 2021 might be 2019 Alabama level of special.
The sky's the limit for this tandem as long as they each stay fully healthy. Ross missed all of 2020 while recovering from a spinal surgery that nearly ended his football career. While Ngata saw the field a little bit in 2020, he was never fully healthy for any of his limited action. Yet, both have shown plenty to get excited about before the injuries got in the way.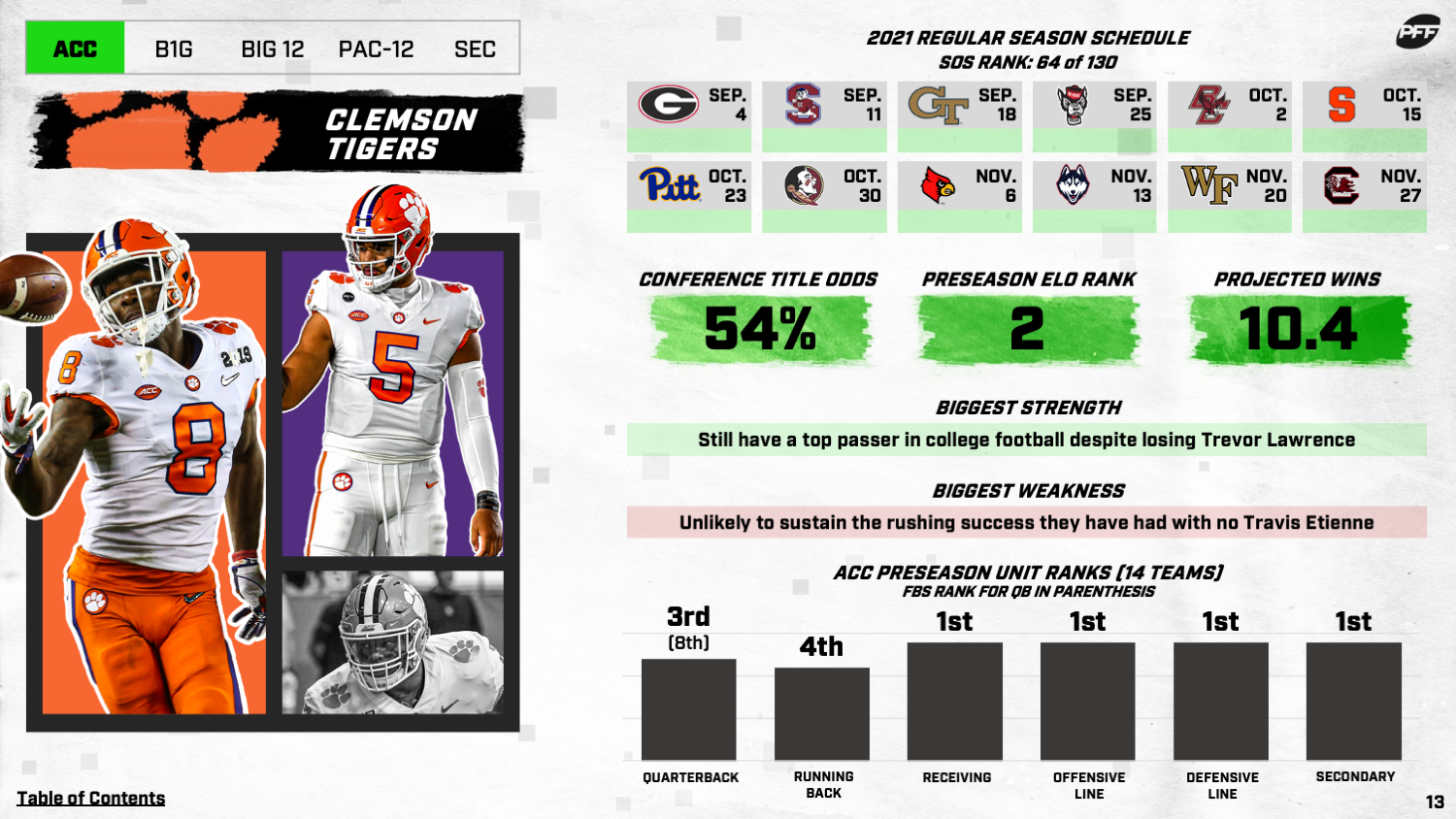 Ross established himself as one of the best deep threats in college football prior to 2020, coming away with the third-most touchdowns on targets of 20-plus yards in 2018 and 2019 (11). His 6-foot-4 frame comes in clutch on those passes, as he often bodies defensive backs in contested situations. Ross has hauled in nine of 13 such deep targets in his career. 
Ngata also fits the Clemson big-bodied receiving threat mold at 6-foot-3 and 220 pounds. He was tasked with an extraordinarily high rate of press coverage as a true freshman in 2019. Nearly 53% of his routes in 2019 came against press coverage — the sixth-highest rate in the Power Five — and yet, he still was near the 80th percentile among that group in per-route production on those reps, averaging 1.91 yards per route. He can climb the ladder on anyone and somewhat resembles former teammate and current Cincinnati Bengal Tee Higgins.
The former LSU tight end looked like the baby version of Kyle Pitts as a true freshman. He now takes his talents to Georgia to play wide receiver. And he's going to be a good one.
The 6-foot-5, 249-pounder is an elite athlete, possesses a massive catch radius and has some craftiness as a route-runner and after the catch. He hauled in seven of his 13 contested targets and broke nine tackles on 35 receptions in 2020. He ran 33 routes on the outside for LSU last season, picking up eight receptions for 85 yards.
If wide receiver George Pickens hadn't torn his ACL this past spring, then the Bulldogs would be 1b to Ohio State for best receiving unit in college football. While they will be without Pickens for the 2021 season, they still have a bevy of talented options to choose from alongside Gilbert. The top candidate to be that No. 2 option is Dominick Blaylock, who has had his career interrupted by multiple serious injuries. Blaylock is recovering from his second torn ACL within eight months but is on the path to being healthy in 2021. As we saw in his 2019 true freshman campaign, he has the potential to be an elite slot receiver in this offense. That year, he produced an 80.9 receiving grade and generated 3.10 yards per route run as a key reserve.
Georgia also returns Kearis Jackson, who looked like he was on track to break out early on in 2020, but his production failed to sustain. He went from a 90.2 receiving grade and 4.69 yards per route run through the first three contests to a 61.3 receiving grade and 1.30 yards per route run in his next seven games. He's one of several high-ceiling, low-floor players on this team.
And don't sleep on Arian Smith making a big impact this fall. Smith is a two-sport, world-class track star for his school. He ran the first leg for the U20 record-breaking 4×100 team back in 2019 and was part of the second-place 4×100 group in the 2021 NCAA DI Championships. On the football front, Smith ran only five routes in his 2020 freshman campaign but managed to haul in a 31-yard touchdown and a 55-yard reception on post routes. He's going to be a dangerous deep threat one day.
Jaquarii Roberson came into the 2020 season having seen 29 targets in three years at Wake Forest. He left it as the second-highest-graded wide receiver in the FBS (92.6) — just like we all expected. He exploited holes in zone coverage and extended several plays in the open field with his after-the-catch ability. Roberson's 340 receiving yards from finding a hole in zone coverage were the second-most in the Power Five.
Meanwhile, Greene enters 2021 with a chance to become a premier deep threat in the ACC. As an underclassman in 2019 and 2020, he posted the highest rate of deep targets (36%) and the second-highest average depth of target (18 yards) in the conference. He'll need to improve in the drops department (17.6% career drop rate), but he wins downfield regularly and will provide a spark in that regard this fall.
Marvin Mims wasn't the first, second or even third option in this Oklahoma offense last year. He ranked fourth on his team in total routes run as a true freshman but still ended the year as one of the most productive receivers in the FBS. His 89.1 receiving grade and 4.07 yards per route run were top-10 marks at the position. While some of that production came courtesy of Lincoln Riley's offense, Mims routinely executed his role at a high level. Despite seeing only 49 targets, he brought in 11 deep receptions, tied for the fourth-most in the Power Five. His stock is on the rise for 2021.
The No. 2 here — Jadon Haselwood — comes with some projection. Haselwood suffered a torn ACL last offseason, an injury that limited him to only three games in 2020, but he did show some flashes. As a true freshman, he earned a respectable 72.4 PFF grade, headlined by 2.52 yards per route run, zero drops and a 50% contested-catch rate. He flashed advanced ball skills and made highlight-reel grabs look routine.
If JD Spielman can play up to the level he did at Nebraska, then he will finish the 2021 season as one of the nation's best receivers. Spielman was the most valuable Cornhusker on offense in 2017, 2018 and 2019. His receiving grade in those three years collectively ranked 16th among Power Five wide receivers, while his 65 receptions of 15-plus yards ranked fifth behind now-NFL receivers Tyler Johnson, Denzel Mims, CeeDee Lamb and Jerry Jeudy.
Spielman is a dynamic weapon in the slot, too, evidenced by his 37 broken tackles on 174 career receptions and 7.3 yards after the catch per reception. Spielman, the son of Minnesota Vikings general manager Rick Spielman, transferred to TCU before the 2020 season but ran only 49 routes across three games due to a season-ending injury.
While Spielman is an experienced veteran, Quentin Johnston is a young breakout candidate for this season. Johnston is a lanky wide receiver at 6-foot-4 and 193 pounds, but he plays stronger than expected. He is also a rare all-around athlete for his size. He ran 214 routes in his 2020 freshman campaign and closed out the year with two astounding performances.
Against Oklahoma State and Louisiana Tech, Johnston produced a 91.1 receiving grade and five receptions that resulted in a 15-plus-yard gain. With his size and athleticism combo, the long strider is a monster to defend on go balls, and he is also tough to bring down after the catch. He hauled in five go routes for 267 yards in 2020 and broke 16 tackles on 22 receptions while averaging 8.9 yards after the catch per reception.
Led by quarterback Carson Strong's breakout, Nevada fielded one of the more explosive passing offenses in the Group of Five last season. And Romeo Doubs emerged as Strong's go-to deep target, cooking cornerbacks on the regular. Doubs finished top three in the FBS in both deep receiving yards (538) and touchdowns (seven) last season. On single coverage reps, he led the FBS in deep receiving yards (505). Doubs has the top-end speed to stack corners with ease.
The scary part about this Wolf Pack team that went 7-2 in 2020 and finished second in the Mountain West in per-play pass efficiency is that it not only returns both Strong and Doubs but will also bring back 6-foot-4, 215-pound wide receiver Elijah Cooks, who missed almost all of last year due to injury. In 2019, Cooks was a bully on the field, repeatedly hauling in off-target throws. He caught 15 contested passes, broke 15 tackles after the catch and led the FBS in yards generated from catchable but inaccurate targets (417).
London looks poised for a monstrous 2021 junior campaign. The 6-foot-5, 210-pound wide receiver came to USC as a four-star recruit and was a two-sport athlete who also played for the Trojans' basketball team. This past season, London tied for the third-best receiving grade in the Pac-12, with the two players ahead of him — Simi Fehoko and former teammate Amon-Ra St. Brown — now being in the NFL. He has displayed some of the best hands in the country in his two years with the program.
London didn't drop a single pass this past season and ranks second among Power Five wide receivers in drop rate beyond the line of scrimmage since 2019. He is also hard to bring down after the catch. London ranks eighth among Power Five receivers in broken tackles forced after the catch in his college career (27) despite slotting in at 53rd among that group in catches (72).
After London, USC and quarterback Kedon Slovis aren't short of high-ceiling receiving options. Perhaps the player with the most upside among that group is 2019 five-star recruit Bru McCoy. Standing at 6-foot-3 and weighing 220 pounds, McCoy knows how to use his physicality to his advantage and is an impressive all-around athlete for his size. In 2020, McCoy broke six tackles on 21 receptions, went four-for-four on contested opportunities and generated a 130.1 passer rating on his targets. He was limited this past spring but should be the one starting opposite London on the outside, where he can finally showcase his skills over the course of a full season.
Tre Turner is coming off the best season of his college career, producing an 82.6 PFF grade that ranked third in the ACC. That grade was anchored by nine contested catches on 11 such targets. He still has some room to grow, especially in getting off press-man coverage, but he is still a dangerous wideout.
Tayvion Robinson is coming off a season in which he pivoted from the slot to the outside, and he produced at a high level, generating 2.52 yards per route run on the outside (12th in the Power Five). He was an after-the-catch threat as an underclassman, averaging 7.8 extra yards with the ball in his hands and breaking 21 tackles on 69 receptions in his career.
With those two and tight end James Mitchell, the Hokies have themselves a well-rounded receiving unit that's among the best in the country.
David Bell has been a quarterback's best friend as an underclassman in Lafayette. He doesn't create much separation, but he does repeatedly defeat defensive backs on contested targets. Bell also has the body control to snag inaccurate throws. He's hauled in the second-most off-target throws (catchable but inaccurate targets) since 2019 among returning Power Five wideouts since 2019, with 33. Bell also produced a receiving grade against tight coverage as a true freshman and sophomore over the past two years that trails only former LSU wideout Ja'Marr Chase and former Alabama wideout DeVonta Smith for the best in the Power Five.
With Rondale Moore now off to the NFL, it'll be a combination of Bell and Milton Wright as the focal points of this Purdue offense, which we already got a taste of due to an injury for Moore. Wright is a 6-foot-3 receiver who turned down offers from several blue-blood programs, including Alabama, before joining Purdue. He struggled as a true freshman but showed his potential when Rondale Moore was sidelined. In his first three games (the ones without Moore) in 2020, Wright earned a 73.6 grade and generated 2.38 yards per route run.
HONORABLE MENTION
John Metchie III is one of the top returning wide receivers in all of college football. He's destined to be a big-play threat for Alabama this fall thanks to his ability to win vertically and at the line of scrimmage against press coverage. Last year, Metchie generated 3.55 yards per route run against press coverage, which is the fifth-best mark by a Power Five receiver over the past five seasons.
The reason the Crimson Tide fail to produce a top 10 wide receiver duo heading into the year is the lack of a proven No. 2. That's not to say there aren't promising talents who could change that by season's end, such as the 6-foot-3, 195-pound true freshman Agiye Hall.
Hall tore it up at Alabama's spring game, showcasing elite ball skills and winning with his size. He has all the tools to be the next elite receiving talent to come out of Alabama, but he still has to take the field and showcase those traits in an actual game before we call this a top-tier tandem.
Ball State boasts one of the top wide receiver tandems in the Group of Five. Justin Hall is a small, shifty after-the-catch threat, while Yo'Heinz Tyler is a big-bodied receiver at 6-foot-3 and 204 pounds who thrives in contested scenarios. They each rank among the five highest-graded wide receivers in the conference over the past two seasons.
Hall — a super senior — has averaged 7.4 yards after the catch across his 258 career receptions over four years while also breaking 80 tackles. The latter mark is 21 more than any other FBS wide receiver since 2017. Meanwhile, Tyler is fresh off a season in which he recorded a 61.5% contested-catch rate, fourth-best in the FBS.
Charleston Rambo was one of the most disappointing performers of the 2020 season. He looked like a shoo-in to be Oklahoma quarterback Spencer Rattler's new favorite target, but that was far from the case. Rambo's receiving grade plummeted from 73.7 in 2019 to 57.9 in 2020. He is now set to take the field with quarterback D'Eriq King at Miami and will again try to form an elite QB-WR connection. Rambo was a big-play threat for the Sooners back in 2019, and that's precisely what Rhett Lashlee's offense needs. He ranked third in the Big 12 that year in percentage of targets to result in a 15-plus-yard gain (28.6%).
Mike Harley, on the other hand, emerged in 2020. Something clicked for him in the middle of that senior year. From 2017 through Week 7 of last year, Harley produced a 56.5 receiving grade, 1.14 yards per route and 19 catches of 15-plus yards. From Week 8 on in 2020, he produced an 83.6 receiving grade, 3.08 yards per route and 16 catches of 15-plus yards. From his routes to his ball tracking, he was simply much better.
These two have shown some true high-end play at different points in their careers, and if they can sustain that on a weekly basis in 2021, then they are undoubtedly a top duo.