While we didn't have the same offensive fireworks as last week's Oklahoma-Texas Tech game that ruled the Team of the Week, this week features one of the nation's best runners, two offensive tackles that bounced back from poor games and two All-American candidates on the defensive side of the ball.
It was also good to see signs of life from Notre Dame's defensive line, while Illinios' Dawuane Smoot lived up to his preseason hype this week.
Here's your Week 9 Team of the Week in college football.
Quarterback – Mason Rudolph, Oklahoma State 85.4
Rudolph had as much success as any quarterback against West Virginia and he led the nation with an adjusted completion percentage of 84.4 percent this week (27-of-32 on targeted throws). He went 8-for-13 for 128 yards on passes thrown at least 10 yards in the air and he excelled under pressure going 8-for-11 for 114 yards and a touchdown.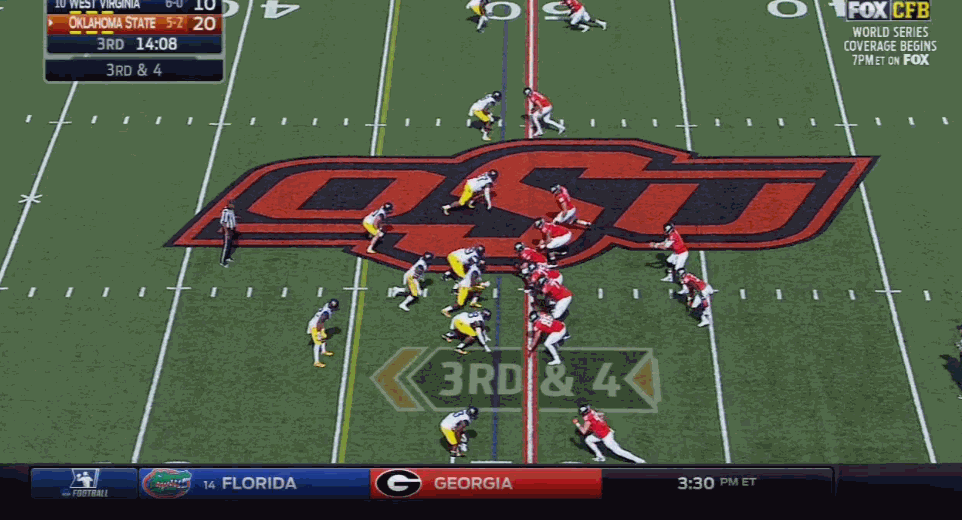 Running back –Donnel Pumphrey, San Diego State 88.7 and James Conner, Pittsburgh 84.0
Pumphrey's incredible season continues as he now has the nation's top rushing grade at 86.0 and he put together his fourth 200-plus yard game of the season with 223 on 32 carries against Utah State. He rushed for 117 yards (3.7 per carry) after contact. While Conner only had 19 carries, he made the most of them with four missed tackles forced and three touchdowns on his 141 yards. Stats or not, Conner's return from cancer is one of the season's great stories.
Wide receiver – Amara Darboh, Michigan 86.7 and Zay Jones, East Carolina 88.1
With eight catches on nine targets for 165 yards, Darboh was as efficient as it gets and it included his one-handed catch on a comeback route. Jones continued to put up his video-game numbers (114 receptions on the year) with 19 catches for 185 yards on 26 targets including a touchdown and three missed tackles forced after the catch.
Slot – Austin Carr, Northwestern 90.5
Quietly having an outstanding season for Northwestern, Carr stepped up on the Cats' biggest stage against Ohio State with 158 yards on eight catches. He picked up 66 of those yards after the catch (8.3 per reception) while averaging a national-best 4.51 yards per route from the slot.
Tight end – Jacob Hollister, Wyoming 93.7
Hollister broke free for six catches, 144 yards and two touchdowns, including a highlight-reel one-handed catch up the sideline. He did damage up the seams and out of the backfield as Wyoming moved him around and created mismatches to spark their upset of Boise State.
Offensive tackle – Isaiah Prince, Ohio State 84.0 and Paris Palmer, Penn State 83.4
What a difference a week makes as Prince bounced back from one of the worst games of the season against Penn State to show well in the run game this week, while not allowing a pressure on 35 dropbacks. Palmer had a similar turnaround as he had his worst game of the season the previous week against Ohio State but he was an asset in the run game against Purdue and allowed only one hurry on 28 attempts.
Guard –Mike Minter, Maryland 88.9 and Nick Haynes, Kentucky 88.4
One of the Big Ten's best guards this season, Minter made key blocks at the point of attack and on the move against Indiana while playing a clean game in pass protection on 42 dropbacks. Haynes had a similar game, controlling Missouri defensive tackles all game while not surrendering a pressure on 23 attempts.
Center –Erik McCoy, Texas A&M 86.2
McCoy had his best game of the season against New Mexico State and he's now gone five straight games without surrendering a pressure. He has good movement at the point of attack in the run game, good for an 85.7 run grade for the game.
Defense
Edge rusher –Dawuane Smoot, Illinois 92.6 and Derek Barnett, Tennessee 85.3
Making up for a slow start to the season, Smoot went off for a sack, QB hit, and four hurries on only 22 rushes while adding four stops in the run game. Barnett continued his dominant play in a losing effort against South Carolina, notching three sacks, four QB hits, and a hurry on only 28 rushes.
Defensive interior – Vincent Taylor, Oklahoma State 86.2 and Jarron Jones, Notre Dame 85.3
Back for the second straight week, Taylor notched two sacks, a QB hit, and a hurry on 25 rushes and he was the best run defender for Oklahoma State in their win over West Virginia. Jones broke out with his best game of the year, disrupting the running game with an 86.0 grade and a nation-high seven stops to go with a sack, QB hit, two hurries, and a batted pass.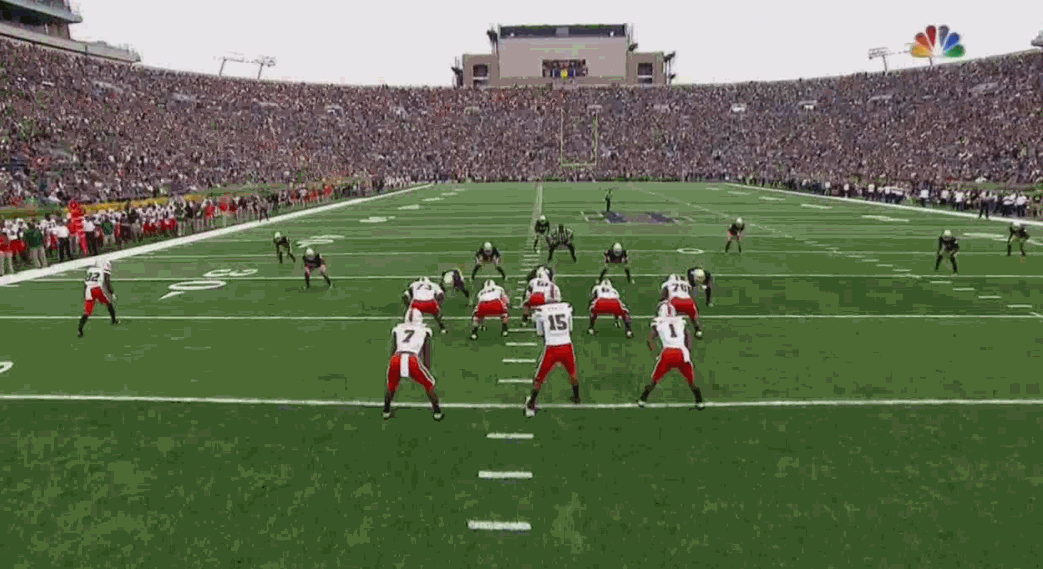 Linebacker –James Alexander, Kent State 93.6; Oluwaseun Idowu, Pittsburgh 90.4; Shaquem Griffin, UCF 90.0
Alexander made an impact in all phases with five stops to go with three hurries and a batted pass as a rusher. Idowu took on and defeated blocks from lead blockers and second-level linemen to finish with five stops in the run game while showing well in coverage. Griffin lit up the stat sheet with seven stops, an interception and a pass defensed to go with three sacks, a QB hit, and a hurry.
Cornerback – Joshua Holsey, Auburn 93.9 and Jaire Alexander, Louisville 93.7
Targeted 10 times, Holsey only surrendered two catches for 34 yards while intercepting a pass and getting his hands on four more. Alexander continued his breakout season with two interceptions and another pass breakup while giving only 15 yards on eight targets.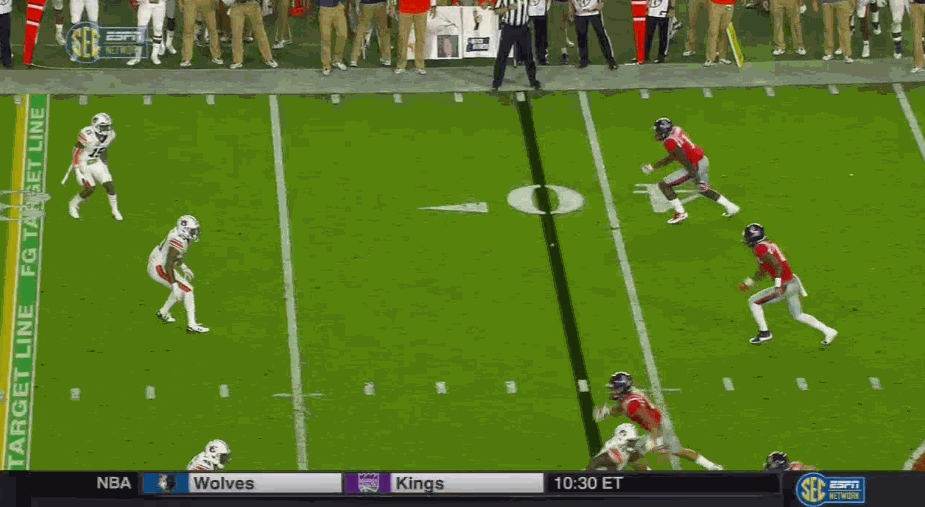 Safety – Brodie Hicks, Air Force 90.0 and Aaron Davis, Georgia 86.3
A two-interception game and strong work against the run puts Hicks on the team this week as he lines up all over the defense for the Falcons. Davis got his hands on a pass while getting in on three stops against Florida in his free safety role.
From special teams analyst Gordon McGuinness… 
Kicker – Daniel Carlson, Auburn
Carlson and Arizona State's Zane Gonzalez are duelling it out to be our top kicker in the nation and it was the Auburn kicker who had the edge this week. He was a perfect four-for-four on his field goal attempts, and boomed six of his nine kick-offs for touchbacks.
Punter – Mitch Wishnowsky, Utah
Wishnowsky had a fantastic game this week, with four of his six punts landing inside the opposing 20 yard line. He averaged 52.0 yards, and 42.0 net yards per punt, and is now our highest graded punter in the nation this season.
K/PR – Christian Kirk, Texas A&M
Kirk returned just two punts in Texas A&M's 52-10 win over New Mexico State, but both of those went all the way back for touchdowns, so it would have been difficult for him to have a bigger impact as a returner.
SEC — Gordon McGuinness
QB: Nick Fitzgerald, Mississippi State, 82.4 (95.5 rushing grade)
HB: Benjamin Snell Jr., Kentucky, 81.6
FB: Chandler Cox, Auburn, 83.9
WR: Donald Gray, Mississippi State, 80.8; Deebo Samuel, South Carolina, 80.5
TE: Evan Engram, Ole Miss, 80.7
OT: Robert Leff, Auburn, 80.2; Justin Senior, Mississippi State, 80.0
OG: Nick Haynes, Kentucky, 88.4; Braden Smith, Auburn, 84.0
C: Erik McCoy, Texas A&M, 86.2
ED: Derek Barnett, Tennessee, 85.3; Jabari Zuniga, Florida, 83.1
DI: John Atkins, Georgia, 79.6; Trenton Thompson, Georgia, 79.2
LB: T.J. Holloman, South Carolina, 83.2; Roquan Smith, Georgia, 83.1; Jarrad Davis, Florida, 81.1
CB: Joshua Holsey, Auburn, 93.9; Jamarcus King, South Carolina, 91.7
S: Aaron Davis, Georgia, 86.3; Cam Hilton, Missouri, 84.4
K: Daniel Carlson, Auburn
P: Trevor Daniel, Tennessee
K/PR: Christian Kirk, Texas A&M
Big 12 — Bryson Vesnaver
QB: Mason Rudolph, Oklahoma State, 85.4
HB: D'Onta Foreman, Texas, 74.8; Da'Leon Ward, Texas Tech, 73.9
WR: Daikel Shorts Jr., West Virginia, 79.7; Jalen McCleskey, Oklahoma State, 79.1; Armanti Foreman, Texas, 78.4
OT: Dalton Risner, Kansas State, 82.9; Connor Williams, Texas, 81.2
OG: Tony Matteo, West Virginia, 72.6; Alex Dalton, Oklahoma State, 72.5
C: Erick Wren, Oklahoma, 79.4
ED: Jhaustin Thomas, Iowa State, 80.7; Jordan Willis, Kansas State, 80.2
DI: Vincent Taylor, Oklahoma State, 86.2; Aaron Curry, TCU, 83.0
LB: Travin Howard, TCU, 86.5; Al-Rasheed Benton, West Virginia, 85.3; Emmanuel Beal, Oklahoma, 82.3
CB: Ranthony Texada, TCU, 89.7; Jordan Thomas, Oklahoma, 88.6; Ramon Richards, Oklahoma State, 86.8
S: Kamari Cotton-Moya, Iowa State, 81.2; Nick Orr, TCU, 74.7
K: Clayton Hatfield, Texas Tech
P: Mitch Lochbihler, Kansas State
KR: Dede Westbrook, Oklahoma
Pac-12 — Jordan Plocher
QB: Justin Herbert, Oregon, 82.1
HB: Joe Williams, Utah, 83.0; Myles Gaskin, Washington, 81.0
WR: Victor Bolden, Oregon State, 82.1; Jalen Brown, Oregon, 78.5
TE: Dalton Schultz, Stanford, 81.1
OT: Andre Dillard, Washington State, 81.2; Calvin Throckmorton, Oregon, 80.2
OG: Damian Mama, USC, 85.1; Cody O'Connell, Washington State, 80.0
C: Nico Falah, USC, 80.8
ED: T.J. Daniel, Oregon, 82.7; Pita Taumoepenu, Utah, 76.3
DI: Greg Gaines, Washington, 81.8; Lowell Lotulelei, 81.1
LB: Jordan Kunaszyk, Cal, 83.5; Michael Hutchings, USC, 83.0
CB: Marcellus Pippins, Washington State, 85.2; Imam Marshall, USC, 83.4; Kevin King, Washington, 83.3
S: Chase Hansen, Utah, 83.4; Jalen Moore, Oregon State, 82.2
Big Ten — Josh Liskiewitz
QB: Wilton Speight, Michigan  71.3
WR: Austin Carr, Northwestern  90.5; Amara Darboh, Michigan  86.1
RB: Mike Weber, Ohio State  81.5; Saquon Barkley, Penn State  80.9
TE: Troy Fumagalli, Wisconsin  87.6
OT: Isaiah Prince, Ohio State  84.0, Paris Palmer, Penn State  83.4|
OG: Mike Minter, Maryland  88.9, Dan Feeney, Indiana  82.5
C: Kirk Barron, Purdue  83.1
DI: Dre'Mont Jones, Ohio State  86.1; Chunky Clements, Illinois  83.9
ED: Duwuane Smoot, Illinois  92.6; Taco Charlton, Michigan  84.9
LB: Raekwon McMillan, Ohio State  86.1; Nate Hall, Northwestern, 85.3; Josh Banderas, Nebraska  84.6
CB: John Reid, Penn State  87.1; Koa Farmer, Penn State  84.0
S: Nathan Gerry, Nebraska  84.6; D'Cota Dixon, Wisconsin  82.1
ACC — John Breitenbach 
QB: Justin Thomas, Georgia Tech, 83.0
WR: Isaiah Ford, Virginia Tech, 72.5; Mike Williams, Clemson, 83.2
OT Tyler Jones, North Carolina State, 85.0; Trevor Darling, Miami, 76.9
OG Tony Adams, North Carolina State, 74.2; Jack McDonald, Virginia, 74.3
C Joe Scelfo, North Carolina State, 80.1
ED Ejuan Price, Pittsburgh, 84.4; Harold Landry, Boston College, 84.4
DI DeMarcus Walker, Florida State, 83.5; Dexter Lawrence, Clemson, 84.8
LB Oluwaseun Idowu, Pittsburgh, 90.4; Stacy Thomas, Louisville, 88.7; Matt Galambos, Pittsburgh, 84.3
CB Jaire Alexander, Louisville, 93.7; Adrian Colbert, Miami, 88.3
S Josh Jones, North Carolina State, 85.3; Quin Blanding, Virginia, 82.1
Group of Five — Zoltan Buday
QB: Will Worth, Navy, 91.4
RB: Donnel Pumphrey, San Diego State, 88.7
WR: Zay Jones, East Carolina, 88.1; Shaedon Meadors, Appalachian State, 88.6
TE: Jacob Hollister, Wyoming, 93.7
OT: Jake Barnhorst, Air Force, 81.1; Calvin Anderson, Rice, 84.5
OG: Will Hernandez, UTEP, 89.8; Alex Norton, Air Force, 82.7
C: Evan Brown, SMU, 82.0
ED: JT Jones, Miami (OH), 88.4; Terence Waugh, Kent State, 86.7
DI: Shawanye Lawrence, Georgia State, 85.5; Antonius Sims, Appalachian State, 86.7
LB: James Alexander, Kent State 93.6, ; Shaquem Griffin, UCF, 90.0; Ukeme Eligwe, Georgia Southern, 89.8
CB: Andre Chachere, San Jose State, 89.2; Clifton Duck, Appalachian State, 88.8
S: Brodie Hicks, Air Force, 90.0; D'Nerius Antoine, Southern Miss, 90.4