Week 12 was a week of old faces re-establishing dominance (hello Christian McCaffrey and Myles Garrett) while new faces emerged (we see you, Justin Crawford and Damien Mama). This week's team has a healthy mix of first-time award winners and Team of the Week staples, with a number of the staples boosting their grade to rank among the nation's best for the season.
Here's the Week 12 Team of the Week:
Quarterback – Nick Fitzgerald, Mississippi State 82.1
It was another strong all-around performance for Fitzgerald who threw for 328 yards on 23-of-33 passing and two scores while he also ran for 131 yards and four touchdowns on only 17 carries. His dual-threat effort led Mississippi State to 42 points though it wasn't enough to beat Arkansas as the Bulldogs lost 58-42. Still, it was an incredible effort from Fitzgerald who has been one of the best quarterbacks in the nation over the second half of the season.
Running Back – Justin Crawford, West Virginia 90.9 and Christian McCaffrey, Stanford 84.9
Lost in West Virginia's poor primetime showing was Crawford's huge day in which he ran for 331 yards on only 24 carries. Crawford forced 11 missed tackles in the losing effort while gaining 204 of his yards after contact. It's been good to see McCaffrey back to his 2015 form as he ran through Cal to the tune of 284 yards on 31 carries and three touchdowns. He ran with his classic patience and quick-cutting style while forcing six missed tackles and rushing for 170 yards after contact.
Wide Receiver – Fred Ross, Mississippi State 87.7 and Courtland Sutton, SMU 85.1
Fitzgerald's go-to guy was Ross who caught 10 of his 13 targets for 171 yards and two scores in Mississippi State's loss to Arkansas. Sutton continued his strong play with a 252-yard performance on 13 catches to go with two touchdowns. He was a downfield presence for SMU and he now has the No. 14 overall grade among the nation's wide receivers on the season.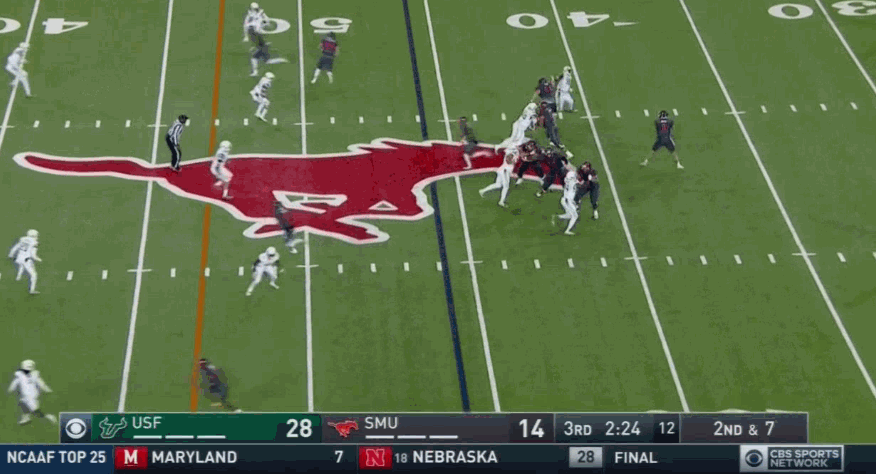 Slot –Jordan Westerkamp, Nebraska 85.1
It was a productive afternoon for Westerkamp who caught eight of his 10 targets for 85 yards and a touchdown. He showed great body control on a number of catches and his 3.24 yards/route from the slot led the nation this week.
Tight End – Sean Culkin, Missouri 88.8
While he only caught two passes for 35 yards, Culkin was excellent in the run game, working well on the move and helping to pave the way for Missouri's 427 rushing yards on 65 carries (6.5 yards/carry).
Offensive Tackle – Ryan Ramczyk, Wisconsin 87.5 and Cole Madison, Washington State 84.6
Ramczyk continued his strong season with a dominant run-blocking performance that saw him creating movement at the point of attack while making a number of key blocks in space against Purdue. He did not allow a pressure on his 18 attempts. It was the same old story for Madison and Washington State, once again keeping the pocket clean on 59 pass-blocking attempts and some of his best blocks came as part of the Cougars' screen game in their loss to Colorado.
Guard –Damien Mama, USC 85.7 and Cody O'Connell, Washington State 84.5
Making his debut on the Team of the Week, Mama had a career day against UCLA with a number of key blocks in the run game and his fourth straight game with no pressures allowed in pass protection. O'Connell remains the nation's top-graded guard with another perfect day in pass protection and fine work both in the run and screen game for Washington State.
Center –Frank Ragnow, Arkansas 87.1
The nation's top-graded center at 90.3 overall on the season, Ragnow had another great week with a number of key second-level blocks on Mississippi State linebackers as Arkansas totaled 357 yards and five touchdowns on 41 carries (8.7 yards/attempt).
Defense
Edge Rusher –Myles Garrett, Texas A&M 90.0 and Joe Ostman, Central Michigan 88.2
Welcome back Myles Garrett as the nation's top edge defender had a dominant outing against UTSA with five sacks and three hurries on only 31 rushes. On the other hand, Ostman makes his Team of the Week debut with his two sacks, one hit, and five hurries on his 45 rushes against Ohio and he added five run stops in the week's best all-around effort on the edge.
Defensive Interior – John Stepec, Toledo 91.4 and Ed Oliver, Houston 90.4
Stepec now has the No. 6 overall season grade among interior defensive linemen as he notched nine total pressures (two hits, seven hurries) on only 36 rushes. He also had six total stops on the day. As for Oliver, he dominated in primetime against Louisville with two sacks, a hurry and three batted passes while adding plenty of disruption and two stops in the run game. The true freshman now ranks fourth among interior defensive linemen nationally, an incredible feat as we've yet to see a freshman rank among the top 30 at the position in our three years of grading.
Linebacker –William Lloyd, Troy 90.3; Jordan Evans, Oklahoma 89.5; Stacy Thomas, Louisville 88.7
Lloyd had his best game of the season as he was rarely out of position and he got in on six stops in the run game, good for a nation-best 90.9 grade as a run defender. Evans was a key playmaker in Oklahoma's domination at West Virginia as he broke up a pass and intercepting another for a pick-6. He also forced a fumble in the run game. Thomas had a strong all-around game in Louisville's loss, playing well against the run and finishing with six stops, including a sack.
Cornerback – Shawun Lurry, Northern Illinois 94.1 and Tre'Davious White, LSU 93.4
Facing 11 targets against Eastern Michigan, Lurry only allowed six catches for 48 yards while breaking up four passes and intercepting another. White got back to his shutdown ways, allowing only one catch for 15 yards on his six targets while breaking up four passes in LSU's loss to Florida.
Safety – Chris Morley, Memphis 87.0 and Ezekiel Turner, Washington 86.6
The stat sheet summed up Morley's effort as he had an interception, forced fumble, and a sack to go with three other stops against Cincinnati. For Turner, it was more about avoiding negative plays in Washington's win over Arizona State though he did get in on four stops including a sack and a hit on the quarterback as a rusher.
Selections from Special Teams Analyst Gordon McGuinness: 
Kicker – Zane Gonzalez, Arizona State
Gonzalez has just been named a finalist for the Lou Groza award, and despite not getting many opportunities he once again showed why he is making a strong case to be named the best kicker in the nation with yet another 50+ yard field goal.
Punter –  Jake Glatting, Arizona
Glatting punted three times this week, with none of the three punts being returned. Two resulted in fair catches while the other went out of bounds, and he averaged 40.0 yards per punt with his best hang-time coming in at 4.83.
K/PR – Carlos Davis, Ole Miss
Davis might not have found the end zone, but he did make an impact on both kick and punt returns this week. Including one that went for 60 yards, he averaged 27.8 yards per kick return, and added a 23 yard punt return too.
Conference Teams of the Week
SEC — Gordon McGuinness
QB: Nick Fitzgerald, Mississippi State, 82.1
HB: Damarea Crockett, Missouri, 86.7
FB: Bailey McElwain, Georgia, 75.9
WR: Fred Ross, Mississippi State, 87.7; Josh Reynolds, 83.1, Texas A&M
TE: Sean Culkin, Missouri, 88.8
OT: Malik Young, South Carolina, 83.9; Mason Zandi, 83.2, South Carolina
OG: Braden Smith, Auburn, 83.8; Alex Kozan, 79.9, Auburn
C: Frank Ragnow, Arkansas, 87.1
ED: Myles Garrett, Texas A&M, 90.0; Charles Harris, Missouri, 80.5
DT: Jonathan Allen, Alabama, 88.2; Trenton Thompson, Georgia, 85.9
LB: Roquan Smith, Georgia, 90.0; Shaun Dion Hamilton, Alabama, 86.2; Reuben Foster, Alabama, 83.3
CB: Tre'Davious White, LSU, 93.4; Deandre Baker, Georgia, 85.7
S: Josh Liddell, Arkansas, 85.6; Ronnie Harrison, Alabama, 80.8
K: Eddy Pineiro, Florida
P: J.K. Scott, Alabama
K/PR: Carlos Davis, Ole Miss
Pac-12 — Jordan Plocher 
QB: Sefo Liufau, Colorado, 76.4
HB: Christian McCaffrey, Stanford, 84.9; Justin Davis, USC, 77.0
WR: Jordan Villamin, Oregon State, 80.2; N'Keal Harry, ASU, 76.8
TE: Sean Irwin, Colorado, 77.2
T: Cole Madison, Washington State, 84.6; Zach Banner, USC, 82.3
G: Damien Mama, USC, 85.7; Cody O'Connell, Washington State, 84.5
C: Jesse Burkett, Stanford, 82.0
ED: Jalen Jelks, Oregon, 80.5; DeVante Wilson, Cal, 78.4
DI: Solomon Thomas, Stanford, 85.8; Stevie Tu'ikolovatu, USC, 81.3
LB: Salamo Fiso, ASU, 85.0; Jayon Brown, UCLA, 84.7
CB: Sidney Jones, Washington, 84.9; Fabian Moreau, UCLA, 83.6; Iman Marshall, USC, 82.8
S: Ezekiel Turner, Washington, 86.6; Chad Adams, ASU, 81.1
Big Ten — Josh Liskiewitz
QB: Trace McSorley, Penn State, 72.8
RB: LeShun Daniels, Iowa, 85.8; LJ Scott, Michigan State, 84.7
WR: Jordan Westerkamp, Nebraska, 87.3; DeAngelo Yancey, Purdue, 82.8
TE: Troy Fumagali, Wisconsin, 82
OT: Ryan Ramczyk, Wisconsin, 87.5; Michael Dunn, Maryland, 82
OG: Jordan Roos, Purdue, 78.8; Billy Price, Ohio State, 78.5
C: Brian Gaia, Penn State, 83.8
DI: Jake Replogle, Purdue, 86.2; Cavon Walker, Maryland, 84.3;
ED: T.J. Watt, Wisconsin, 85.8; Vince Biegel, Wisconsin, 83.6
LB: Michael rose-Ivey, Nebraska, 88.7; Jason Cabinda, Penn State, 87.2; Josh Banderas, Nebraska, 86.3
CB: Joshua Kalu, Nebraska, 86; Jourdan Lewis, Michigan, 85.8;
S: Leo Musso, Wisconsin, 84.5; Godwin Igwebuike, Northwestern, 82.7
Big 12 — Bryson Vesnaver
QB: Mason Rudolph, Oklahoma State, 78.7
HB: Justin Crawford, West Virginia, 90.9; Alex Barnes, Kansas State, 80.0
WR: Chris Lacy, Oklahoma State, 80.6; Bryon Pringle, Kansas State, 71.8; Steven Sims Jr., Kansas, 71.2
OT: Joseph Noteboom, TCU, 81.8, Bobby Evans, Oklahoma, 80.4
OG: Terrale Johnson, Kansas State, 82.9; Kyle Bosch, West Virginia, 78.4
C: Reid Najvar, Kansas State, 79.4
ED: Malcolm Roach, Texas, 86.6; Tanner Wood, Kansas State, 80.1
DI: Vincent Taylor, Oklahoma State, 82.5; Poona Ford, Texas, 80.8
LB: Jordan Evans, Oklahoma, 89.5; John Bonney, Texas, 87.4; Elijah Lee, Kansas State, 82.9
CB: Brandon Stewart, Kansas, 92.2; Donnie Starks, Kansas State, 87.2; Travon Blanchard, Baylor, 83.5
S: DeShon Elliott, Texas, 89.5; Jordan Sterns, Oklahoma, 86.4
K: Matthew Wyman, Kansas
P: Zach Sinor, Oklahoma State
KR: D.J. Reed, Kansas State
ACC — John Breitenbach 
QB Patrick Towles, Boston College, 82.0
HB Wayne Gallman, Clemson, 81.8
FB Sam Rogers, Virginia Tech, 81.7
WR Ahmmon Richards, Miami, 84.8; Auden Tate, Florida State, 79.5
TE Tommy Sweeney, Boston College, 76.8
OT Roderick Johnson, Florida State, 83.0; Eric Smith, Virginia, 83.1
OG Tanner Stone, Duke, 80.4; Phil Haynes, Wake Forest, 77.2
C Alec Eberle, Florida State, 79.0
ED Harold Landry, Boston College, 82.2; Ejuan Price, Pittsburgh, 82.0
DI DeMarcus Walker, Florida State, 81.6; Derrick Nnadi, Florida State, 83.4
LB Stacy Thomas, Louisville, 88.7; Jaboree Williams, Wake Forest, 83.9; P.J. Davis, Georgia Tech, 85.8
CB Adonis Alexander, Virginia Tech, 88.5; Zykiesis Cannon, Louisville, 88.5
S Corey Griffin, Georgia Tech, 82.8; Rayshawn Jenkins, Miami, 83.5
Group of Five — Zoltan Buday 
QB: Josh Allen, Wyoming, 86.5
RB: Larry Rose III, New Mexico State, 86.7
WR: Courtland Sutton, SMU, 85.1; Ventell Bryant, Temple, 87.2
TE: Donnie Ernsberger, Western Michigan, 86.5
OT: James Rast, Air Force, 81.6; Chris Miles, North Texas 84.3
OG: Chris Gonzalez, San Jose State, 85.8; Jeremiah Kolone, San Jose State, 85.4
C: Parker Collins, Appalachian State, 85.0
ED: Joe Ostman, Central Michigan, 88.2; Trey Hendrickson, Florida Atlantic, 87.3
DI: John Stepec, Toledo, 91.4; Ed Oliver, Houston, 90.4
LB: William Lloyd, Troy, 90.3; Quentin Poling, Ohio, 88.3; Blair Brown, Ohio, 87.1
CB: Shawun Lurry, Northern Illinois, 94.1; Nate Brooks, North Texas, 93.0
S: Darryl Randolph, Middle Tennessee State, 83.9; Obi Melifonwu, Connecticut, 84.0