With the most exciting opening weekend in college football history in the books, we're taking a look at the top players in the country. These are my selections for the national team of the week — be sure to scroll below to check out our selecitons for the Group of 5 and every Power-5 conference as well. — Steve Palazzolo
Quarterback: Dallas Davis, South Alabama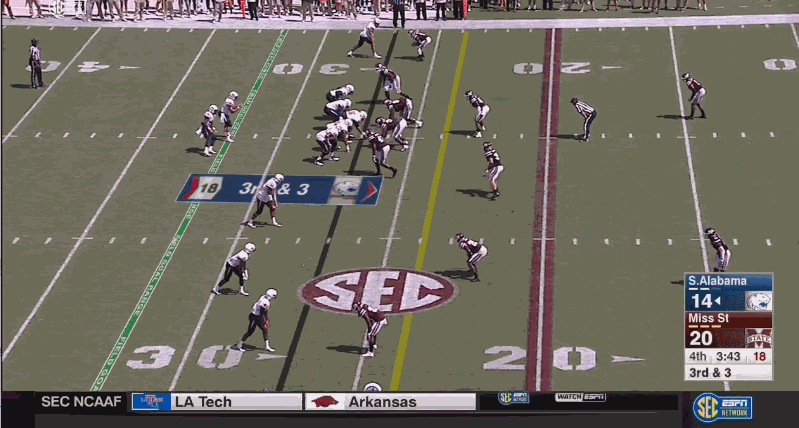 South Alabama defeated Mississippi State in one of the upsets of the weekend and it was Davis' big game that led the way. He missed only a handful of throws on the day while dropping a beautiful corner route in the bucket for a touchdown and creating a highlight for life with his leap over a Mississippi State defender in the open field.
Running back: Curtis Samuel, Ohio State and Jamaal Williams, BYU
Samuel did it all for Ohio State, lining up in the backfield for 25 snaps and in the slot for 20 snaps while also taking two direct snaps at quarterback. He caught all nine of his targets for 177 and picked up 85 yards on his 13 carries on his way to the nation's top receiving grade among running backs and one of the top rushing grades. Few running backs were as difficult to stat as Williams who forced 11 missed tackles on his 29 carries and that's not including a handful more on one negated run.
Fullback: Christian Payne, Georgia
The return of running back Nick Chubb was big news for Georgia and Payne was right there to pave the way for his 216 yards. Payne didn't touch the ball but he posted the nation's top run blocking grade for the week and Chubb reaped the benefits.
Wide receiver: Cooper Kupp, Eastern Washington and Kenny Golladay, Northern Illinois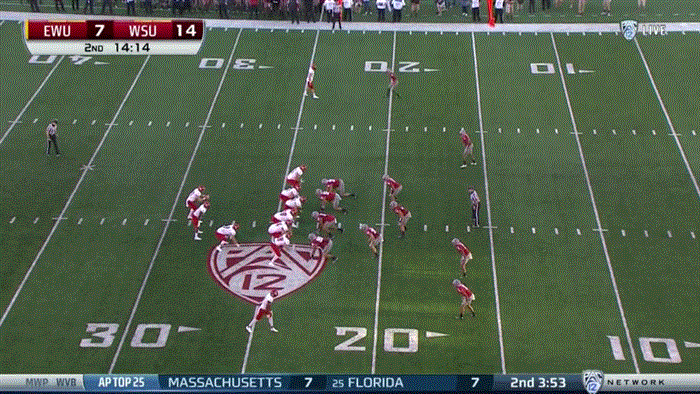 Kupp did it again as he consistently rises to the occasion when given the opportunity to play against FBS competition. He caught 12 passes for 206 yards and three touchdowns as he was the best player on the field against Washington State. Golladay caught 10 passes for 144 yards and two scores while adding six carries for 82 yards and another touchdown in Northern Illinois' triple overtime loss to Wyoming.
Tight end: Troy Fumagalli, Wisconsin
Fumagalli caught all seven of his passes as Wisconsin's top target at the short and intermediate level, and he finished with the top receiving grade in the nation in week one. He was also sound in the run game as a blocker.
Offensive tackle: Tariq Cole, Rutgers and Nick Gates, Nebraska
It was a great balance of run and pass blocking for Cole who did fine work blocking at the point of attack and finding linebackers at the second level. In pass protection Gates didn't surrender a pressure on his 15 attempts in pass protection but it was the nation's top run blocking grade that earns him a spot on the team this week.
Guard: Chris Borrayo, Cal and Deion Calhoun, Mississippi State
It feels like weeks ago that Cal traveled to Australia to play Hawaii in the season opener but that's when Borrayo further established himself as one of the nation's best with a dominating run blocking performance. It was a disappointing loss for Mississippi State to South Alabama, but Calhoun did his part with powerful run blocking and a perfect day in pass protection.
Center: Tyler Orlosky, West Virginia
It was a dominant run blocking performance by Orlosky who posted the top grade in that department in the entire country and he was solid in pass protection as well surrending only one hurry on 46 attempts. He created space at the point of attack and sealed defenders at the second level all afternoon.
Defense
Edge rusher: Myles Garrett, Texas A&M and Jonathan Allen, Alabama
It was a dominant performance by Garett who finished the game with a sack, three QB hits, and seven hurries on his 47 snaps while also playing well in the run game. He did most of his damage against potential NFL draft pick, Conor McDermott. Allen makes the list as an edge rusher this week as Alabama played primarily subpackages against USC and he rushed quite a bit off the edge. He was the best player on the loaded Alabama defense, notching two sacks, three hurries, batting a pass and playing outstanding run defense.
Defensive interior: Eddie Vanderdoes, UCLA and Steven Richardson, Minnesota
Despite the loss, Vanderdoes was difficult to block at the line of scrimmage, using his quick hands to shed blocks and pick up five hurries on his 36 rushes while disrupting the run game with four stops. Richardson used his quickness and power to give Oregon State's interior offensive line fits. He was in the backfield all night against the run and he had a sack, QB hit, and a hurry on his 42 rushes.
Linebacker: Mike McCray, Michigan; Jarrad Davis, Florida; Justin Arndt, West Virginia
McCray did damage as a pass rusher with two sacks, a QB hit and a hurry to go with a forced fumble and solid all-around work in coverage and in the run game. Davis was a force in the run game with the nation's top grade while tacking on a sack and hurry for good measure. Arndt did a nice job taking on and defeating lead blocks in the run game and he did a little bit of everything as a pass rusher with a sack, QB hit, hurry, and a batted pass.
Cornerback: Tre'Davious White, LSU and Joshua Holsey, Auburn
White was one of the lone bright spots in LSU's afternoon as he played tight coverage throughout the game while also returning an interception for a touchdown He was targeted eight times, surrendering only three receptions for 20 yards and an opposing passer rating of 6.3. Against Clemson, Auburn had a difficult time stopping WR Mike Williams but Holsey knocked away both passes when targeted against the All-American and he tacked on an interception as well. He was targeted five times on the night, surrendering one catch for five yards.
Safety: Malik Hooker, Ohio State and Delano Hill, Michigan
With only 25 career snaps to his name coming in, Hooker got the nation's attention with a two-interception outing including one of which was a fantastic one-handed grab. That led to the nation's top coverage grade among safeties. Not to be outdone up in Ann Arbor, Hill picked off a slant and returned it for a touchdown while supplying close coverage on his two targets, one of which was a pass defensed.
Big Ten
QB: JT Barrett OSU
RB: Markell Jones Purdue; Chris Evans Michigan
WR: Jehu Chesson Michigan; Curtis Samuel OSU
TE: George Kittle Iowa
T: Tariq Cole RUT; Nick Gates NEB
G: Dan Feeney Indiana; Martesse Patterson Purdue
C: Nick Allegretti Illinois
DI: Steven Richardson MIN; Jake Replogle Purdue; Antoine White PSU
EDGE: Anthony Nelson Iowa; Carroll Phillips Illinois; Garrett Sickels PSU
LB: Mike McCray Michigan; Chris Frey MSU; Ben Gedeon Michigan
CB: Derrick Tindal WIS; Chris Jones NEB
S: Delano Hill Michigan; Malik Hooker OSU
— Josh Liskiewitz 
SEC
QB: Austin Allen, Arkansas
HB: Nick Chubb, Georgia
FB: Christian Payne, Georgia
TE: O.J. Howard, Alabama
WR: Chris Black, Missouri; Isaiah McKenzie, Georgia
LT: Cam Robinson, Alabama
LG: Devon Desper, Mississippi State
C: Frank Ragnow, Arkansas
RG: Deion Calhoun, Mississippi State
RT: Justin Senior, Mississippi State
ED: Myles Garrett, Texas A&M
DI: Kelsey Griffin, South Carolina; D.J. Jones, Ole Miss
ED: Jonathan Allen, Alabama
LB: Zach Cunningham, Vanderbilt; Rueben Foster, Alabama; Jarrad Davis, Florida
CB: Tre'Davious White, LSU
S: Eddie Jackson, Alabama; Nick Ruffin, Auburn
CB: Maurice Smith, Georgia
SCB: Minkah Fitzpatrick, Alabama
— Gordon McGuinness 
Pac-12
QB: Dakota Prukop
RB: Kalen Ballage
WR: Tim Patrick; Chad Hansen
TE: Pharaoh Brown
T: Patrick Mekari; Jeromy Irwin
G: Chris Borrayo; Eduardo Middleton
C: Riley Sorenson
ED: Cameron Saffle; Hunter Dimick
DI: Tashon Smallwood; Eddie Vanderdoes
LB: Azeem Victor; Daniel Ekuale; Manase Hungalu
CB: Sydney Jones; Chidobe Awuzie
S: Adarius Pickett; Marcus Williams
— Jordan Plocher 
ACC
QB: Lamar Jackson, Louisville
HB: Moe Neal, Syracuse
WR: Isaiah Ford, Virginia Tech; Mike Williams, Clemson
TE: Jaylen Samuels, NC State
OT: Adam Bisnowaty, Pittsburgh; Chris Lindstrom, Boston College
OG: Chandler Jones, Louisville; Tyrone Crowder, Clemson
OC: Austin Davis, Duke
ED: Demarcus Walker, FSU; Ejuan Price, Pittsburgh
DI: Truman Gutapfel, Boston College; RJ McIntosh, Miami
LB : Matt Milano, Boston College; Stacy Thomas, Louisville; Jaboree Williams, Wake Forest
CB: Greg Stroman, Virginia Tech; Cordrea Tankersley, Clemson
S: Derwin James, FSU
— John Breitenbach 
Big 12
QB: Patrick Mahomes III, Texas Tech
HB: Joe Mixon, Oklahoma; Terrance Williams, Baylor
WR: Daikel Shorts Jr, West Virginia; Allen Lazard, Iowa State; Taj Williams, TCU
LT: Connor Williams, Texas
LG: Tyler Mitchell, Kansas State
C: Tyler Orlosky, West Virginia
RG: Terrale Johnson, Kansas State
RT: Dalton Risner, Kansas State
ED: Jordan Willis, Kansas State; K.J. Smith, Baylor
DI: Will Geary, Kansas State; Aaron Curry, TCU
LB: Taylor Young, Baylor; Tay Evans, Oklahoma; Justin Arndt, West Virginia
CB: Holton Hill, Texas; Sheroid Evans, Texas
S: Jeremy Tyler, West Virginia; Mike Johnson, Iowa State
— Bryson Vesnaver 
Group of 5
QB: Dallas Davis, South Alabama
HB: Devante Mays, Utah State
WR: Kenny Golladay, Northern Illinois; Cedrick Wilson, Boise State
Slot: Zay Jones, East Carolina
TE: Michael Roberts, Toledo
T: Taylor Moton, Westen Michigan; Ty Pollard, Southern Miss
G: Devin Farrior, Southern Miss; Kaden Jackson, Wyoming
C: Max Halpin, Western Kentucky
ED: Jamal Marcus, Akron; Trey Hendrickson, Florida Atlantic
DI: Caleb Fuller, Appalachian State; Ed Oliver, Houston
LB: Eric Wilson, Cincinnati; Ryan Watson, Air Force; Tanner Vallejo, Boise State
CB: Amari Coleman, Central Michigan; Arthur Maulet, Memphis
S: Jaymon Thomas, USF; Zach Edwards, Cincinnati
— Zoltan Buday