It's never too early to have a look at a potential All-American team, though the results could be drastically different come November. September is an odd month as teams play such varying levels of competition, it can be difficult to sort out the top players without accounting for their opponents.
It does, however, give us a good look at the breakout players across the nation and this list is filled with them. Many players weren't on anyone's radar just a month ago as we started the season, but here they are as September standouts. This is your All-American update through four weeks of the season:
Quarterback: Lamar Jackson, Louisville
This is a no-brainer as Jackson has locked up the September Heisman Trophy while putting up fake-looking numbers along the way. He's accounted for an absurd 25 touchdowns through four games, and his 92.3 rushing grade leads all quarterbacks. His speed and shiftiness has been unstoppable for opposing defenses and it's opened up the passing game, leading to a much-improved production in that area for Jackson. Jackson has been the nation's most exciting player through one month of action.
Running Back: Curtis Samuel, Ohio State
The top playmaker for the Ohio State offense, Samuel has been productive out of the backfield and in the slot and he has 260 rushing yards and 259 receiving yards in his three games. He's the moveable chess piece on the Ohio State offense and he leads all running backs with an 89.1 receiving grade. He's lined up in the slot on 70 snaps and running back on 63 snaps while also dabbling on the outside and as direct-snap quarterback, so look for that to continue as the Buckeyes get into Big Ten play.
Fullback: Khalid Hill, Michigan
Head coach Jim Harbaugh is on a mission to keep the fullback from extinction and Hill is living in his I-Formation preservation tank. He's shown well as a lead blocker and he leads Michigan with four rushing touchdowns on his nine carries.
Wide receivers: Chad Hansen, Cal and Amba Etta-Tawo, Syracuse
Cal lost their top six receivers from a year ago, but Hansen has taken over as the No. 1 option. He's caught at least 10 passes in each game and he has 50 on the season for 656 yards and six touchdowns. Whether catching screens and creating after the catch or ranking fourth in the nation catching 53.3 percent of his deep targets, Hansen has made plays all over the field.
Etta-Tawo has been just as big of a surprise as Hansen, as he's been the star of the new Syracuse up-tempo offense. He leads the nation with 706 receiving yards, including a national-high 400 yards on deep passes, over 100 more than the next closest receiver. A transfer from Maryland, Etta-Tawo has become an instant star for the Orange.
Slot receiver: Ryan Switzer, North Carolina
Switzer has caught 33 of his 38 targets (86.8 percent) while ranking third in the nation with 276 yards after the catch. He's caught all seven of his target at the intermediate (10-19 yard) level while scoring both of his touchdowns on deep (20-plus yard) passes. Switzer has yet to drop a pass this season.
Tight end: Evan Engram, Ole Miss
The nation's leading receiver among tight ends with 397 yards, Engram also boasts the top receiving grade at 88.7. He also leads the nation with 185 yards after the catch (7.1 yards after catch per reception) and while his run blocking hasn't been up to his previous years' standards, his receiving ability trumps his blocking for now.
Offensive Tackle: Ryan Ramczyk, Wisconsin and Connor Williams, Texas
Stepping right in as a productive left tackle for Wisconsin, Ramczyk has surrendered only one QB hit on 129 pass blocking attempts while ranking sixth in the nation as a run blocker at 80.7. Williams ranks right behind Ramczyk in the run game at 80.6 and he's yet to allow a pressure on his 76 snaps in pass protection.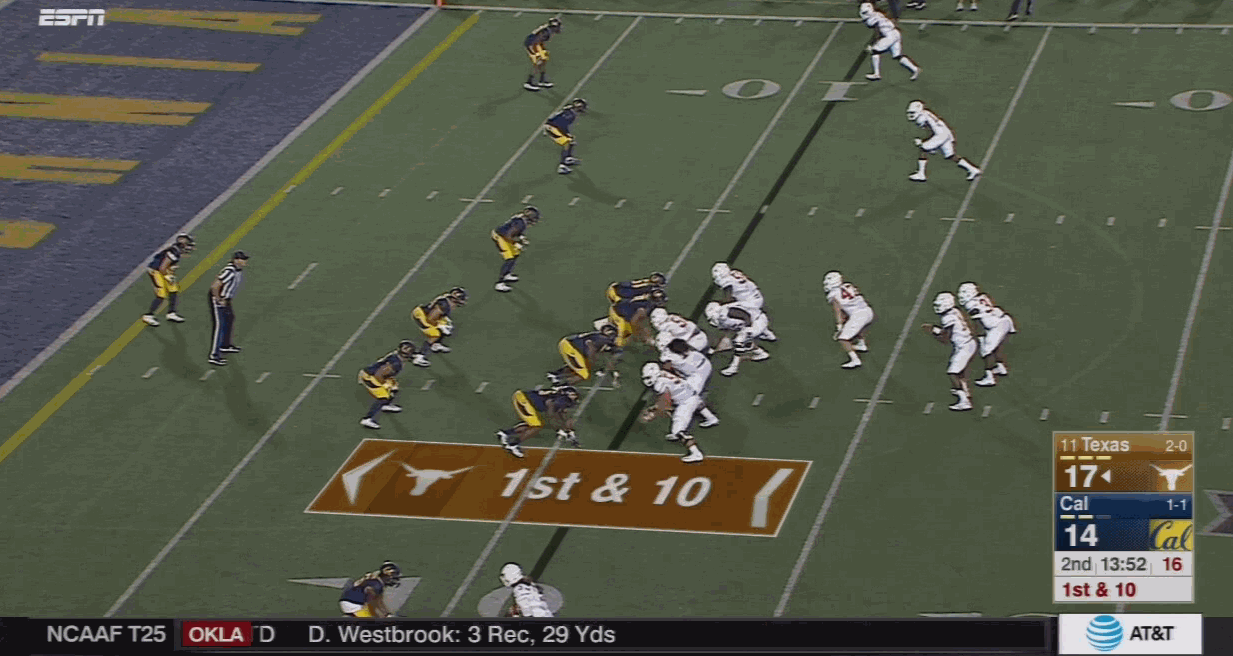 Guard: Lamont Gaillard, Georgia and Quenton Nelson, Notre Dame
Gaillard has improved every week, including an outstanding game against Ole Miss last week. He has not allowed a pressure on 117 attempts while leading all Power-5 guards with an 87.8 run blocking grade. Nelson had a slow start by his standards, but he's been outstanding the last three weeks. He ranks fifth in the nation with an 86.9 pass blocking grade and he ranks right behind Gaillard with the second-best overall grade against Power-5 competition.
Center: Austin Schlottmann, TCU
Taking over for Seattle Seahawks center Joey Hunt, Schlottman has done a fine job with the nation's No. 4 grade as a pass blocker at 85.9 and the No. 2 run blocking mark at 82.8. He's been getting movement at the point of attack in the run game while finding defenders at the second level, helping TCU to not miss a beat with Hunt moving on.
Defense
Edge Defenders: Myles Garrett, Texas A&M and Arden Key, LSU
The highly-touted SEC edge defenders have lived up to the hype and Tennessee's Derek Barnett barely gets edged by Key for one of the top spots. Garrett should at least be a part of the Heisman discussion as he has the nation's top pass rushing grade at 89.8 with his three sacks, 10 QB hits, and 13 hurries on 142 pass rushes. He's also improved his work against the run this season, ranking within the top 20 at 82.8. As for Key, he's taken to LSU's new defensive scheme with an 86.4 pass rushing grade that ranks sixth in the nation. He's notched six sacks, seven QB hits, and 13 hurries on only 101 rushes while also providing solid run defense for the Tigers.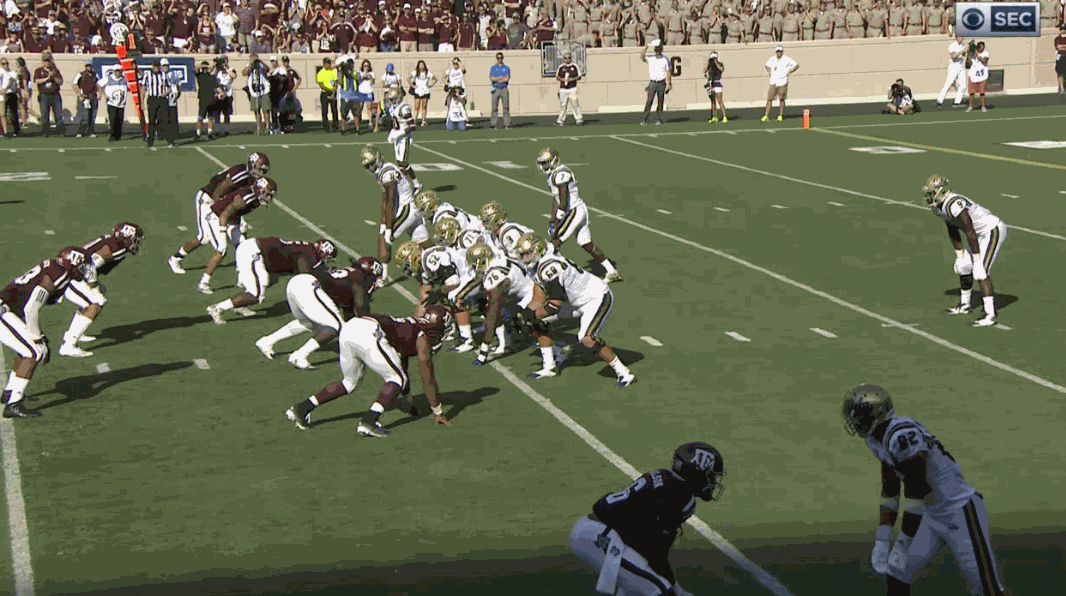 Defensive Interior: Jonathan Allen, Alabama and Jake Replogle, Purdue
Allen has dominated in the early going, playing up and down Alabama's defensive line to produce three sacks, four QB hits and nine hurries on only 107 rushes. He's been more of an every-down player for Alabama this season and shown that he can play the run as his 86.7 mark attests. Replogle has quietly been one of the most productive interior defensive linemen the last two years and this season he has an 88.9 pass rush grade that leads the nation and an 88.4 grade that ranks second. His 18 total pressures (five QB hits, 13 hurries) are tied for the national lead on the interior.
Linebacker: Reuben Foster, Alabama; Jabrill Peppers, Michigan; Junior Joseph, UConn
Foster has been outstanding in all phases and he's the only linebacker in the nation with top-10 grades both against the run and in coverage. Peppers is getting slotted in as a linebacker though he plays all over the defensive front. He's been excellent against the run at 86.6 and he gets extra credit for his work on special teams and on offense. Joseph has graded well in all phases, picking up four pressures as a pass-rusher and deflecting two passes in coverage to rank second in the nation.
Cornerback: Howard Wilson, Houston and Chris Jones, Nebraska
Wilson has touched the ball nearly as often as the receivers he has been covering as he has three interceptions and two passes defensed while allowing eight catches for 51 yards on his 19 targets (2.7 yards per target). Opposing quarterbacks have a passer rating of 10.1 when targeting him. Jones has two interceptions and two passes defensed on his 23 targets and he's yet to miss a tackle this season.
Slot cornerback: Mike Tyson, Cincinnati
Tyson has gotten his hands on the same number of passes as the receivers he's covered with his three interceptions and three passes defensed while surrendering six catches on 13 targets.
Safety: Marcus Williams, Utah and Nate Gerry, Nebraska
Few safeties have made an impact quite like Williams who has two interceptions and a pass defensed to go with a forced fumble and recovery. He's the only safety in the nation to rank in the top four both against the run and in coverage. Gerry has the nation's top coverage grade at 92.1 and he's done a fine job of cutting down on the missed tackles that have plagued him in the past – he's made all but one of his 26 tackle attempts.
PFF special teams expert Gordon McGuinness checks in with his special teams selections:
Kicker: Zane Gonzalez, Arizona State
11-for-12 so far this season on FGs, including 4-for-4 between 40 and 49 yards, and 3-for-4 from 50+. Has showcased his big leg on kickoffs too, with 30 of his 38 kickoffs resulting in a touchback.
Punter: Austin Rehkow, Idaho
Averaging 44.5 yards per punt, with his best hang-time a booming 5.37 seconds, Rehkow has seen just 30.0 percent of his punts returned, with four going out of bounds, five being downed, and another five resulting in a fair catch. Of his 20 punts this year, 11 have landed inside the opposing 20-yard line.
Return specialist: Quandree Henderson, Pittsburgh
Returning 10 kickoffs so far this year, Henderson averages 32.8 yards per return and has scored on a 96-yard return. As a punt returner he has yet to find the end zone, but averages 11.0 yards per return here too.