USC quarterback Caleb Williams:

The reigning Heisman Trophy winner is an easy choice for a 99 overall.

Ohio State wide receiver Marvin Harrison Jr.:

The Hall of Famer's son is easily college football's best receiver.

Georgia tight end Brock Bowers:

The rising junior has been arguably the best tight end in the country in each of his first two seasons.
Estimated reading time: 5 minutes
---
Next summer, EA Sports is releasing a college football video game for the first time in 11 years. In today's age of NIL, players will be able to opt into having their virtual likenesses added to the game for the first time.
In sports video games, players are given a 0-100 rating based on how good they are in real life,. The best players are usually given a 99 overall rating. For example, Travis Kelce, Trent Williams, Aaron Donald and Myles Garrett are the current 99 overall players in EA's Madden NFL 23. 
If a college football game was released this summer, what players would deserve a 99 overall rating? Here are five superstars who deserve it.

---
Best attribute: Throwing under pressure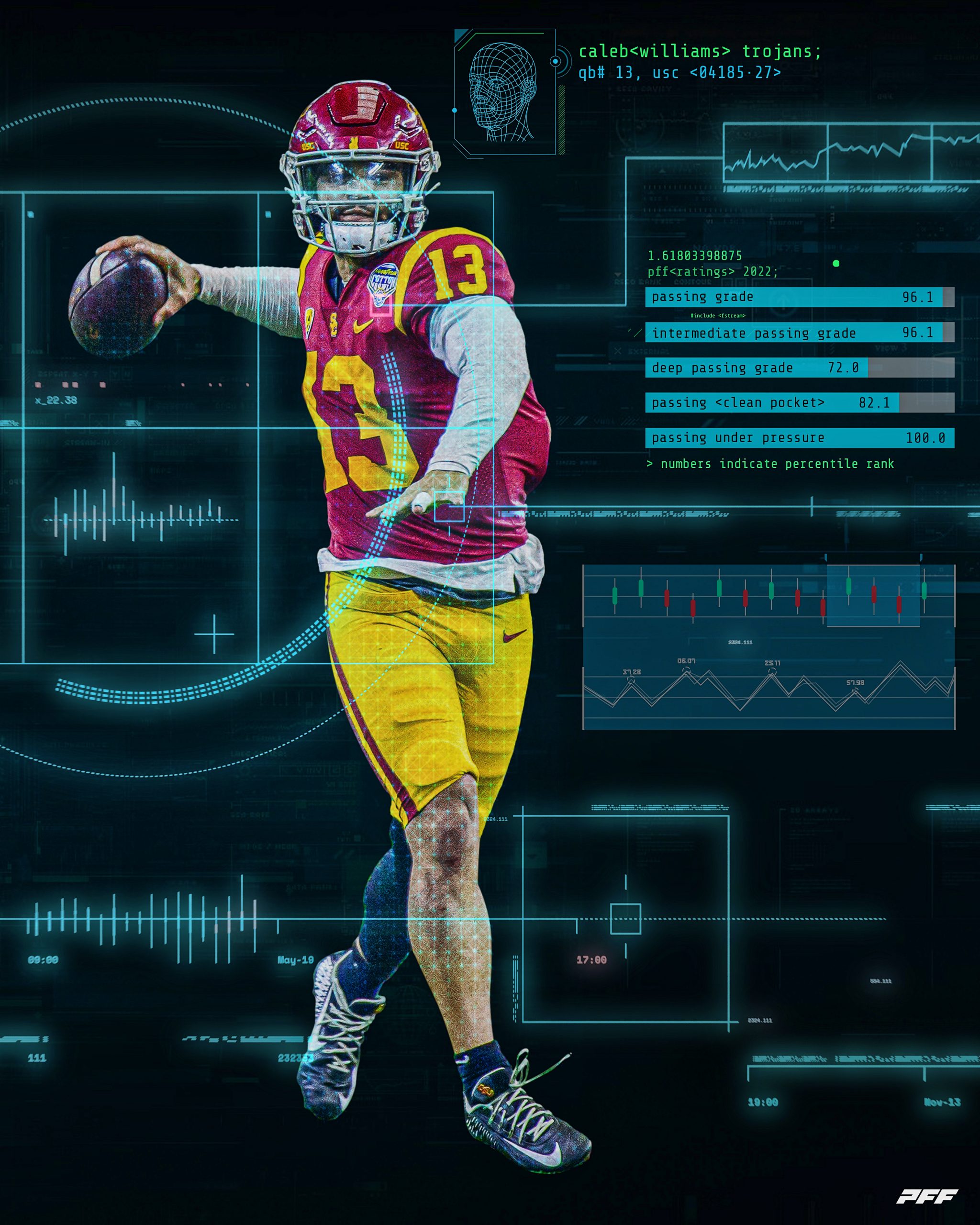 The reigning Heisman winner's 92.9 grade over the past two seasons trails only Bryce Young, the 2023 NFL Draft's No. 1 overall pick, among all quarterbacks in the country. It's also the best mark of any quarterback through their first two seasons in the PFF College era, besting Trevor Lawrence's 92.3 grade in 2018 and 2019, yet another No. 1 pick.
Williams makes magic happen outside the original play design. He led all FBS quarterbacks outside of structure in passing yards (707), passing touchdowns (seven) and big-time throws (10) in 2022. Under pressure, his 85.1 overall grade and 78.9 passing grade also paced all quarterbacks in the country. Teams are going to be tripping over themselves to select him first in the 2024 NFL Draft.
????FIRST EPISODE LIVE????

My FULL interview with @uscfb quarterback and reigning Heisman Trophy winner, Caleb Williams! (@CALEBcsw)https://t.co/mOzQgt4Jd7 pic.twitter.com/i2IwVQw5fT

— Max Chadwick (@Chad_Maxwick) April 17, 2023
---
RB Blake Corum, Michigan Wolverines
Best attribute: Agility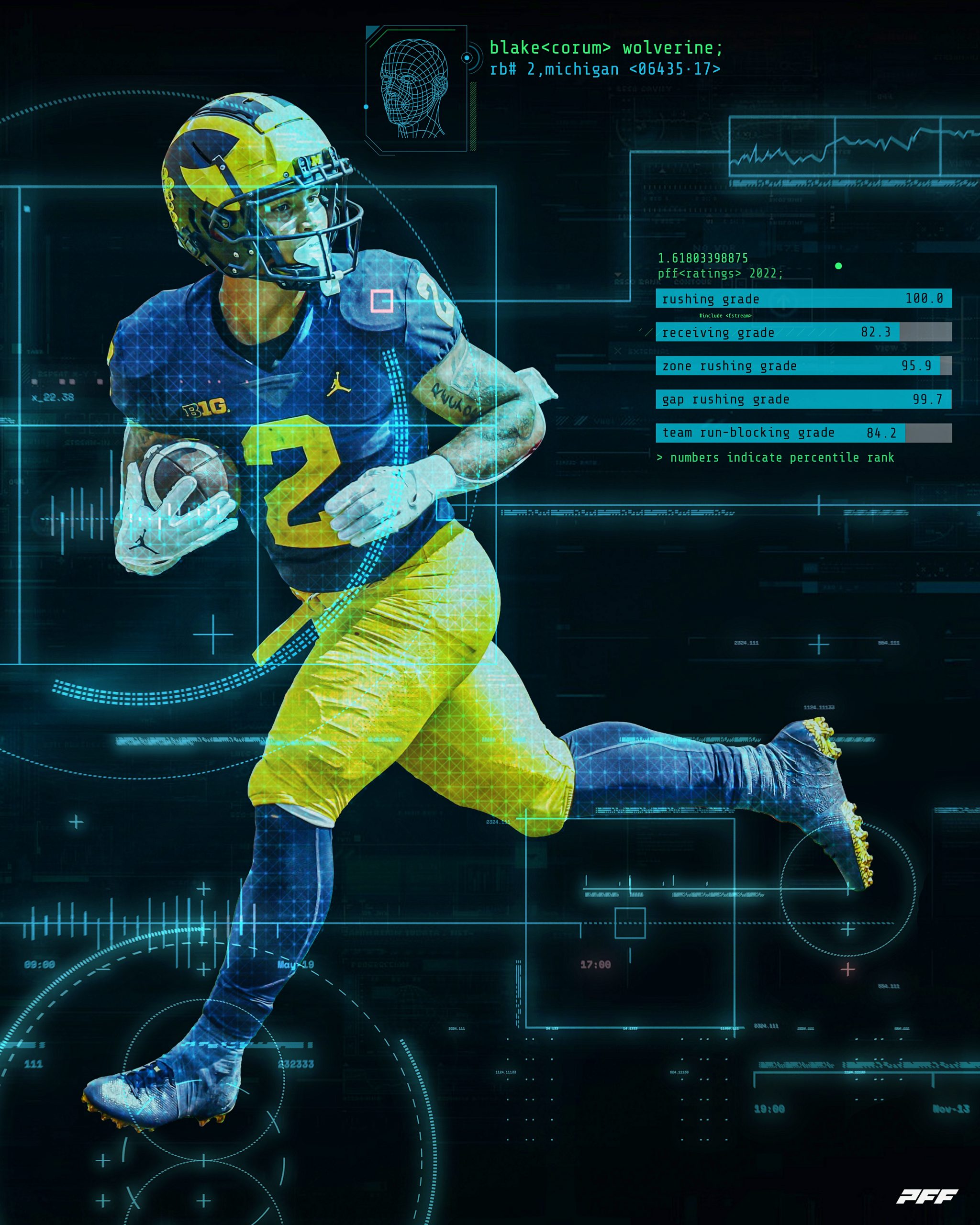 Corum's 96.2 grade this past season didn't just lead all players in the country, it was the highest single-season grade by a Power Five player in the PFF College era.
Highest-graded seasons by a Power Five player in PFF College era (since 2014)
Those three players behind him were all selected top five of their respective drafts. While Corum likely won't join them since he plays running back, it shows the elite company he's in. His 96 rushing first downs/touchdowns ranked the second-most in the country behind only Minnesota's Mohamed Ibrahim, who received 72 more carries. Corum's best attribute is his elite agility while having a low center of gravity at 5-foot-8, 210 pounds.
BLAKE. CORUM. ????

Down at the 1 for @UMichFootball ???? pic.twitter.com/W12fLhN6us

— FOX College Football (@CFBONFOX) October 8, 2022
---
Best attribute: Spectacular catch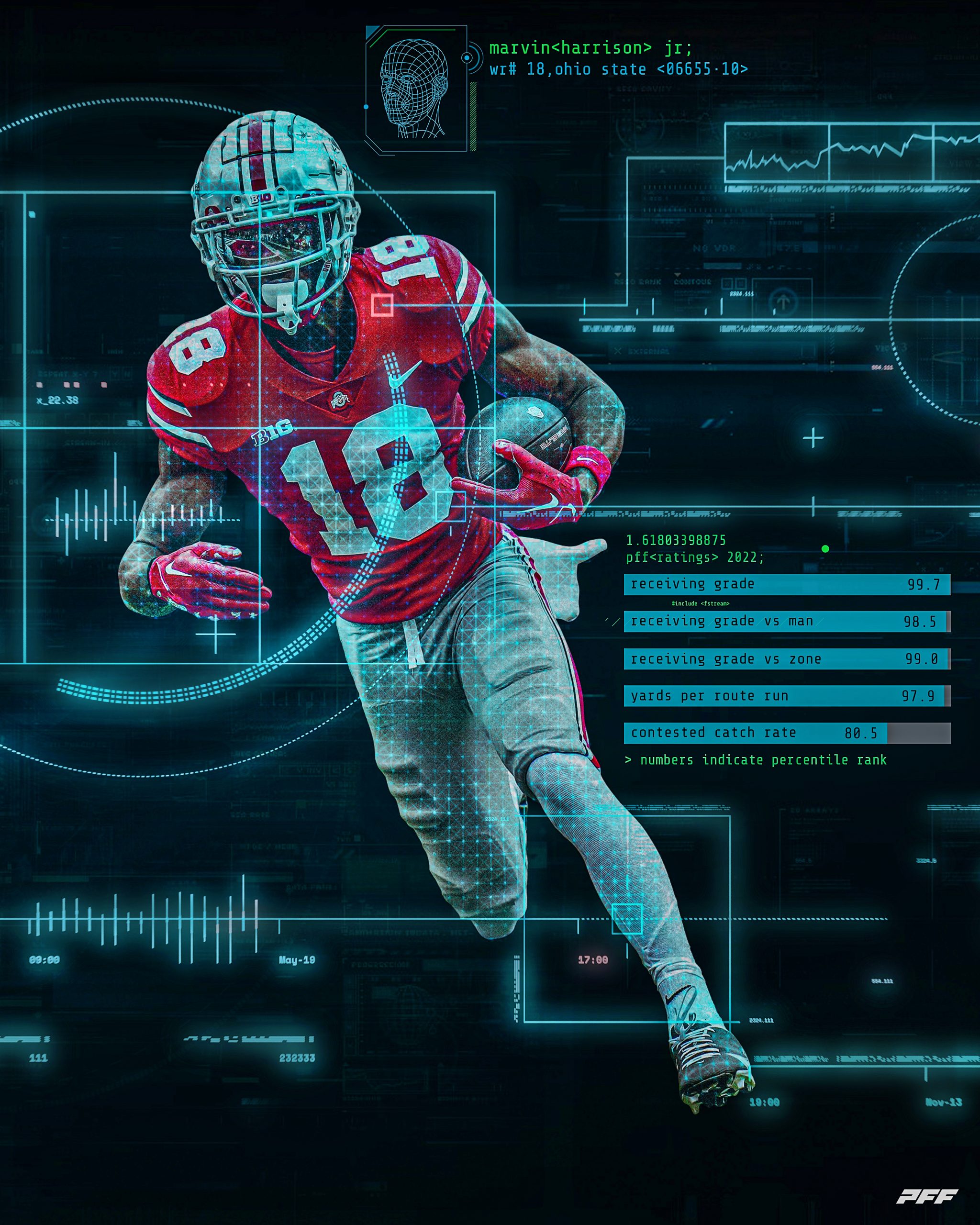 Hall of Famer Marvin Harrison's son is easily the best receiver in college football. He was both the highest-graded and most valuable receiver in the country this past season, according to PFF's wins above-average metric. Against single-coverage, the sophomore's 878 receiving yards and 14 touchdowns led all FBS wide receivers. At 6-foot-4 and 205 pounds, Harrison is a freak athlete who's no stranger to making impossible catches look routine.
I tore my ACL watching Marvin Harrison Jr. do this pic.twitter.com/4DHelh7VxZ

— Max Chadwick (@Chad_Maxwick) November 13, 2022
---
Best attribute: Ball-carrier vision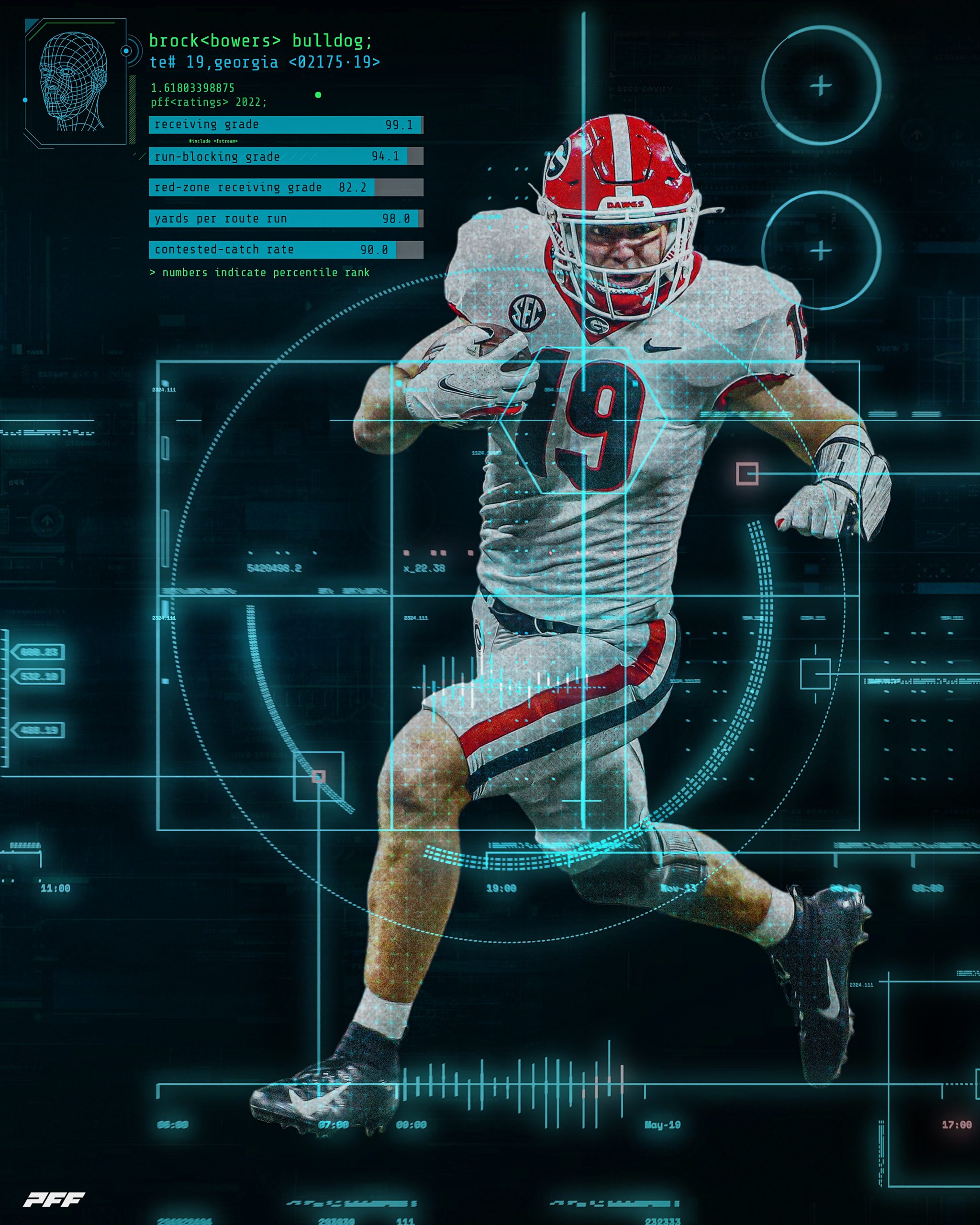 Bowers has been a superstar since stepping onto Georgia's campus. 
As a true freshman in 2021, he was the highest-graded Power Five tight end and the most valuable player at the position in college football, according to PFF's wins above average metric. He was once again the most valuable tight end in the nation this past season and led the position in receiving yards (942), yards after the catch (479) and receiving yards after contact (274). Bowers' 73.8 run-blocking grade in 2022 also ranked seventh among Power Five tight ends. 
What makes Bowers truly special is his ability after the catch. Since 2021, his 1,001 yards after the catch are 328 more than the next-closest tight end, Michael Mayer. His 440 receiving yards after contact in that span also lead the position while his 26 forced missed tackles are second.
He's on track to go down as one of the best tight ends in the PFF College era and could challenge Kyle Pitts as the best tight end prospect since we began charting college football in 2014.
Brock Bowers has a very good chance at surpassing Kyle Pitts as a prospect.

Was the best tight end in the country as a true freshman and looks the same as a sophomore.

In a generational TE room at Georgia, he's clearly the generational talent.pic.twitter.com/Fq1pnLIDrw

— Max Chadwick (@Chad_Maxwick) September 18, 2022
---
OT Joe Alt, Notre Dame Fighting Irish
Best attribute: Run-block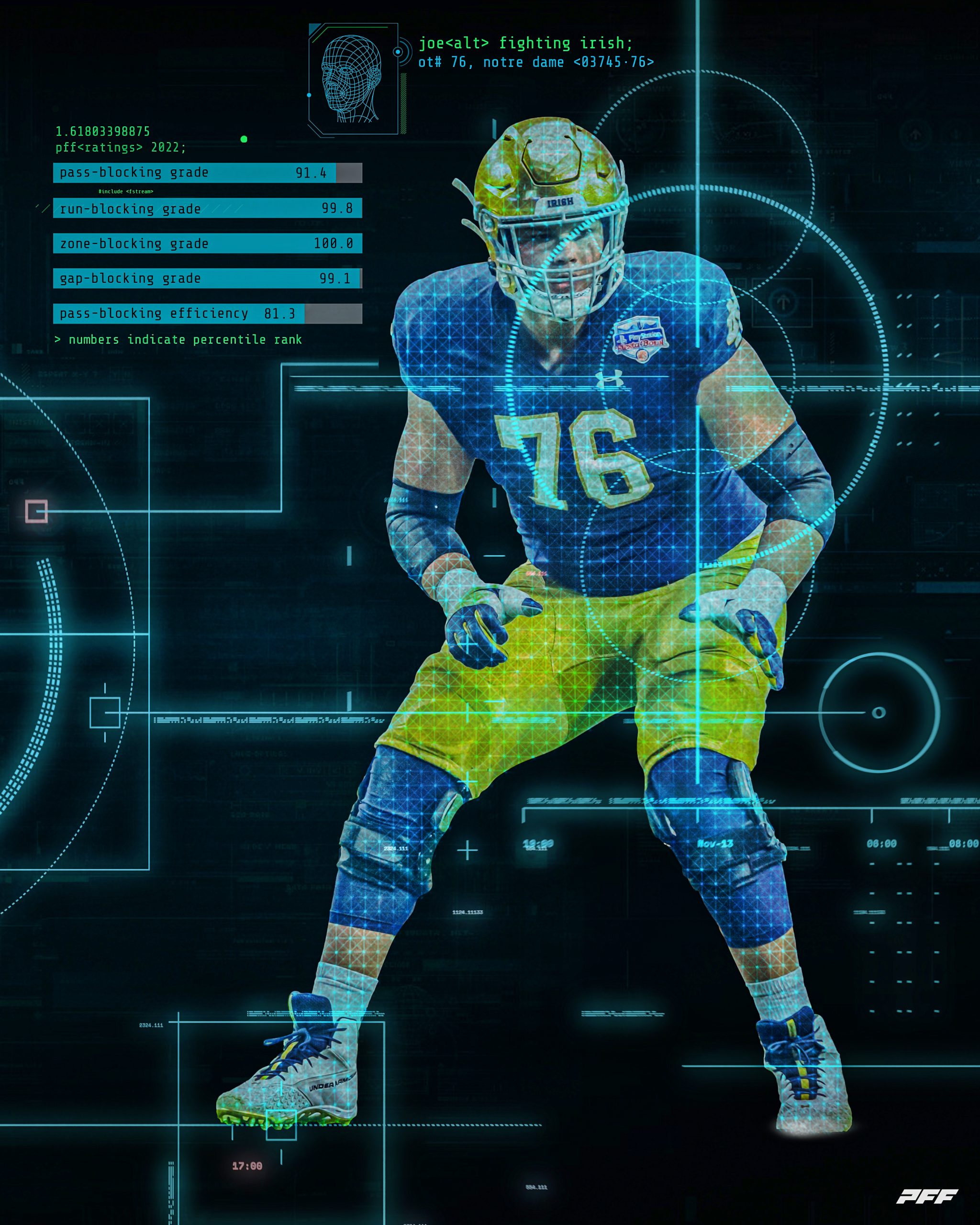 Alt led all tackles in the country in overall grade (91.4) this past season. He was also sixth among Power Five ones in pressure rate allowed (2.1%). The rising junior has a massive frame at 6-foot-8, 315 pounds and told me he has over a 7-foot wingspan. 
He's at his best as a run-blocker, where his 91.0 grade led all tackles in the country. Alt's 94.5 grade on zone runs was nearly two points higher than the next-closest FBS tackle while his 87.0 grade on gap runs was fourth.
Alt looks like the best offensive tackle prospect since Penei Sewell.
????NEW EPISODE????

My FULL interview with Notre Dame left tackle and projected Top-5 pick in the 2024 NFL Draft, Joe Alt! ☘️@NDFootball @JoeAlt7

Watch here: https://t.co/yerjXS9iTE pic.twitter.com/N4j1j1XLd3

— Max Chadwick (@Chad_Maxwick) May 16, 2023