The SEC is the most talented conference in all of college football, especially on the defensive side of the ball. That's particularly true when it comes to pass-rushers, and it seems like we can't see a single game in the SEC without a top pass-rusher being on the field.
So who are the best pass-rushers in the best conference in college?
Myles Garrett, Texas A&M
Garrett came into the season as the best defensive player in college football, and was second to only Stanford's Christian McCaffrey as the top player overall. What we saw from Garrett in 2014 and 2015 as a freshman and sophomore was nothing short of incredible, and he has continued that with a dominant start to 2016 as a pass rusher. While he has recorded just four sacks, he has added 11 quarterback hits and 20 hurries, so don't be fooled by his lack of sacks. With 35 total pressures on 169 pass-rushing attempts, he averages a pressure on 4.8 pass rushing attempts, so remains once of the most dominant players in the nation.
Derek Barnett, Tennessee
Barnett and Garrett were very close in terms of their pass-rushing ability, and that has remained the case so far this year. Barnett struggled in the opening game against Appalachian State, and wasn't much better against Virginia Tech the following week, with just two hits and two hurries in the opening two games of the year. Since then though, he has exploded back to form, registering 27 total pressures in the past four games. Like Garrett, his total of five sacks doesn't blow you away, but 10 of his pressures have come in the form of hits, so he has made an impact knocking quarterbacks to the ground.
Tim Williams, Alabama
We highlighted Williams as a star in the making after watching him register 52 total pressures on just 148 pass-rushing snaps last year. Heading into 2016 he was primed for a bigger role, and so far he has made the most of that. We saw him prove far too much for USC right tackle Zach Banner, one of the top players at the position last year in the opening game of the year and through six games he has registered two sacks, six hits and 18 hurries on 110 pass-rushing snaps, a pressure once every 4.2 pass-rushing attempts. That's not quite at the productivity level he was as a part time player a year ago, but in a bigger role he has proven himself to be a dominant edge defender.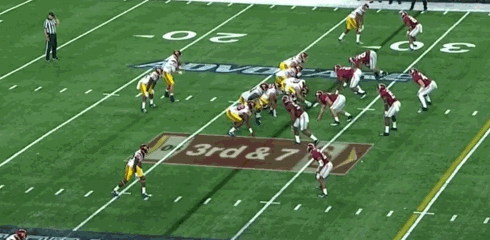 Carl Lawson, Auburn
When you looked at Lawson's body of work coming into this season there was both intrigue and frustration. He had shown flasher of utter dominance on the edge of that Auburn defense, but injuries had limited his ability to show anything on a consistent basis. Showing more consistency was always going to be the key factor for him this year, and he has proven that through six games. With 28 pressures, including five sacks, on 157 pass-rushing opportunities, he has been a nightmare to deal with for opposing offensive tackles.
Arden Key, LSU
Key's speed off the edge is utterly devastating at times, and he has improved his ability to finish pressure, with seven sacks through five games, compared with four last year. He has registered 32 total pressure so far this year, and has simply taken over games at points, including two sacks, two hits an five hurries against Mississippi State, a game in which he was the best player on the field. Our pass-rushing productivity rating measures pressure on a per-snap basis, with weighting towards sacks and hits, and Key's PRP rating of 19.7 is the best of any 3-4 linebacker in the nation so far this year.
Jonathan Allen, Alabama
Everyone else on this list spends almost all of their time on the edge, but Alabama's Jonathan Allen splits his time as an edge defender and inside on the interior. His versatility has been key for the Alabama defense, but it also helps that he's one of the best players in all of college football. His pass rushing productivity of 10.6 ranks top in the SEC, and third in the nation, registering four sacks, five hits and 14 hurries on 180 pass-rushing snaps. Too much for opposing offensive linemen regardless of whether it has come from the interior or the edge, he has been crucial to Alabama's outstanding defense.
Charles Harris, Missouri
PFF's Mike Renner highlighted Harris' devastating spin move as one of the most dominant forces in all of college football heading into the season and it has helped him to a PRP rating of 14.1 that ranks sixth among 3-4 outside linebackers in the SEC. He follows a long line of recent stand out pass-rushers from Missouri, and has registered four sacks, six hits and 16 hurries on 145 pass-rushing snaps so far this year. He has struggled to turn his pressure into sacks consistently, with three of his four sacks coming against Georgia in the third game of the year, but don't let that fool you, he has still been a dominant pass-rusher.
Ryan Anderson, Alabama
Anderson is the other pass-rusher from Alabama who has been elevated to a full time role this year, seeing 240 total snaps already compared with 361 over the full season in 2015. While he isn't quite as dominant as the other two Alabama players on this list, he too has played a key part in their defensive success. Anderson has rushed the passer 135 times this year, registering five sacks, seven hits and 13 hurries so far this year. It's telling that Alabama have three of the top eight pass rushers in the SEC, and a big reason why they pressured Arkansas quarterback Austin Allen on 42 of his 61 drop-backs last Saturday.
Marquis Haynes, Ole Miss
Haynes has been streaky this year, and if he had been more consistent he would likely be higher on this list. On one hand he has registered two sacks, five hits and 16 hurries on 113 pass-rushing snaps, working out at a pressure once every 4.9 pass-rushing snaps, however the bulk of those pressures have come in just two games. He registered a sack, three hits and four hurries against Florida State in the opening game of the season, and a sack, two hits and eight hurries against Memphis in the fifth game of the year. In the three games in between he managed to register just four total pressures on 39 pass-rushing snaps, so while he has flashed dominance, he had lacked the consistency to match.
Daeshon Hall, Texas A&M
The other pass-rusher at Texas A&M, Hall has been productive at getting pressure in his own right so far this year. Over the first six games of the year he has registered four sacks, five hits and 16 hurries, but has really kicked on in the past three games. In the games against Arkansas, South Carolina and Tennessee he registered four sacks, three hits and 13 hurries on 118 pass-rushing snaps, working out at a pressure once every 5.9 pass rushing snaps.