Underdogs arise and cause chaos every season in college football. While some cause more pandemonium in the national media than others (e.g. Appalachian State knocking off Michigan at home in 2007), we should never ignore the underdog victories that may not be as exhilarating as that example — particularly those that are last all season long.
In 2019 specifically, there were three teams that shocked the nation and played their way into the top 10 at some point despite not being expected to do so. While none of these teams were able to pull off the major upset and get all the way, each one far exceeded expectations to come within a game or even a few plays away of sneaking into the College Football Playoff. Using a football database that is unlike any other, we at PFF breakdown the three biggest underdogs of 2019 and what went right for them in their pursuit to glory.
Minnesota Golden Gophers
Prior to the 2019 season, Minnesota's projected win total opened at 6.5 wins, according to FanDuel. The Golden Gophers started off the year with nine straight wins and subsequently made their way to eighth in the CFP rankings. While they did end up losing two of their last three games (both to ranked teams) and missed a berth in the Big Ten Championship Game, Minnesota knocked off an undefeated Penn State and caused anarchy in the college football landscape.
This improbable turnaround all starts with the passing offense that was drastically improved from a season ago. Freshman Zack Annexstad began the 2018 season as the Gophers' signal-caller and was below average with a 53.0 PFF grade, but after an injury suffered during Week 8, redshirt freshman Tanner Morgan finished the year off and ended up with an average PFF grade of 61.8. The two young quarterbacks were expected to compete for the starting job prior to the year, but Annexstad had another injury, which gave Morgan the reigns of the offense. Based off last year, no one expected to see the Golden Gophers passing offense go from the 85th-best in expected points added per play at -.070 to the sixth-best at .295.
Moreover, Morgan finished the 2019 season with the sixth-highest passing grade in college football at 90.0 — and that's even including a slow start out the gate. Two of Morgan's first three games were his lowest-graded games of the year. From Week 5 on, Morgan ranked behind only Clemson's Trevor Lawrence and LSU's Joe Burrow in PFF passing grade at 91.7. Being in the same company as the likely first overall picks in the next two NFL drafts is pretty impressive, eh?
The most notable change in Morgan's play was when he was passing to his first read. Last season, Morgan was often quick and jumped the gun on some of these passes. In turn, we saw him force a lot of throws, resulting in a big-time throw rate of just 1.5% and turnover-worthy play rate of 5.2% passing to his first read. This season, his field vision had undeniably improved and overall just been a complete 180. Passing to his first read, Morgan has improved his big-time throw rate to 5.2% and turnover-worthy play rate to 3.7%. Overall, his first-read passing grade improved from 66.5 to 91.0. There's still room for improvement as there have been a few turnover-worthy passes made to a predetermined read, but you can't ask for much else as Morgan certainly shattered expectations in this big jump of his.
Along with that, Morgan's ability to make a play under duress is now apparent. When he is facing pressure, no one has a higher PFF grade in the FBS. Yes, you read the right. Morgan recorded a higher grade under pressure than the stars like Burrow, Lawrence, et al. Morgan is one of the most improved quarterbacks in the FBS this season and paved the way to Minnesota's success in 2019.
We'd be remiss if we didn't bring up one of the best wide receiver duos in all of college football of Tyler Johnson and Rashod Bateman. Both finished the season ranked in the top 10 at their position in PFF receiving grade and were just one of two duos to rank in the top 20 (LSU's Ja'Marr Chase and Justin Jefferson is the other such duo). The two are some of the best route runners in all of college football and get open at an inane rate. On top of that, they've carried the rare trait of being able to do get separation and also remain effective in contested situations.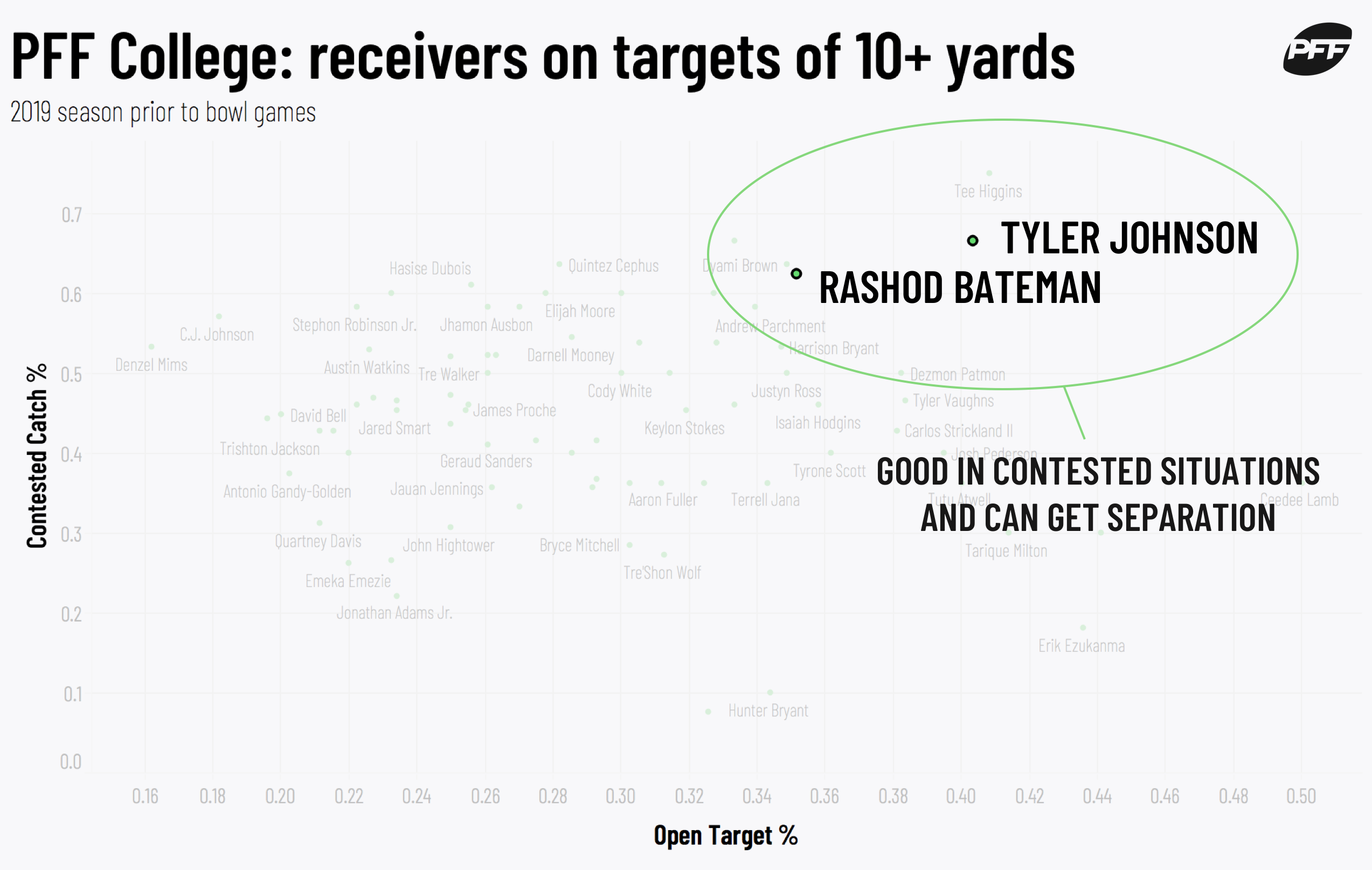 All eyes were on Johnson heading into his senior season in 2019 to see if he could maintain his pristine 2018 breakout campaign, and he definitely did. As shown in the figure above, Johnson is filthy in contested catch situations. No wide receiver has a higher PFF grade on contested targets, catching 15 of 21 contested targets this season.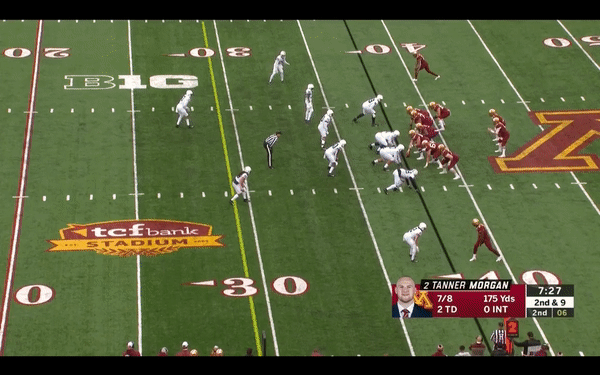 The other half of the elite Golden Gopher duo, true sophomore Bateman, had himself a breakout year and was named one of PFF's most underrated players in college football. In addition to ranking in the top 10 in PFF receiving grade, Bateman has produced an explosive receiving play that resulted a 15-plus yard gain on 38.9% of his targets. That ranks behind only Alabama's Henry Ruggs III. As we've covered elsewhere, the three biggest things you want to see from a wide receiver are: getting separation with his route running, winning in contested situations and threatening after the catch. Johnson and Bateman are two of the few in college football that can do all three at a high level.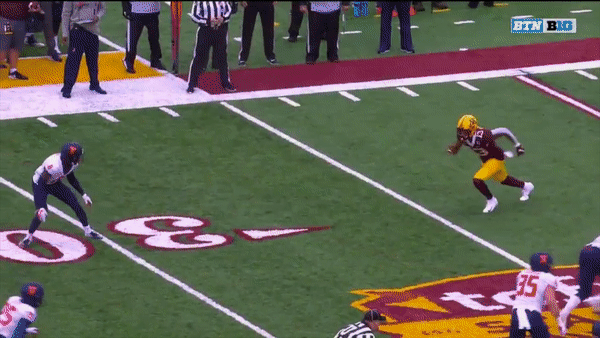 Baylor Bears
Similar to Minnesota, Baylor saw their opening win total at 6.5 wins and rattled off nine straight wins to start the season. They then got the Oklahoma Sooners at home, had them fighting for their playoff lives down 28-3 in the second quarter and then blew the lead for a crushing three-point loss. Baylor would have the opportunity to get their revenge in the Big 12 Championship Game and after a back-and-forth in that matchup, the two ended up in overtime with Oklahoma coming out on top. We were quite literally a play or two away from seeing the Baylor Bears in the College Football Playoff.
They were that close to making history largely because of their defense, who is one of the most improved in college football. After surrendering positive EPA per play in 2018 at .061 ranking 122th, Baylor did the improbable and skyrocketed to 15th in 2019 at -.184.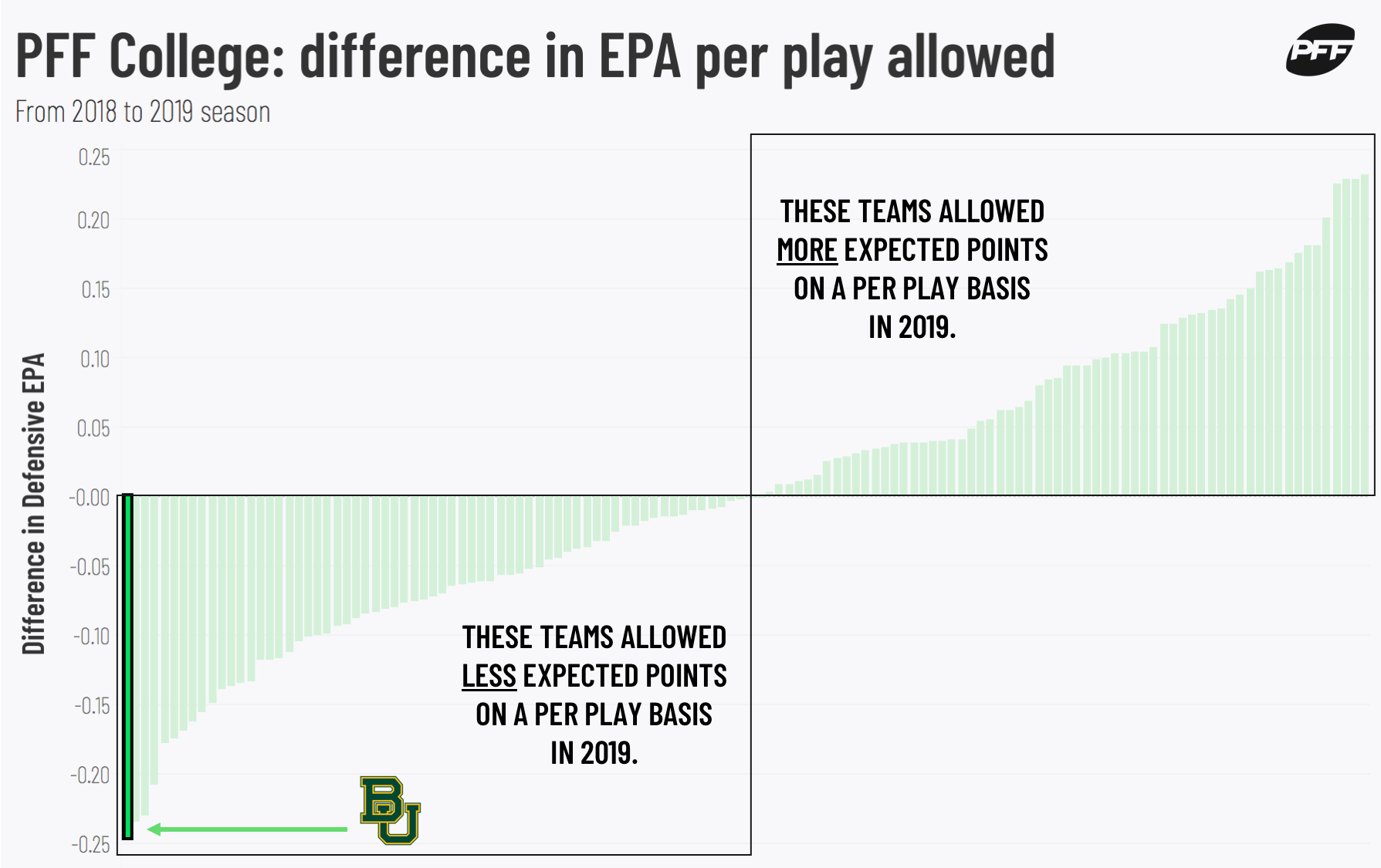 In the pass-rush, the improvement from last year is night and day. In 2018, the Baylor pass-rush ranked 95th in pressures generated and jumped all the way to 20th this season. Edge rusher James Lynch leads the Baylor pass-rush and has 41 more pass-rush snaps than anyone else in college football and has sustained great play across every snap. Lynch has dramatically improved his pass-rushing play — after posting a pass-rush grade of 62.2 in 2018, he came in as the second highest-graded pass-rusher in the Big 12 at 80.2 in 2019. Not to mention he nearly doubled his pressure rate.
On the interior of the defensive line, Bravvion Roy was the one to make the biggest leap in the pass-rush. After spending the first few years of his collegiate career playing primarily 3-technique, Roy made the move to sole nose tackle in 2019 and was far more effective. Roy improved his pass-rush grade from 67.0 to 85.5 and was by far the best pass-rushing nose tackle in the FBS. In fact, he had more than twice as many pressures as anyone else at the alignment with 46 (next at 21) — and it's not because he has more snaps than anyone else, he still ranks first in pressure rate.
The bread and butter of the Baylor coverage unit has been cover-3 and quarters. In those coverages, Baylor owns the fifth-highest PFF coverage grade and are allowing a lowly -.223 EPA per pass. Moreover, in cover-3/4, Baylor has intercepted far more balls than touchdowns allowed with eight interceptions to three touchdowns. Most of the yardage given up in these coverages are typically short yardage passes as the vulnerability of them rely underneath. So, when we look at Baylor's performance on these coverages on just targets of 10-plus yards, it only verifies their dominance. In those situations, Baylor ranks only behind Alabama in both PFF coverage grade and passer rating allowed at 43.4. The play of safeties Henry Black and Grayland Arnold have been instrumental in this as they both crack the top 30 in PFF coverage grade among 376 qualifying FBS safeties.
Utah Utes
While Minnesota and Baylor were both shocking underdogs, Utah was one some might have seen coming. Most, though, didn't expect they'd be playing essentially a play-in game for the CFP in the Pac-12 Championship Game. The only red flag entering the season that led most to believe they weren't a legit threat was the passing offense. Utah desperately needed this to improve in order to get even a sniff of the CFP, and sure enough, it did.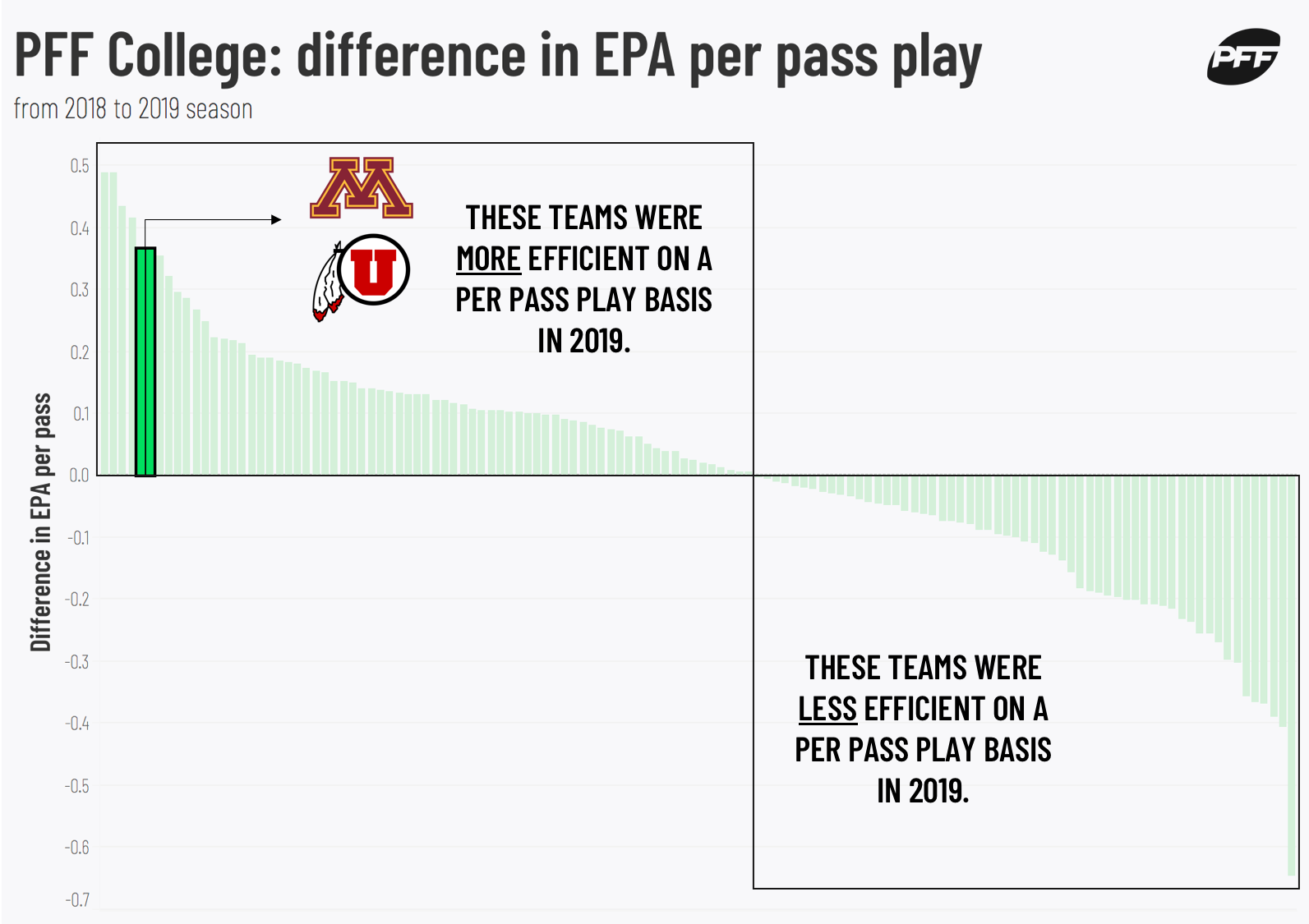 Ironically enough, Utah and Minnesota had the same offensive EPA per pass attempt in 2018 and 2019, thus, owning two of the biggest improvements in passing offense in college football. Starting QB Tyler Huntley was a large part of this massive improvement as he improved his PFF passing grade from 74.1 last year to 90.5 in 2019 — the third-highest in college football behind Joe Burrow and Justin Fields. The biggest difference in Huntley's play over the last couple seasons really had to do with his accuracy on downfield throws. Last season, Huntley ranked 82nd among qualifying quarterbacks in PFF grade on throws of 10-plus yards. This year, Huntley ranked third in the same metric. PFF has a quarterback charting process led by former NFL quarterback Bruce Gradkowski that deciphers who is at fault on an incomplete pass. On those downfield passes in 2018, 27% of his attempts were an incompletion that was Huntley's fault (e.g. overthrows, placing the ball behind the receiver, etc.). That percentage dropped all the way down to 15% in 2019 ranking fifth. Rarely do you see a quarterback this late in his football career improve their accuracy this much — it's quite unprecedented.
In hand with his accuracy, Huntley's decision making has been far better. The term "one-read quarterback" has been tossed around to criticize various quarterbacks, saying they are inept to making a play on their own. While this could be true for some, it's important to put something like this into context. There were numerous instances in 2018 of Huntley throwing to his predetermined read when the receiver wasn't even remotely close to being open after the snap in large part because the coverage played was flat-out ignored. Huntley a year ago passed on his first read and threw to his next on just 10% of his pass attempts, which is more than 5% below average. This year, Huntley passed to his next read on nearly 27% of his attempts, which is the fourth-highest rate in college football. Last season, Huntley was an average-to-below-average quarterback passing to his first read at a 74.3 passing grade ranking 72nd. This year, Huntley was in the 90th percentile going to his first read at a 90.3 grade. Huntley improved his play passing to his next read and ended up with the third-best PFF grade on those plays. This practically means Huntley is waiting to see if he likes his initial target choice as opposed to letting it fly regardless if it's the best option like in the past.
The defense heading into the season was the Utes' Achilles heel — coming off a remarkable year ranking 15th in EPA per play allowed at -.191. Utah lost a few key guys in their defense to the NFL, but it was still looking like they'd be a tough matchup for anyone to face would maintain their spot as one of the 25 best defenses in college football. However, they weren't just one of the 25 best in the country. They were the fourth-best in the FBS in regard to EPA per play allowed at -.248, behind powerhouses Clemson, Ohio State, and Georgia.
Utah's secondary unit certainly stepped up and got the job done for the Utes, with a few players in specific standing out. Cornerback turned safety Julian Blackmon had one of the more remarkable turnarounds in college football this season. After giving up 786 yards and a passer rating of 131.7 at cornerback a year ago, the Utes moved him to free safety, and he ended up being the fourth highest-graded at the alignment in the FBS — giving up just 63 yards and a passer rating of 30.4. At corner, Jaylon Johnson has been one of the most dominant in the conference and played his way into the first round of PFF's latest mock draft. Johnson had a superb sophomore season in 2018 and managed to top in 2019 by producing a top-20 PFF coverage grade and 10 combined pass breakups and interceptions, all while allowing just 44.6% of his targets in coverage to be caught. The loss to Oregon was a crushing one. If they'd have won, they would have been the last team in the CFP. At the end of the day though, very few predicted the Utes would even be in consideration for such a spot.