College football is back. After a year of uncertainties and cancellations, fall Saturdays are set to return to some sense of normalcy.
Week 0 of the 2021 college football season was mostly blowouts, but we did have a closer Big Ten game to enjoy. Illinois hung on to beat Nebraska, igniting a flurry of "fire Scott Frost" posts on social media. UCLA tuned up for its contest against LSU a week from now with a big victory over Hawaii. And Mountain West Conference favorites San Jose State and Fresno State scored big wins, as well. 
Here are the five highest-graded players from the Power Five and the five highest-graded players from the Group of Five after one week of college football.

---
CLICK HERE FOR MORE PFF TOOLS:
Fantasy Draft Kit | PFF Betting Dashboard | PFF Fantasy Rankings
PFF Fantasy Projections | NFL Premium Stats | Win Totals Tracker
---
Power Five
Against both the run and pass, Agude fully wrecked Hawaii's offense in UCLA's dominant 44-10 victory. He played only 30 snaps, with 21 coming against the pass and seven against the run. He made three tackles in the run game — two of which were at or before the line of scrimmage — and also forced a fumble. He was even better as a pass rusher, tallying five quarterback pressures and a sack. 
Considering Charbonnet gained 120 total yards and three touchdowns, one would assume he was UCLA's workhorse back in his first game as a Bruin. But the former Michigan Wolverine only played 11 snaps total.
He saw seven total touches, though, which means the defense could assume he was getting the ball if he was on the field. It didn't matter. He rushed for 106 yards on just six carries, with 59 of them coming after contact. He forced five missed tackles, and four of those rushes went for at least 10 yards. Charbonnet also added a 14-yard catch on his only target.
Zach Charbonnet, have a DAY????

— PFF College (@PFF_College) August 28, 2021
Although he did play some snaps outside, Jackson mostly lined up over Hawaii's guards and man-handled his foes. He recorded two pressures and a sack against and a defensive stop in the run game. He created the logjams in the middle of Hawaii's offensive interior that allowed his linebacker teammates to flow to the ball and get on the stat sheet. 
Blaylock played mostly deep for the Bruins, with 33 of his 54 snaps coming at safety, but he showed off his lockdown capabilities while lined up over slot receivers. He allowed three catches on five targets for only 15 yards, including a one-yard touchdown, and forced two incompletions. 
The veteran leader of the Illinois defense started his campaign under new management with a strong game from his inside linebacker spot against Nebraska. Hansen made four defensive stops in the run game, two of which came at or before the line of scrimmage.
Hansen didn't miss a tackle, either. He was attacked a few times in the passing game, allowing two first-down catches for 37 yards total, but his run-game effort against the Cornhuskers' sometimes-dynamic rushing attack was elite.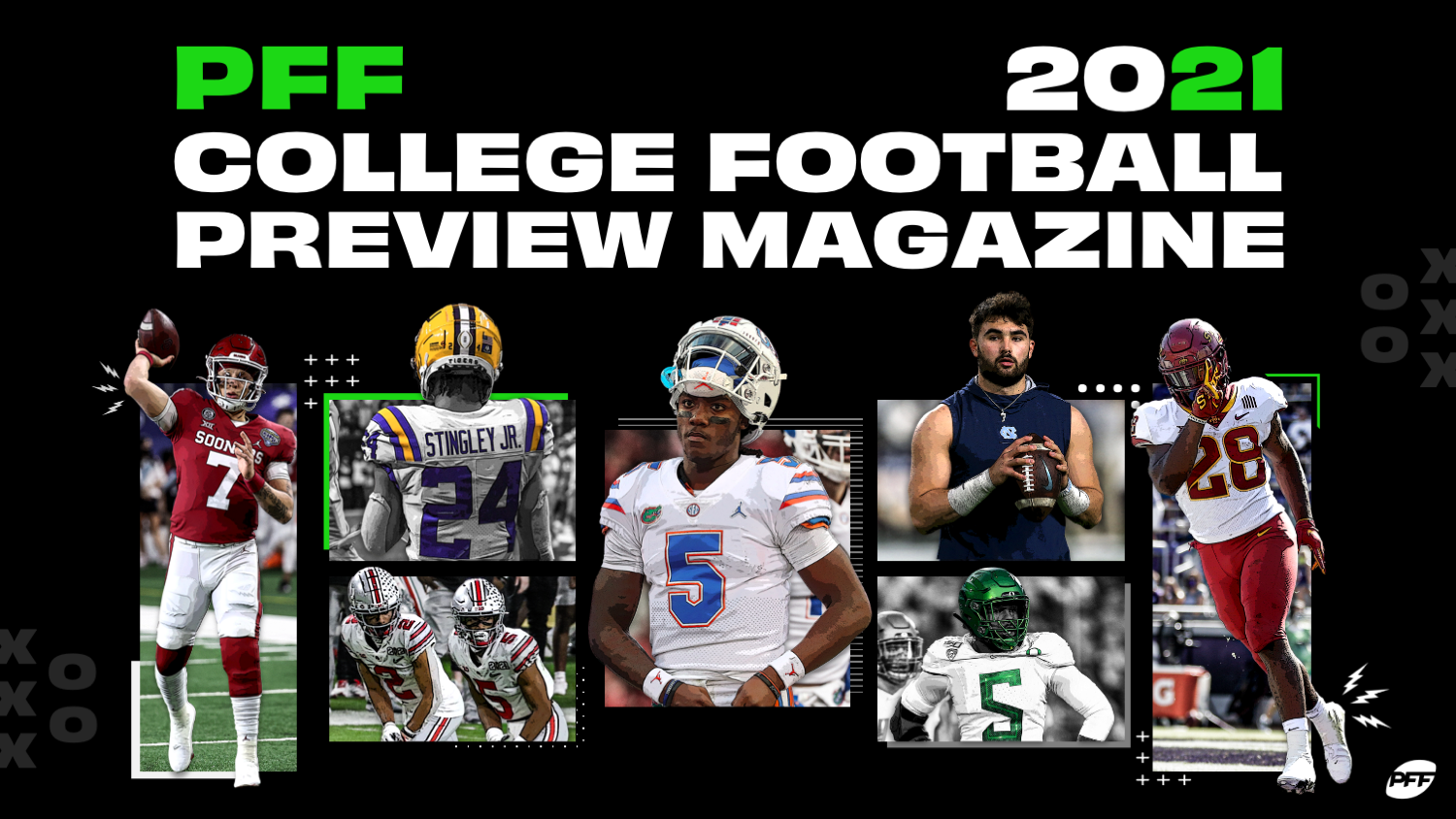 Group of Five
Jacob Cowing with the NASTY grab pic.twitter.com/XgXIHO0OXw

— PFF College (@PFF_College) August 29, 2021
An incredible one-handed catch was not all Cowing accomplished against New Mexico State. He racked up 158 yards on five catches — not including a 50-yarder called back because of a penalty. His 9.88 yards per route run would have ranked first in the NCAA last year for a single game.

The Miners dominated New Mexico State, 30-3, to open their 2021 season, and Stewart was their most dominant player. He notched four total pressures, with two of them coming when he was lined up directly over the center. His pass-rush win rate was an absurd 39%. He was also unmovable against the run, finishing with one defensive stop. 
Nevens ran for 86 yards on just 12 carries, racked up 65 yards after contact and forced three missed tackles. Four of his rushes produced at least 10 yards, tied for the most in the country in Week 0. He also added 33 yards on a couple of catches. Fourteen touches for 119 yards and a touchdown isn't too shabby of a stat line for the veteran rusher. 
Atkins was completely unblockable for the Bulldogs. He created just one pressure on his 20 pass-rushing snaps but beat his offensive counterpart three separate times. Most of those forced a double team to come at him.
He was equally as stout against the run. His lone tackle went for a loss when he knifed into the backfield with a quick first step and stopped the running back in his tracks.
5. C Andrew Meyer, UTEP — 82.6 PFF Grade
As the leader of the UTEP offensive line, Meyer put together a great individual day to go along with a monster effort by the entire group. The Miners rushed for 203 yards and Meyer wasn't beaten once in pass protection. The unit only allowed four pressures total.