It used to be rare to see a Heisman Trophy winner back at school with a chance to repeat, but it's a more common sight these days. 2016 winner Lamar Jackson of Louisville broke out to win the award, and while he was an outside candidate to make a splash, he certainly wasn't one of the top names to watch heading into the year.
So while we may see a random name emerge once again in 2017, there is plenty of returning talent, particularly at quarterback, where it's always easier to catch the eye of the voters. Here are 10 early names to watch for the 2017 Heisman Trophy.
1. Lamar Jackson, QB, Louisville
The 2016 Heisman winner is an obvious choice to potentially repeat in 2017, but it's always difficult to impress the voters two years in a row. Even in 2016, Jackson set expectations so high in the first half of the year, that mere mortal efforts down the stretch almost took the luster off his incredible season. Expectations will be through the roof next year, and history tells us even another exceptional season may not net another Heisman. Jackson will likely have to top his incredible 2016, which saw him grade at 96.2 as a runner, rushing for 1,887 yards and 21 yards on the ground while averaging 8.8 yards per carry. There's room to improve a passing grade that finished at 69.9 overall, and that may be his ticket to repeat assuming he has yet another dominant year on the ground.
2. Baker Mayfield, QB, Oklahoma
The highest-rated quarterback in 2016 at 96.1 overall, Mayfield and Oklahoma overcame a slow start to finish strong with a Big 12 and Mayfield joined teammate Dede Westbrook as Heisman finalists. Mayfield has a great shot to return to New York and perhaps take home the trophy this year, assuming he plays up to his potential in 2017. He was the top passing quarterback in the nation by a wide margin, sitting near the top of all of the major categories from his work under pressure, on the deep ball, or simply his overall adjusted completion percentage of 80.1 percent that led all Power-5 quarterbacks. Mayfield has to replace his top receiver option for the second year in a row (Sterling Shepard in 2015, Westbrook last year), but expect him to put up outstanding numbers once again with the Heisman a real possibility.
3. Mason Rudolph, QB, Oklahoma State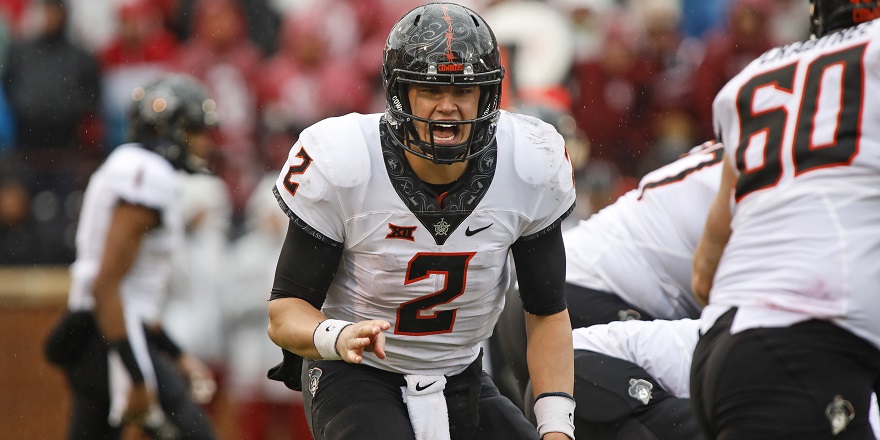 Another Big 12 signal-caller, Rudolph returned to school for his senior year and with two strong years of grading under his belt, including a 92.2 grade last season that ranked second among quarterbacks. Rudolph can get the ball down the field in Oklahoma State's offense as his 1,691 yards on deep passes led all Power-5 quarterbacks, and his 125.4 passer rating on deep throws led the nation. Rudolph's chances could come down to Oklahoma State's ability to run the table in the Big 12 and much like this year, it may be a late-season battle with Oklahoma that determines the conference and Rudolph's Heisman chances.
4. Sam Darnold, QB, USC
Once Darnold took the reins of the USC offense, the team looked completely different. A 2016 season that was destined to disappoint turned into a late run at the College Football Playoff and a Rose Bowl win over Penn State. Darnold was at the forefront of the turnaround, grading at 80.8 overall, the best we've seen for a freshman quarterback in our three years of grading. He finished tied for ninth in adjusted completion percentage at 75.6 percent and his 101.2 passer rating under pressure ranked seventh. Whether it was Darnold's big performance in the win against Washington or his comeback in the Rose Bowl over Penn State, he's shown the ability to carry an offense and do so in strenuous conditions, so he's an easy Heisman candidate heading into 2017.
5. Saquon Barkley, RB, Penn State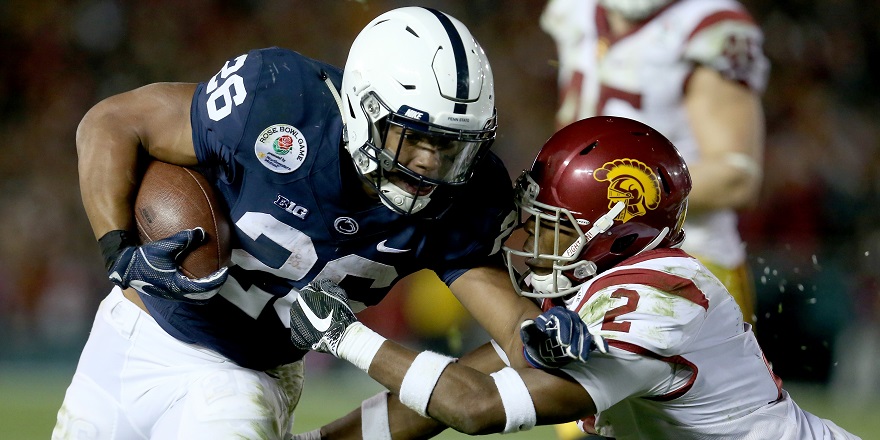 The other electric player on the field at the Rose Bowl, Barkley did his best to show off his talent to the nation as he's been one of the best big-play running backs the last two years. He led all running backs with an elusive rating of 126.7 as a true freshman in 2015 and while that number dropped in 2016 with a higher volume effort, he still managed to force 72 missed tackles as a runner to tie for fourth nationally. Penn State is primed to contend nationally after winning the Big Ten in 2016, and Barkley is a dynamic talent capable of leading the way for the Nittany Lion offense.
6. Jake Browning, QB, Washington
Browning was in the Heisman conversation for much of the year, but poor efforts on his biggest stages did him in. His two worst-graded games came in a late-season loss to USC and the Pac-12 championship game that Washington won, but both games showed that Browning was simply a tick below his fellow Heisman candidates. Washington is losing talent on both sides of the ball, but with Browning entering his junior season, he still has enough firepower to lead Washington to another Pac-12 title. To do so, Browning will have to improve under pressure against good defenses as he had a passer rating of only 14.1 when pressured in those three poor games.
7. Derrius Guice, RB, LSU
As Heisman candidate Leonard Fournette battled injuries all season, Guice took advantage of his opportunities and flourished, finishing with an 83.3 rushing grade that ranked seventh among running backs. He was a big-play threat waiting to happen as 58.6 percent of his yards came on breakaway (15-plus yard) runs, third-highest in the country. With Guice's big-play ability and LSU's new misdirection-heavy offense, we may see monster numbers in 2017 with a full workload.
8. Derwin James, S, Florida State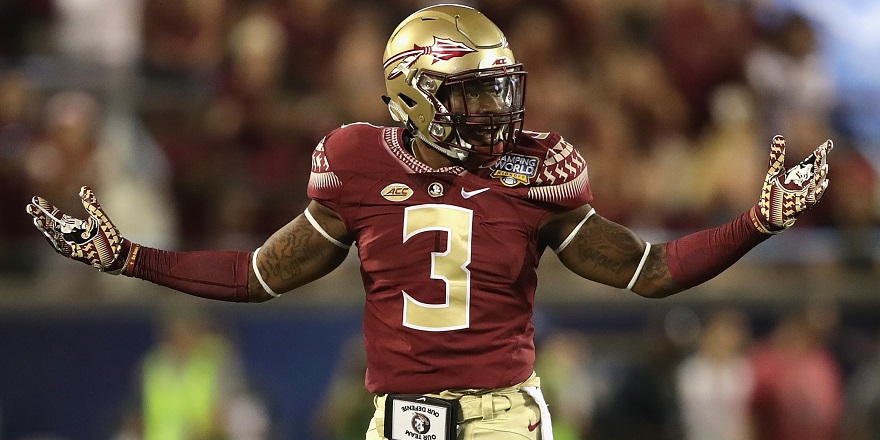 The 2016 season had a number of defensive candidates state strong cases for the Heisman, and while the 2017 crops doesn't have a lot of obvious names from which to choose, James is the kind of defensive player that can make a run at the award. His true freshman season in 2015 was simply exceptional as he played a number of roles in Florida State's defense, playing deep safety, box safety, and even lining up as a pure edge rusher on some passing downs. He excelled in all phases, ranking among the top 20 safeties in coverage, against the run, and as a pass-rusher. That all-around ability is the proper formula for a defensive player to get early Heisman consideration.
9. Jalen Hurts, QB, Alabama
It was an impressive sight to see a true freshman at the helm of an Alabama team coached by Nick Saban, all while the team put together a dominant season before falling short in the end with a loss to Clemson in the national title game. Hurts re-shaped the Alabama offense around his ability to run the ball and while he took some lumps in the passing game against better coverage teams, he managed to run for 1,072 yards on 174 carries (6.2 yards/carry) including 13 touchdowns. If Hurts can take the next step as a passer, while also taking advantage of the easier throws allotted him as teams account for him as a runner, he will very much be in the Heisman conversation.
10. Quinton Flowers, QB, USF
Another quarterback doing most of his damage on the ground, Flowers' 1,247 yards on designed runs ranked third in the nation and he forced a missed tackle every 3.3 carries to lead all quarterbacks. Like Lamar Jackson and Jalen Hurts, Flowers has work to do in the pass game – and any improvement in that area is bad news for opposing defenses – but he's a viable enough running threat to post a statistical season similar to Jackson's 2015.
Other names to watch:
J.T. Barrett, QB, Ohio State
Bo Scarbrough, RB, Alabama
Arden Key, Edge, LSU
Luke Falk, Washington State
Nick Fitzgerald, Mississippi State
Nick Chubb, Georgia