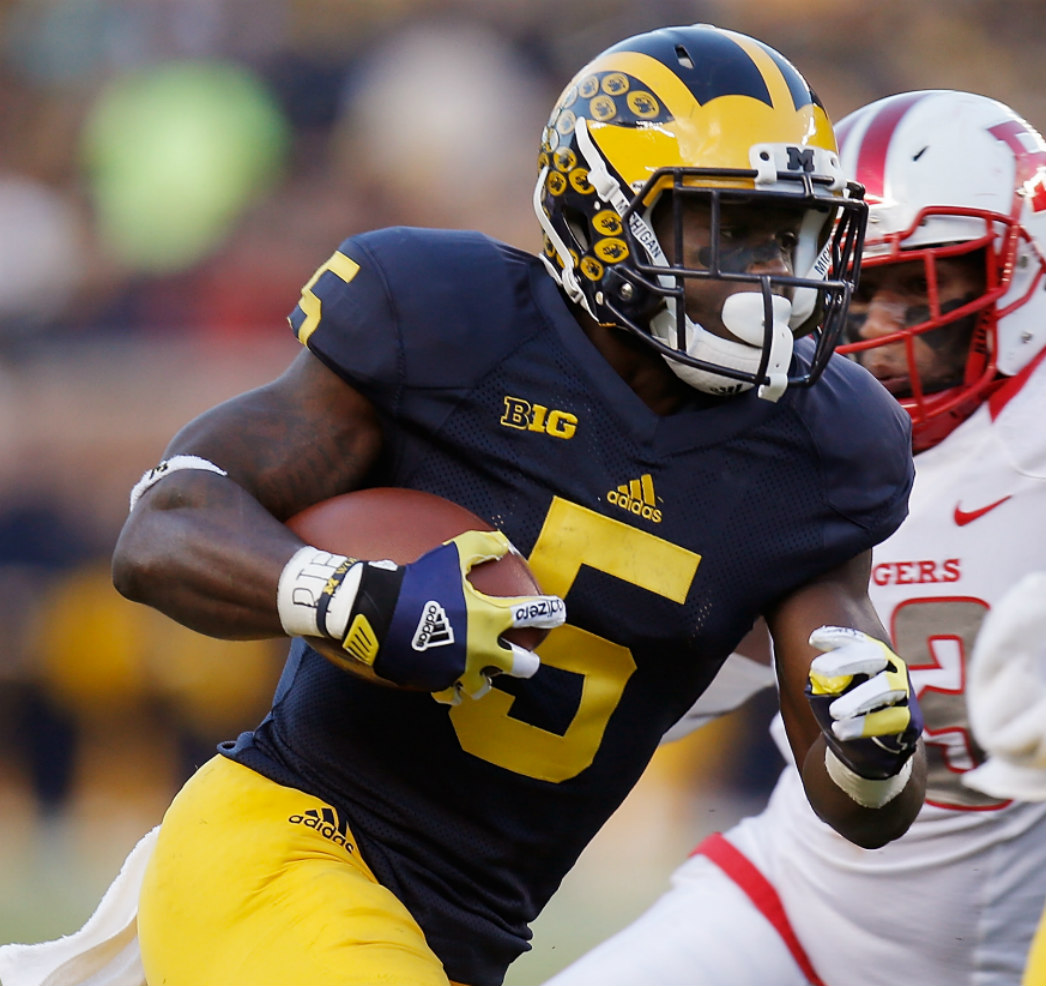 ANN ARBOR, MI - NOVEMBER 07: on November 7, 2015 at Michigan Stadium in Ann Arbor, Michigan. (Photo by Gregory Shamus/Getty Images) *** Local Caption ***
This is an almost unfair matchup for the first round, as it features two of the best back-seven defenders college football has seen in recent memory. What makes this duo even more exciting is the fact they're both key cogs on teams with strong national title aspirations this year, so expect to be hearing a lot about Michigan's Jabrill Peppers and Florida State's Derwin James this season. Setting the team backdrops aside for now, how do these two elite athletes and defenders matchup on the field?
To view the entire bracket and every Round 1 matchup, click here.
The case for Jabrill Peppers
Jabrill Peppers as not just a safety last year for Michigan, as he was also a productive player on the other side of the ball. On offense, he registered 5.0 yards per carry (17 carries, two touchdowns), caught all eight catchable balls thrown his way (100 yards after catch) and was the 10th-highest-graded punt returner in FBS last year. While his play with the ball in his hands is certainly enticing, that's not what will make him one of the best players in college football in 2016.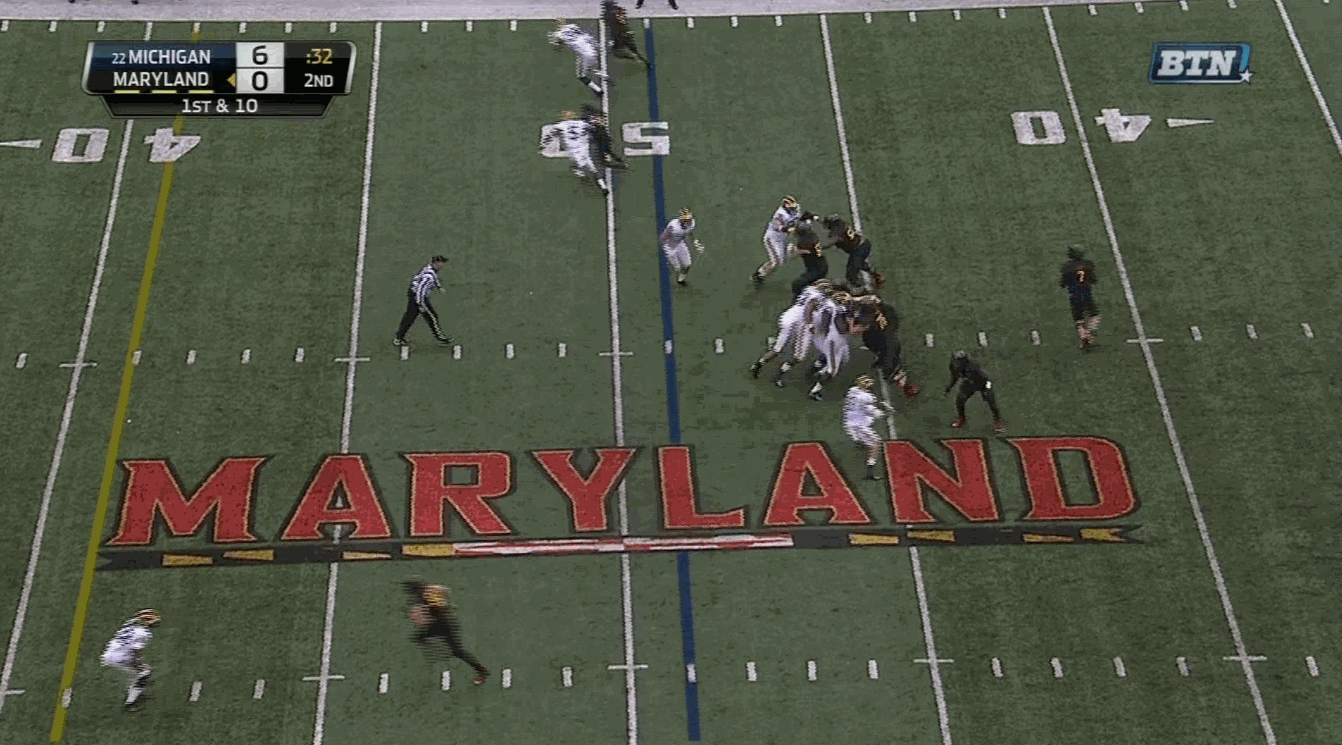 While listed as a safety, Peppers only took 69 of his 789 snaps last year, his first year as a full-time starter, aligned from either safety position. The bulk of his work came from the slot (468), where his closer proximity to the line of scrimmage allowed him to play a heavier role against the run, and on some occasions contribute on pass rushes (19 rushes). He also took 147 snaps as an outside CB, and his remaining 150 snaps were at linebacker, where he is expected see the majority of his work in 2016.
Despite having to wear so many hats for Michigan's defense, Peppers was excellent in coverage last season. When targeted, opposing QBs completed just 56.1 percent of their throws for only a 9.3 yard average and an NFL QB rating of 76.5. His six passes defensed last year ranked him fifth among returning safeties.
He was also a dependable player against the run, as his seven missed tackles in 2015 ranked him 15th among 122 returning safeties with at least 40 tackles last year. He graded 13th overall in the category last year, and his play versus the run will be even more critical this year considering his apparent full-time position change to strong-side linebacker.
Despite likely having added weight to his frame in preparation for his new position (he was listed at 6-feet-1 and 202 lbs. last year), he was the fastest player on the team in offseason training this spring. Players with his level of athleticism, versatility and production are rare, and it's this diverse skill set that has some calling Peppers a dark-horse Heisman candidate in 2016.
The Case for Derwin James
The only "safety" in the country with a higher overall grade than the 6-feet-2 212 lbs. James last year was Duke's Jeremy Cash, and he played less than ten snaps aligned as a true safety (and posted a slightly-below-average coverage grade). James was outstanding in all three phases of defense, as his coverage grade ranked him fifth among returning safeties, and his run and pass rush grades were tops for the group.

While James also took a variety of alignments last season, he saw significantly more time in a natural safety role (451 of his 719 snaps were at safety). Although he wasn't tested in coverage as much as Peppers (he was targeted 34 times to Peppers' 57 last year), he also impressed in this capacity, yielding just 16 catches (no touchdowns) and a NFL QB rating against of just 62.3.
He also posted just seven missed tackles last year while registering 12 more solo tackles than Peppers (53), a fairly remarkable statistic considering how much less time he spent in the tackle box compared to the Wolverine.
His work in coverage and against the run was certainly impressive last season, but where he truly separated himself was on the pass rush. In just 58 rush attempts he posted 23 total pressures (five sacks), easily ranking him first among returning safeties in pass rush productivity.
The Verdict: Derwin James advances
It's hard to imagine a back-seven player with the (rightful) hype Peppers is receiving not advancing to the second round, but James put together an unbelievably dominant freshman year in 2015. While he is not likely to be utilized on offense as Peppers is against expected to be, he graded better in virtually every statistical category. Both are special players entering just their second seasons as full-time starters, but James was a slight step above last year and there's no reason to believe he won't improve upon last year's breakout campaign.
Here's what you're saying on Twitter…
Our next matchup features @FSU_Football's Derwin James and @umichfootball's Jabrill Peppers.

Who should advance?

— PFF College (@PFF_College) June 13, 2016