It was a banner year for the Big Ten, as it will see one team in the college playoff and three competing in New Year's Six games. The conference has come a long way in the past five years, in large part due to a sharp increase in talent on virtually every team.
That increase and talent certainly made the conference more competitive, and it has also led to a more competitive all-conference team. Here is this year's group of Big Ten standouts, as seen through the eyes of our analysts.
Quarterback: J.T. Barrett, Ohio State
Barrett isn't a conventional choice for top QB, as he has been more consistent as a runner throughout his college career than as a passer, but it's his legs that led the Buckeyes to victories against Wisconsin and Michigan. Taking away kneel-downs, he averaged 5.8 yards per rush, and gained 495 of his 962 rushing yards after first contact. As a passer he did an outstanding job of avoiding the critical mistake, as he threw 24 touchdowns to just four interceptions, and held a QB rating of 100.6.
Second Team: Trace McSorley, Penn State
Running back: Curtis Samuel, Ohio State
Samuel was clearly the top threat of the Buckeye's offense, regardless of whether he was lined up in the slot as a wide receiver or in the backfield as a traditional running back. On the ground he averaged 7.7 yards per carry and rushed for eight scores while forcing 17 missed tackles on his 92 carries. When combining his production as a receiver, he averaged 127.1 yards from scrimmage per game.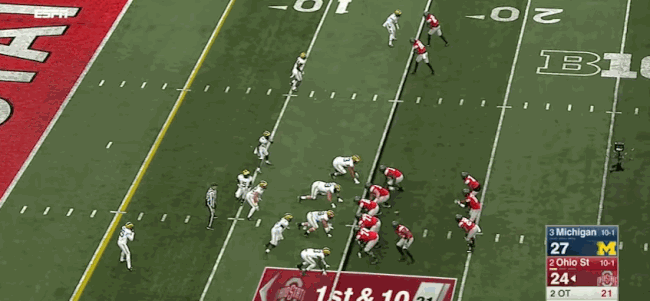 Second Team: Saquon Barkley, Penn State
Fullback: Khalid Hill, Michigan
The Hammering Panda wasn't just an excellent lead blocker for the Wolverines, he was also the go-to on short-yardage situations. He scored ten touchdowns on the ground this season, and added another two through the air on 14 receptions.
Second Team: Prescott Line, Michigan State
Wide Receiver: Amara Darboh, Michigan; R.J. Shelton, Michigan State
Darboh was the stead chain-mover for the Wolverines, as he caught at least four balls in seven games this season, eight against Ohio State. He snagged seven touchdowns on the season, and was also the highest-graded run blocker among Big Ten receivers. His 2.65 yards per route run average ranks second in the conference among outside wide receivers. Shelton makes the team despite wildly inconsistent play from his quarterbacks. He posted six games with at least five catches, Spartan QBs had a rating of 104.9 when throwing in his direction.
Second Team: Drew Wolitarsky, Minnesota; Chris Godwin, Penn State
Slot Receiver: Austin Carr, Northwestern
Carr was the highest-graded receiver in not just the Big Ten this season, but in the entire country as well. 97.5 percent of his snaps came from the slot, and from there he excelled at creating space with his route running. His 1196 receiving yards was 256 more than the next-highest total in the conference, and he ran away with the highest catch rate in the Big Ten on deep throws.
Second Team: Curtis Samuel, Ohio State
Tight End: Troy Fumagali, Wisconsin
Fumagali makes the team on the strength of having the highest overall grade at the position (79.9), and the second-best receiving grade (83.8). He caught 41 balls for 497 yards. Often at his best when the stakes were highest, he caught 14 of 16 balls thrown his way for 184 combined yards against LSU and Ohio State.
Second Team: Josiah Price, Michigan State
Offensive Tackle: Ryan Ramczyk, Wisconsin; Brendan Mahon, Penn State
Ramczyk was one of the biggest surprises in the nation, as he really shined in his first year of FBS football. He posted an impressive 84.3 run blocking grade, and gave up just one sack and three hits for the entire season. Mahon's season started off slow, but like much of the rest of the Penn State line he improved significantly after the loss to Michigan. Over the next five weeks no one in the country graded anywhere near his level, as he gave up just three total pressures and posted the highest run grade in the country. Unfortunately he missed the final three games of the season with an undisclosed injury, but his dominant play before getting hurt was more than enough to warrant making the team.
Second Team: Michael Dunn, Maryland; Erik Magnuson, Michigan
Offensive Guard: Sean Welsh, Iowa; Jordan Roos, Purdue
Welsh was one of the most consistent players in the conference at any position for the entire season. Against Minnesota stud defensive tackle Steven Richardson he gave up four hurries, but he only gave up three the entire rest of the season, including clean slates against the outstanding pass rushes of Michigan, Wisconsin and Nebraska. His 83.9 run block grade was also the highest in the conference. Roos made a remarkable turnaround this year, as he went from one of the lowest-graded interior linemen in college football last year to one of the highest. Pass blocking was his specialty, as he gave up just 11 total pressures for the season, and just two sacks and two hits in Big Ten play.
Second Team: Tanner Farmer, Nebraska; Brian Allen, Michigan State
Center: Pat Elflein, Ohio State
This was one of the toughest positions to pick, as there were a number of standouts on one phase of the game but very few who exceled in both. Elflein's only two sacks of the season came against Michigan and his only hit was in week one against Bowling Green, and his 81.0 run blocking grade was easily the best among conference centers.
Second Team: Mason Cole, Michigan
Edge: Taco Charlton, Michigan; T.J. Watt, Wisconsin
Charlton played just 20 snaps in non-conference play due to an injury Michigan's week one matchup against Hawaii, but he was an absolutely dominant force in Big Ten play. He posted 43 total pressures for the season, highlighted by seven sacks and eight hits in conference play. Watt has virtually impossible footsteps to follow, but did everything he could in his first season as a full-time starter to show he isn't the only Watt capable of playing elite football. He posted 51 total pressures, which includes nine sacks and 12 hits. He was also stout against the run, as he tallied 20 run stops.
Second Team: Vince Biegel, Wisconsin; Dawuane Smoot, Illinois
Defensive interior: Jake Replogle, Purdue; Ryan Glasgow, Michigan
Even though we believe Alabama's Jonathan Allen deserves to be in New York for Saturday's Heisman ceremony, it's Replogle who is actually the nation's highest-graded interior defender. He posted 38 total pressures and 22 run stops this season, totals all-the-more impressive when considering he missed three games in the middle of the season due to injury. Glasgow was a force throughout the season, but was at his best in November. In Michigan's final four games he posted four sacks and 14 total pressures to go with nine total defensive stops.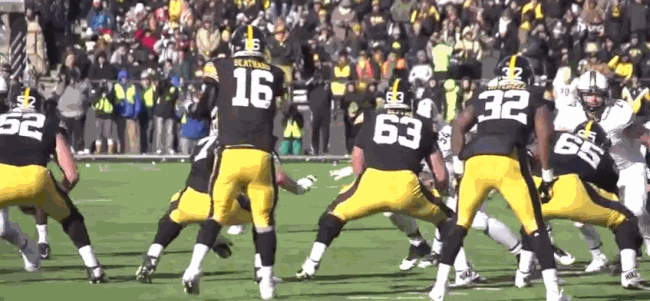 Second Team: Steven Richardson, Minnesota; Maurice Hurst, Michigan
Linebacker: Jerome Baker, Ohio State; Raekwon McMillan, Ohio State, Mike McCray, Michigan
This groups feature's a preseason All-American and two surprise performers. Everyone expected McMillan to be here, and he really delivered down the stretch. In Ohio State's last five games after losing to Penn State, McMillan posted 38 solo tackles with an impressive 27 of them being defensive stops. Baker was outstanding in all three defensive phases throughout the season, and in particular on the pass rush against Oklahoma and Michigan. In those two games he posted an impressive three sacks and seven total pressures to go with seven total stops. McCray was very solid against the run and also did an outstanding job on blitzes. His 24 total pressure on just 77 reps put ranked him first in the country in pass rush productivity among inside linebackers with at least 30 rushes.
Second Team: Jack Cichy, Wisconsin; Josh Banderas, Nebraska; Tegray Scales, Indiana
Cornerback: Desmond King, Iowa; Jourdan Lewis, Michigan
The cornerback position in the Big Ten is one of the deepest position groups in the country, as there are multiple outstanding players that did not make first or second team All-Big Ten. King ended his college career with yet another outstanding season, as he allowed just 18 catches on 45 targets and one touchdown and defended 10 total passes. Lewis' 15.4 QB rating against was the lowest mark in the country among CBs who were targeted at least 20 times. His 29.4 completion percentage against ranked third in the nation.
Second Team; Marcus Lattimore, Ohio State; Channing Stribling, Michigan 
Slot Cornerback: Jabrill Peppers, Michigan
Peppers was a true back-seven hybrid, but played over 200 snaps from the slot. He was at his best when attacking the line of scrimmage, as evidenced by his 30 total defensive stops and 17 QB pressures. Ohio State tagged him for five catches on seven targets (although he minimized the damaged by holding Buckeye receivers to just 48 yards), but in the seven games prior he gave up just five catches for 33 yards.
Second Team: Damarius Travis, Minnesota
Safety: Nathan Gerry, Nebraska; Leo Musso, Wisconsin
A preseason favorite of our own Steve Palazzolo, Gerry did not disappoint. He posted 62 solo tackles and 32 total stops while picking off four passes and breaking up another six. Musso had a rough championship game against Penn State, but was an otherwise stellar performer throughout the season. He intercepted four passes and broke up another pass sent his way, and opposing QBs had a dismal QB rating of 24.2 when he was the primary defender in coverage.
Second Team: Godwin Igwebuike, Northwestern; Delano Hill, Michigan
Kicker: Emmit Carpenter, Minnesota
While no Big Ten kicker stood out on both field goals and kick offs, Carpenter was the top field goal kicker in the conference. He connected on 21 of 23 attempts, including two from 50+, the most in the conference from long range.
Second Team: Tyler Davis, Penn State
Punter: Cameron Johnston, Ohio State
Johnston led the Big Ten in both average (47.3) and net (43.3) yardage, and also kicked the longest punt of the season in the conference (70 yards). Opposing returners were able to return just 11 of 49 kicks for a net gain of just 45 yards.
Second Team: Ron Coluzzi, Iowa
Kick Returner: Desmond King, Iowa
King averaged 28.0 yards per return, the highest mark among Big Ten players with at least 10 returns. He also led the conference in yardage with 699, and had a long return of 78.
Second Team: Parris Campbell, Ohio State
Punt Returner: Jabrill Peppers, Michigan
Peppers averaged a ridiculous 14.6 yards per return, despite ranking fourth in the conference with 21 returns. His ability to quickly diagnose blocks and explode through open space terrified opposing teams, leading to them often opting to kick the ball short or to the sideline to avoid him. He returned one for a score, but had a second called back for a penalty that did not affect his return and took another one back inside the 10 yard line.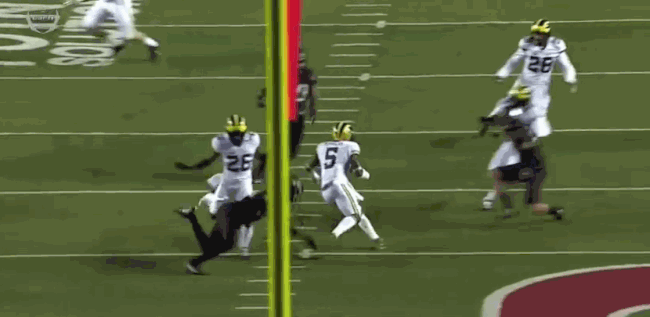 Second Team: Teldrick Morgan, Maryland
Special Teamer: Jordan Glasgow, Michigan
Glasgow tied for the conference lead in total special teams tackles with 12, 10 of them being solos. His biggest play of the season came against Ohio State, when he shed a blocker at the line of scrimmage to foil a fake punt deep in Ohio State territory, which set up a short Michigan touchdown drive.
Second Team: Blake Cashman, Minnesota