Jacob Cowing

was joined by only Ohio State star Jaxon Smith-Njigba as receivers who played

70% from the slot

and earned

top-six PFF receiving grades

in 2021. 

The UTEP transfer had a strong debut for the Arizona Wildcats, hauling in

eight catches for 152 yards and three TDs

against San Diego State in Week 1. 

Cowing credits all the hours he has logged in the film room for his adeptness in play-recognition.
Estimated reading time: 5 minutes
---
Last season, only two receivers in the nation played more than 70% of their snaps in the slot and finished with a top-six PFF receiving grade. 
One was Ohio State's Jaxon Smith-Njigba, who has gained national recognition as a likely first-round pick in the 2023 NFL Draft. The other is Arizona's Jacob Cowing, who isn't being talked about nearly enough despite hovering around — and even topping — Smith-Njigba in many categories. 
The 5-foot-11, 175-pound junior started his 2022 campaign right where he left off last year with eight catches, 152 yards and three touchdowns against San Diego State in Week 1. Cowing's 89.7 receiving grade once again landed in the top-10 in PFF's database on the week.
After hauling in 69 passes for 1,354 yards and seven touchdowns at UTEP last season, Cowing has proven he can produce in any place with any offense. He has also learned what he believes is the biggest factor for making a successful slot receiver.
"Honestly, it's coverage recognition," Cowing said. "With the slot position, you have to understand coverages. There's times where, if I'm on go-ball, and the linebacker is lined up kind of wide, I've gotten good at dipping my shoulder so he doesn't knock me off my route. And that's something you have to see and be good at in order to get past that second level — you have to be able to [know where defenders are going] to not mess up that timing."
| | | | | |
| --- | --- | --- | --- | --- |
| | Rec Grade | Catches | Yards | WR RTG |
| 2019 | 71.2 | 31 | 550 | 86.0 |
| 2020 | 77.8 | 41 | 691 | 82.9 |
| 2021 | 90 | 69 | 1,354 | 102.1 |
Cowing credits all the hours he has logged in the film room for the adeptness in play-recognition. But he wasn't always so prepared: His film room habits were born out of being humbled early on at the college level.
"It really set in my first fall camp at UTEP," Cowing said. "I showed up to that first practice and I thought it was regular football like high school, but I got a reality check real quick. I was confused at my first practice; everyone is fast, everyone is smart, everyone knows what they're doing. That's when I made it a priority to learn play recognition, and I've spent countless hours watching film with coaches, quarterbacks, receivers, anyone who will watch film with me."
Cowing took his game to the next level as a junior in 2021, but not just mentally — physically, too. As a slot player, he knew the importance of play speed: separation, yards after the catch, elusiveness. So he worked on and improved an area of his game many say you can't teach.
"Number one thing in that Year 2 offseason was trying to get my speed up," Cowing said. "During the offseason, my old track coach at my high school told me if I have time to come back to the track he'll help me get fast. During that whole time I was just on the track running every day, and that's what helped me get my speed to where it is right now."
Cowing mentioned a "ladder" practice structure for his track workout where he would sprint 300 meters, then 200, then 100, then go back up — he gave a shout out to "a lot of Gatorade" getting him through those days. Those times on the track certainly paid off, as evidenced by the distance he can create between himself and the nearest defender.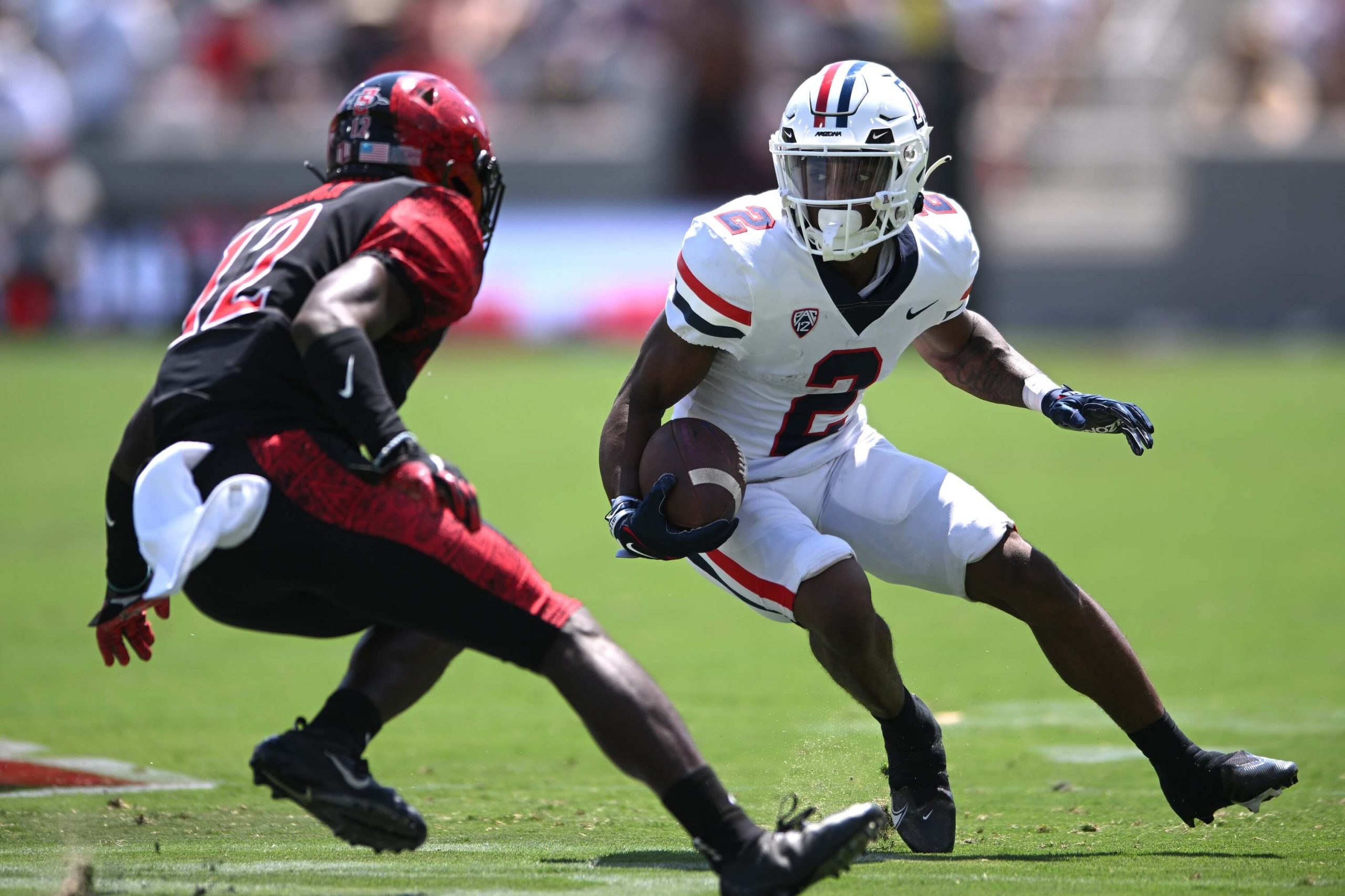 Transferring from UTEP to Arizona is a bit of a homecoming for Cowing, who grew up in Maricopa, Ariz., a town outside of Phoenix. As a player who was labeled a two-star recruit coming out of high school, he was floored when schools like Georgia, Alabama and Florida were all interested when he put his name in the portal this offseason. Despite finally feeling like he was having the recruiting cycle he always wanted, there was only one school he wanted to go to. 
When the Wildcats offered Cowing a chance to come home, he didn't hesitate. The reason is much deeper than just his old roots. Cowing has a son now, Chase, who was born in 2019 when he was still trying to make it at UTEP. The distance between him and his son was something that definitely motivated Cowing, but came with its challenges, too. Cowing took to the challenge of long-distance parents as best he could: FaceTimes and phone calls daily, then traveling back home whenever he could.
Now that he's playing football just an hour and a half away from his son, that connection is stronger than ever.
"When I was back in Texas it would always be such a struggle to find the money or the time to be with my son," Cowin said. "Having that time and flexibility to see my family more has taken a lot more stress off my shoulders."
Cowing has been dreaming of the NFL since he was 7 or 8 years old. As an Arizona kid, he looked up to Arizona Cardinals legend Larry Fitzgerald as he was learning the position. Today he looks to guys like Tyler Lockett and Davante Adams as his inspirations. Perhaps he'll be their teammate someday.
For now, he's at his dream school in Arizona, where he'll have the chance to play against some of the best competition in the Pac-12. And he'll have plenty of chances to bolster his scouting report as one of the most productive slot receivers in the country.