The SEC is absolutely loaded with pass-rushers. Already this offseason we've looked in-depth at Myles Garrett, Charles Harris, Tim Williams and Ryan Anderson, but what about LSU's Arden Key?
As a true freshman a year ago, Key had some sensational moments, but needs to develop some substance to add to the splash plays. Considering it was his first season in college, that's not surprising, and his development in 2016 will be just as important to LSU's defense as star running back Leonard Fournette is to the offense.
Outstanding late-season form
As with many young players, how they perform at the end of their freshman seasons can often give an indication of how good they can be going forward. In 2014, Tennessee's Derek Barnett didn't record a hit or sack in the first four games of the season. Over the next nine games he had 11 sacks and nine hits. Using that to kick off in 2015, Barnett was our second-highest-graded 4-3 defensive end behind only Ohio State's Joey Bosa. If that's the model for Key, LSU fans should be very excited. As a pass rusher he finished the season incredibly strongly, registering 24 pressures over the final three games of the season.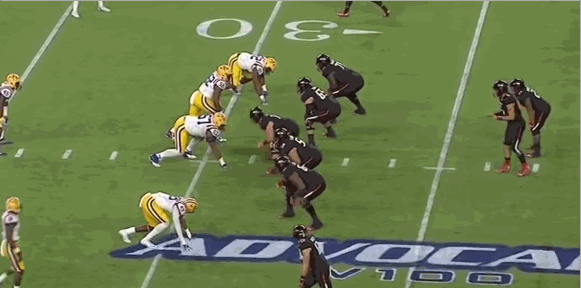 That included his second-highest-graded game of the year in the Texas Bowl against Texas Tech. Against the Red Raiders he didn't register a sack, but did have two hits and nine hurries. Our pass rushing productivity stat takes into account the number of pressures generated by a pass rusher on a per-snap basis, with weighting towards sacks and hits. In that bowl game, Key had a pass rushing productivity rating of 21.7 — the fourth-best mark of any 4-3 defensive end in a bowl game in 2015.
Needs consistency and improvement against the run
While Key had those flashes in 2015, he did lack consistency. He generated 58 total pressures over the course of the season, but had seven games where he registered three or fewer. Compare that to the other top defensive ends in the country, and it's one key weakness that separates him and them. As he develops as a pass rusher, Key needs to be able to bring the level of pressure he brought against Texas Tech on a week to week basis.
The other area where Key needs to improve is against the run. His run defense grade of +5.8 wasn't necessarily bad, but while his pass rush grade ranked 22nd among 4-3 defensive ends last year, his run defense grade ranked just 65th. He had his moments, and improved as the season went on, grading at +1.1 or higher in run defense in three of the final five games of the season, but once again it's an area where he needs to become much more consistent.
Outstanding athlete, hard-hitter
While he needs to improve, the flashes we saw from him as a true freshman will have put fear into opposing offensive co-ordinators, offensive tackles, and quarterbacks alike. In a conference where stud pass-rushers aren't hard to find, he genuinely stood out above many others. With a quick first step we saw the makings of what could be one of the best players in the SEC next year. Athletically even as a true freshman he was often too much to handle for opposing offensive linemen, and with a mean streak he had the big hits to match.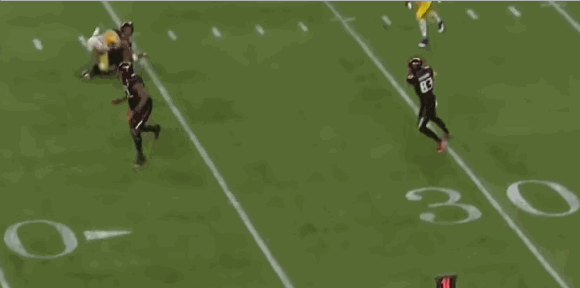 That play also came in his big performance in the bowl game against Texas Tech, and two key things stand out from the play., First, he was able to get out to meet the wide receiver after catching the screen quickly. Second, when he did, he made sure to leave his mark with a huge hit, forcing a fumble. Again, we need to see him create big plays like that on a more consistent basis, but it's those flashes that show how good he'll be if he puts it all together.
Key wasn't even a top 20 4-3 defensive end in college last year, finishing 2015 with the 34th-highest grade at the position. What's important to remember however is that he was only a true freshman. It's unrealistic to expect a true freshman to be one of the best in the nation, but to grade 34th out of the 288 4-3 defensive ends who played at least 239 snaps is impressive in its own right. What you expect to see from a true freshman is a player who struggles, but shows at least some improvement as the season wears on, and that's exactly what Key showed in 2015.
Key had the ninth-best pass rushing productivity rating among 4-3 defensive ends over the course of the season, and fifth-best when you take out the players who left for the NFL last year. He was a more productive pass rusher on a per-snap basis than Tennessee's Derek Barnett, Missouri's Charles Harris and Texas A&M's Myles Garrett.
He absolutely needs to improve in terms of consistency and in his play against the run, but there's so much to like about what he has accomplished already. There's every reason to expect that he'll improve as a sophomore in 2016, and that's an utterly terrifying prospect for the offensive tackles in the SEC who already have so much to deal with given the other pass-rushers in the conference.