The same way we talked about the 2021 wide receiver class is likely the way we'll be talking about the 2022 cornerback class.
It's simply loaded.
There's not only depth but also elite talent at the top. If we see continued progression from all the guys listed below and all declare for the 2022 NFL Draft, it will undoubtedly be the top cornerback class we've scouted in PFF's eight years of grading college football. And it starts with the highest-graded cornerback prospect in the PFF era through their first two years in college.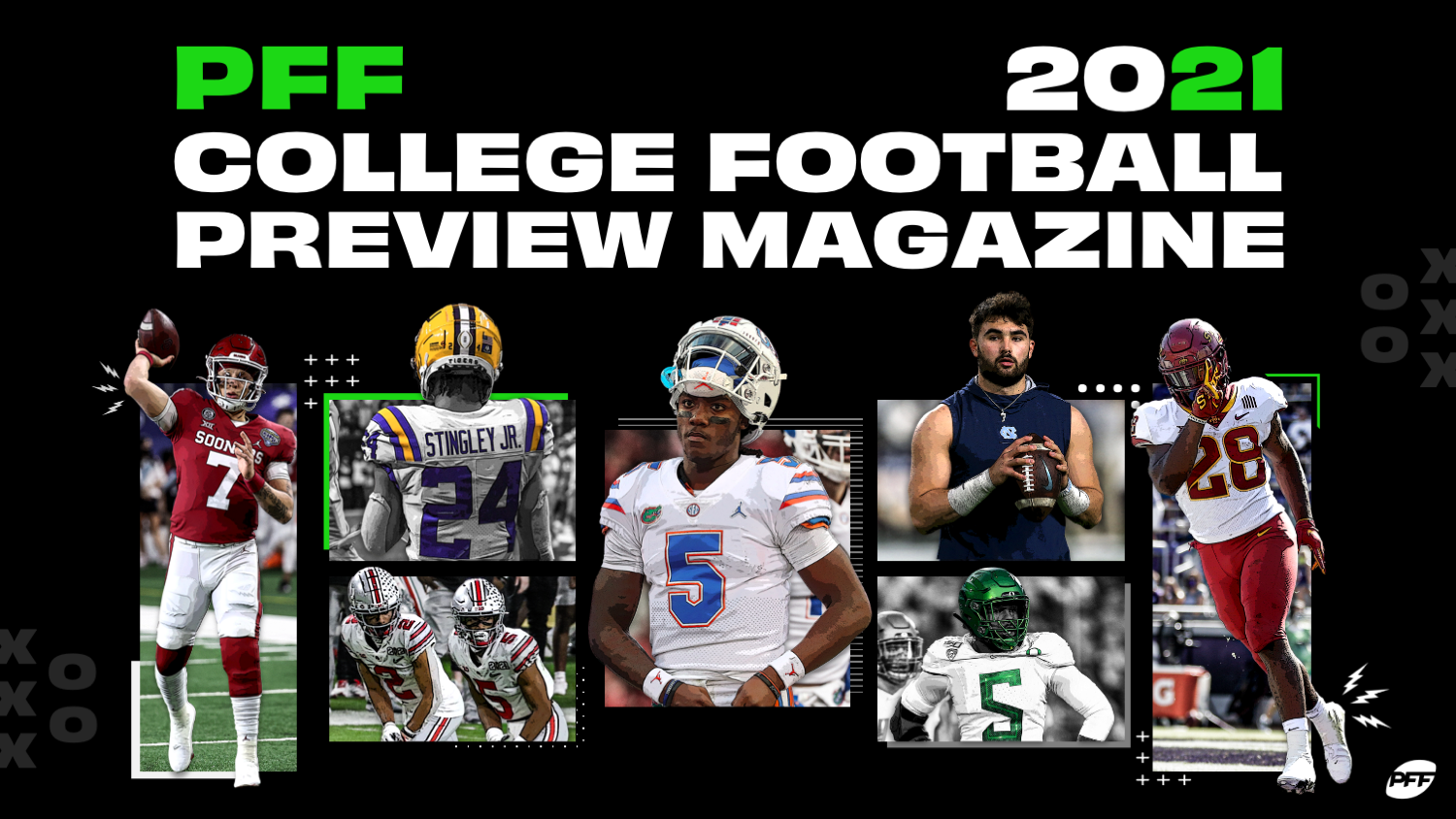 The comp for Stingley in the PFF draft guide is Champ Bailey. While a Hall of Fame comp is not one to throw out lightly, flip on the tape and you'll find it far from hyperbole. The reason I feel so confident in saying that is because of the caliber of athlete Stingley is. He ran a 4.3-second 40-yard dash and recorded a 42-inch vertical for the highest SPARQ score of any cornerback in the 2019 class. At his size — 6-foot-1 and 195 pounds — you can't ask for much more physically.
LSU CB Derek Stingley Jr. (6006, 195, Jr.) is a highly detailed/savvy corner that has A+ patience, and ball skills at the position. If he can limit the mental lapses and return to his 2019 form, he has a chance to be a high-end prospect at the position. https://t.co/3YF8sUICTy pic.twitter.com/4RH8w7n8lg

— Jordan Reid (@Jordan_Reid) May 24, 2021
Then there's the on-field part. Stingley has been in a press-man-heavy scheme, dominating since Day 1 of his freshman year. His 451 career snaps in press were the fourth-most in the country over the past two seasons. In 2019, his 91.7 coverage grade was the highest of any cornerback in the country. While he was hampered by injuries a bit this past season, Stingley allowed only 163 yards in seven games.
Derek Stingley Jr: Highest coverage grade among returning CBs (91.9) ????
pic.twitter.com/OyY8JSPB2E

— PFF College (@PFF_College) June 3, 2021
Elam is a long, physical cornerback built for the NFL game. While his name has obviously taken a backseat to Stingley's in the SEC over the past couple of seasons, Elam hasn't been too far off. He's earned a 90.7 coverage grade in his college career compared to Stingley's 91.9 mark. A big reason for that is Elam's work at the catch point. He's forced incompletions on over 20% of his 77 career targets and allowed a only 42.9% completion percentage.
Kaiir Elam — breaker upper of footballs pic.twitter.com/HxbN2A3EAD

— Cam Mellor (@CamMellor) October 10, 2020
Listed at 6-foot-2 and 193 pounds, Elam has NFL outside cornerback written all over him.
Kaiir Elam locking down Virginia in the final minutes ???? #OrangeBowl

(???? @CapitalOne) pic.twitter.com/mGCxExmZEL

— ESPN (@espn) December 31, 2019
McDuffie's game isn't anything like the two guys ahead of him on this list. He's not the prototype by any means, but that hasn't stopped him from locking down his side of the field. The rising junior cornerback isn't even listed at 6-foot on Washington's roster (5-foot-11) which means he's probably closer to 5-foot-10. Still, McDuffie is solidly built at 195 pounds and is athletic enough to match taller receivers (reportedly had a 41.5-inch vertical in spring camp).
Attacked Trent McDuffie here. Denied! pic.twitter.com/3zgSwDby3G

— Neighbor-Hood Husky (@HoodHusky) February 11, 2021
McDuffie could easily transition to safety or the slot due to his willingness to stick his nose in the fight. He may not be an island man corner, but you want him on your team.
"Sauce," as he's affectionately known around Cincinnati, has been cooking opposing receivers for back-to-back seasons to begin his Bearcats career. He's allowed only 40 catches on 98 targets for 581 yards with six picks and 14 pass-breakups across two years. And he's done almost all of it while playing mainly press-man coverage. His 454 press snaps the past two seasons are the third-most in college football over that span.
Hard not to notice #Cincinnati DB Ahmad Gardner while watching film on the Cincy defense. Was called PI but he does a great job mirroring and recovering, getting his head around and playing through the hands of the receiver.

His length is ideal for the modern NFL. pic.twitter.com/TSOb3ev09D

— Devin Jackson (@RealD_Jackson) January 7, 2021
While he came into college as an undersized freshman, Gardner has added a good deal of muscle to his frame — and reportedly put on even more this offseason. At 6-foot-2, he's one of the lankiest corners in the country. That gives him a massive sphere of influence at the line of scrimmage and the catch point.
Cincinnati has found a gem in freshman CB Ahmad Gardner

The #Bearcats CB was one of the most frequently-targeted DBs this year, ranking 15th (of 200) in snaps/target.

How did he respond?

87.6 @PFF grade (6th)
90.0 coverage grade (7th)
0 TDs & 39.4 passer rating allowed (4th)???? pic.twitter.com/JKXGhf878d

— Evan McPhillips (@emcphil) January 7, 2020
If Daniels had stayed healthy over the past two seasons, we might be discussing his rookie season now instead of his draft prospects. He missed all of 2019 with a shoulder injury. Then, after allowing only six catches on 18 targets for 100 yards with five pass-breakups his first four games of 2020, Daniels tore his ACL. He has man coverage traits with the ability to match and mirror outside at 6-foot and 194 pounds.
Noah Daniels is a beast pic.twitter.com/uJDB1HhHHG

— TCU Burner Account (@BurnerTcu) April 16, 2021
Daniels is an uber-athlete who ran a 10.34-second 100-meter dash in high school and has cleaned 400 pounds in the Horned Frogs' strength program.
Not bad for a 193-pound CB to clean 400 lbs! Noah Daniels pic.twitter.com/z1aEYE9sHo

— Jeremy Clark (@JClarkHFB247) February 28, 2019
Those are the kind of explosive numbers you want at the position.
We just haven't seen enough of Booth. Even in a pandemic-shortened 2020 season, 189 FBS cornerbacks played more coverage snaps last year than Booth has in his entire college career (219). It was Booth, though, who was the consensus CB2 in the 2019 recruiting class behind LSU's Derek Stingley Jr. It's also been Booth who's allowed a grand total of 169 yards on those coverage snaps and made a couple of highlight-reel picks in the process.
One-handed, falling back … WOW.

Interception of the year candidate from Clemson's Andrew Booth Jr. ???? pic.twitter.com/VsftCLvYnd

— ESPN (@espn) October 4, 2020
He could very well end up as CB2 in the draft when it's all said and done.
Prospects to Watch
Emerson's game is eerily reminiscent of former Bulldogs cornerback Cameron Dantzler. What he doesn't have in speed, Emerson makes up for in technique, smarts and physicality. In his first year as a starter in 2020, he broke up 12 passes on 59 targets and only allowed 50-plus yards in a game once. Emerson should be an ideal zone corner, as his 14 coverage stops last year were the most of any player at the position.
The other Alabama cornerback, Jobe was no slouch across from Patrick Surtain II last year. In fact, his 209 yards allowed were fewer than even Surtain's 273. That doesn't quite tell the whole story, however, as Jobe also led the country with 11 penalties. That's the biggest thing that needs to change in 2021. His panicky playstyle, over-aggression and suspect ball skills all need to improve.
Kendrick switched from receiver to cornerback early on in his Clemson career, which always piques the interest of evaluators. While he has good ball skills, it hasn't quite led to ball production. In two seasons as a starter before transferring to Georgia, Kendrick racked up all of three picks and five pass breakups on 83 targets. Not to mention, his average speed was exposed by Ohio State and LSU in back-to-back playoffs.
At 5-foot-9 and 177 pounds, Hodges-Tomlinson is a vastly different kind of player than anyone else on this list. Despite his size, he is a dog who is going to make every opposing receiver work for yards. Last season, he allowed only 16 catches on 49 targets for 192 yards with 14 pass breakups and an 89.1 coverage grade. Obviously, the size will be front and center on any draft report, but his floor is a solid slot corner.
Banks has shown little more than being a normal starting Ohio State cornerback at this point, but we are all familiar with the Buckeyes' track record at the position. Banks is a hulking 6-foot-1, 200-pounder who thrives on physicality. Last year, though, he allowed a staggering 440 yards and 31 catches on 53 targets in only eight games.
Wright earned an outside starting job this past season for the Ducks and broke up eight passes in seven games. The way he attacks the football in the air is easily his biggest selling point. He's on the slimmer side at 5-foot-11 and 182 pounds, unfortunately, and he'll need to add muscle to his frame to boost his draft stock.
Superlatives
There's no fear in Stingley's game because almost no one in college football can stride away from him. He gave up only one catch longer than 20 yards (28 yards) in 2020.
We'll give this one to Gardner simply so Stingley doesn't claim every superlative. Gardner looks like a pterodactyl at the line of scrimmage the way he engulfs AAC receivers. Over the past two seasons, Gardner racked up 24 combined forced incompletions and interceptions in press coverage — three more than any other cornerback in college football.
You can pore over Booth's tape and not find reps of him getting caught off balance. That is, as we know, a big part of playing the cornerback position. Now, we just need to see more.
Clemson CB Andrew Booth Jr. (5116, 195, Jr.) is a super twitchy and quick footed corner. Outstanding body control, and special with attacking the ball out of the air. Should be atop every list as a prime 2021 breakout candidate.https://t.co/zmSVeGB61j pic.twitter.com/WPJmOtbu81

— Jordan Reid (@Jordan_Reid) May 23, 2021
McDuffie is my favorite zone cornerback in the class for this reason in particular. He is exceptional in run support and at wrapping up his tackles. On 64 career tackle attempts, he's missed just twice while adding three forced fumbles. This superlative isn't even a debate.
Amazing play on the back side from Washington CB Trent McDuffie to strip this ball pic.twitter.com/NnV1lsKKA0

— Cam Mellor (@CamMellor) December 5, 2020
This one was hotly contested. Florida's Kaiir Elam and Clemson's Andrew Booth both have some ridiculous high-point interceptions on their tape, but Stingley has the body of work so far. No returning corner combined to make more picks and forced incompletions over the past two seasons than Stingley (28).
I still can't believe that Derek Stingley Jr. made this pick pic.twitter.com/Xj1d9OtxcF

— Brad Kelly (@BradKelly17) May 10, 2020