After a tumultuous 2020 calendar year, one in which we soaked in as much college football as was available, here we are, less than 100 days until the start of what should be a full 2021 college football season.
We've already given our opinion on offseason power rankings, along with each team's likelihood of winning the College Football Playoff, and now we'll go through each of the conferences with our simulation numbers and analysis.
Percentages are derived from 10,000 simulations of each team's regular-season schedule, along with a model for how the conference title game and College Football Playoff will play out.
The SEC is in an interesting position. Alabama, Texas A&M and Florida have each lost their starting quarterback (and many other key players) to the NFL, leaving an opportunity for Georgia to make a deep run with J.T. Daniels. Enjoy!
Note: This is in order by conference championship win probability.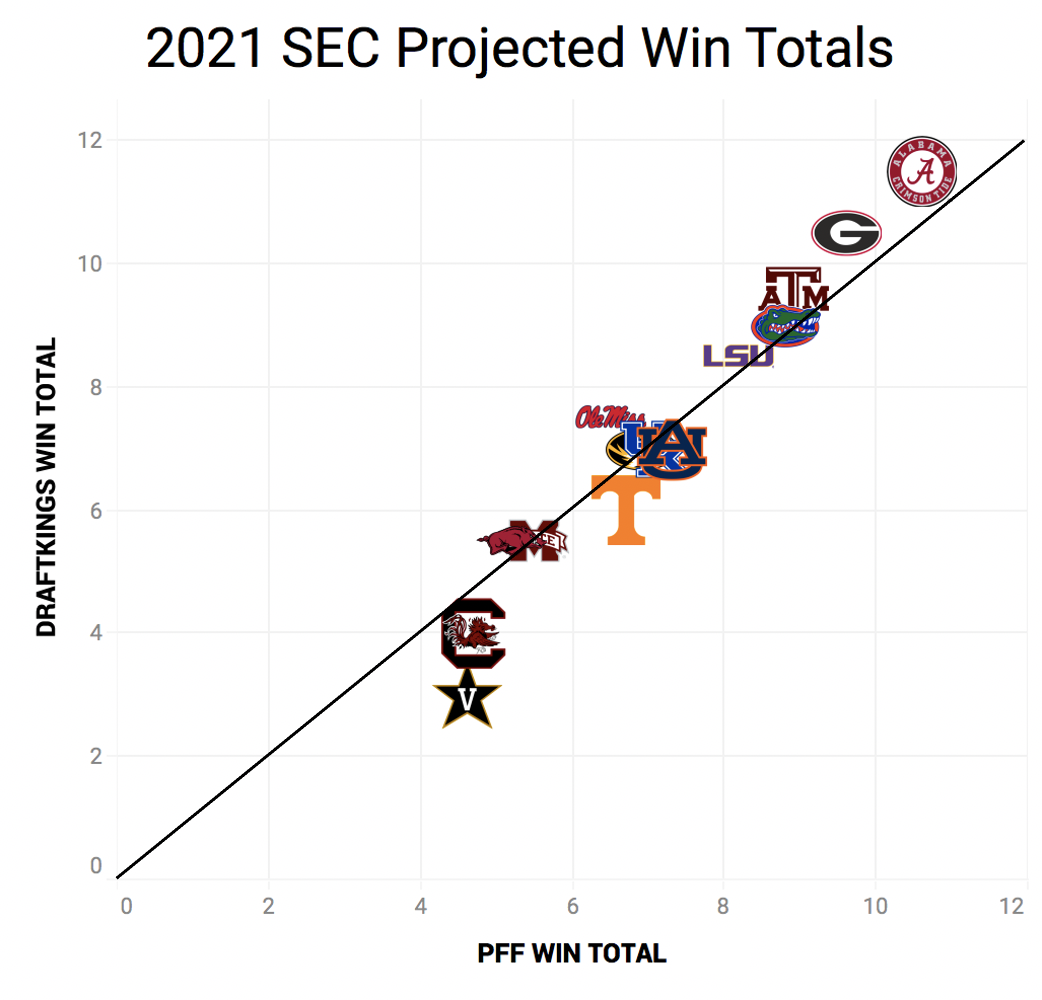 Conference Championship Appearance Odds: 73%
Conference Championship Win Probability: 51%
Projected Win Total: 10.6
Alabama's offense was absolutely sensational in 2020. Mac Jones & Co. produced the most efficient passing attack of the season by a distance, and they also beat out the 2019 LSU Tigers for the highest successful pass play rate of the PFF College era. But even though the program has lost a great deal of talent from that record-setting group, they still arguably posses the best roster in college football.
The defense is led by outside cornerback Josh Jobe (77.1) and slot cornerback Malachi Moore (82.1). Both players recorded PFF coverage grades above 75.0 last year, ranking inside the top 10 among returning Power Five corners. Bama also boasts Will Anderson Jr. on the edge, a rising star who racked up 60 QB pressures as a true freshman in 2020.
Wide receiver John Metchie III also returns on offense after a fantastic 2020 and is one of the nation's best bets to take the leap from good to elite in 2021. And while there should concern with who their WR2 will be, the most significant deciding factor for the Crimson Tide's fate in 2021 is new quarterback Bryce Young, the No. 2 recruit of the 2020 class who took only 31 dropbacks as a true freshman.
Regression should be expected from Alabama in 2021, given the historic nature of their most recent national championship run, but it still won't knock them out of contention.
Conference Championship Appearance Odds: 60%
Conference Championship Win Probability: 24%
Projected Win Total: 9.6
Of all the potential storylines swirling around the 2021 college football season, none is more intriguing than the prospect of Georgia quarterback J.T. Daniels producing at an elite level.
After earning a sub-60.0 PFF grade during a disappointing time with the Trojans that ended in a torn ACL and a lost starting job, the former five-star recruit and USC transfer looked like a different man in 2020. He had one of the best games of the year in his Bulldog debut, putting up a 94.8 passing grade and no fewer than six big-time throws, but he wasn't anything special the rest of the way, grading at 68.5 over his other three games.
The offense did endure a crushing blow this offseason when star receiver George Pickens tore his ACL. However, the receiving unit is still in excellent shape with wide receivers Kearis Jackson and Dominick Blaylock. Former five-star tight end Darnell Washington, who has a monstrous catch radius and speed for his size, doesn't hurt their cause either.
There is only one other glaring question mark with the Bulldogs, which lies on the defensive side of the ball. Their four most valuable players on defense took their talents to the NFL, three of whom were a part of the secondary. Georgia did land Tykee Smith, the highest-graded slot defender in 2020, via the transfer portal, but they are relying on inexperienced players at outside corner.
If Daniels plays somewhat close to the level he did in his debut and the young corners hit the ground running, this Georgia team will be dangerous in 2021.
Editor's Note: Choose from TWO SUBSCRIPTION OPTIONS to access PFF's college player grades, advanced stats, expert analysis, NCAA betting dashboard (Greenline) and more!
Conference Championship Appearance Odds: 28%
Conference Championship Win Probability: 10%
Projected Win Total: 8.8
Much like they did a season ago, the Florida Gators will enter the college football season as one of the biggest boom-or-bust programs in the country.
The Gators' season will begin and end with quarterback Emory Jones, a player PFF has pegged as a breakout candidate ahead of the 2021 season. The 2018 four-star dual-threat quarterback has flashed in both facets in his limited time on the field, notably recording an 80.6 passing grade on 87 career pass attempts to pair with an 81.7 rushing grade across 76 rushing attempts.
Head coach Dan Mullen is one of the better offensive playcallers in the country, and he has a penchant for dual-threats, so he ought to have fun with Jones leading the group. However, the big question is the receiving arsenal he can tap into. The Gators' three most valuable non-quarterbacks on offense last season — tight end Kyle Pitts, wide receivers Kadarius Toney and Trevon Grimes — left for the NFL this spring.
The defense didn't perform up to snuff for a good part of the 2020 season, and it ended up finishing second-to-last in the SEC in coverage grade and fifth-to-last in passing efficiency allowed. That level should be their floor in 2021, as the Gators do return their three most valuable players from last year's defense — cornerback Kaiir Elam, edge defender Brenton Cox Jr. and off-ball linebacker Ventrell Miller.
The uncertainty surrounding the receiving unit is the biggest concern with the 2021 Florida Gators, but if that group surpasses expectations, this team is going to give Georgia a run for its money in the SEC East.
Conference Championship Appearance Odds: 12%
Conference Championship Win Probability: 6%
Projected Win Total: 8.2
LSU was one of the bigger disappointments of the 2020 season. Yes, a step back was to be expected from their 2019 National Championship team, but the drop ended up being far steeper than most had imagined. The 2020 Tigers ultimately suffered the second-worst year-over-year decline in passing efficiency among all Power Five programs in the PFF College era. There were also some philosophical differences and questionable decisions made on defense that led them to finish in the bottom half of the SEC in EPA allowed per pass.
The Tigers were a bit overrated to start 2020, but the scales have flipped ahead of 2021: They might be a bit underrated heading into the new campaign.
It starts with the defense, which has a chance to be truly elite. They have one of the best outside cornerback duos of the PFF College era in Derek Stingley Jr. and Eli Ricks, who came in at No. 1 and No. 3 in our 2021 preseason positional rankings. They also added one of the top coverage linebackers in the country via the transfer portal in Mike Jones Jr. (formerly of Clemson) and a couple of rising studs on the defensive line with Ali Gay and B.J. Ojulari.
There should be a lot of optimism on offense, too. Quarterback Myles Brennan had his 2020 cut short due to injury, but he put up an 88.3 passing grade over the first three starts of his career. Brennan will also have a breakout wide receiver in waiting with 2020 five-star Kayshon Boutte, who closed out his true freshman campaign with a 308-yard, three-score demolition against Ole Miss — one of the best games we saw from a first-year receiver all year.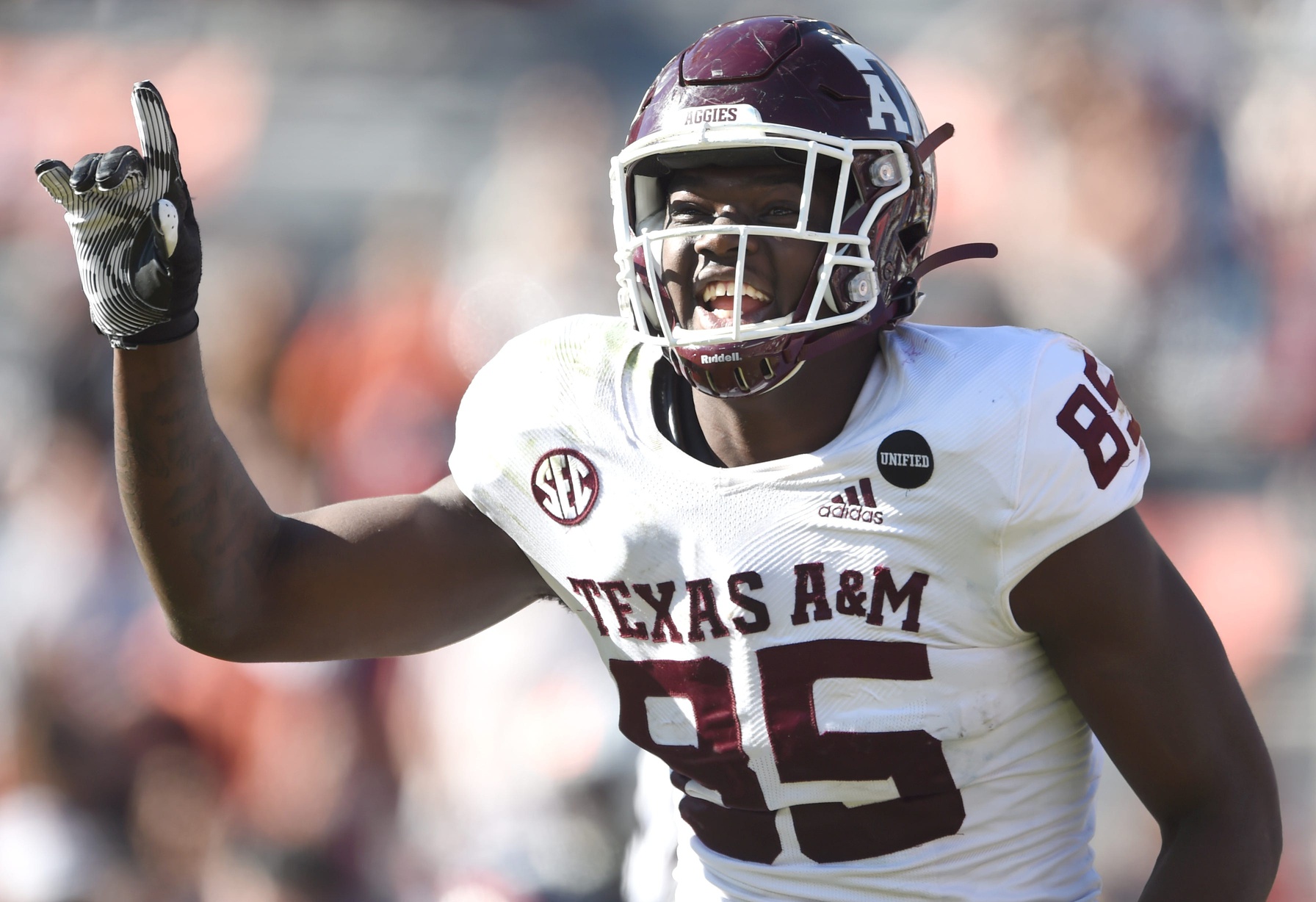 Conference Championship Appearance Odds: 10%
Conference Championship Win Probability: 5%
Projected Win Total: 8.9
Texas A&M fell just short of the College Football Playoff in 2020 and cracked a top-five spot in the AP poll for the first time since the Johnny Manziel era.
Taking quarterback out of the conversation, the Aggies have the roster to get back to the CFP conversation in 2021. They return tight end Jalen Wydermyer and wide receiver Ainias Smith, who ranked second and 10th at their respective positions in the SEC in 2020. Their defense last season ranked third in the conference in EPA per play allowed, behind only Alabama and Georgia, and they return their seven most valuable players from that unit in terms of PFF Wins Above Average (WAA).
Still, quarterback is the most important and valuable position on the field, and Texas A&M has a lot of uncertainty at the position right now. They'll be riding with either Haynes King (a 2020 four-star recruit) or Zach Calzada (a 2019 three-star recruit) as their starter this fall — together, the two signal-callers have attempted a grand total of 28 pass attempts at the college level.
If either one of them breaks out in Jimbo Fisher's difficult-to-master, pro-style offense, then this is going to be a really dangerous team challenging for a spot in the CFP. But at this point, that prospect seems like nothing but wishful thinking.
Conference Championship Appearance Odds: 3%
Conference Championship Win Probability: 1%
Projected Win Total: 7.3
The good news is that Auburn has arguably one of the best cornerback rooms in the country. The Tigers return starting outside corners Roger McCreary and Nehemiah Pritchett and added one of the best transfers at any position with cornerback Dreshun Miller, formerly of West Virginia. All three of those players produced a top-30 coverage grade among Power Five cornerbacks in 2020.
The program also returns safety Smoke Monday and linebacker Owen Pappoe, who ranked among the three highest-graded SEC players in coverage at their respective positions. Long story short: they aren't going to be a walk in the park for SEC offenses in 2021.
The bad news is that Auburn will likely have one of the worst passing offenses in the SEC this year. Running back Tank Bigsby, the nation's top returning back in our 2021 preseason rankings, can only carry the entire offense so far. The Tigers ranked fourth-to-last in the SEC in successful pass play rate in 2020. Their top three wide receivers from that group all took off for the NFL, too, leaving quarterback Bo Nix, who owns a middling 66.2 passing grade for his career, with no proven option to throw to.
Conference Championship Appearance Odds: 4%
Conference Championship Win Probability: 1%
Projected Win Total: 7.1
With a dominant run-blocking unit anchored by tackle Darrian Kinnard, running back Chris Rodriguez Jr. and the transfer additions of athletic quarterback Will Levis and dynamic weapon Wan'Dale Robinson, expect Kentucky to remain near the top of the conference in the way of rushing success. The Wildcats have ranked in the top five among all SEC programs in run play success rate in each of the last two seasons and have a great chance of extending that streak to three in 2021.
Don't expect much to change from a passing perspective, though. Kentucky has ranked in the bottom five in the conference in passing efficiency in each season of the PFF College era, and they came in dead last in 2020.
Levis took 64 dropbacks with the Nittany Lions in 2020, producing a subpar 64.0 passing grade in the process. While it was better than his 2019 mark of 32.8 on 58 dropbacks, it is still uninspiring.
Conference Championship Appearance Odds: 4%
Conference Championship Win Probability: 1%
Projected Win Total: 6.9
At this point last year, Missouri's quarterback situation looked to be setting this passing offense up for disaster. Fortunately, that didn't transpire, as they got a pleasant surprise when 2019 three-star Connor Bazelak led the Tigers to one of the five most efficient passing offenses in the conference.
The big issue is that the relatively weak roster surrounding him. Right now, their best (and only) proven receiving threat is running back Tyler Badie — Mizzou doesn't have a single wide receiver on the roster who has recorded a single-season grade above 70.0.
Sure, there is some potential with Ohio State transfer Mookie Cooper, as he was a top-100 recruit in the 2020 class, but that's all he has on his resume — he has yet to play a down at the collegiate level. Bazelak and the Tigers desperately need him and former D-II transfer receiver Keke Chism to take a big step forward in 2021.
The story remains the same in the secondary. Missouri ranked fourth-to-last in the SEC in EPA per pass play allowed, and their two highest-graded defensive backs from that coverage unit are no longer with the program. The inexperience is most notable at outside corner, and it's looking like too big of an issue to overcome.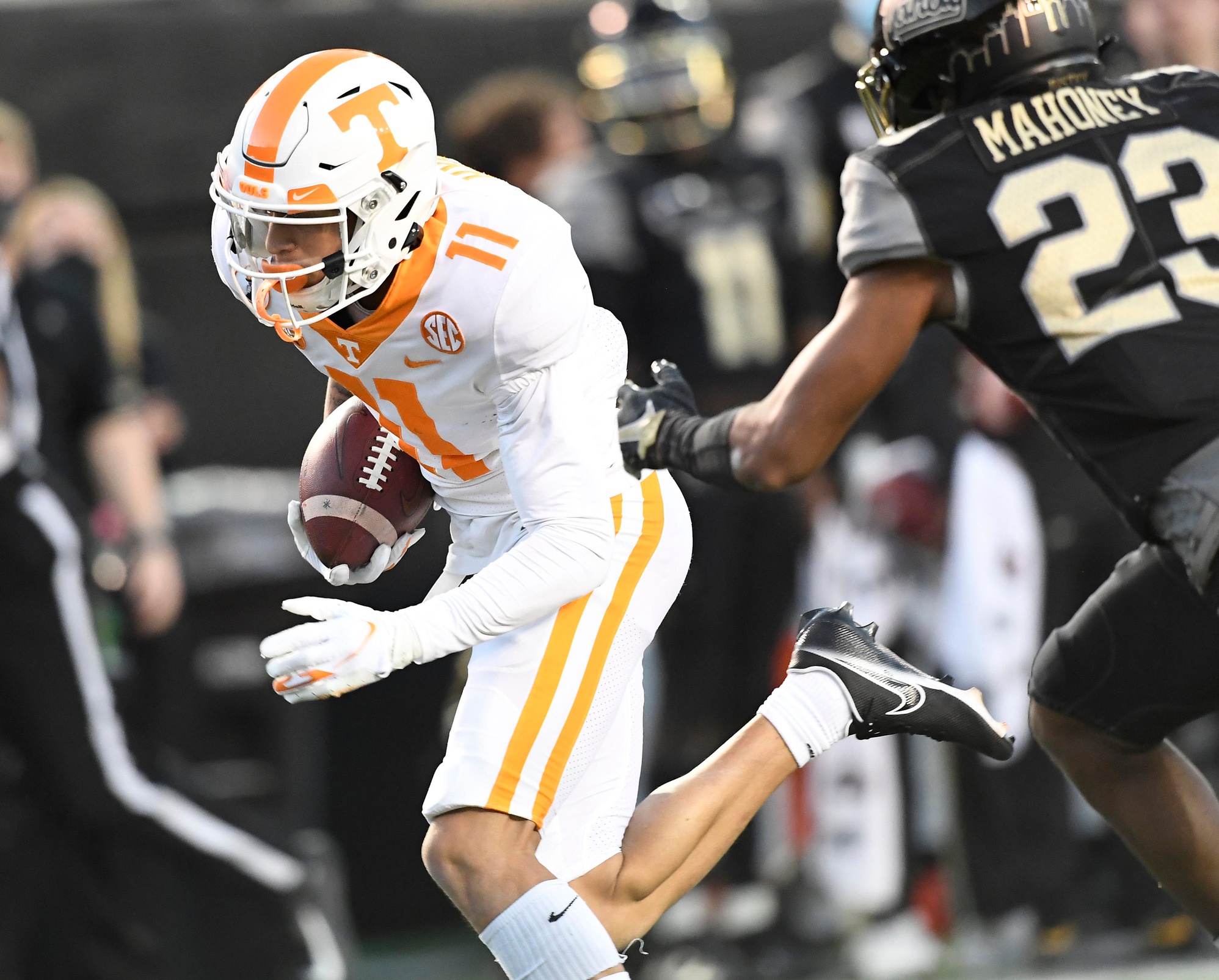 Conference Championship Appearance Odds: 3%
Conference Championship Win Probability: 1%
Projected Win Total: 6.7
Tennessee was gutted via the transfer portal but has some potential with the combination of new head coach Jeff Heupel and Virginia Tech transfer quarterback Hendon Hooker. The dual-threat quarterback made his name known through his success leading the Hokies, aided by play-action passes and his impact in the rushing game. Hooker's passing grade on play-action dropbacks was nearly 30 grading points higher than it was on straight dropbacks (85.9 versus 57.0) in 2020, and his completion rate differential with it compared to without it led all FBS quarterbacks (+13.5%).
Heupel led a UCF offense that dialed up play-action at a top-10 rate in 2020 (45%), with many of the resulting passes targeting go-routes down the sideline. And with speedster receivers in Jalin Hyatt and Velus Jones Jr., this offense seems set to surpass expectations. At the very least, the offense should be better than it was in 2020 when they were fourth-to-last in per-play efficiency in the SEC.
The Vols' defense was a middle-of-the-pack unit in terms of grade and efficiency in 2020, and that's looking like a best-case scenario for 2021. They lost five of their eight most valuable players on defense from the last couple of seasons — one to the NFL and four in the transfer portal.
While the new regime at Tennessee has a lot to do before it gets the program back to the kind of standing that saw them dominate from the mid-1980s to mid-2000s, they should be able to surpass a .500 record in 2021.
Conference Championship Appearance Odds: 0%
Conference Championship Win Probability: 0%
Projected Win Total: 5.2
Arkansas was slightly better than expected in 2020, but the team has still been in a bit of a rut, with just four conference wins in the last four years. Whether they can dig themselves out of that in 2021 depends on the play of new starting quarterback K.J. Jefferson. The 2019 four-star made just one start in 2020. It was fine but unspectacular, as he managed a 68.3 PFF grade against a lower-tier Missouri defense. He will at least have a clear-cut top-10 wide receiver in college football to throw to with Treylon Burks, who is fresh off a year in which he ranked fifth in receiving grade among those at his position in the Power Five.
The defense was volatile in 2020, falling from No. 1 in EPA per pass play allowed in the SEC through the first four weeks to third-to-last in the conference after that stretch. They do have one of the top coverage safeties and linebackers returning with Jalen Catalon and Grant Morgan. Still, they'll need a few more to step up across the board and produce consistently to prevent this unit from playing at the level it did in their last six games last season.
Conference Championship Appearance Odds: 1%
Conference Championship Win Probability: 0%
Projected Win Total: 6.5
As far as the offense goes, Year 1 of the Lane Kiffin era at Ole Miss could not have gone much better than it did. His passing offense was masterful and ended up being the second-most-efficient unit in the Power Five, behind only the Crimson Tide. Along with that, Ole Miss saw the eighth-largest year-over-year improvement in passing efficiency among all Power Five programs in the PFF College era.
Quarterback Matt Corral had a couple of hiccups against Arkansas and LSU but still finished with an elite PFF grade on the year.
The notable concern on offense as they enter 2021 has to do with replacing star slot receiver Elijah Moore, the third-highest-graded receiver in the FBS last year. Western Kentucky transfer Jahcour Pearson is a suitable enough replacement, but he still has massive shoes to fill.
The issue is that there are huge concerns on every level of this defense. They ranked second-to-last in the SEC in EPA per play allowed last season, and outside of Maryland transfer linebacker Chance Campbell, the program has no one who looks capable of fixing that.
Conference Championship Appearance Odds: 1%
Conference Championship Win Probability: 0%
Projected Win Total: 5.5
Mike Leach's Air Raid got off to a hot start in the SEC with a major win over LSU in the 2020 opener, but a lot of that was down to some questionable tactics by the LSU defense. Shortly after, opposing teams started playing rush-three, drop-eight zone, and the offense was stuck.
Taking that debut game out of the equation, the Bulldogs nosedived to fourth-to-last in the Power Five in passing efficiency for the 2020 season. The quarterback play was rough, the wide receiver unit lacked playmakers and the offensive line was a liability. Mississippi State ranked inside the bottom 10 of the Power Five in grade at all three of those positions following their season opener.
There is some hope with transfer additions of quarterback Jack Abraham (Southern Miss) and wide receiver Makai Polk (Cal), but any drastic change from what we saw in 2020 is seemingly a longshot.
On the bright side, the Bulldogs do have a talented cornerback room. They ranked fourth-to-last in EPA per pass play allowed in 2020 and return their best player from that group, cornerback Martin Emerson, who is arguably a top-15 player at his position in all of college football. That can get them by the lower-tier teams in the SEC, but not when the time comes to play the Alabamas or LSUs of the world.
Conference Championship Appearance Odds: 1%
Conference Championship Win Probability: 0%
Projected Win Total: 4.7
South Carolina is in full rebuild mode as they come off their worst record of the century. The passing offense is set up to be even more underwhelming than they were last year when they finished 10th in the SEC in EPA per pass play, and their most valuable non-quarterback from that group, wide receiver Shi Smith, has departed the collegiate ranks.
The starting quarterback job is set to be manned by 2020 four-star recruit Luke Doty, who did get some reps towards the end of his first year. He's an explosive athlete who will add value to the ground game, but the passing ability is suspect. Doty recorded multiple turnover-worthy throws in each of his three games with ample pass attempts en route to a 42.2 passing grade for the year.
The defensive line is hands down the most alluring aspect of this team in 2021. Led by edge defender Kingsley Enagbare, the second-highest-graded pass-rusher at the position in the SEC last year, this group has the potential to rank in the top five in the SEC. However, that can only get them so far. Even with the potential there, the deficiencies in the secondary and offense are too much to avoid.
Conference Championship Appearance Odds: 0%
Conference Championship Win Probability: 0%
Projected Win Total: 4.6
The new era of Vanderbilt football has commenced, with former Notre Dame defensive coordinator and former Commodore Clark Lea now leading the program as head coach. Lea has shifted the culture in the right direction and is vying to get this program back to .500 for the first time since the 2013 season, but it doesn't look like it's happening in 2021. There are just too many question marks on both sides of the ball.
Vandy ranked second-to-last in the SEC in EPA per play generated and last in EPA per play allowed last year. The receiving unit offered a glimmer of hope, finishing in the top five in the SEC in receiving grade last year, but it was all for naught in the end, as starting quarterback Ken Seals put the ball in harm's way far too often en route to a sub-60.0 passing grade in his true freshman campaign. The silver lining is that the program will return every major contributor from that receiving group in 2021.
The defense lost its dynamic pass-rushing duo Dayo Odeyingbo and Andre Mintze, who were each by far the best players on that bottom-tier unit in 2020. Some players, such as safety Brendon Harris and slot corner Jaylen Mahoney,  have provided a quality level of play in years past, but the two would have to break out to an elite level to make up for the rest of the deficiencies on this unit.