We've reached the halfway point of the 2019 college football season for all schools across the country and at such a time, we present the 2019 iteration of our Midseason All-American Team.
Utilizing our play-by-play grades of every player on every play of every game, our list of All-Americans takes into account every player's actions on the field on Saturdays while also utilizing our wealth of signature statistics to determine the list. The strength of opponent and consistent play are also factors in our selections detailed below.
The 2019 Midseason All-American Team by PFF: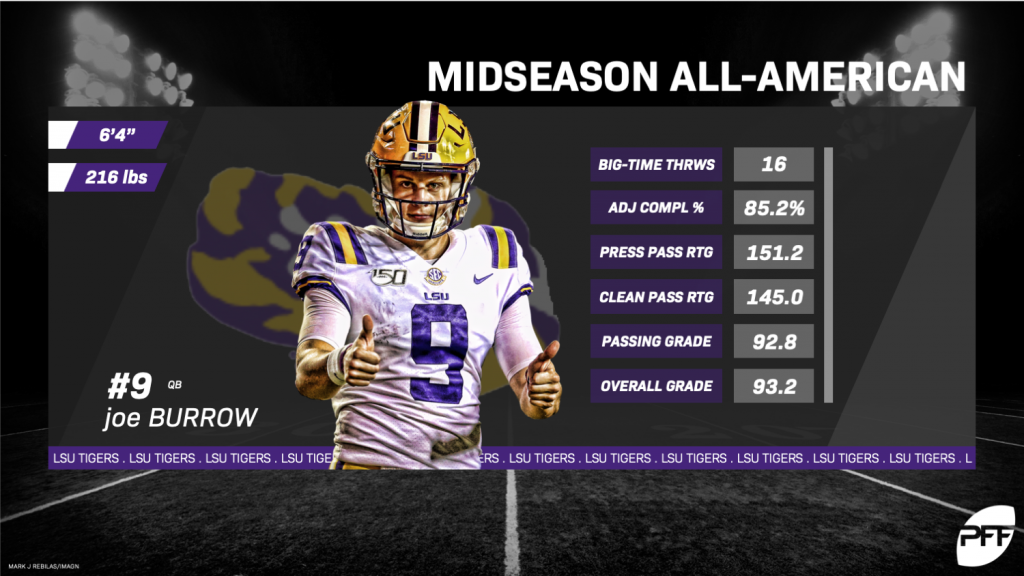 Quarterback
First-Team QB: Joe Burrow, LSU
No quarterback is grading higher than Burrow is at this moment and with signature wins over Texas and Florida, the Tigers' signal-caller is leading the race towards the Heisman Trophy for good reason. He's the best quarterback throwing to seemingly any location of the field and has fared extremely well from a clean pocket this season, a metric proven to be stable from week to week and we expect this success through the back half of the schedule in 2019.
Second-Team QB: Jalen Hurts, Oklahoma
Honorable Mention: Tua Tagovailoa, Alabama
Running Back
First-Team RB: Jonathan Taylor, Wisconsin
No running back has more rushing conversions through seven weeks than Taylor, as the aptly-nicknamed Jonathan-Taylor-Touchdown (JTT) has found the end zone a national-best 14 times and moved the ball for a first down on 36 more carries. His 6.4 yards per carry have seen him gain an average of 4.00 yards after contact and break 39 tackles on the ground while he's added a much-needed receiving element to his game to the tune of four receiving touchdowns. The best running back in football is now the best all-around back in football.
Second-Team RB: J.K. Dobbins, Ohio State
Honorable Mention: LeVante Bellamy, Western Michigan
Running Back
First-Team RB: Chuba Hubbard, Oklahoma State
Even with a week off in Week 7, Hubbard still possesses a 278-yard advantage over the next closest running back in terms of total rushing yards. He's gained 1,094 on 163 carries, averaging a ridiculous 6.7 yards per carry and has run national-best 26 carries of 10 or more yards. He's got great vision and great burst through the holes as he's dealing with inferior run-blocking in front of him than the likes of fellow First-Team RB in Taylor.
Second-Team RB: AJ Dillon, Boston College
Honorable Mention: Cam Akers, Florida State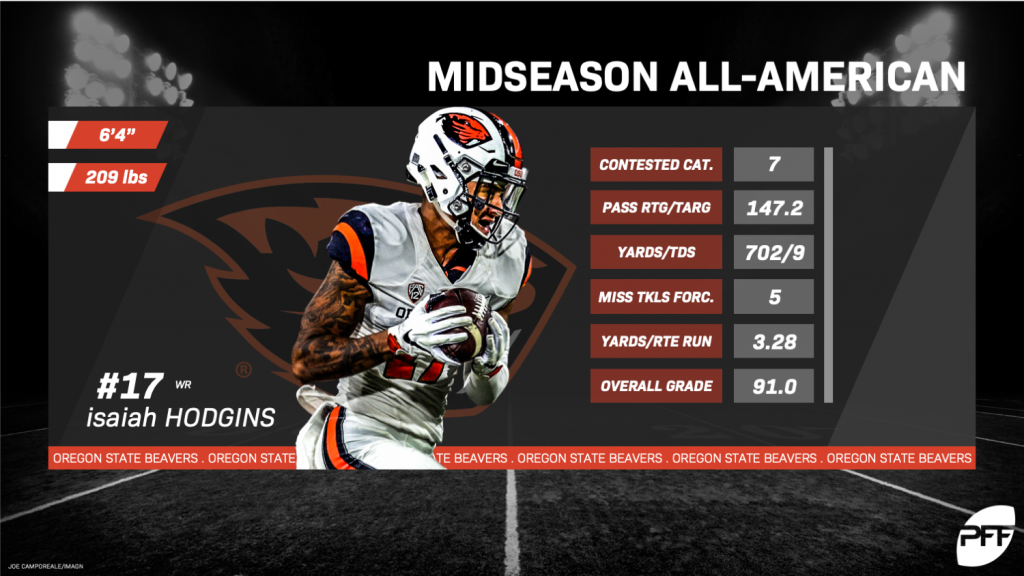 Wide Receiver
First-Team WR: Isaiah Hodgins, Oregon State
No receiver has more big-time catches — PFF's highest-graded receptions — than Hodgins as he's become a true threat to catch any pass thrown his way this year. On 68 targeted passes so far, Hodgins has hauled in all 51 catchable pass his way for nine touchdowns and 33 more first downs. He's moving the chains and scoring touchdowns while averaging 13.8 yards per catch. In a disappointing season for the Beavers defense, Hodgins has been an incredibly bright spot on offense.
Second-Team WR: Omar Bayless, Arkansas State
Honorable Mention: Brandon Aiyuk, Arizona State
Wide Receiver
First-Team WR: Justin Jefferson, LSU
Jefferson is the second-highest graded receiver in all of college football, ripping off 40 receptions on 46 targeted passes. His 87.0% catch rate is the best among receivers with at least 27 total throws their way in 2019 and his contested-catch percentage sits firmly at 100%. He's the nation's only receiver to see more than four contested targets thrown his way and still maintain that 100% contested-catch rate, as he's hauled in all seven that have come his way.
Second-Team WR: Ja'Marr Chase, LSU
Honorable Mention: Jerry Jeudy, Alabama
Wide Receiver
First-Team WR: Ceedee Lamb, Oklahoma
Lamb's highs have been among the country's brightest performances this season, most notably against Texas when he ripped off three touchdowns on 10 receptions and was nearly impossible to tackle. His seven forced missed tackles are a game-high for any receiver this season as he now has forced 10 missed tackles on 28 receptions while gaining 287 yards after the catch.
Second-Team WR: James Proche, SMU
Honorable Mention: Devin Duvernay, Texas
Tight End
First-Team TE: Jacob Breeland, Oregon
Unfortunately, we've seen the last of Breeland this season after he was injured during their last outing against Colorado and will be unable to play anymore in 2019. That being said, when Breeland was on the field in 2019, he was dominant as the Ducks' go-to guy over the middle of the field. He hauled in 26 receptions on just 32 targeted passes, seeing the national-best 158.3 passer rating on his targets. He led the country through the first half of the season with six touchdown receptions while also moving the sticks for 11 more first downs.
Second-Team TE: Josh Pederson, UL-Monroe
Honorable Mention: Giovanni Ricci, Western Michigan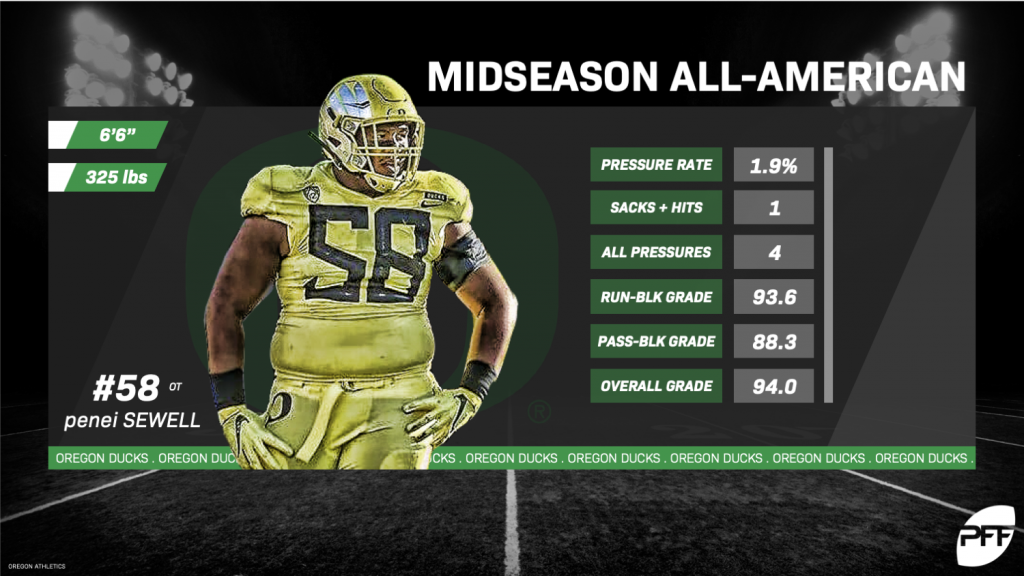 Offensive Tackle
First-Team OT: Penei Sewell, Oregon
Not only the country's top offensive tackle, not even the country's top offensive lineman — Sewell is currently the highest-graded player on offense regardless of position. He's already in the PFF record books as the highest-graded true freshman tackle and he's currently on pace to break the record for the highest-graded single season from an offensive tackle in our time of grading college football. Dominant in all facets, Sewell has allowed all of four pressures on 223 pass-blocking reps while leading the country with an astounding 93.6 run-blocking grade.
Second-Team OT: Andrew Thomas, Georgia
Honorable Mention: Thayer Munford, Ohio State
Offensive Guard
First-Team OG: Wyatt Davis, Ohio State
The Buckeyes are certainly in the running for the best overall team this season and Davis is a key cog on their offensive line that allows their offense to fire on all cylinders. He's a shining example in the run game, paving the way for multiple wide-open lanes on the interior for Dobbins while limiting his pass-rushers to just seven total hurries this season on his 189 reps in pass protection. He's blocking against stout competition and winning the vast majority of those reps.
Second-Team OG: Shane Lemieux, Oregon
Honorable Mention: Nolan Laufenberg, Air Force
Center
First-Team C: Matt Hennessy, Temple
Not even close, the First-Team spot slides to Hennessy with ease as he's the nation's top center by a considerable margin. He's currently just one of two centers with elite pass-blocking grades and is the only center with an elite run-blocking grade as he makes the Temple offense move. He's allowed just one pressure on 253 snaps in the passing game and is nearly 8.0 grade points ahead of the next-closest center in run-blocking grade.
Second-Team C: Dawson Deaton, Texas Tech
Honorable Mention: Creed Humphrey, Oklahoma
Offensive Guard
First-Team OG: Michael Onwenu, Michigan
The Wolverines haven't necessarily been known for their offensive prowess so far in 2019 but Onwenu is more than deserving of praise on Michigan's offense. He's allowed just six total pressures on 225 pass-blocking snaps and has been integral in getting their rushing game going. When rushing to either side of Onwenu this year, Michigan running backs are averaging over 2.0 yards before contact with a defender, the best of any gap on the offensive line for the Wolverines.
Second-Team OG: Kevin Dotson, Louisiana
Honorable Mention: Kendrick Green, Illinois
Offensive Tackle
First-Team OT: Josh Jones, Houston
Houston's highest-graded player in 5-of-6 contests this season, Jones has been utterly dominant for the Cougars in what has turned out to be an odd season. Jones is as stout in pass protection as they come, having allowed just two hurries on 209 pass-blocking snaps and sits firmly just behind Sewell in run-blocking grade this year. He's made a name for himself not only in the college football world but also as a potential first-round talent in the 2020 NFL Draft.
Second-Team OT: Robert Hunt, Louisiana
Honorable Mention: Blake Brandel, Oregon State
Edge Defender
First-Team Edge: Chase Young, Ohio State
Currently on pace to set PFF records, Young is winning 36.9% of his pass-rushing snaps this season as he's the country's best player at any position. He's currently grading out at 96.7 overall and has 29 total pressures on his 127 pass-rushing snaps. A year after leading the country in total pressures, the way Young is playing so far in 2019 will see him lead the nation in overall grade by some distance.
Second-Team Edge: Jonathan Greenard, Florida
Honorable Mention: James Lynch, Baylor
Edge Defender
First-Team Edge, Zack Baun, Wisconsin
The race to be the best edge-defender-not-named-Chase-Young is heating up and is one that Baun currently leads. After a great game against Michigan State, Baun leads the charge as he now has a couple of shining moments as well as consistent pressure from the edge. He dropped back into coverage to beautifully intercept an underneath pass against Michigan State that he housed for six points while he's recorded 24 total pressures that include six sacks and six QB hits.
Second-Team Edge: Curtis Weaver, Boise State
Honorable Mention: Quincy Roche, Temple
Defensive Interior
First-Team DI: Neville Gallimore, Oklahoma
An absolute monster up the middle for Oklahoma, Gallimore and Marquise Overton are arguably the country's best 1-2 punch in the defensive interior as Gallimore is currently beating all Power-5 interior defenders in overall grade. He's consistently double-teamed yet has recorded 20 total QB pressures, forced two fumbles and made his way to another eight defensive stops in the run game. He's winning pass-rushes at a high rate for his position as well and is quick with both his hands and his feet, something he showcased mightily against Texas.
Second-Team DI: Derrick Brown, Auburn
Honorable Mention: Jack Heflin, Northern Illinois
Defensive Interior
First-Team DI: Marvin Wilson, Florida State
Before their game against Clemson, Wilson was not only leading just interior defensive linemen in pressures, he was up there among all defensive players in total pressures, with 21. Kept in check against the Tigers, Wilson's dominant 2019 season has been one of the few bright spots for the Seminoles this year as he's recorded four sacks, five QB hits and another 12 hurries while racking up 11 stops in run defense as well. Wilson and Cory Durden push the aforementioned duo of Gallimore and Overton for the top interior duo so far in 2019.
Second-Team DI: Jordan Elliott, Missouri
Honorable Mention: Garrett Marino, UAB
Linebacker
First-Team LB: Jordyn Brooks, Texas Tech
Leading all linebackers with a whopping 29 QB pressures (on just 59 pass-rushing snaps), Brooks is also second to just Evan Weaver in total defensive stops this year as he's recorded 39. He's leading the country with 31 of those defensive stops coming against the run and he's missed just one tackle against the opponent's passing game as he's become a true three-down threat at linebacker for the Red Raiders.
Second-Team LB: Nick Bolton, Missouri
Honorable Mention: Carlton Martial, Troy
Linebacker
First-Team LB: Cale Garrett, Missouri
We won't see any more of Garrett in 2019 after suffering a pectoral injury against Troy, but in his five games, Garrett was arguably the nation's best coverage linebacker. In fact, his 91.4 coverage grade is the best mark among linebackers as he nearly had two pick-6 moments against Troy in his final outing, coming just one yard shy of two interceptions returned for touchdowns. In total, he was targeted 12 times and he allowed just 33 yards into his coverage while finishing with three interceptions and two more pass breakups to see a 30.6 passer rating when targeted.
Second-Team LB: Chris Orr, Wisconsin
Honorable Mention: Jan Johnson, Penn State
Cornerback
First-Team CB: Deommodore Lenoir, Oregon
If you haven't watched the Ducks secondary this season, you've missed out on some beyond-stellar play. Lenoir is the tip of that coverage iceberg as he's been targeted 26 times and allowed just 11 receptions. He's incredibly sticky in coverage against any type of receiver as he can run with the best of them and follow along with any route on the route tree. He's made three defensive stops in the coverage game and four more against the run as he's not afraid to take on any challenge that comes his way.
Second-Team CB: Luq Barcoo, San Diego State
Honorable Mention: Patrick Surtain II, Alabama
Cornerback
First-Team CB: Jeffrey Okudah, Ohio State
Showing off his ball skills on the true national stage, Okudah made headlines with his interception from his backside against Nebraska, but his other pick on the night was even more impressive. He beautifully read the route from the receiver and ran the out route better than the offensive player to step in front of it for the interception. For the year, he has three interceptions, three pass breakups and is limiting quarterbacks to just a 49.1 passer rating on throws into his coverage.
Second-Team CB: Derek Stingley Jr., LSU
Honorable Mention: Trevon Diggs, Alabama
Safety
First-Team S: Antoine Winfield Jr., Minnesota
Winfield is powering a Gopher secondary that is far exceeding expectations this year as he's put up dominant numbers wherever he lines up. In a true testament to his all-around ability, Winfield has recorded six QB pressures, 11 total defensive stops and has elite grades in coverage as the primary coverage defender. In fact, he's allowed just six catches his way to go to just 14 yards after the catch and has intercepted two balls of his own. He's putting up plus-numbers across the board and is one of the nation's elite at the position.
Second-Team S: Myles Bryant, Washington
Honorable Mention: J.R. Reed, Georgia
Safety
First-Team S: Jordan Fuller, Ohio State
Fuller and Okudah are two shining examples of how to play their positions and they both happen to play in the same secondary. Fuller roams the field and has made multiple plays on the ball in coverage, notably on passes not even into his primary coverage area, and he has two interceptions and a pass breakup to his credit this year while not missing a tackle against the passing game all season long.
Second-Team S: Tanner Muse, Clemson
Honorable Mention: Douglas Coleman III, Texas Tech
Flex Defense
First-Team Flex: Ambry Thomas, Michigan
No Power-5 cornerback has allowed a lower passer rating into his coverage this season as Thomas has been the primary coverage defender on 21 different passes. He's allowed just nine of those to be caught while he's intercepted two and broken up two more. He's a bright spot on a top defense this season as he's also racked up plus-grades across all other facets and can cover ground in the secondary quickly.
Second-Team Flex: Corey Straughter, UL-Monroe
Honorable Mention: Benjamin St-Juste, Minnesota