It could easily have been North Carolina in the College Football Playoff instead of Clemson. Dropping a tight championship game to the Tigers ended the impossible dream but, with the majority of starters returning, the Tar Heels look prepped for another challenge in 2016. They will have to be ready come Week 1, with a tricky looking trip to the Georgia Dome creeping up on the horizon.
Offense
Replacing starting QB Marquise Williams is the biggest concern for North Carolina entering the season. Williams ranked 16th among FBS quarterbacks a year ago. His presence elevated the performance of the Tar Heels running game in particular, thanks to a +17.4 rushing grade. The offense will be forced to adjust with a less athletic quarterback in 2016, but redshirt junior Mitch Trubisky has the potential to sustain the dominance the Tar Heels achieved a season ago.
Elsewhere, the left side of the offensive line is also a concern. With a young quarterback at the helm, and without Williams' pocket movement, the team's pass protection will come under greater scrutiny. Left tackle Bentley Spain and left guard Caleb Peterson combined for a -24.4 grade in that facet of play last season, giving up five sacks, 12 hits and 39 pressures. The run game may also suffer from the loss of mauling right guard Landon Turner to the NFL.
More positively, the Tar Heels possess a deep, talented group of playmakers. HB Elijah Hood is the standout. He dominated as a runner in 2015, recording close to 1,500 yards on 219 carries and 17 touchdowns. Hood's 4.1 yards after contact average was bettered by only a single back in the entirety of the FBS. The program also returns three major contributors at wideout. Bug Howard and Mack Hollins can threaten on the perimeter, while Ryan Switzer works his magic in the slot. The latter is incredibly shifty, even if he lacks reliable hands. Hollins, meanwhile, looks like a genuine big play threat after posting a 24.8 yards per catch average last year. Overall North Carolina's top three returners combined for a +13.3 receiving grade a season ago. A year's extra experience should see each develops further.
Defense
The Tar Heels are a complete team, with a handful of impressive specimens on the defensive side of the ball. North Carolina might possess the best pair of starting corners in the FBS. Desmond Lawrence and MJ Stewart have the cover skills to shutdown the ACC's best receivers. Although the safeties are not quite at that level, Donnie Miles and Dominique Green are both solid contributors.
Interior defensive line is also a strength of the program. Redshirt sophomore Jeremiah Clarke impressed as a freshman, holding the point of attack consistently despite his tender age. He made his fair share of plays too, ranking 15th in run stop percentage a season ago (24 stops in 252 snaps). Clarke was a little one-dimensional, a criticism that cannot be leveled at teammate Nazair Jones. Jones is one of the most exciting defensive tackle prospects entering 2016. In his first two seasons, he has a +40.3 combined grade. Over that span, he has four sacks, six hits and 17 pressures to go with eight batted passes. Jones is also stout at the point of attack, managing a +24.8 run defense grade to this point in his career.
In contrast, generating a consistent pass rush might prove problematic for North Carolina's edge defenders. The top four returners recorded a combined -7.2 grade in that facet of play, with only 57 total pressures shared amongst them. Senior Mike Bart must boost his output after an indifferent 2015. He only managed ten knockdowns in 305 snaps, with a further 14 hurries. The Tar Heels' strong secondary are likely to be challenged by quarterbacks with time to survey the field next season.
Star player
North Carolina is not short of candidates for individual standout. Aside from corner MJ Stewart, running back Elijah Hood is right up there with the best at his position. He possesses a variable skillset enabling him to succeed in both the open-field and in traffic. Hood is whistle-fast transitioning to full speed, but also has the patience to allow blocks to develop. Finishing runs is a priority. Overall, he recorded a +20.4 rushing grade a season ago, ranking 13th in the nation. 
Breakout player
Judging quarterbacks in garbage time is always difficult. Trubisky made the most of those piecemeal opportunities, however, equaling Marquise Williams' passing grade (+11.0). He is afforded the advantage of facing defenses loading the box against the run, but it's impossible to argue with his production. Trubisky was virtually flawless in his limited reps, completing 40 of 47 attempted passes for 555 yards and six touchdowns. Although he's unlikely to pose a consistent threat on the ground, Trubisky can maximize the available yardage if his number is called. Assuming the redshirt junior adapts as a full-time starter, the superior balance could elevate the offense further.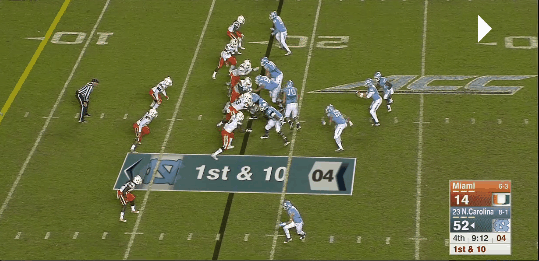 Bottom line
The Tar Heels are rightly regarded as a top 25 program. Offensively, they are stacked at the skill positions. Ultimately, though, much rests on the young quarterback. Early signs are positive that North Carolina can transition from a Williams-led offense to a more traditional attack under Trubisky, but it remains speculation at this point. The defense remains largely intact, even if last year's version has room to improve. A stop unit reliant on outstanding corners and tackles is unlikely to dominate. To truly become a great team, North Carolina is likely to require a major impact from a surprise or two. Then, we may be talking about the Tar Heels as a top four team.