Clemson, and specifically starting quarterback Deshaun Watson, started slowly in 2015. If they retain championship aspirations, the team won't be afforded that chance this year. Opening on the road to Auburn will be an early test, before a couple of games outside the conference. October looks particularly tough, with games against ACC-Atlantic opponents Louisville, Boston College, NC State and Florida State. Assuming Watson sustains the form he displayed in their post-season run, the Tigers will go into each game confident of an undefeated season.
Let's take a look at what to expect from the 2016 season:
Offense
A strong Heisman candidate, there are few weaknesses in Watson's game. He struggles when disrupted in the pocket, both with his accuracy and decision-making, but most young quarterbacks require experience to thrive under pressure. Watson threw eight picks and six touchdowns when moved off his spot, tossing 27-and-7 with a clean pocket. His quarterback rating dropped to almost half, falling from 114.3 to 68.0. To be fair, it's one of the few areas Watson can improve. He throws accurately to every level of the field, showing the awareness to use touch when required.
Watson has a solid supporting cast, even if none of his playmakers are dominant. Wayne Gallman is the closest to earning that superlative, after recording the 14th-overall grade amongst running backs a season ago. He could stand to be more consistent, but showed his talent in spurts in 2015 with 23 combined broken tackles from 57 carries against NC State and Oklahoma. Wideout Artavis Scott looks set to be the main weapon in the passing game. He broke 25 tackles on 93 receptions last season, highlighting the threat he poses after the catch. Tight end Jordan Leggett contributes little as a run blocker, but is a dynamic receiving threat. He ranked eighth overall in that facet of play in 2015, catching 68 percent of passes including eight touchdowns. Otherwise, slot wideout Hunter Renfrow is solid.
The offensive line is well-regarded, managing three starters on the All-ACC preseason team, but LT Mitch Hyatt, C Jay Guillermo and RG Tyrone Crowder were all perhaps fortunate to be selected. All three returning starters graded negatively in the ground game and their struggles continued in pass protection, particularly in Hyatt's case. He gave up five combined knockdowns and a further 22 pressures. The pair of returning interior lineman fared slightly better, allowing six combined knockdowns and a further 17 pressures between them. Clemson's offense could become a true powerhouse with improvement from the five up front.
Defense
The stop unit faces greater uncertainty after losing seven starters to the NFL. The Tigers' lost their two top pass rushers, their top linebacker, their top safety and their top corner this offseason. More positively, CB Cordrea Tankersly might place the latter claim in doubt. He stands out as the programme's top returning defensive player. Role players will be relied upon to step into starting roles elsewhere in the secondary.
There will be at least some consistency amongst the linebackers. Ben Boulware's development is coming along nicely, although tackling remains a major deficiency. A 4.8 tackling efficiency is pretty dreadful, the figure Boulware managed, missing 25 misses of 99 attempted. He did, however, grade positively rushing the passer and in coverage. SLB Dorian O'Daniel made a strong case for more playing time as a redshirt sophomore last season, impressing in limited reps. He flashed his block-shedding skills in particular, making 11 stops in 104 snaps. Even so, a young player will see significant snaps to fill out the trio of starters.
Returning Clemson edge rushers barely registered 500 snaps a season ago. Kevin Dodd and Shaq Lawson played three quarters of available snaps in 2015. The holdovers have only 22 combined FBS pressures entering the season. Clemson have greater experience on the interior, specifically in starting defensive tackles Christian Wilkins and Carlos Watkins. The duo are solid against the run, but are unlikely to ensure wins from a four-point stance with the game on the line. Depth is of equal concern. Serious responsibility is certain to fall on inexperienced Clemson defenders next season.
Biggest star
Realistically, Clemson goes as far as Watson takes them. With the uncertainties on defense, their quarterback may well be required to win shoutouts regularly. The internal and external expectations for Watson could hardly be greater. Minor tweaks will see him match those lofty standards consistently. Watson gives the impression of a quick learner, who may have turned a corner down the stretch last season. It says a lot that his performance against Alabama was amongst his best. There isn't a throw Watson can't make and there isn't a game too big — he is one of college football's all-stars.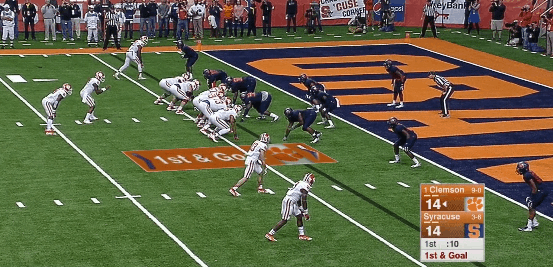 Breakout player
Tankersley absolutely has the potential to be better than teammate Mackensie Alexander. He has the size and fluidity to shutdown receivers in press-man. The senior uses his physicality to attack the line of scrimmage as well. His instincts defending the run are merely a bonus; corners earn their money on an island. Tankersley is in for a big paycheck if he can build on a 2015 season in which he allowed a QB rating of only 42.4 (19th-best). Despite facing 86 targets, he allowed only 34 catches for 412 yards and three touchdowns. Tankersly also picked off five passes, deflecting a further eight. Playmaking, size, athleticism — he possesses all the tools to dominate in 2016.
Bottom Line
On the one hand, Clemson returns a stacked offense that carried them on a number of occasions last year. On the other, their defense looks incredibly thin on paper. Team success always comes at the price of personnel continuity. Watson and a diverse, experienced, group of playmakers should be enough for them to make the ACC Championship game. To carry such a young defense — one that is almost certain to experience growing pains — into the postseason and beyond would be a remarkable feat. Remarkable, though, might just become the norm for their supremely talented signal-caller.